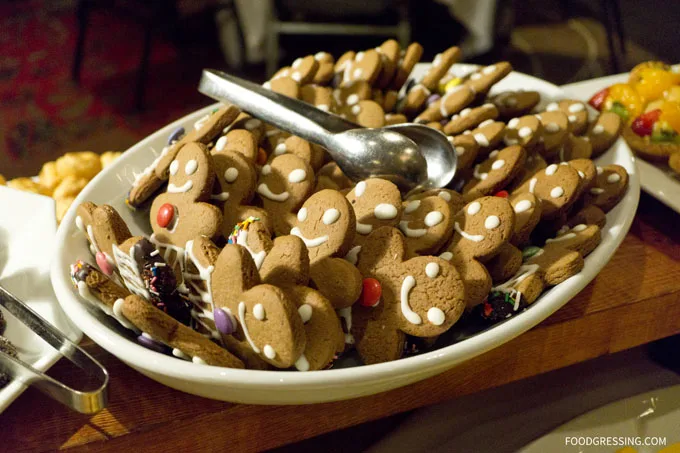 Hey everyone! I hope you had a terrific Christmas with love, presents, food and laughter. If you didn't celebrate Christmas, I hope you just had a great day off!
My family and I went to the Hilton Vancouver Metrotown for a luxurious Christmas dinner buffet this year. We had previously been there twice for their Easter Sunday buffets and we had positive experiences both times. Although we live in Downtown Vancouver and there are many hotels near us offering Christmas dinners, we went with the Hilton Metrotown in Burnaby for a few reasons.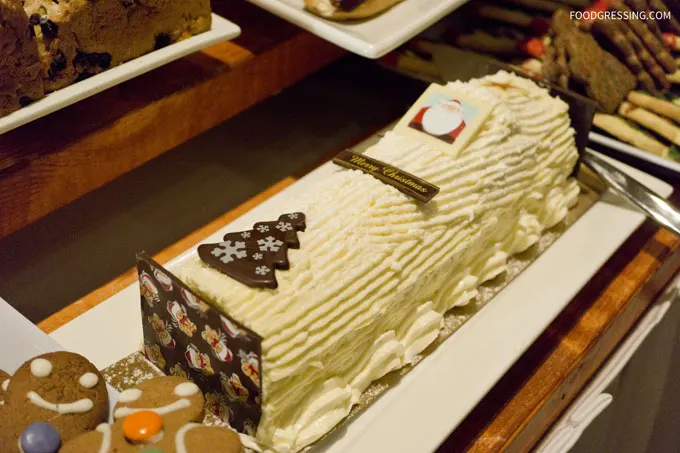 Why Chose the Hilton Vancouver Metrotown

You don't have to prepay. Unlike a few hotels in Downtown Vancouver, you don't need to prepay your Christmas meal at the Hilton Metrotown.
They have multiple seatings. It is nice that they can accommodate many people on Christmas Day. There were four seatings: 10:30 am, 1 pm, 4:30 pm and 7 pm.
They take reservations ahead of time. I remember spending one Christmas waiting in line for the River Rock Casino Buffet in Richmond. Not exactly how I would like to spend my holiday.
The meal is held in a large ballroom. The ballroom is spacious which is great because I have a toddler who needs to run around sometimes.
Service is very good. Plates are clearly in a timely manner and the server was generally in sight during the meal.
Price per person is slightly less than Downtown Vancouver hotels. The cost per adult was $65 plus tax and gratuity, which is less than what I found for other Downtown hotels that charged $70 – $100.
The selection and quality of food is excellent. And the dessert table is super impressive…more on that later.
The Crystal Ballroom
One thing to keep in mind is that for these special occasions the meals are not held in the hotel's restaurant, Reflect, but rather in a large ballroom (*think conferences and weddings*). The ambiance is obviously different from what one would expect at a restaurant. You do get preassigned tables based on your party size.

The Food
The buffet had an excellent selection of fresh seasonal salads, cold cut gourmet platters, chilled seafood and sushi, a chef carving station, hot mains and one *crazy awesome* dessert table. There was a great variety for the salads, sushi and cold platters, but I focused mainly on the seafood, carving station, hot mains and well, dessert. Below are photos of some of the highlights of the buffet offerings:
To start off, this was definitely the ultimate Christmas sushi platter!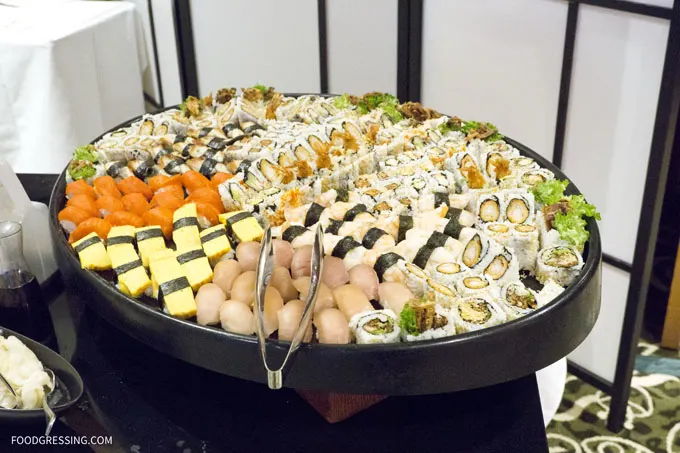 I really loved the Royal Miyagi oysters. They have fresh notes of parsley, cucumber and hints of lavender.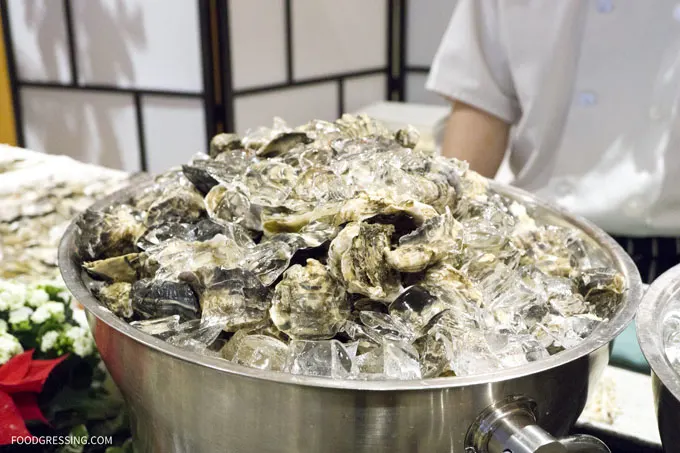 Mussels are a must for the holidays.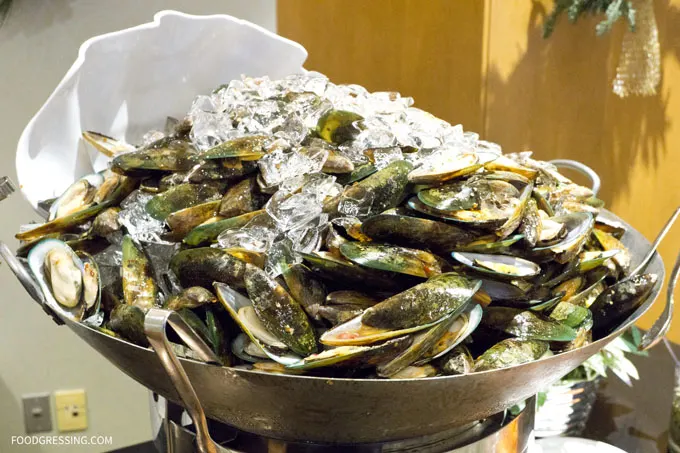 The carving station had slow roasted angus striploin with on vine roasted brussels sprouts and yorkshire pudding.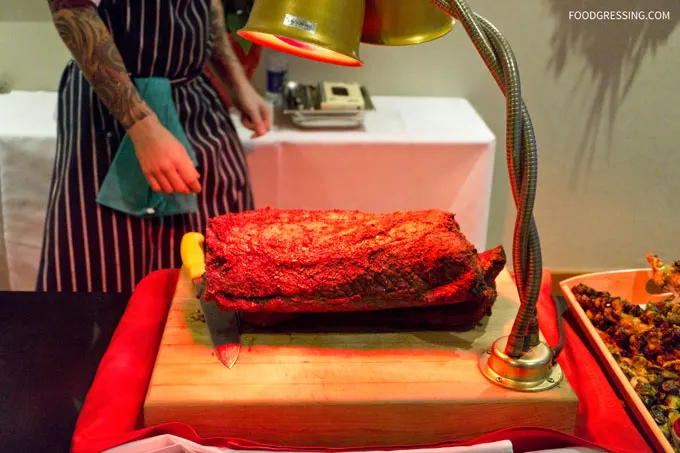 I was all over the yorkshire pudding with gravy. YUM!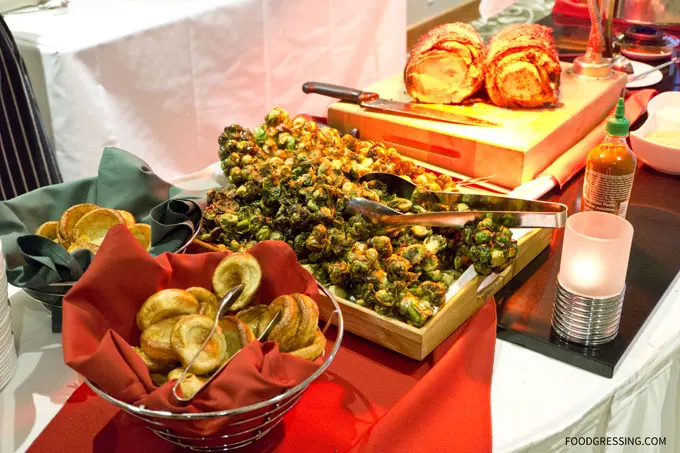 There was undoubtedly traditional Christmas Day fare: roasted turkey with sage stuffing and cranberry sauce. I thought it was really elegant to have the stuffing in slices.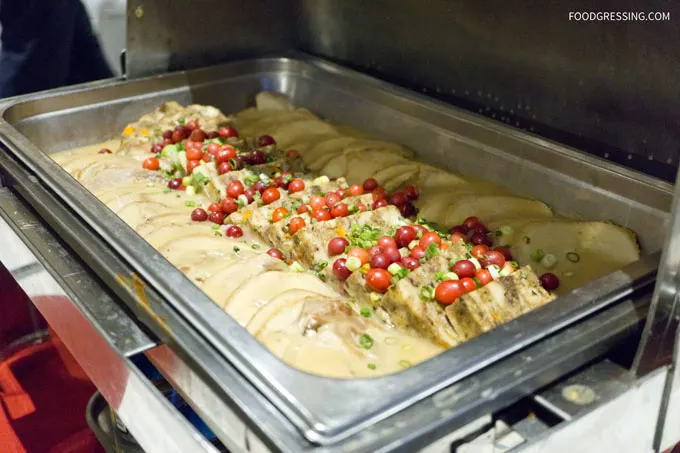 The long table of desserts was truly mouthwatering with what seemed like an endless array of decadent Christmas cakes, cookies and treats.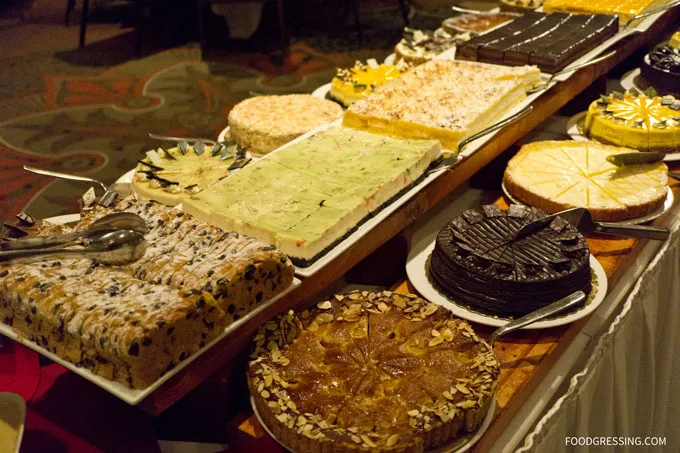 The holiday-themed sugar cookies were a hit with my son.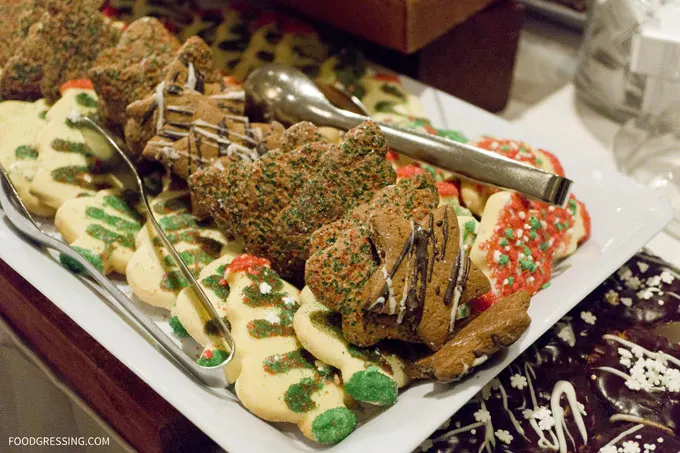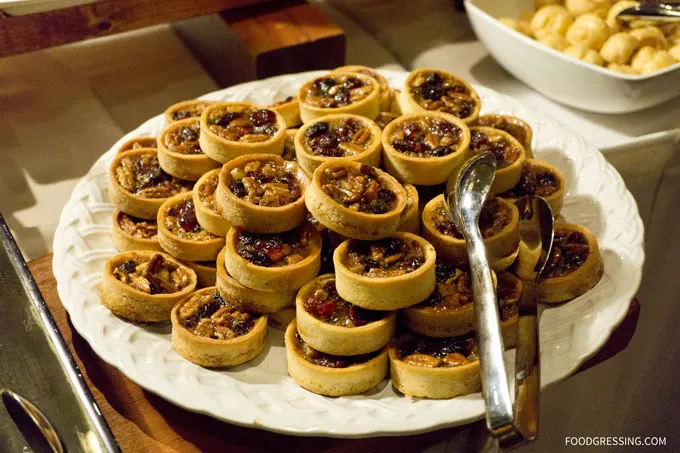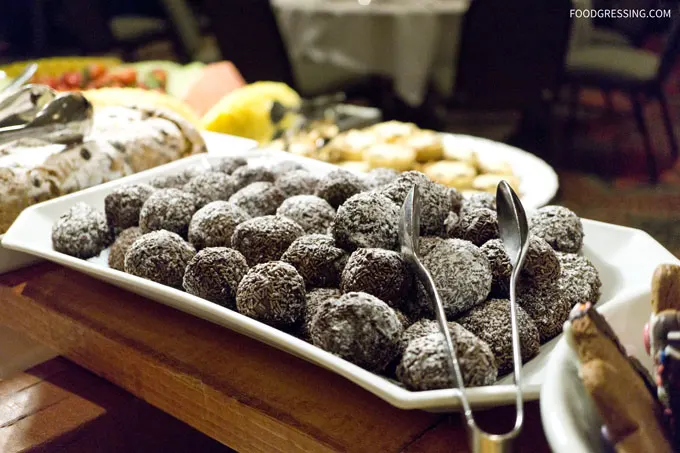 Overall Impression of Hilton Vancouver Metrotown
We had a very delicious and merry Christmas meal at the Hilton Vancouver Metrotown. The food was on point for buffet fare served at a hotel. I would recommend going to the Hilton Metrotown Vancouver for a hassle-free and luxurious feast during a holiday. Rating: 4.5/5
For more information, visit them on their website and social media: Facebook, Twitter, and Instagram.