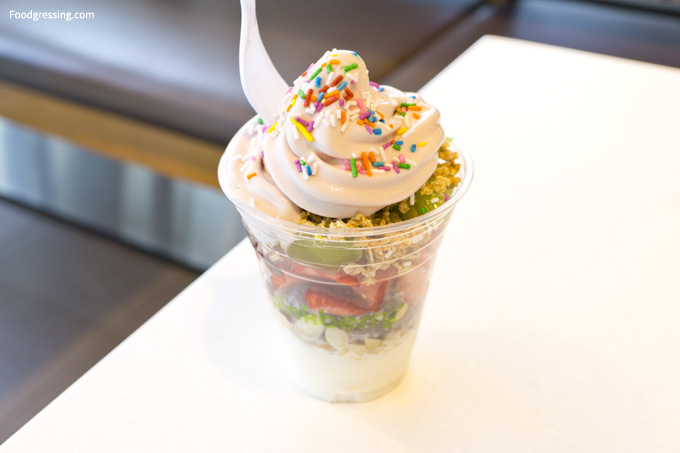 While I have indulged in Menchie's frozen yogurt a few times, I have never tried Pinkberry before. When I saw the Pinkberry Groupon deal for $5 for $10, I decided to buy it and give them a try. 4 out of the 5 Pinkberry locations in Canada are in B.C. alone: Park Royal, Richmond Centre, Metrotown and High Street Abbotsford. The remaining location is in Alberta. I headed to Richmond Centre to redeem the Groupon deal with a friend.
It Ain't No Health Food
Frozen yogurt should not be considered a health food. Pinkberry advertises that they use fresh-cut fruit and no added water or fructose syrup to their yogurt. What they do not report obviously is of their use of emulsifiers, acidifiers, preservatives, and fillers (just sayin'). Frozen yogurt is a highly processed product even though Pinkberry's original tart flavour has been noted as having a *natural*, sour greek yogurt taste.
Pinkberry Richmond Centre
The Pinkberry at Richmond Centre is in a stand-alone booth in the middle of their second level dining terrace. The appearance of the booth is in line with the Pinkberry brand – clean, chic and modern.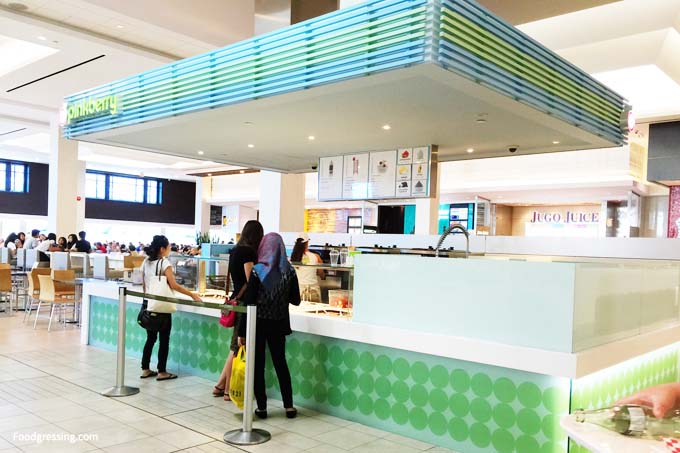 Pinkberry Menu
The frozen yogurt comes in small, medium and large. The cost ranges from $4- $6 for yogurt alone or $6-$9 with toppings depending on the size. You can get as many toppings as you want providing that they fit in the bowl – that is, they have to fit nicely surrounding the yogurt peak.
They also have yogurt ($11) or toppings ($2) to take home. Smoothies are $4 for a 12 oz and $5 for a 16 oz. A frozen yogurt parfait or a fresh fruit bowl is $5.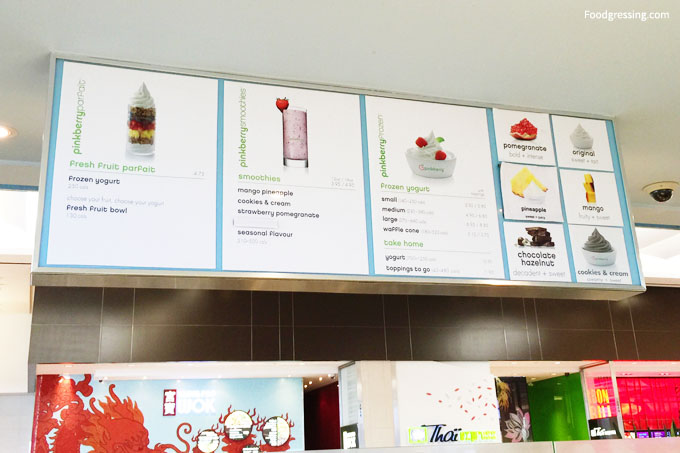 There are fresh fruit toppings.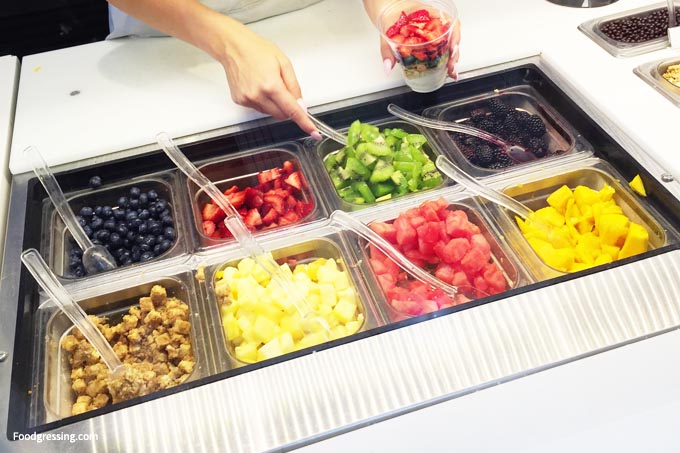 Other dry toppings include sprinkles, gummy works, coconut flakes etc.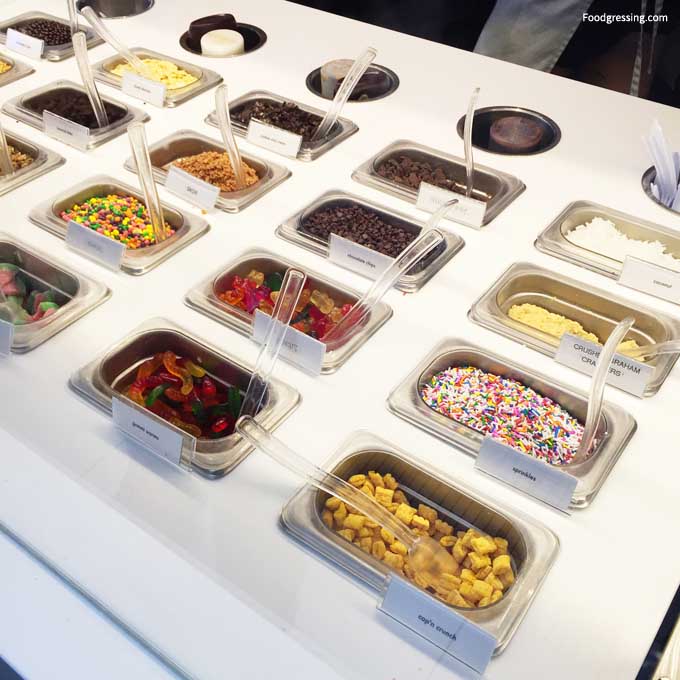 What We Tried
As I approached the booth, a girl working there asked me if I would like to try some samples. Unfortunately, they ran out of their original flavour. The next closest in taste to the original was the pomegranate. It was light and a bit on the sour side, but still tasty. I also tried the pineapple yogurt, which I found to be very bold and "citrusy".
We decided on a small frozen yogurt with toppings ($6) and a frozen yogurt parfait ($5).
For the frozen yogurt, we had the pomegranate flavour, which apparently is 100% California grown pure pomegranate juice. Toppings include strawberry and mango boba, blueberry, mango, cheesecake and coconut flakes.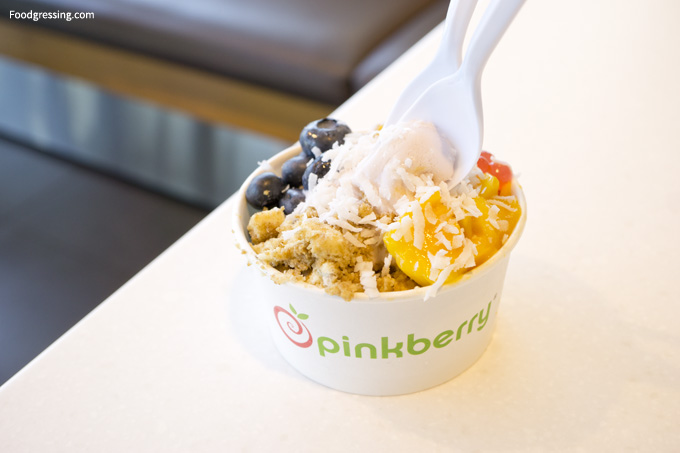 For the frozen yogurt parfait, we had the following layers: pineapple yogurt, toasted almonds, blueberry, strawberry, kiwi, granola and topped with final layer of pomegranate yogurt and sprinkles.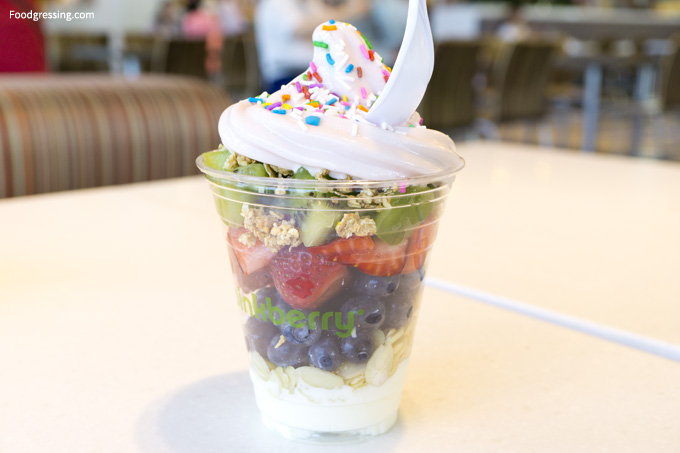 I found the student-aged staff there to be surprisingly friendly. The girl who prepared our treats was not stingy and packed on the toppings as much as she could. She was patient with us as we were undecided on the toppings.
Overall Impression
I found the frozen yogurt parfait to be of better value than a small yogurt cup if you just want fresh fruit with frozen yogurt. You can fit in some nice layers of fruit in the parfait rather than packing them rightly in a small cup. The parfait is about $1 less than a small yogurt cup with toppings. They ran out of the original yogurt flavour but the pomegrante was a good substitute. I was impressed with the friendliness of the staff at Pinkberry Richmond Centre.
Rating: 3.5/5
Website: http://www.pinkberrycanada.com/
Groupon deal (currently still available June 17, 2015, not an affiliate link): Pinkberry Groupon deal for $5 for $10