Located on the Osoyoos Indian Reserve in the Okanagan Valley, Nk'Mip Cellars is inspired to express its culture in everything they do. Although the winery is celebrating 20 years this year, its story begins long before, and is rooted in agricultural practices and spirituality tied to the land of the Osoyoos, along with a legacy of hard work and ongoing encouragement of entrepreneurship.
Today, Nk'Mip Cellars is one of many businesses, health, social, educational and municipal initiatives that have helped secure the Osoyoos Indian Band financial independence and high employment. In fact, unemployment on the reserve is lower than the national average (less than 3%) and 20% of the more than 500 band members are in senior positions.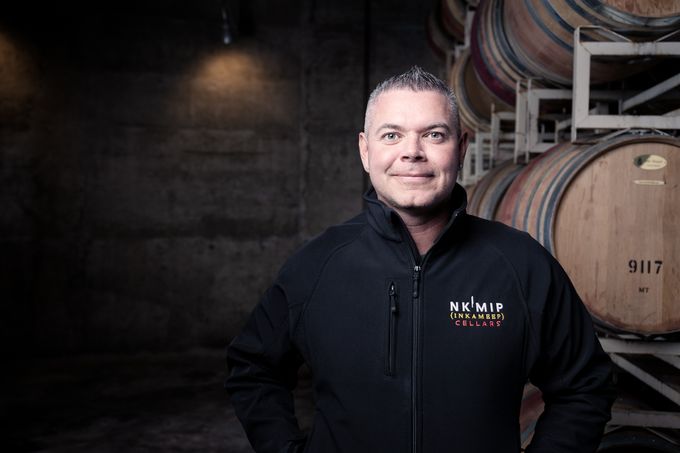 This National Indigenous Peoples Day, Nk'Mip Cellars is inviting Canadians to discover, not only the international award-winning wines it produces, but the relentless spirit and remarkable history that
inspires them, in the following ways: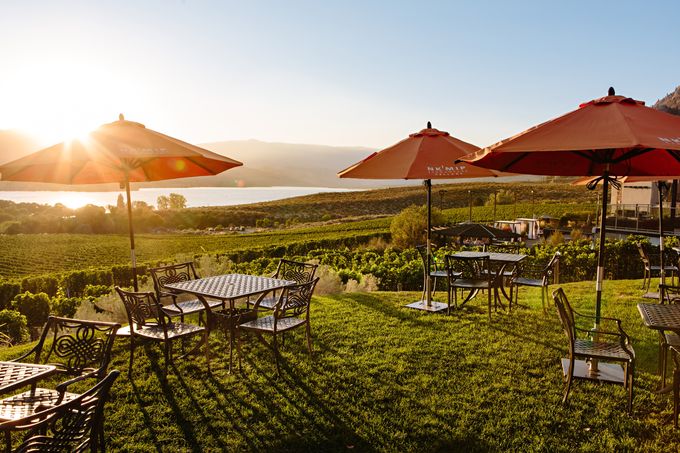 Reserve Your Spot – Nk'Mip Cellars' Executive Chef, Ian Stilborn along with special guests, Chefs Joe Dierickse and Cheyenne Sunday from neighbouring restaurant, The Bear, The Fish, The Root & The Berry have developed a multi-course dinner representing the four elements – Earth, Water, Fire, and Air. The dinner is served alongside a curated selection of Nk'Mip Cellars' award-winning wines. Please find additional details regarding the Elements Dinner here.
Learn about Nk'Mip Cellars' Origins – Here are 20 facts about the land, the legend, the wine, to ring in 20 years of Nk'Mip. In an effort to continue to educate Canadians on the rich history of Nk'Mip Cellars, this information will be shared on Nk'Mip's Instagram channel throughout the month of June.
Overnight success? Absolutely not. When Nk'Mip Cellars was born in 2002, it was the culmination of a 30-year dream to be successful in viticulture for the Osoyoos Indian Band.
The 32,000-acre reserve on which the Osoyoos live today was created in 1877 and constitutes only a portion of their Okanagan traditional territory.
Did you know? 12 per cent of all British Columbian grapes are grown on the Osoyoos Indian Band lands.
During peak growing season, the southern Okanagan regions see nearly three hours more sunlight per day than California's Napa Valley. The longer daylight hours mixed with the hot, arid desert conditions results in the complex, bold flavour Okanagan Valley wine is known for.
Spurred on by visions of agricultural opportunity and the demand for grapes by big wineries, the Osoyoos Indian Band joined the Okanagan Valley in the grape growing business in 1968, establishing Inkameep Vineyards.
Former Osoyoos Indian Band Chief, Sam Baptiste, helped plant the original vines in Inkameep Vineyards when he was in high school in 1968. Baptiste was one of the youngest Chiefs ever elected in BC, and following his term of governance, Sam pursued a formal training in horticulture and in viticulture in Washington State. Today, Sam is the general manager for the original 360-acre Inkameep Vineyard.
As protectors of the land, core to the Osoyoos Indian Bands' viticulture was (and to this day is) minimal intervention, ensuring practices remain as sustainable as possible.
What's one of the best predictors of a healthy vineyard? Spiders. The presence of spiders indicates good microflora and bacteria rich soil, with spiders acting as an organic pesticide eating insects found on grapes.
The great freeze of 1978-79 and the catastrophe caused by plant viruses nearly destroyed the original vines planted. But the success of the Osoyoos Indian Band is a testament to the perseverance of the Band and hard work of many.
Throughout the grape growing process, the Osoyoos Indian Band remained true to its dreams of self-reliance and opportunity, developing contemporary ventures steeped in traditional culture. And in September of 2002, Nk'Mip Cellars opened its doors, entering the premium market with the release of four Nk'Mip label VQA wines: Winemaker's Pinot Blanc, Chardonnay, Pinot Noir and Merlot.
Nk'Mip is a Syilx word that translates into "bottomland" in English and was named this because it's at the southernmost (or bottom) end of the Osoyoos reservation. It is the "place where the creek joins the lake."
Since opening its doors in 2002, Nk'Mip Cellars has doubled the number of wine bottles sold annually. Today, Nk'Mip Cellars annually sells approximately 22,000 cases which equals 264,000 bottles of wine.
Nk'Mip Cellars grows 11 varieties of grapes on the Osoyoos Indian Reserve: Pinot Noir, Cabernet Sauvignon, Cabernet Franc, Syrah, Malbec, Merlot, Sauvignon Blanc, Riesling, Pinot Blanc, Semillon and Chardonnay.
When asked to think about a name for the earthy smell of the Okanagan Valley, the Osoyoos Indian Band elders provided: SÍN Iʔ TMXʷULAXʷ – pronounced sin-eet-teem-who-lowh – which means sweet-smelling place.
Since 2014, Nk'Mip Cellars wine has been awarded approximately 190 medals.
In 2016, Nk'Mip Cellars was named as the InterVin Canadian Winery of the Year, a prestigious award that recognizes and celebrates the best wines available to Canadians.
We offer 3 different tiers of wine:

Winemakers Tier, which are adorned with labels inspired by Osoyoos Indian Band member and artist, Linda Anderson's paining "Flicker Dreams".
Qwam Qwmt (pronounced kw-em kw-empt) Tier: In the Okanagan language spoken by the Osoyoos Indian Band this translates to "achieving excellence", and is produced in very limited quantities, sourced primarily from the finest grapes grown on the old Inkameep Vineyards. Though ready to drink when released, these wines are meant to be put away and age for enjoyment in the years to come.
Mer'r'iym Tier: The Syilx word for "marriage" and the inspiration for a wine that represents the perfect union of Varietals.

Our Head Winemaker, Justin Hall, began his career at Nk'Mip Cellars in 2003 while he was attending college for Viticulture in Okanagan. After graduating, Justin completed a post-graduate diploma in Enology and Viticulture from New Zealand's Lincoln University. Justin returned to Nk'Mip Cellars in 2009 and has grown from assistant winemaker to leading the team as Head Winemaker today.
In June 2021, Nk'Mip Cellars launched a new tasting experience at District Wine Village, Canada's first ever wine village, along with 15 other artisanal and craft producers in the Okanagan region. The District Wine Village also sits on the Osoyoos Indian Band Reserve.
Today, Nk'Mip Cellars is one of many businesses, health, social, educational and municipal initiatives that have helped secure the Osoyoos Indian Band financial independence and high employment. In fact, unemployment on the reserve is less than three per cent and 20 per cent of the more than 500 band members are in senior positions.
Bring the Nk'Mip Cellars Experience Home – NK'Mip Cellars partnered with local Cree-Dene Chef, Heat Laliberte to develop a dinner kit inspired by the legend of the The Three Sisters: corn, bean and squash. The kit is a celebration of Chef Lalibrte's roots and includes a recipe card, shopping list, $40 Save-On-Foods gift card and a bottle each of the Qwam Qwmt Chardonnay and Qwam Qwmt Syrah. The Three Sisters Dinner kits can be purchased via Great Estates Okanagan here and are available while supplies last