In this Mooncakes Vancouver 2022 post, I cover some places where you can buy mooncakes locally from the classic to the unique flavours. There is also a section on special restaurant features.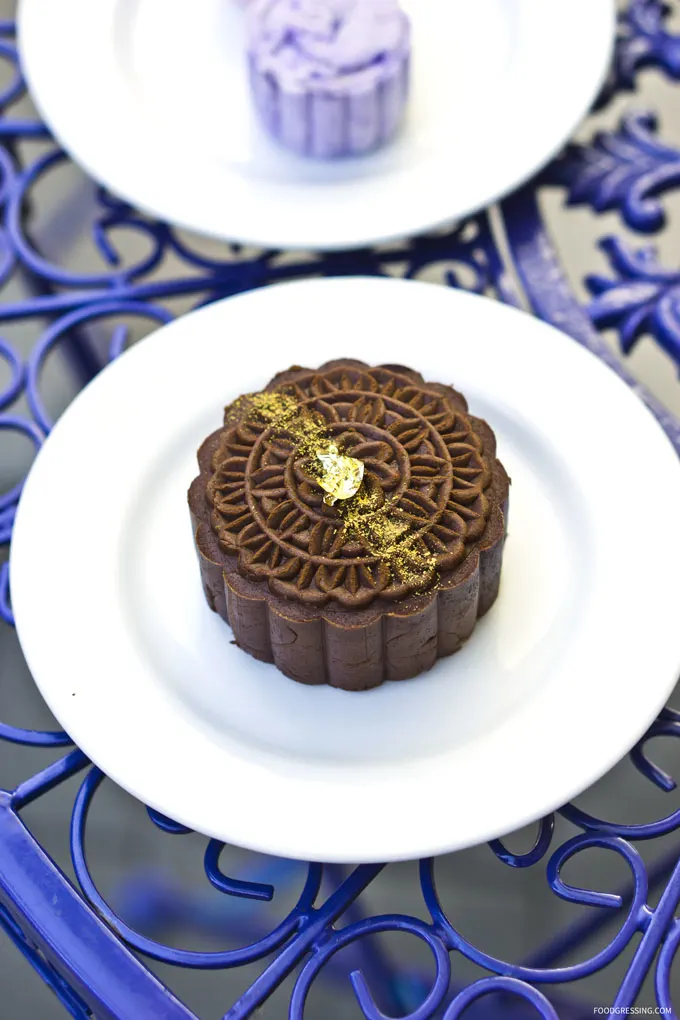 As summer fades away and the leaves turn brown, it's that wonderful time of year to gather and give thanks under the Harvest moon.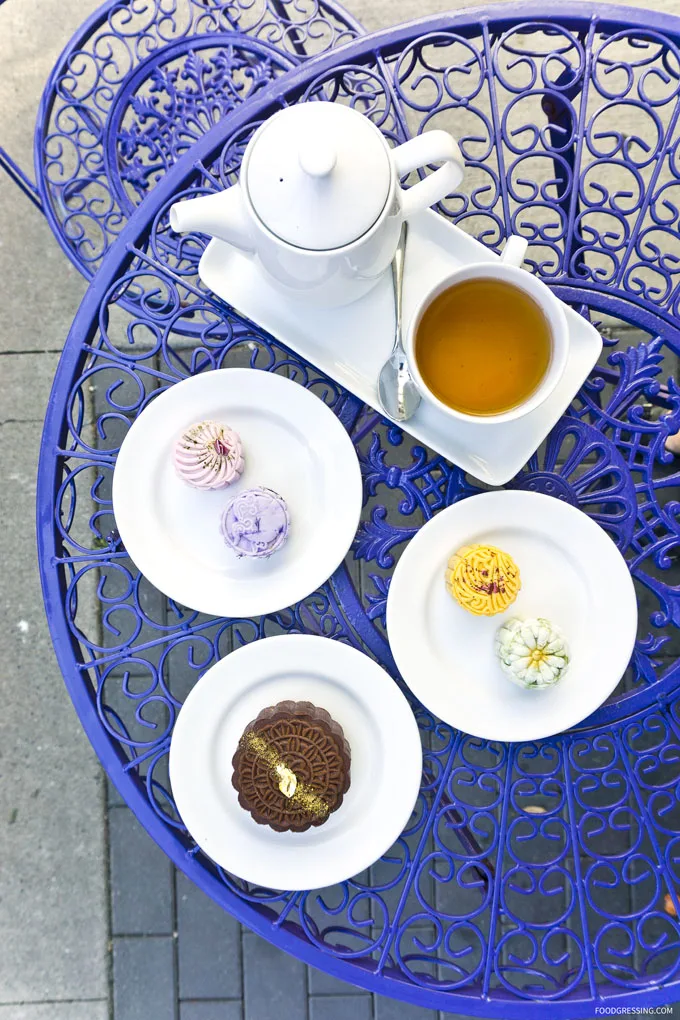 Mid-Autumn Festival 2022 is a harvest festival celebrated in Chinese culture and some people compare it to North American Thanksgiving.
This year, Mid-Autumn Festival falls on Tuesday, September 10, 2022.
The most iconic food associated with the Mid-Autumn festival is mooncake.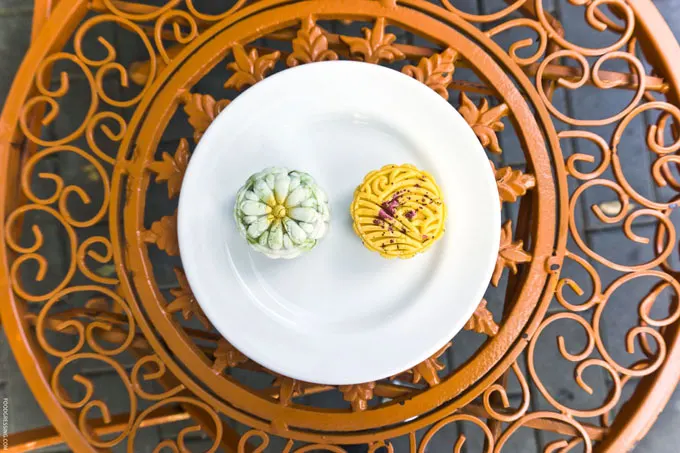 The mooncake is stuffed traditionally with red bean paste, fruit, egg yolk, nuts or lotus seed paste.
However, there have been more unique and creative fillings in modern times.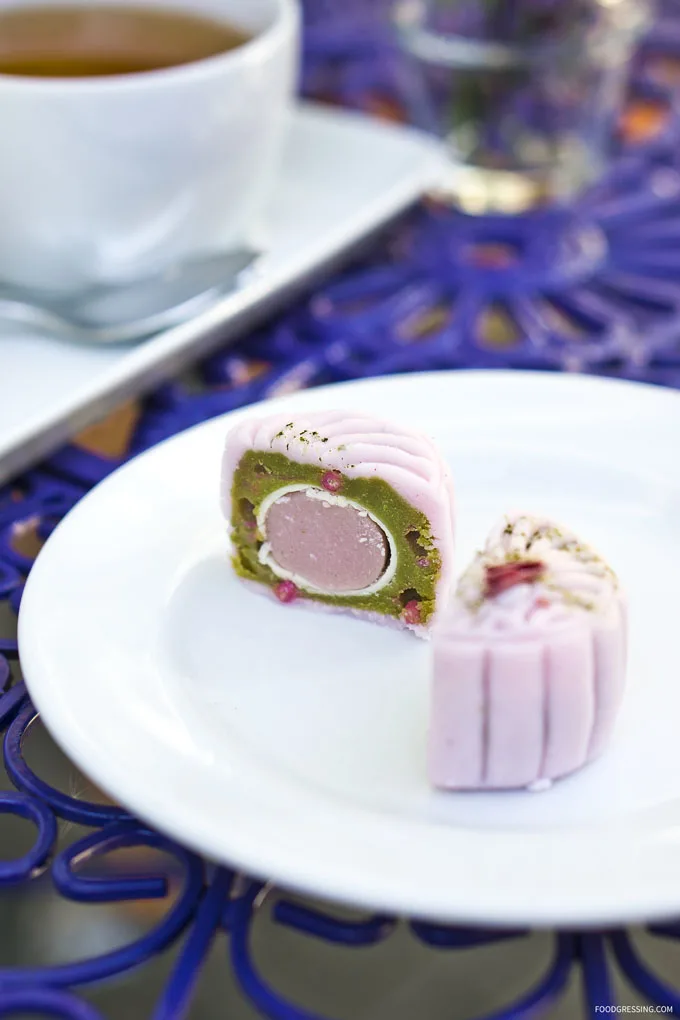 Its round shape symbolizes "unity" or "reunion" and best wishes.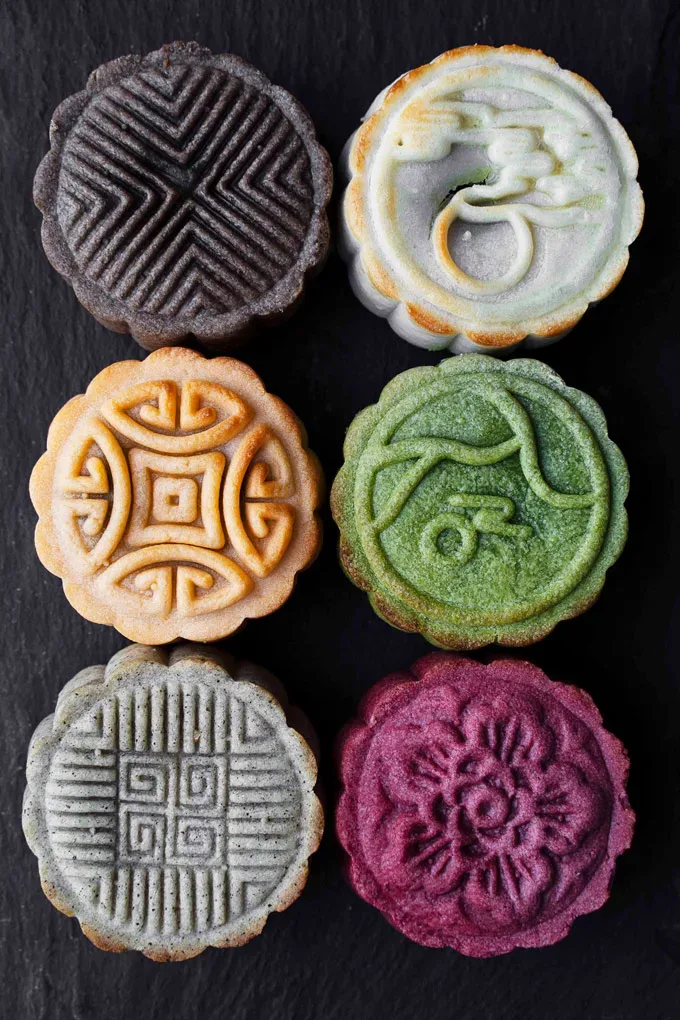 From the traditional to the modern and unique, here are a few specific places to find Mooncakes Vancouver 2022 for your Mid-Autumn Festival 2022 celebration.
This Mooncakes Vancouver 2022 list is updated as more information becomes available. Please contact me at [email protected] or @foodgressing on social media to be featured.
Unique/Creative Options for Mooncakes Vancouver 2022
Buttermere Patisserie
Made with steamed glutinous rice flour to make a mochi-like pastry shell and sold only as a package of 6 in a Buttermere branded hand-carry box, each mooncake weighs about 50 grams and comes individually packed.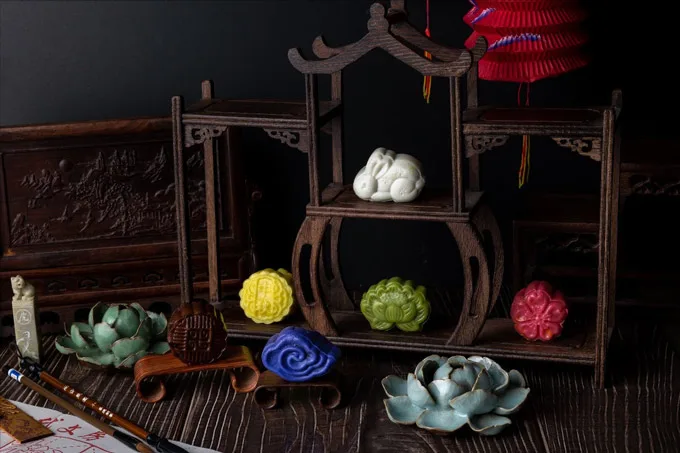 Each set contains 6 flavours
Jade Hare (玉兔) – Earl Grey Orange
Marigold (萬壽菊) – Ube & Taro
Plum Blossom (梅花)- Strawberry Cream Cheese
Hua-Chuan (花窗) – Coconut Latte
Auspicious Cloud (祥雲)- Sesame Macadamia
Mid-Autumn (中秋) – Durian
Pre-order ends September 6, 2022 and pick up between Sept 1 – September 10.
L'OTUS Cake Boutique
L'OTUS Cake Boutique (Burnaby, Richmond) has a few different, mooncake gift sets:
6 pieces Lava Custard gift set
6 assorted flavors gift set
2 pieces bag gift set
Gift box package buy 20 boxes 1 free
Gift box package buy 50 boxes 3 free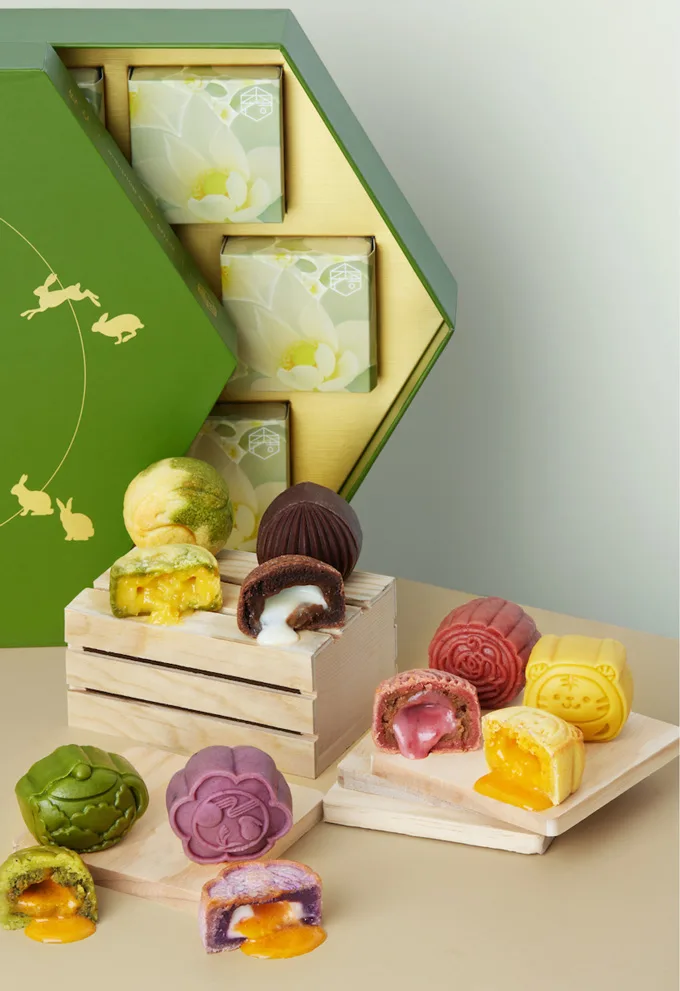 Flavours:
Lava custard 金莎流心
Matcha Yuzu 抹茶柚子
Rose Raspberry 玫瑰樹莓
Genmaicha Gustard 玄米金莎
Mocha摩卡流心
Purple Yam Mochi紫薯麻薯
Masang Durian 榴莲
No5 Matcha Tea 特濃抹茶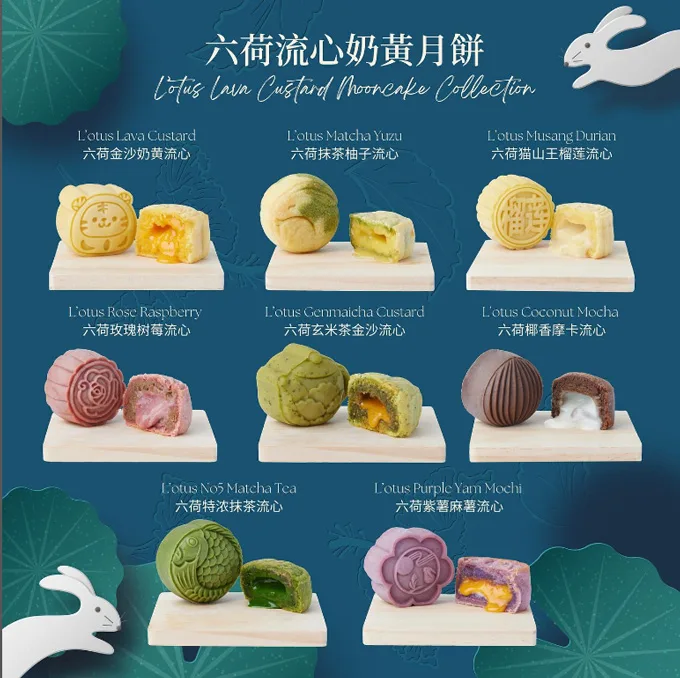 Beaucoup Bakery
Beaucoup Bakery is offering a mooncake gift set ($42) which includes:
2x Taro – housemade taro filling with a soft peanut centre
2x Coco Pandan – coconut rice pudding and pandan marzipan
2x Crème Sago – vanilla sago custard, and a soft sesame centre.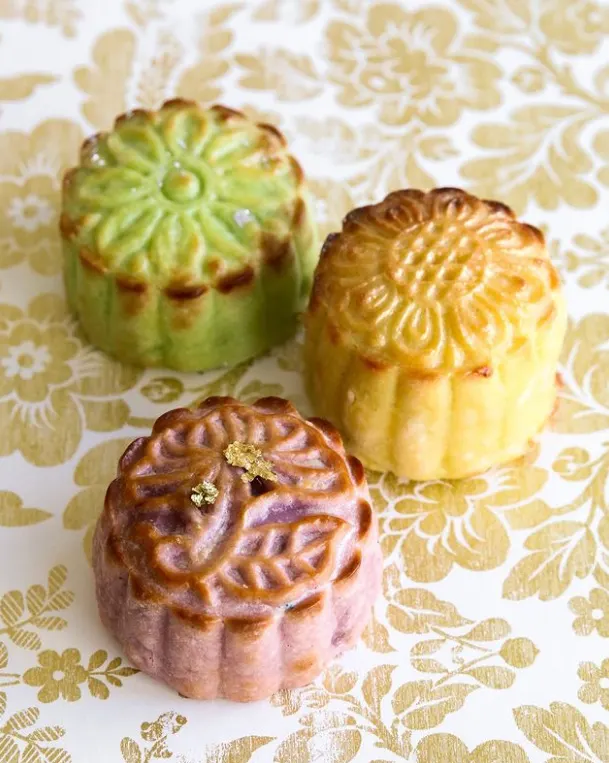 Paragon Tea Room
Paragon Tea Room is offering a Tea-Infused LAVA Mooncake gift set which one of each flavour:
Matcha Black Sesame Lava
Hojicha Salted Egg
Salted Kinako Genmaicha Lava
Osmanthus Jasmine Green Tea Lava *NEW*
Thai Tea Frangipane
Tangerine Pu-erh Chocolate Lava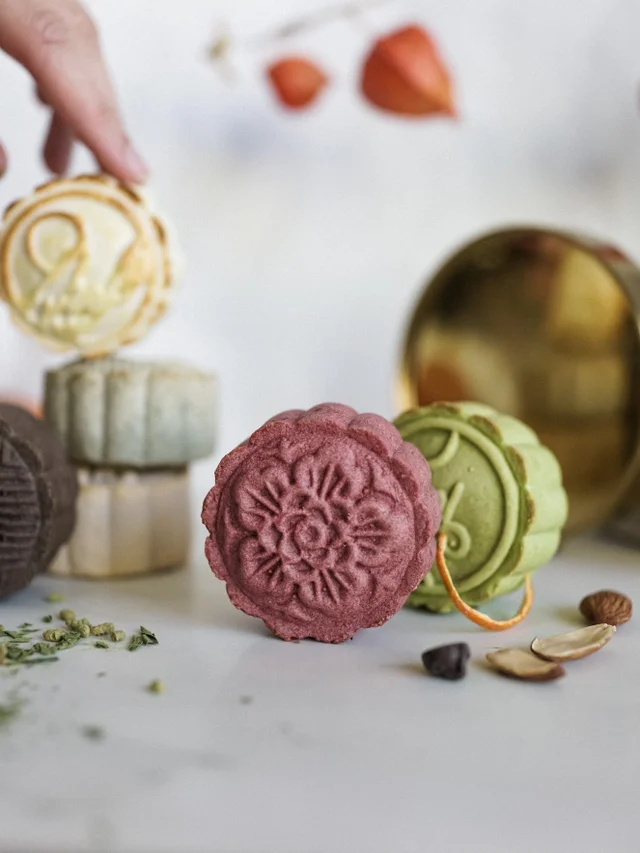 Chez Christophe
From September 1 – 10, celebrate the moon with Chez Christophe's twist on a traditional Moon Cake.​​​​​​​ featuring Paragon Tea Room ​​​​​​Premium Matcha green tea mousse with a centre of red bean paste rolled in an almond sponge​​​​​​​​. ​​​​​​Available at both locations (White Rock & Burnaby). Priced at $7.85 each.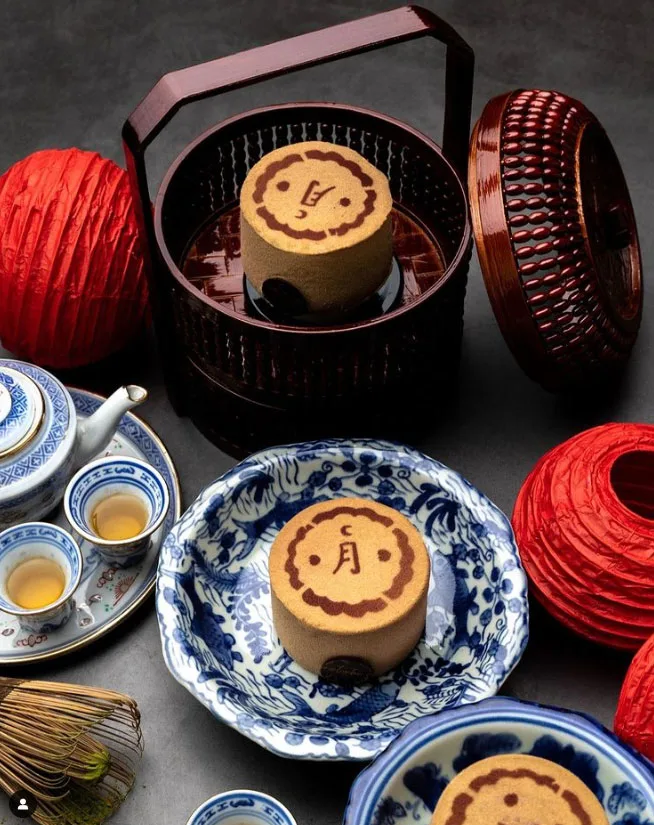 Nam Dae Moon
Nam Dae Moon
The crafty Nam Dae Moon Vancouver team is presenting its 2022 Mooncake Set, for sale now for $68.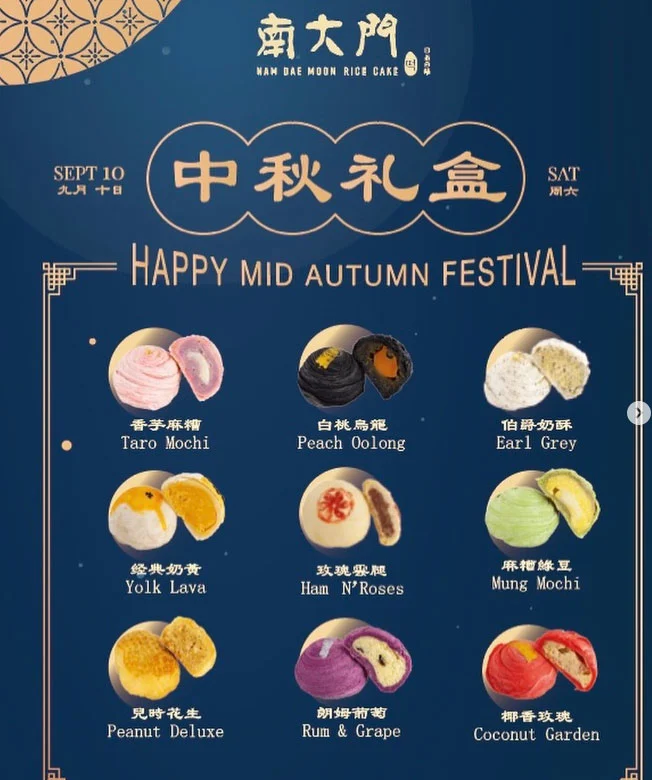 The 2022 Moon Cake Set by Nam Dae Moon Vancouver features the style of traditional mooncake making from the South of the Yangzi River region, or the Jiangnan 江南 area, covering the city of Shanghai, and the provinces of Jiangsu and Zhejiang. The set comes with 9 different flavours, telling 9 unique stories about the Moon Fest, a special day celebrated by folks with Chinese heritage around the world.
The aesthetically pleasing presentation of the pastry is another essential part of the craft besides the flavours, featuring vibrant colours and the astonishing thousand-layer pastry technique.
Classic ingredients such as taro, salty egg yolk, mung bean, Yunnan ham, and peanuts, blended with delicate bakery flavours such as oolong, earl grey, and rose water. The Taro Mochi and the Mung Mochi are worthy of great attention as they are prepared with the famous Nam Dae Moon mochi freshly made daily for the fun chewy texture.
The set also comes in an exquisite package, making it the perfect gift for this special occasion. Here are the 9 flavours of the mooncakes
Taro Mochi (香芋麻糬)
Peach Oolong (白桃烏龍)
Earl Grey (伯爵奶酥)
Yolk Lava (經典奶黃)
Ham N'Roses (玫瑰雲腿)
Mung Mochi (麻糬綠豆)
Peanut Deluxe (兒時花生)
Rum & Grape (朗姆葡萄)
Coconut Garden (椰香玫瑰)
The Nam Dam Moon Mooncake Set, for $68, is now available for reservation and can be picked up on September 1 – 10. The mooncakes can be stored in the fridge for up to 72 hours. They can be refreshed by reheating in the oven.
Contact the following Nam Dae Moon locations to reserve the moon cake set:
Burnaby: 108 – 6868 Royal Oak Ave, Burnaby, BC | 12PM – 8PM 604-559-6789
Richmond: 2131 – 3779 Sexsmith Rd, Richmond, BC | 12PM – 8PM (778) 297-6999
TWG Tea Canada
TWG Tea Canada is offering the Immortal Moon Tea Mooncake Collection with the following flavours: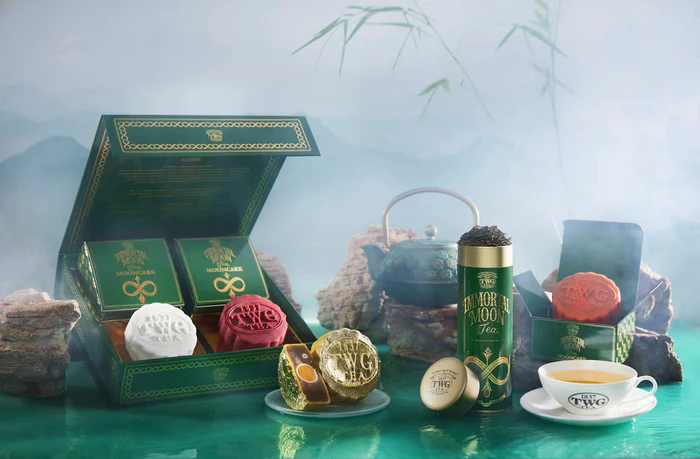 Constellation: This iconic signature of the mid-autumn festival holds within a golden crust a smooth and elegant brown lotus filling infused with Singapore Breakfast Tea, a scattering of roasted melon seeds and an embedded salted egg yolk heart. A timeless favourite.
Blossom: Encased in a sumptuous baked crust infused with Bain de Roses Tea, this TWG Tea mooncake boasts a rich and smooth lychee white lotus paste. A harmony of fruits and flowers.
Ruby: Adorned in a perfectly baked ruby red crust, this exclusive TWG Tea mooncake reveals a smooth and delicate white lotus paste infused with Milk Oolong. A beautiful union of flavours.
Harvest: Concealed in a perfectly baked golden-brown crust, this exquisite mooncake encases a Pu-Erh infused white lotus paste which envelopes a tangy almond and passion fruit purée.
Azure Play Cafe
Azure Play Cafe in Richmond is offering house-made mooncakes.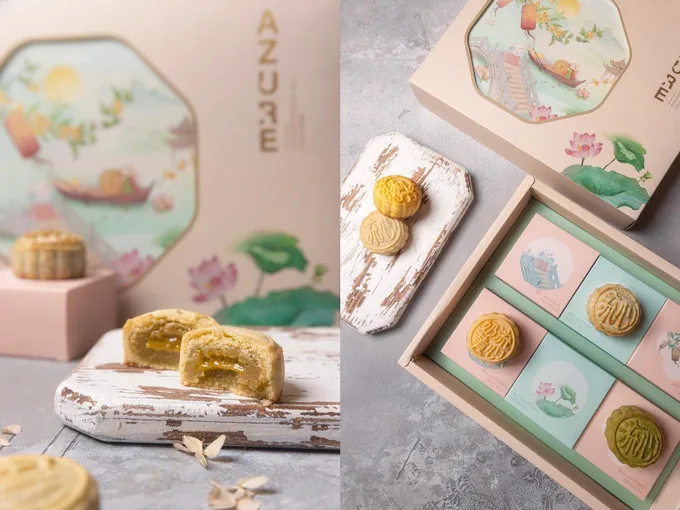 Yandoux Pattiserie
Yandoux Pattiserie is offering a special Mid-Autumn mousse cake set.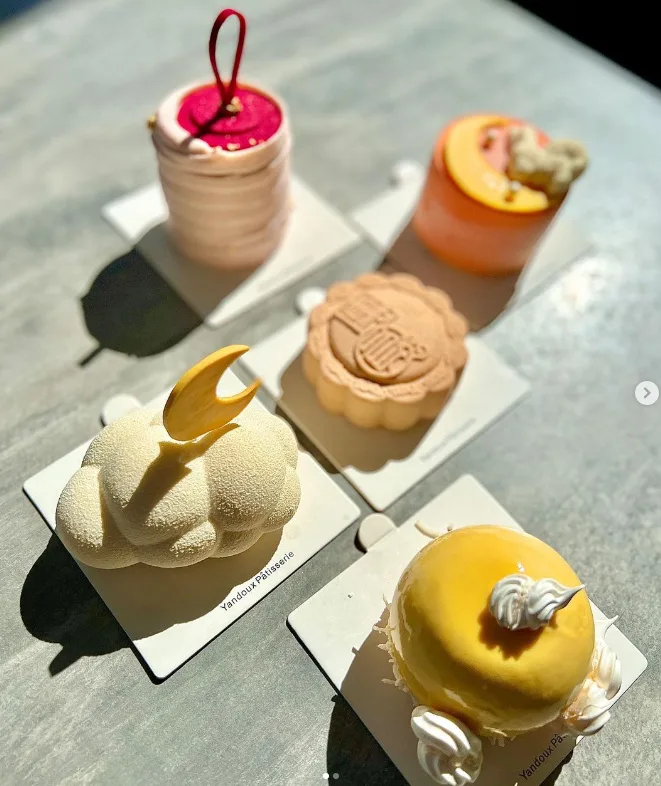 Tea Cubed Patisserie
Tea Cubed Patisserie has a pop-up featuring new mid-autumn themed cake set and their signature ice cream puff with milk tea slush for the upcoming mid-autumn festival. You can find them at PriceSmart in Burnaby Station Square until September 11. Friday – Saturday: 1:00 pm – 5:30 pm and 7 pm – 9:30 pm. Sunday: 12:00 pm – 5:30 pm.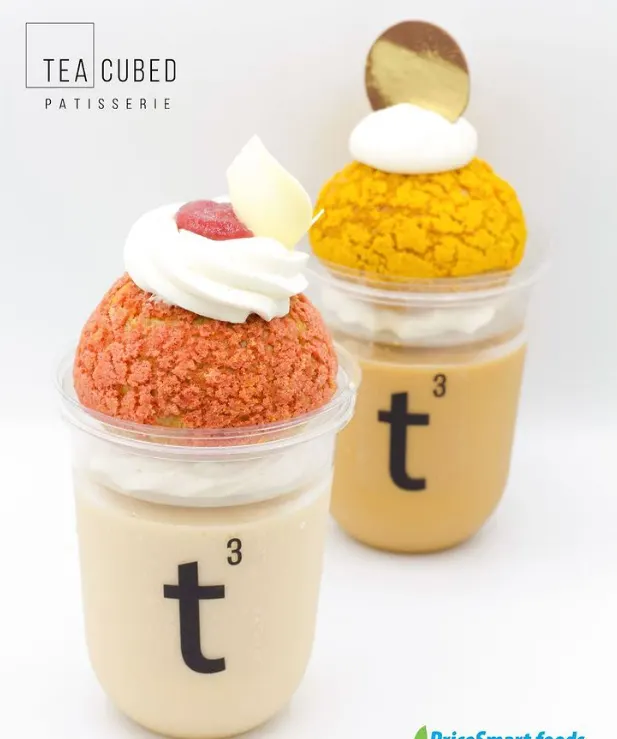 Lady M Canada
Lady M Confections is offering a 2022 Glowing Lights Mooncake Gift Set to celebrate Mid-Autumn Festival.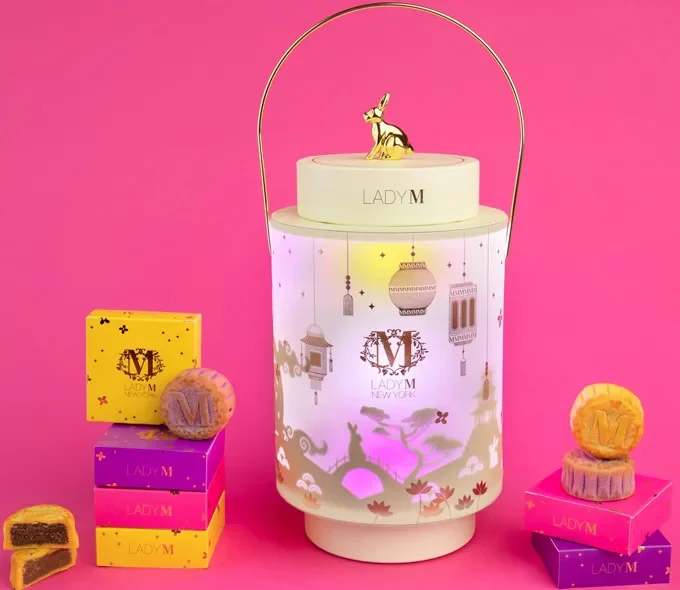 The glow of this year's limited-edition spinning lantern illuminates an intricate, hidden moonlit scene while the luxurious golden handle and exquisite foil details celebrate the elegance of this beloved holiday.
Atop the lantern sits a lucky golden rabbit, symbolizing the annual celebration of the full moon and abundant autumn harvest.
Lifting the golden rabbit charm reveals a tower of Lady M's famous miniature mooncakes, made in collaboration with Kee Wah Bakery.
Inside, the Gift Set includes two each of three unique mooncake flavors along with a gift bag, custom greeting card and envelope.
This year, the luxuriously adorned set features three decadent flavors – Earl Grey Mooncake, a fan-favorite tea flavor wrapped in a golden mooncake shell; Caramel Coffee Mooncake, a bold and rich coffee flavor meets classic mooncake pastry with a hint of caramel; and Purple Yam Custard Mooncake, a soft purple yam custard wrapped in a buttery pastry shell, vibrant in both color and flavor.
Chinese Bakeries/Restaurants
Maxim's Bakery
Maxim's Bakery will be offering mooncakes again this year. Here are some highlights:
Maxim's Traditional Mooncake Series 美心傳統月餅系列
Savor authentic mooncakes made with rich, fragrant lotus seed paste (red bean, mung bean or red date paste). We use the finest ingredients for our different traditional mooncakes: Truffle, abalone, dried scallop, Jinhua ham, mixed nuts as well as supreme salted egg yolks resulting in a distinctive taste. Celebrate this joyous reunion with you and your loved ones under the moon.
Maxim's Lava Custard Mooncake 至尊流心奶黃月餅
A unique breakthrough in the market that combining lava filling with custard mooncake. With the finest ingredients: Fresh local butter, coconut cream, whipping cream and supreme salted egg yolks, Maxim's Lava custard mooncake brings you a new level of gastronomy enjoyment.
Maxim's Snowy Mooncake Series 美心冰皮月餅系列
Snowy mooncakes are made with frozen glutinous rice. We use a variety of fillings (mung bean, chocolate & mocha, mango & pomelo, cheese & blueberry, durian, green tea & raspberry, red bean) for our different snowy mooncakes. They all add up to a delightfully special Mid-Autumn treat.
Maxim's Bakery has 8 locations in Greater Vancouver: Vancouver (Commerical Drive, Vancouver Chinatown, Victoria Drive, Fraser Street), Burnaby (Metrotown), Coquitlam, Richmond Centre and Surrey.
Maxim's Bakery
3596 Commercial St, Vancouver
6387 Fraser St, Vancouver
257 Keefer St, Vancouver (Chinatown)
5613 Victoria Dr, Vancouver
4800 Kingsway, Burnaby (Metrotown)
6060 Minoru Blvd, Richmond (Richmond Centre)
10153 King George Blvd Unit 152, Surrey
1163 Pinetree Way #1136, Coquitlam
www.facebook.com/Maximscanada
Saint Germain Bakery
Saint Germain Bakery is another local bakery chain that offers mooncakes Toronto 2022.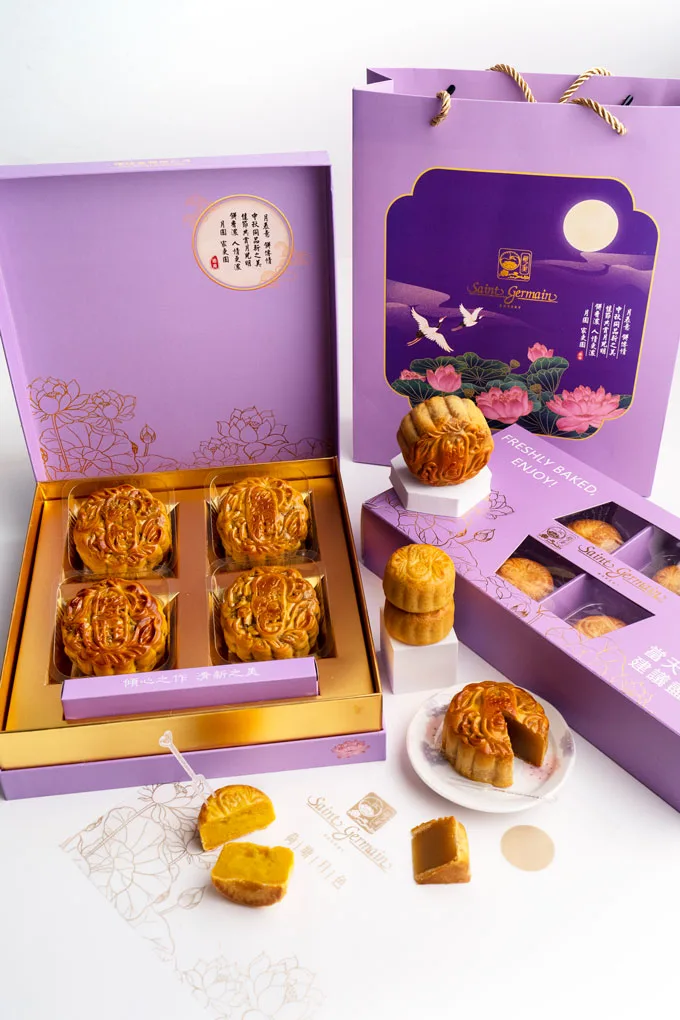 Their lineup includes:
Lava Salted Yolk Custard Mooncake
Salted Egg Yolk Custard Mooncake
Double Yolks White Lotus Seed Paste Mooncake
Double Yolks With Lotus Seed Paste Mooncake
Pure White Lotus Seed Paste Mooncake
Dried Scallop Chinese Cured Ham And Mixed Nuts
Durian Snowy Mooncake
Saint Germain Bakery
Richmond Centre: Unit 2000, 6060 Minoru Boulevard, Richmond
Metropolis at Metrotown: Unit 1120C, 4720 Kingsway, Vancouver
Oakridge: Unit 137, 650 West 41st Ave, Vancouver
Aberdeen Centre: Unit 1428, 4151 Hazelbridge Way, Richmond
Coquitlam Centre: Unit 2841, 2929 Barnet Highway, Coquitlam
Guildford Centre: Unit 1077, 10355-152nd Street, Surrey
Kerrisdale: 2319 W 41st Ave, Vancouver
www.saintgermainbakery.com
Kam Do Bakery
Kam Do Bakery is a place that typically offers mooncakes.
Kam Do Bakery
135-6211 No 3 Road, Richmond
110-4328 No 3 Road, Richmond
www.instagram.com/kamdobakery
Sun Fresh Bakery House 新發餅屋
This hidden gem, Sun Fresh Bakery House, in Chinatown usually has mooncakes.
Sun Fresh Bakery House
245 Keefer St., Vancouver, BC
New Town Bakery & Restaurant 新城餅家餐室
New Town Bakery usually has mini mooncakes.
New Town Bakery
148 E Pender St, Vancouver, BC
#7 – 10302 City Parkway Surrey, BC
newtownbakery.ca
La Patisserie
La Patisserie is a traditional Chinese bakery shop in Richmond that offers a lot of housemade mooncakes.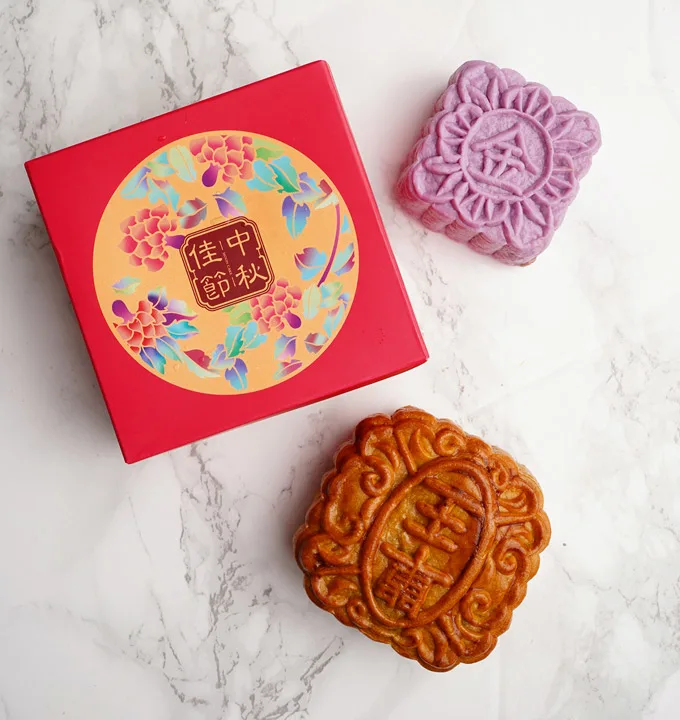 This year's lineup includes:
Tradational moon cakes (1, 2, 4 or 6 salted yolks)
White or red lotus paste (1, 2, 4 or 6 salted yolks)
Signature custard mooncake
Iced moon cake
Durian
Green tea
Chocolate
Taro
Green bean
Red bean
Purple yam (limited stock)
They have noted that they sold out before the Mid-Autumn Festival last year so customers are encouraged to buy the mooncakes ahead of time.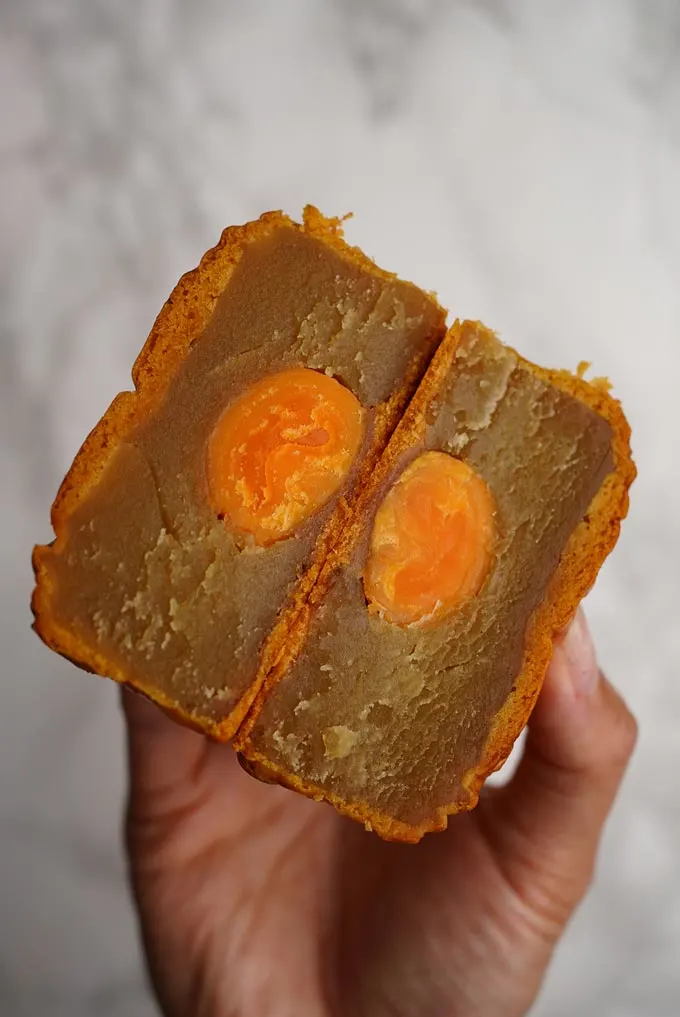 La Patisserie 金磨坊
1405-4771 Mcclelland Road, Richmond, BC
www.instagram.com/la_patisserie_bakery
Grocery Stores
Pricesmart Foods
Pricesmart Foods has a selection of imported mooncakes. You can check online for what brands they offer.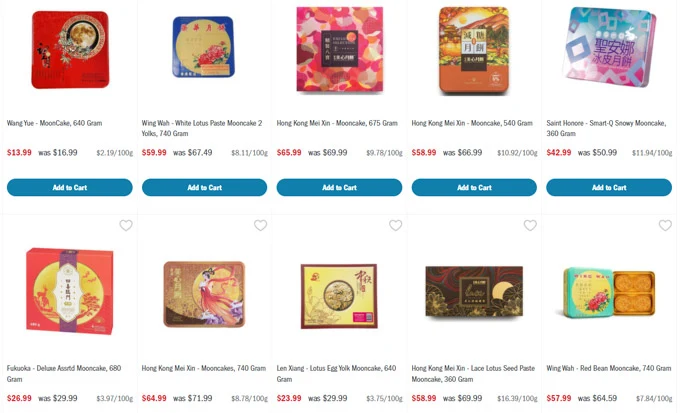 They have two locations: Station Square (Burnaby) and Acrokyd (Richmond).
Pricesmart Foods
8200 Ackroyd Rd, Richmond, BC
4650 Kingsway, Burnaby, BC
www.pricesmartfoods.ca
Sungiven Foods
Sungiven Foods usually offers a wide selection of mooncakes imported from Asia. Each store may have different inventory.
Sungiven Foods
City Square Store: #42, 555 West 12th Ave, Vancouver, BC
West Broadway: 3301, West Broadway Vancouver, BC
Burnaby: 4106 Hastings Street Burnaby, BC
White Rock: 1640 152nd Street Surrey, BC
Richmond: #9771 Bridgeport Road, Richmond, BC
North Vancouver: 1595 Marine Dr, North Vancouver, BC
sungivenfoods.ca
T&T Supermarket
T&T Supermarkets takes the "cake" in terms of options of mooncakes.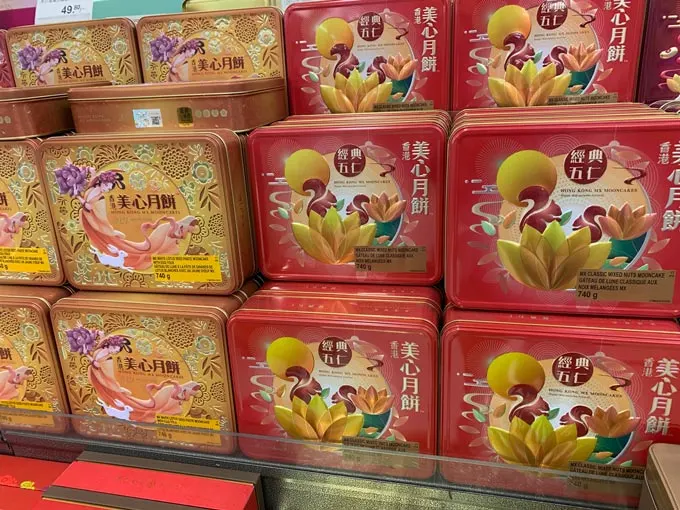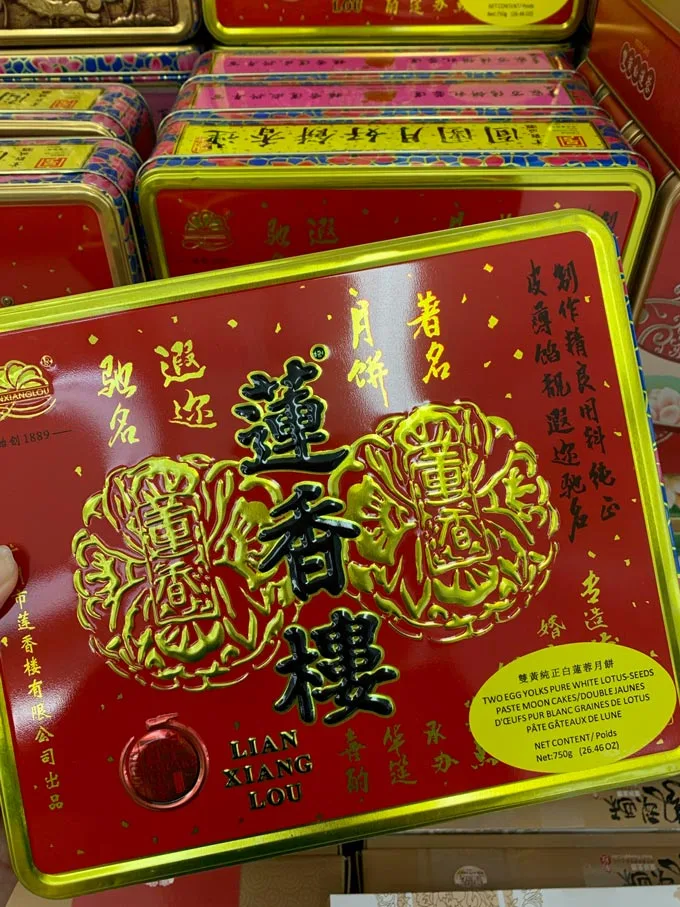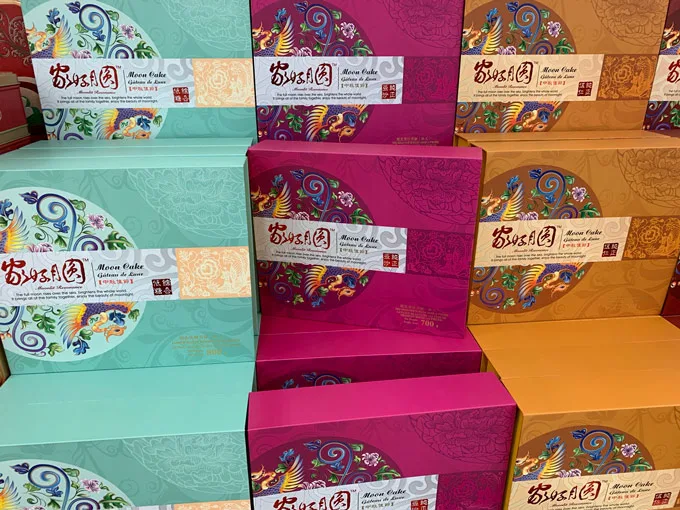 They import many mooncakes from Asia including brands like The Peninsula Hotels, Hang Heung, Wing Wah and so forth.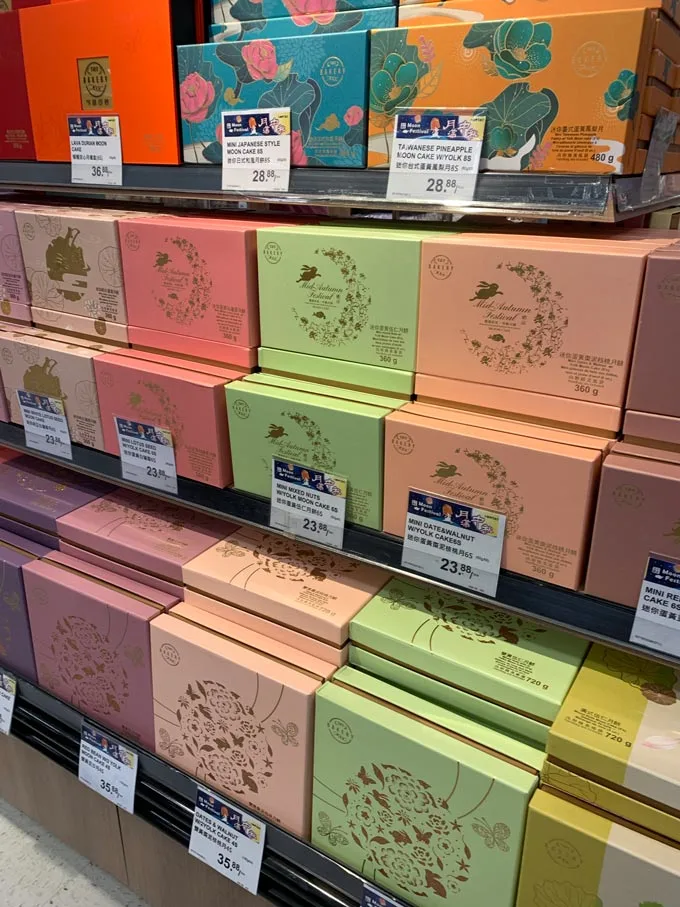 T&T also have their own branded mooncakes.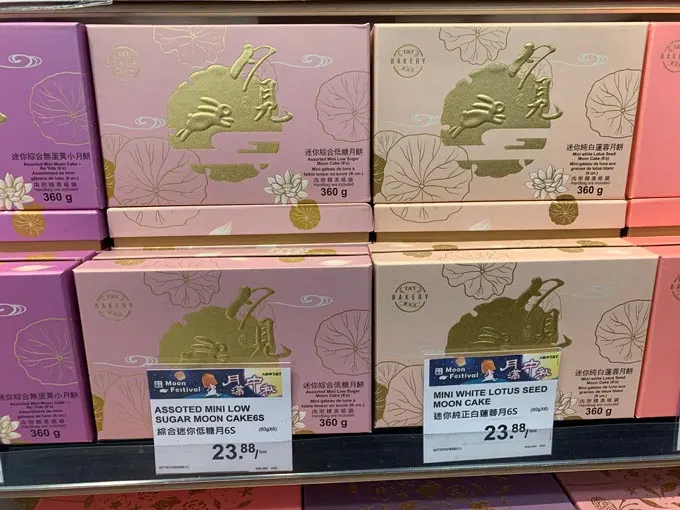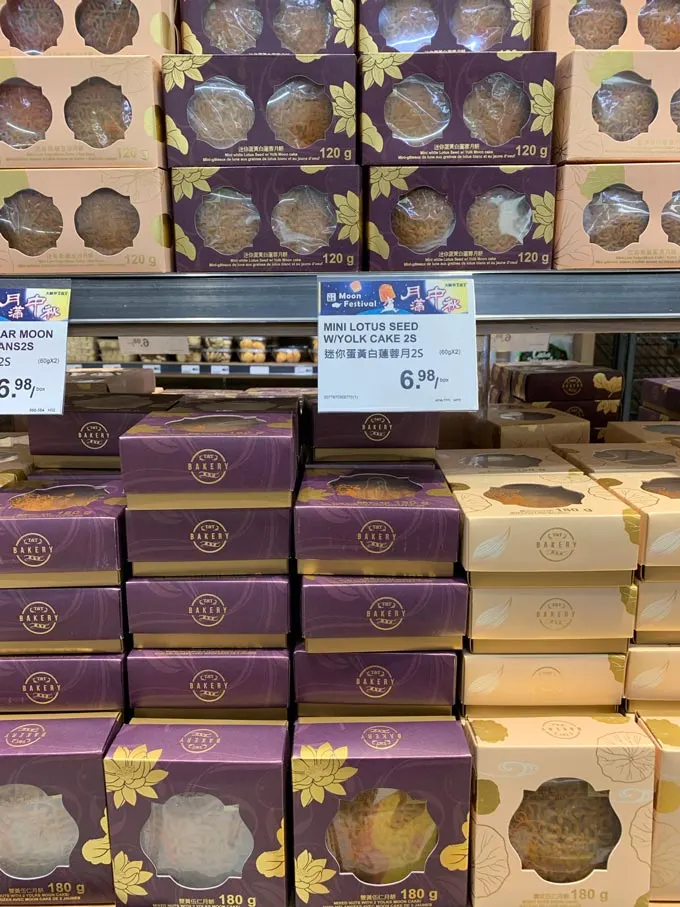 T&T Supermarket
Chinatown: 179 Keefer Place, Vancouver
Osaka: 2200 Park Royal South, Upper Level, West Vancouver
First Avenue Store: 100-2800 E. First Ave, Vancouver
Kingsway: 2206 Kingsway, Vancouver
Marine Gateway: 458 S.W. Marine Drive, Vancouver
Metrotown: 147-4800 Kingsway, Burnaby
Osaka: 1000-3700 No. 3 Rd, Richmond
Lansdowne: Unit #MAJ1, 8311 Lansdowne Road, Richmond
Olympic Oval: 135-5511 Hollybridge Way, Richmond
Coquitlam: 2740-2929 Barnet Highway, Coquitlam
Central City Surrey: 3000 Central City, 10153 King George Boulevard, Surrey
Surrey: 101T-15277 100th Ave, Surrey
www.tnt-supermarket.com
Things to Do
Light Up Chinatown
Light Up Chinatown! returns to the heart of Vancouver's iconic neighbourhood on September 10th & 11th!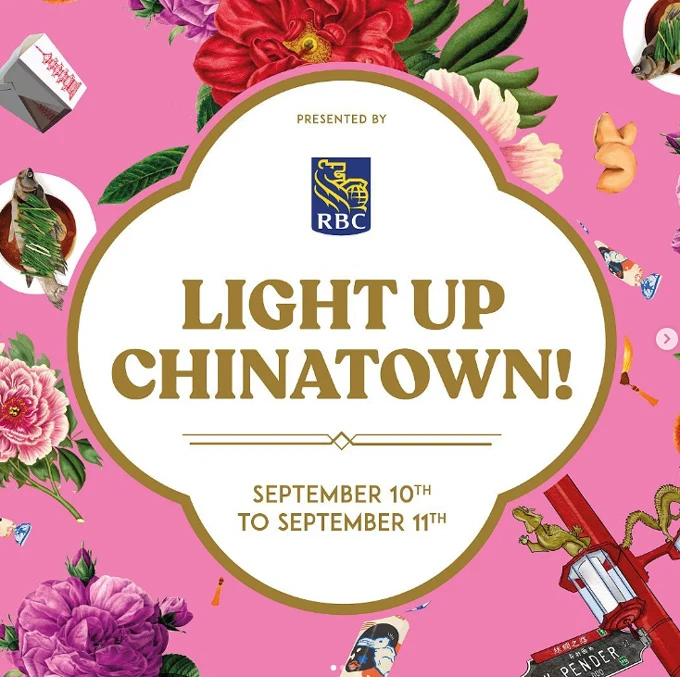 It's a free two-day outdoor community celebration with live entertainment, family-friendly activities, food trucks, lights and colourful decorations, while exploring specialty offerings from our local merchants and restaurants in Chinatown.
Experience the vibrancy of this iconic neighbourhood as the streets of Chinatown come to life from day to night.
Dr. Sun Yat-Sen Classical Chinese Garden
Explore the Dr. Sun Yat-Sen Classical Chinese Garden on September 10th and 11th, 6pm to 11pm, celebrating the harvest moon, family, and togetherness.
Wander through this world-renowned Ming-dynasty inspired garden, enveloped by live music and colourful lantern decorations.
Admissions are by donation (starting at $10). Early bird tickets $5.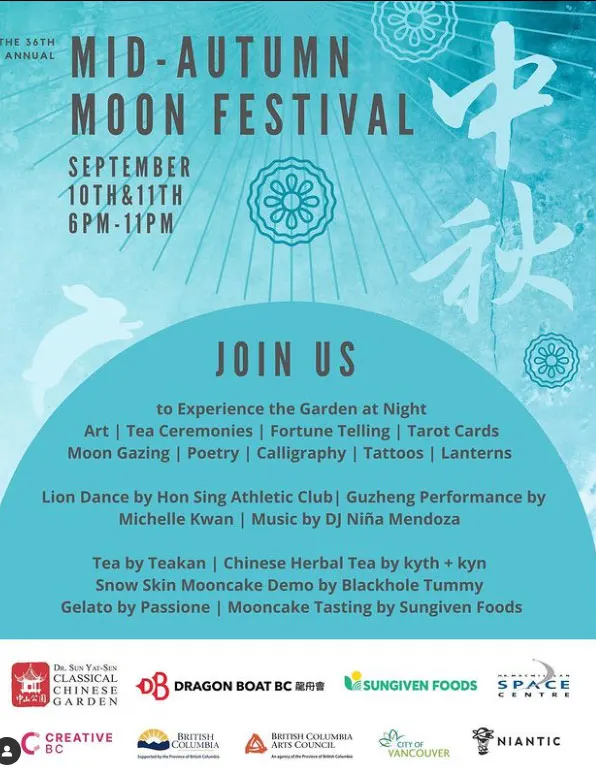 Art | Tea Ceremonies | Fortune Telling | Tarot Cards| Moon Gazing | Poetry | Calligraphy | Tattoos | Lanterns | Lion Dance by Hon Sing Athletic Club| Guzheng Performance by Michelle Kwan | Music by DJ Niña Mendoza | Tea by Teakan | Chinese Herbal Tea by kyth + kyn | Snow Skin Mooncakes by Blackhole Tummy | Gelato by Passione | Mooncake Tasting by Sungiven Foods
All donations will go toward supporting our Xiao Seniors Program, Traditional Arts Workshops and Educational Programs and our ongoing conservation projects at the Garden. As a registered not-for-profit all Dr. Sun Yat-Sen Classical Chinese Garden revenue goes toward the fulfillment of our mission to bring together cultures and communities through educational and public programs.
They also have a daytime event on September 10 & 11 from 10 am – 3 pm.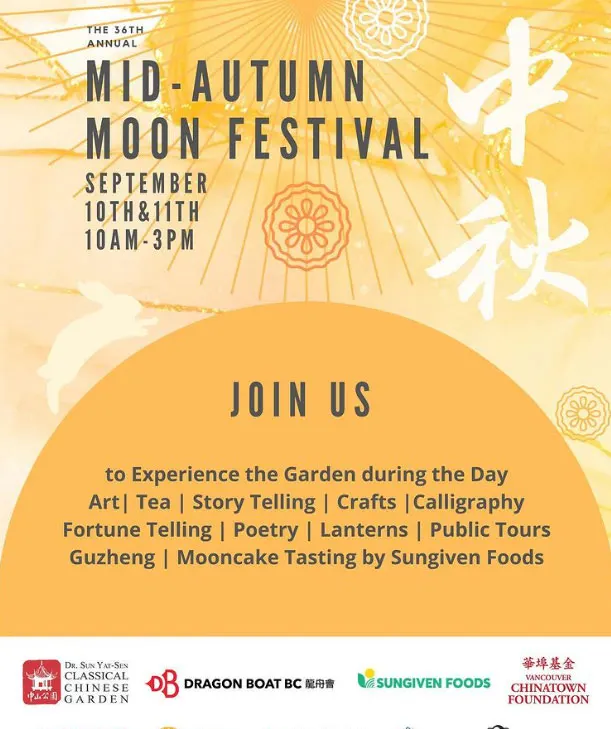 You might also like: