Coca-Cola® unveiled its next limited-edition flavor under its Coca-Cola® Creations innovation platform: Coca-Cola Dreamworld.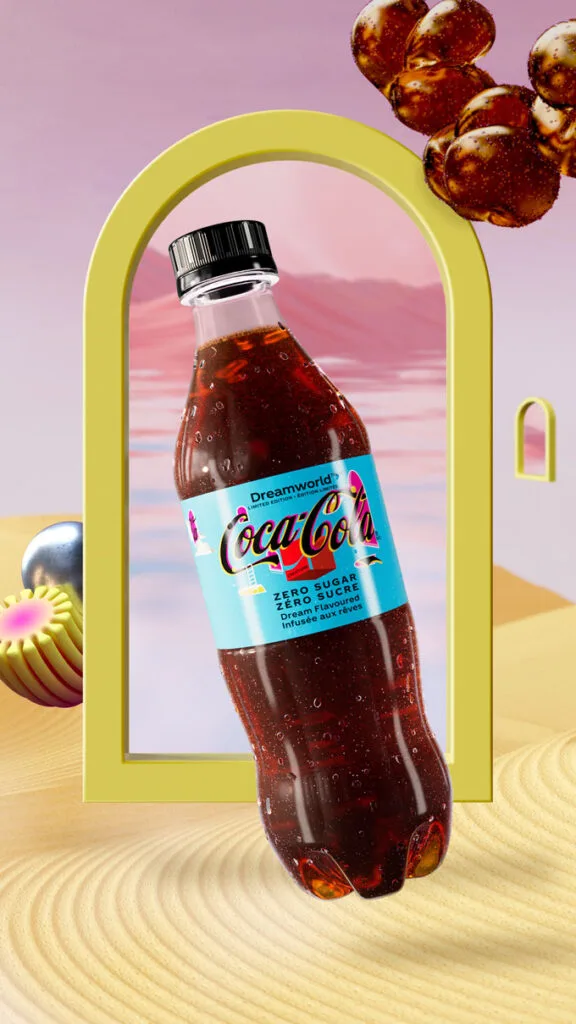 Coca-Cola® Dreamworld is a gateway into a lively, animated world where dreamlike experiences meet the real world.
Tapping into the power of the subconscious and the collective passion for exploring our dreams, the new Coca-Cola® Creations fantasy flavour invites fans to discover the magic in ordinary moments and dream with their eyes wide open.
The mystery flavour of Coca-Cola® Dreamworld brings to life the playfulness and brightness of dreams and the entire experience will have you wondering if things are real or a dream.
The new Creation comes in a distinctive packaging design, transforming the iconic Coca-Cola® can with whimsical shapes and electric colours to create optical illusions.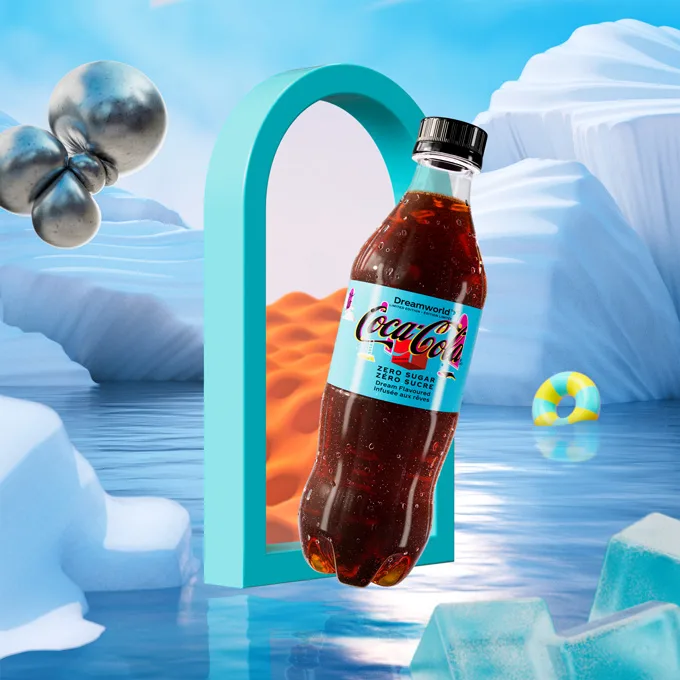 Coca-Cola® Dreamworld will be brought to life through a digital-led, dreamlike campaign featuring key collaborations, including an exclusive Coca-Cola® Dreamworld-inspired, digital wearable collection with fashion platform DRESSX.
Fans will be able to scan a QR code on the Coca-Cola Dreamworld can or bottle to access the digital Coca-Cola Creations Hub, where they will be taken on a journey and experience unique, Dreamworld looks that can be shared on social media.
The fantastical campaign will also feature the launch of the Coca-Cola® Dreamworld AR Music Experience, an augmented reality music experience dreamt up in collaboration with influential electronic dance music festival brand, Tomorrowland.
For this epic music experience, fans will simply scan a Coca-Cola® Dreamworld can or bottle to access the digital Coca-Cola®.
Creations Hub, where they will be transported into a full 3D virtual AR music experience hosted by an avatar DJ spinning dreamlike tracks.
The environment will change and interact with the beat of the music and fans can play games to win select Coca-Cola® Dreamworld-inspired prizes and unlock fun easter eggs that will further enhance the experience.
Fans will additionally have access to a variety of digital experiences, including Dreamworld inspired AR lenses and backdrops that will enable fans to subvert their realities to transform their photos and videos, and exclusive content that can be accessed via www.cocacola.ca/creations and by scanning a Dreamworld can or bottle.
Coca-Cola® Dreamworld follows the success of previous innovations under the Coca-Cola® Creations platform, including Coca-Cola® Starlight and the artist Marshmello's Limited Edition Coca-Cola®.
Coca-Cola® Dreamworld will be available in both original taste and zero-sugar options in the U.S and in Canada beginning Monday, August 15.
Through the remainder of the year, Coca-Cola® will unveil additional limited-edition Coca-Cola Creations featuring unique innovations and unexpected collaborations.
For more information about Coca-Cola® Creations, visit www.coca-cola.ca/creations.