The second location of Moii Cafe is now open in Downtown Vancouver.  I did not know that they opened a new shop until I passed by it recently on my way to Koala Kebabs Donair.  I enjoyed dining at their Cambie location and was excited to visit their new place.  At the same time, I saw that they had a Social Shopper voucher  for $14 two crepes and two drinks.  I snapped up the deal and went there with my husband on a late afternoon.

A Student Favourite
Located on West Pender and Richards, Moii Cafe should surely be a favourite with the international students in the area.  I had noted previously that their Cambie shop was popular with the student crowd as many had text books and laptops.  The space is minimalistic, retro-chic and inviting with several wooden tables and chairs.  It seems like a cozy spot where you can grab something to eat and work on a a paper or just catch up with friends.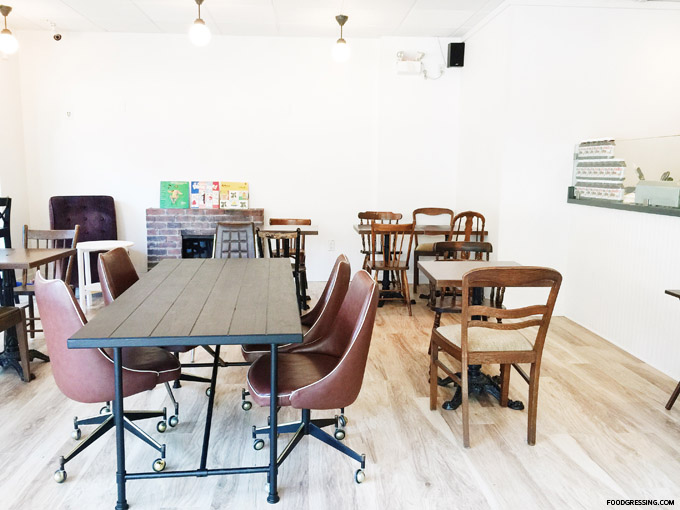 Moii Cafe Menu
One of the staff who also works at the Cambie shop recognized me and we had a quick chat about the new location.  She mentioned that the Downtown menu is exactly the same as Cambie one.  That is, they serve Japanese, Taiwanese, French & California-style crepes and an extensive list of drinks including coffee, bubble tea, smoothie and slushes, milk tea, black and green tea, and specialty juices.  The crepes range from $4 – $10 and the drinks are mostly around $4 – $5.  There are definitely options depending on your budget.
One difference, however, is that all the food is served in takeover containers (which would be good for people on the go like students).  She noted business has been pretty good and that a group of 20 students came in at the same time the previous day.  An image of the Moii Cafe menu on Social Shopper can be seen here.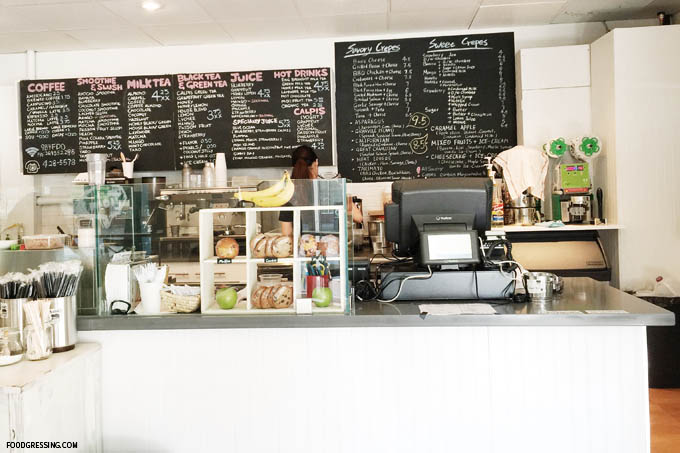 What We Tried
For drinks, we had a taro coconut smoothie and slush ($5.25) and a matcha milk tea ($4.25).  The taro and coconut smoothie and slush fit my taste and had some nice slushy components.  The matcha milk tea had a wonderful real matcha flavour.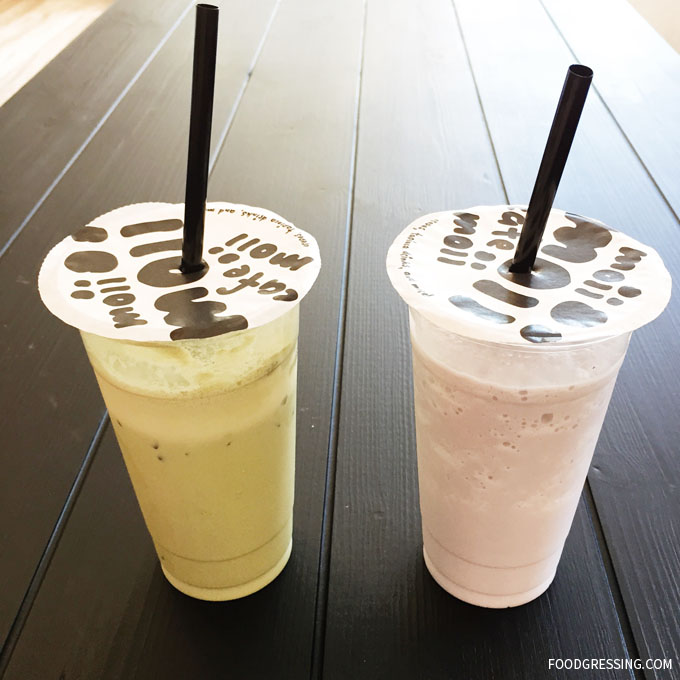 At the Moii Cafe on Cambie, we tried the terimayo, smoked salmon and cheese, caramel apple, and banana & Nutella crepes.  This time, we were in the mood for some sweet crepes and had the cheesecake and ice cream crepe ($8.50) and mixed fruits and ice cream crepe ($8.50).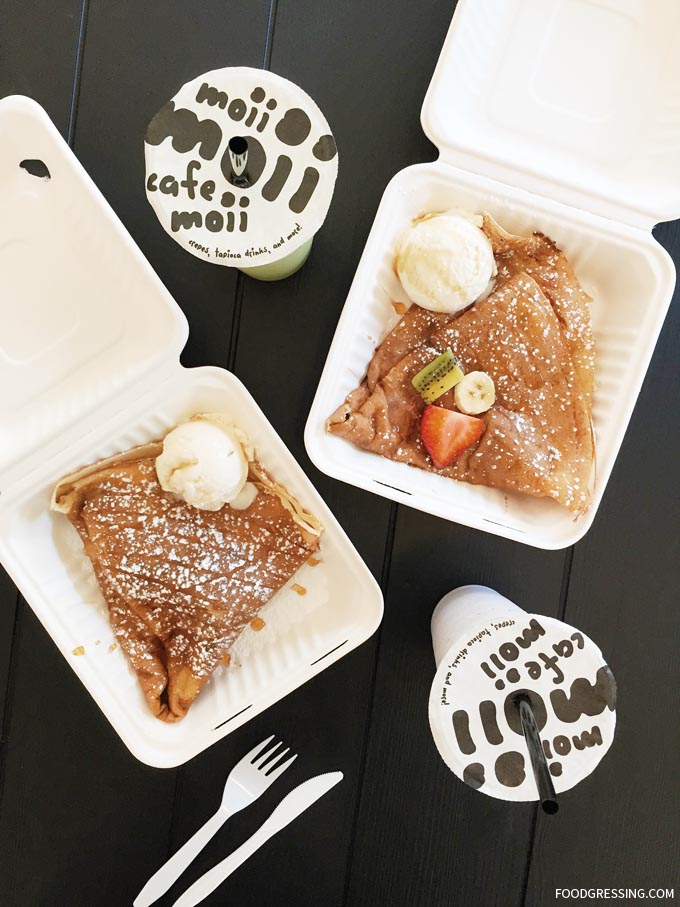 For the cheesecake and ice cream crepe, there were two pieces of delicious and reasonably sized pieces of cheesecake within the crepe.  It was topped with maple syrup and vanilla ice cream on the side.  It was a simple crepe but everything tasted really good.  The mixed fruits and ice cream crepe had banana, kiwi, strawberry, maple syrup and vanilla ice cream.  The fruits tasted fresh and this crepe was just downright yummy!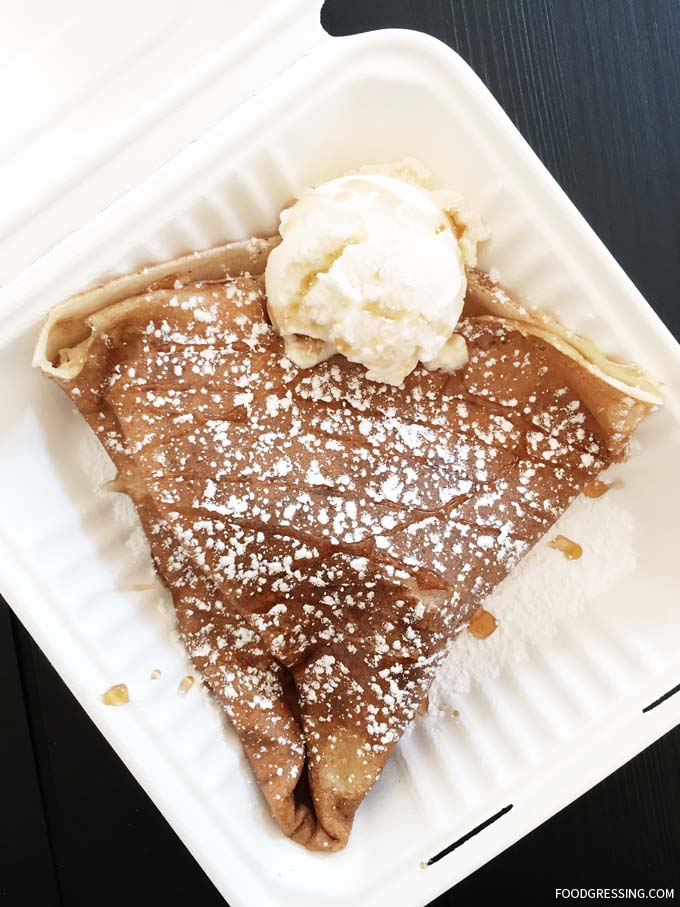 The Service
The service was good as one of the staff resealed my drink so that it would be easier to take out.  Having the straw makes it easier to spill afterall!
Overall Impression of Moii Cafe
I enjoyed my previous experience at Moii Cafe on Cambie and this new Downtown location is great as well.  The food, drinks and service is all around great and conveniently served in take away containers to suit the fast-paced Downtown environment.  Their menu of drinks and crepes is extensive, so there is something for everyone. I would recommend this place to satisfy your crepe craving.   Rating: 4.5/5