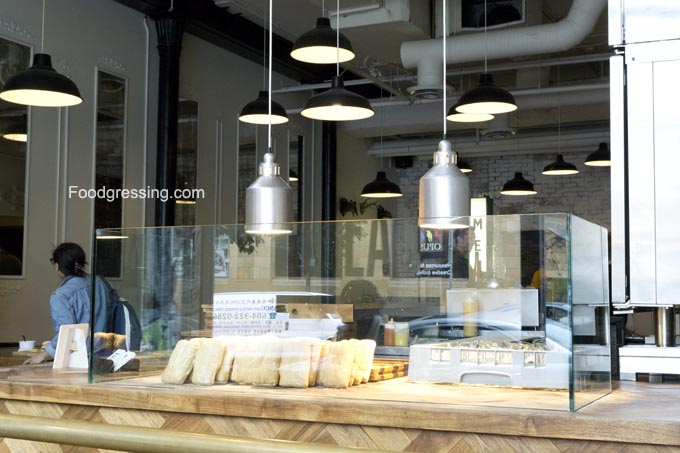 Meat and Bread has been one of the places I have wanted to try but have never got around to it. It wasn't until the chef instructor of my casual culinary class at the Pacific Institute of Culinary Arts recommended us to do so. The topic of the class that day was on butchery and he commented on the deliciousness of Meat and Bread's porchetta sandwich. Meat and Bread has two locations in Vancouver (Gastown, Burrard and Pender), Victoria and Seattle. I decided to finally make my way down to the Gastown shop for a late lunch in hopes of trying their porchetta sandwich.
Meat and Bread's Sandwiches
Meat and Bread's menu is simple. At the Cambie shop, they have 4 types of sandwiches only: Porchetta, Meatball, Grilled Cheese and a daily special sandwich. To find out their daily specials, check their Twitter feed or their website.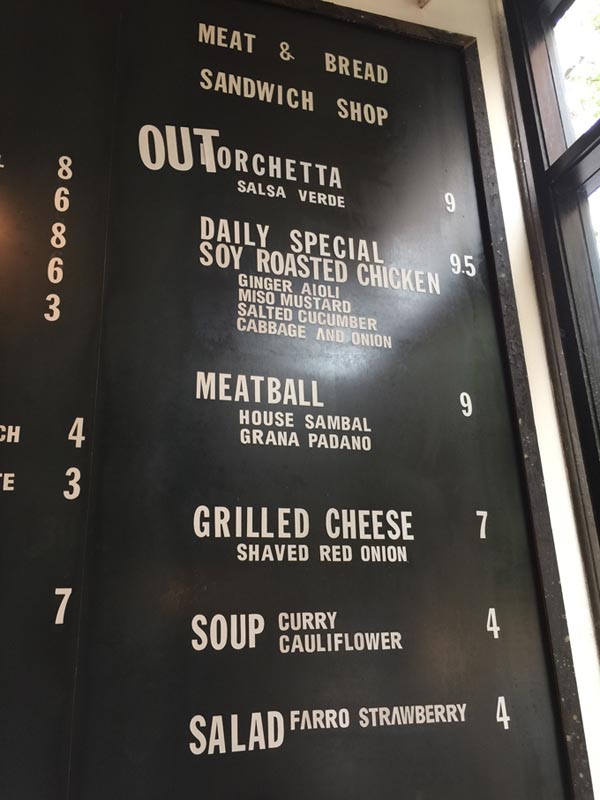 Meat and Bread is known for their porchetta sandwich, which is traditionally a street food in Rome. It is roasted skin-on pork belly that has been wrapped around a pork loin, resulting in a delicious crust and juicy meat. I found a Youtube video where the owners of Meat and Bread explain a bit about their porchetta sandwich:

Unfortunately, they had sold out of the porchetta by 3 pm. I knew that I was at risk since I was going late afternoon, but I had my fingers crossed. Nevertheless, I took the opportunity to try out their other menu items including the Meatball and the daily special, Soy Roasted Chicken.
At first sight, the Meatball sandwich ($9) looked drool-worthy. The meatballs were deliciously seasoned and had just the right level of spiciness to tickle your tongue.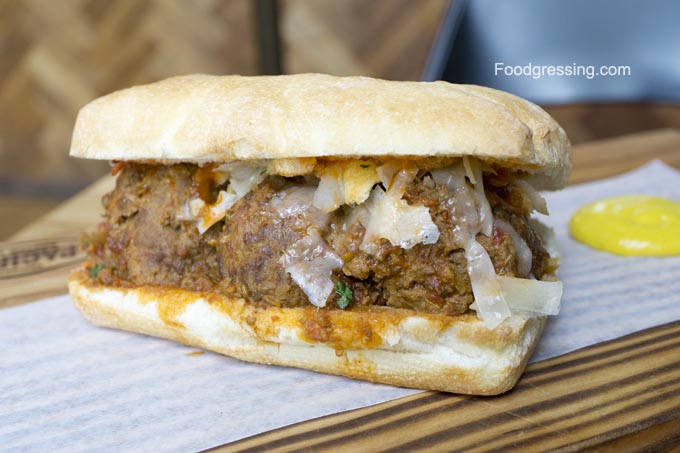 The Soy Roasted Chicken ($9.50) had ginger aioli, miso mustard, salted cucumber, cabbage and onions. The sauce was on the sweeter side and was wonderfully flavourful.
Minamalistic
The interior of the Meat and Bread is as simple as their menu. There is a large communal table and a few two person tables near the window. Multiple light fixtures adorn the high-ceiling.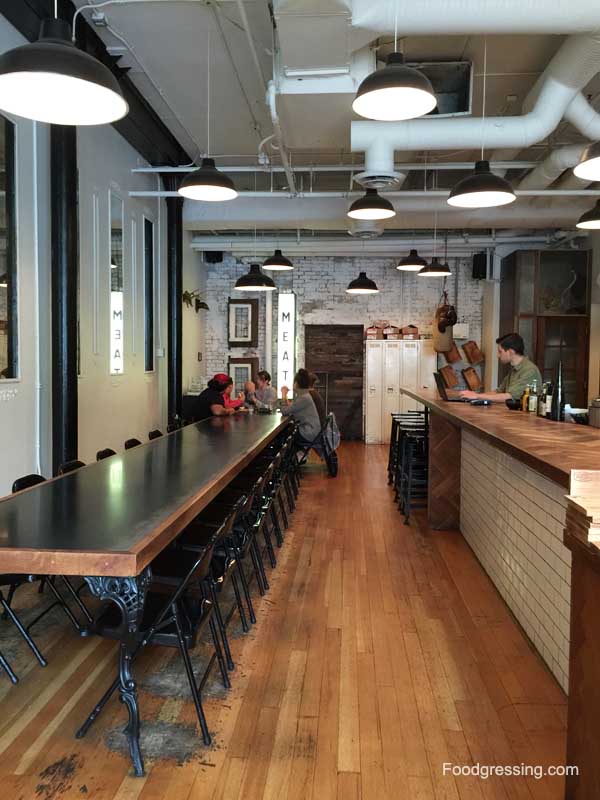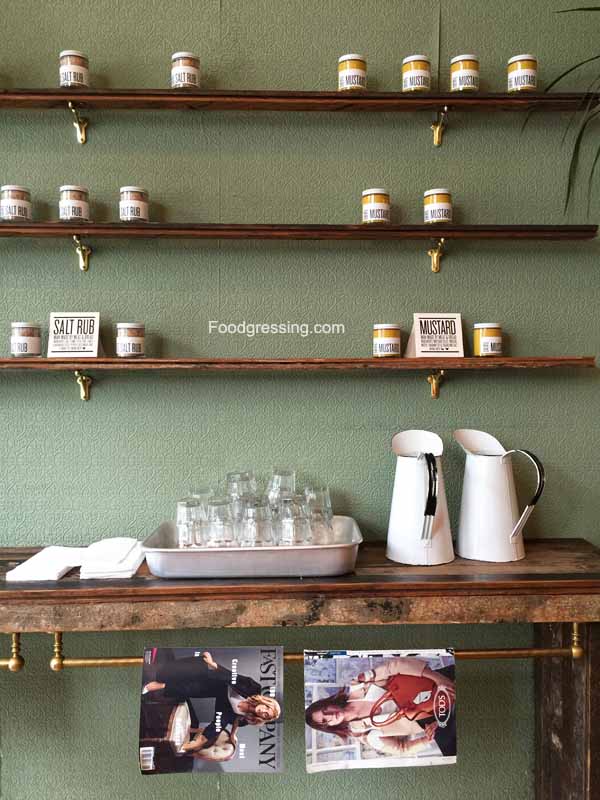 Too many photos?
As a food blogger who writes reviews about restaurant, taking good photos of the restaurant and their food is part of the job. However, on this visit at Meat and Bread, I guess I was taking too many photos because my friend noted that one of the staff, which I am guessing is the manager, was watching me. I thought that due to the number of photos of Meat and Bread on Instagram and my impression of them being social media friendly that they would be okay with it. The staff member did not approach me about my photo taking but I did leave feeling a bit disappointed. I even have a picture of him looking directly at my camera!
Overall Impression
The sandwiches at Meat and Bread were indeed delicious and full of flavour. I was a bit disappointed that I was perceived as suspicious due to my higher-than-the-average customer photo taking. I hope to be able to try their porchetta sandwich at their other locations.
Website: http://meatandbread.ca/