Undoubtedly when you hear the name "Mango Yummy" you would think of all the mango-licious goodies you can eat.  That is the case at Mango Yummy, a dessert shop across Richmond Centre on No. 3 Road.  This year, Mango Yummy received the award for best mango sago with pomelo/grapefruit based on diners who voted for the 2016 Chinese Restaurant Awards.  I was eager to try this award-winning mango and ventured to Mango Yummy on a late afternoon.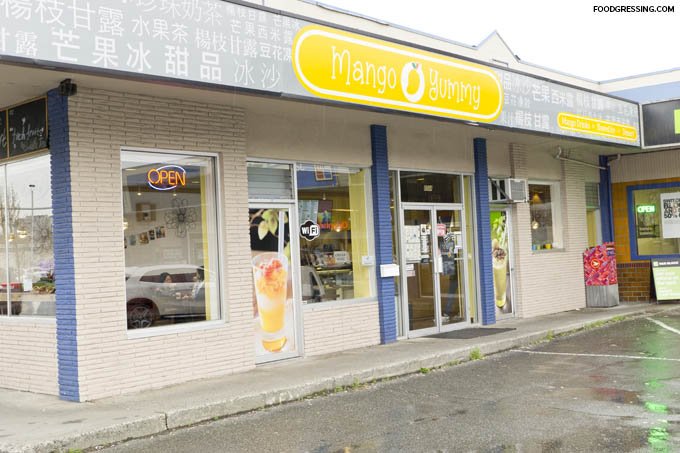 Central Richmond Location
Mango Yummy is very easy to find as it is located in the Times Square strip mall across Richmond Centre.  There is ample parking in front and it is just a few blocks away from the Brighhouse Skytrain station.
The interior has a "citrusy" feel with bright yellow-coloured walls.  There are quite a few dining tables and counter seating in the restaurant.
Mango Yummy Menu
Mango Yummy's menu is extensive with over 100 items available.  They offer dessert drinks, shaved ice with vanilla ice cream, durian desserts, juices, teas, thick toasts, crepes, and sweet soups to name a few.  While they have a lot of mango-based desserts, they also have many red bean, durian, mochi, taro, and papaya-based items.  Their items are generally less than $8.  All prices include tax and it is cash only.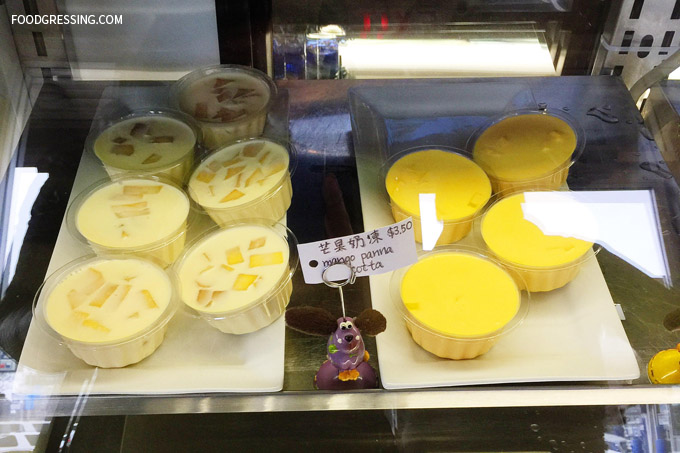 What We Tried
My husband and I tried their award-winning #109 – mango sago with grapefruit ($7) and it was very light and refreshing.  It wasn't too heavy on the coconut milk.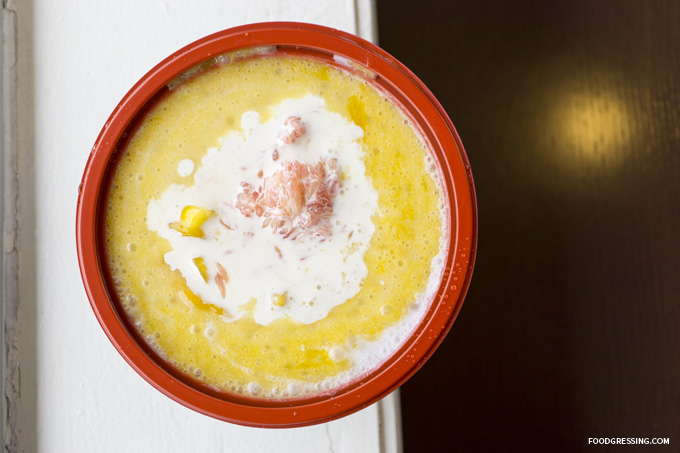 I had previously tried the mango sago from Doolami, which was also nominated in the same category for Best Mango Sago.  Doolami uses Australian mangoes where they charge an extra $2 on top of the regular $7 cost.  For the same price of $7, Mango Yummy uses mangoes from Mexico.   When we tasted just the mango chunks, we found that the mango was in fact sour.  However, it seems that they were able to make the dessert just sweet enough to mask the sourness of the mangoes.  Still overall very good and delicious.   I personally prefer the mango sago from Mango Yummy as it seemed more flavourful than the one from Doolami.  The mango sago from Mango Yummy also seemed thicker and less watery than the one from Doolami.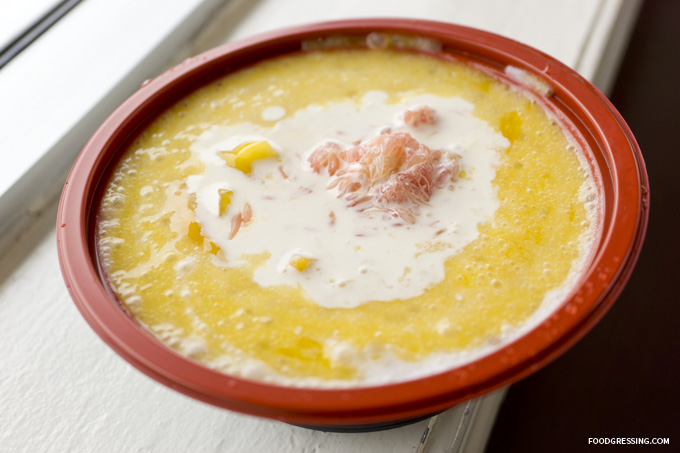 We also had a #92 – mango and mochi honey thick toast ($7).  The mochi had the right amount of sweetness and chewiness.  We cut up the toast with a knife and fork and added toppings to our individual pieces.  Very good overall.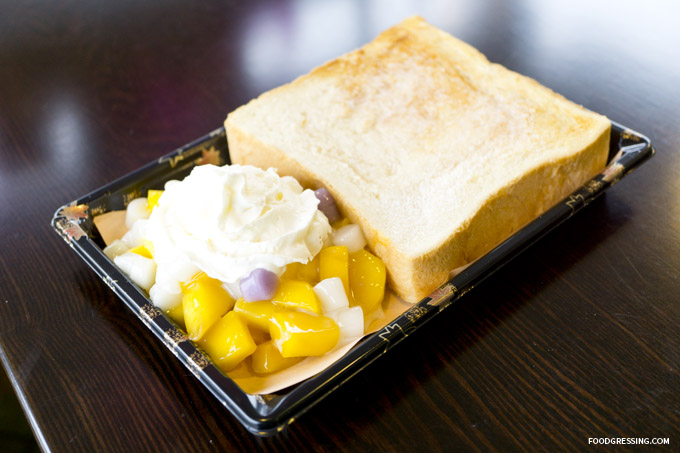 Overall Impression of Mango Yummy
All in all, I would recommend giving their mango sago a try.  Light and refreshing, it didn't disappoint.  The thick toast with mango and mochi was also delicious and good if you want something more solid in comparison to soups, shaved ice and puddings.  Rating: 3.5/5
For more mango desserts I have tried, follow the tag mango or see the Vancity Buzz article on Top Mango Desserts in Vancouver.
Facebook: @mangoyummy