New to Vancouver's food truck scene is Winnipeg's Kyu Grill, known for their HEROSHIMA signature sandwiches.
The HEROSHIMA consists of an original grilled-skewer sandwich served on a soft sweet bun, ginger soy slow, housemade signature Japanese fusion toppings and sauces.
Popular menu items include the "Noriyaki" (pork skewer, teriyaki sauce, roasted seaweed and mayo) and the "Spicy Mayo" (chicken skewer, tempura crumbs, spicy mayo, sriracha sauce). Other flavourites include the Mango Chicken and Pork Belly.
They also offer Frites with fusion flavours (including Nori, Okonomi, and Spicy).
I tried the Noriyaki Heroshima and the Japanese Okonomi Frites which had both bold flavours!
The "Noriyaki" features a pork skewer, teriyaki sauce, roasted seaweed and mayo.
The Okonomi Japanese Frites featured okonomiyaki sauce and bonita flakes.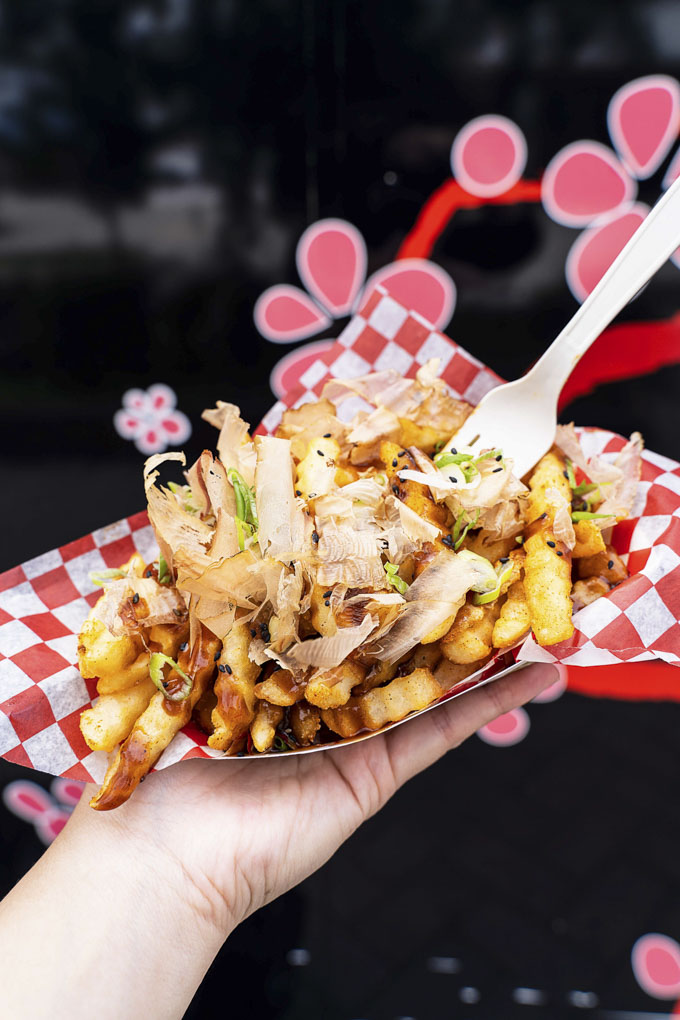 The off-the-menu dessert Shoyu Cinnamon Crisps also had some nice sweet and savoury flavours as well as crispy texture.
In Winnipeg, Kyu Grill has a chain of food carts as well as brick-and-mortar locations. They were also named Winners of Food Truck Wars: People's Choice Award four years in a row (2015, 2016, 2017, & 2018). They have also won the award for Best Presentation three times (2016, 2018 and 2019).
Kyu Grill is on the Street Food app so check out when they are open there. You can find them at Emily Carr at Great Northern Way; Safeway Kitsilano on 4th and Broadway Tech Centre.
Kyu Grill
www.instagram.com/kyugrill.yvr