It's the first day of Fall and Kraft Dinner is shaking up pumpkin spice season with its new Pumpkin Spice KD – a mac and cheese to please KD lovers and the cult following of pumpkin spice latte aficionados.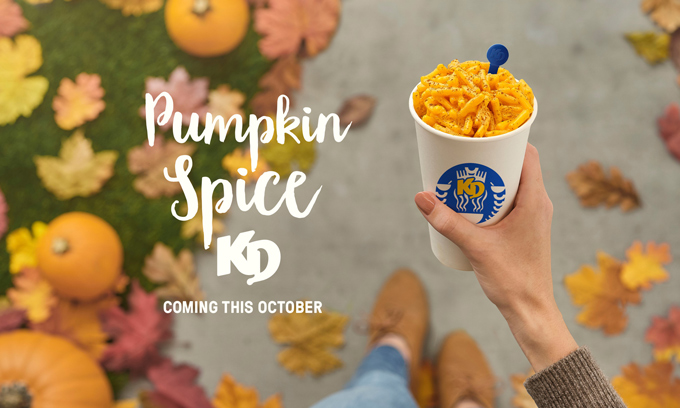 What is Pumpkin Spice Kraft Dinner made of?
It ain't no basic batch. Pumpkin Spice KD is made with the same classic KD cheese powder Canadians know and love, now with added fall flavours: hints of cinnamon, nutmeg, allspice and ginger.
This spicy cheesy treat is very real and will come in a signature white cup with cinnamon spice topping.
When and where can I get Pumpkin Spice Kraft Dinner?
You need to sign up for the online waitlist at PumpkinSpiceKD.com in order to be notified when the exclusive Pumpkin Spice KD drops. The company says that the new flavour is expected to launch October 2020.
Only 1,000 lucky Canadians will be able to get their hands on the drop, which will include KD, a Pumpkin Spice Boost Pack, a fork, and of-course a signature white coffee style cup with your name written on it (spelled wrong of course).
What are some suggested pairings?
Suggested pairings: a cozy scarf, flannel shirt, fresh manicure and a pumpkin patch.
For more information on limited-edition Pumpkin Spice KD, please visit Kraft Dinner on social media.
KD Twitter: @KraftDinner
KD Instagram: @kraftdinnerca
KD Facebook: facebook.com/kraftdinner