KFC Canada has announced a huge milestone in its sustainability journey. By 2025, all consumer-facing packaging will be fully home compostable. The company will begin piloting their first home compostable KFC bamboo buckets this year. This bold commitment will divert nearly 200 million pieces of packaging from Canadian landfills each year.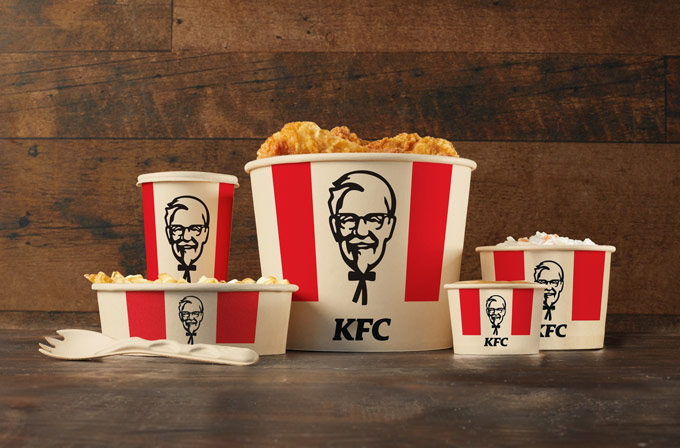 Recent highlights in KFC Canada's sustainability journey include:
Fibre-based cutlery
In November 2020, select restaurants began testing a new fibre-based 'spork', made from bamboo, corn and sugarcane.
The new cutlery naturally decomposes at room temperature and requires no additional treatment, nor does it leave any toxic by-products.
The process takes approximately 18 months to decompose. Once fully introduced into the KFC restaurant system, the compostable cutlery will eliminate 40 million pieces of plastic cutlery annually.
KFC Bamboo Buckets
In 2020, KFC Canada announced that bamboo would become a permanent packaging solution for poutine and chicken – given that the material is fast-growing, anti-bacterial and 100% biodegradable.
By the end of 2021, the brand will have removed 12 million plastic poutine containers from its operations by transitioning to KFC bamboo buckets.
Removing plastic straws and bags
In 2019, KFC Canada announced its pledge to eliminate all non-recoverable or non-reusable plastic-based packaging by 2025.
By the end of 2019, KFC Canada removed all plastic straws and bags from its restaurants, eliminating 50 million plastic straws and 10 million plastic bags across the country and replacing them with fibre-based alternatives.
To celebrate this new commitment, KFC Canada is partnering with Toronto-based artist, Briony Douglas to design and create an iconic KFC bucket installation made entirely out of home compostable materials.
The installation, which Douglas will complete over 25 days – a nod to the 2025 commitment, will be revealed on June 30.
To learn more about KFC Canada's approach to environmental sustainability visit: www.kfc.ca/environment.