After a media event in Gastown recently, a few of us were still hungry so we ventured to nearby Joe Pizza for some quick bites. Joe Pizza is a new venture by Kitchen Table Restaurants (Pizzeria Farina, Ask For Luigi, Pourhouse) specializing in Roman-style (thick crust) pizza.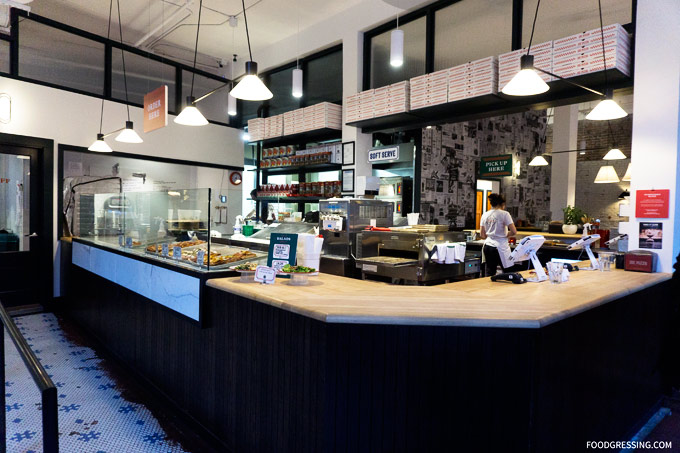 Note: None of the food in this review was complimentary. This review is done anonymously. Opinions are my own.
Roman-Style Pizzas
Roman-style pizzas are typically baked in rectangular trays and ahead of time for customers which is a contrast to the fresh-out-of-the-oven Neapolitan-style pizzas. These are also sold by the slice (pizza al taglio) and priced by weight.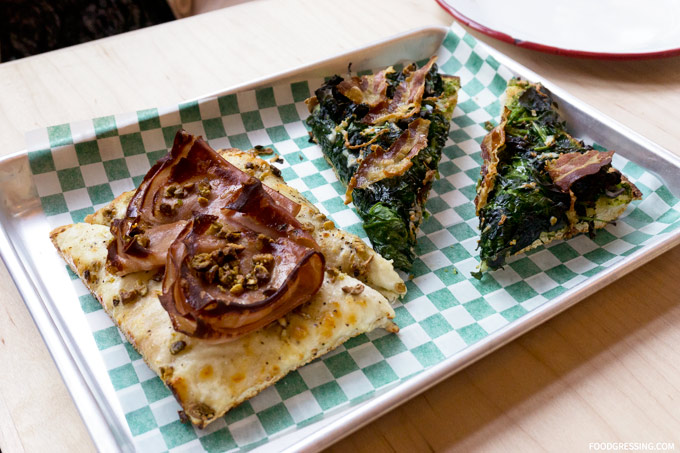 Charming & Spacious
The interior of Joe Pizza is rather charming with bright windows and a patterned marble flour. The restaurant is very spacious and perhaps even too spacious considering the few number of diners there were at the time.
What I Tried
On the left was The Pistachio – a meat-centric pizza topping with mortadella, provolone and pistachios. On the right was the Pop-Pie (a play on Popeye) with pea puree, ricotta and pancetta.
The crust was light, airy and focaccia-like but perhaps a bit too much (as it was thick) for the amount of toppings. The toppings seemed to be a good quality though overall not too memorable in terms of taste.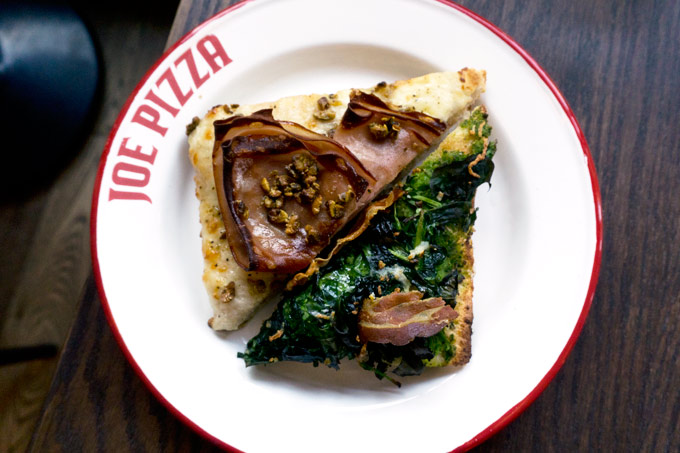 Overall Impression of Joe Pizza
Perhaps Roman-style pizzas as just not my thing as I really do prefer a fresh-out-of-the-oven pizza with nicely melty cheese. Unfortunately, my experience at Joe Pizza does not entice me to return. I would very much prefer to visit their sister restaurant, Pizza Farina. Rating: 3/5
Joe Pizza
Address: 2 W Cordova St, Vancouver, BC
Website: ‎www.caffedibeppe.com