One of the newer bubble tea franchises in Vancouver is Jazen Tea specializing in fruit teas made with fresh fruit.  Founded in San Jose, California in 2012, Jazen Tea has the same parent company as Pho Hoa Noodle Soup.  They currently have 13 locations across North America from Vancouver to Georgia.  In Metro Vancouver, they have 4 locations co-shared with Phoa Hoa Noodle Soup.  I was curious as to how their drinks tasted so I decided to visit their West 49th location last weekend to try out a few of their drinks.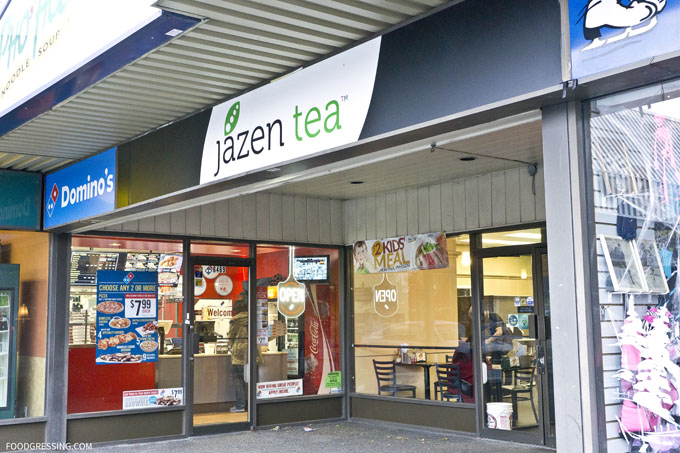 Jazen Tea Menu
Jazen Tea's focus is on creating "healthier" and more natural drinks so they use high quality tea leaves, real fruit and zero artificial powders.  Their menu includes real fruit teas ($3.95), milk teas ($3.95), smoothies ($4.95), snow sips ($4.95) and a snacks (popcorn chicken).  Toppings are $0.50 each and include jelly, fruit bits, honey boba, egg pudding, mint leaves and more.  I noticed that they didn't serve the very popular grass jelly topping.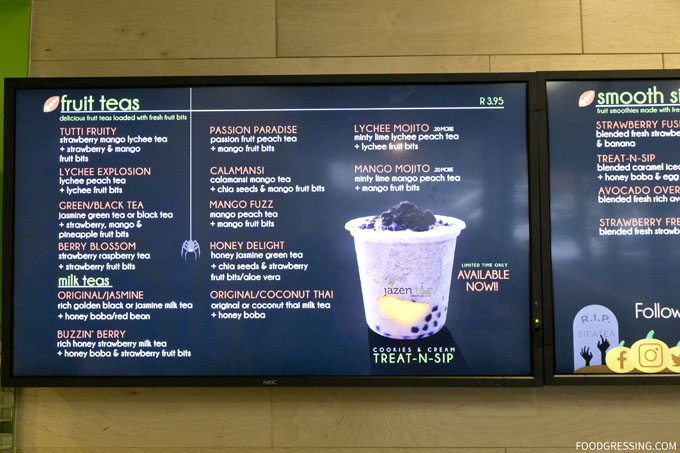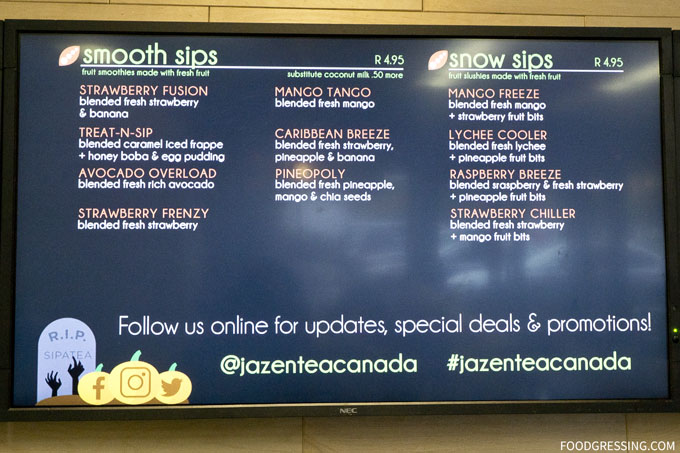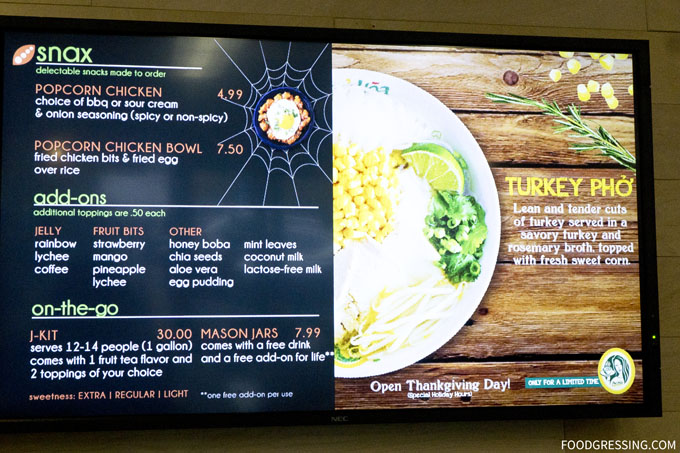 What We Tried
We ordered the Jasmine Milk Tea with Honey Boba ($3.95), Lychee Mojito ($3.95) and Halloween Cookies & Cream Treat & Sip (special – $2).  These came in their signature short and wide cups.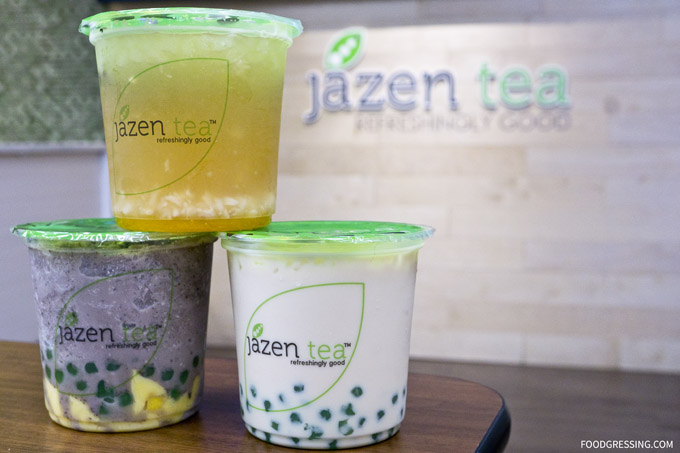 The Jasmine Milk Tea with Honey Boba had good tea flavour and surprisingly had very little sweetness.  I did not customize their sugar level so their baseline sweetness level is really just that subtle.  I guess this is on brand because of their focus on healthier drinks.  The honey boba was interesting starting off with their green colour.  It seemed a bit smaller and chewier than tapioca pearls I have had elsewhere, but this could be due to the way they were cooked.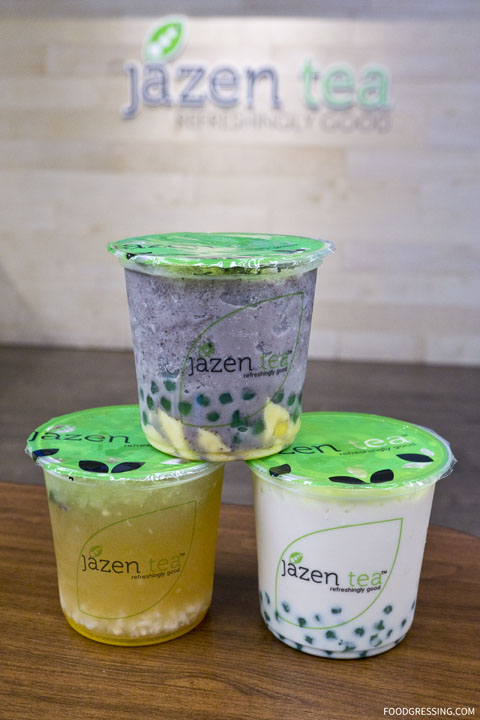 In contrast to the Jasmine Milk Tea, the Lychee Mojito was sweeter and refreshing.  It had real mint leaves and lychee bits in it.  This was my favourite drink of the three we ordered.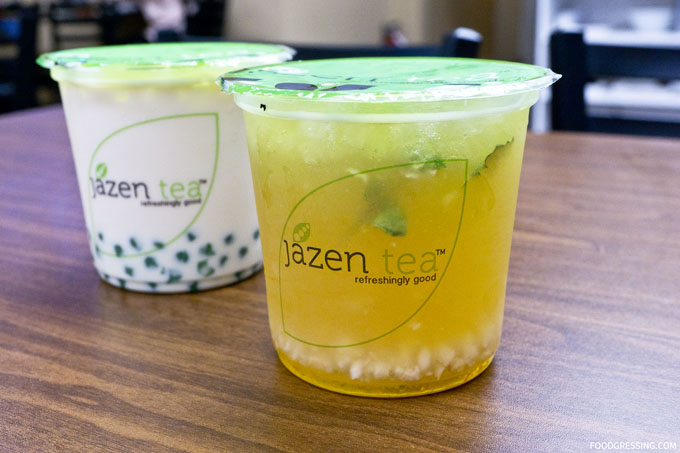 The Halloween Cookies & Cream Treat & Sip was an utter disappointment.  It was just lightly flavoured slush with very few cookie bits.  The egg pudding was a nice touch and but it was difficult to get to because of the very icy texture of the drink.  Right now, they have this drink on special untill the end of the month.  If you order it, you will receive 50% off another drink.  Despite the deal, I do not recommend it at all.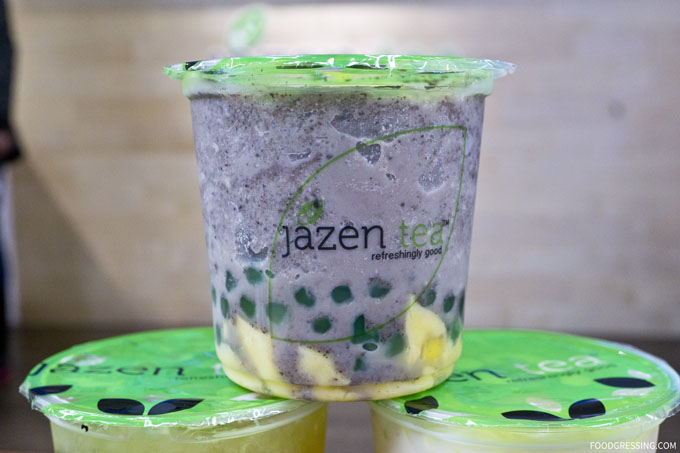 Overall Impression of Jazen Tea
It was an interesting to try the drinks at Jazen Tea which emphasizes on more natural ingredients in their beverages.  The drinks were definitely lighter and tasted less artificial than your typical bubble tea house.  I thought the flavours were just so-so but I enjoyed their short, stocky cups.  Rating: 3/5
Website: http://www.jazentea.com/