Last summer, Ignite Pizzeria became a new neighbourhood pizzeria in the Mount Pleasant area. They specialize in stone-baked artisinal pizza sold by the pie or by slice which uses a low-sodium dough that takes three days to craft and rest, making their pizzas light and easy to digest. Pizza Garden is usually my family's go-to place for pizza in Mount Pleasant so we were very interested to see how Ignite Pizzeria compared.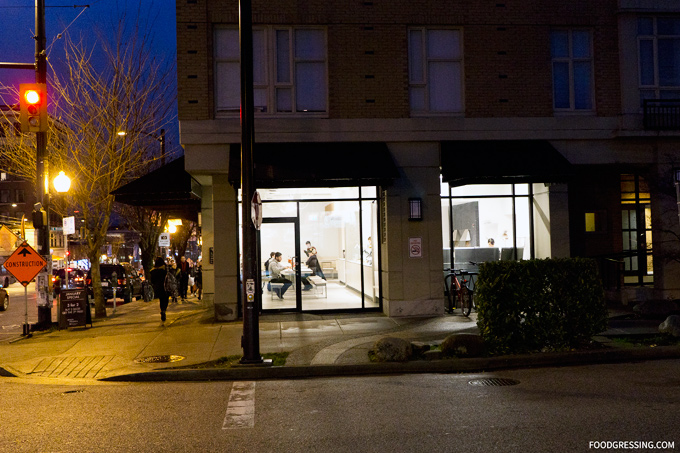 Note: None of the food in this review was complimentary. Opinions are my own.
Last month, my family and I visited Ignite Pizzeria and took advantage of their January Special. The deal was buy 2 slices and get the 3rd one for free!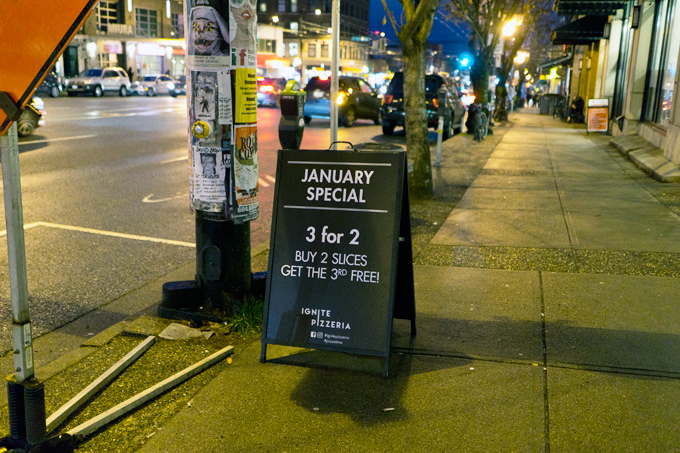 Ignite Pizzeria Menu
Ignite offers both meat and vegetarian pizzas as well as build-your-own options. Vegetarian options include classics like Margherita and Four Formaggi to more inventive ones like Vegan's Favourite and Fresh Ricotta. Carnivores can indulge in the usual Pepperoni or go for some spicy flavours like Spicy Soppressata and Spicy Roast Beef. As for building your own, you can choose your own base sauce, veggie, cheese and meat. Pies are sold in medium ($14 – $18) or extra large sizes ($19 – $23). Pizza by the slice is $3.50. They are also a licensed establishment so you can enjoy beer or wine with your pizza.
Minimal Interior Space
I enjoyed their modern, minimal space which has a variety of seating including communal tables, dining tables and seating by the window. The dim lighting adds to the cozy atmosphere of the pizzeria. They are also family-friendly and have a few high-chairs available for use. On the tables are house-made oils for adding a drizzle to the crust. They also have a water dispenser where you can get your own glasses of water.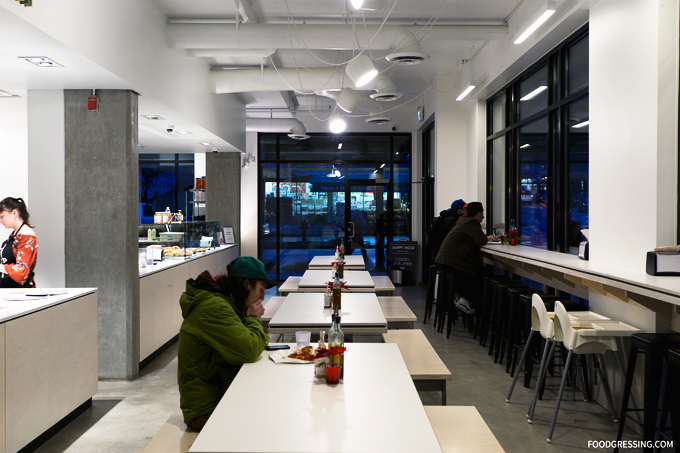 What We Tried
My family and I had the Fresh Ricotta, Arugula, Pepperoni and Four Formaggi. In terms of the crust, it was quite crispy on the outside, chewy on the inside and nicely charred on the bottom. Toppings to crust ratio and portions seemed reasonable overall.
As someone who lives ricotta, the Fresh Ricotta pizza did not disappoint; it had pesto, mozzarella, spinach, fior di latte, kalamata olives, roasted red peppers and of course, *fresh*ricotta. I love the nice smooth, creamy texture from the ricotta.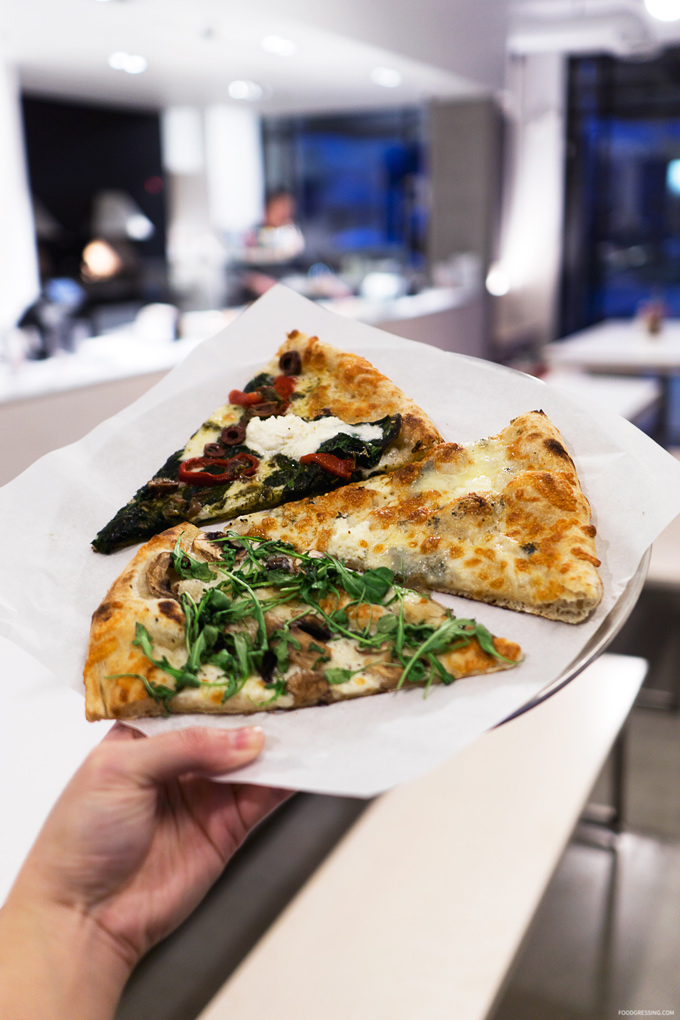 The Pepperoni (fior di latte, double pepperoni, mozza, tomato sauce) and Four Formaggi (fior di latte, ricotta, gorgonzola and aged parmesan) were also very good. They use parmesan which has been aged for 12 – 18 months.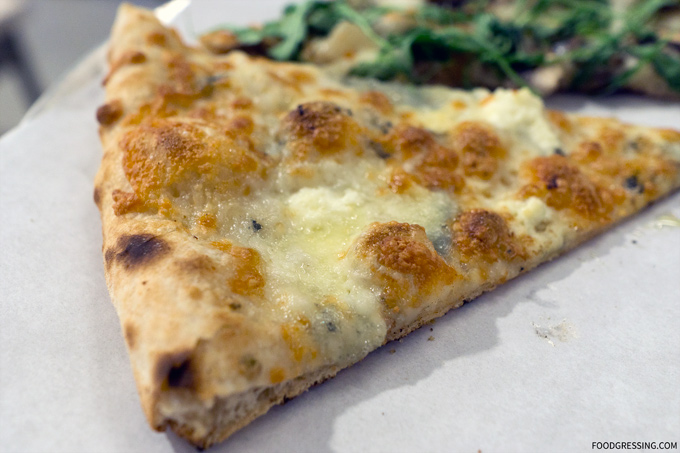 The least favourite would have to the be Arugula which seemed to lack the sharp taste of arugula. I probably wouldn't order this again.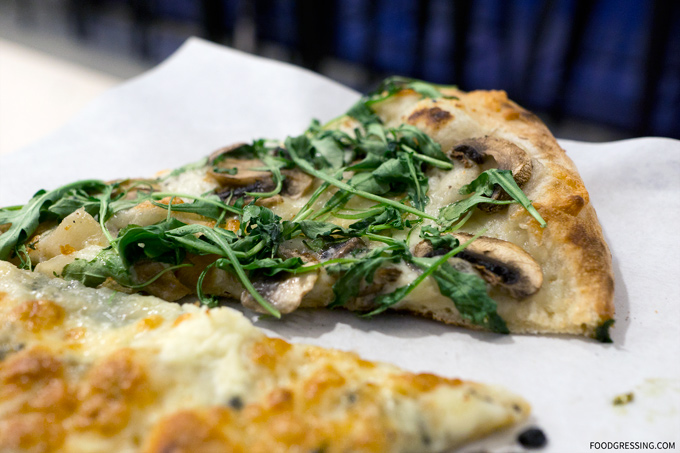 Overall Impression of Ignite Pizzeria
I really enjoyed the pizzas we tried at Ignite Pizzeria as well as their modern, minimal space. Reasonable topping to crust ratio as well portions. I'd recommend giving their pizzas a try and I'll certainly be revisiting the future.
Ignite Pizzeria
Address: 2588 Main St, Vancouver, BC
Website: http://www.ignitepizzeria.com‎