I grew up in the Ironwood area of Richmond and over the years have seen quite an improvement in the variety of dining establishments being set up there. I remember back in high school our go-to restaurants at Ironwood Plaza were fast food food chains and casual restaurants including Boston Pizza, McDonalds, Tim Hortons, Kelsey's and Death by Chocolate.
Since then, with a growing Asian population, Ironwood has seen more Asian eateries open up. One newer establishment that appeared last year is Ichigo Ichie Ramen. I decided to give this place a try recently after visiting my parents who still live in the area.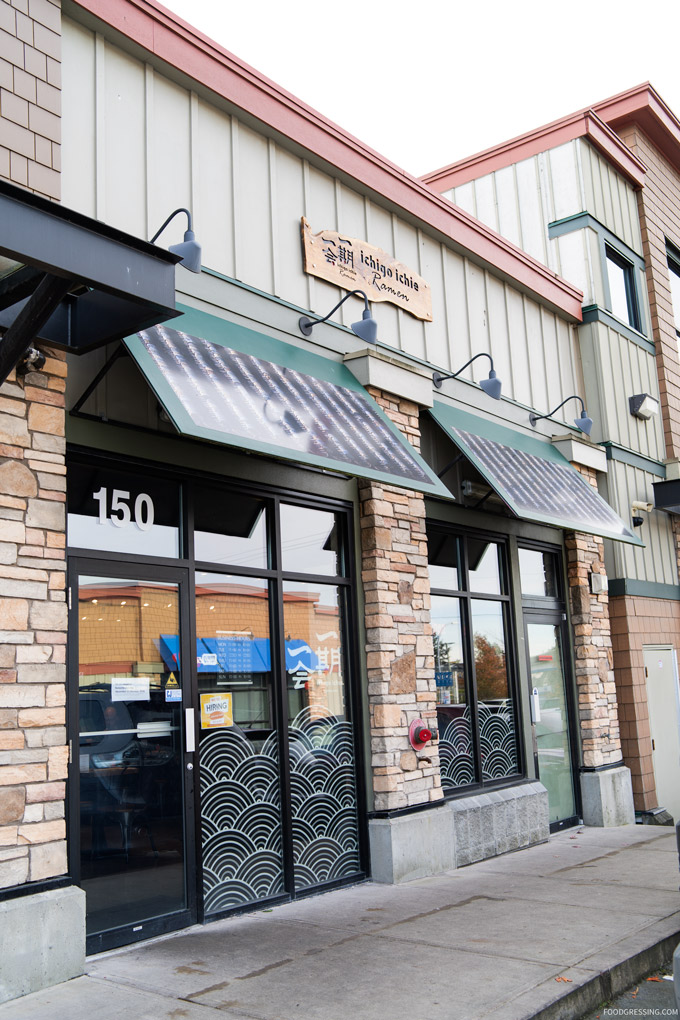 Note: This post is not sponsored. None of the food is complimentary. Opinions are my own.
Interior
Ichigo Ichie Ramen boasts a modern interior with mostly dining tables for two.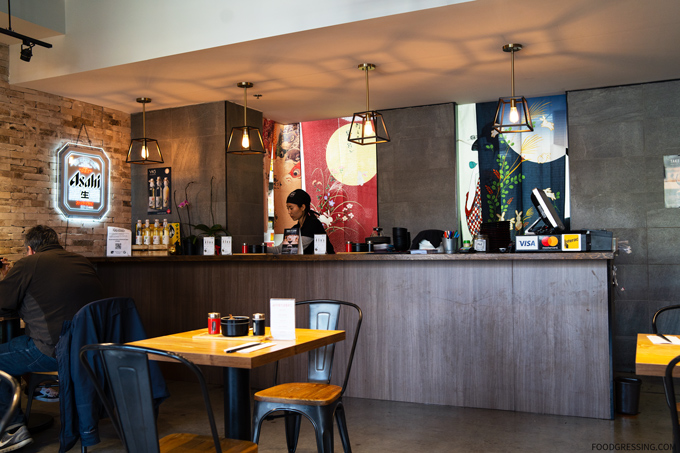 Ichigo Ichie Ramen Menu
The ramen bowls are priced between $10.95 – $11.95. They offer the standard flavourings (shoyu, shio, miso, spicy) and three broth choices (pork, chicken and vegetable). For chashu, they offer chicken and pork.
Aside from the vegetable ramen bowl, all the other bowls come with a ramen egg. I also noticed that the bowls come with shiitake mushroom which I don't usually find at other ramen restaurants in Vancouver.
Additional toppings (like chashu, nori, bean sprouts and so forth) are available. They also offer small rice bowls on the side for around $5. For side dishes, they have gyoza and karaage.
For a larger photo of the menu, click here.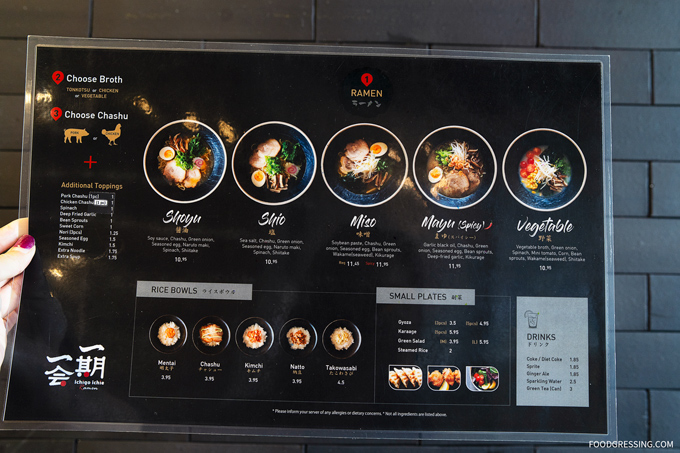 Each diner must fill out a form marking choices for his or her ramen bowl. There weren't any options for noodle thickness, broth richness, saltiness etc.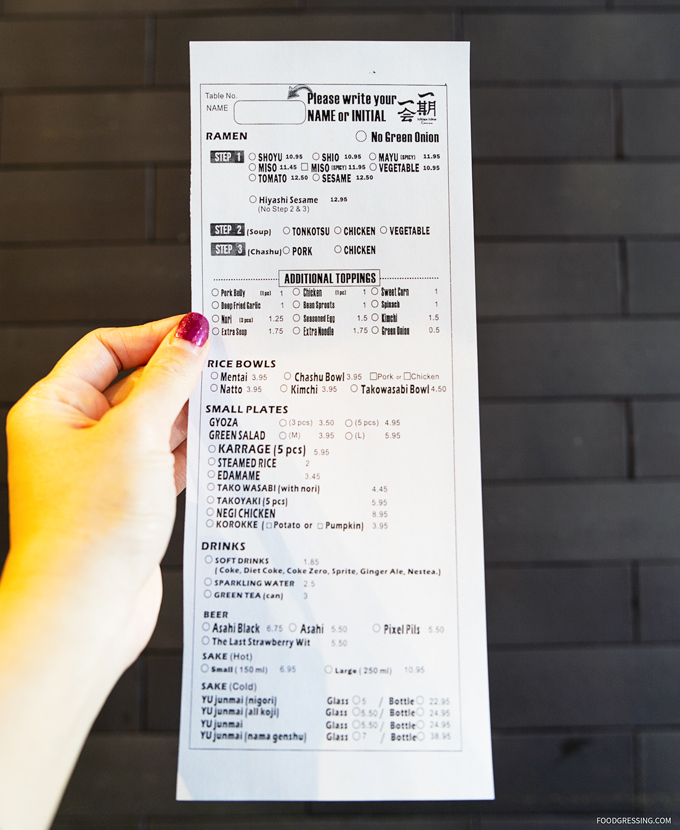 What We Tried
I had the Miso ramen with tonkotsu broth and pork chashu. It also had green onion, seasoned egg, bean sprouts, seaweed and shiitake. I ordered sweet corn for an additional $1.
For a tonkotsu broth, I definitely didn't find the broth to be rich and creamy enough. It was a light broth, which if you didn't want to feel heavy in the stomach afterwards, would be fine.
I usually get the additional corn topping on the side and add it to the bowl myself. However, at Ichigo Ichie, it came already in the bowl. I found the portion given to be a bit less than other places I have gone to.
Other than the broth being light, everything else seemed OK. The chashu was reasonably tender; the ramen egg had a nice, firm but runny yolk; and the noodles were fairly al dente.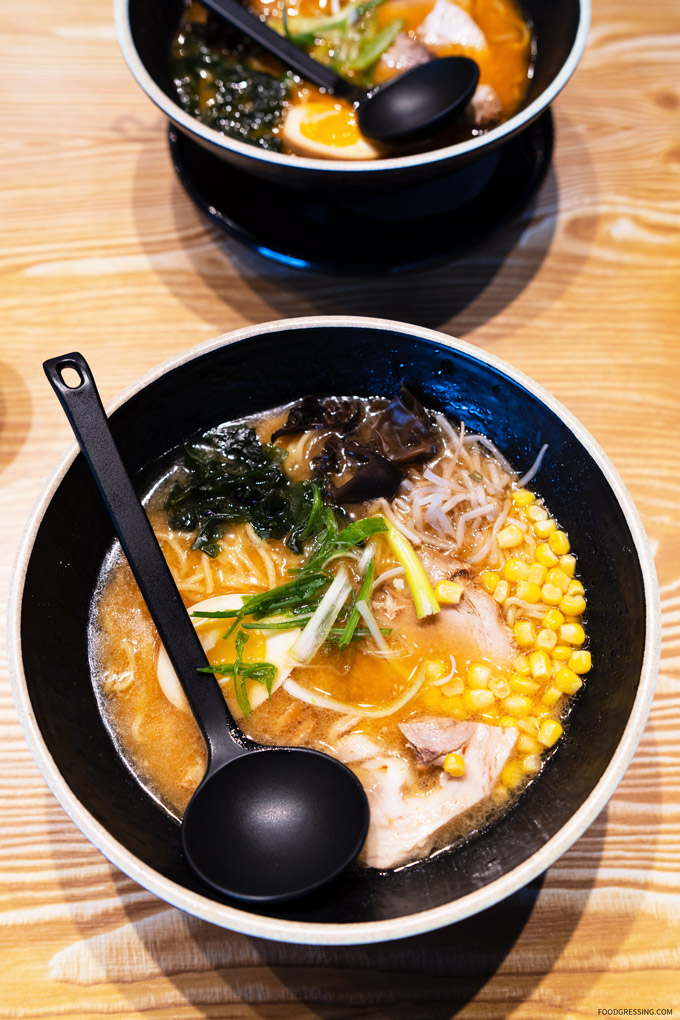 My husband had the Mayu (spicy) bowl with tonkotsu broth and pork chashu. It had garlic black oil, green onion, seasoned egg, bean sprouts, deep-fried garlic, and shiitake. I sampled the broth and found it to have a decent spicy kick to it.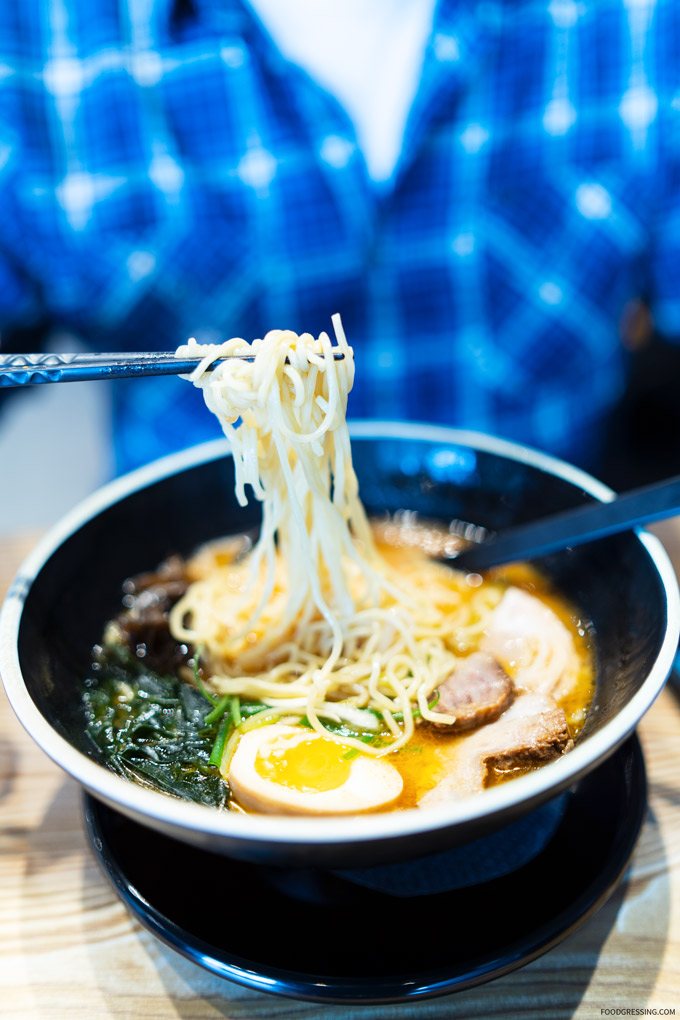 Overall Impression of Ichigo Ichie Ramen
The ramen bowls we tried at Ichigo Ichie were average in my opinion. Nothing too bad and nothing to write home about. The broth isn't quite rich and creamy enough to really be tonkotsu but it's not that bad of a thing if you want a lighter broth. Not a go-to ramen destination but a place to get a bowl of ramen when you have cravings and are in the area. Rating: 3/5
Ichigo Ichi Ramen
1060 No 5 Rd #150, Richmond, BC
www.ichigoichieramen.com