Vancouver's newest dining destination is sending guests on a Mediterranean culinary journey. At the recently opened EXchange Hotel in Downtown Vancouver's Financial District, you'll find Hydra Cafe + Bar – a Mediterranean cuisine concept in an elegant and impressive setting.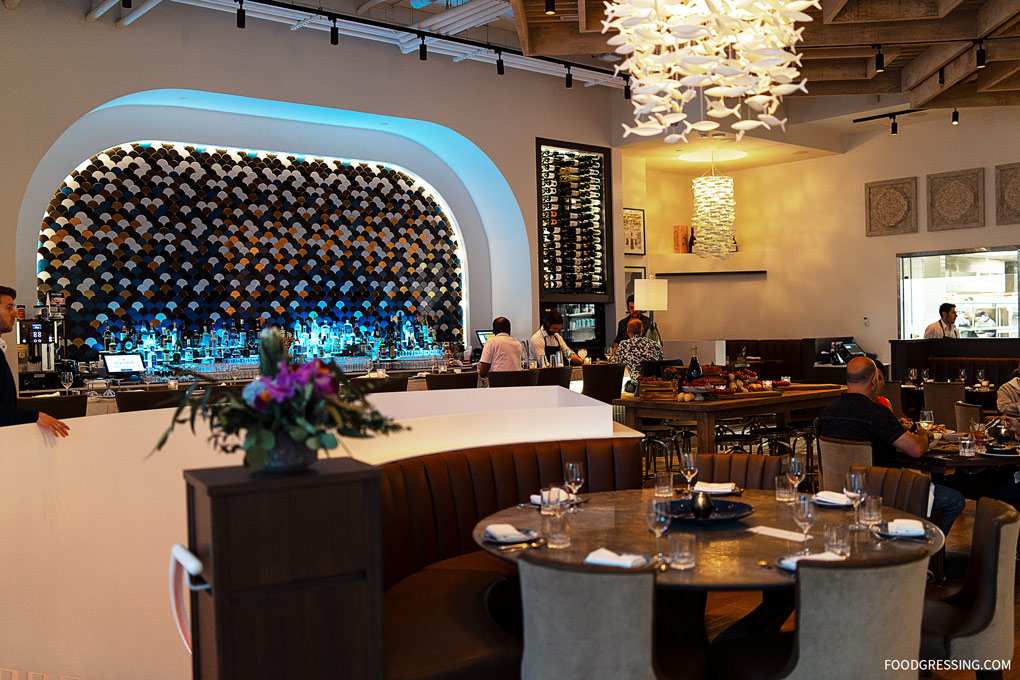 ---
Hydra Menu
Named after the culinary Greek island in the Aegean Sea, Hydra Estiatorio (pronounced 'hee-dra') presents a menu of refined Greek cuisine that draws up upon classic ingredients and traditional cooking styles. Many dishes are family-style with exciting tableside food preparations.
You'll find fish and seafood options, including whole grilled fish, ceviche, grilled octopus and chilled seafood platters. Other Mediterranean favorites include Forno-roasted leg of lamb, linguini in lobster sauce, grilled vegetables and more.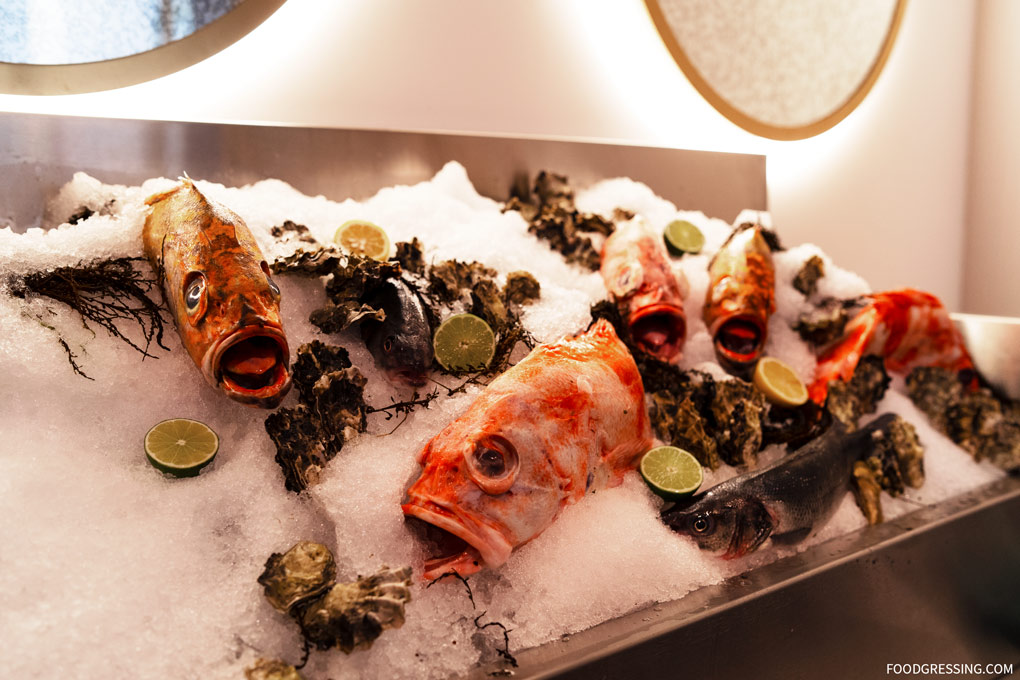 The menu was created under Executive Hotels Culinary Director, Chef Mark Greenfield's direction (Formally of Fairmont Pacific Rim, Italian Kitchen and Coast Restaurant) and is implemented by Executive Chef Ioannis Gerolymatos, himself a born-and-raised native of Greece whose culinary journey has taken him around the world to pursue his passions.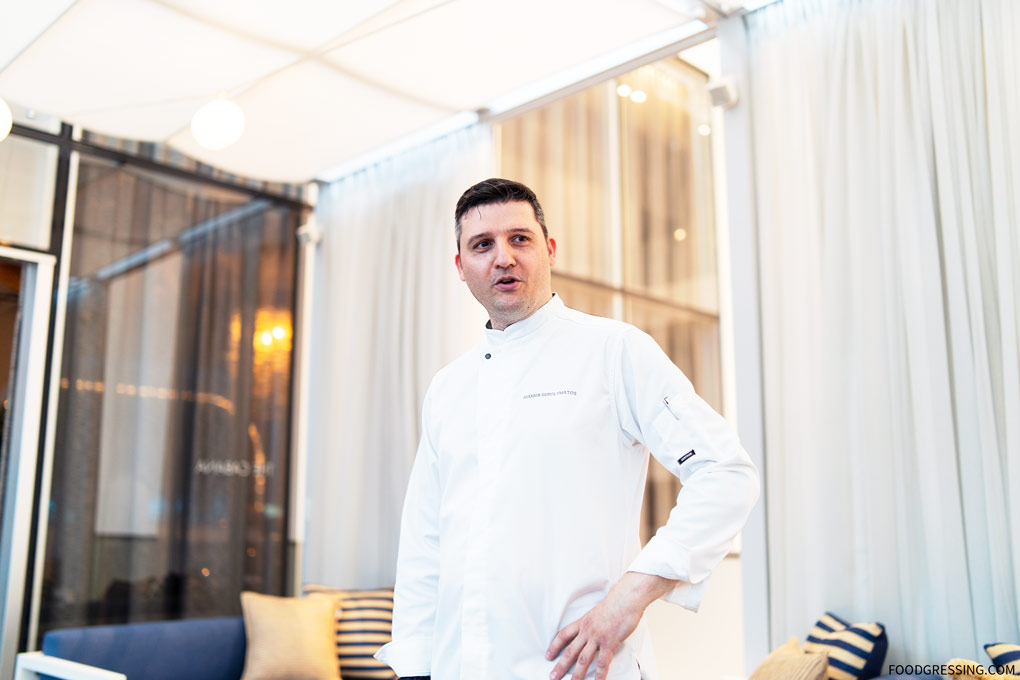 ---
Hydra Cafe
Hydra's second concept is a café located on the ground level that offers all day dining in an elegant space; guests can enjoy morning coffee and pastries, along with sandwiches and salads in the afternoon. At night, the cafe transforms into a Mezze bar offering small plates, wines and cocktails.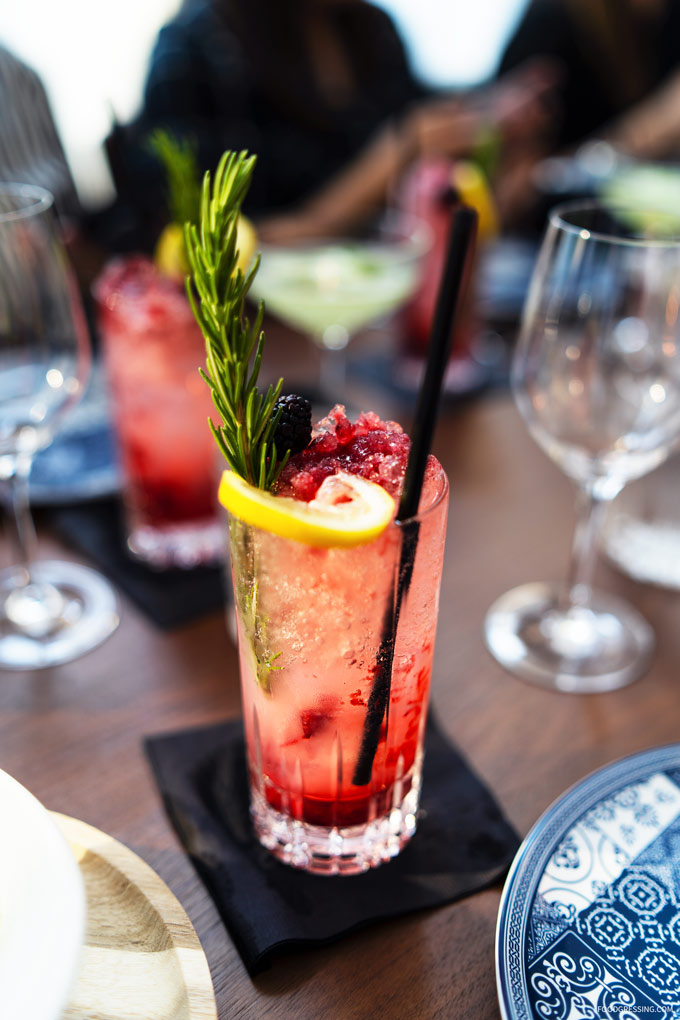 ---
Hydra Interior
The warm, rustic bi-level space seats 180 guests and features large floor-to-ceiling windows, aged hardwood flooring, sand-colored Venetian-plastered walls and a sun-bleached millwork ceiling.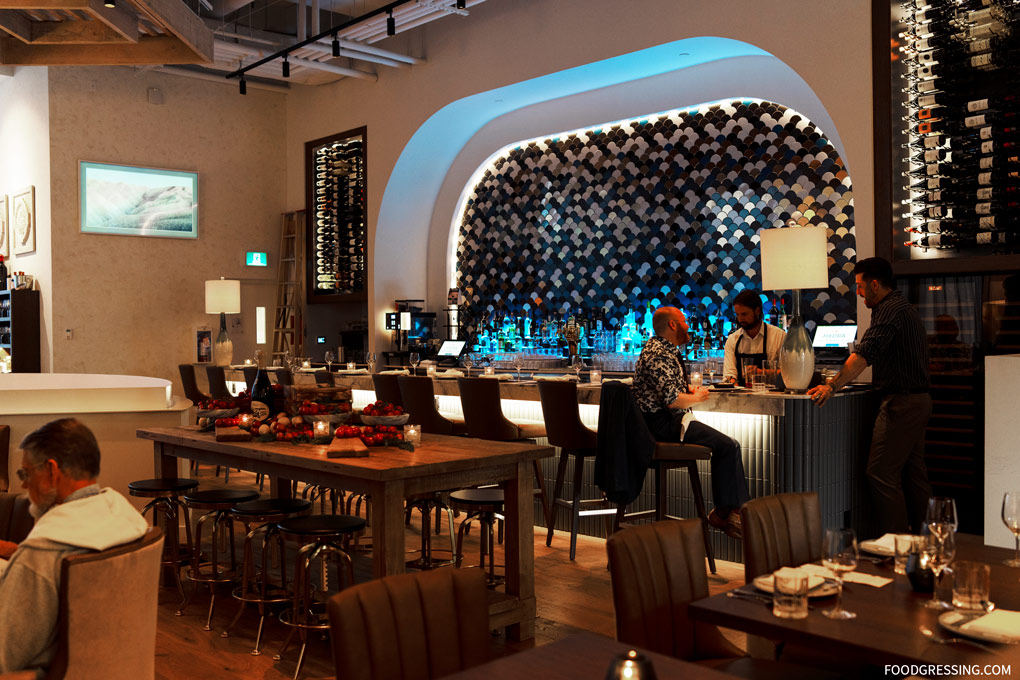 The main dining room features cascading sheers, rich leather banquettes, ancient olive oil casks, and a central marble bar boasting a unique "fish scale" tile motif. Decorating one long Venetian plastered wall is a large-scale "wave painting" by the famed Greek artist Antoni Titakis. His life's work has been spent exploring the textures, colors and movement found in the ocean.
Two elevated VIP dining booths are illuminated by spectacular custom made Scabetti chandeliers of swirling schools of fish, made of fine bone china.
A beautiful white spiral staircase connects the ground and upper floors between the cafe and the main dining room. The cafe interior is accented by 14-foot Pantheon-inspired columns, locally crafted wooden bookshelves and a linear fireplace which pay homage to the old philosopher libraries of ancient Greece.
There is also an exclusive private dining cabana that is designed with terrazzo stone floors, comfortable lounge-style furniture and hand-blown glass lanterns. The space can be reserved for the evening, offering views of the 60-foot hotel atrium and Pender Street.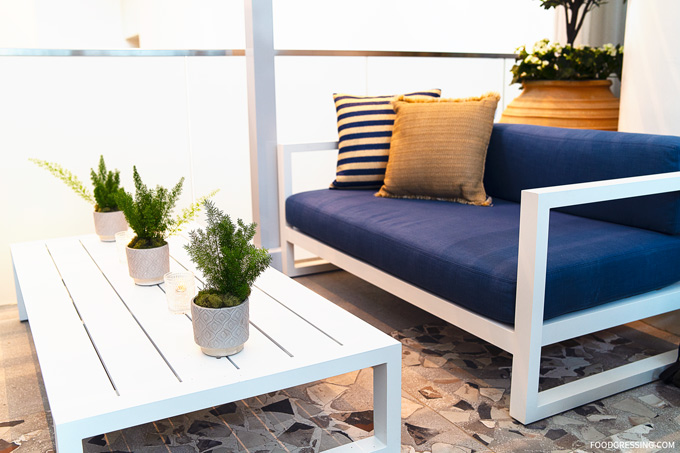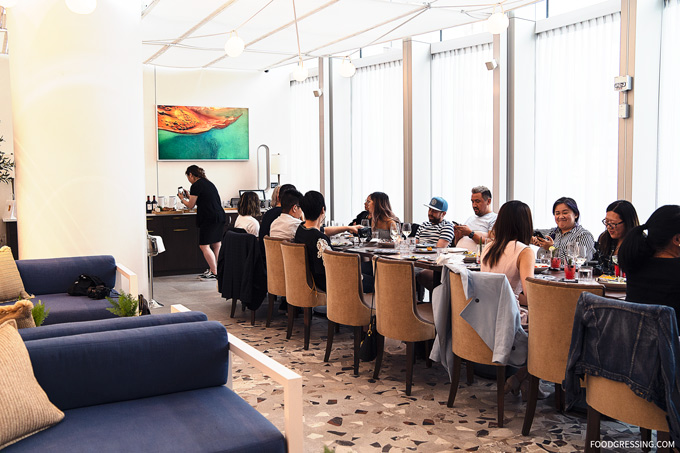 ---
What We Tried
At a recent media dinner, we tried an variety of their offerings including:
Spreads (Melitzana, Tarama, Fava, Xtipiti, Tzatziki, Menta) with made-to-order pita bread
Hydra Special (paper thin zucchini)
Grilled Octopus
Kefalograviera (fried cheese saganaki)
Salads: Tomato, Green, Organic Heirloom Beets
Whole fish (sea bream) in sea salt
Grilled fish (perch) with olive oil and lemon sauce
Whole Forno Roasted Chicken
Forno Roasted Whole Leg of Lamb
Lobster Pasta
Desserts (Halva, Cream of the Crop, Greek Yogurt)
To start, we enjoyed warm made-to-order pita breads with a variety of fresh, house prepared spreads including melitzana, tarama, fava, xtipiti, tzatziki, and menta.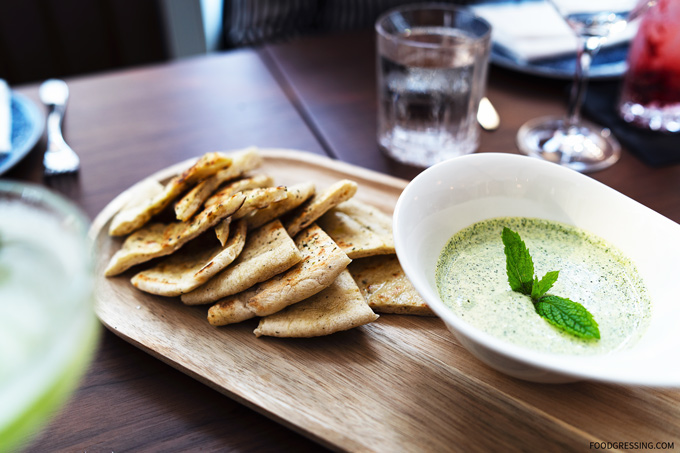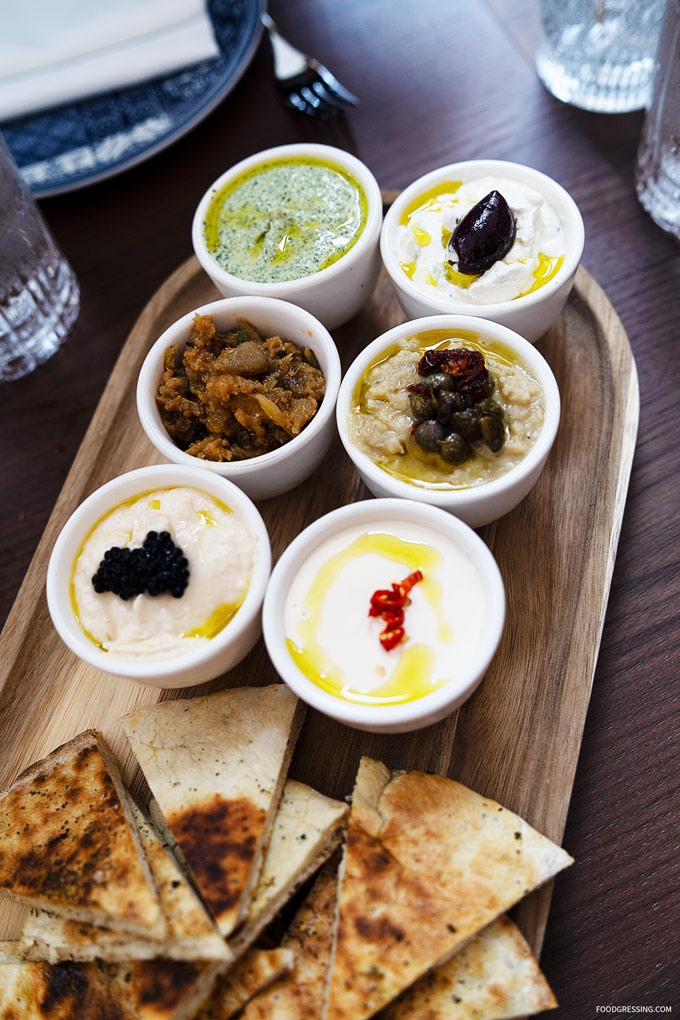 The Hydra Special featured paper thin zucchini and egg plant tzatziki. These deep-fried delights were incredibly delicious and addictive. I could eat the whole stack myself.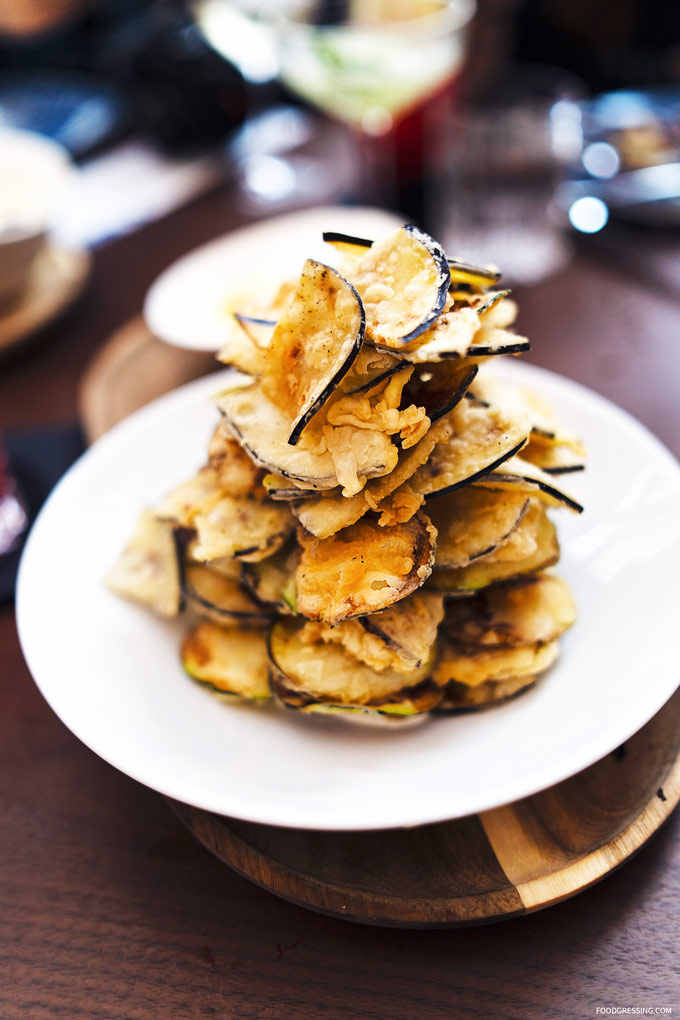 The Kefalograviera was a traditional Greek cheese dish with a salty and a spicy taste and creamy in texture.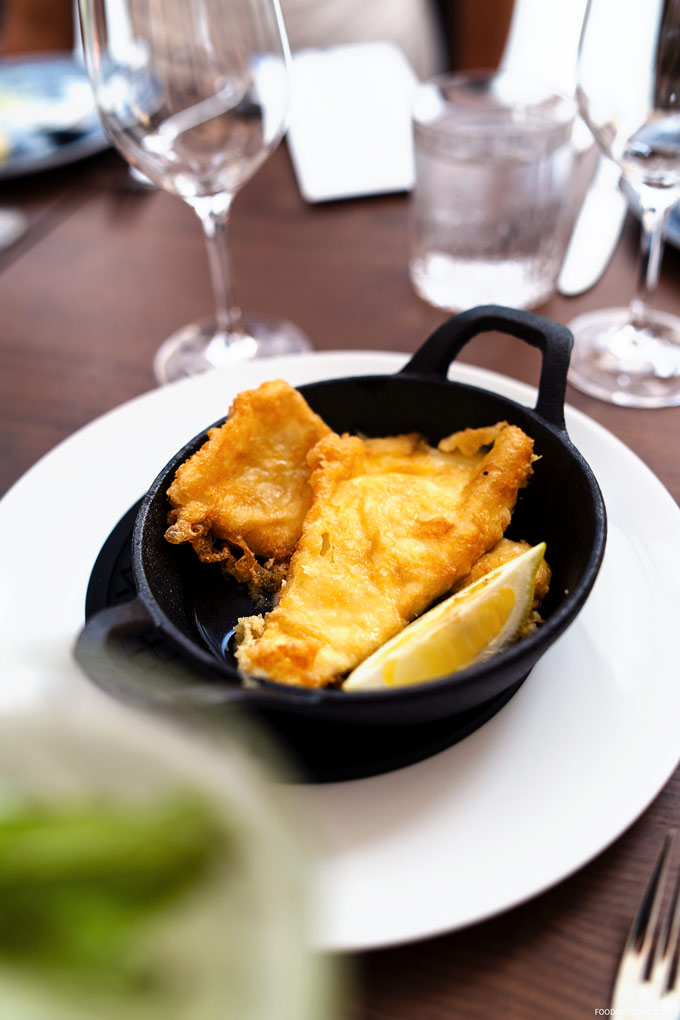 Next up were a trio of refreshing salads: Organic Heirloom Beets (heirloom leafy beets, red-wine vinegar, extra virgin olive oil), Green Salad (romaine, scallions, dill hydra vinaigrette), and Tomato Salad (vine-ripened tomatoes and feta). I enjoyed the presentation of the salads and the freshness of the ingredients.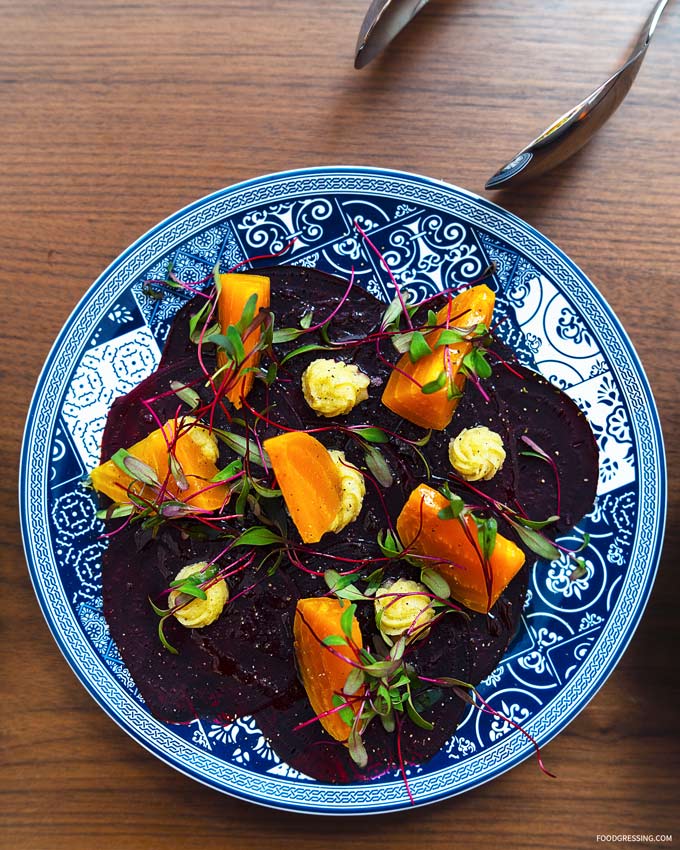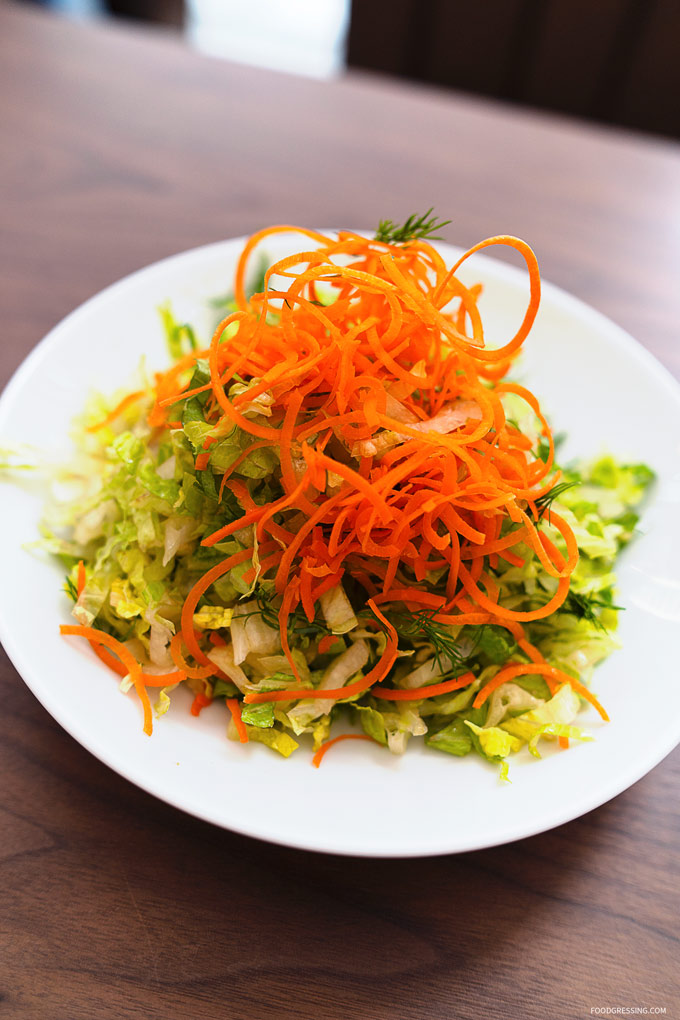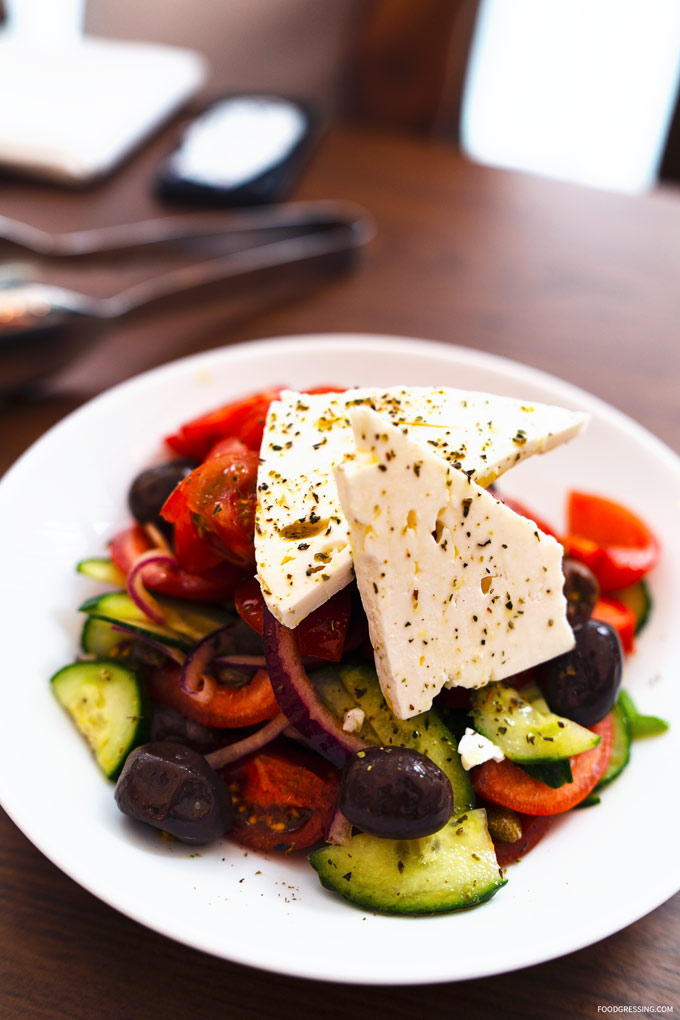 Hydra specializes in family-style platters and these were the highlights of the evenings. The Whole Forno Roasted Chicken was marinated with herbs and lemon.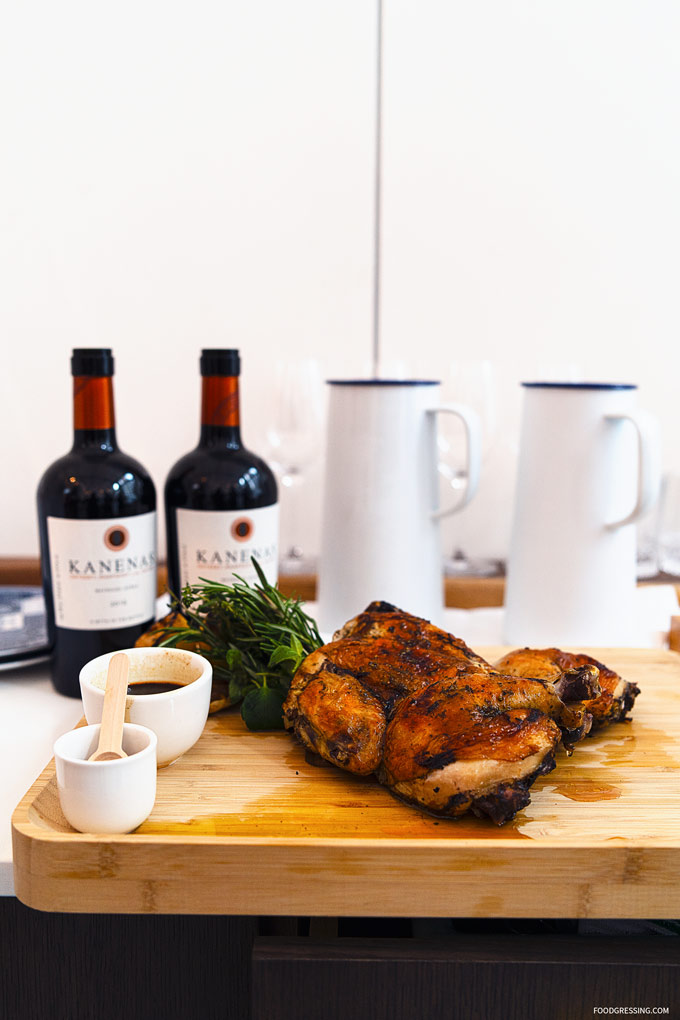 Guests can also choose from the day's fresh selection of seafood at the Raw Bar. Hydra offers whole fish in sea salt or grilled whole fish with tableside preparations.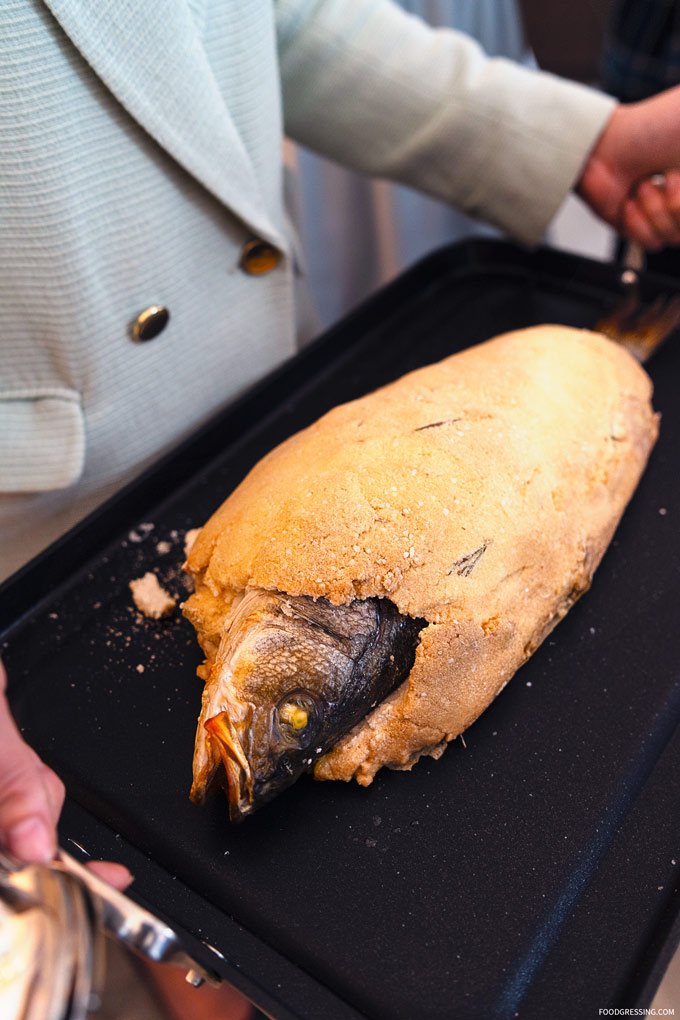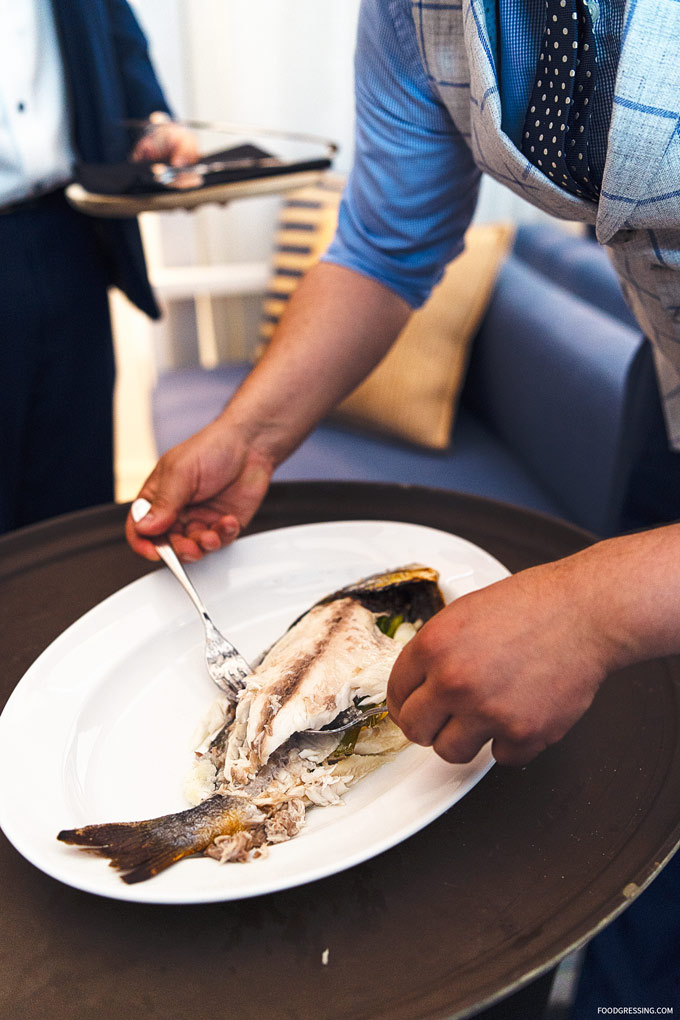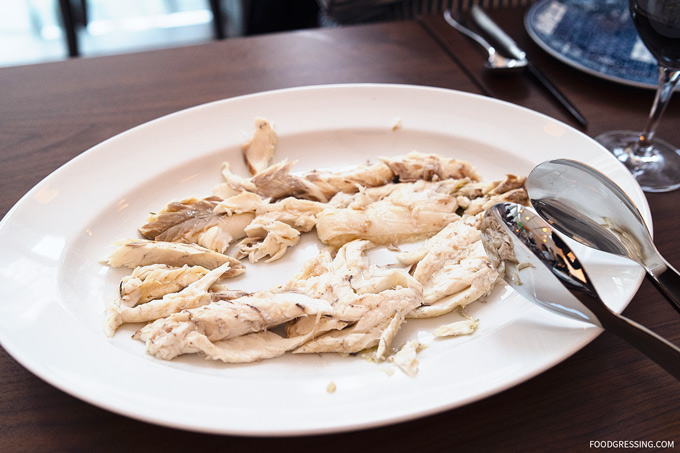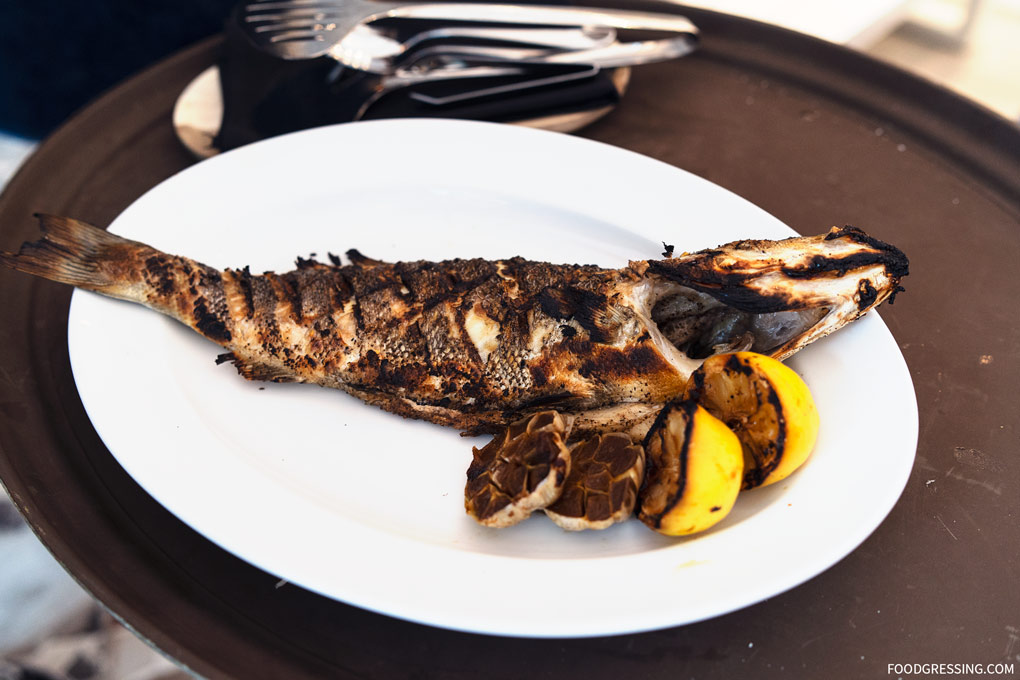 The Linguini in Lobster Sauce was also a show stopper with the al dente pasta and tender lobster meat.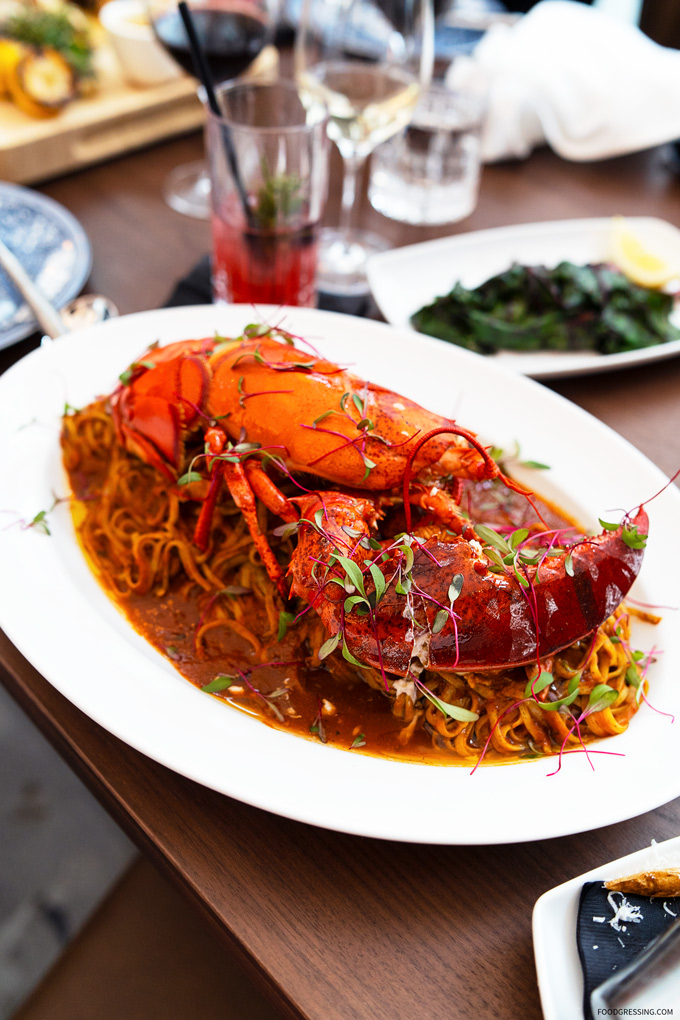 To finish off a fantastic meal, Pastry Chef Dimitrios Patsis prepared a variety of desserts for us to try. There was the Bougatsa, a Greek pastry filled with semolina custard, dusted with cinnamon-icing sugar, and finished with a caramel-chocolate ganache drizzle.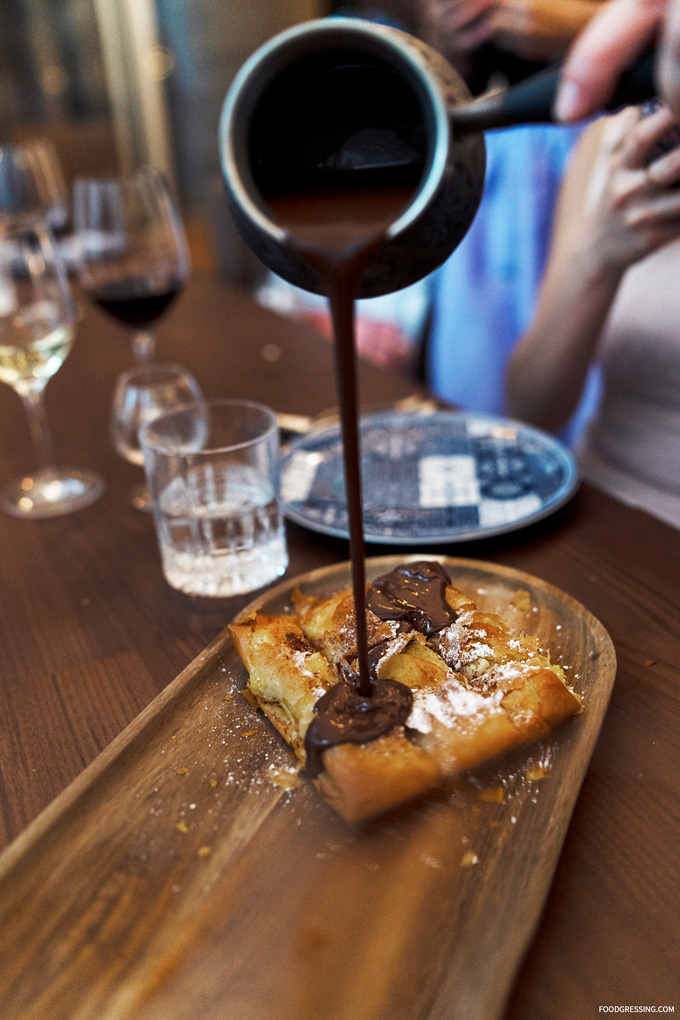 The platter featured Halva (yogurt mousse, cinnamon syrup, mastixa meringue), Cream of the Crop (lemon custard stuffed meringue, praline sponge, mandarin & blood orange caramel) and Greek Yogurt (imported directly from Greece).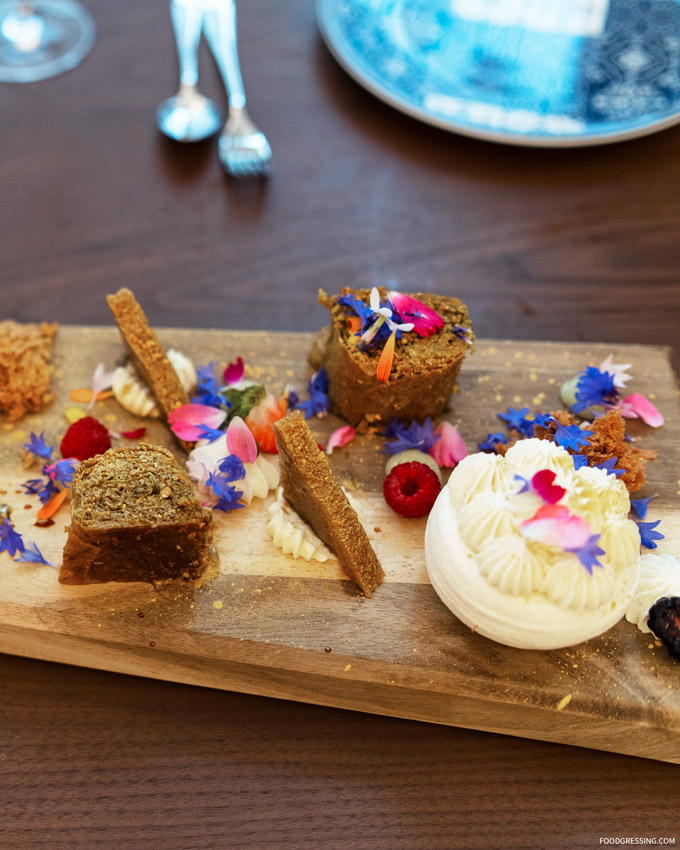 Hydra sets itself apart as a unique dining destination in Vancouver with its multi-concept offerings, Mediterranean menu and tableside preparations. I enjoyed the dinner overall; my favourites were the pita bread with spreads, Hydra Special, Organic Heirloom Beets Salad, Whole Fish dishes and Bougatsa.
Hydra Estiatorio is open seven days a week, 7 AM until late. For more information, visit hydravancouver.com.
---
Hydra Estiatorio Mediterranean
825 W Pender St, Vancouver, BC
hydravancouver.com