H Tasting Lounge at the Westin Bayshore is currently offering a limited-time dining experience in celebration of Mid-Autumn Festival and Golden Week. Available from Saturday and Sunday from 12 – 5 pm until October 7, the traditional Afternoon Tea in H Tasting Lounge boasts an enhanced menu of Asian- and European-influenced indulgences. I was invited to try out this unique afternoon tea experience at H Tasting Lounge. Here's a look at what you can expect.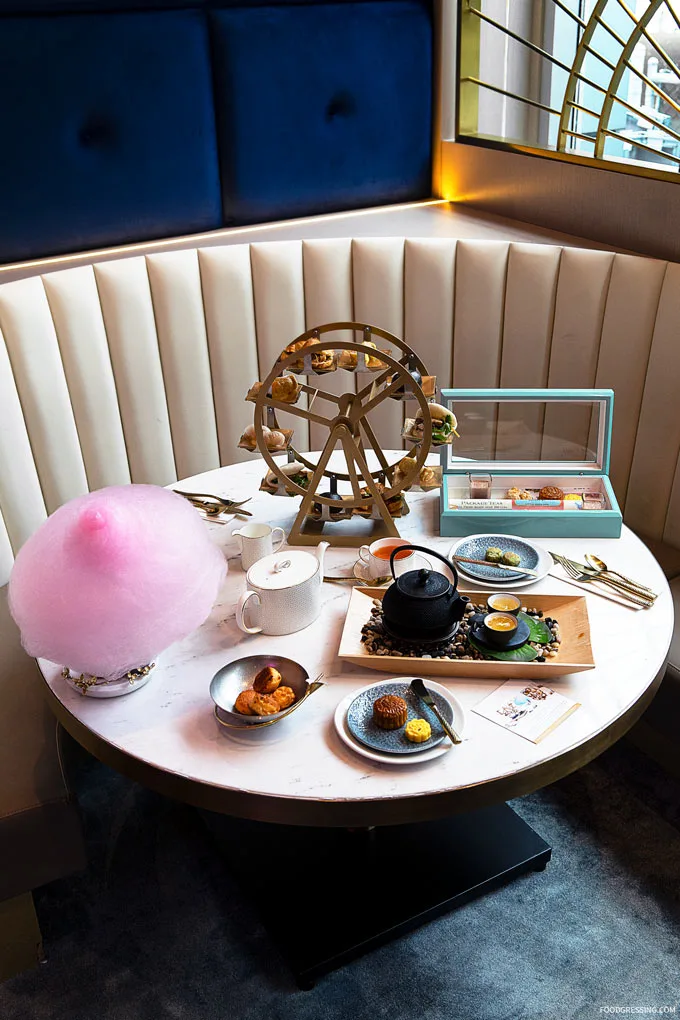 Priced at $80 per person, the afternoon tea set had all sorts of surprises and whimsical elements to it. I was really impressed with the variety of items and creativeness in which they were presented. Above is a photo of all the delicious items we received as part of the afternoon tea experience. I will go on to discuss each part in further detail below.
Tea Selection
The experience started after the hostess seated my guest and I at one of the plush corner booths at H Tasting Lounge. She then presented us with box containing samples of Tealeaves loose leaf selection. The tea were in small vials such that we were able to smell the tea before making our selection. I went with the Organic Vanilla Rooibos while my guest had the Imperial Earl Grey.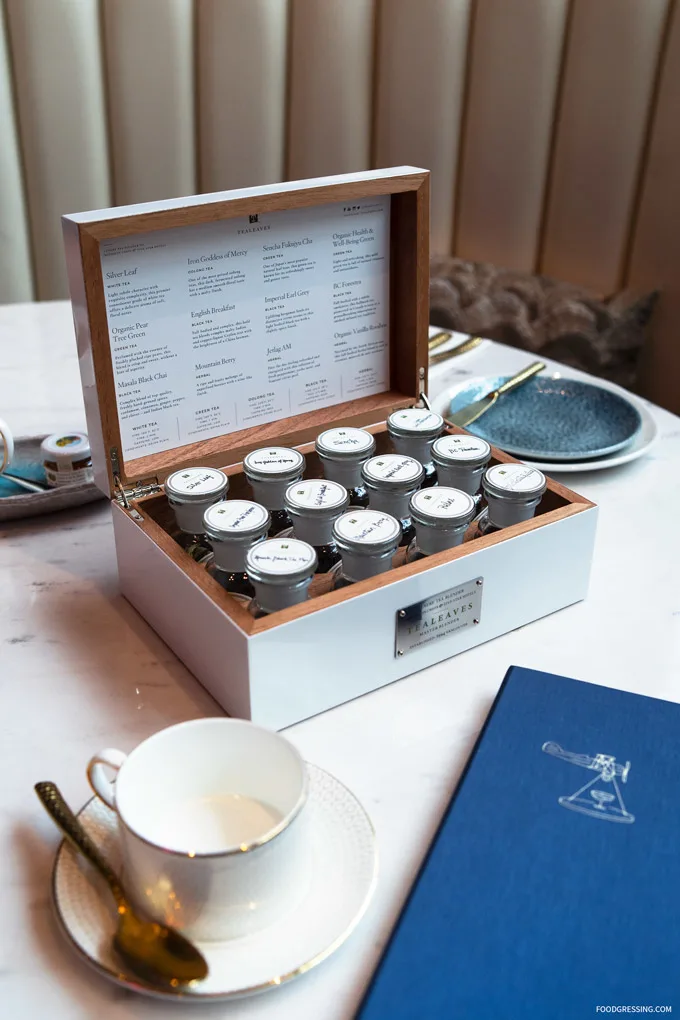 Bonsai Candy Floss & Scones
The next item that was brought to us was a selection of freshly baked scones along with a bubblegum bonsai candy floss. The idea was that you would tear away some of the cotton candy to enjoy with the savoury scones. Also offered was vanilla butter, honey and jam.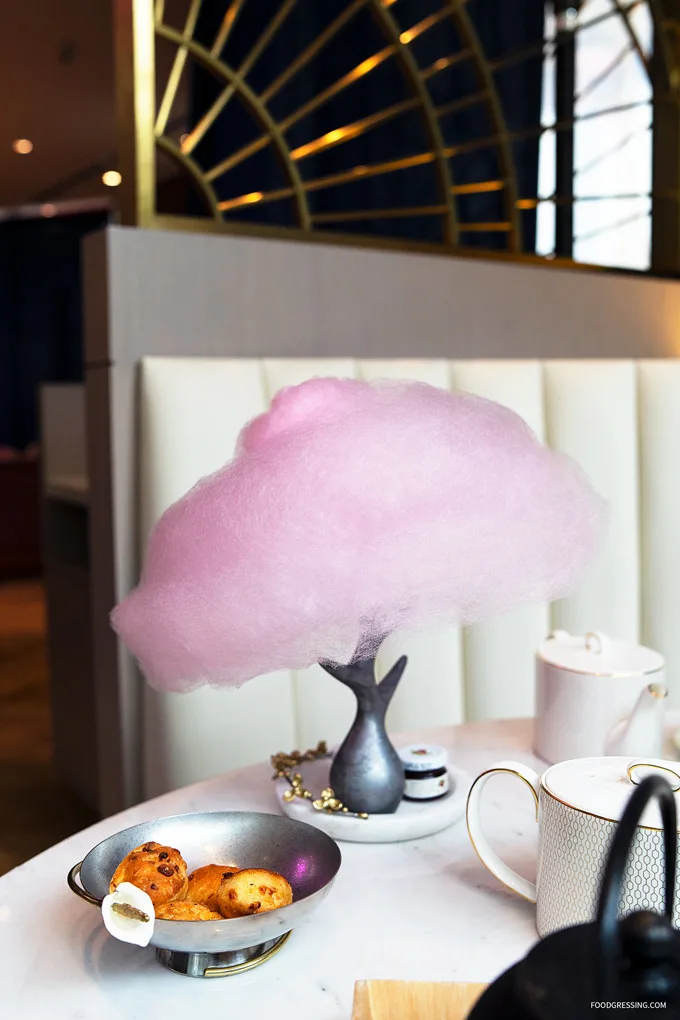 Golden Flower Cocktail
The featured cocktail included in the afternoon set was the "Golden Flower", created by H bartender Andrew Kong for these annual celebrations. The cocktail is an aromatic marriage of sweetened Osmanthus tea (Osmanthus tea and elderflower syrup), Bombay Sapphire East gin, Umé Japanese plum wine, Giffard 'Ginger of the Indies' liqueur, and Ms. Betters 'Mt. Fuji' bitters.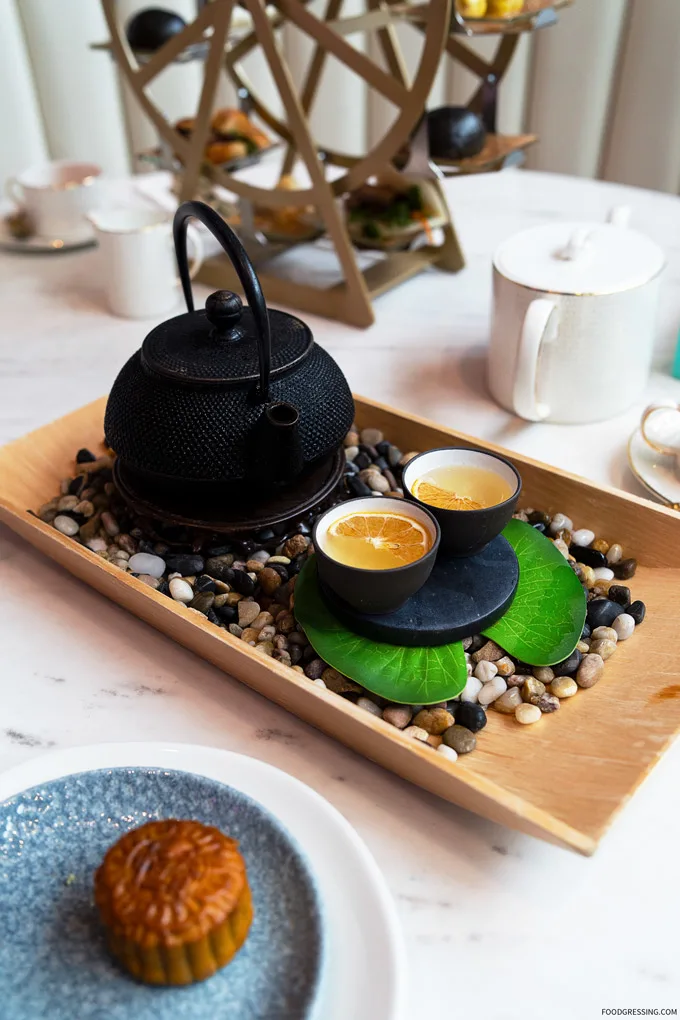 Golden Ferris Wheel
The Golden Ferris Wheel held the savoury items of the afternoon tea including: BBQ pork puff, dim sum (har gow, siu mai), charcoal bao, prosciutto croissant sandwich, braised pork-belly bao, and open-faced smoked-turkey sandwich.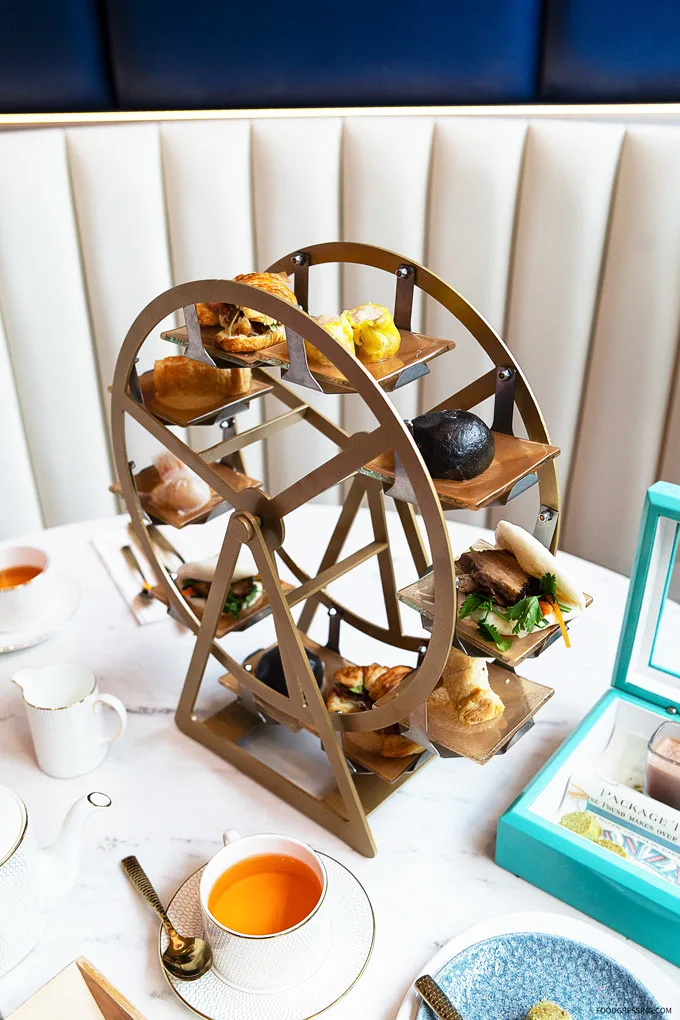 Tiffany-blue jewelry box
The sweets were presented in a Tiffany-blue oversized jewelry box featuring mini moon cakes, green-pea cakes, BBQ pork puffs, Chinese pastries, and panna cotta.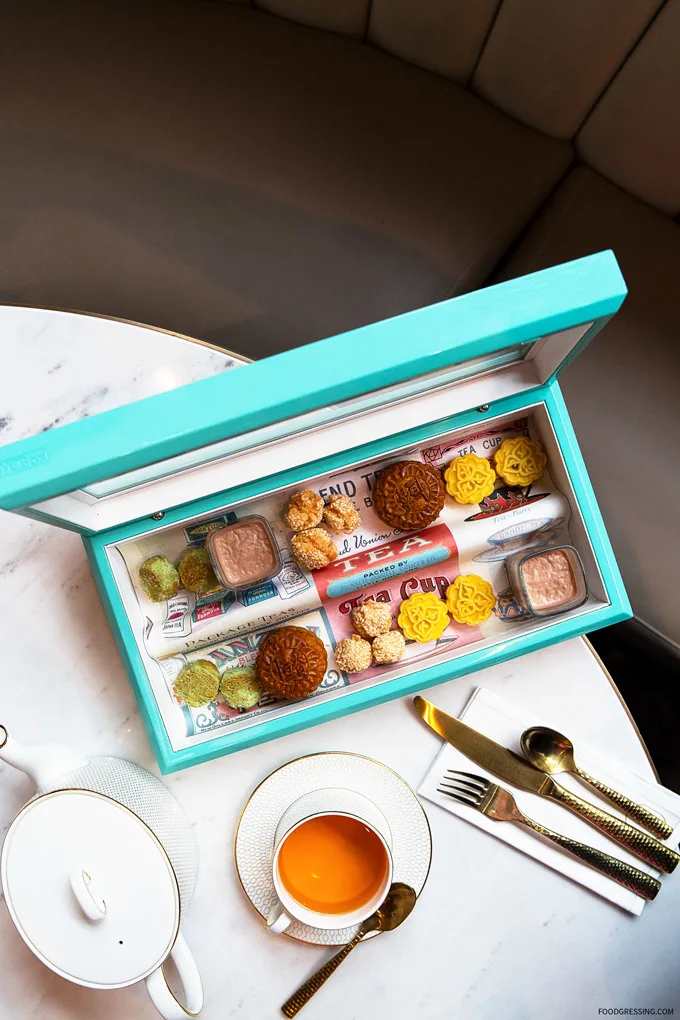 Overall Impression
I really enjoyed all the creative elements of H Tasting Lounge's Golden Week afternoon tea set. From the cocktail to the savouries and the sweets, there were so many different and interesting items to stimulate your senses from beginning to finish. While H Tasting has afternoon tea service regularly, this limited edition set is available until October 7. Bon appetit!
H Tasting Lounge
Address: 1601 Bayshore Dr, Vancouver, BC
Website: htastinglounge.com‎