Greece is home to one of the world's oldest civilizations and is known for its stunning landscape of whitewash architecture and windmills, blue sky, and green seas. The Greek culture is alive with passionate music, amazing food, and adventurous activities.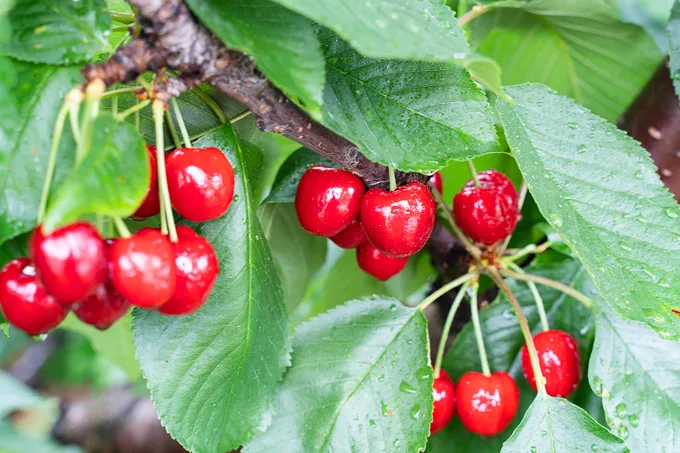 What more wonders does Greece have to offer? Some of the world's best cherries from Rachi and high-quality kiwis from the prefecture of Kavala.
We had the pleasure of being hosted by The Charming Taste of Europe, a special campaign that introduces exquisite European products to US and Canadian markets, such as Italian and French wine and fresh fruit from Greece – all of which showcase Europe's allure, beauty, culture, history, art, and unique taste.
Here's a look at how the juicy cherries from Greece are grown, processed, sold and exported as well as some quick easy ways to enjoy to them.
Appearance & Taste of Greek Cherries
Greek cherries are famous for their deep red color, big round heart-shape, and crisp juicy flesh.
With a unique flavour that entices you, a vivid red colour, and a delectable taste, cherries evoke feelings of summer.
Where are Greek Cherries Grown
When it comes to cherry production, Greece is ranked 10th in the world, with the majority of harvests coming from Northern Greece.
Pella, Imathia, and Pieria, in particular, are the most significant fruit-producing regions in Greece.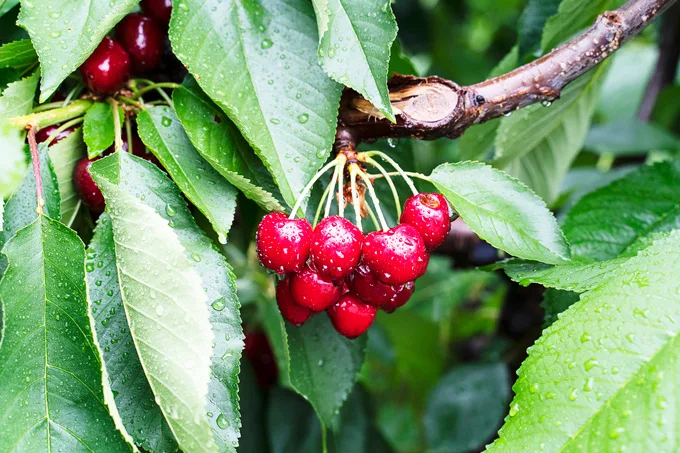 Cherries are springtime fruits with harvest that starts at the beginning of May until the end of July.
Agricultural Cooperative of Rachi Pieria (known as AGIOS LOUKAS)
In Pieria, the cherries are grown specifically in Rachi, a small village located in the middle of the prefecture.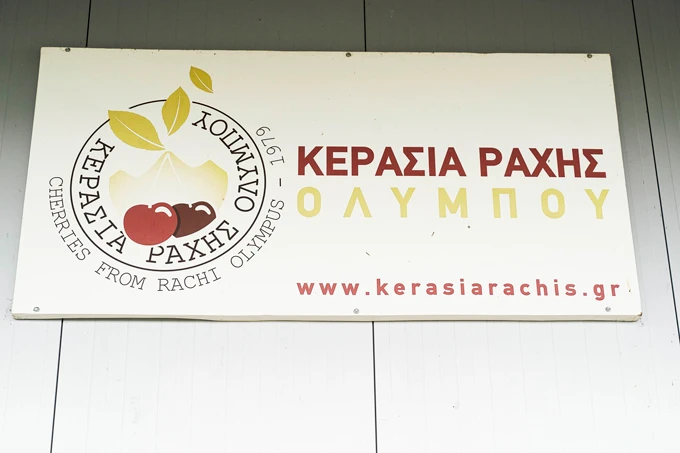 The Agricultural Cooperative of Rachi Pieria, or "AGIOS LOUKAS," is one of Greece's largest producing and most reputable cooperatives.
The co-op, which was founded in 1978, has 250 members today and a cherry grove measuring 200 hectares.
The cherry groves are grown in a standard Mediterranean climate and are located at 300 metres above sea level.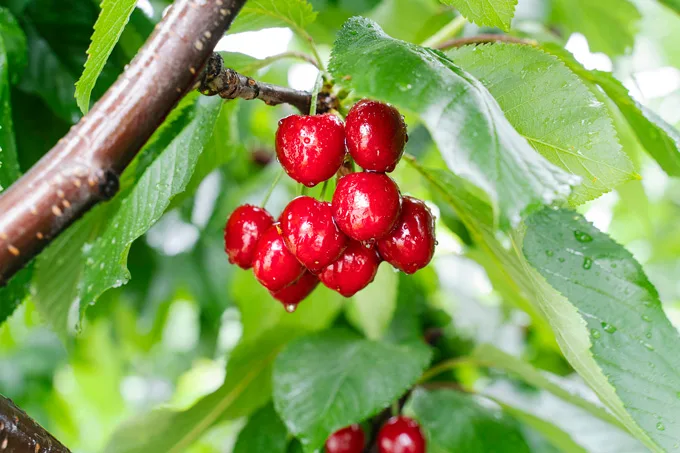 They are built on a ground formation which resembles a saddle between Mount Olympus and the Pieria Range, as its name suggests.
The landscape features variable soil composition consisting of clay and sand which makes it an excellent area for some of the world's most beloved cherries.
Grown to the Highest Quality
Cherries from AGIOS LOUKAS are branded "Cherries of Rachi Olympus," and have the slogan, "Enjoy it! It's from Europe."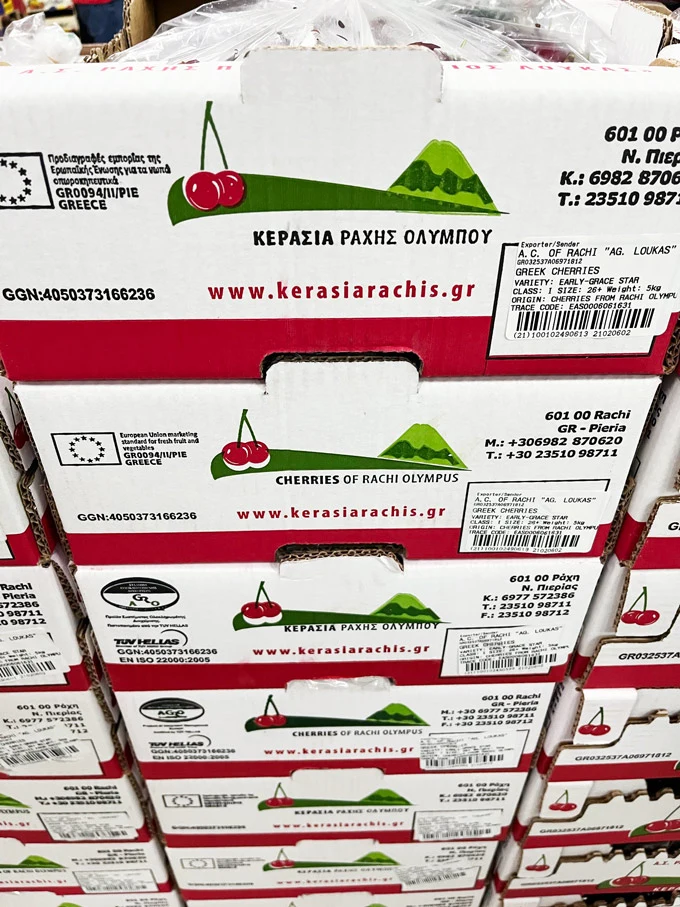 The cherries are grown under the highest standard with respect for the producer, consumer, and environment.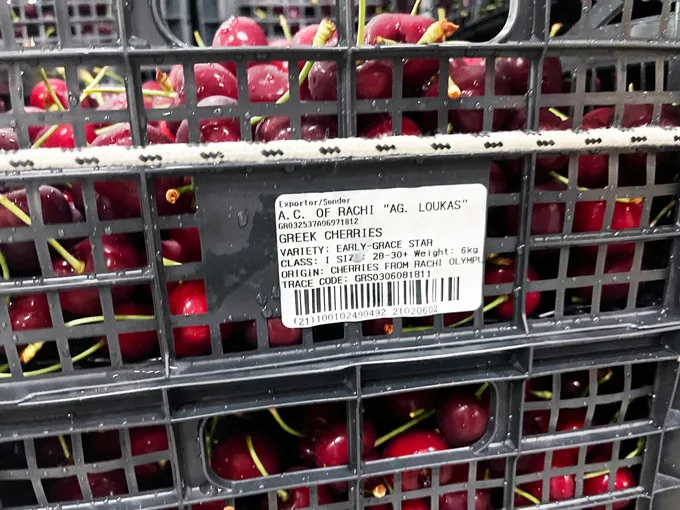 The cooperative supports farmer members in improving their harvests on a regular basis.
These include introducing more up-to-date agricultural practices and newer and more favourable varieties to enhance fruit production, lower cracking, and extend the harvest season.
The production of Greek cherries adheres to stringent European standards including quality control systems for cultivation, processing, standardization, and maintenance.
This high level of attention and care facilitates the standardization of the cherries' high qualities during production, harvesting, packaging, storage, and sale.
Greek cherries are certified for their safety, quality, and high nutritional value.
What happens at the Cooperative Facility
We had the pleasure of touring the co-op facility to gain more insight on the processes.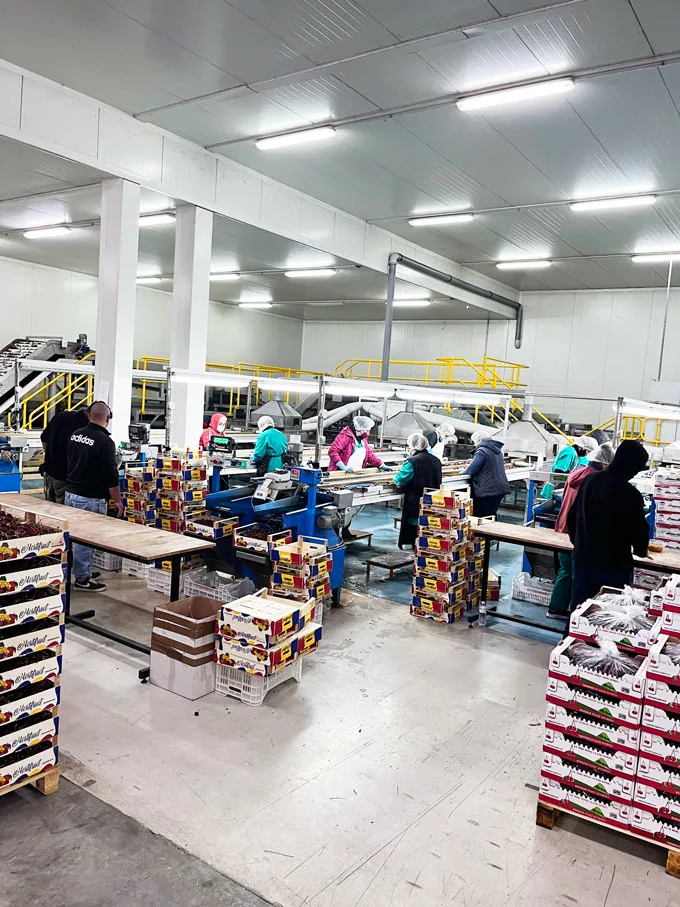 Cherries are sent to the co-op facilities as soon as they are harvested by hand from individual farms.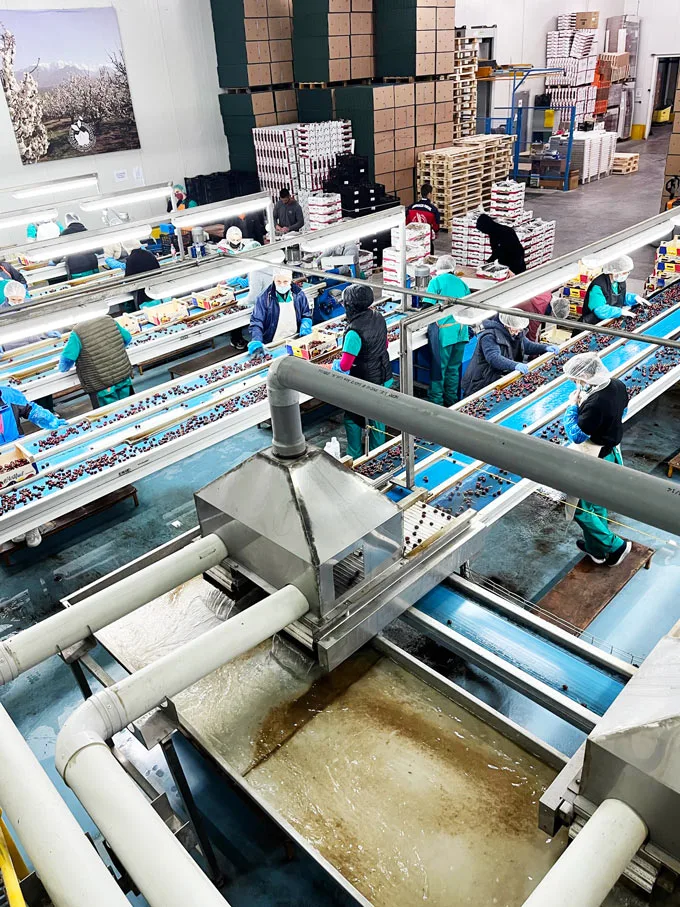 They are then cleaned, sorted by size, and inspected for flaws manually.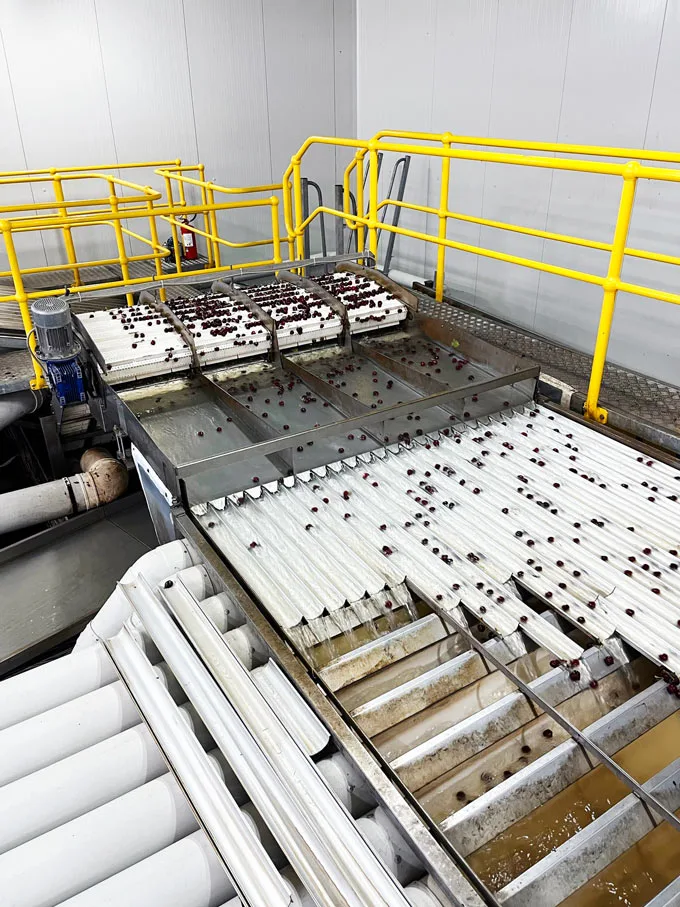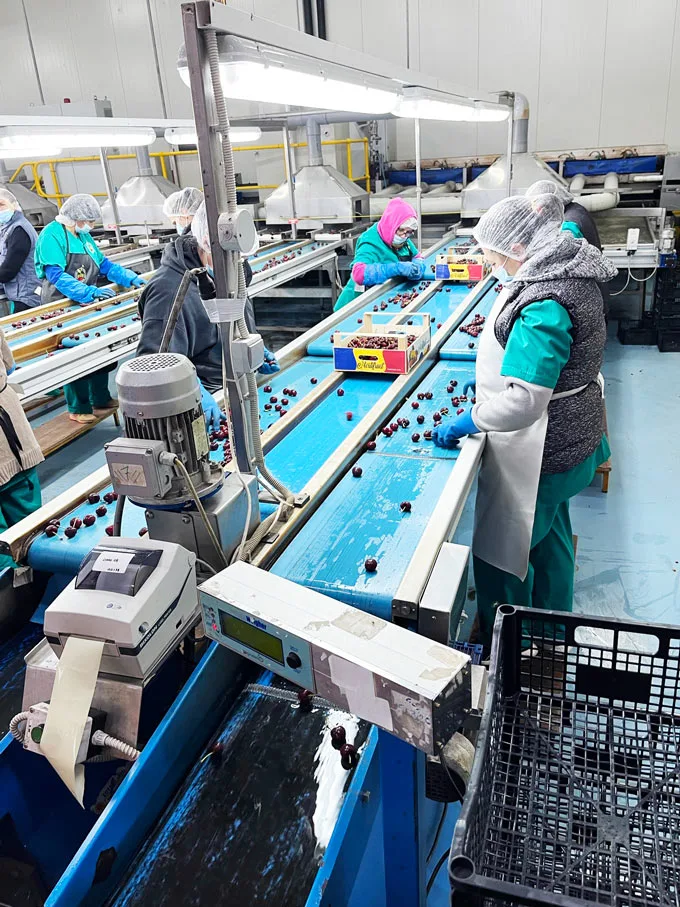 To keep the fruit as fresh as possible, the whole operation is carried out under chilled water.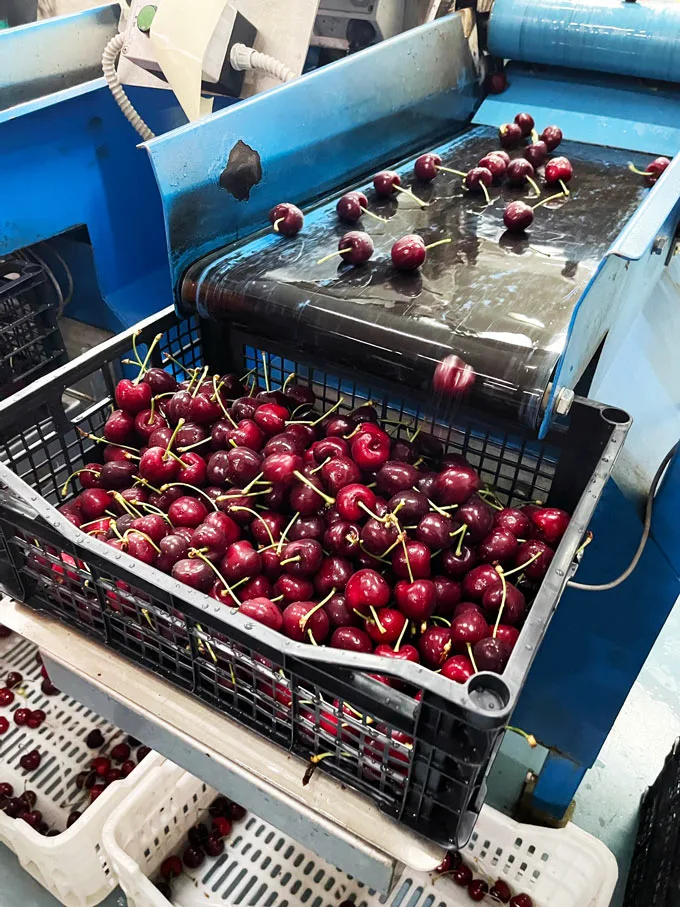 In the final stages, the cherries are packed and kept in a refrigerated warehouse according to wholesaler guidelines.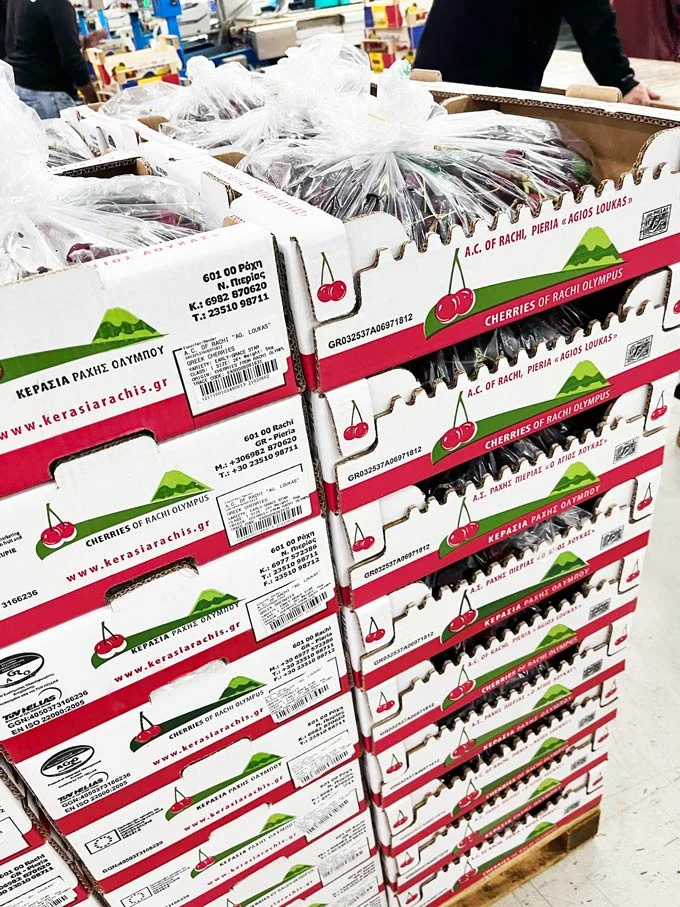 The cherries are sold locally as well as exported to other countries in Europe and Asia. They are working on import permits to US and Canada.
How to enjoy cherries
Cherries are popular as a snack but they're also great in pastries, tarts, and pies, especially when paired with ice cream and yogurt.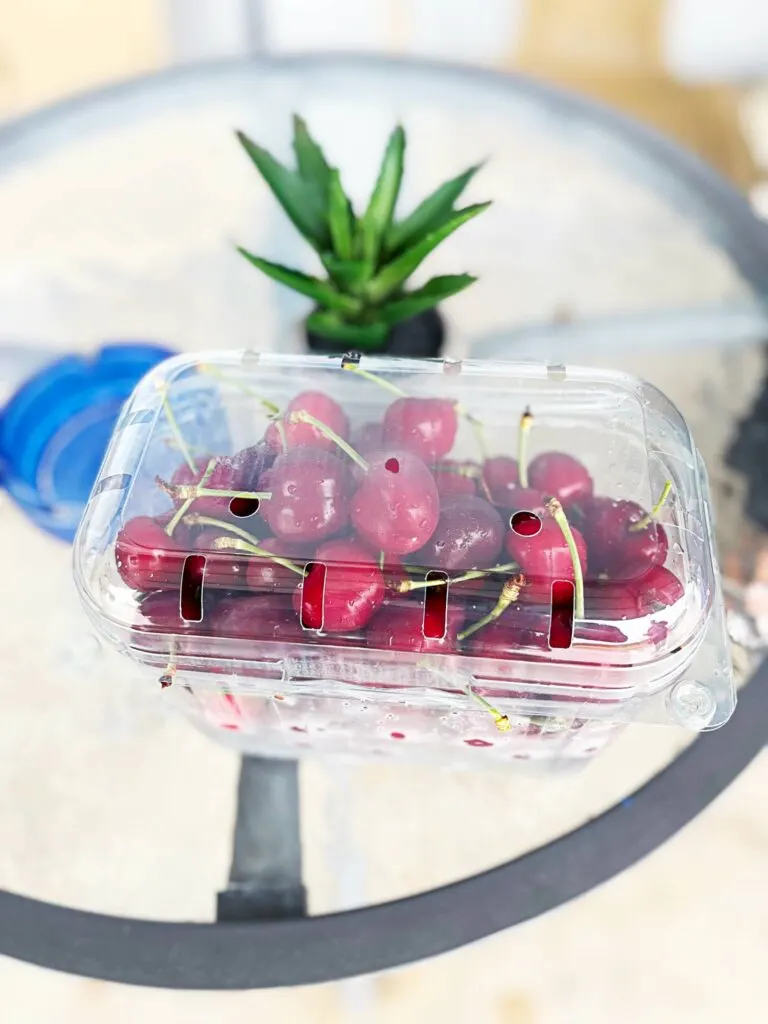 They can also be enjoyed in a savoury dish as a cherry sauce for meat entrees like beef fillets, roast pig, and duck.
The saying goes, adding a cherry on top may always make things better!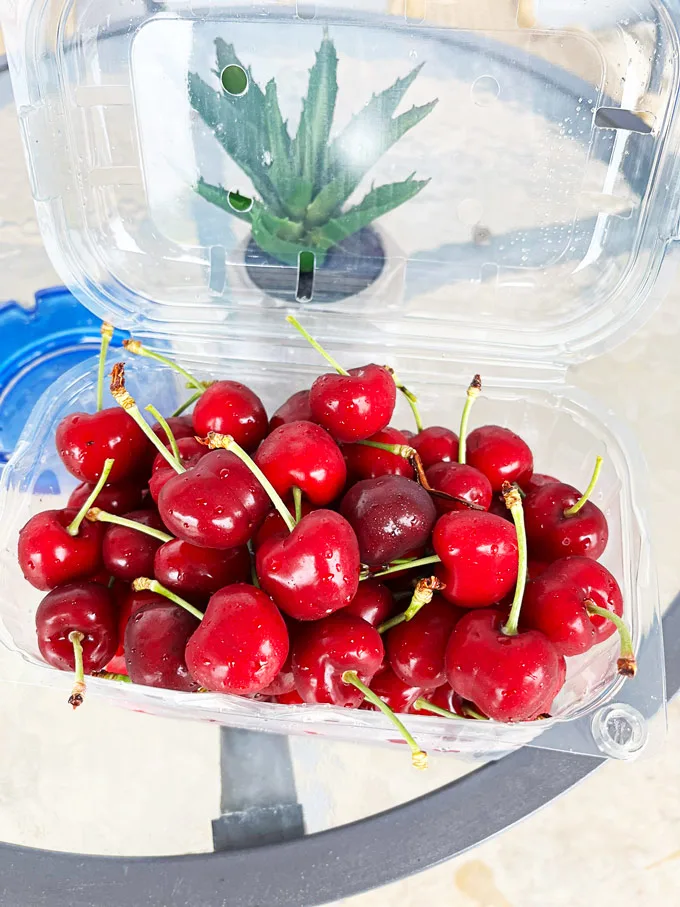 Thank you to The Charming Taste of Europe for hosting us and for allowing us to share about wonder of Greek cherries!