I love days when my only problem is pizza or pasta. However, when my friend and fellow foodie Kristina went to Fiore this past week, we didn't need to choose between the two; we went with both. Fiore is a new addition to the dining scene in South Granville and they are operated by the same people who run The Stable House Bistro.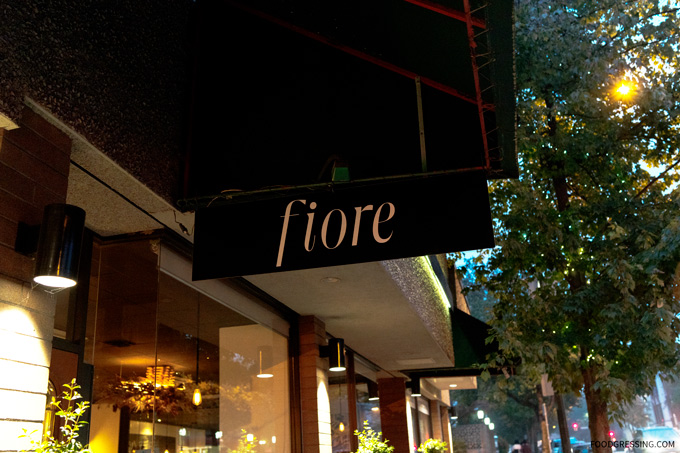 Their focus is on simple, Italian dishes including pizzas (featuring naturally-leavened doughs) and house-made pastas along with an Italian wine list. Located just off 12th and Granville, it's a place to grab a bite to eat during a shopping trip, pre-theatre, or while exploring the neighbourhood's galleries. Here's a look at my dinner experience at Fiore.
Note: None of the food and drinks in this post were complimentary. This is not a sponsored post. This review is done anonymously.
Modern, Chic Interior
Fiore's well-appointed interior features an L-shaped bar, a mix of dining tables and a cozy banquette. The dining space is tastefully decorated with a few paintings on the wall. The overhanging industrial lights and candlelighting add to a cozy and romantic atmosphere.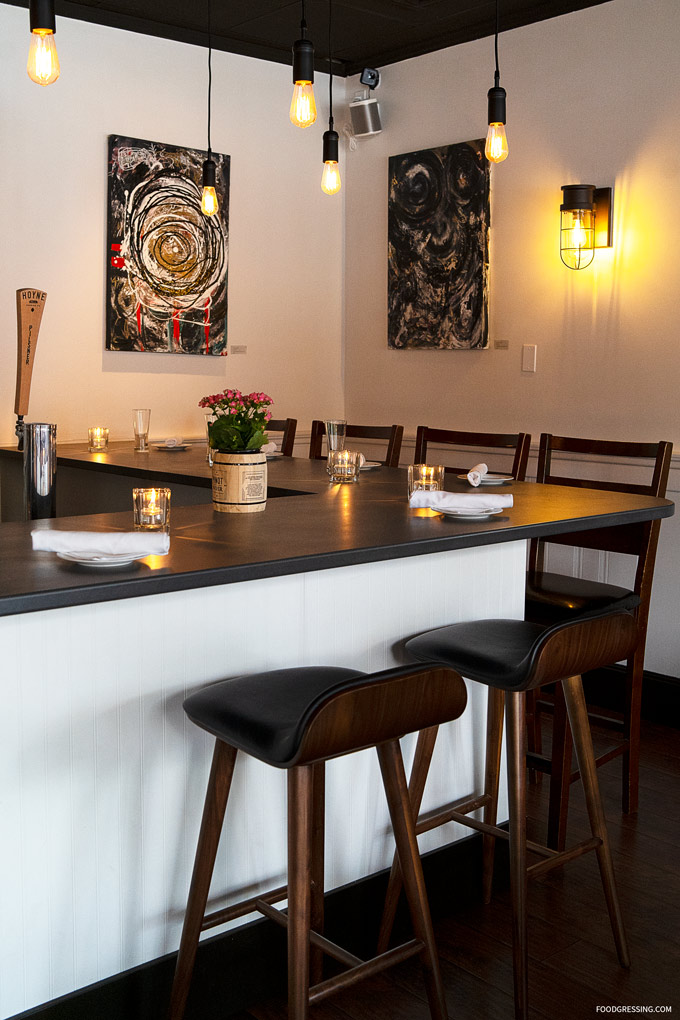 Fiore Menu
The simple and focused menu at Fiore is divided into three sections: antipasta ($5-$14), sourdough pizzas ($17 – $20) and fresh pasta ($18 – $24).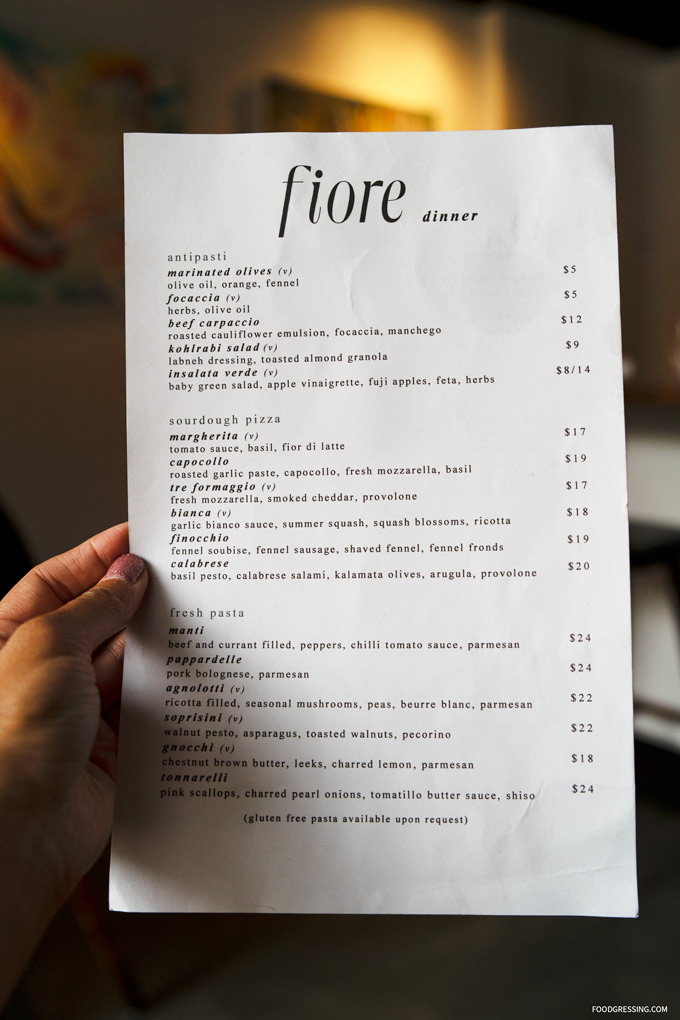 What We Tried
For dinner, we had one antipasta, one pizza and two pastas.
Beef Carpaccio ($12)
To start, we had the beef carpaccio featuring roasted cauliflower emulsion, focaccia, and manchego. I enjoyed the fresh, pure, meaty flavour and melt-in-your-mouth, velvety texture of the beef. The cauliflower emulsion had earthy, nutty flavours.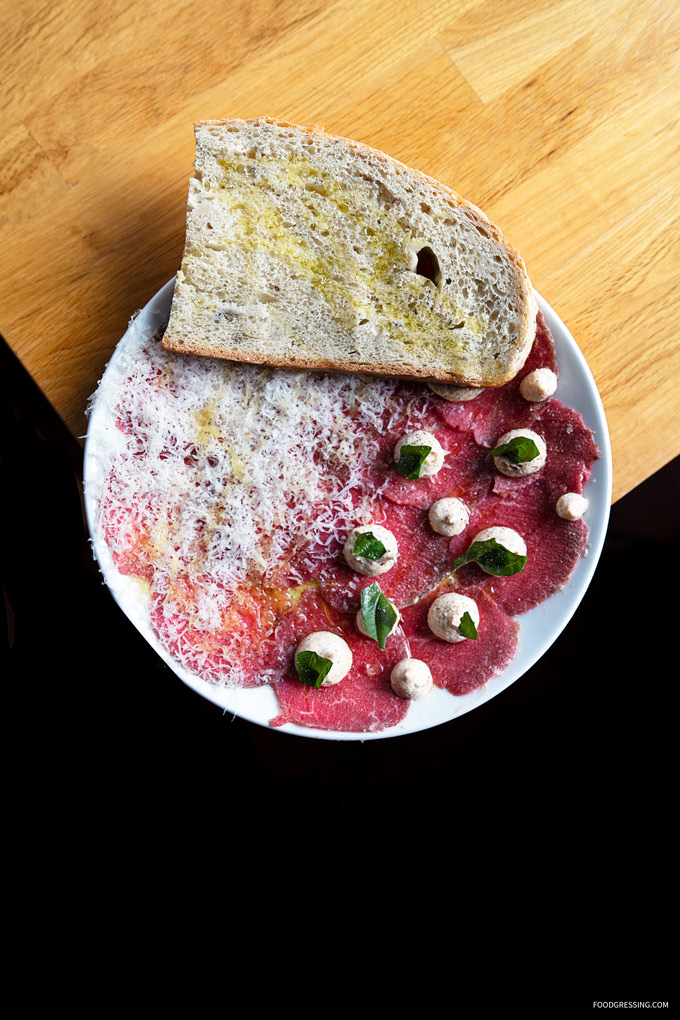 19
Now, on to pizza and pastas!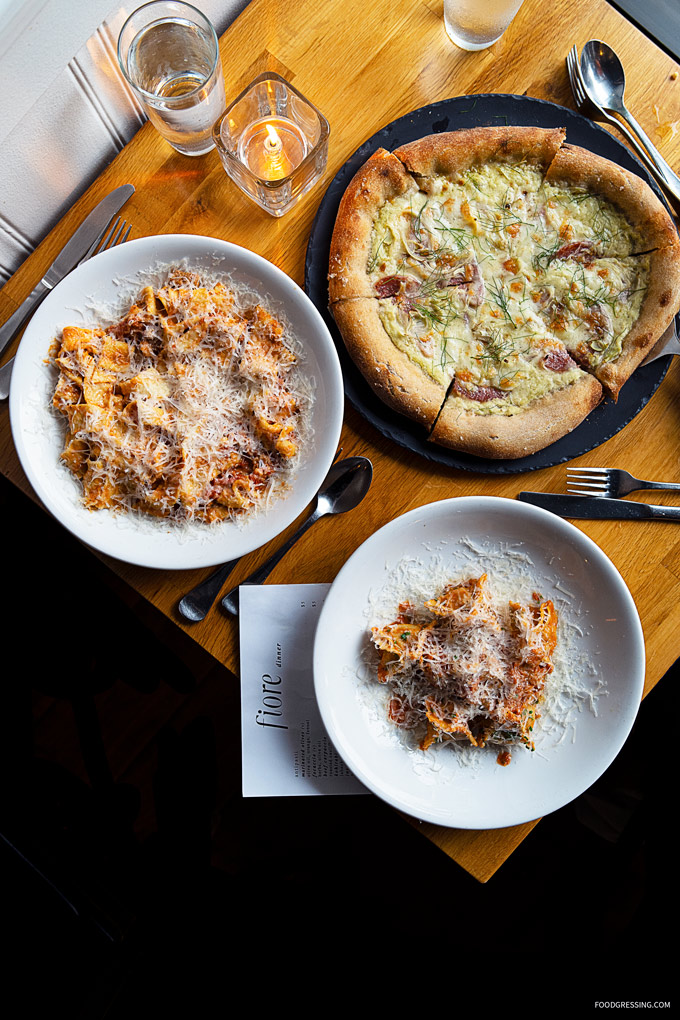 Pappardelle ($24)
The pappardelle was wonderfully al-dente and went nicely with the rich, meaty bolognese sauce.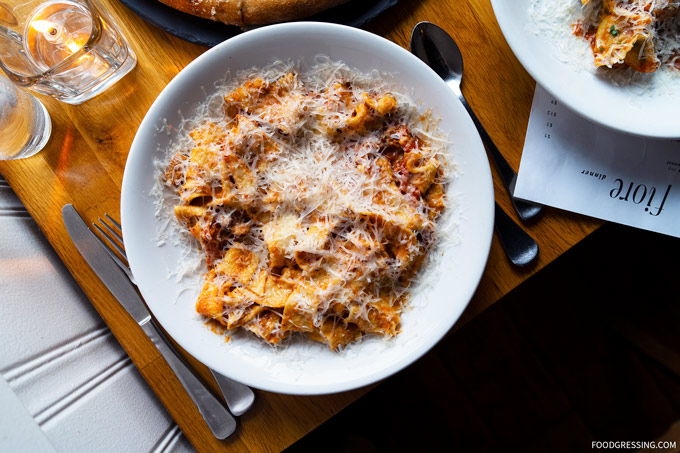 Those slithery, slippery ribbons of pappardelle were an absolute delight!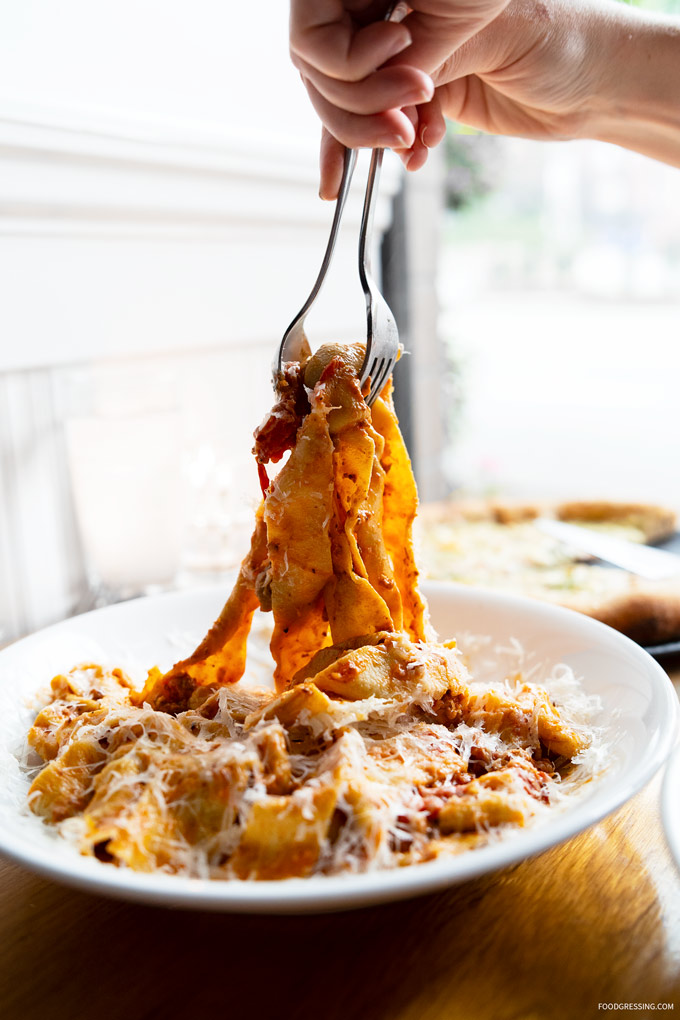 Finocchio ($19)
Our fennel-centric sourdough pizza had fennel soubise, fennel sausage, shaved fennel, and fennel fronds. I really liked the soubise sauce with the fennel sausage which made for a creamy, smoky and savoury mouthful. My issue was that the edge of the crust was too thick for my liking. I end up cutting the edge off which was rather unfortunate.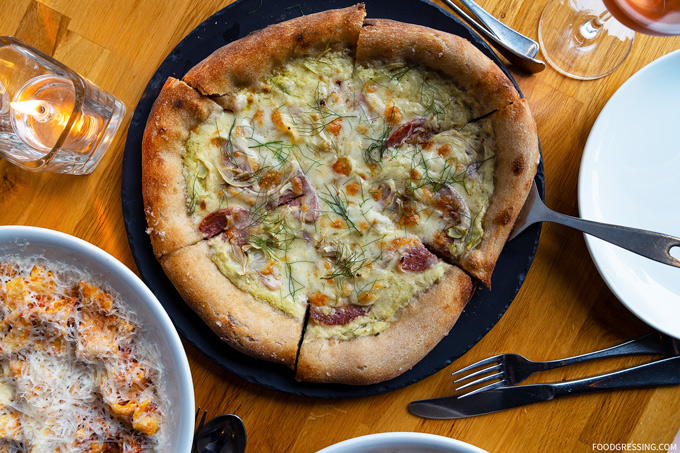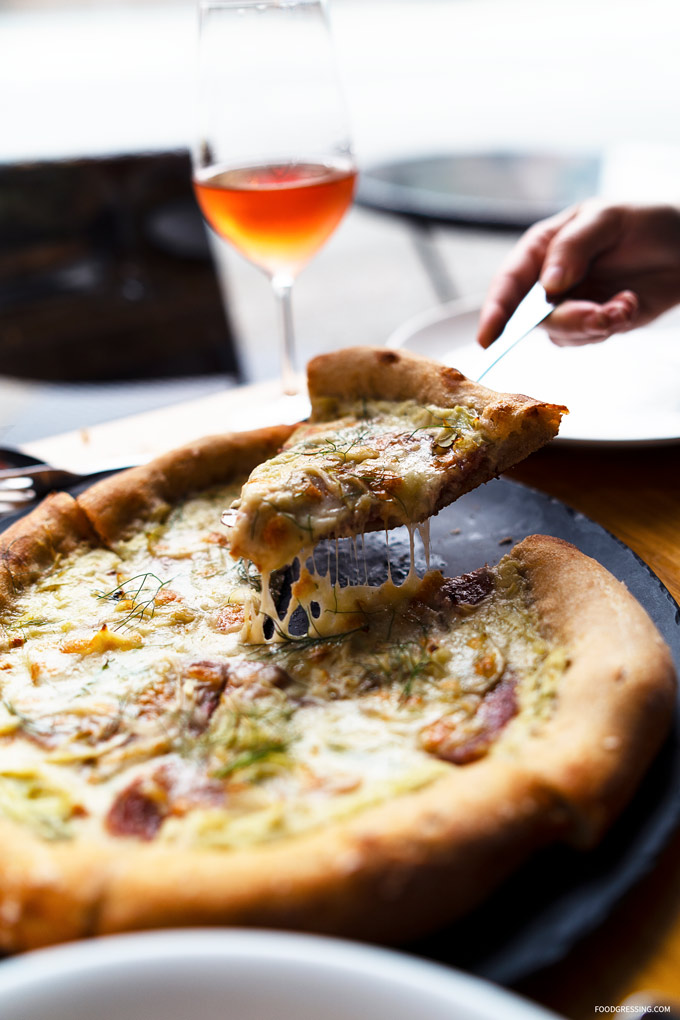 Manti ($24)
Manti (otherwise known as dumplings) are dumplings which are popular in Turkish and Central Asian republics. I've had manti at a restaurant serving Afghan food so it was interesting to see manti served from an Italian perspective at Fiore. The one we tried was beef & red currant-filled and topped with peppers, chilli tomato sauce, and parmesan.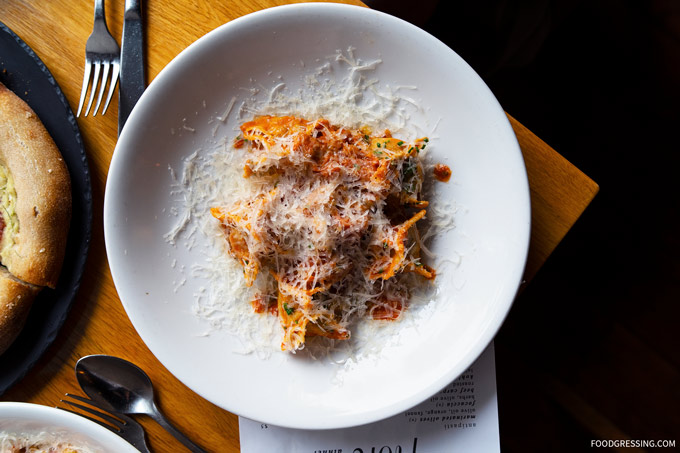 What I would have liked more is the filling being more tender. It was a little dense and hard for me and I think I would have enjoyed it more if it were more melt-in-your-mouth.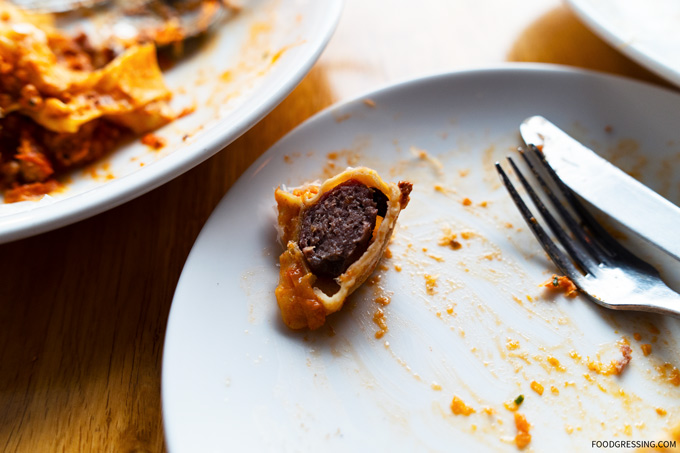 Service
The service had Fiore exceeded my expectations and was definitely a 5/5. Despite being the only server on the floor, he was friendly and checked in on us regularly. The dishes were brought out to us in a very timely manner. I also appreciated that he changed our plates after the appetizer.
Overall Impression
I had a enjoyable time at Fiore with my friend where the food was good in general though could use some tweaking in a few areas. Our food bill came out to $40 per person plus tax and tip. We even had some leftover which was nice! The service was excellent. I would be interested in returning or visiting their sister restaurant Fiore Famiglia in Kitsilano. Rating: 3.5/5
Fiore – South Granville
Address: 1485 W 12th Ave, Vancouver, BC
Website: fiorerestaurants.ca/‎