One of my favorite dining experiences in San Francisco was at Empress by Boon – a restaurant serving modern Cantonese gastronomy with a California flair.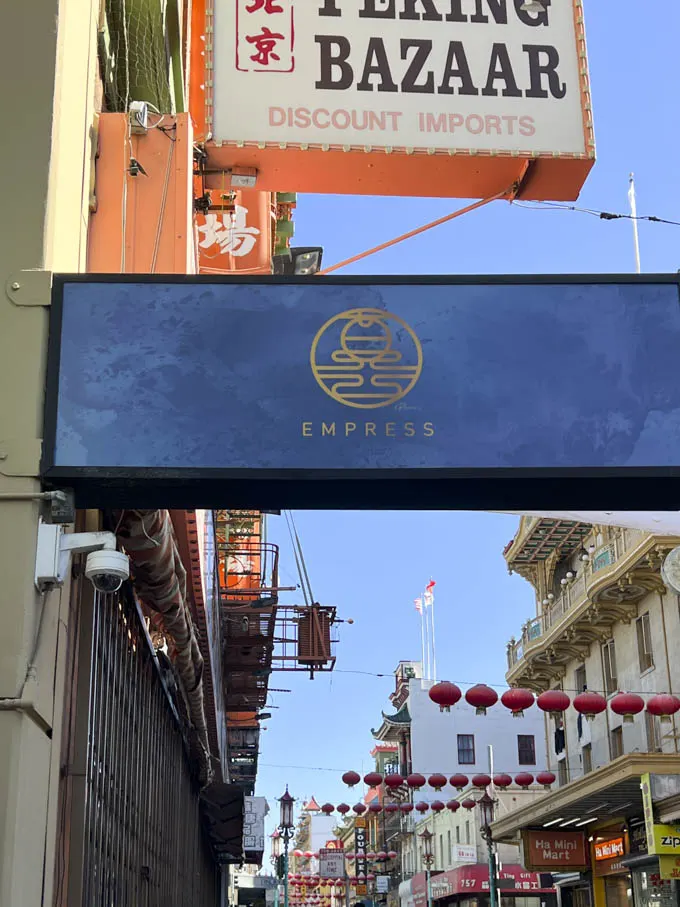 The culinary team is lead by MICHELIN-starred Chef Ho Chee Boon who was the former international Executive Chef of Hakkasan restaurants.
They are currently recommended by the 2022 MICHELIN Guide but do not have any particular distinction.
Interior
The restaurant opened in 2021 and took over the space of the iconic San Francisco Chinatown landmark, Empress of China, and revitalized it into a sleek, stylish interior.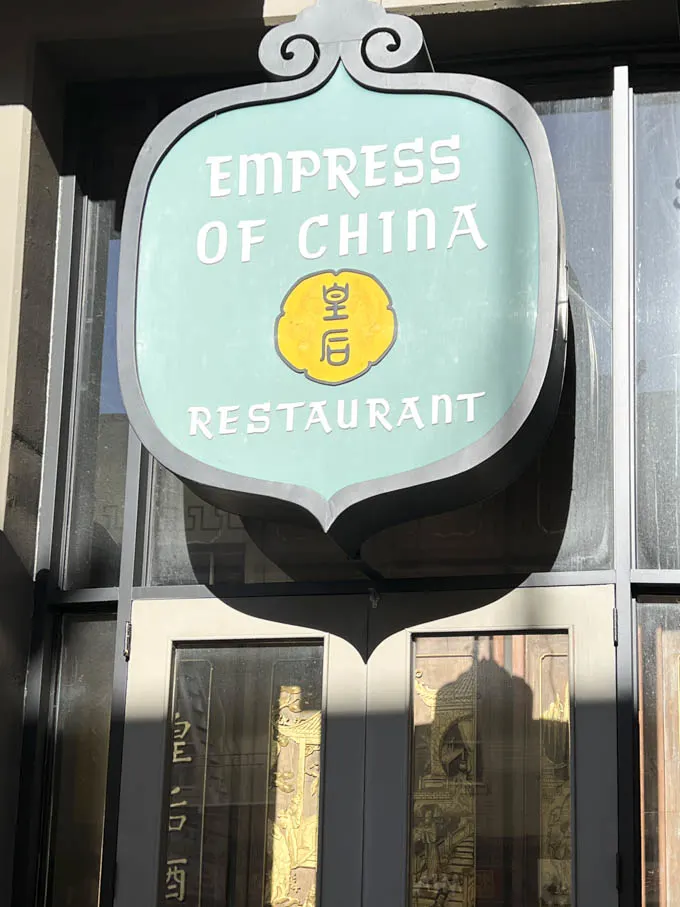 The stunning interior design features modern elements alongside restored features from the location's predecessor. You'll also find a beautiful pergola that is hovers over the tea lounge and a stunning bar.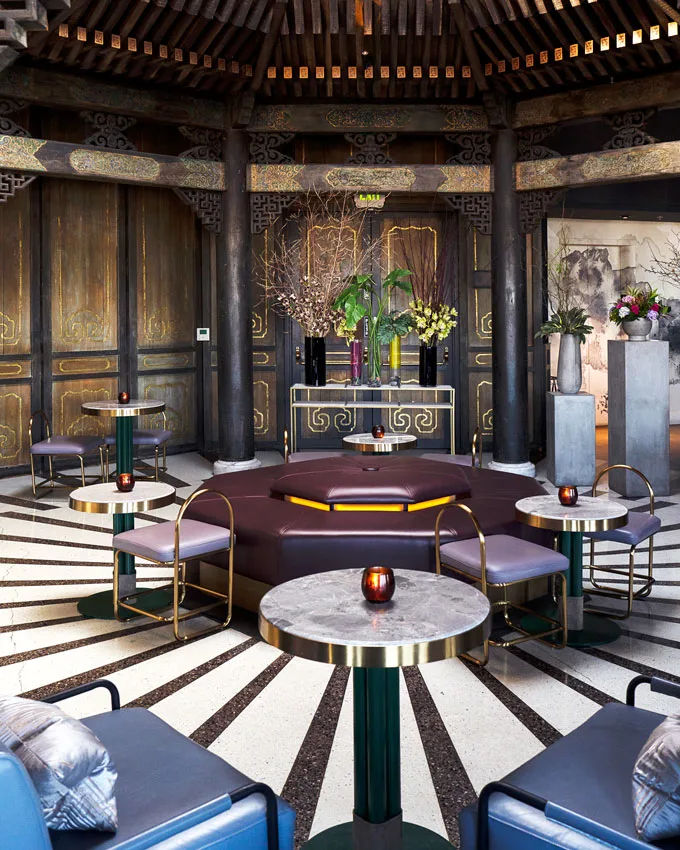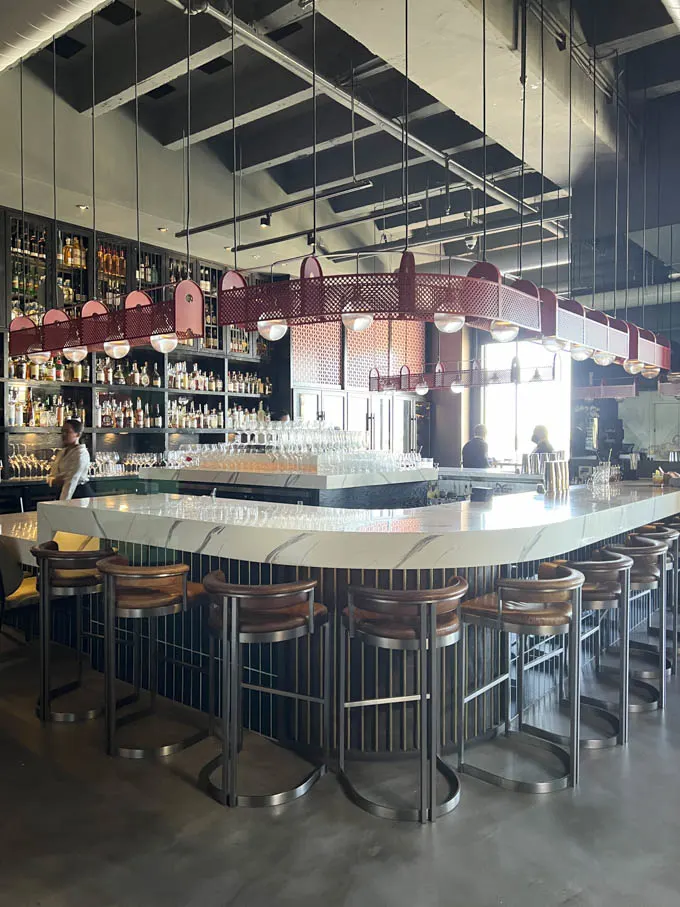 Seating options include cozy teal booths with plush seating as well as dining tables by the window.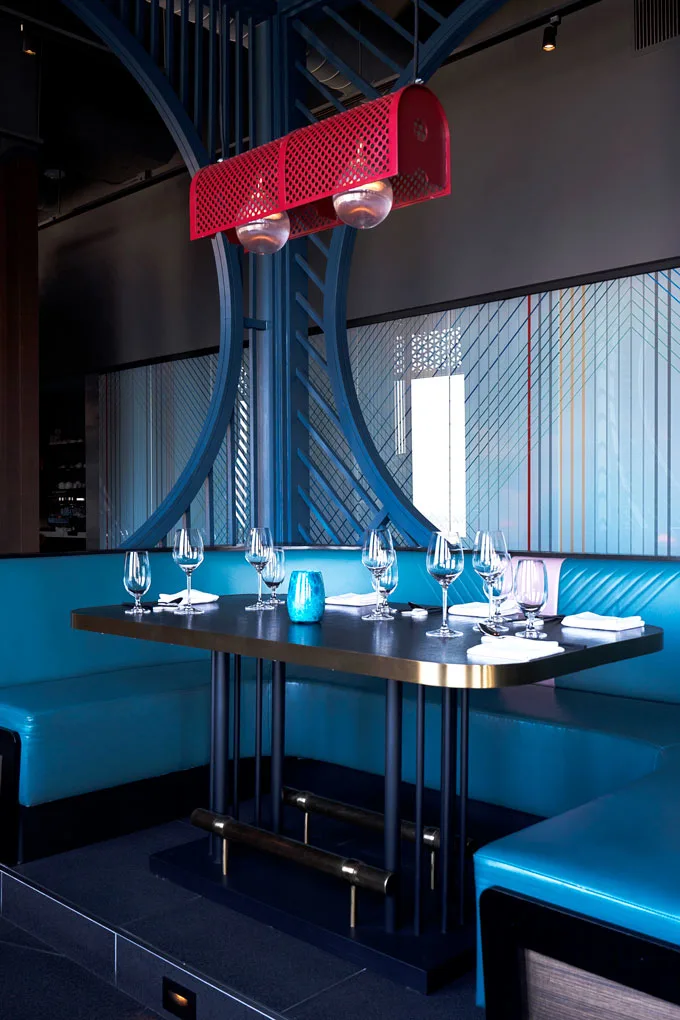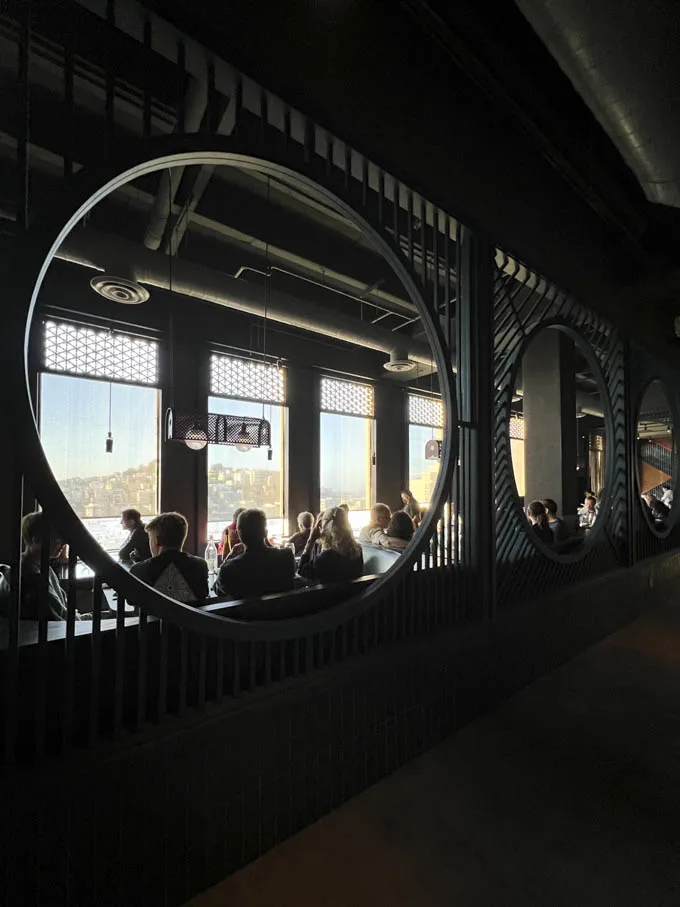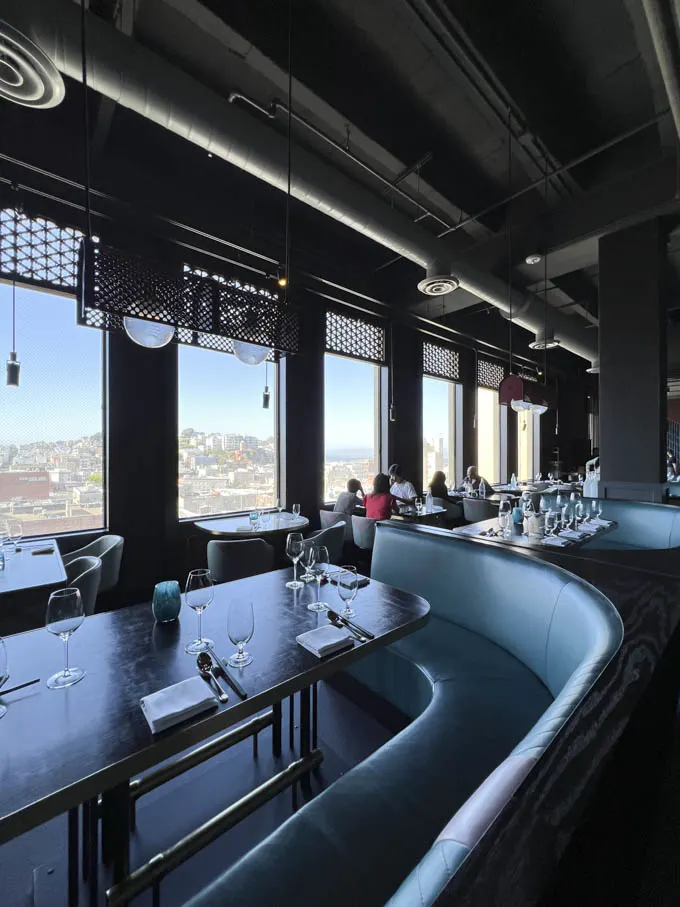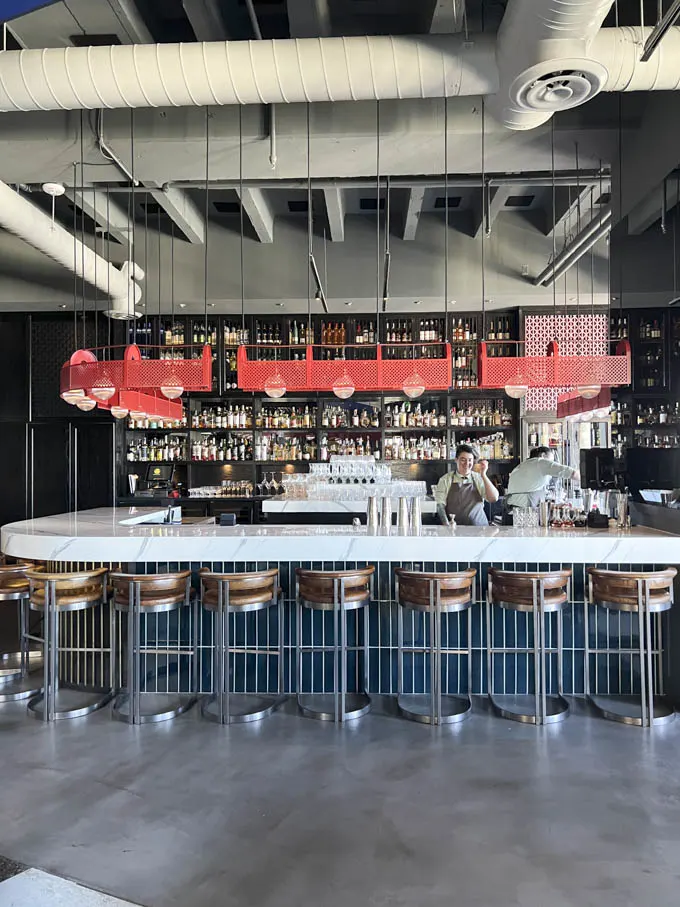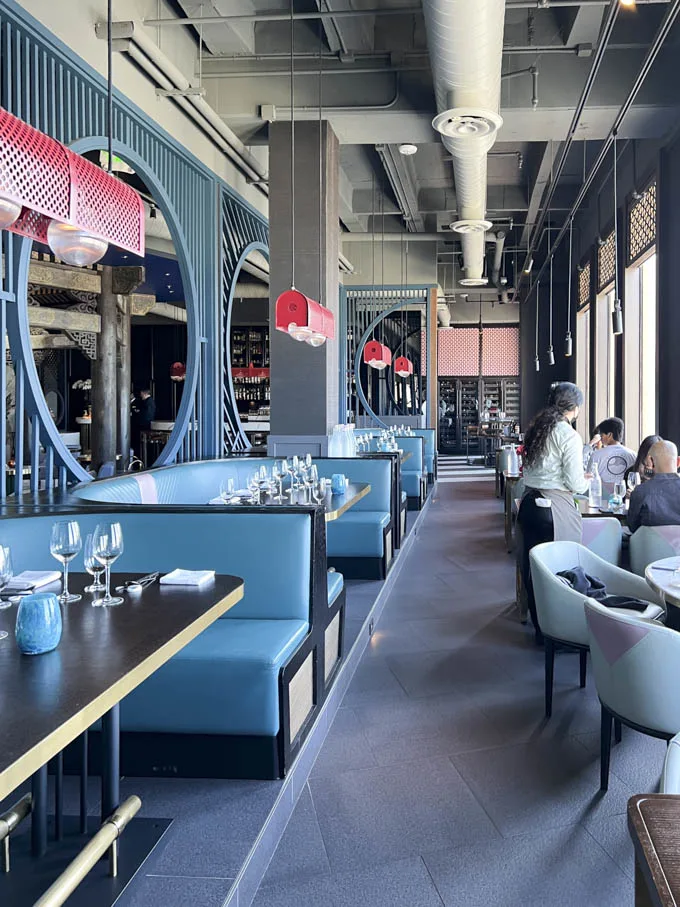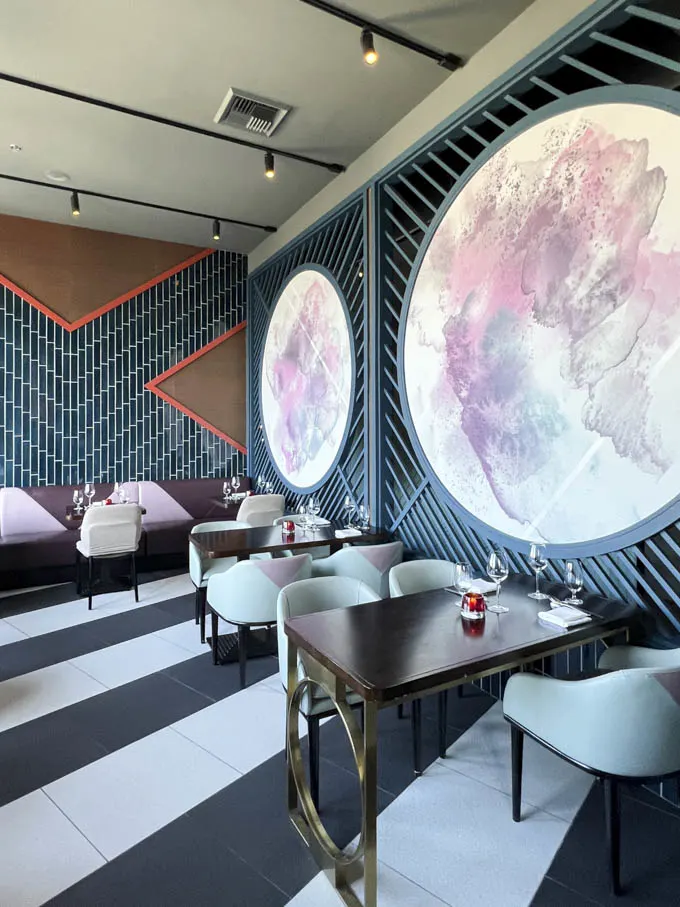 Checking In Process
I entered the building on the ground level on Grant Street where I was checked in for my reservation.
Then I took an elevator to the sixth floor where the hostess guided me to my table along the window where I had a perfect view of Coit Tower.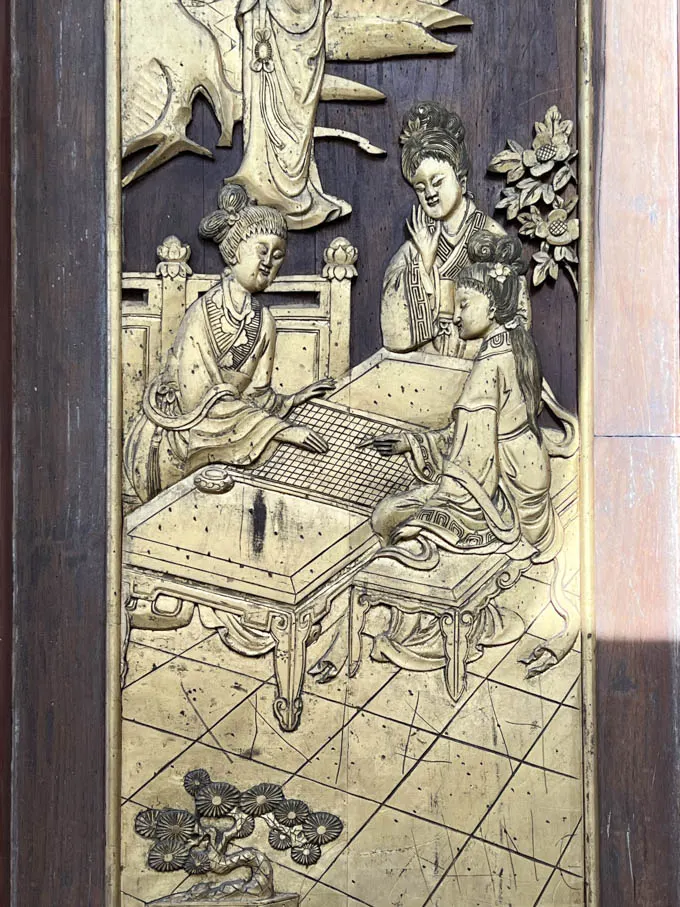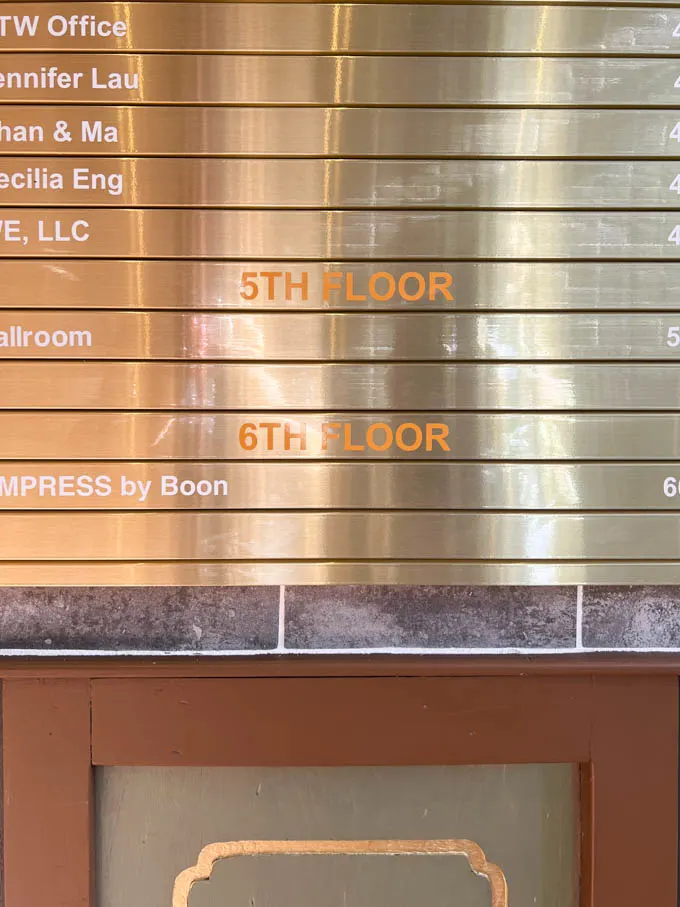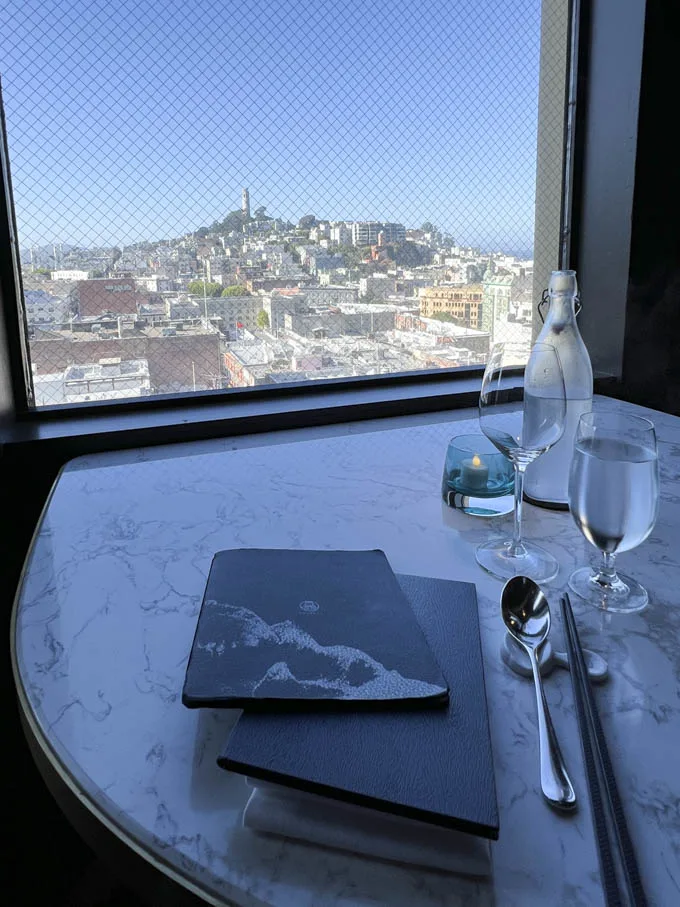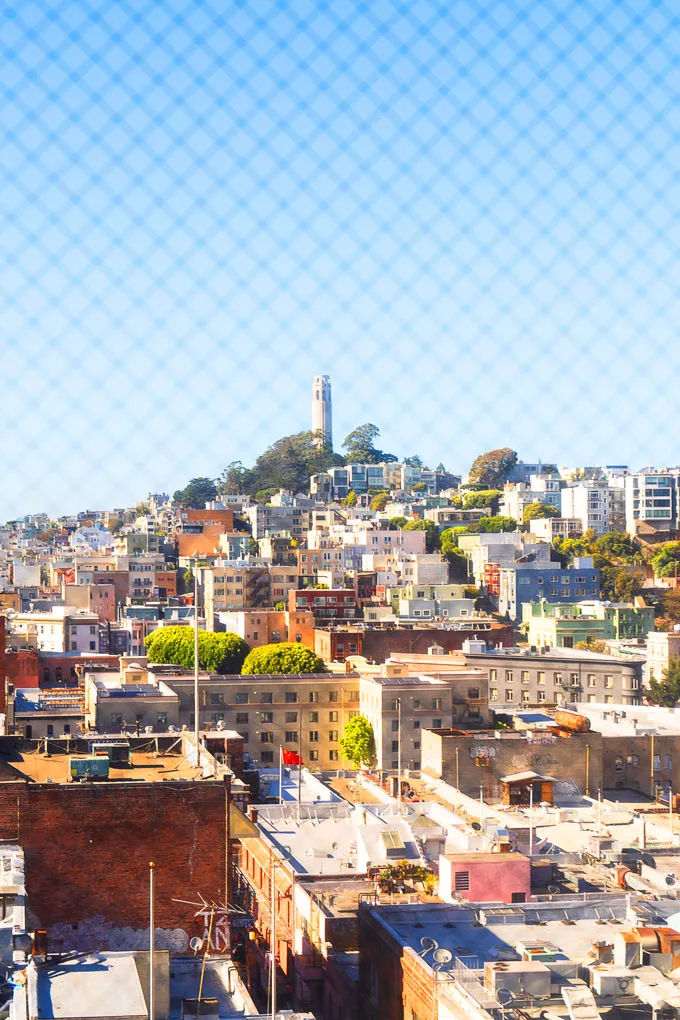 What I Tried
I went with the $98 prix-fixe menu (which does not include dessert) and went with one entrée add-on as well as one dessert add-on. In total, there were 11 dishes for my meal.
To start, I was presented with a trio of snacks.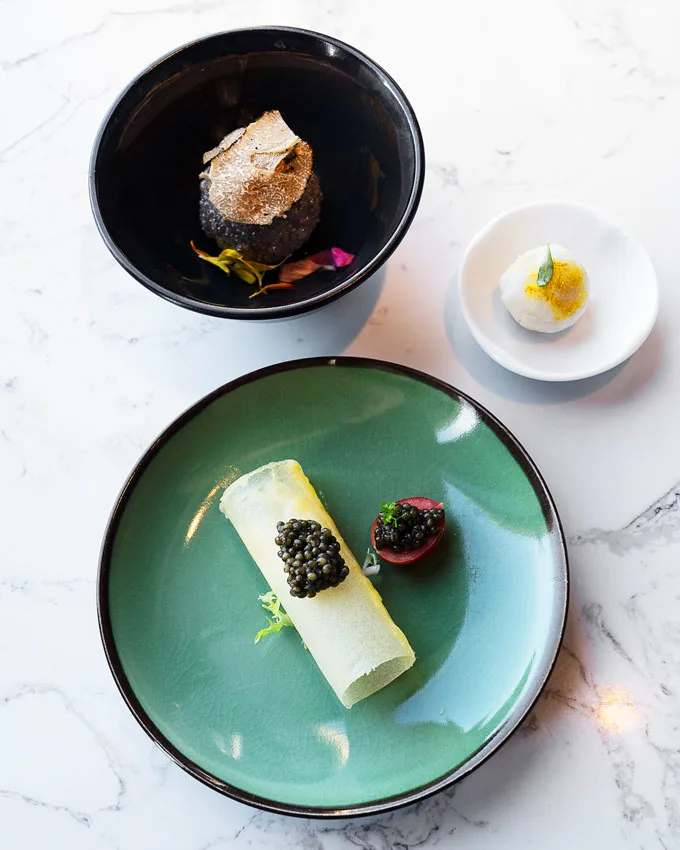 Summer Burgundy Truffle Puff, Shimeji & Dried Shiitake Mushrooms
The puff was nicely hot and had truffle and carrot mix on the inside. Nice to see some truffle at the start of the meal!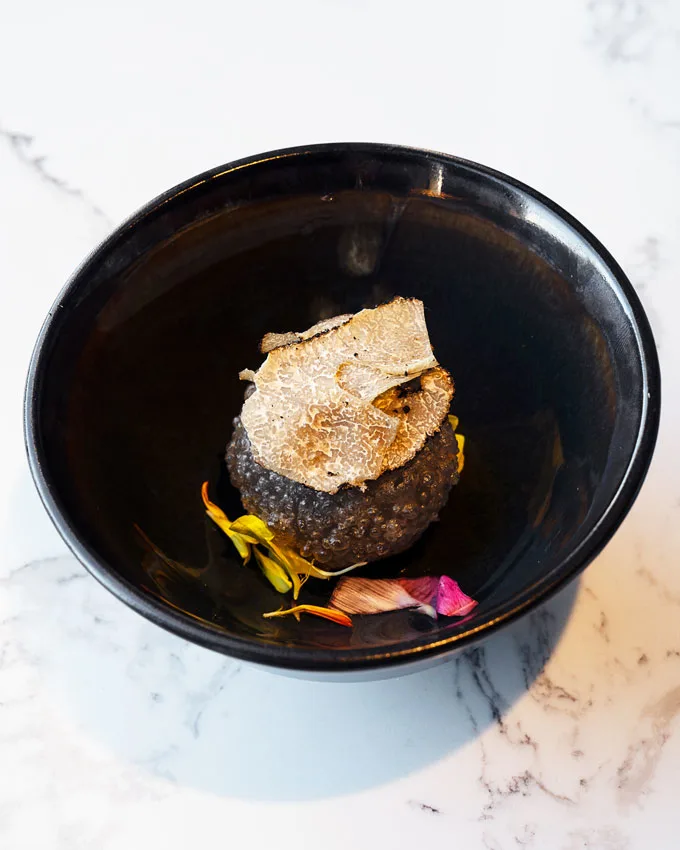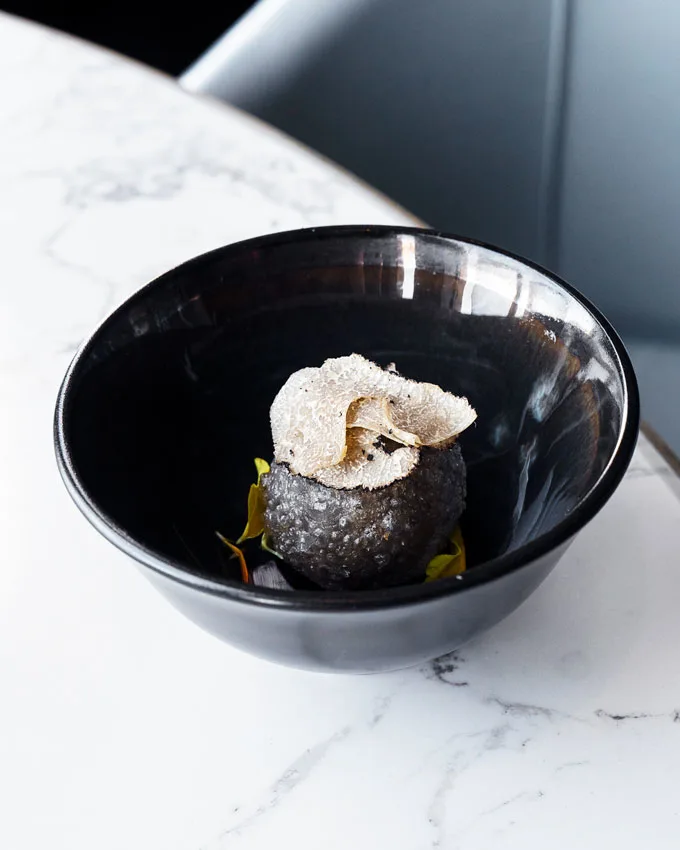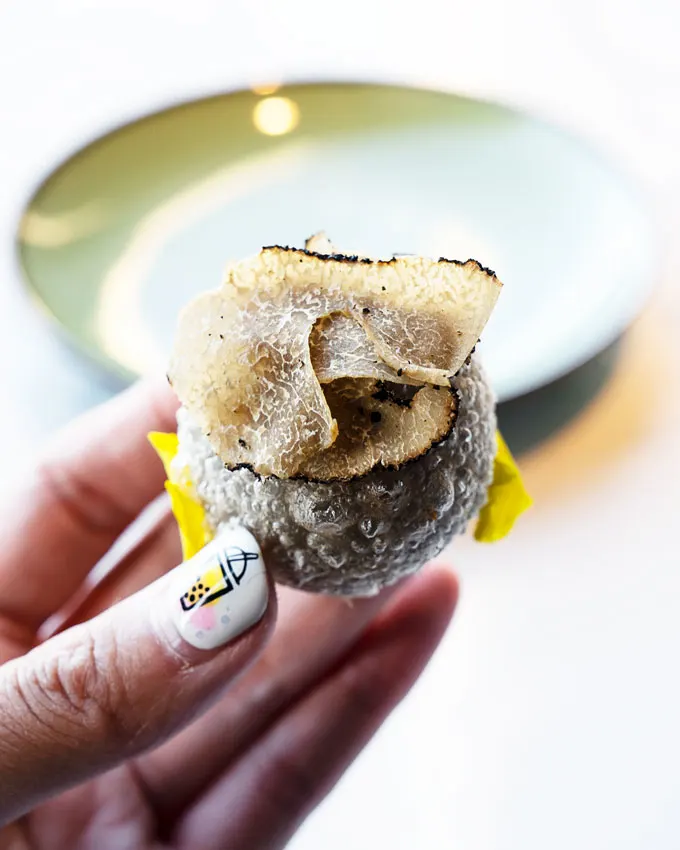 Crispy Spring Roll with Heirloom Tomato topped with Kaluga Caviar
The fanciest spring roll I have ever had and it was delicious! Inside the spring roll was scallop and egg white. Very crispy and delicate.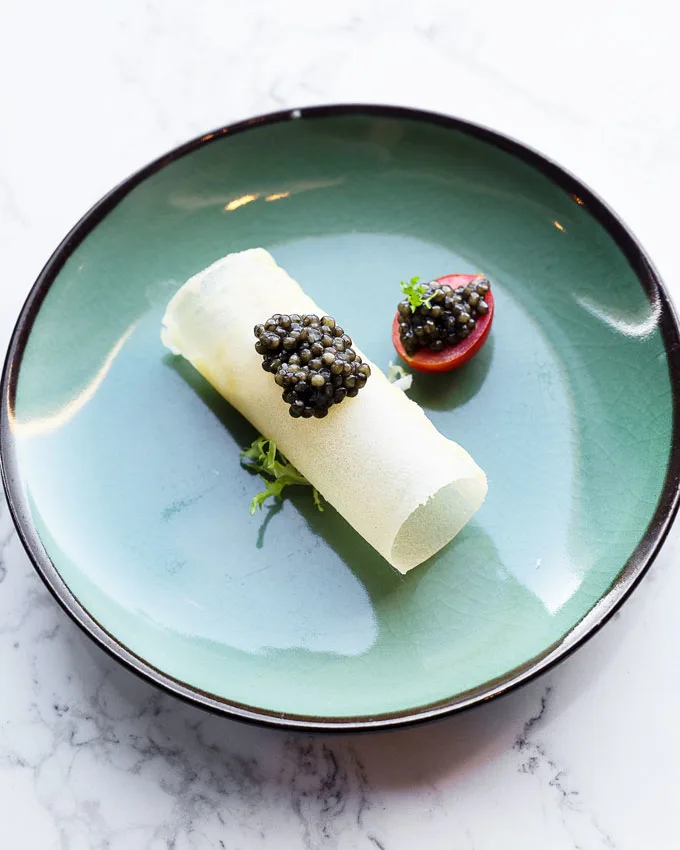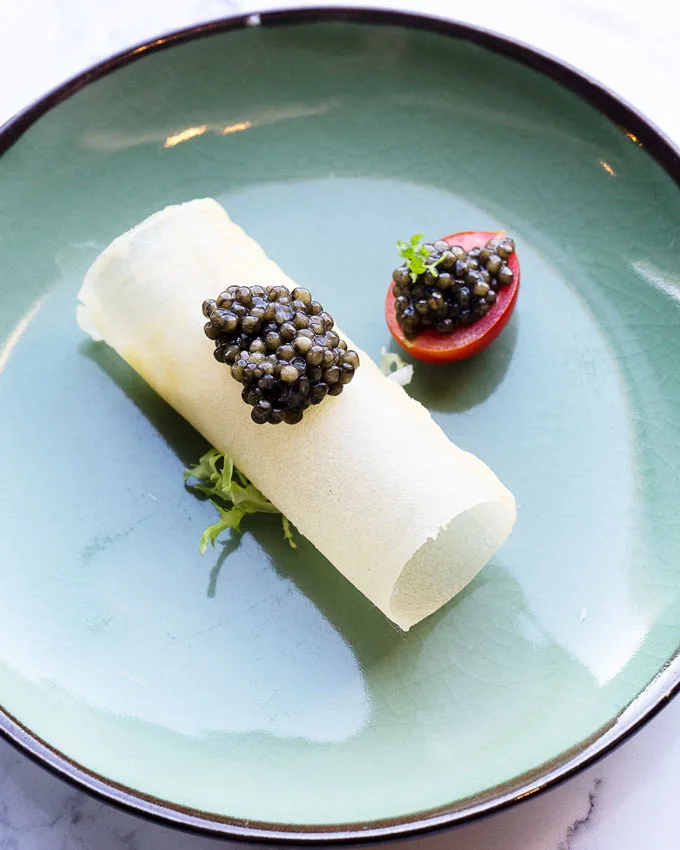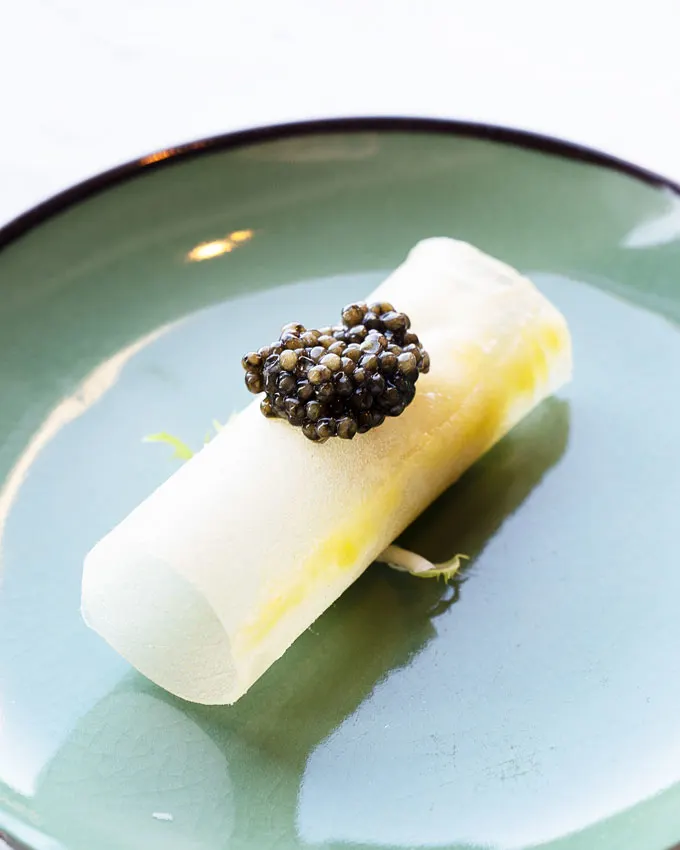 Chilled Fresh Lily Bulb with Ginger & Honey
This was made from part of the lily flower into a dough. Inside was ginger and honey. The sweeter snack of the three selections and it was light and had lovely flavors.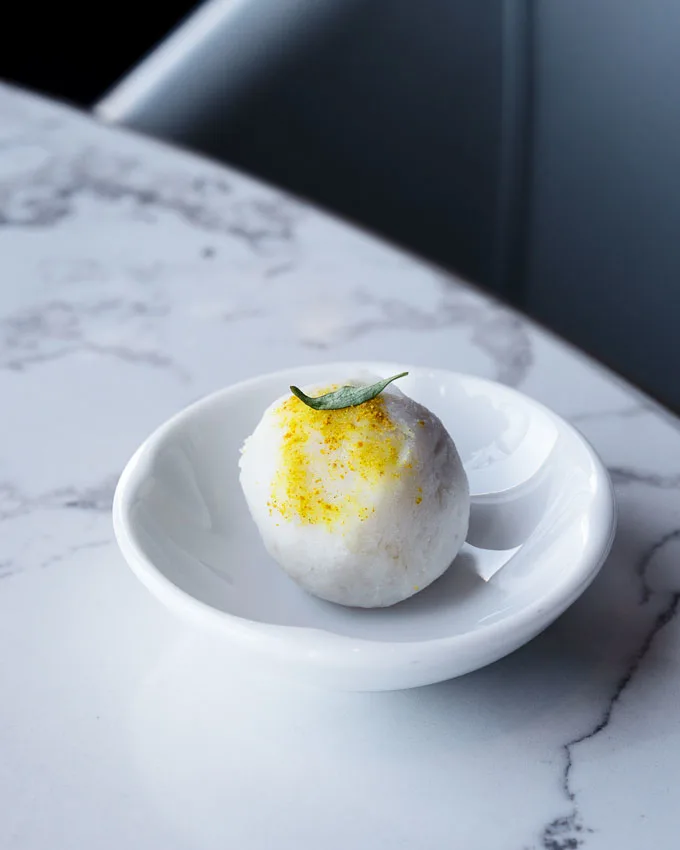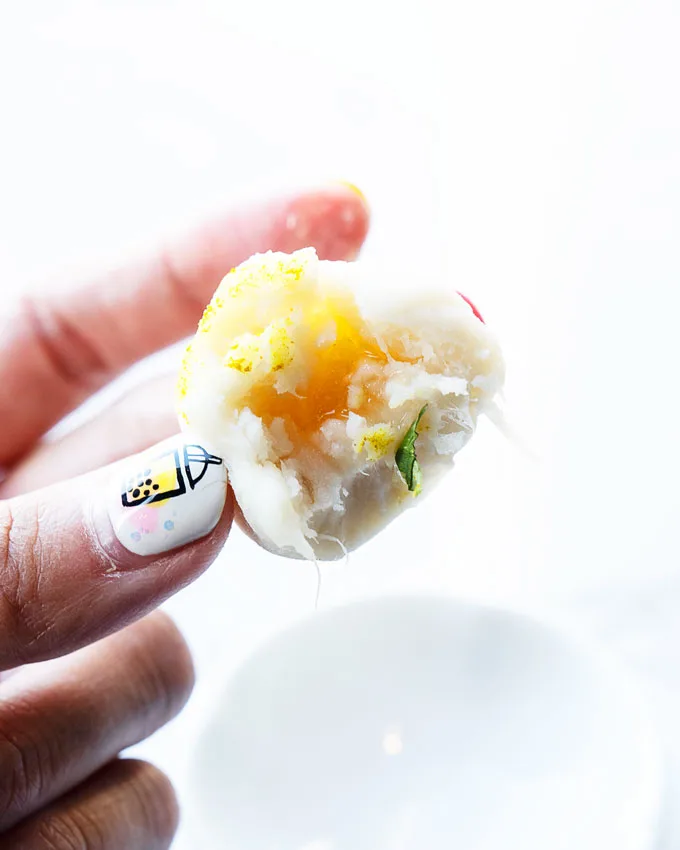 Shrimp and Squid Dumplings
A whimsical take on shrimp and squid dumplings! The shrimp dumpling was made to look like a koi fish while the squid dumpling was made to look like a squid. The "pond" was a fragrant, hot and sour soup.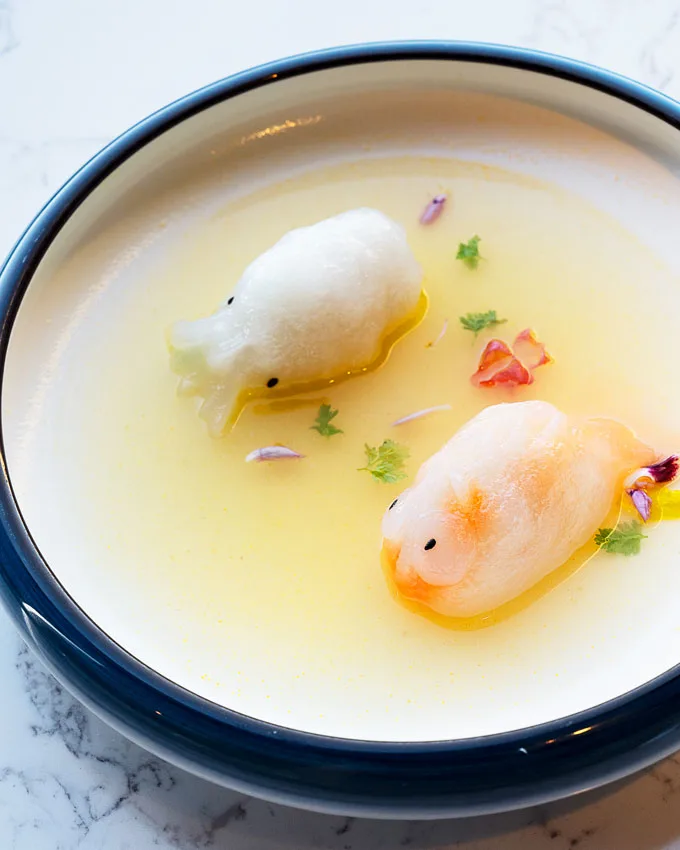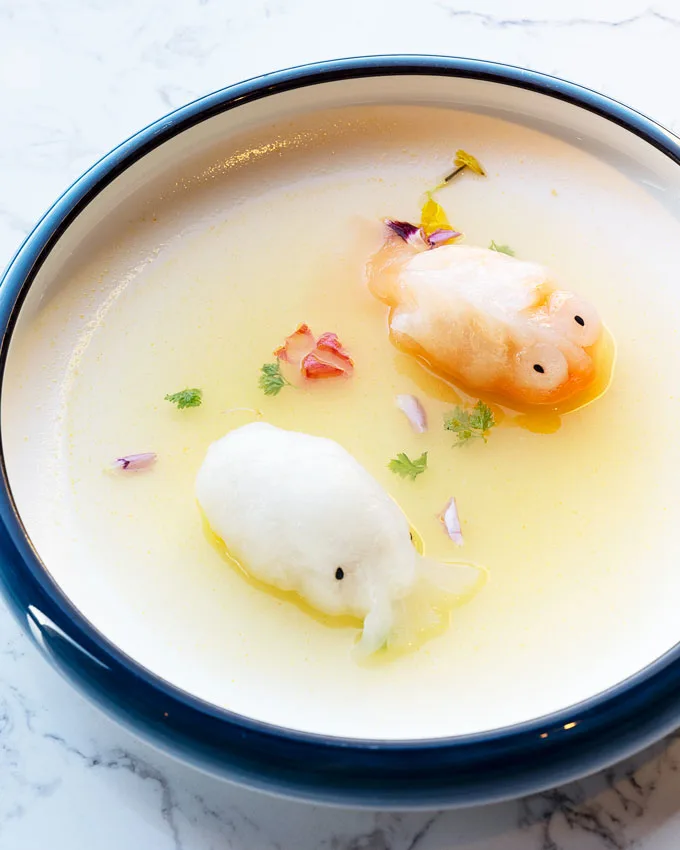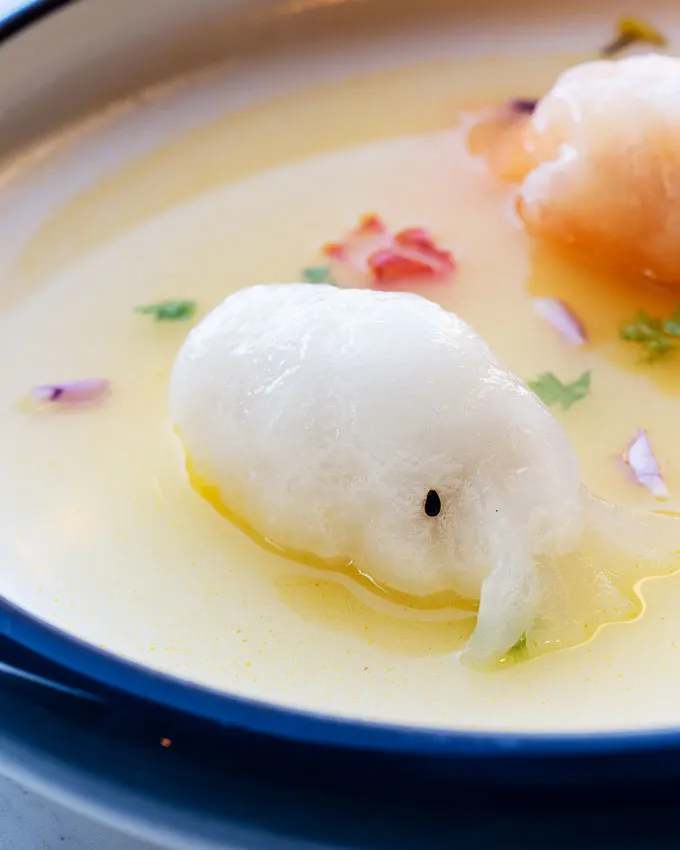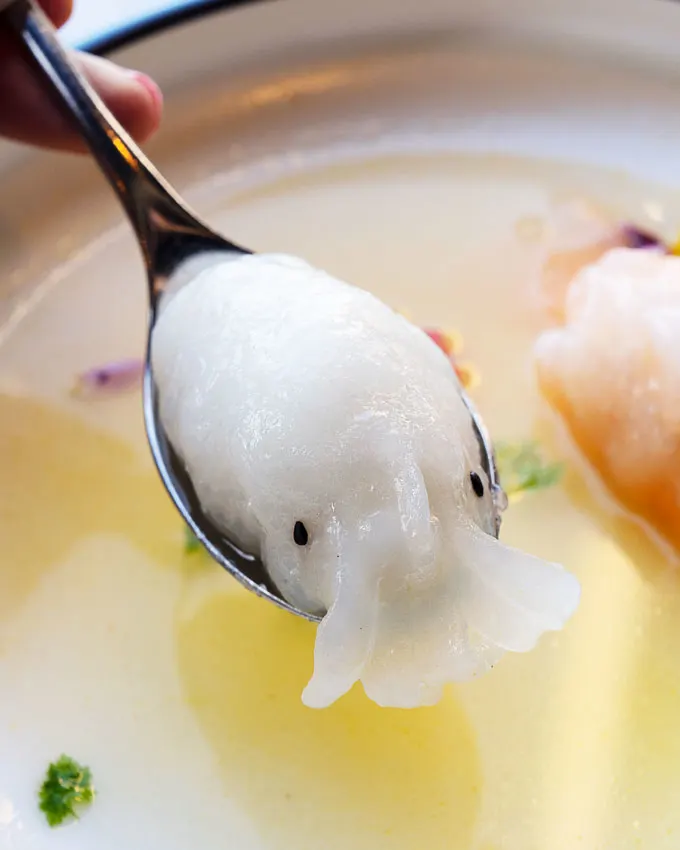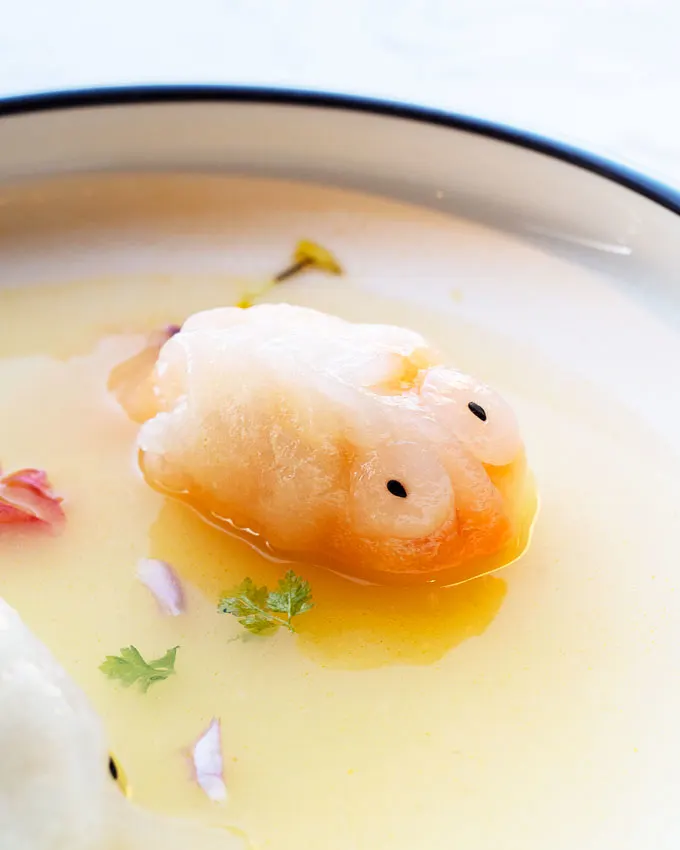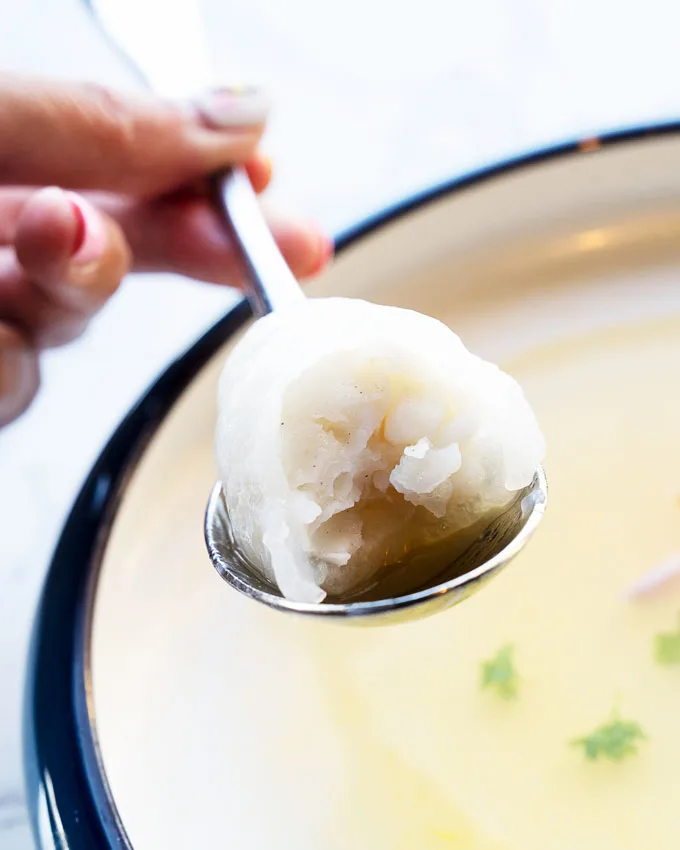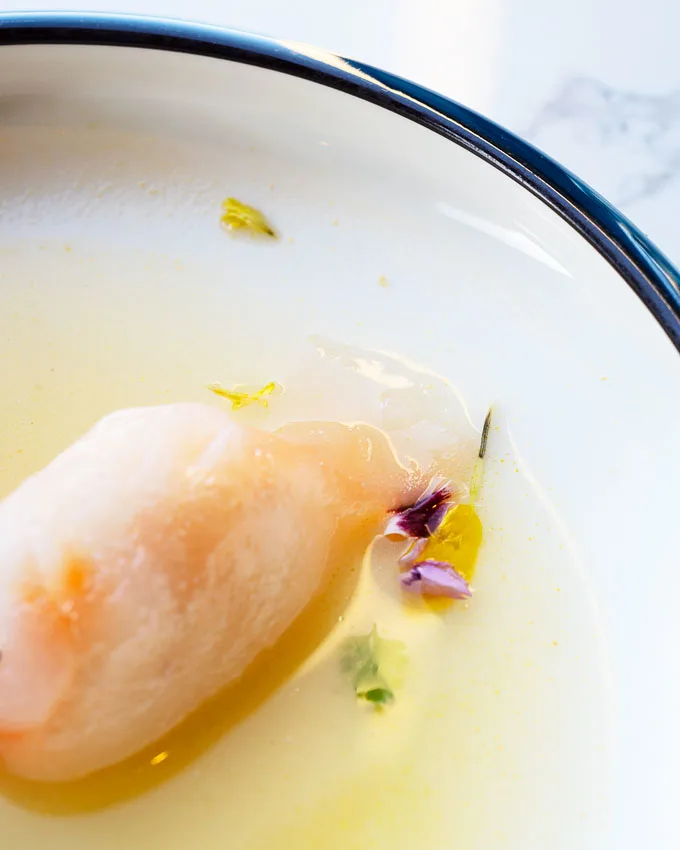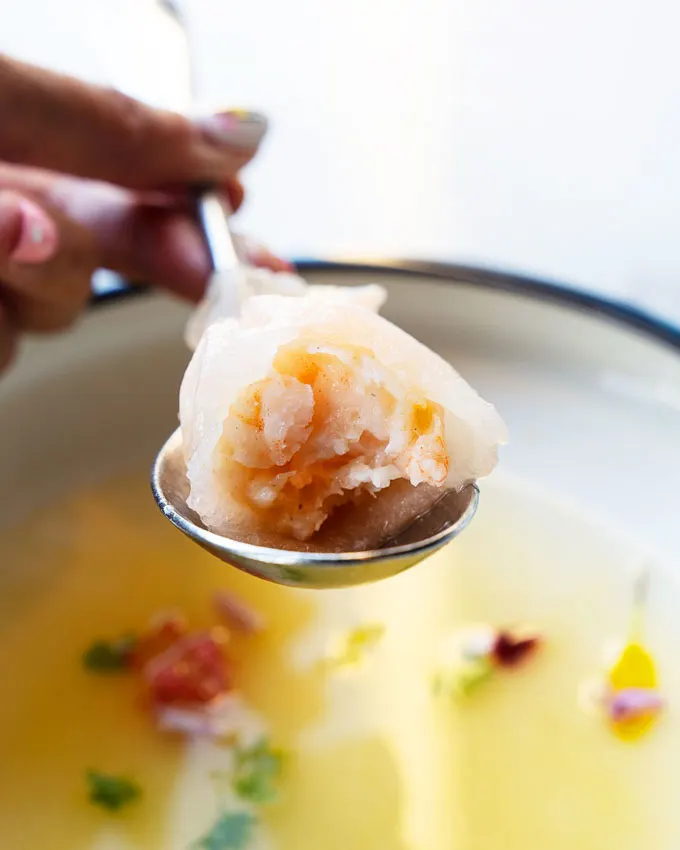 Jasmine Tea Smoked Iberico Pork Ribs with bone inside
This was a sweet and sour dish with fall-off-the-bone meat. It was presented with a hot and sour sauce.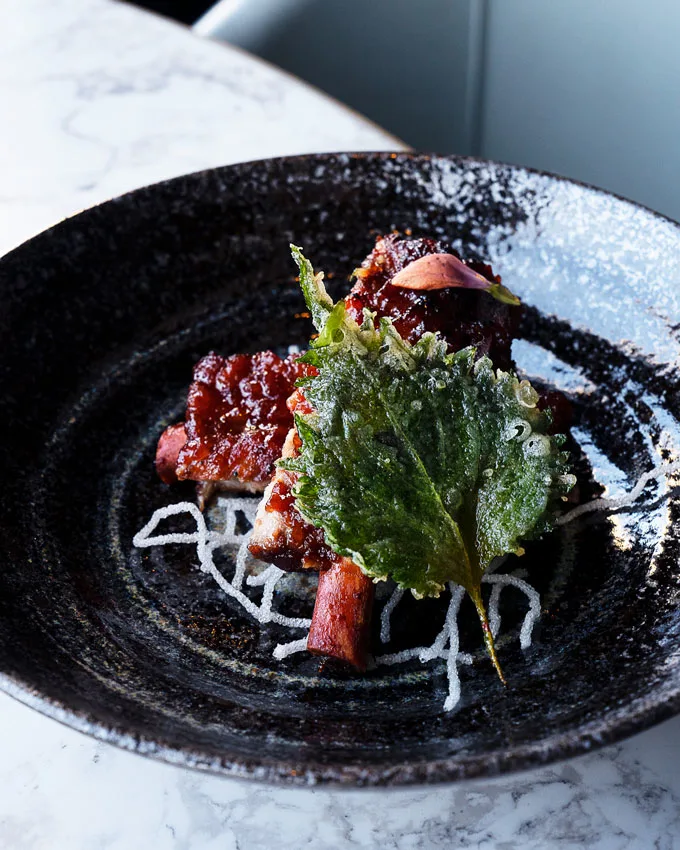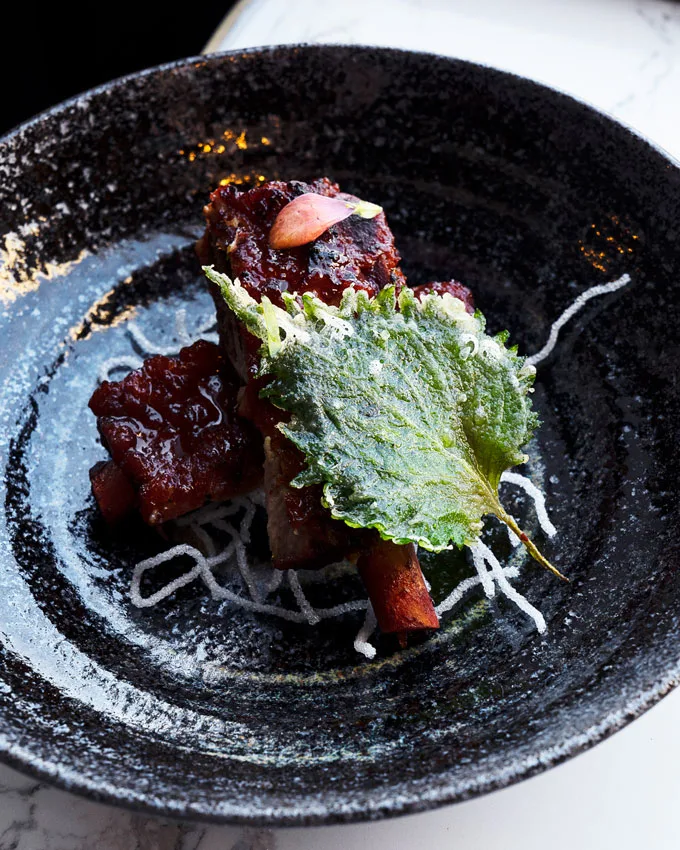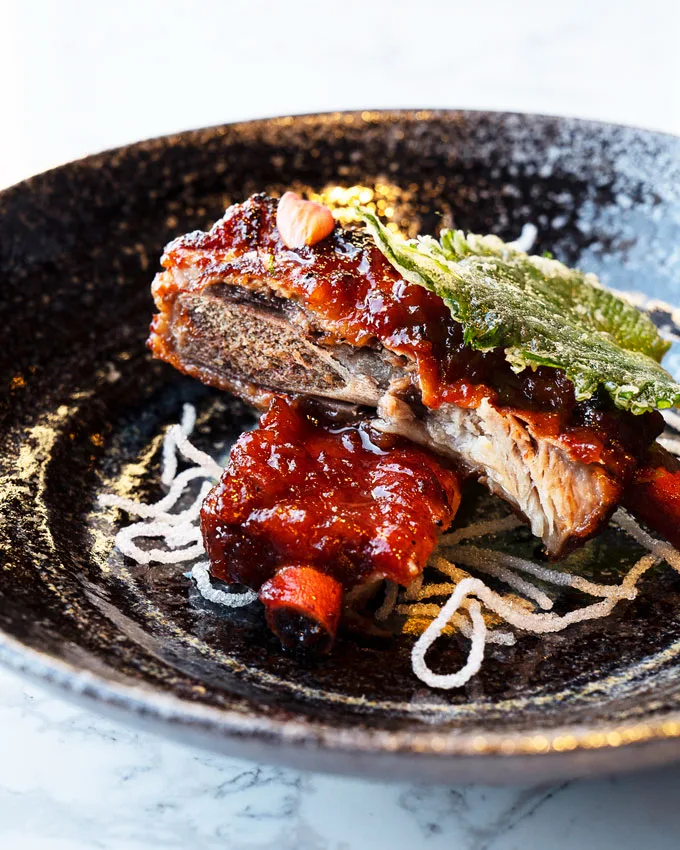 Fresh Soft Shell Crab, Green Papaya and Cucumber Slaw, topped with Pineapple Chili
It was nice to see a San Francisco classic on the menu. The deep fried soft shell crab was wonderfully crispy on the outside. The pineapple chili was sweet and spicy.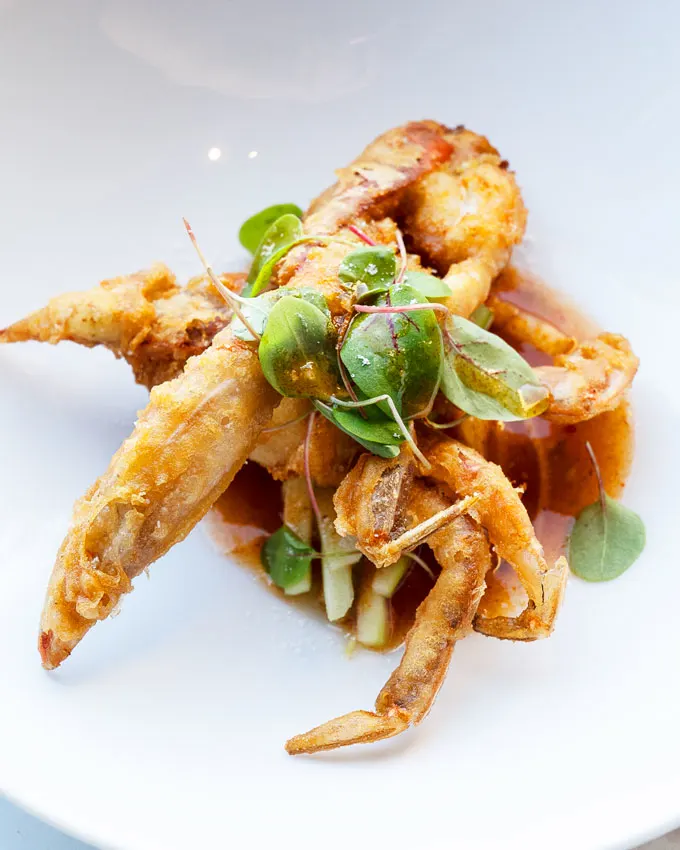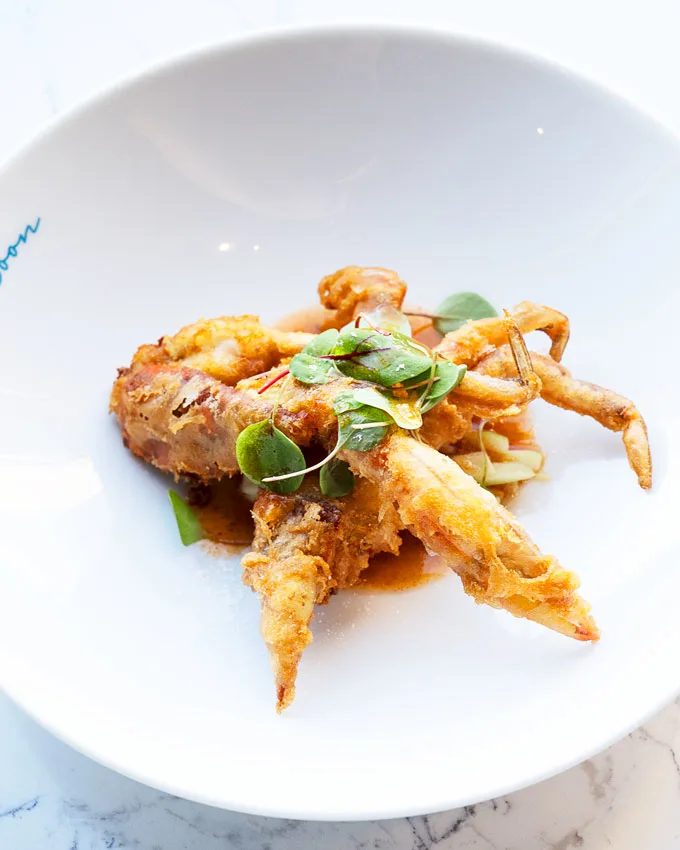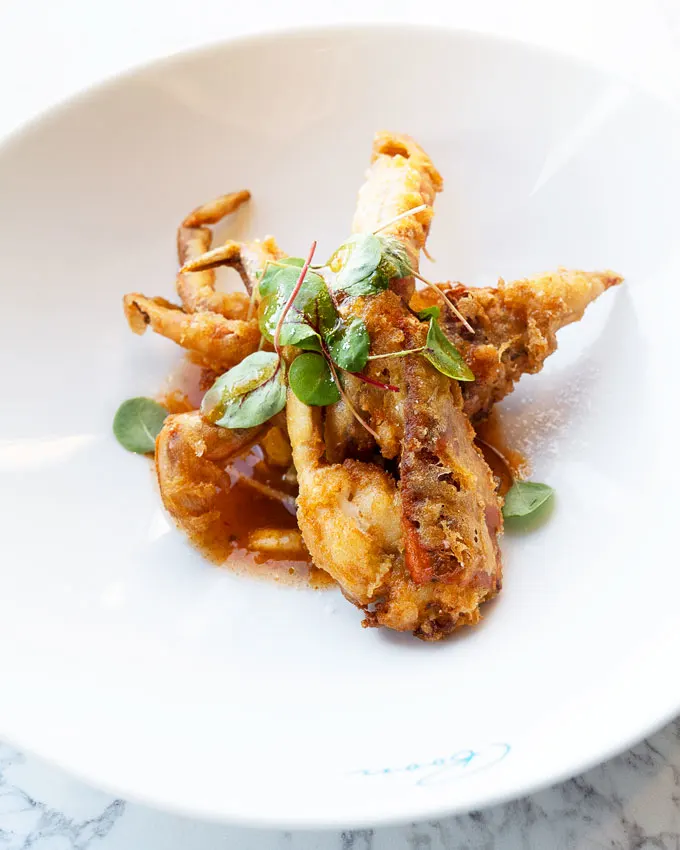 Wok-Tossed South American Lobster with Dried Chili and Basil leaf, Lobster Mushrooms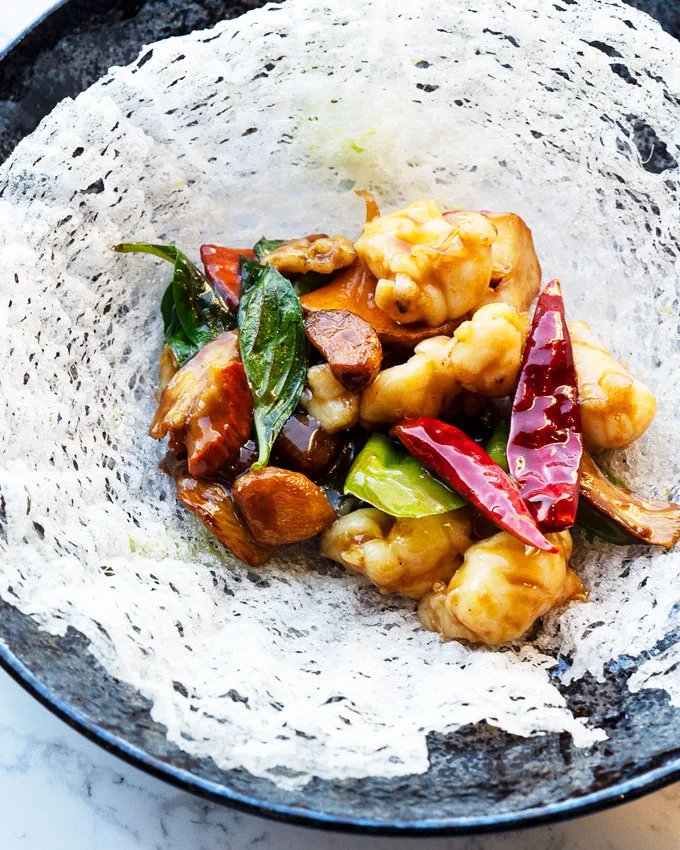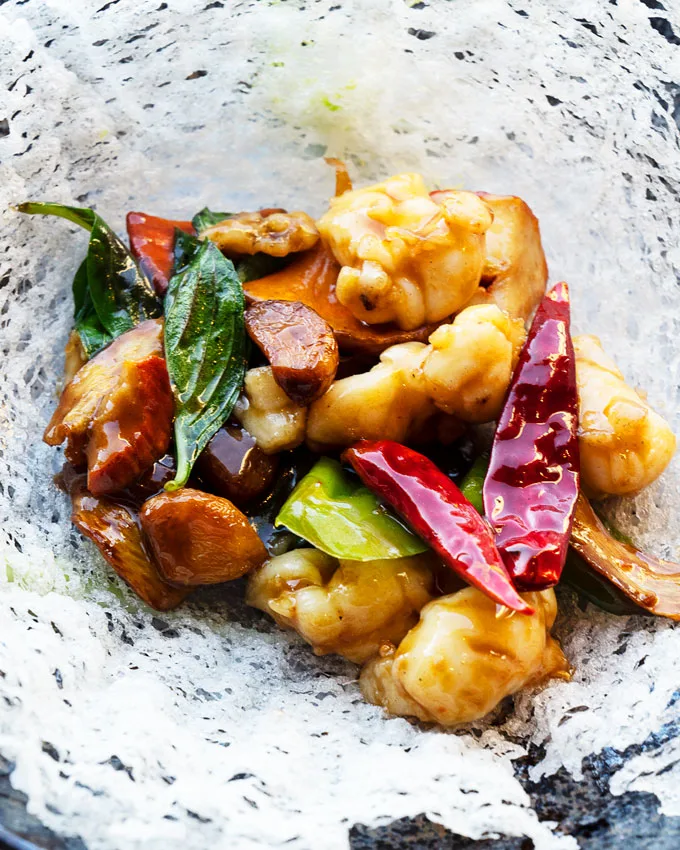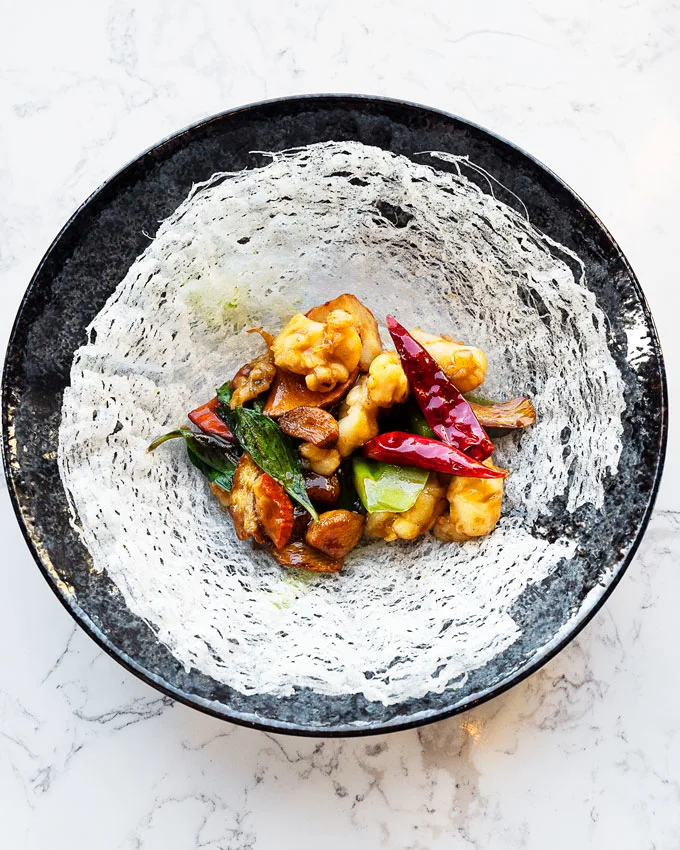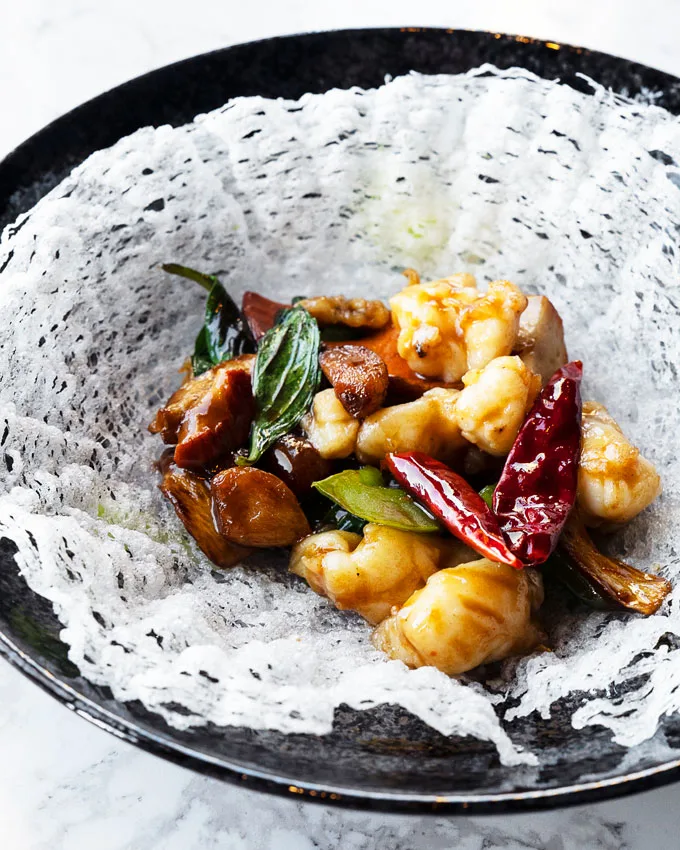 Thick Cut Hand-Pulled Noodles with Young Fish and Scallion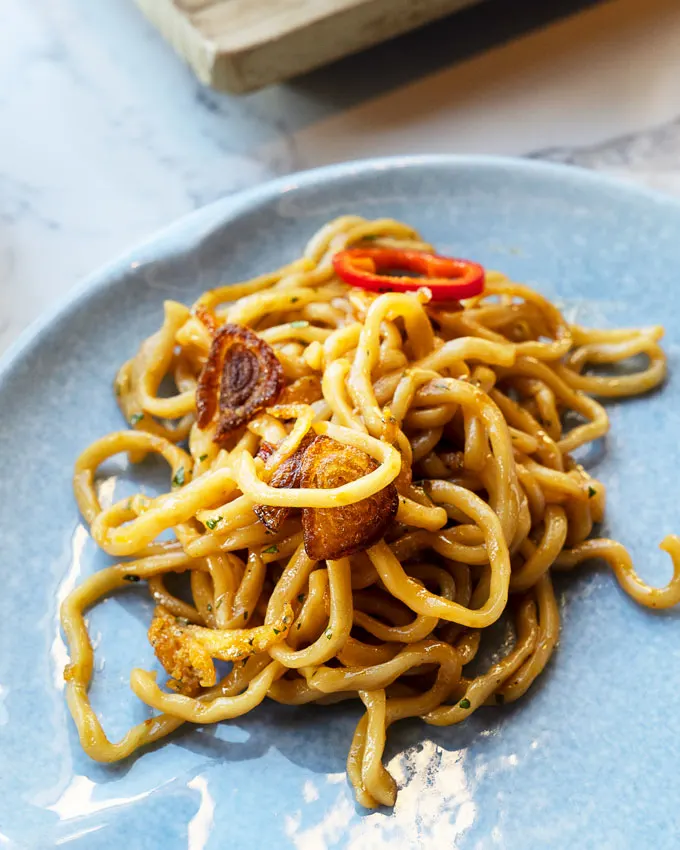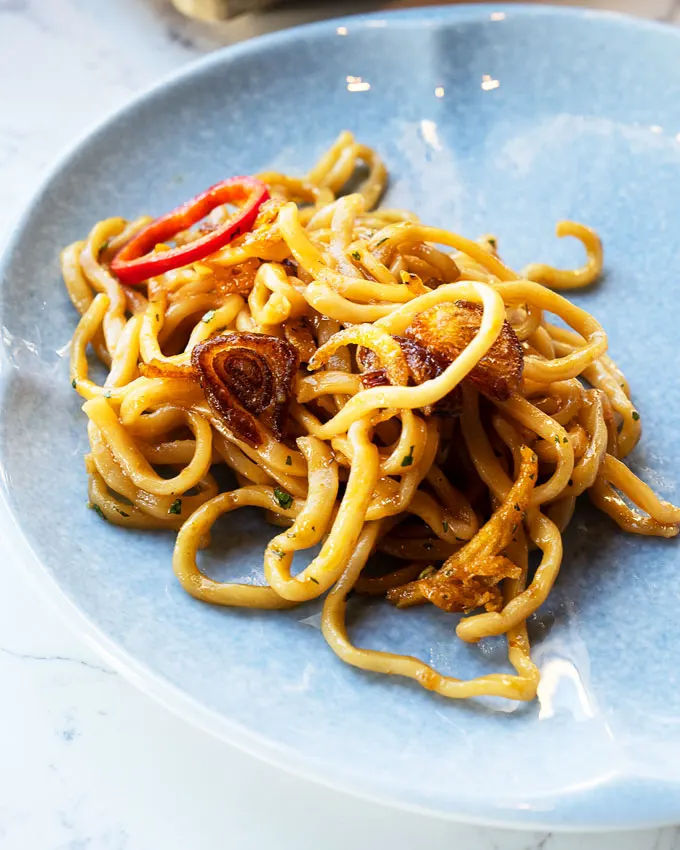 Stir Fried Seasonal Vegetable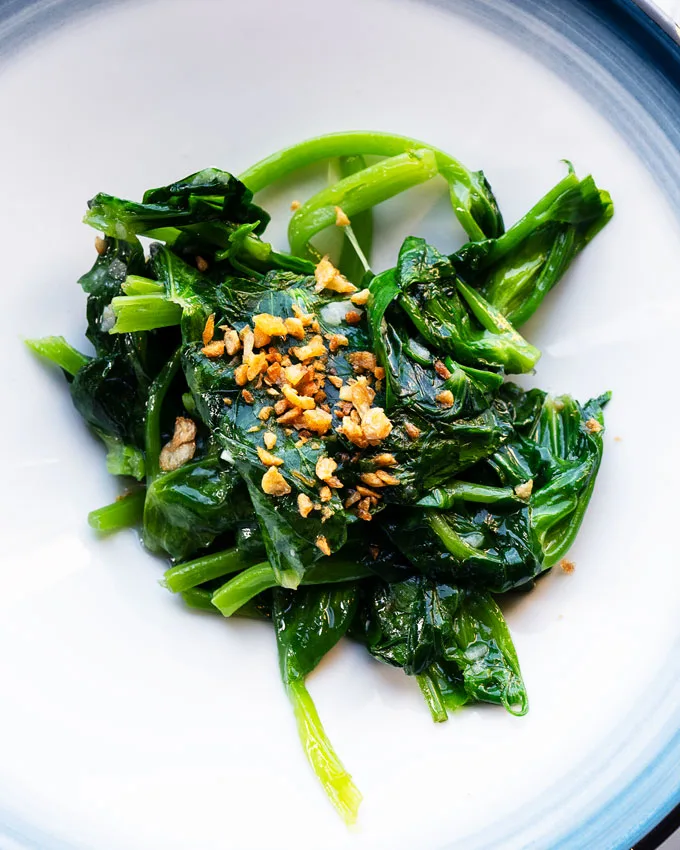 Pipa Duck
A must-try! This featured 10 pieces of duck skin which had been crisped to perfection on their own and then placed on top of a bed of roast duck breast slices and hoisin sauce.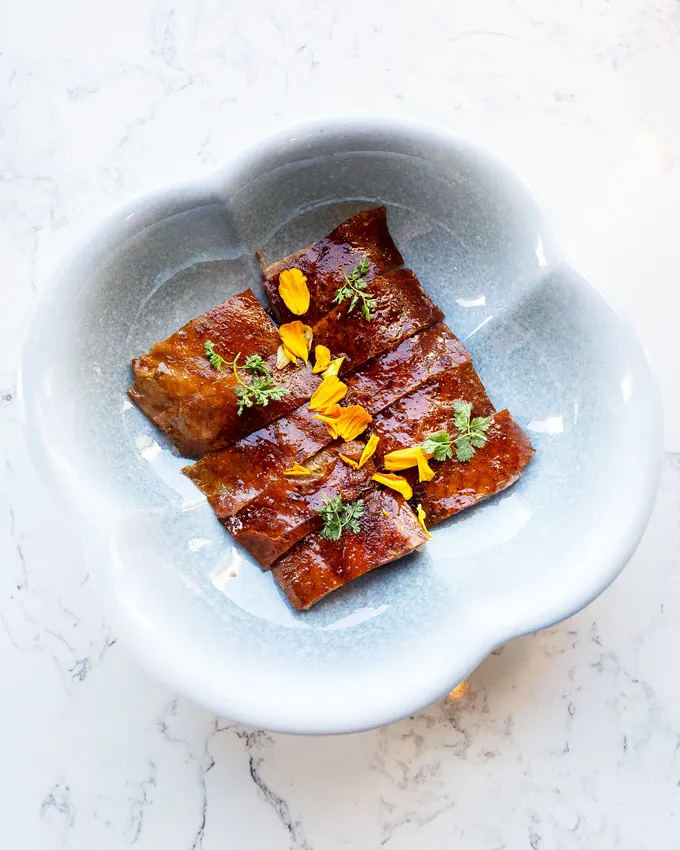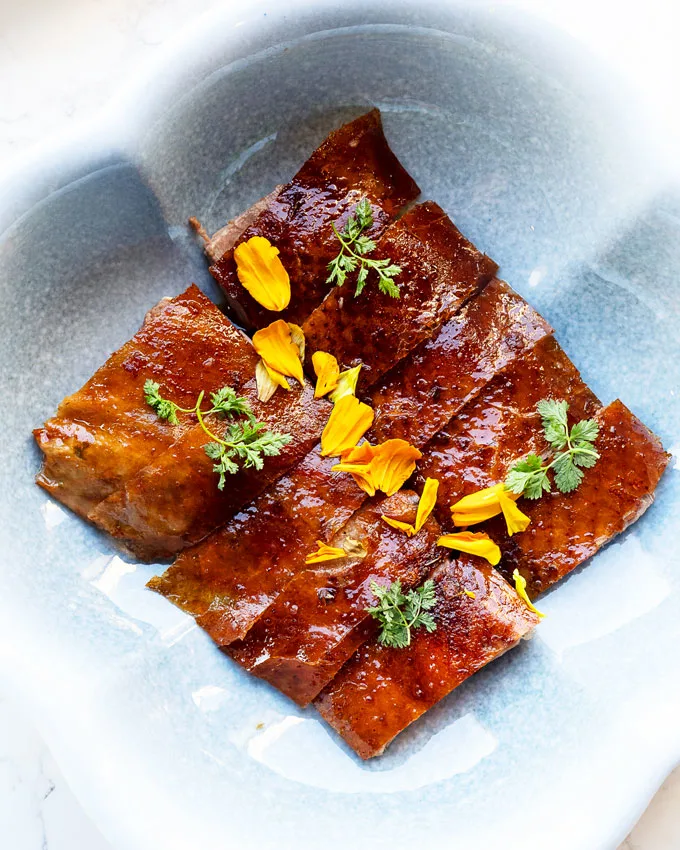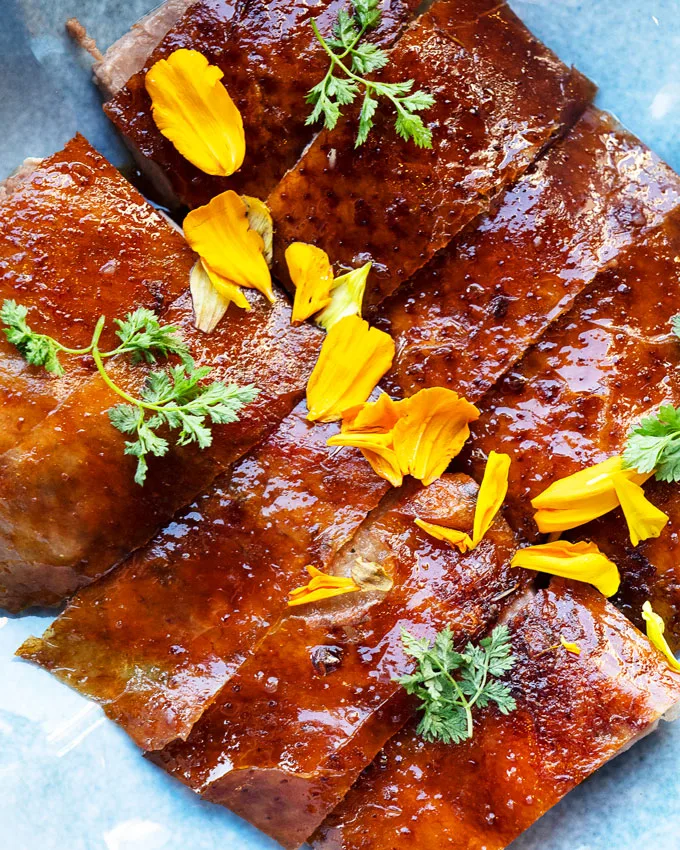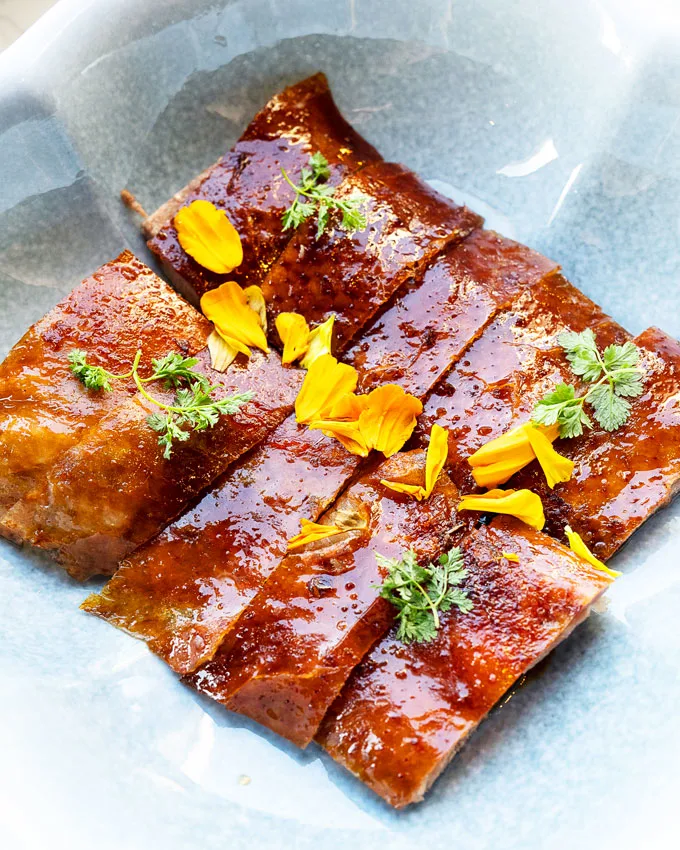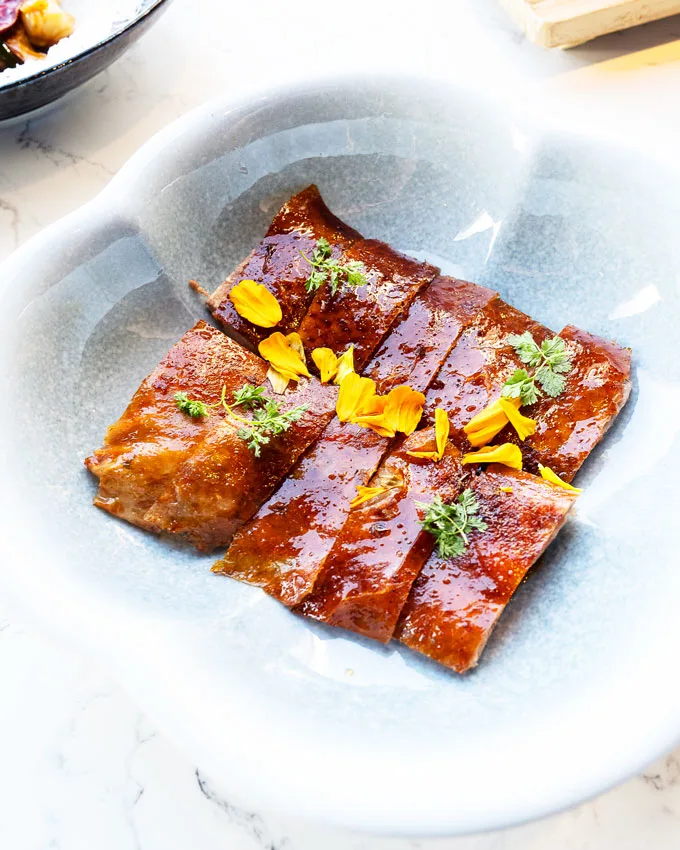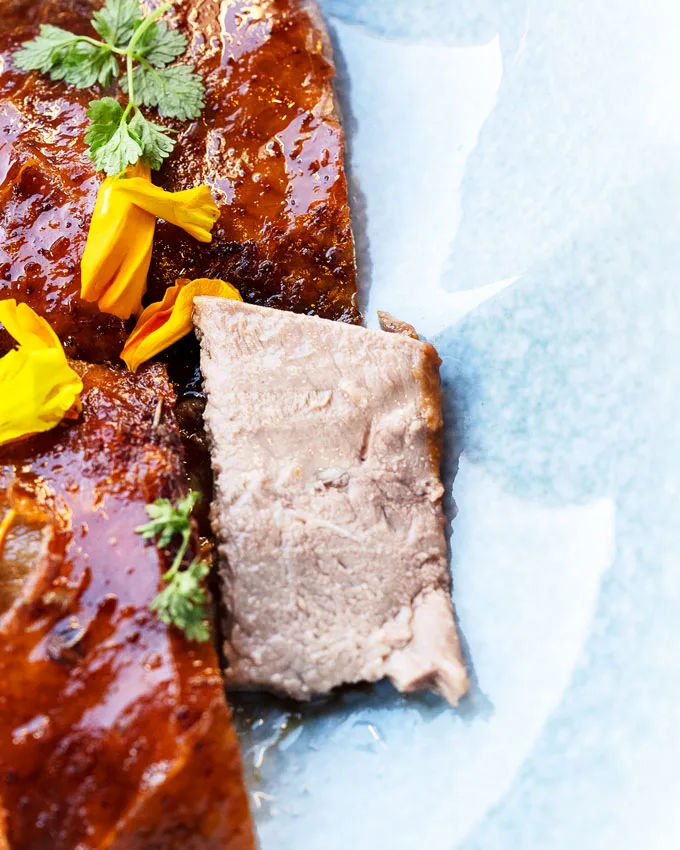 Coconut Sago featuring Yuzu & Pineapple Sorbet, Spiced Pineapple Lime Financier, and Caramel Tuile
Desserts were not included and I went with this for the finale. A creative take on the sago dessert with a delicious fruity sorbet. You had to break into the tuile to get into the dessert!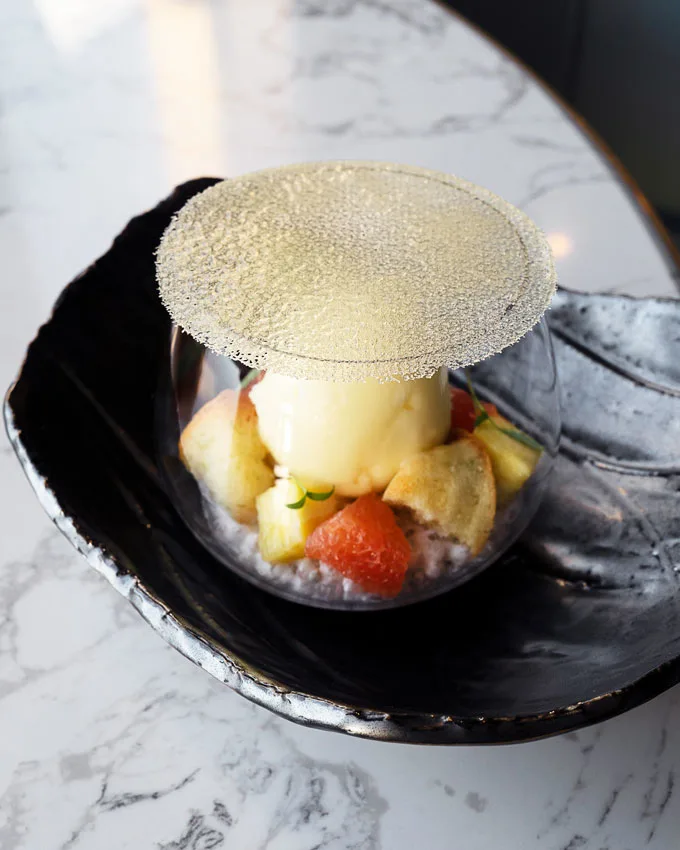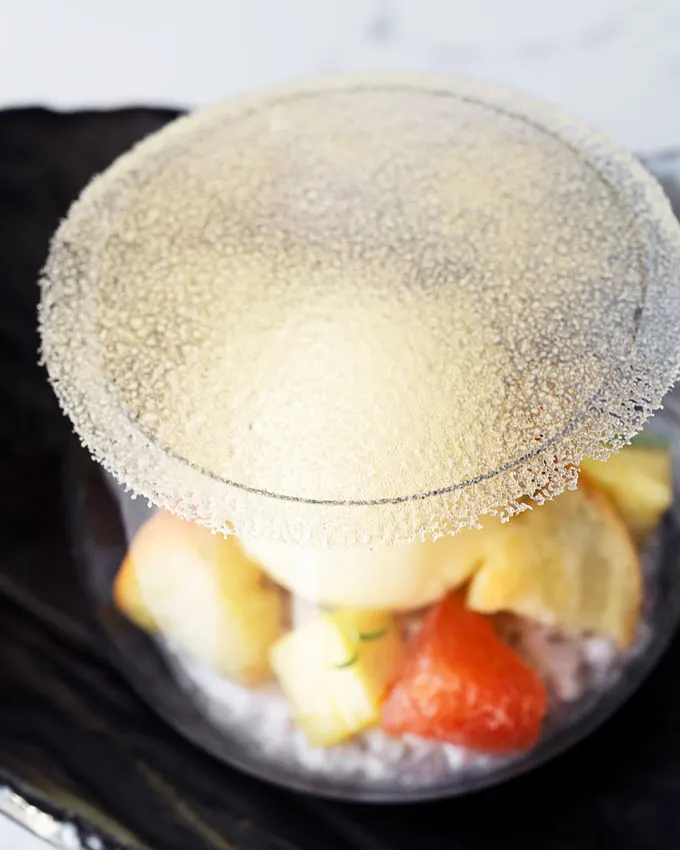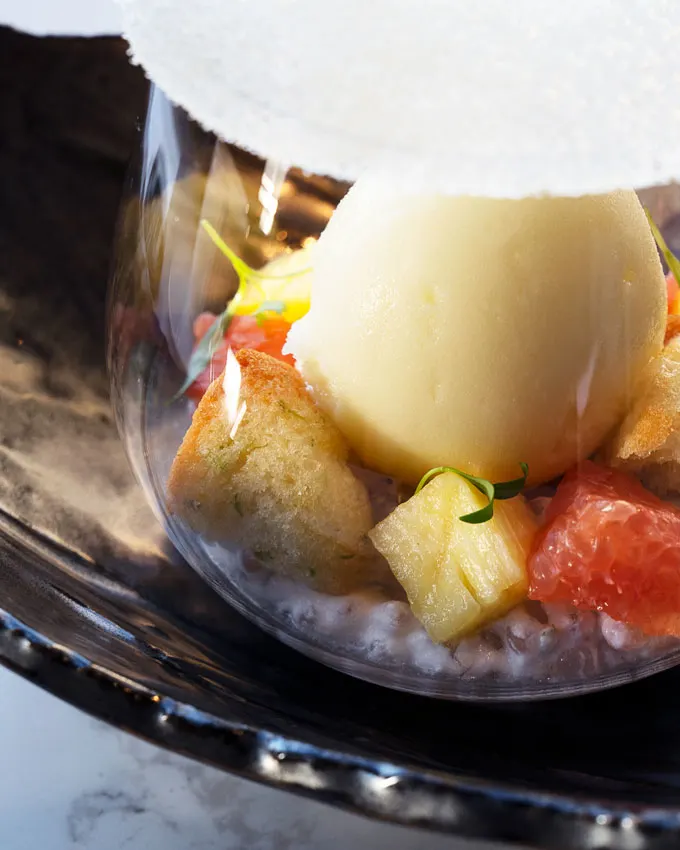 Ambiance
The ambiance was an elevated atmosphere that was still approachable. You have a mish mash of people who were on a casual get-together and some who were more dressed up for perhaps a special occasion. They did not have a dress code.
Service
The servers were friendly, professional and attentive throughout the entire meal.
Chef Ho Chee Boon came out to talk to each table during dinner service and it was a treat to see the chef connect with the diners himself. I asked for a picture but he politely declined as he said he was shy!
Overall Impression
The dishes I had at Empress by Boon had many recognizable classic elements from Cantonese cuisine like sweet & sour flavour; dumplings; Peking duck; spring roll; stir-fried dishes; and a sago desert. Of course, all these flavours were interpreted into elevated, creative and modern takes with beautiful presentation as well. I would love to revisit Empress by Boon someday and would recommend it.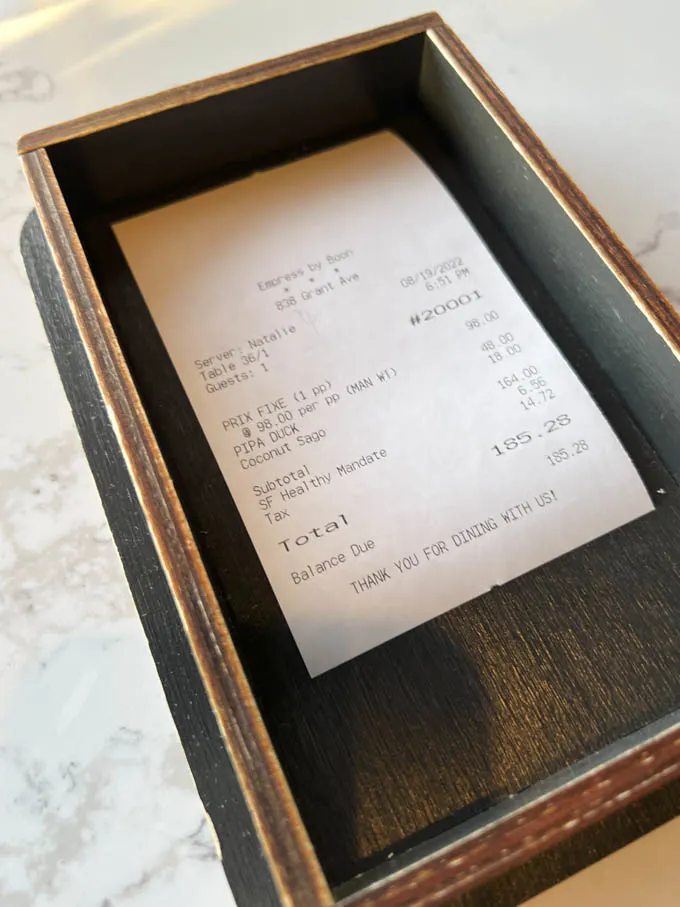 Empress by Boon is located at 838 Grant Ave, San Francisco, CA.