Easter Holiday 2021 takes place Sunday, April 4. Here's a look at Easter Portland 2021 restaurant offerings from brunch, lunch, and dinner.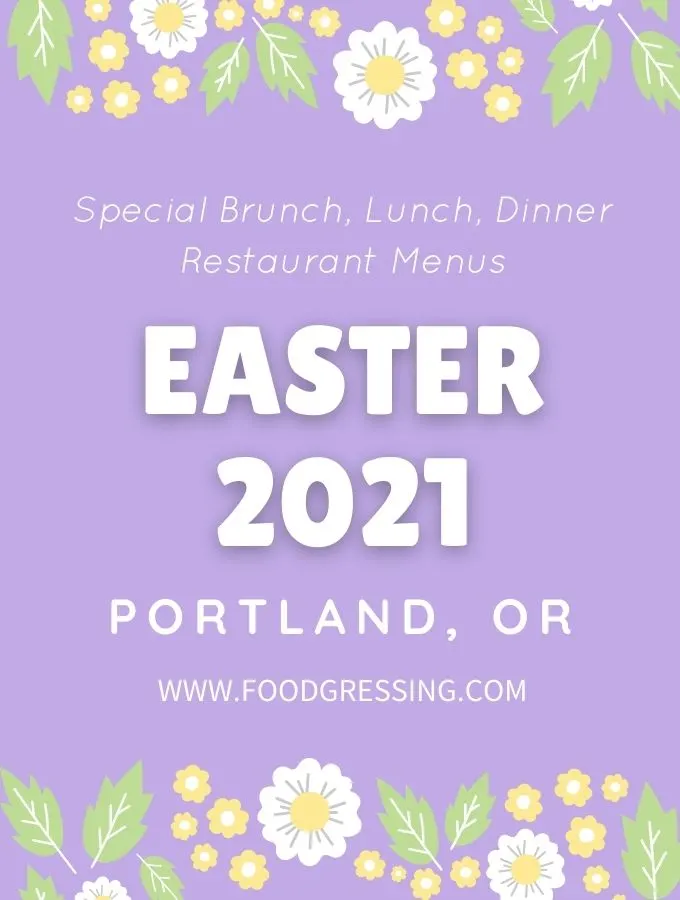 This list is updated as information becomes available. Please reach out to me [email protected] or @foodgressing on social media (Instagram, Facebook, Twitter, TikTok) for any suggestions.
Easter Portland 2021 Restaurant Offerings
Bergerac Bistro
Bergerac Bistro has a few Easter offerings on April 4 from 2 PM – 4:30 PM for pickup.
Easter Brunch for 4 ($45):
A whole Leek & ham quiche or Herb & caramelized onion quiche (v)
Sautéed herbed potatoes
Mixed greens with house dressing
Easter Dinner for 2 ($90), 4 ($180) or 6 ($270):
Deviled eggs, arugula, house dressing, pickled onions
Herb and garlic marinated pork cutlets
Bacon wrapped asparagus bundles
Roast baby carrots
Gratin Dauphinoise
Lemon posset with raspberries & lemon shortbread
Jam on Hawthorne
Jam on Hawthorne has a number of entrees, sides, snacks and sweets are available for pick up on April 3 from 3 PM – 6 PM.
Some of the items offered are:
Mimosa Kit
DIY Bloody Marys
Honey Glazed Sliced Ham
Pineapple glazed Tofu
Vegetable Frittata / Bacon Frittata
Mini Biscuits
Rose Scones
Shrimp Cakes
Devilled Eggs
Maddie Cake, Cake
French Toast Bread Pudding
Vegan Coconut Bread Pudding
Brix Tavern
Brix Tavern is offering Easter Brunch from 9:30 AM – 3 PM, 1.5 hours per reservation. Credit card required to reserve reservatio. Max 6 per table. $29.95 Adults, $12.95 Kids 12 and under, FREE Kids 4 and under.
Bamboo Sushi Central Kitchen
Bamboo Sushi Central Kitchen is offering an Easter meal to go ($90, serves 2) for pickup on April 3 from 1 PM – 5 PM.
8pc Chef's Selection Nigiri with Yakumi
Sunset Roll – House Crab, Avocado & Cucumber, topped with Spicy Tuna, Spicy Aioli & Tempura Flakes
Salmon Hosomaki Roll
Cucumber Hosomaki Roll
Avocado "Toast" with Shaved Radish
Spring Greens Salad with Shaved Fennel, Baby Carrot, Radish, Fresh Herbs, Toasted Cashews, Yuzu Vinaigrette
Two Miso Soup with Wakame, Green Onion, Tofu
Edamame
Green Tea & Shortbread Cookies from Oyatsupan Bakery
Bullard
Bullard has an a la carte menu for pickup. All items are served cold with reheat instructions provided where needed. Pickup is available April 1 – 3 from 4:30 PM – 6:30 PM.
Brunch Box: Mini ham, chevre, and asparagus quiche with green salad. Zucchini bread (2 slices) Smoked pork belly (2 slices) House-made sourdough English muffins and rhubarb jam (2 muffins) Assorted Smith Teas (4)
Pinky Promise Kit: Peach liqueur, Cappalletti, and lemon ready to mix with a half bottle of prosecco. Makes 2 very generous cocktails. Per OLCC regulation, 1 substantial food item must be purchased for every 2 drinks.
Smoked Beef Brisket
Smoked and Braised Lamb
Roasted Asparagus Kit
Creamy Polenta
Spring Pea Salad
Maple Chipotle Glazed Carrots
Smoked Salmon Deviled Eggs
House Rolls
Nostrana
Nostrana is offering a meal kit (serves 4 people) for pickup on April 3 from 2 PM – 4 PM ($249).
Antipasti platter of 3 cheeses, Rob Roy's ham, salumi, roasted olives, pickles, marcona almonds
Insalata Nostrana—radicchio, parmigiano, rosemary-sage croutons, cæsar-style dressing (contains raw egg, anchovy)
2lbs roasted and braised spring lamb, garlic, rosemary, white wine, anchovy
Risotto alle ortiche- wild nettle and fava green risotto
Roasted asparagus
Sunchoke, celeriac, and potato purée
Salsa verde, to top the lamb
A special Easter dessert
A bottle of bright and elegant Italian red wine
Dishes are fully cooked and handed off cold with preparation instructions to warm-up and prepare at a time and day you please. Dietary requests are declined.
Olympia Provisions Southeast
Olympia Provisions Southeast has the following Easter Specials for pickup on April 3 from 10 AM – 5 PM.
Easter Brunch Box with Sebastiano's ($50, serves 2): From OP | Salami Etna, marinated ricotta salata, sicilian olives, citrus caper red onion salad, ricotta frittata, salt cod sciachiatta (salt cod in savory pastry crust) | From Sebastiano's | Blood orange brioche, pistachio tart, pasticcini di mandorle.
Sweetheart Ham en Croute ($55): Hams are roughly 2 pounds and serve 2-4 people.
Traditional Sweetheart Ham ($40): Weight varies, approximately 2 pounds per ham
Olympia Provisions Charcuterie & Cheese Platter ($85): Serving 6-10 people, this is the perfect family size platter to start your special meal with. Includes four OP meats, two cheeses, almonds, olives, housemade pickles, grain mustard, and baguette. (sample photo only, not indicative of portioning)
Le Pigeon
Le Pigeon is offering an Easter Box ($150, serves 4 people). It includes:
Dungeness Crab Deviled Eggs
Brown Sugar and Rum Glazed Ham with cheesy potato gratin, spring peas with bacon, pickled fennel and spring onion
Lemon Meringue Opera Cake
Alinea
Alinea in Chicago is offering an Easter Dinner that is available to be shipped nationwide.
The menu includes:
Brown Sugar and Spice Glazed Ham with Smoked Gravy
Traditional Scalloped Potatoes
Curry Glazed Carrots with Dried Apricots and Almonds
Wild Mushroom and Asparagus Tart
Chilled Spring Pea Soup with Crab, Bacon, and Herb Croutons
Brown Butter Carrot Cake with Cream Cheese Frosting
Minimum order size of 2, even party sizes only. This meal requires an oven and stovetop to reheat at home. They are unable to accommodate dietary restrictions.
For nationwide shipping, meals are shipped on Wed, 3/31 and will be sent via UPS 2-Day service. Your order should arrive within 1-3 days. Priced at $85 per person, $19.95 2-day Shipping Fee.
About Easter Holiday: Dates, Food Traditions, Easter Egg Origins
Have you wondered how Easter actually became a holiday, or where its trademark bunnies and eggs came from?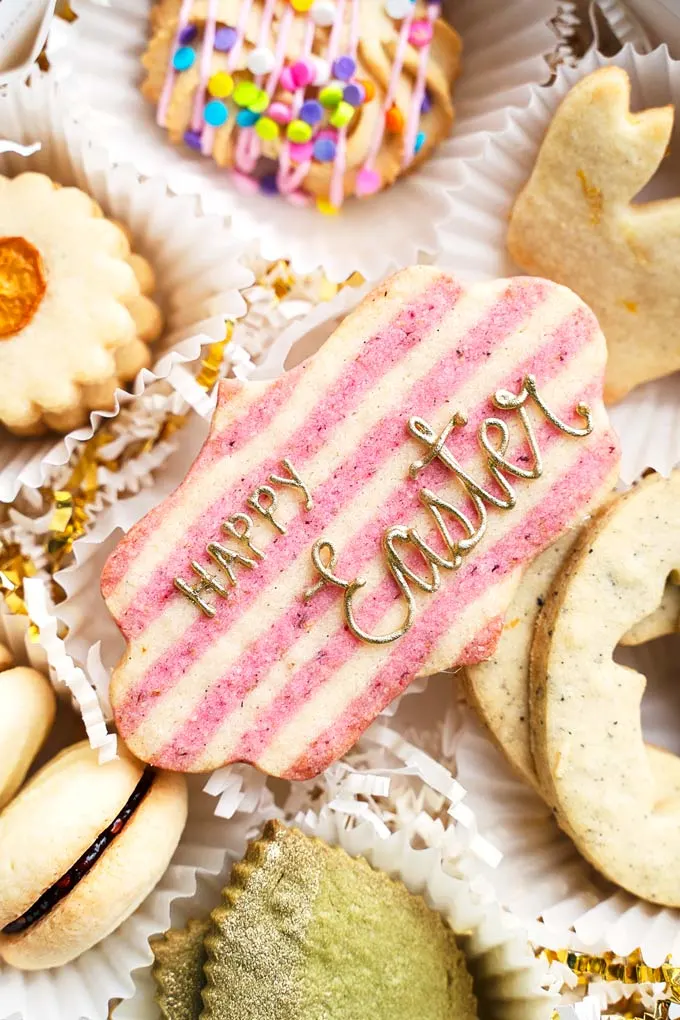 Check out my Easter Holiday post which looks at the origins of Easter, some of the traditions and a few fun facts on Easter Eggs and the Easter Bunny.
Easter Quotes, Wishes and Captions
Whether your Easter is all about fun, or a bit of fun mixed with the holiday's religious significance, here is a roundup of some Easter quotes, wishes and captions for that holiday Instagram post or greeting card.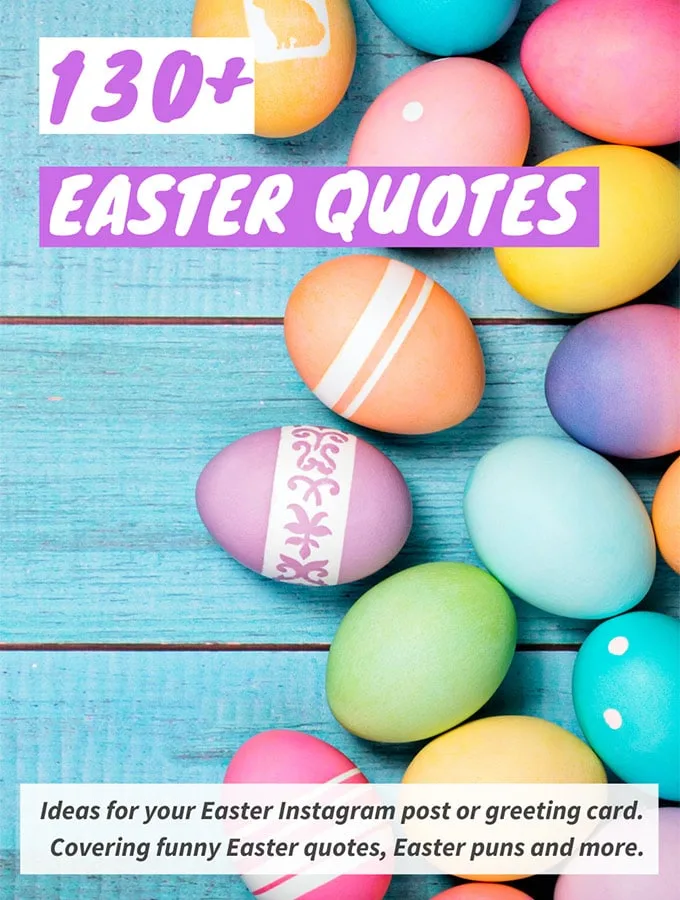 Some of the quotes I have in the post include:
Filling my basket with love and joy… and also chocolate. Lots of chocolate.
Biting the head off my chocolate bunny, but I won't bite you!
There's nothing better than a friend… except a friend with chocolate.
Free Easter Greeting Cards
If you're looking to send an Easter greeting card, check out Canva.com (referral link) for free Easter card templates and start designing.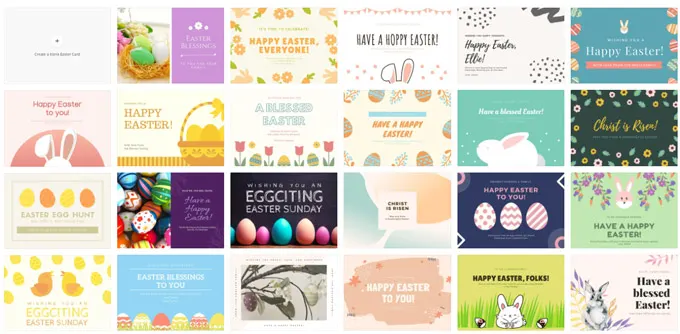 I have been using Canva for years and if you're new to Canva, please feel free to use my Canva referral link to sign up for free.
It's a great graphic design platform used to create social media graphics, presentations, posters, documents and other visual content.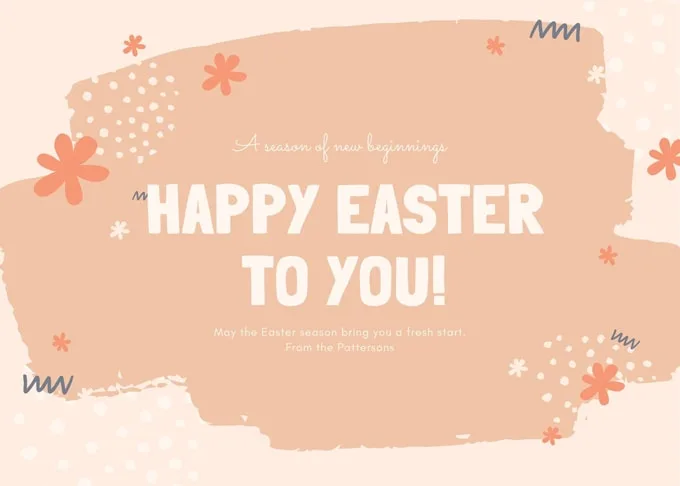 Even though there is a premium version, you can do A LOT on the free version.
YOU MIGHT ALSO LIKE: