Easter Holiday 2021 is happening Sunday, April 4. Here's an Easter Kansas City 2021 guide covering things to do during Easter weekend; restaurant offerings and special menus; desserts and treats and more.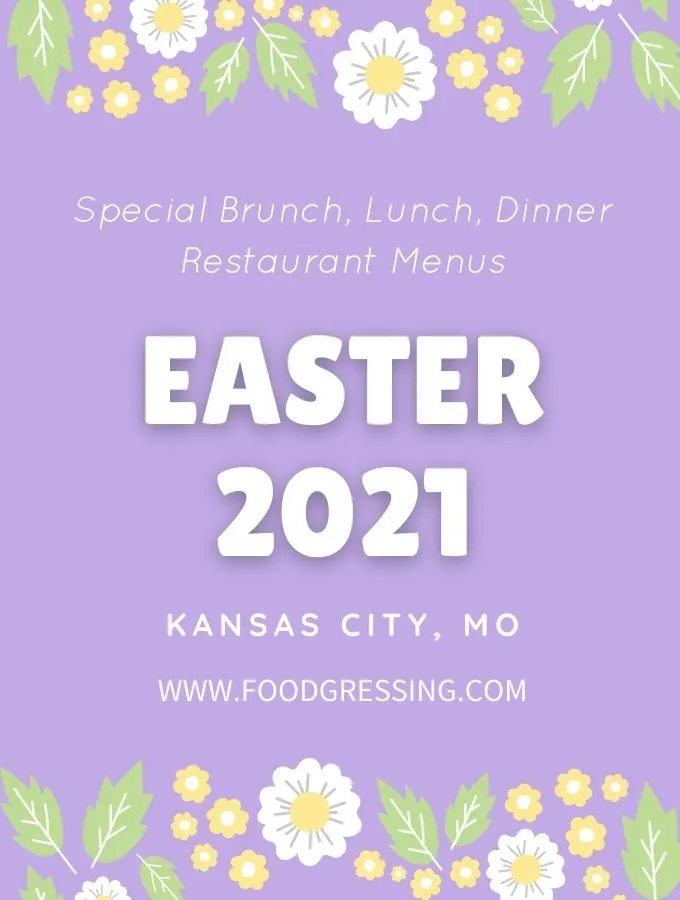 This list is updated as information becomes available. Please reach out to me [email protected] or @foodgressing on social media (Instagram, Facebook, Twitter, TikTok) for any suggestions.
Any support to local businesses is appreciated in these times. Holiday celebrations can take on different forms from traditional, fusion to modern.
Please use this list as an inspiration for ideas on how to put together your own Easter celebration.
Easter Kansas City 2021 Restaurant Offerings
The Town Company
The Town Company is offering an Easter prix-fixe multi-course menu with optional add-ons for $42/person.
You can reserve for the dining room, the bar, or Chef's Counter. Reservations for April 4 from 10 AM – 3:45 PM.
Snack Plate of Pastry Bites to Start-
Choice of First and Main Course-
Sides for the Table-
Deviled Eggs with Optional Caviar Accompaniments- $$
Room 39
Room 39 is offering a 3-course prix-fixe menu for Easter. Priced at $40 per person. Reservations for April 4 from 9 AM – 2:45 PM. You can also order it to go.
1
Manhattan clam chowder
Arugula salad, strawberries, holy goat feta, red onions
Crispy Calamari, anchovy-basil aioli, pickled vegetables
asparagus, olive vinaigrette, cured egg
crabcakes, lemon, remoulade
2
Crispy chicken & waffles, chili crunch, whipped syrup
Pan roasted Alaskan halibut, radish, asparagus, sugar snap peas, herb butter
Avocado toast, radish, preserved lemon sauce, poached eggs, pecorino romano
Green dirt farm ricotta ravioli, lemon, fresh herbs, white wine
Grilled balsamic marinated lamb chops, gratin potatoes, sautéed spinach
3
Chocolate torte
Blueberry bread pudding
Cheesecake
Burnt End BBQ – Crown Center
Burnt End BBQ – Crown Center has an Easter Package for pickup on April 2 and 3 from 11 AM – 9:45 PM.
Package #1 | Feeds 4 | $175
Smoked Beef Brisket package with sides & all the fixin's
Package #2 | Feeds 4 | $150
Brown Sugar Glazed Smoked Ham with sides & all the fixin's
Easter Packages to be picked up April 1st-3rd.
Packages will be served cold with reheating instructions.
Burnt End BBQ – Overland Park
Burnt End BBQ – Overland Park has Easter Packages for pickup either April 1 – 3 (11 AM – 8:45 PM) or April 4 (11 AM – 3 PM).
Package #1 | Feeds 4 | $175
Smoked Beef Brisket package with sides & all the fixin's
Package #2 | Feeds 4 | $150
Brown Sugar Glazed Ham with sides & all the fixin's
Rye Plaza and Rye Leawood
Rye Plaza and Rye Leawood have Easter Brunches to Go ($100, serves 4 – 6) which includes:
Brunch package includes:
Entree Choice – Quiche, Biscuits & Gravy, or Strata
House Salad
Fresh Fruit
Mini Cinnamon Rolls (6)
They also have lots of pies, cookies and desserts. Check their menu for the extensive offering.
Yaya's Euro Bistro – Overland Park
Yaya's Euro Bistro – Overland Park is offering prepaid breakfast options for April 4 from 10 AM – 8:45 PM.
Breakfast
Crab and Asparagus Omelet Goat Cheese Fondue … $15
Blueberry Pancake, Lemon Curd, Whipped Cream … $12
Prime Rib Breakfast Potatoes, 2 Fried Eggs, Au Jus, Creamy Horseradish … $23
Dinner:
Pan-roasted Halibut, Creamed Peas, Asparagus, Farro Verde, Preserved Lemon … $38
Prime Rib Truffle-Chive Crispy Potatoes, Au Jus, Creamy Horseradish … $35
Affäre
Affäre has a prepaid brunch offerings for pickup on April 4 from 10 AM – 1:30 PM.
Some of the items include:
Beignet Basket: Seven sweet, fluffy beignets, cinnamon sugar, chocolate & fruit dip
Arme Ritter: French toast style brioche, cinnamon-egg liaison, vanilla sauce
Omelette: Spinach, sun-dried tomatoes, goat cheese, brunch potatoes
Two scrambled eggs: sausage patty, grill tomato, brunch potatoes
Family Salad: Artisan greens, peppers, radishes, tomatoes, cucumbers, boiled egg, herb vinaigrette serves 2-4
Ruby Trout: Spinach, brunch potatoes, caper beurre blanc
Brat Duo: Two traditional brats, sauerkraut, red cabbage, bratkartoffeln
Jagerschnitzel: Butterspatzle, mushroom sauce, sunny egg
Kona Grill
Kona Grill has Easter Weekend specials: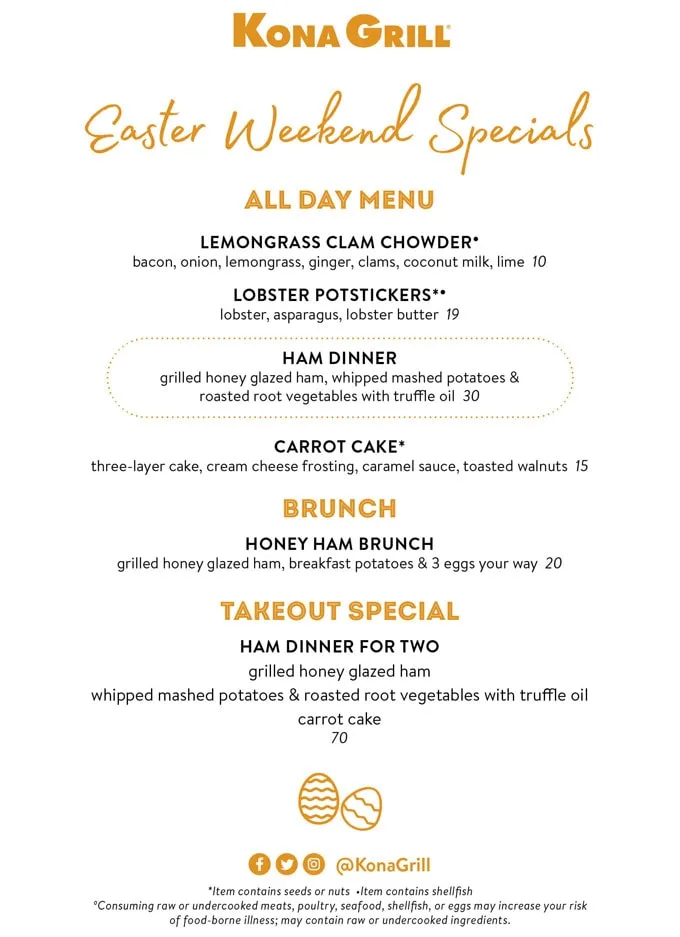 The Brass Onion
The Brass Onion has Easter brunch and dinner to go packages. Preorder by April 1.
Available for delivery to KC Metro for $20 or you can pick up from one of their three convenient locations.
KCKS : Brancato's Catering 5050 Kansas Ave | Kansas City, KS 66106
Downtown : Harvey's at Union Station 30 W Pershing | Kansas CIty, MO 64108
OPKS : The Brass Onion 5501 W 135th | Overland Park, KS 66224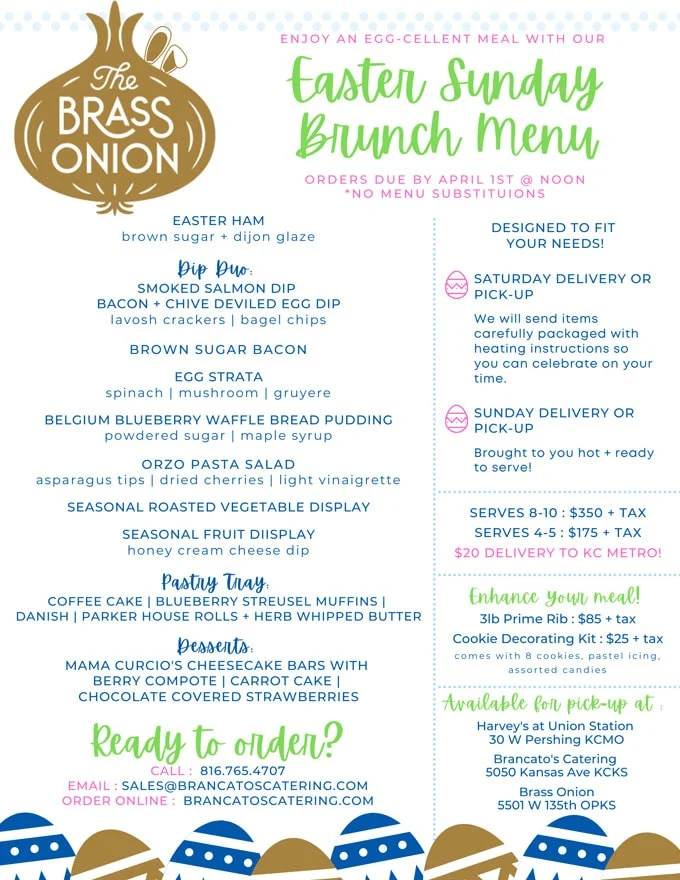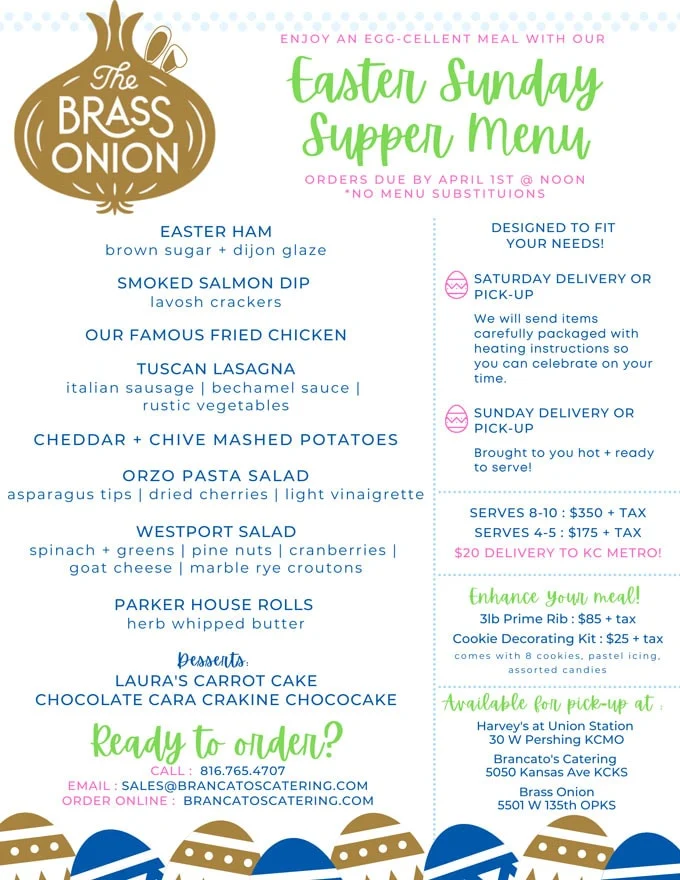 Stock Hill
Stock Hill is open for Easter weekend dine-in. Brunch 10am-3pm, Dinner 3:30pm-7pm
Chaz on the Plaza
Chaz on the Plaza is offering a four-course Easter menu available for dine-in on April 4 from 10 AM – 2 PM. Priced at $50 per person.
Space is limited. Call Chaz at 816-802-2152 to make reservations.
Please note: Chaz will offer its regular brunch menu from 7 AM – 9:30 AM on Easter Sunday. The prix-fixe menu is only available from 10 AM – 2 PM.
The menu includes:
Hot Crossed Buns
Whipped Strawberry Butter, Apricot Preserves
Mini Yogurt Parfait

Salad & Soup

Heirloom Tomato Pie
Green Goddess & Pumpkin Seed Salad
Roasted Butternut Squash Soup

Main (choice of one)

Cucumber Crusted Salmon
Pan Roast Scottish Salmon Crusted with Marinated Cucumbers, Savory Quinoa, Avocado Relish, Basil Coulis
Steak Diane
Sautéed Prime Hanger Steak, Boursin Mashed Potatoes, Worcestershire Cream, Creamed Leeks, Sautéed Spinach
Spring Chicken
Asparagus, Scallion, Chive, Roasted Red Pepper and Swiss Stuffed Oven Roasted Chicken Breast, Roasted Garlic and Herb Fingerling Potatoes, Grilled Asparagus, Black Garlic Jus
"The Full English" with Avocado Toast
Two Eggs, White Bean Cassoulet with 9 Day Homemade Bacon, Sausage, Grilled Tomato, Roast Portabella, Fresh Herbs, Wheat Avocado Toast
Omelet (choice of one)
Truffle Mushroom with Boursin Cheese and Spinach
Smoked Brisket and Gouda
Veggie with Avocado and Fine Herbs
Omelets are served with Vanilla and Berry French Toast
Dessert (choice of one)
Lemon Pound Cake
Seasonal Berry Compote, Whipped Cream
Zucchini Cake
Caramel, Vanilla Cream
Easter Chocolate Cake
Pastel Jordan Almonds, Vanilla Cream
Granite City Food & Brewery
Granite City Food & Brewery has an Easter Kansis City 2021 Sunday spread featuring all your favorites, from Reggiano Hashbrowns and Four-Cheese Eggs to Slow-Roasted Prime Rib, Jumbo Shrimp, French Toast, Carved Easter Ham and their signature Omelet Creation Station. Adult $28.99 Children $8.99.
Fogo de Chao
Fogo de Chao is offering Easter Brunch (11 AM to 2 PM) or Dinner (2 PM to 9 PM). Dinner price all day. Fogo Churrasco Experience for Children 6 & under is complimentary. Children 7 to 12 are half price. Easter To-Go package is also available for pre-order.
About Easter Holiday: Dates, Food Traditions, Easter Egg Origins
Have you wondered how Easter actually became a holiday, or where its trademark bunnies and eggs came from?
Check out my Easter Holiday post which looks at the origins of Easter, some of the traditions and a few fun facts on Easter Eggs and the Easter Bunny.
Easter Quotes, Wishes and Captions
Whether your Easter is all about fun, or a bit of fun mixed with the holiday's religious significance, here is a roundup of some Easter quotes, wishes and captions for that holiday Instagram post or greeting card.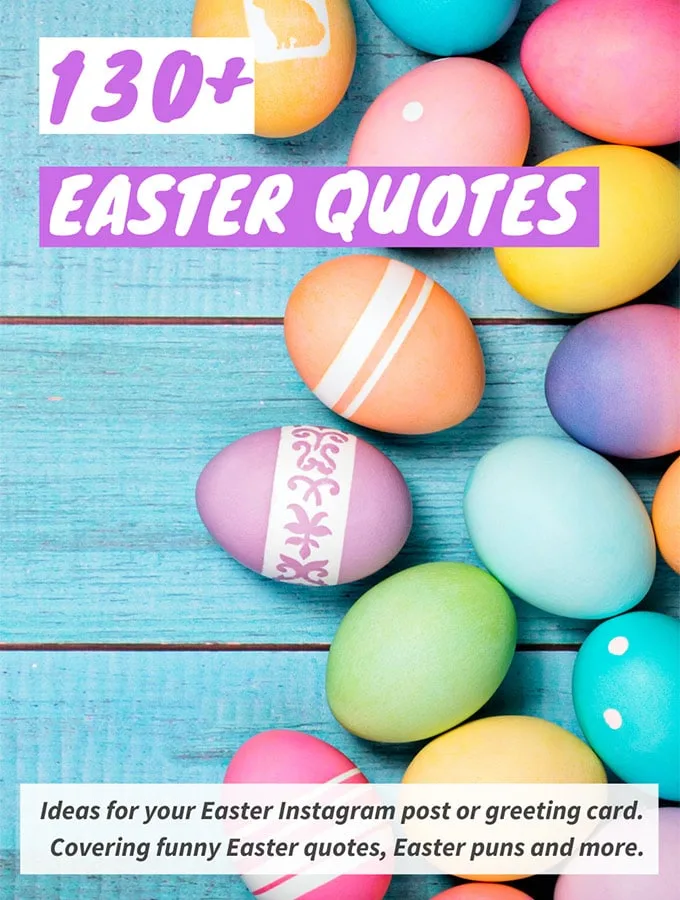 Some of the quotes I have in the post include:
Filling my basket with love and joy… and also chocolate. Lots of chocolate.
Biting the head off my chocolate bunny, but I won't bite you!
There's nothing better than a friend… except a friend with chocolate.
Free Easter Greeting Cards
If you're looking to send an Easter greeting card, check out Canva.com (referral link) for free Easter card templates and start designing.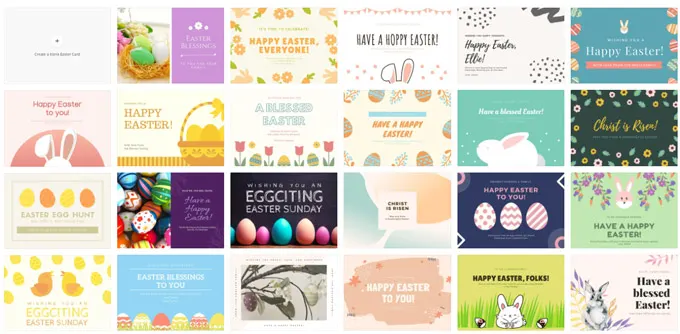 I have been using Canva for years and if you're new to Canva, please feel free to use my Canva referral link to sign up for free.
It's a great graphic design platform used to create social media graphics, presentations, posters, documents and other visual content.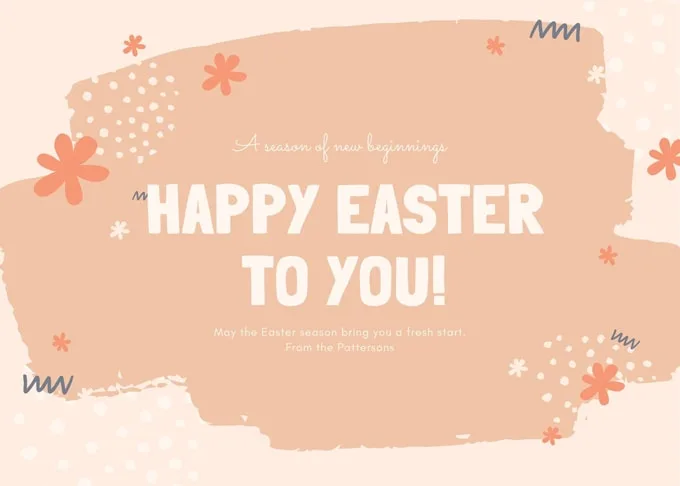 Even though there is a premium version, you can do A LOT on the free version.