Easter Holiday 2021 takes place Sunday, April 4. Here's a look at Easter Atlanta 2021 restaurant offerings from brunch, lunch, and dinner.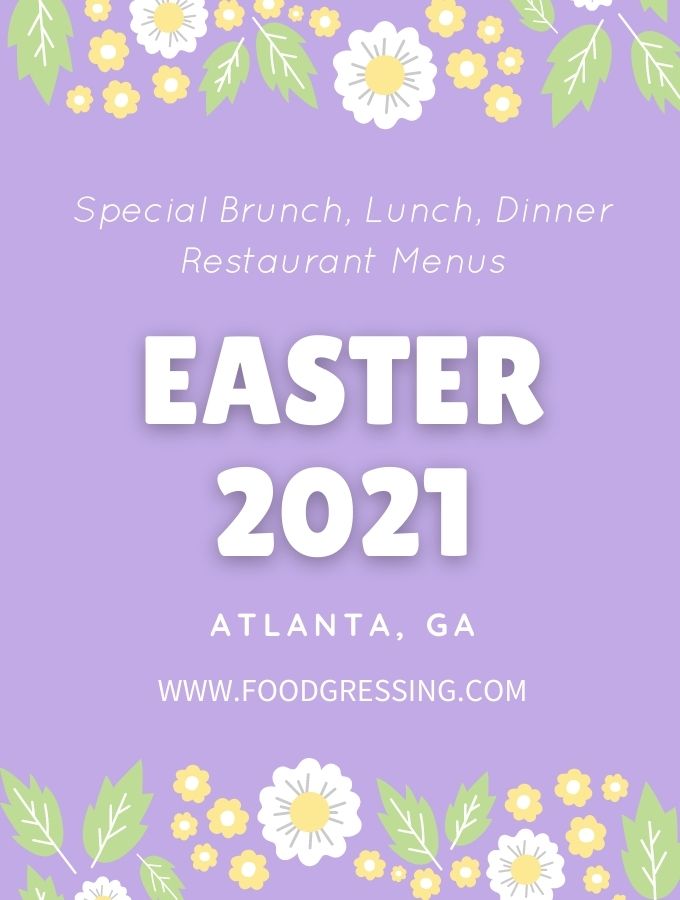 This list is updated as information becomes available. Please reach out to me [email protected] or @foodgressing on social media (Instagram, Facebook, Twitter, TikTok) for any suggestions.
Easter Atlanta 2021 Restaurant Offerings
The St. Regis Atlanta
The St. Regis Atlanta is offering Alice in Wonderland Afternoon Tea. Head to an extravagant Easter celebration at The St. Regis Atlanta, where the hotel will be hosting a Alice and wonderland themed afternoon.
You may have a visit from the Easter bunny and Alice herself, overlooking The St. Regis Atlanta's magnificent hotel lobby and crystal chandelier.
Reservations open for April 3 and 4 from 1:30 PM – 4:30 PM. Adults $85, Children 3 – 10 $60. Parking fee: $5 with validation.
The Garden
The Garden is offering prepaid reservations for brunch and dinner dine-in.
The brunch menu includes:
Something Light: Choice of (2) Lobster Roll | Avocado Toast | Tuna Tartar | King Crab Cherry Bomb (Add $8)
Something Sweet: Choice of Blueberry Buttermilk Pancakes or Banana Bread French Toast
Something Savory: Choice of (2) Lobster Omelet | Croque Monsieur "Three Cheeses & Truffle | Fried Chicken & Waffles with Bourbon-Maple Syrup | Steak & Eggs (Add $8)
Priced at $95 for The Bunny Bar; $115 for the dining room.
The dinner menu includes:
Welcome Cocktail
Culinary Creations: Choice of (4) Lobster Roll, Black Truffle Pillows, TGR Salad, Bulgogi Marinated Wagyu, TGR Sliders, Skinny Fries, King Crab Cherry Bombs (+$8)
Something Sweet: Choice of Smash Me or The Forbidden Fruit
Priced at $95 for The Bunny Bar; $125 for the dining room.
Atlas
Atlas is offering a Seven Course Tasting Menu curated by Culinary Director, Freddy Money. Reservations for April 4 from 5 PM – 9 PM. Priced at $210 per person.
The menu will be inspired by seasonality surrounding this special day. Wine Pairings & Cocktail Offerings will be available for purchase upon arrival to enhance your experience.
The Easter Tasting Experience Includes:
Snacks
Smoked Sturgeon and Caviar
Vegetable Tartlet
Scallop, Yuzu, Nashi Pear
Poached Halibut, Asparagus, Morels
Wagyu, Mushroom Ketchup, Bok Choi, Turnips
Blood Orange "Nitro"
Staplehouse
Phaidon & S.Pellegrino® have partnered to celebrate "Today's Special: 20 Leading Chefs Choose 100 Emerging Chefs". The book names the next generation of star chefs, selected by 20 culinary masters from around the world.
They are offering an Elevated Meal Kit which includes favorites from the Staplehouse Tasting Menu, a signed copy of "Today's Special" a limited addition S.Pellegrino bottle!
Crab, Sunflower, Hot Pepper Vinegar
Carrot, Cashew, Sorrel
Chicken Liver Tart
Beef, Onion, Fish-Sauce Caramel
Pickup on April 3 and 4 from 1 PM – 6 PM. $225 (+ tax) per order which serves 2 people. Gift cards not eligible for this experience.
Waldorf Astoria Atlanta Buckhead
Waldorf Astoria Atlanta Buckhead is offering Easter Day Afternoon Tea.
Curated by Executive Chef Christophe Truchet, the Easter Afternoon Tea Service presents a collection of organic loose leaf tea globally sourced by Tealeaves™ alongside accompaniments of finger sandwiches and pastries.
Seatings from 3 PM on April 4. Priced at $95 – $129 per person.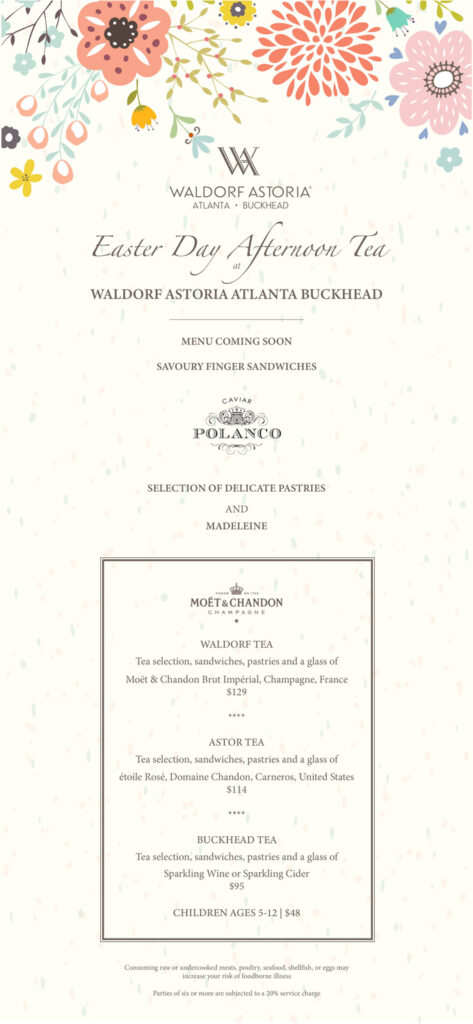 Wahoo! Grill
Wahoo! Grill (Decatur) is open for Easter dinner on April 4 from 2 PM – 9 PM and offering their regular dinner menu with some Easter features.
Heated outdoor space (weather permitting) and safely distanced indoor dining available (indoor tables are separated with clear partitions).
South City Kitchen Vinings
South City Kitchen Vinings is offering an Easter prix-fixe menu on April 4 from 10 AM – 7 PM. Adults $38, Kids 12 and under $18.
FIRST FLAVORS (CHOOSE ONE)
Old Charleston She-Crab Soup fresh cream, sherry – GF
Fried Green Tomatoes goat cheese, red pepper coulis
Pan Fried Chicken Livers city ham, caramelized onion jus, creamed corn – MGF
Pimento Cheese our b&b pickles, celery, benne seed crackers – MGF
Gouda Fritters chili honey
Smoked Salmon Dip fried capers, fennel fronds, semolina toast
Green Salad local grown muir and butter lettuces, young kale, benne seed vinaigrette, pecorino romano – GF
Georgia Tomato and Watermelon Salad heirloom tomatoes, cubed watermelon, pickled watermelon rind, torn basil, avocado vinaigrette, crushed pistachios – GF
Caesar Salad garlic-grit croutons, okra, grana padano – MGF
SOUTHERN INSPIRATIONS (CHOOSE ONE)
Steak & Eggs fennel potato puree, spring onions, carrot top pesto, sunny egg – GF
Banana Nut and Mascarpone French Toast pecans, vermont maple syrup, pecan wood bacon
Grilled Salmon Rice Bowl charred broccolini, red onion jam, soft boiled egg, avocado, crisp leeks, ginger broth – GF
The King Biscuit fried eggs, melted gouda, city ham on a XL drop biscuit, andouille sausage gravy
Hoppin' John sea island red peas, carolina gold rice, oyster mushroom, english peas, baby carrots – GF
Jumbo Lump Crab Cake artichoke puree, warm fingerling potatoes, frisee, bacon, mustard seed vinaigrette, sunny egg
Mountain Trout summer squash cake, romesco, pistachio gremolata – GF
Grilled Pork Chop smashed potato hash, garlic chip green beans, white bbq sauce, lemon honey glaze – GF
Springer Mountain Farms Fried Chicken collard greens, smashed bliss potatoes, honey-thyme jus – MGF
Shrimp & Marsh Hen Mill Grits poblano peppers, house made tasso ham, smoked tomato-poblano gravy – GF
Egg White Frittata kale, goat cheese, roasted mushrooms, grana padano, tomato relish, toasted panko – MGF
About Easter Holiday: Dates, Food Traditions, Easter Egg Origins
Have you wondered how Easter actually became a holiday, or where its trademark bunnies and eggs came from?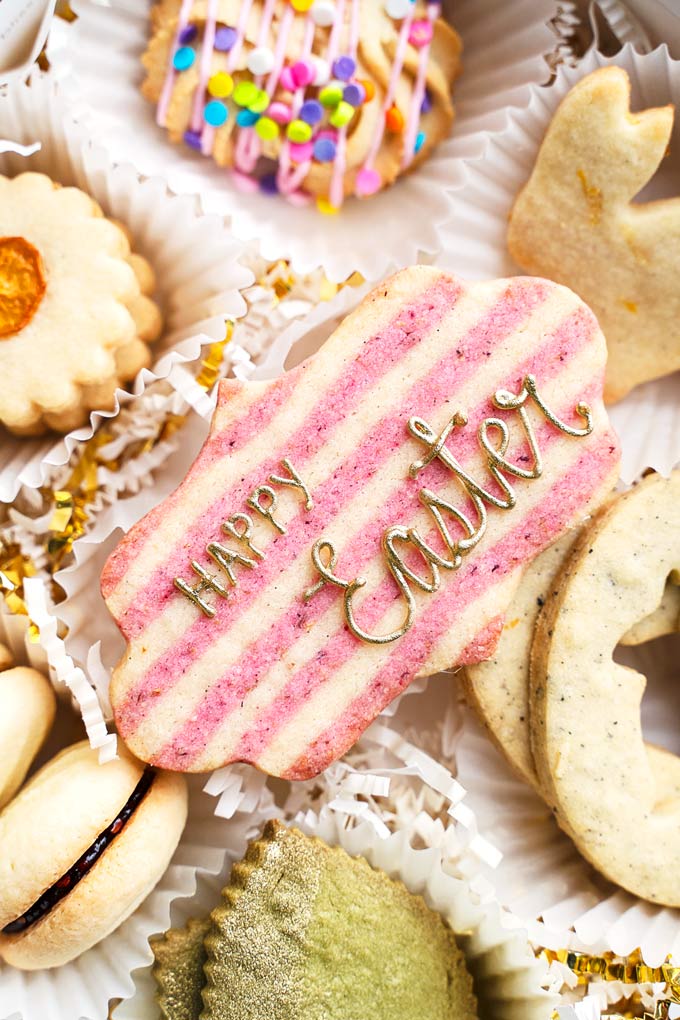 Check out my Easter Holiday post which looks at the origins of Easter, some of the traditions and a few fun facts on Easter Eggs and the Easter Bunny.
Easter Quotes, Wishes and Captions
Whether your Easter is all about fun, or a bit of fun mixed with the holiday's religious significance, here is a roundup of some Easter quotes, wishes and captions for that holiday Instagram post or greeting card.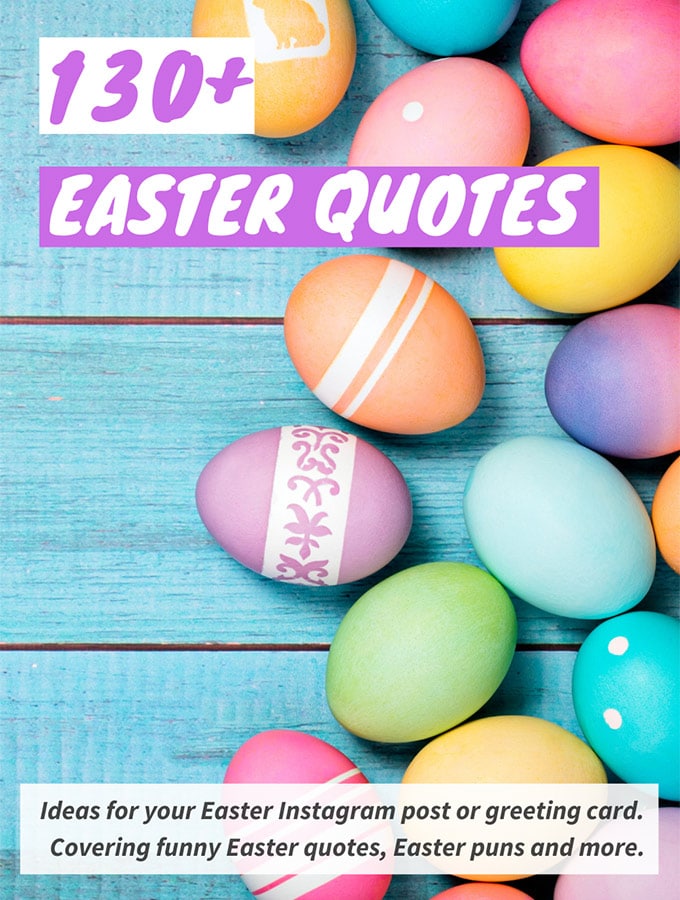 Some of the quotes I have in the post include:
Filling my basket with love and joy… and also chocolate. Lots of chocolate.
Biting the head off my chocolate bunny, but I won't bite you!
There's nothing better than a friend… except a friend with chocolate.
Free Easter Greeting Cards
If you're looking to send an Easter greeting card, check out Canva.com (referral link) for free Easter card templates and start designing.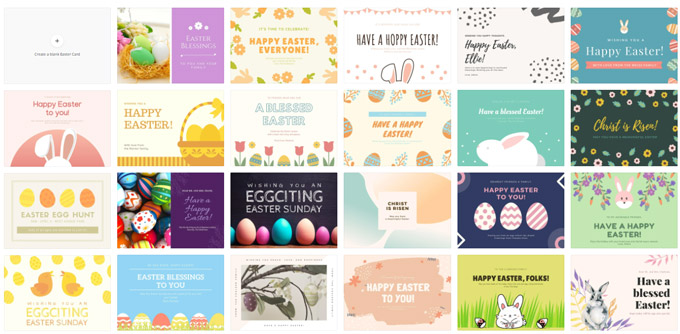 I have been using Canva for years and if you're new to Canva, please feel free to use my Canva referral link to sign up for free.
It's a great graphic design platform used to create social media graphics, presentations, posters, documents and other visual content.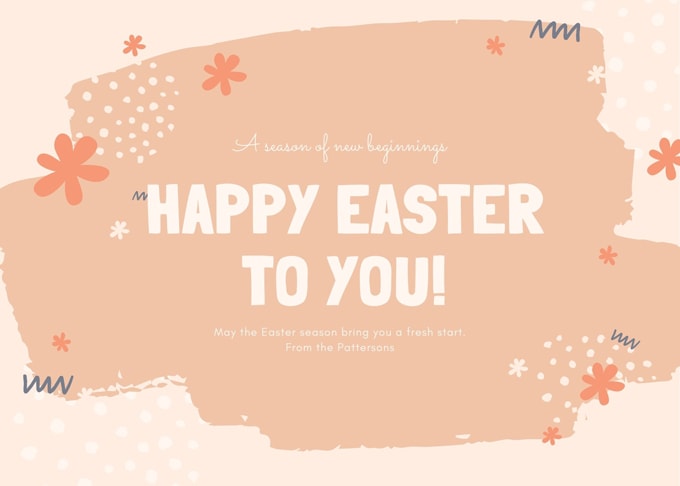 Even though there is a premium version, you can do A LOT on the free version.