Earthling Foods is small, local company specializing Korean-style gluten-free baked goods made with sweet rice flour (chapssalgaru) and nut flours.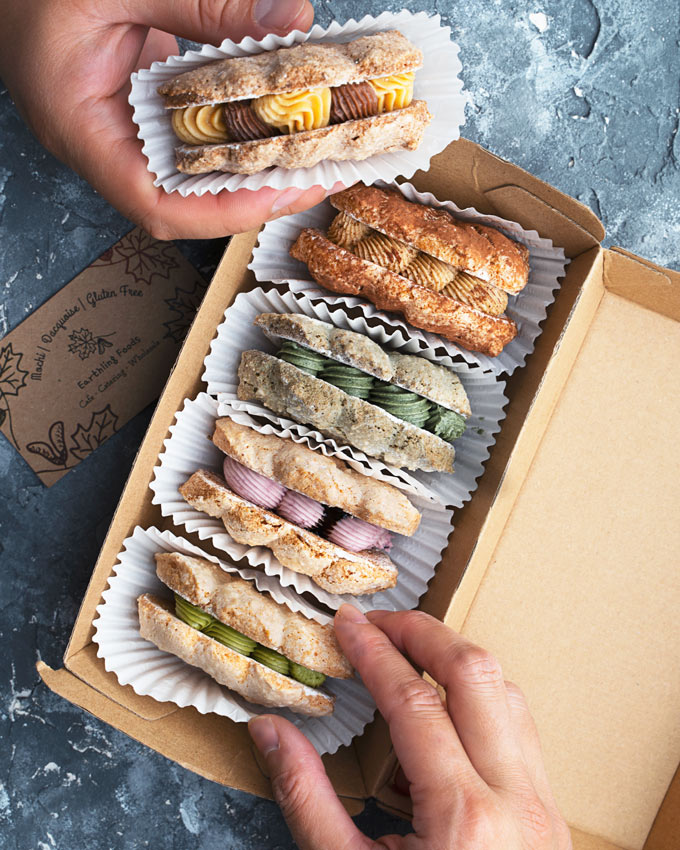 Run by a team of three bakers (siblings and a close friend), Earthling Foods' lineup of products include French Dacquoise pastries, financiers, and pound cakes.
They also operate in full licensed, commercial manufacturing commissary kitchen.
All their items are chemical free, preservatives free, locally made, 100% gluten free and using fresh ingredients without artificial colours or flavours.
I recently had the opportunity to try their beautiful Dacquoise cookies and they are so delicious! They make for great pairings with tea or coffee.
These Dacquoise cookies come in a range of seasonal flavours but the ones I had were Salted Caramel Chocolate; Tiramisu; Korean Mugwort (Ssuk); Blueberry Balsamic; and Matcha.
I really enjoyed the textures of the French almond meringue cookies which were crispy and chewy.
The buttercream filling is handpiped and had a beautiful natural-tasting flavour. These came packaged in an eco-friendly paper box.
You'll find Earthling Goods treats at several restaurants/cafes in Metro Vancouver and they also sell online and offer delivery within Metro Vancouver.
I definitely recommend checking them out and I'm interested in trying out their other Dacquoise flavours and other products in the future.