If you're a fan of House of Dosa's Monday specials, you might just want to check out Dosa Factory. Dosa Factory is a new South Indian Indian restaurant which opened about two months ago and specializes in dosas. In fact, they advertise that they serve more than 100 varieties of dosas. Located at 1345 Kingsway, they are blockmates (and competitors) with the popular House of Dosas. I had driven past tDosa Factory a few times recently and decided to try out them out after learning that they offered dosas on Mondays for $5.95.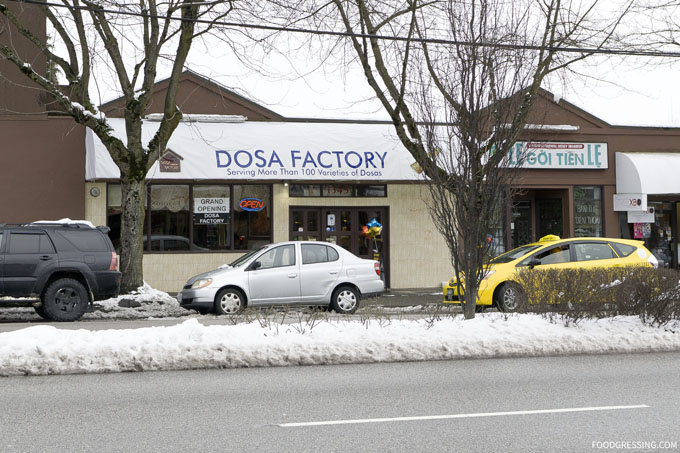 Modern and *Clean*
While I enjoyed the food at House of Dosas in my last visit, I griped in my review about how the interior needed to be more well-kept. The carpet needed vacuuming and the seats were falling apart. At Dosa Factory, I felt more at ease because the interior was spacious, clean and overall much more comfortable than at House of Dosas.
Dining at Dosa Factory involves a bit of self-serve: each table had a basket of utensils and complimentary bottled water. I liked this setup because I feel it is hard to get timely service when food is priced cheaply. Having the water and cutlery at your table makes it easier on staff when the number of customers is high.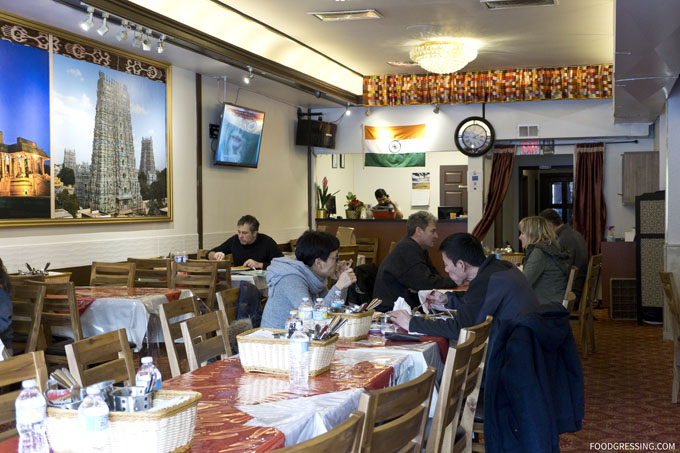 What We Tried
My husband and I went in for the Monday special recently and ordered three dosas. We received an extra dosa because one that we got was not what we ordered.
Beef dosa
Lamb vindaloo dosa
Palak Paneer dosa (cottage cheese and peas)
Eggplant dosa (received by mistake, not charged for it)
Dosa Factory separates themselves from House of Dosas by offering a soup and dessert in addition to chutney. Each dosa dish came coconut chutney, tomato chutney, Sambhar (lentil-based vegetable stew) and a milk curd dessert.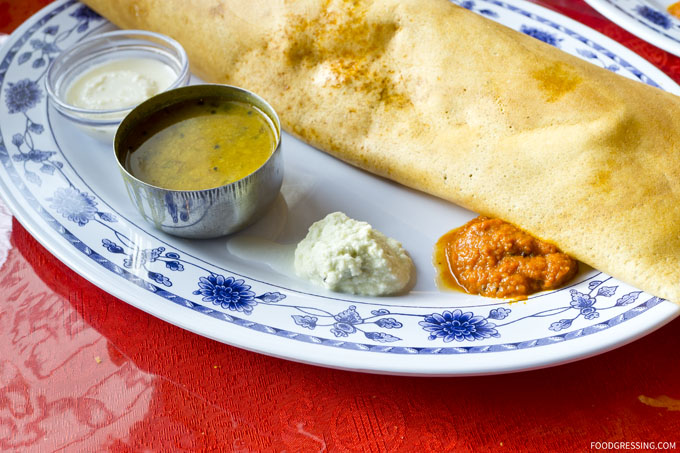 In general, the crepes were very delicious being thin, crispy and not overly greasy. The filling to crepe ratio was good and the fillings were tasty. However, I felt they were a tad less flavourful and spicy as House of Dosas.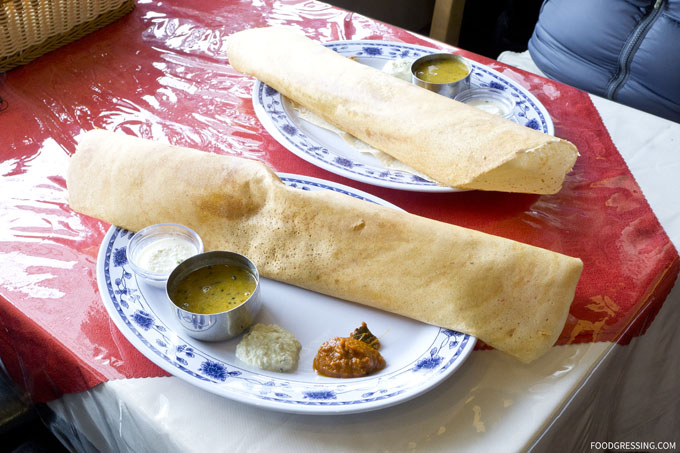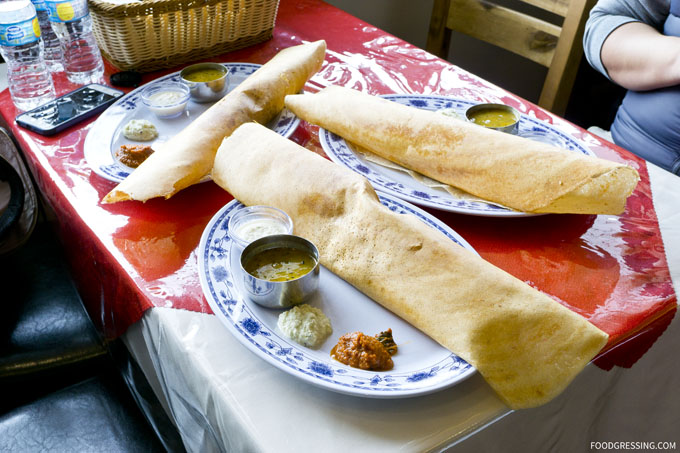 The eggplant dosa (which we got by mistake) was a surprise hit. Very flavourful, tender filling that was just oh-so-good. I want to order this again.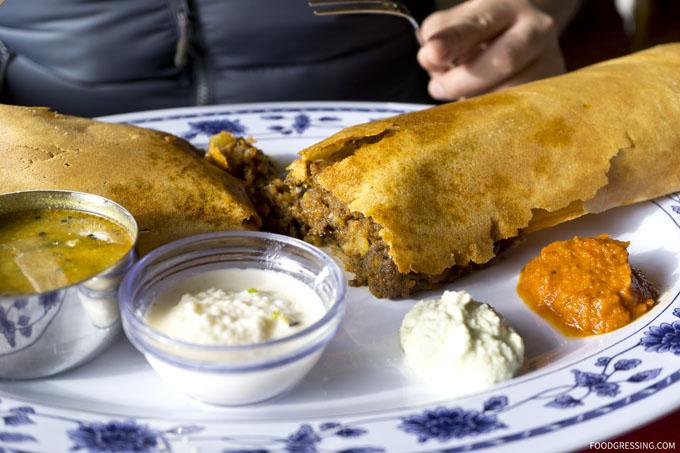 For those who want a lighter filling, the palak paneer dosa would be a good choice. It was tasty but the eggplant dosa had my heart.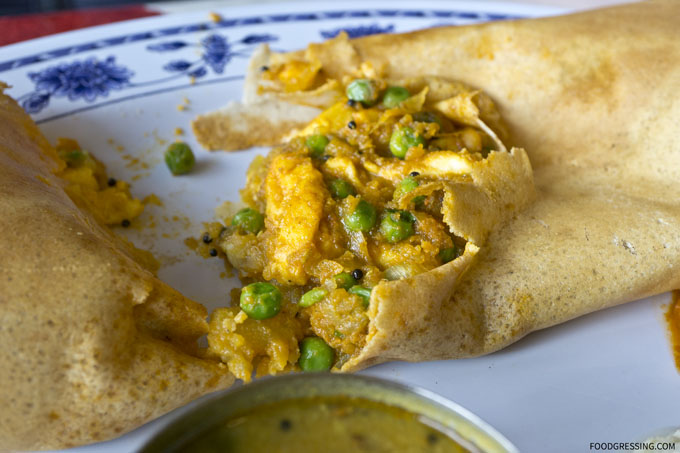 The beef and lamb vindaloo dosas also had very tasty, tender fillings. The lamb vindaloo had a spicy kick to it.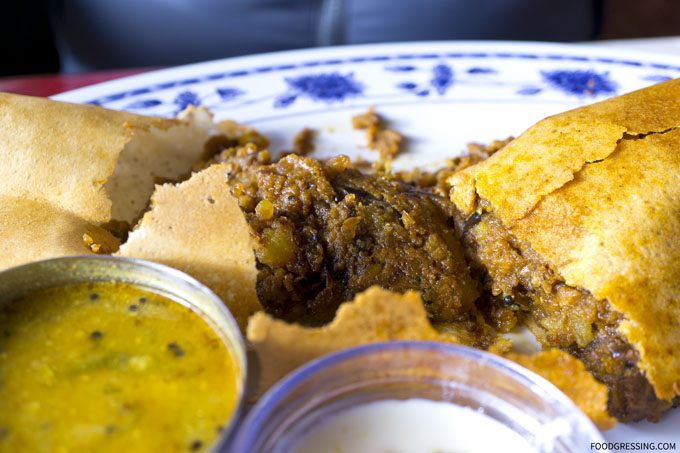 Overall Impression
I enjoyed my dining experience at Dosa Factory and would happy to revisit them again for the Monday special. On my next visit, I would ask for a bit more spice in the food. Food quality is comparable to House of Dosas (just a slightly less flavourful perhaps) but Dosa Factory has a much better atmosphere. Rating: 4.5/5
Website: www.dosafactoryvancouver.com