Coming soon to Surrey's restaurant culture is Dominion Bar + Kitchen which is expected to be open its doors on March 21.  Dominion will be a new social hub located in the lobby of Civic Hotel, Autograph Collection®, the first world-class hotel built in the area in over two decades.  The menu is centred around New Canadian entrées, appetizers, and classic favourites, with a focus on local.
Dominion is named for the Dominion of Canada and confederation — the idea of 'Unity in a Community of Nations' — that we now celebrate as Canada Day.  Dominion drew inspiration from the idea of cultural unity to create a menu of 'New Canadian' cuisine that embraces inclusivity, share plates, and dishes influenced from diverse cultures across the region.
Dominion Menu
Dominion's unique New Canadian menu has a west coast spin that uses local ingredients and influences from the many different cultures that make  up Surrey.  Signature dishes like the Bao Mac, a mini cheeseburger in a Chinese-style open-side bun and the Jäger Chicken, marinated in Jägermeister and served with German spaetzle noodle dumplings, are classically Canadian with an unexpected cultural twist.
Craft Beer and VQA Wine
Dominion's craft beer selection focuses on local breweries across Metro Vancouver, such as Four Winds, Steel and Oak, and Parallel 49. The menu has local BC wine favourites, Burrowing Owl, Joie Farm, and Nichol Vineyard, from the Okanagan Valley, BC's renowned grape-growing and vineyard region.  Dominion also one of the first in BC to feature wine on tap, with a system that maintains wine freshness, minimizes oxidation and prevents overheating.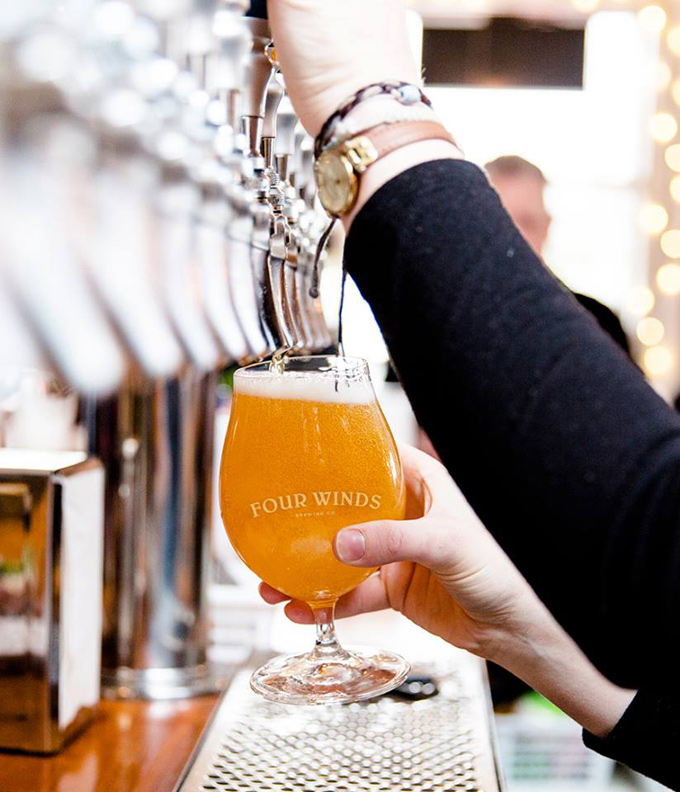 Whether you are sipping beers with co-workers, laughing  with an old friend, or watching our bartender shake a cocktail before pouring it over ice, Dominion will bring social atmosphere, innovative  design, and local comfort to the Surrey community

– General Manager Darren Pierce, who helped create and launch Dominion
Interior Design
Led by local restaurant design company RK Group Ltd., Dominion is chic, sophisticated and modern.  Guests are first greeted by a ten foot, vibrant yellow portal door with custom Dominion 'D' shaped handles.  The restaurant boasts views that overlook Surrey Civic Plaza, a vibrant public square with immediate transit access and pedestrian walkways and is expected to be the culinary destination for residents of and visitors to Surrey.
The interior of Dominion is an eclectic mix of intricate industrial lighting, bold furniture, and striking colours.  Custom Italian, red leather upholstered banquettes, are perfectly contrasted with a stunning custom-designed chandelier, Circle Grigio Don Gaeta  Italian floor tile, and local art. The feature display along the washroom corridor has three industrial photography images of the Surrey Steel Fabrication shop, captured by Brian Howell, an award winning photographer based in North Delta.
For more information on Dominion Bar + Kitchen's grand opening, upcoming events, and the menu, please visit: DominionKitchen.com. Stay connected on social: Facebook, Instagram, and Twitter: @DominionSurrey Hashtag: #DominionSurrey