While there are many dining out options for Christmas in Vancouver (see list here), we decided on Granville Island's iconic Dockside Restaurant for a Christmas Brunch Buffet this year.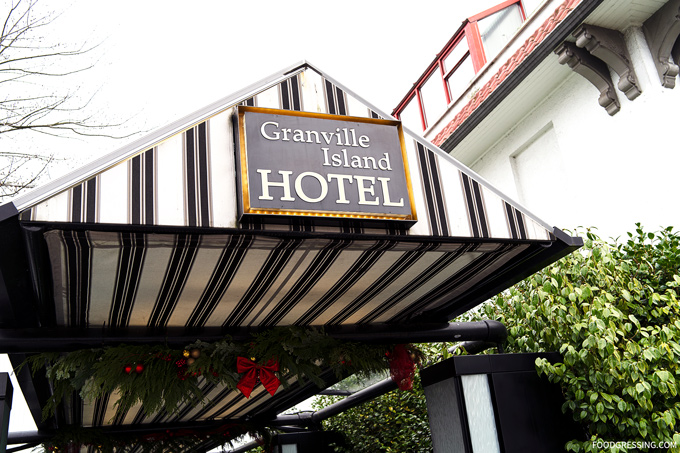 There were two seatings available (10 am and 1:30 pm) and the prices were $85 for adults, $43 for children aged 6 – 10 and free for children 5 and under.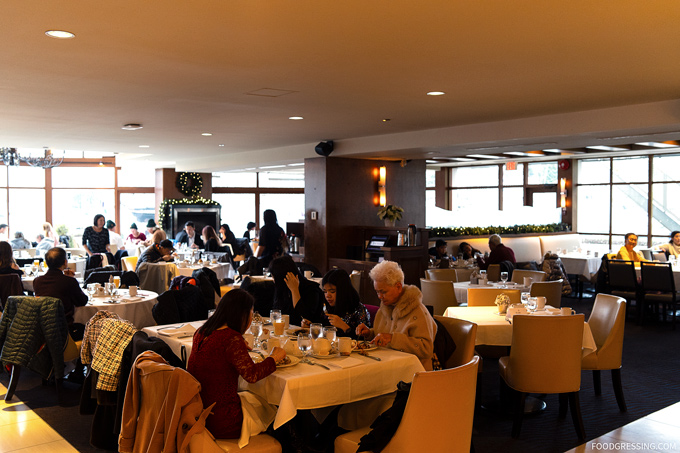 Among the various Christmas buffet options available, I liked that Dockside didn't charge full price for kids 5 and under. There are restaurants in Vancouver that actually do so! While I understand that restaurants might want to charge a full price for a seat (like on an airplane), I didn't think it was worth it to take my 4 year-old son to a restaurant and pay $90 for his meal.
I had made a reservation for the 10 am seating about two weeks prior to Christmas. All the tables were pretty much booked.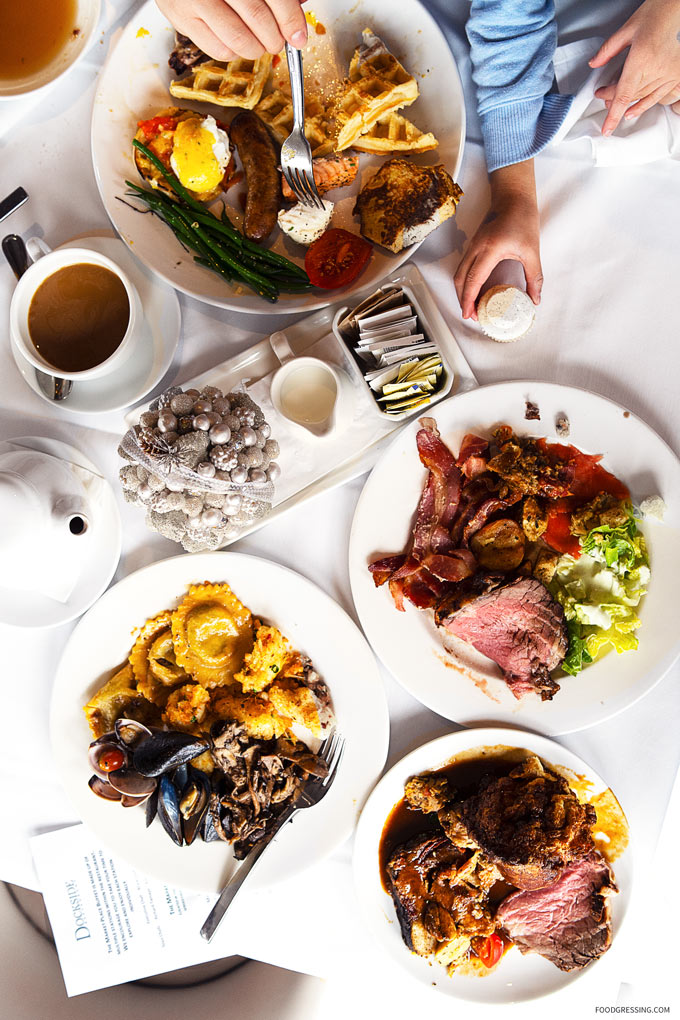 There were 5 food stations at Dockside's Christmas Buffet:
The Continental
Yogurt, House Granola, House Baked Muffins, Danishes, Croissants, The Bread Affair, Fresh Bread Selections, Dockside Jellies & Marmalade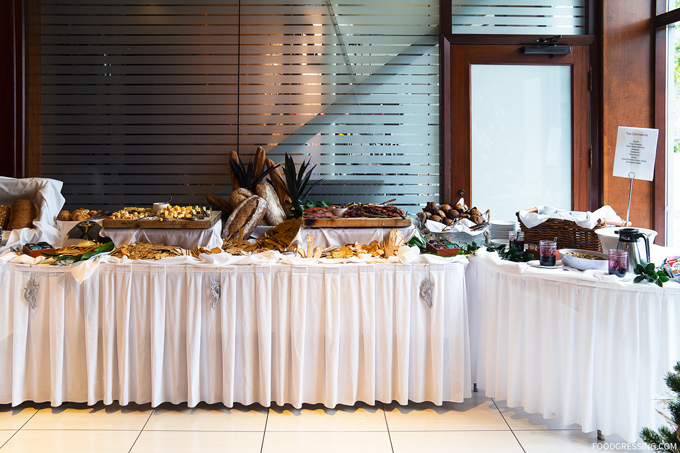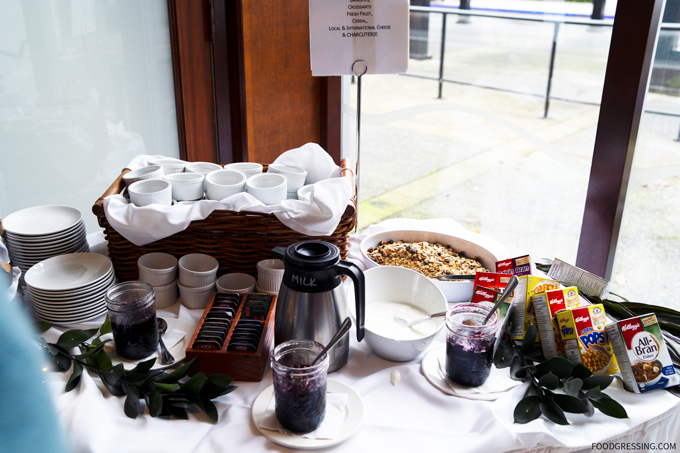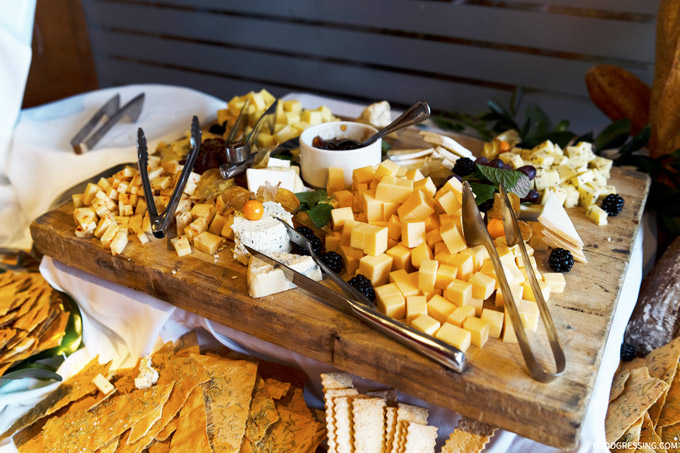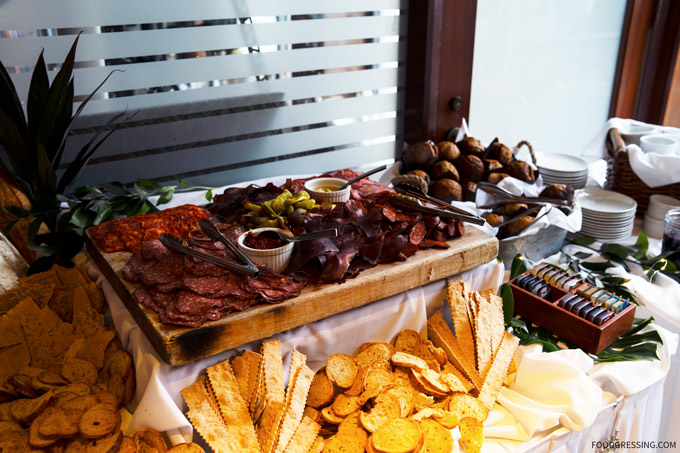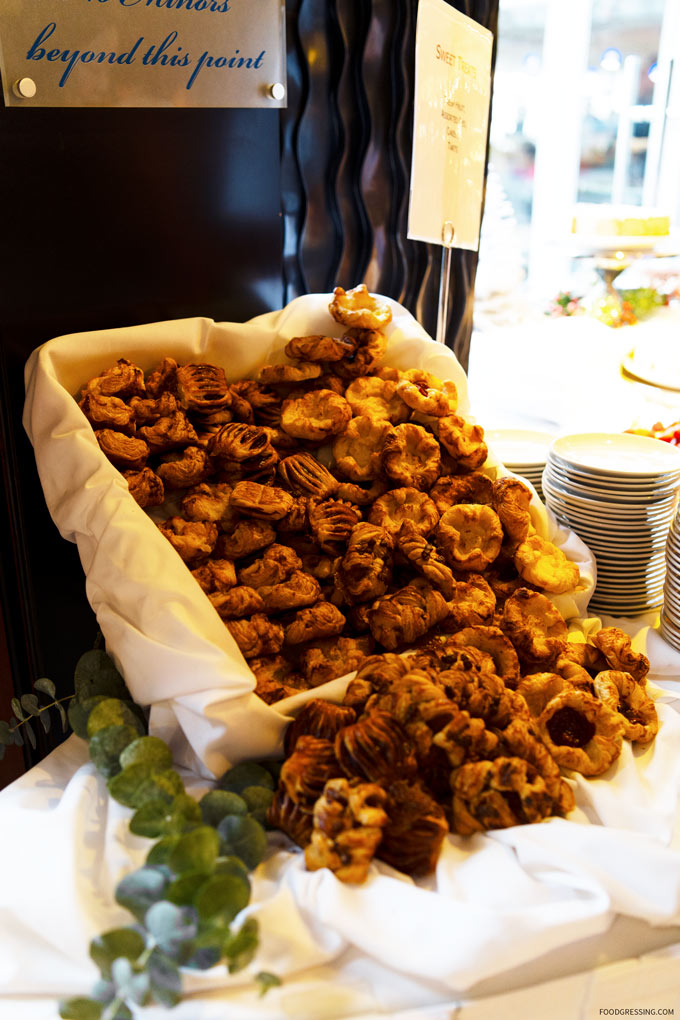 The Market
Kitchen Eggs Benny Bar, Made To Order Omelets, The Cheddar & Chive Scramble, Belgian Waffles, Pancakes & French Toast, Dockside Legendary Chili Squid, Catch Of The Day, Mussels, Four Cheese Tortellini, Braised Beef Pillows, Market Vegetables, Country Fried Cauliflower, Wild Mushroom Sautee, Lemon & Garlic Green Beans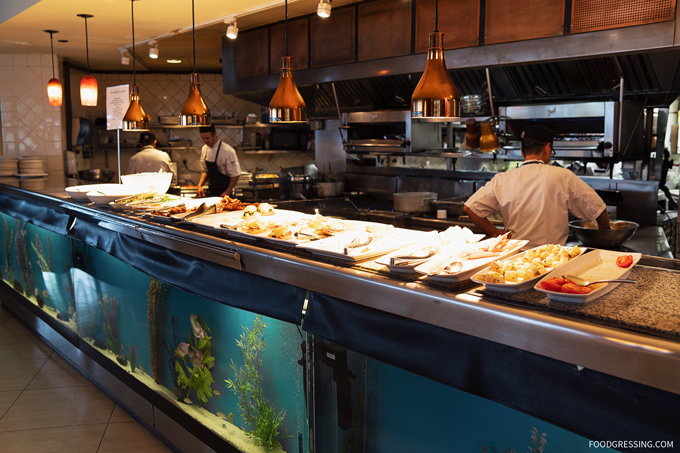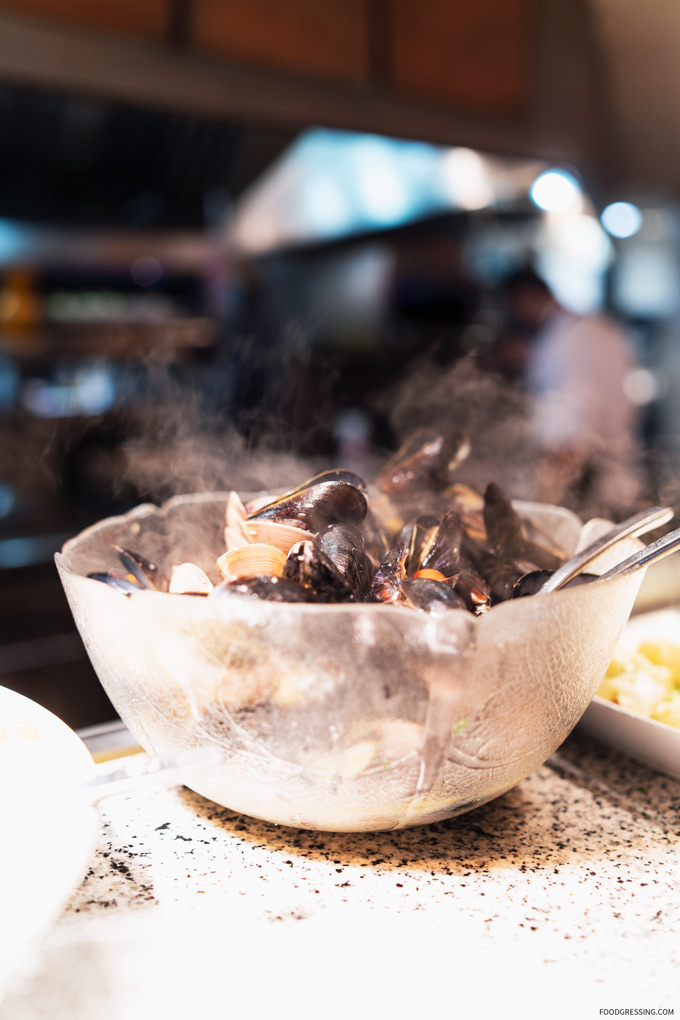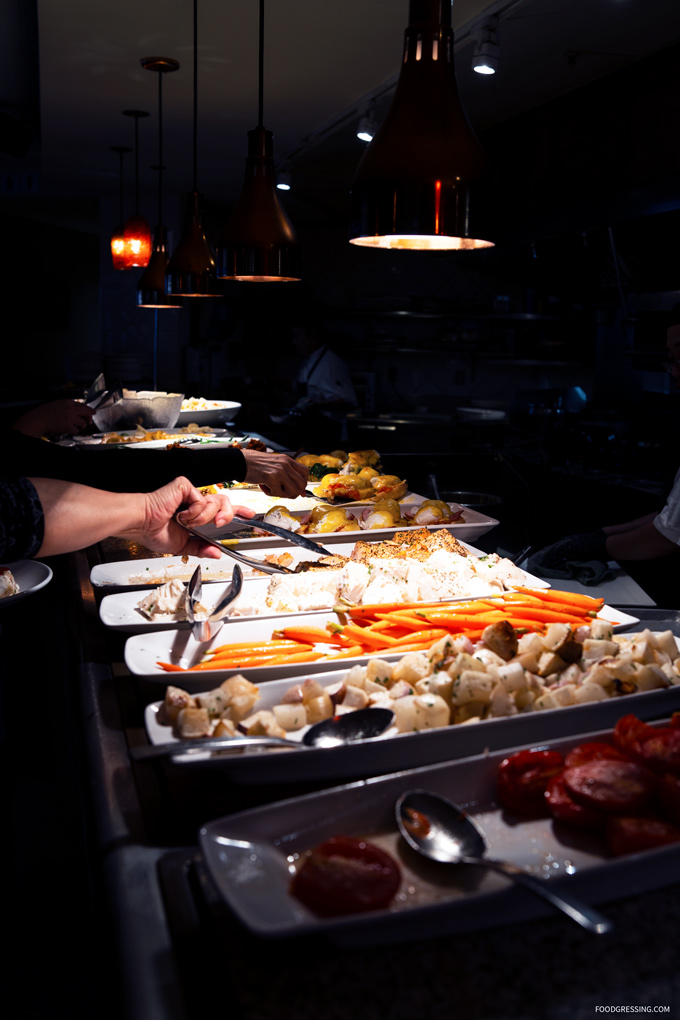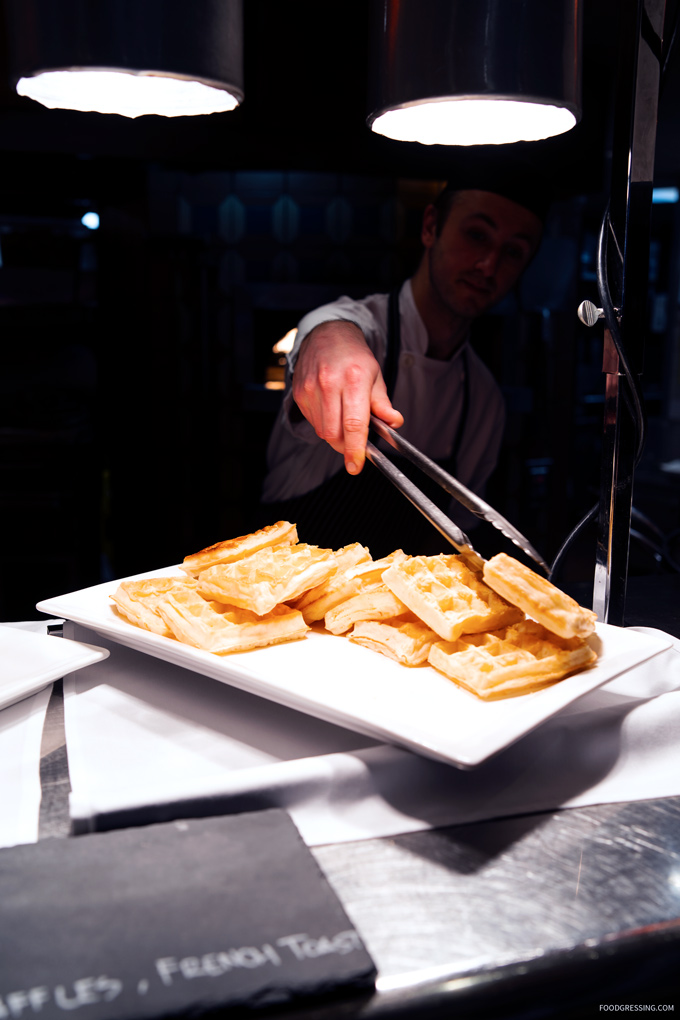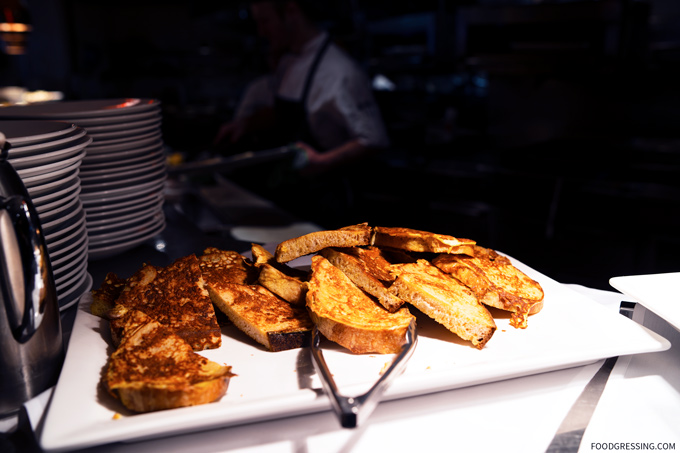 The Butcher
Slow Roasted Prime Rib & Yorkshire Pudding, Roasted Chicken, Turkey, Ham, Bacon, Bangers, Chicken Apple Sausage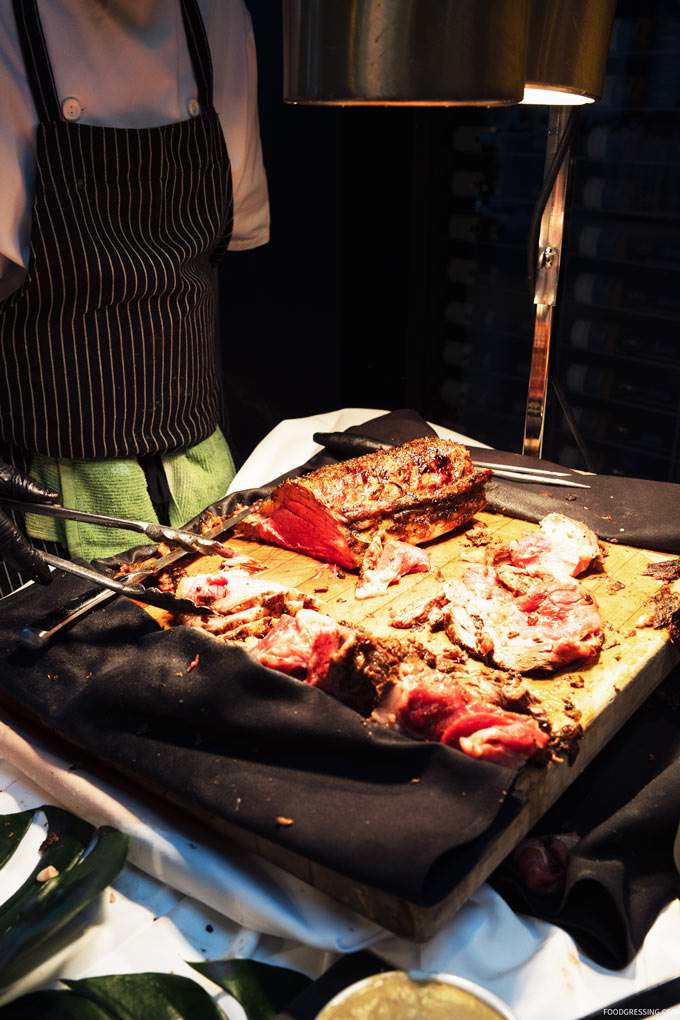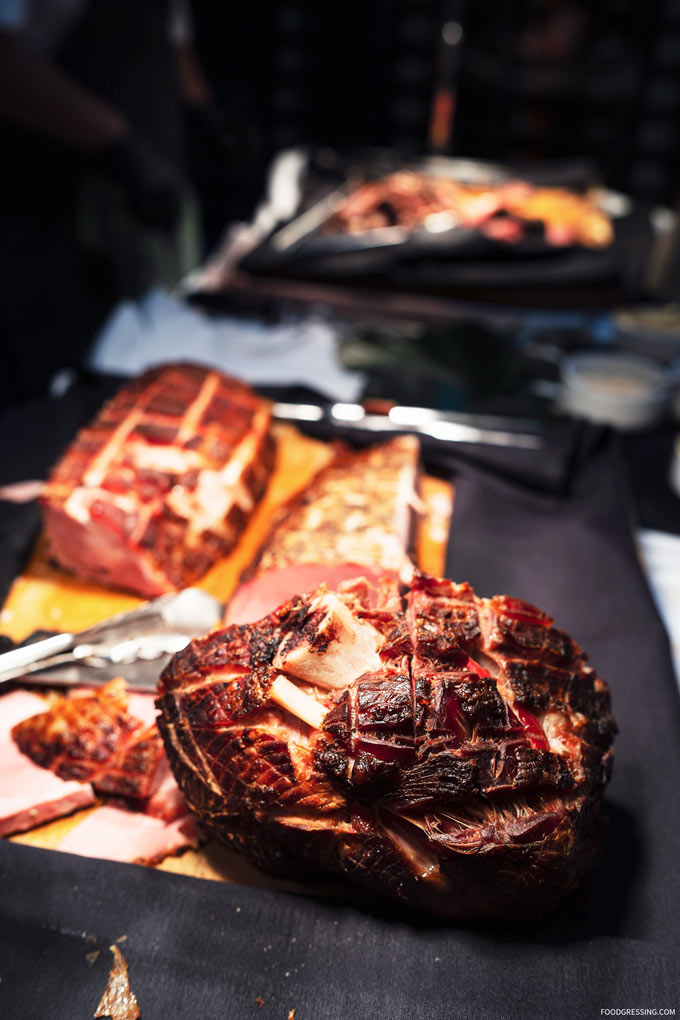 The Big Chill
Bc Smoked Fish Platter, Chilled Seafood, BC & International Cheese & Charcuterie, Build Your Own Salad, Breads & Spreads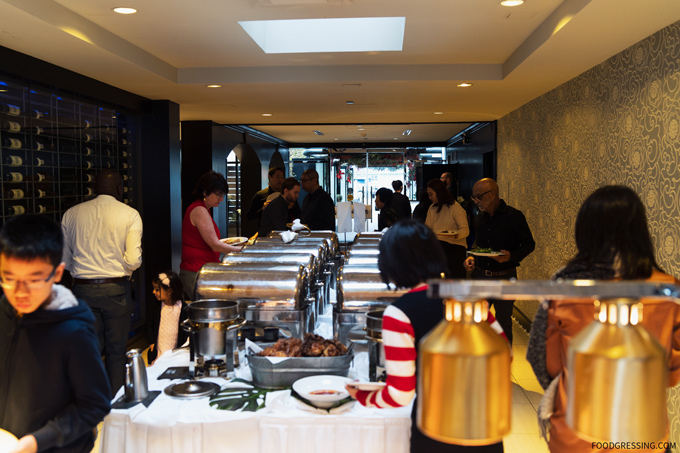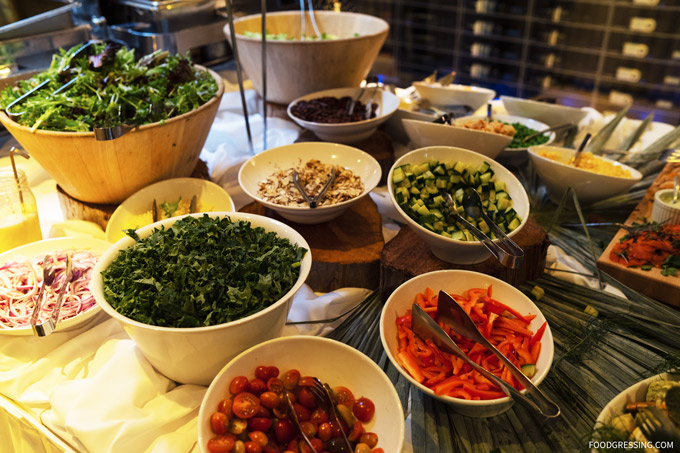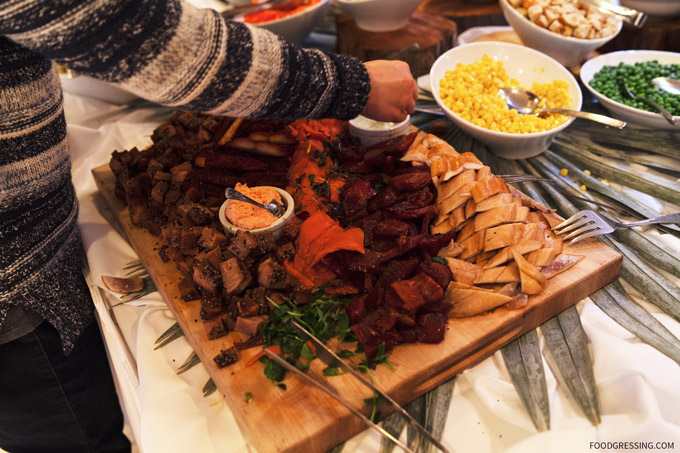 Sweet Treats
White Chocolate Lemon Cheesecake, Carrot Cake, Chocolate Almond Cake, Chocolate Truffle, Tiramisu Cheesecake, Red Velvet Cake, Cupcakes etc.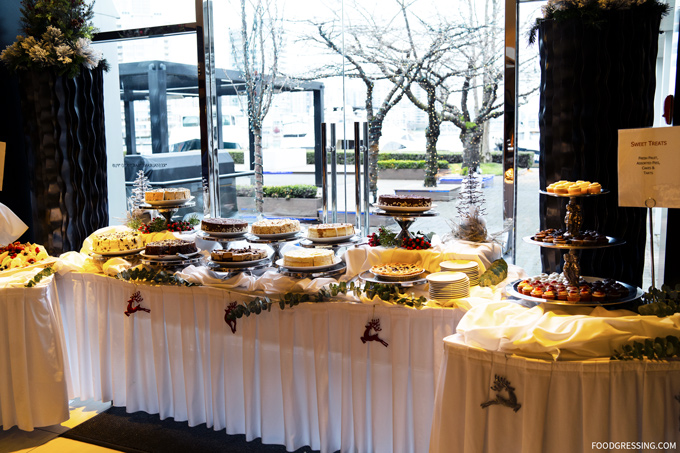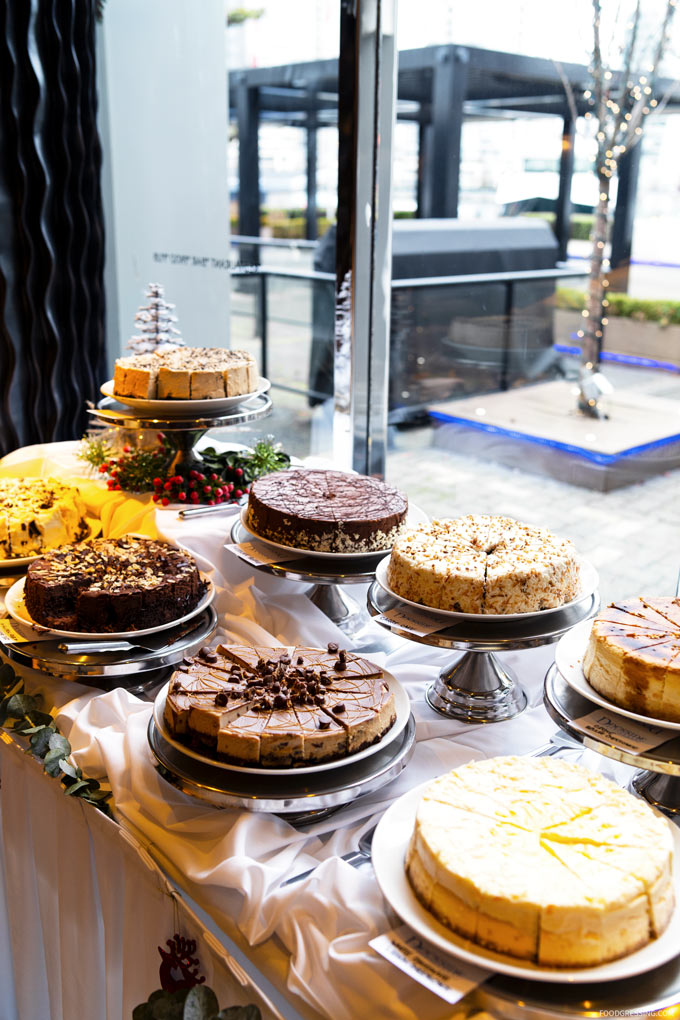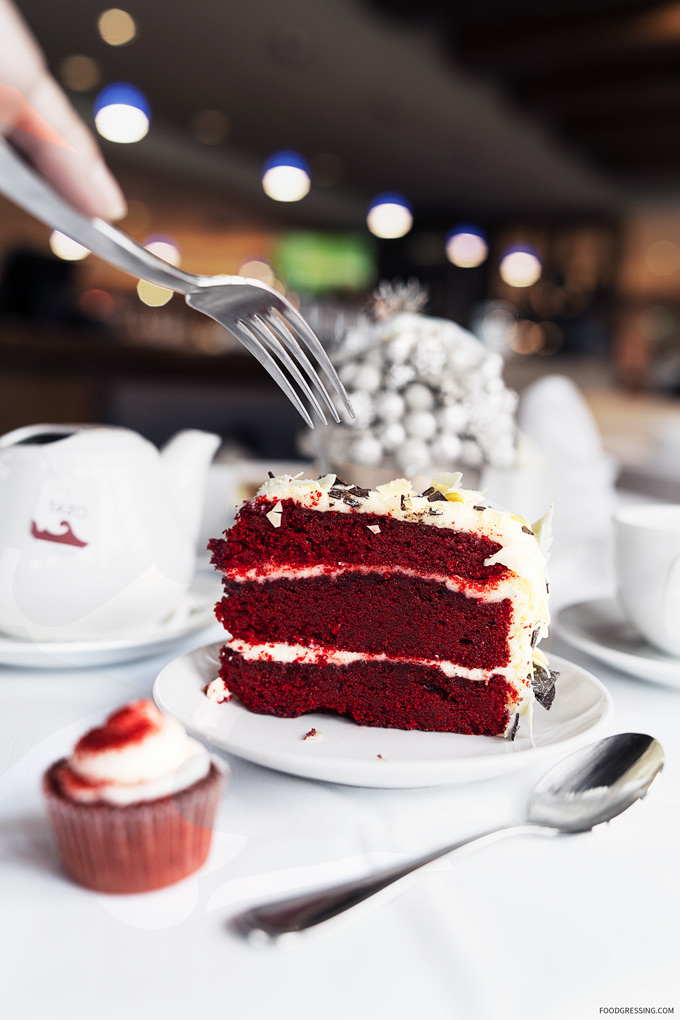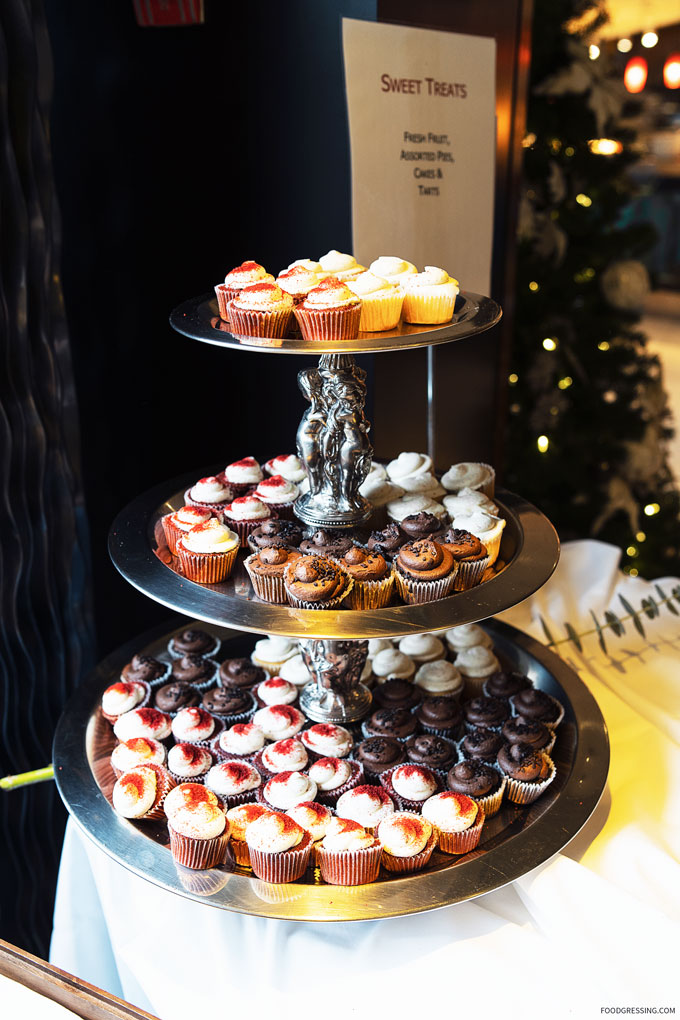 Kid's Gift
My son received a wrapped present from the restaurant (ie, a gift for kids) which was Lifesavers Gummies.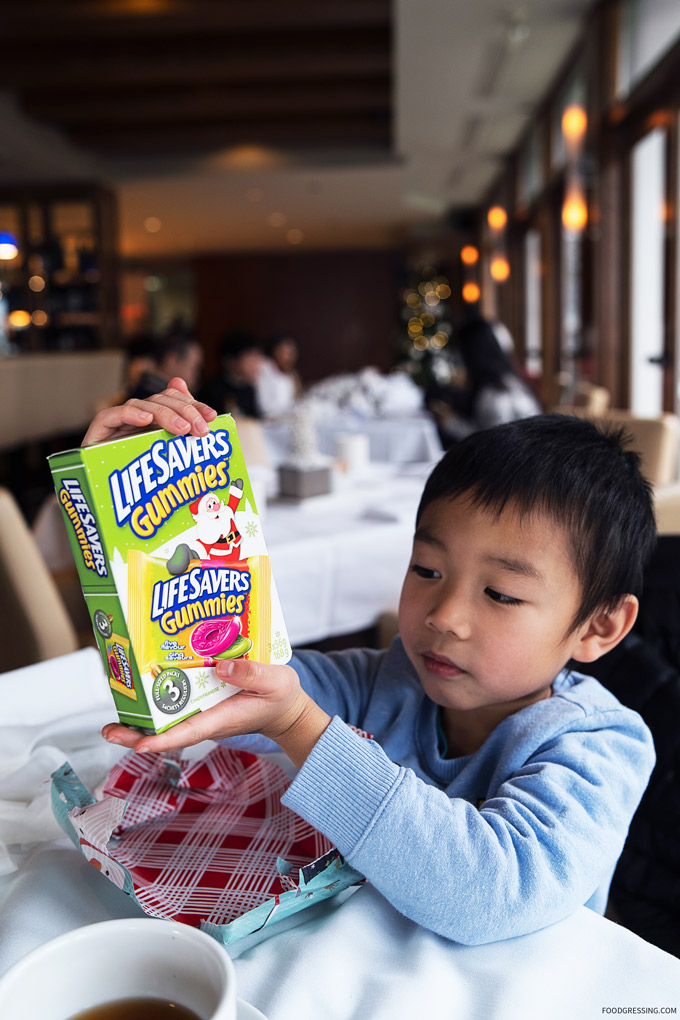 Service
The staffing levels were adequate for the number of customers. All the buffet items were well-stocked throughout the meal. Dishes were cleared from the table in a timely manner.
Overall Impression of Dockside Restaurant Christmas Buffet
I thought that the Dockside Christmas Buffet was solid. It's a classic buffet with enough variety to please everyone. A few misses for me were the French Toast which was too hard, the Chili Squid needed more chili seasoning and the Yorkshire Pudding which were really too big.
The items that were presented were a bit better than standard buffet offerings but there wasn't anything too creative or surprising. There weren't any Asian-inspired dishes – not an issue for me personally but some buffets have offered dim sum, sushi and so forth. I would still rate it as a 4/5 for a solid, classic Christmas buffet with good service and a nice ambiance in Vancouver.  Rating: 4/5