Newly opened in Richmond is Dazzling Cafe's first location outside of Asia.  Dazzling Cafe is a trendy, cafe chain with locations in Taiwan, Malaysia, Hong Kong and Singapore.  Their claim to fame is their Honey Toast which is artfully presented, comes in different flavours and satisfying to the sweet tooth.  Dazzling Cafe Richmond opened near the end of February and is in a soft opening phase until tomorrow.  I heard about the hype surrounding Dazzling Cafe with long line-ups outside the door.  This past week, I decided to visit Dazzling Cafe Richmond to see what they are about.
Note:  This is not a sponsored post.  This meal was not complimentary.  I did not receive any compensation or incentive to share about my experience.  The restaurant did not know that I am a blogger.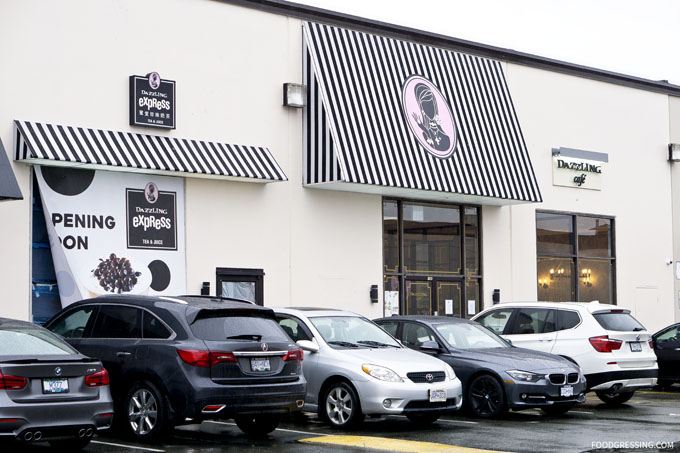 Dazzling Cafe Menu
While Dazzling Cafe's interior looks like a place where you would go for afternoon tea, they offer a different selection of foods rather the usual scones, macarons, and little cakes.  For hot entrees, they have pasta, rice casseroles, pizza as well as soups and salads.  Their tantalizing dessert menu includes their famous Honey Toasts and waffles.  The coffee and tea menu seem fancier as well with beverage offerings like "Royal Matcha Latte," "Rose Milk Tea," and "Vanilla & Matcha Au Lait."
Based on the pricing, I think that Dazzling Cafe is a bit more upscale.  The hot entrees range between $10 – $14 while the Honey Toasts are between $12 – $15.  The espresso-based beverages stood out to be me in terms of price as "Dazzling Black Coffee" costs $5 and goes upwards of $7 for a premium drink like "Strawberry White Chocolate Mocha Latte."
You can find photos of the menu on their Facebook Page.  One thing to note is that I found the Chinese name for the menu items to be more descriptive and interesting than their English translations.
Reservations Recommended
Looking at their Facebook page, it seems like reservations were recommended.  So, I made two attempts on the phone to make a reservation but no one answered.  As a result, I took my chances by walking-in.  The wait wasn't too long for our party of three – less than a half hour.  Seatings are for 90 minutes and the staff informed us of that.
Interior
The interior was modern and seemed to have a bit of a modern Paris kind of feel.  I think their overall branding is more on the feminine side.  Some of their chairs have bunny ears on the back.



And look at these luxurious arm chairs fit for a princess…

Service
Now before I discuss the food that we tried, I'll mention the service.  I was surprised at how excellent the service was and perhaps this is reflected in their pricing.  The staff members were friendly and professional starting from when they took down my name for the waitlist to refilling glasses, checking in, dividing up the Honey Toasts, and bringing the bill.  Service exceeded my expectations.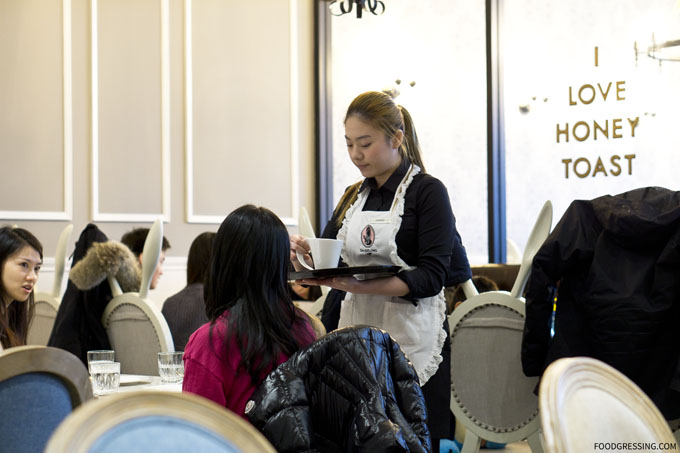 What We Tried
We went with their soft opening promotion (available till March 12) which was a free original Honey Toast with purchase of two entrees (either rice casseroles or pasta).  If you buy four entrees, you can get two free original Honey Toasts.  You can upgrade to a different Honey Toast and pay the difference.
Our party of three had the following:
Rose Latte ($5.20)
Mentaiko Spaghetti with Cream Sauce ($11.50)
Shrimp Spaghetti with Paprika Cream Sauce ($13.50)
Mussels Rice Casserole with Pesto ($12.50)
Pan-fried Squid Casserole with Squid Ink Sauce ($13.50)
Mont-Blanc Honey Toast Upgrade ($3.00)
Hazelnut Chocolate Honey Toast Upgrade ($4.00)
To start, my friend had the rose latte.  It was wonderfully fragrant with just a a hint of rose water for a lightly floral-enhanced latte.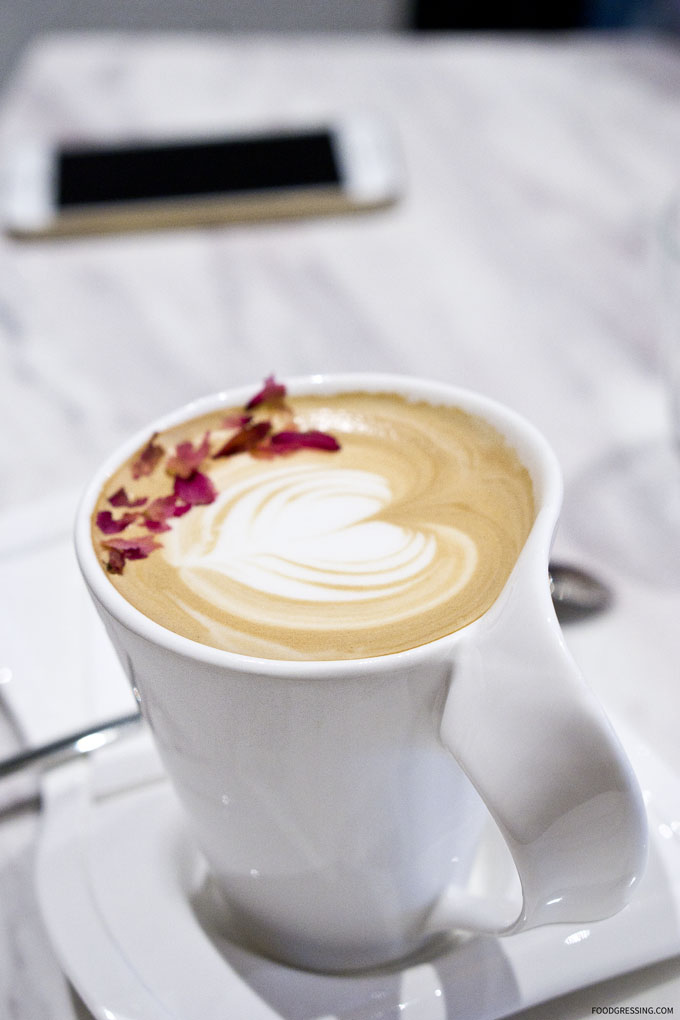 The Mentaiko Spaghetti with Cream Sauce was a hit at our table.  The amount of fish roe given was very reasonable.  The pasta was al dente and the dish overall had a nice, subtly briny flavour.  Very good and I would recommend this.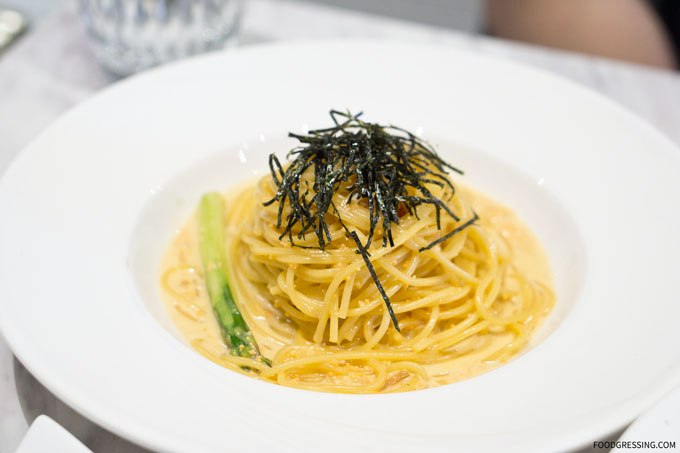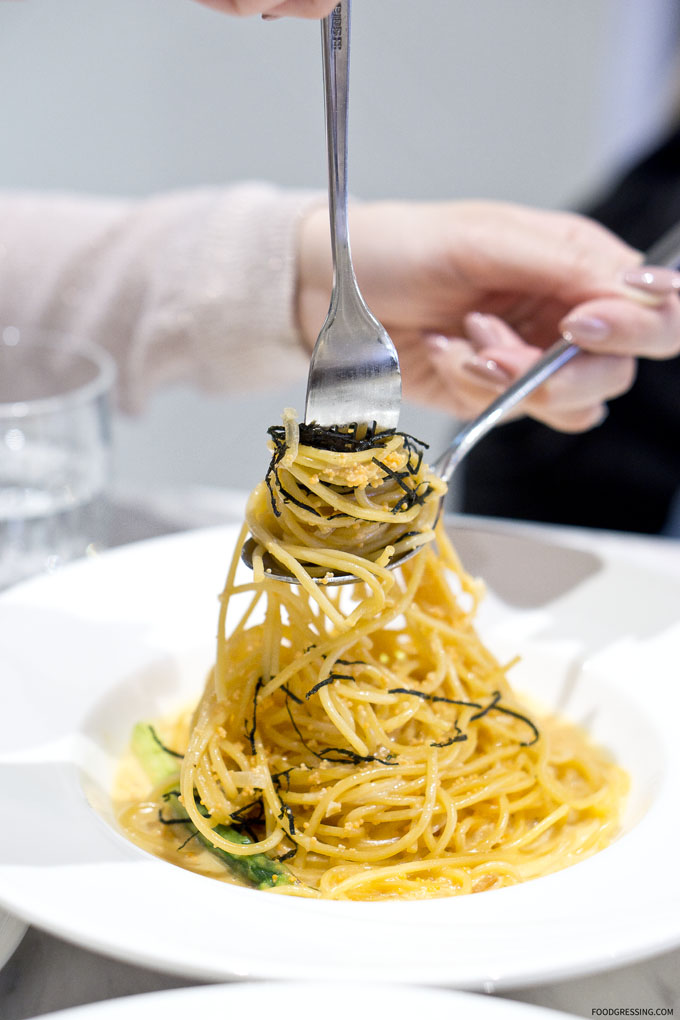 The Shrimp Spaghetti with Paprika Cream Sauce was average and nothing really stood out in terms of flavour.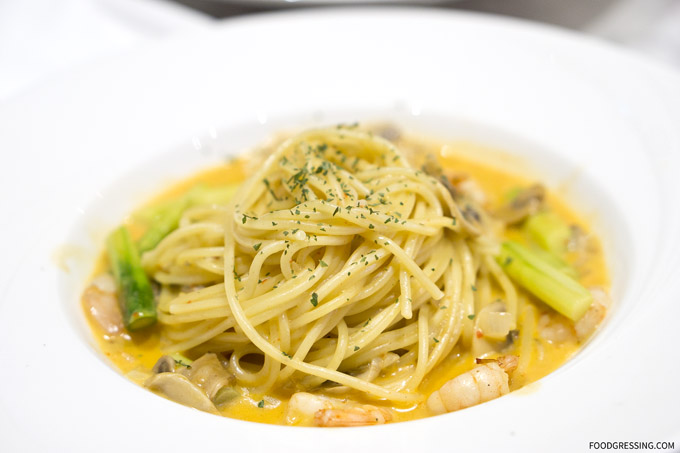 The Mussels Rice Casserole with Pesto was tasty dish from the pesto flavour though the mussels were on the small side.  No juicy, plump mussels unfortunately.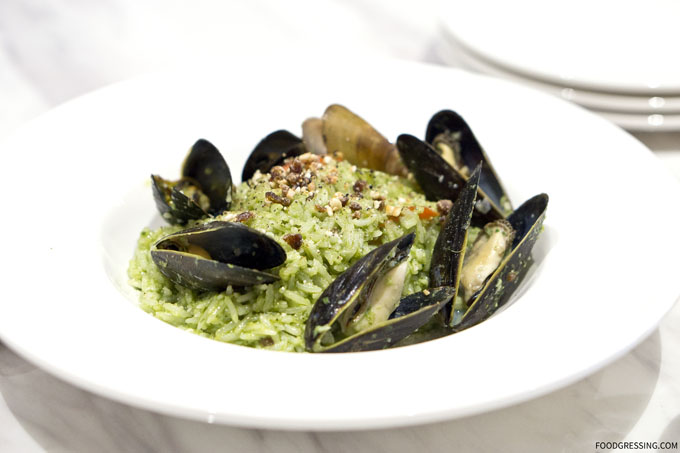 The Pan-fried Squid Casserole with Squid Ink Sauce was a fun dish to eat but on the heavier side.  It was just mostly rice, with a fried lotus slice and a few mussels.  You'll need to remember to wipe your mouth after eating this as your lips turn black.  This dish definitely had tasted like the ocean.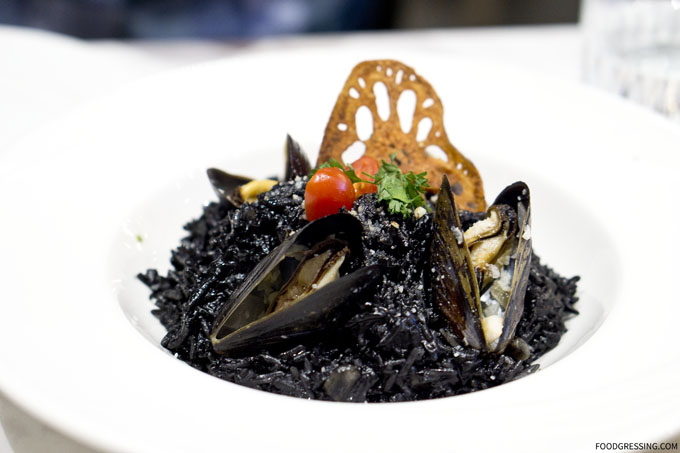 The staff kept an eye on our table as to when our entrees were finished.  They timed it so that the Honey Toasts would come out soon after we were done with the mains.  The staff is well-trained to divide up the Honey Toasts for you at tableside.  Check out my video below of how the staff did it:
If you're not familiar with Honey Toast, they are a toasted and buttered bread dessert originating from Japan.  Also known as "brick toast," Honey Toast is an architectural dessert that is popular in Asia.  The bread box base of the Honey Toast is, in essence, made from cutting off the end of a fresh loaf of bread and then hollowing it out.  The hollowed out bread is then further cut into cubes pieces, coated in butter and toasted.  These cubes are then placed inside the bread box base and then toppings are added for presentation.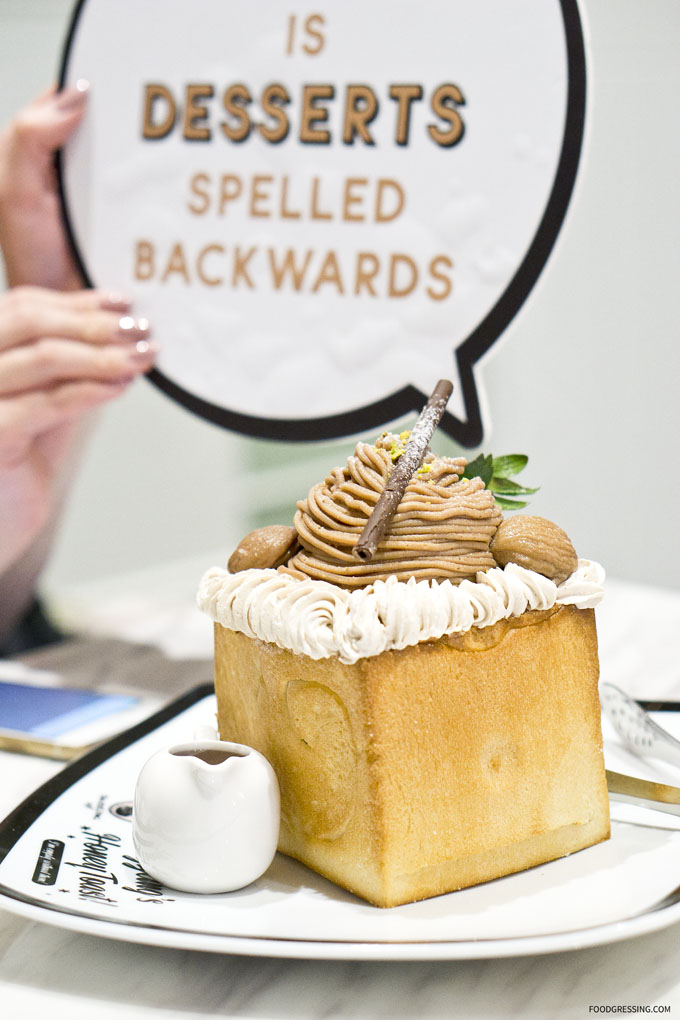 The Mont Blanc Honey Toast was very good with a delicious, caramelized bread.  The toppings were puréed, sweetened chestnuts, whipped cream and chestnuts.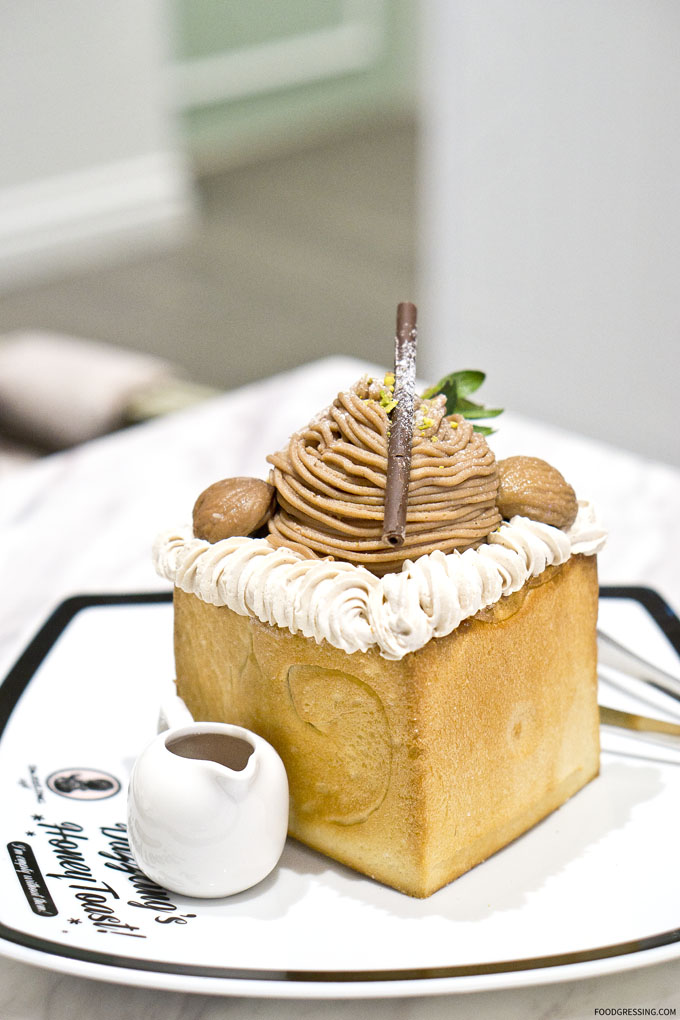 Of course, after we cut into it, it looked quite like a massacre.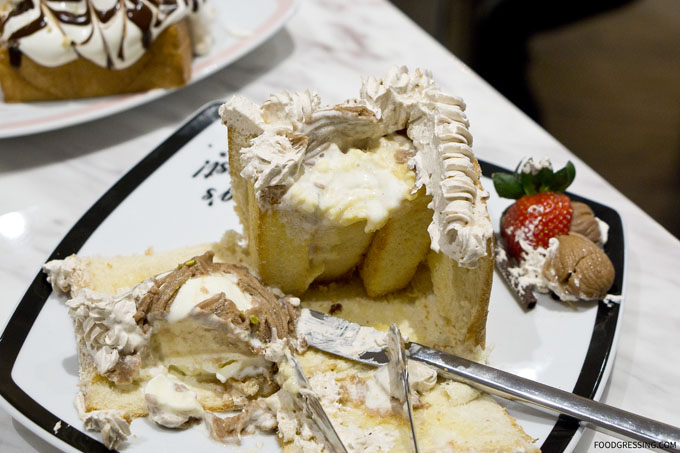 The Hazelnut Chocolate Honey Toast seemed more architecturally complex and was also quite tasty.  Tt came with fresh strawberries, a mountain of whipped cream and a chocolate (and hazelnut?) drizzle.  Honestly, I couldn't taste the hazelnut flavour but the dessert was pretty good in general.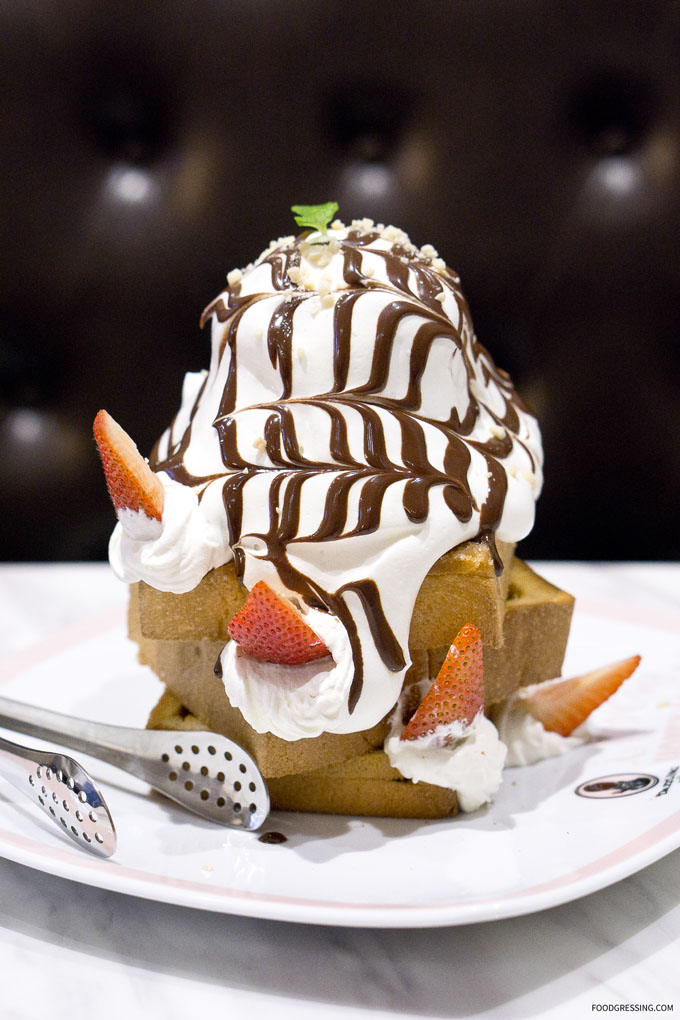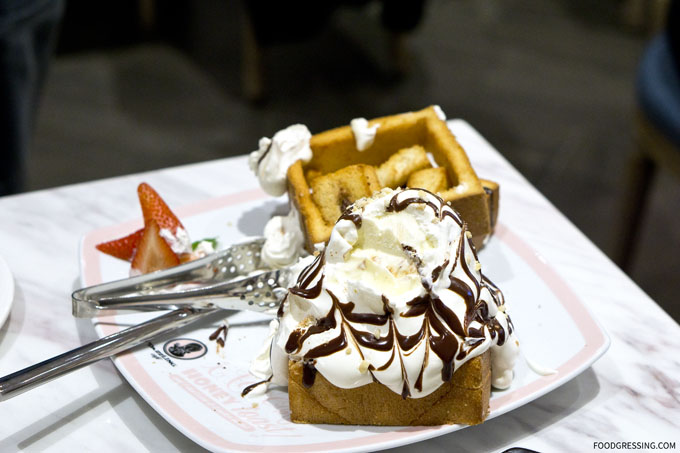 Overall Impression of Dazzling Cafe Richmond
Despite the pricier menu, I'm giving Dazzling Cafe Richmond a higher rating because I enjoyed the service so much.  That really enhanced the overall experience.  Of the hot entrees we tried, I'd recommend the Mentaiko Spaghetti with Cream Sauce.  The Honey Toasts were pretty good as well and I would return just for them.  Rating: 4/5