With over 2,000 locations worldwide, CoCo Fresh Tea & Juice is one of the largest bubble tea franchises in the world. Founded in 1997 in Taiwan, Coco claims to serve 100 cups of bubble tea every second – now that's a lot of bubble tea! Coco Fresh Tea & Juice made their debut into the Vancouver market earlier this year with the opening of a store at 3275 Kingsway. Following that, they opened a second location in Downtown Vancouver. I have visited the Downtown location several times now (see post here) and in general I think their bubble tea is pretty good. On the way home from Metrotown today, I decided to pick up some drinks at their Kingsway shop.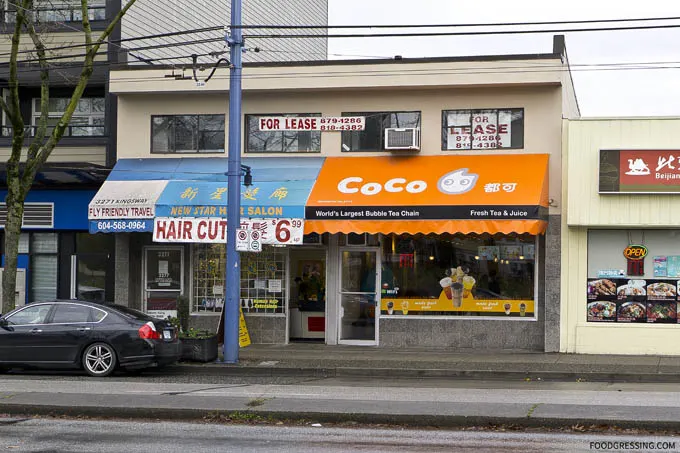 Coco Fresh Tea & Juice Menu
CoCo Fresh Tea & Juice serves authentic Taiwanese bubble tea, milk tea, latte, smoothies and juice. They have two sizes available: regular and large. Drinks are mostly priced between $4 – $5. You can also customize sweetness and level. To ensure the freshest drinks for customers, Coco ensures that tea is brewed and kept for up to 3 hours. Tapioca is made and stored up to 4 hours. All ingredients and equipment are shipped directly from Taiwan. This location is cash or interac only.
Recommended Drinks
According to this news release, the three recommended signature drinks at Coco are:
3 Guys (milk tea with tapioca, pudding, grass jelly)
Bubble GaGa (passion fruit tea with coconut)
Sago Taro Milk Tea (taro milk tea served with sago bubble)
Kingsway Location
While the Downtown Vancouver location is small and better for take-out, the Kingsway location is more spacious and accommodating for eating in. They have a variety of dining tables and a counter by the window.
What I Tried
I'm a regular of the 3 Guys with a classic milk tea plus three different toppings, but this time around I noticed that they have 2 Ladies ($4.10). I got a regular sized 2 Ladies which has just two toppings (pearl and pudding) in milk tea. The second drink I got was one of their recommended drinks: a sago taro milk tea with pearl in regular size ($5.10).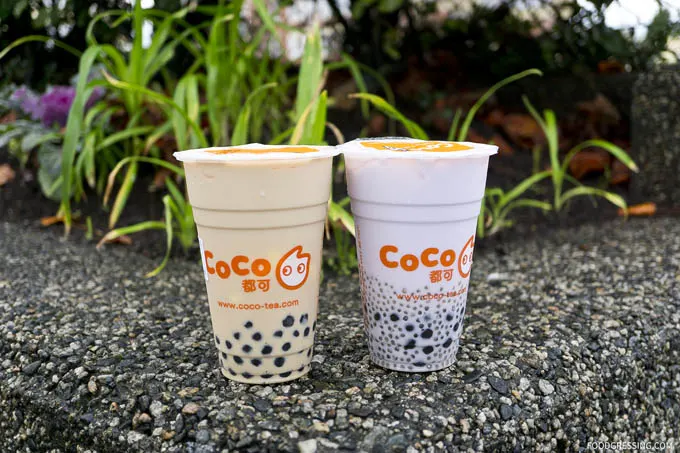 The drinks from Coco Fresh Tea & Juice Kingsway today seemed to have a stronger tea flavour than ones I had from the Downtown location. The tapioca pearls were also particularly good: smooth and slightly soft on the outside, but chewy through to the middle with a slightly increasing level of firmness. The sago was also very tasty: jelly-like, chewy and refreshing.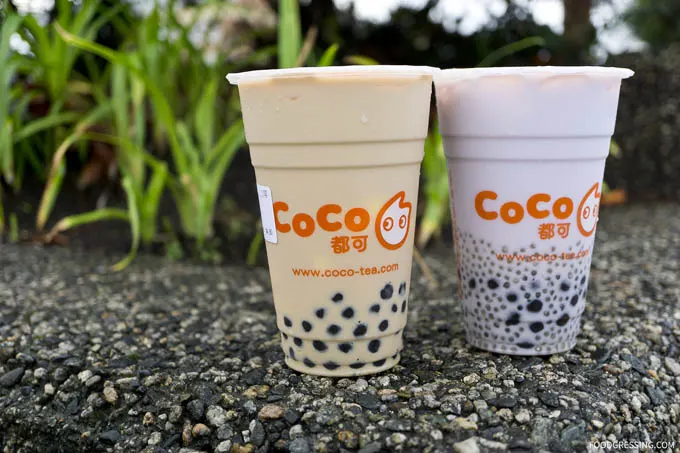 Overall Impression of Coco Fresh tea & Juice Kingsway
Although both shops pretty much follow the same protocol, I thought the ones made here at Kingsway tasted better than their Downtown counterpart. I'd definitely be revisting them again in the future. Rating: 4/5