Disclaimer:  Only the mango deluxe cream puff and coffee were complimentary.  All opinions are my own.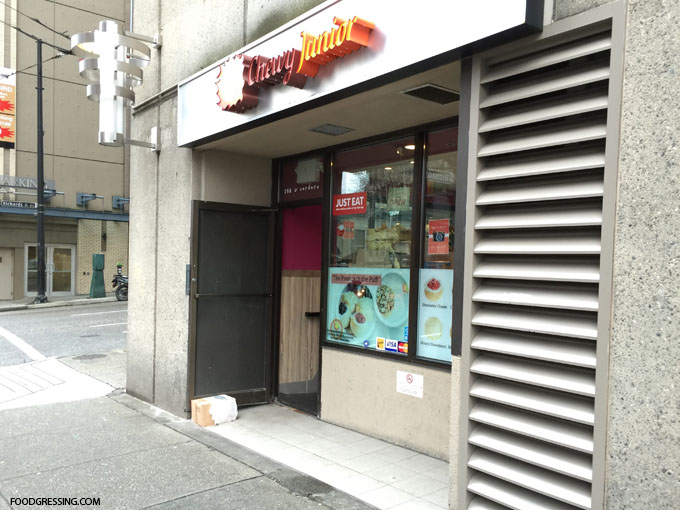 It has been nearly a year since I last visited Chewy Junior Vancouver.  Recently, Zomato and Chewy Junior partnered up to offer a select number of Zomato contributors a complimentary cream puff and a coffee.  I decided to take up the offer and visited Chewy Junior this past week.
Singapore Origins
Chewy Junior originated in Singapore and this Vancouver location is their flagship store in North America.  They are conveniently located near the Waterfront Station just outside of Gastown on West Cordova.
Chew Junior Vancouver Menu
At Chewy Junior Vancouver, puffs are fresh every day on-site.  It appears that the prices have gone up since I last visited, now ranging from $3.00 – $3.75 plus tax. There are a variety of cream puff toppings like chocolate almond crunch, strawberry cheese, and almond sweetheart to name a few.  They have three main fillings: vanilla, chocolate and matcha.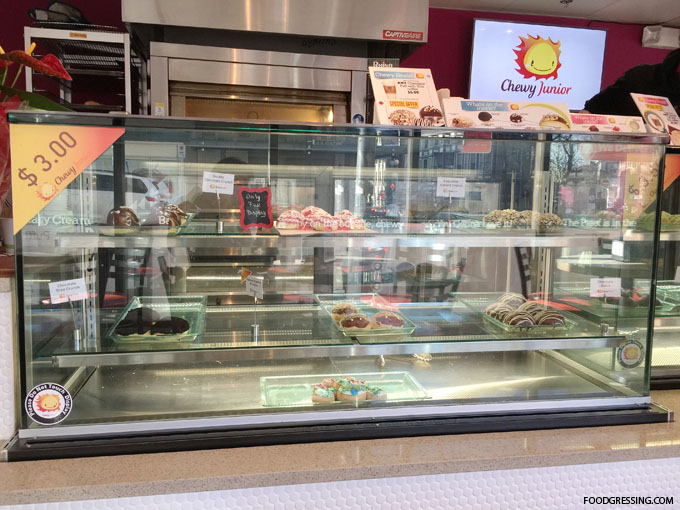 What I Tried
In the past year, I feel like I have gotten to know cream puffs a bit more.  I made them in two different pastry courses and I have tried the ones from Beard Papa's.
I had previously tried the double chocolate crunch and matcha nippon.  This time, through the Zomato offer, I got the mango deluxe.  I also bought a second item, which was "Finnegan" – a hazelnut hedgehog.
The shells of Chewy Junior's cream puffs are chewy like a mochi which differs from Beard Papa's more buttery and flaky shell.  The fillings felt chilled, tasted fresh and were not very sweet.
I admit that eating the cream puffs was a bit messy.  After I bit into them, the cream was just spilling out.  Napkins were my best friends at that point.  I had to slurp a lot of the cream in order to contain the mess.
The mango deluxe had lots of almond toppings which provided a fun, crunchy texture.  I didn't like the fondant pearls, however, because they were too hard.  They were too much of a contrast to the soft filling.  The hazelnut flavour had a nice  subtely sweet chocolate flavour.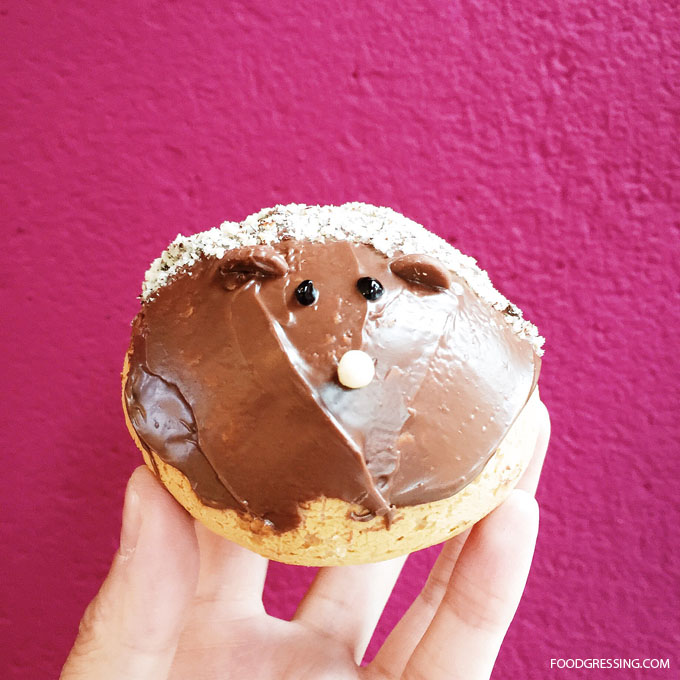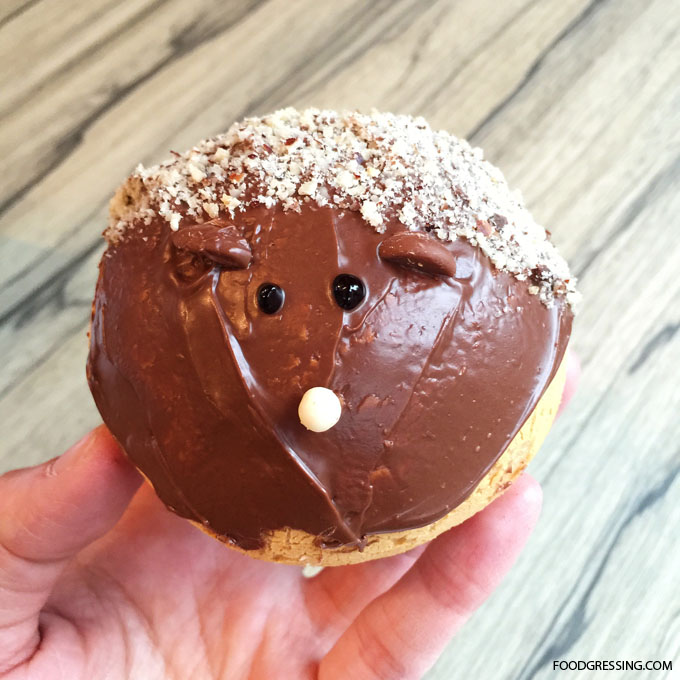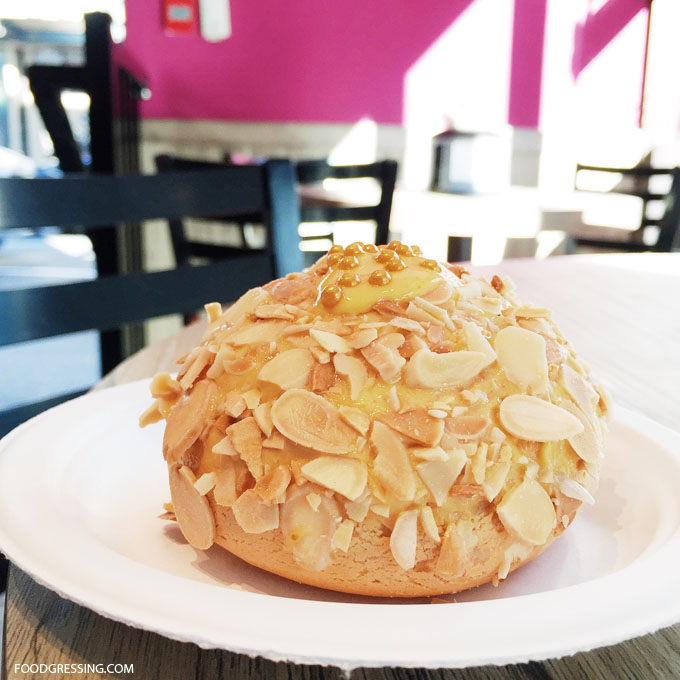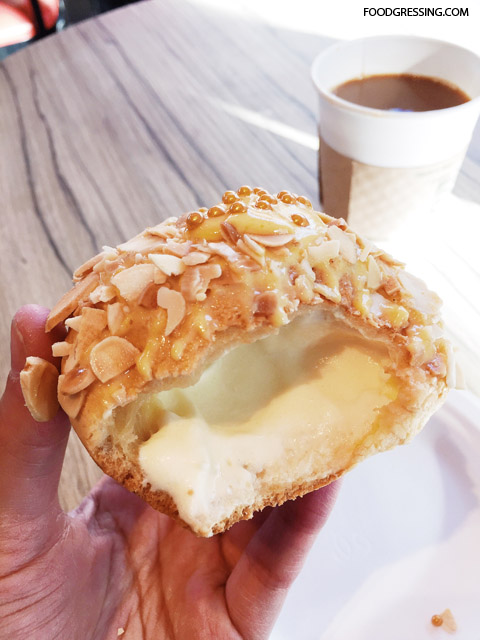 Overall Impression of Chewy Junior Vancouver
My opinion of the cream puffs from Chewy Junior hasn't really changed since I the last time I visited.  These cream puffs are overall delicious and not very sweet, so it doesn't really make you feel that guilty for having them.  After having one, you would be in the mood for another.  I definitely recommend the matcha nippon.  For those looking for a serious sugar fix, Chewy Junior is not for you.  Their products are just not very sweet but still delicious.  Rating: 3.5/5
For more on Chewy Junior, visit their website or social media (Facebook, Twitter, Instagram).