At the Science of Cocktails 2018 preview last week, Chef Jesse Hochhausen of Showcase Restaurant presented the most fantastic appetizer that was full of flavour and went well with cocktails. He prepared Char Sui BBQ flavoured pork rillettes, yuzu juice thickened with agar-agar that appeared like pearls or roe. It also had miso and sesame emulsion, fried rice cracker, togarashi spice blend and wild sesame leaf (also known as perilla leaf) which is quick frozen and mulled with liquid nitrogen. Chef Hochhausen shared this recipe which could inspire seasoned chefs or challenge the home cook.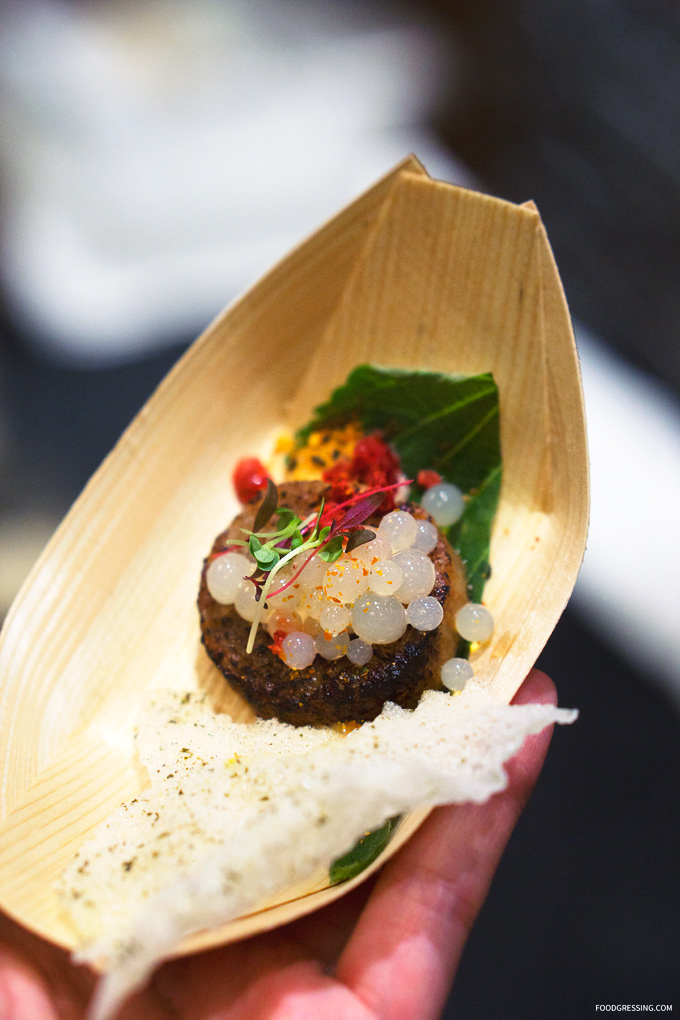 Char Sui Pork Rillette Recipe
Rillette Ingredients:
15 kg pork belly
15 kg pork shoulder
8 litres olive oil
3 cinnamon sticks
6 bay leaves
9 cloves
9 star anise
90 g fennel seed
120 g black peppercorn
Method (Rillette):
Divide pork and ingredients evenly into 3 deep stainless steel roasting pans. Cook in oven at 150 C for 2.5 – 4 Hours. Pork Belly will finish much faster than Shoulder. Check every 30 min once 2.5 hours is reached.
Marinade Ingredients:
2 litres honey
250ml sesame oil
1 litre Hoisin sauce
1.5 litres sweet soy
1 cup ginger
1 cup garlic
1 tablespoon white pepper
2 cups sambal
Method (Marinade):
Blend all marinade ingredients together and bring to a simmer, then cool.
Final Method:
Separate pork and fat/oil from roasting pans. Pull the pork. Add the pork into a Large Electrical Mixer and mix pork meat, marinade and some fat until flavor is a little salty. Then roll pork into long tubes with plastic wrap OR press in metals pans overnight.
Miso Mayo
Ingredients:
1500 g mayo
300 g miso
180 g brown sugar
45 g ginger
6 cloves of garlic
Method:
Blend all ingredients.
Rice Cracker Seasoned with Nori Powder
Rice Cracker Ingredients:
Rice paper wrappers 22cm
Canola oil
Nori sesame powder
Method (Rice Cracker):
Deep fry rice paper wraps in 375 F oil. Flip halfway through deer frying. Sprinkle with Nori Sesame powder and let dry on paper towel.
Nori Sesame Powder Ingredients
200g black sesame seeds
3 nori Sheets
20g Togarashi seasoning
20g salt
30g white sugar
Method:
Toast sesame seeds. Toast nori, cut into small strips. Blend everything until it's a powder.
Yuzu Pearls
Ingredients:
750 ml Yuzu Juice
250 ml water
80 g sugar
20 g agar-agar
4 litres canola oil (ICE COLD)
Method:
Bring Yuzu, water, and sugar to a boil. Whisk in agar-agar. With a squeeze bottle drip mixture into the ice cold oil. Strain pearls out of oil and use.
To read more on what happened at the Science of Cocktails preview, visit here. For more information on Science of Cocktails 2018, visit www.scienceworld.ca/cocktails.