One of the more popular restaurants in the Riley Park and Little Mountain area is Cafe Gloucester, a long standing Hong Kong-style cafe.  Like many similar cafes, Cafe Gloucester's menu is extensive and includes a variety of Hong Kong-style, Western, and even Japanese dishes.  Sizzling hot pot combos, curry, pasta, fried rice and noodles, baked rice, soups and more are offered.  Zomato has photos of their menu online.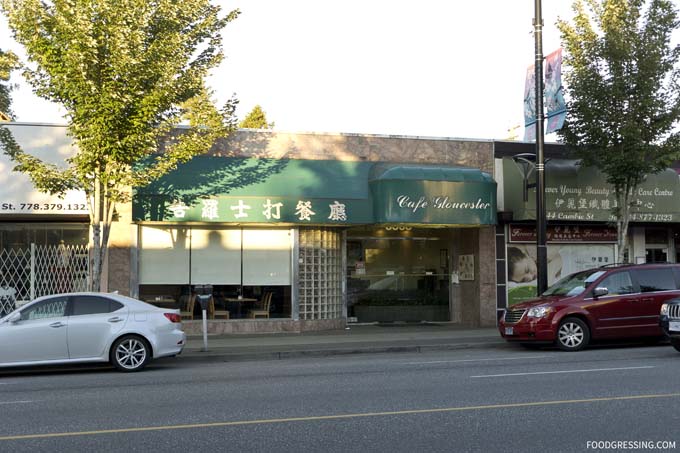 Several months ago, we went to Cafe Gloucester for Father's Day.  Much to my surprise, they had a special Father's Day set menus.  There were several options for the main entree including baked fresh lobster, Pacific salmon with mixed grain rice, roast duck leg with butter baked corn, AAA striploin steak with garlic shrimp, and pork & sole cutlet.  Starters were both a roasted red pepper fish chowder and an organic quinoa wild salad.  Dessert was a chocolate ice cream cake.  As for drinks, coffee and drink are included, while cold drinks are an extra $1.50, bubble tea (+$2) and a glass of red or white wine ($3).
What We Tried
We went with the following:
 baked whole fresh lobster with cheese on spaghetti bolognese option ($45.99)

2 bubble teas (+$1.50 each)
roasted red pepper fish chowder (included)
organic quinoa wild salad (included)
chocolate ice cream cake (included)

Taiwanese honey toast box ($9)
To start, the classic milk and taro flavoured bubble teas were average which is what I would expect from a place like this.  Tea flavour, ice levels and sweetness levels were reasonable.  The tapioca pearl textures were okay but not the best I have had; they were smooth and slightly soft on the outside, but chewy through to the middle with a slightly increasing level of firmness.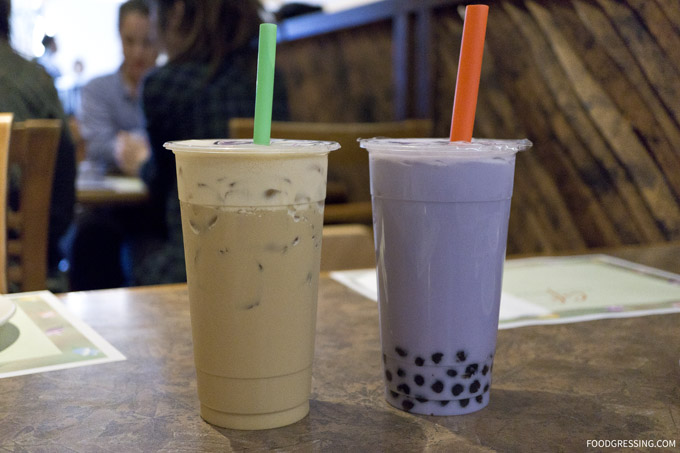 The roasted red pepper fish chowder tasted closer to a vegetable soup rather than a fish chowder.  A little thin but still tasty.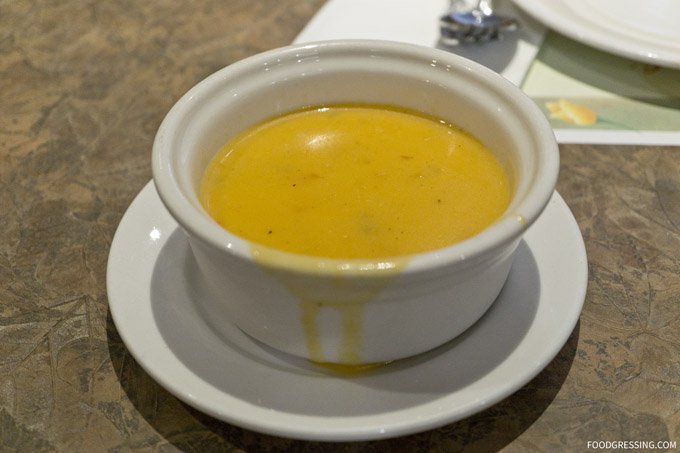 There was also a dinner bun provided with the meal.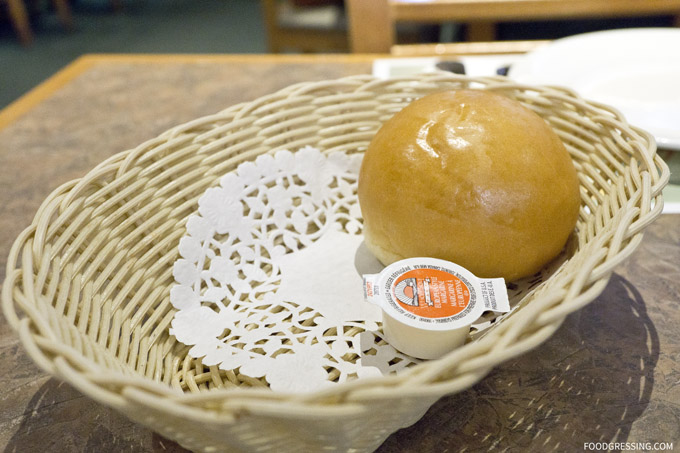 The organic quinoa wild salad was surprisingly good and refreshing.  I mean, where else do they use quinoa in a Chinese restaurant around Metro Vancouver?  All the ingredients seemed freshly cut (no prepackaged lettuce here).  The dressing was nicely tangy.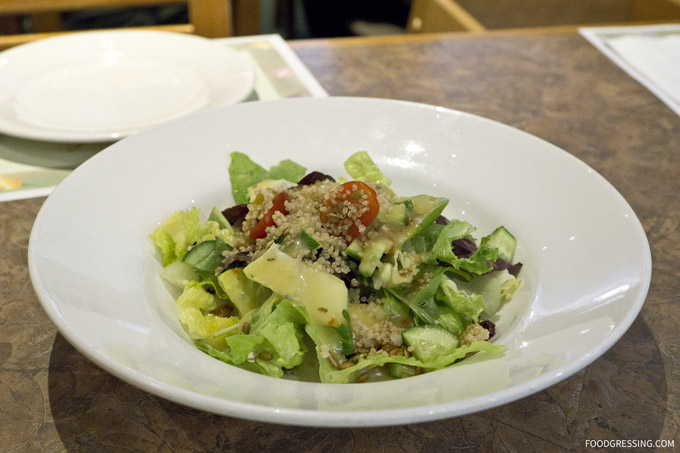 Now for the star of the show..the baked whole fresh lobster with cheese on spaghetti bolognese.  Seriously, melted cheese on almost anything is good but seems to taste pretty darn delicious on a lobster.  The lobster meat came out of the shell very easily.  The spaghetti bolognese seemed to go well with the lobster and cheese.  An overall, hearty and comforting dish.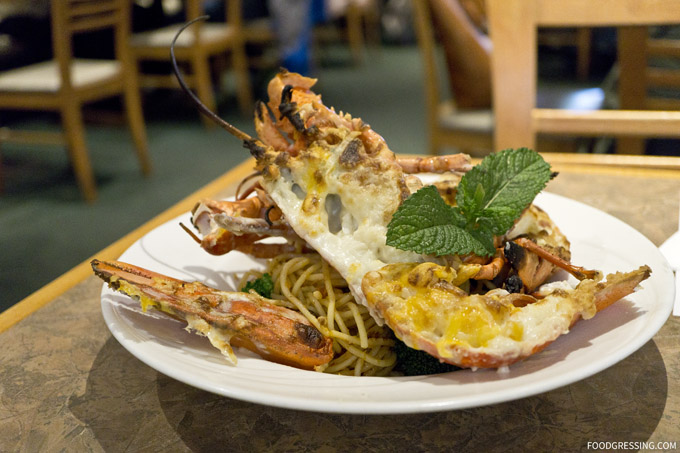 The classic Taiwanese milk toast came as a thick cut of toasted bread.  It was sweet and buttery – good but nothing amazing.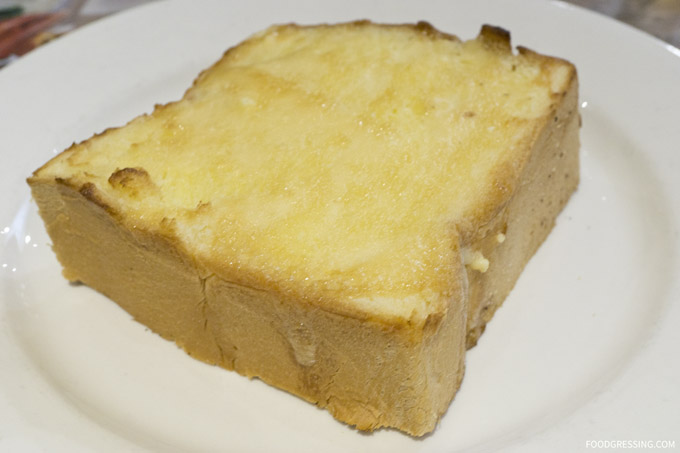 The chocolate ice cream cake was enjoyable and came with some whipped cream and chocolate drizzle.  I wasn't expecting much but it was nice to see that they made a bit of effort.  Pretty good but something similar to Dairy Queen ice cream cake.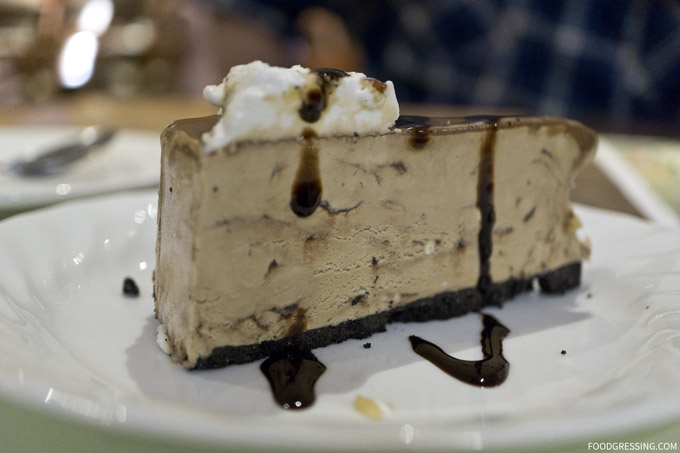 Service
The service was friendlier than what I would expect from a Chinese cafe in Vancouver.  However, I felt like we waited too long for the dishes.  Much to my surprise, it was painfully slow to get the dessert which I would have assumed to be quick.
Overall Impression of Cafe Gloucester
Cafe Gloucester serves some reasonably tasty and priced fare.  Service was slow but friendlier than expected.  I would be interested in trying their baked dishes like baked pork chop on rice.  They seemed to be quite popular based on what other customers ordered.  Rating: 3.5/5