With the Chinese New Year happening next month, one renowned hot pot chain is celebrating by offering special Chinese New Year menus. In collaboration with Vancouver Gourmet Tours, Liuyishou Hot Pot is presenting Liuyishou Hot Pot Week 2018 from February 26 – March 2 at locations in Vancouver, Richmond, Burnaby, Richmond Hill, Toronto, Ottawa, and Edmonton. Originating from Chongqing, China, Liuyishou Hot Pot specializes in Chongqing style (spicy) hot pot and has over 1,000 locations worldwide. I was recently invited to a media preview of the Chinese New Year menus. Here's a look at what you can expect.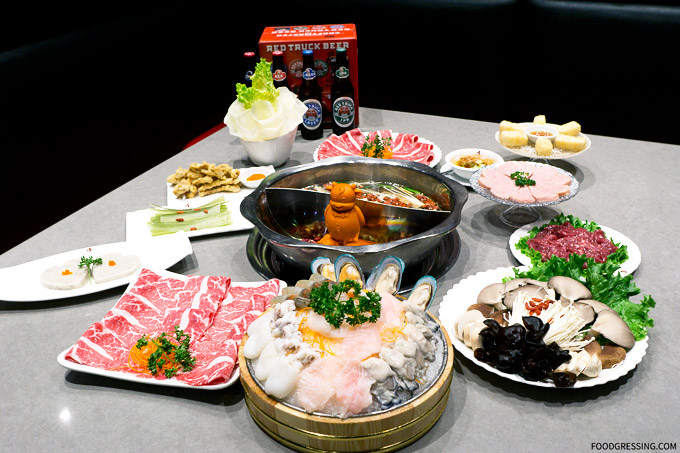 Disclosure: All food and drinks in this review were complimentary. Opinions are my own.
What is Hot Pot?
For the uninitiated, hot pot is known as a Chinese soup consisting of various raw meats, vegetables, noodles, tofu, seafood and dumplings. These are dipped into a shared pot with a simmering pot of soup stock and eaten with dipping sauce.
Choose a Soup Base
The experience starts with choosing a soup base. Liuyishou's traditional Chongqing style soup base is prepared with special butter, red hot chili, Sichuan peppercorn, and other exotic herbs and spices. It's meant to astonish all your senses with the spiciness, umami flavours and aromas. If spicy is not for you, Liuyishou also has other bases like Wild Mushroom, Special Pork Rib or Tomato Soup.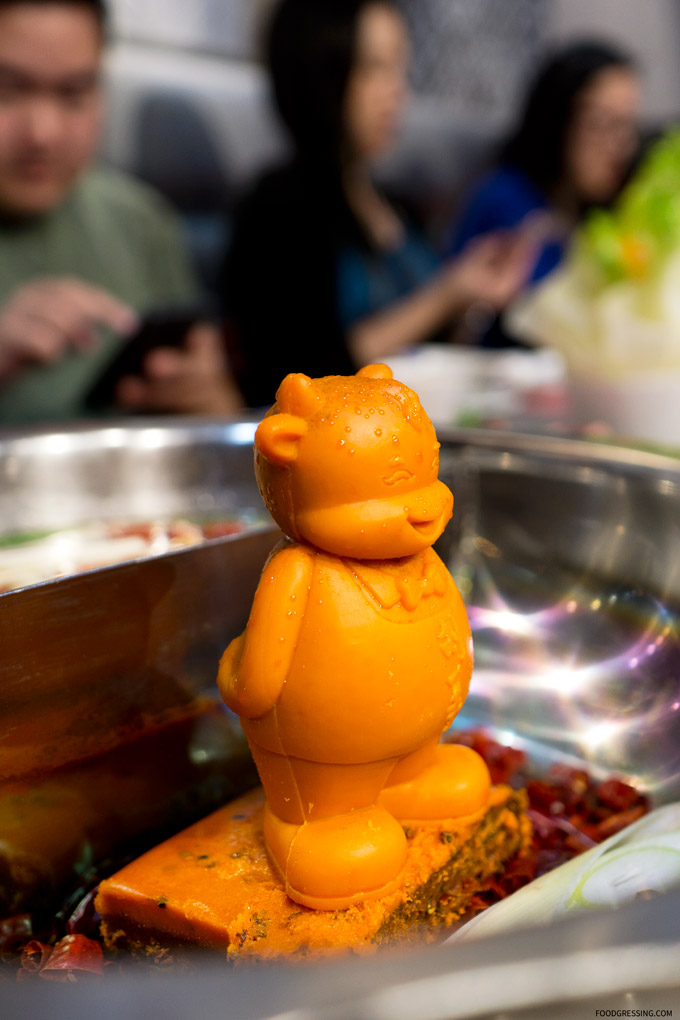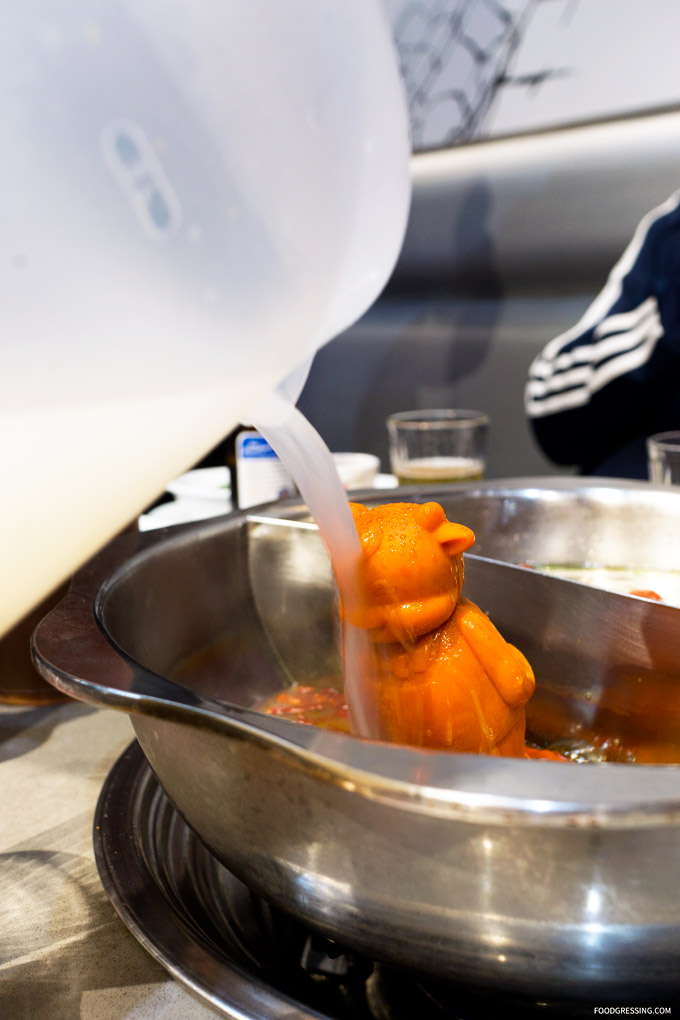 Make Yourself A Perfect Sauce
Mix your favourite sauces from the Liuyishou's sauce bar featuring 20+ sauces, fresh herbs and spices. Cooked food is eaten with your own sauces.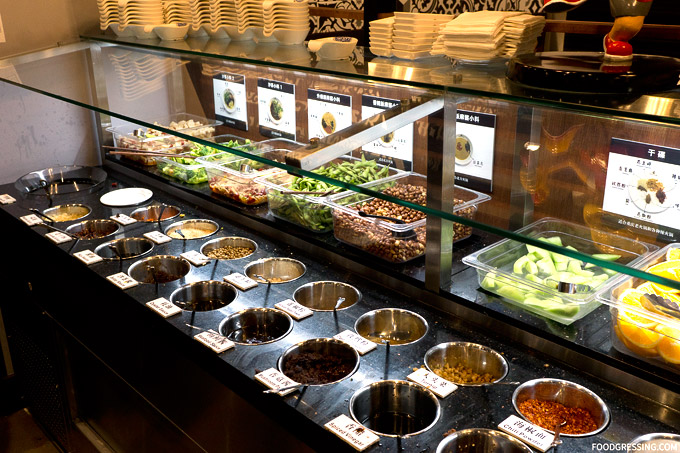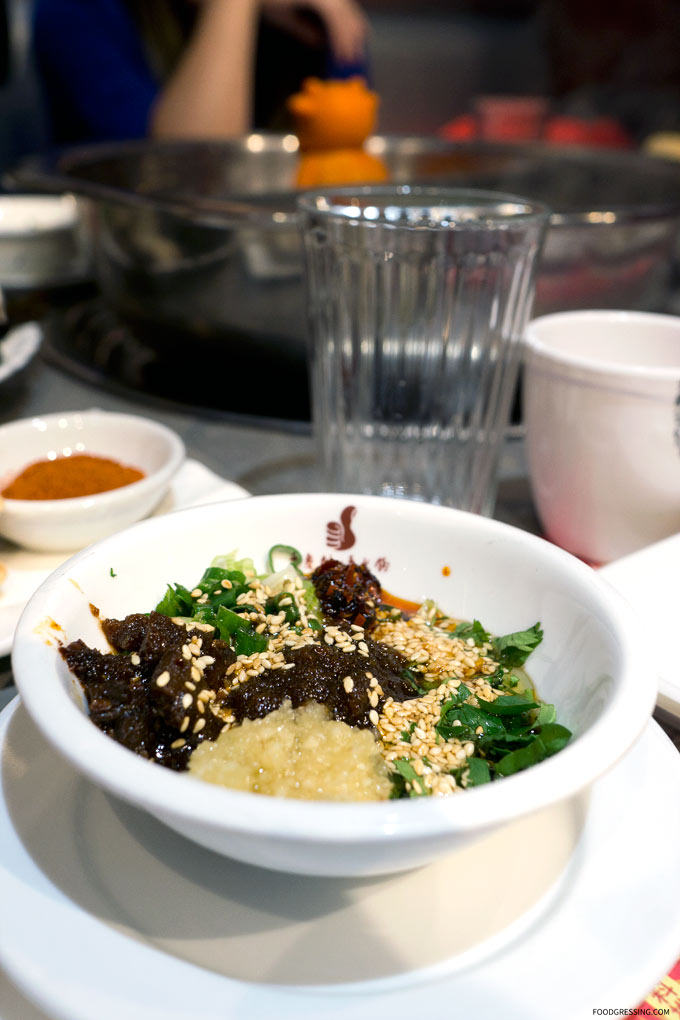 Select your Hot Pot Items
For Liuyishou Hot Pot Week 2018, menus differ by location so please check the website for details. The Hot Pot Week Dinner for 2 set is $68 (up to 20% savings) and for 4 is $120 (up to 25% savings). Beer Pairing by Red Truck Brewery is included in the price at all 3 locations in BC. Choices include Red Truck Lager, Dark Lager or IPA. Here's a look at what you might want to get at your Liuyishou Hot Pot experience.
Marbled Beef
I was impressed with the beautifully marbled beef which was arranged nicely on a platter.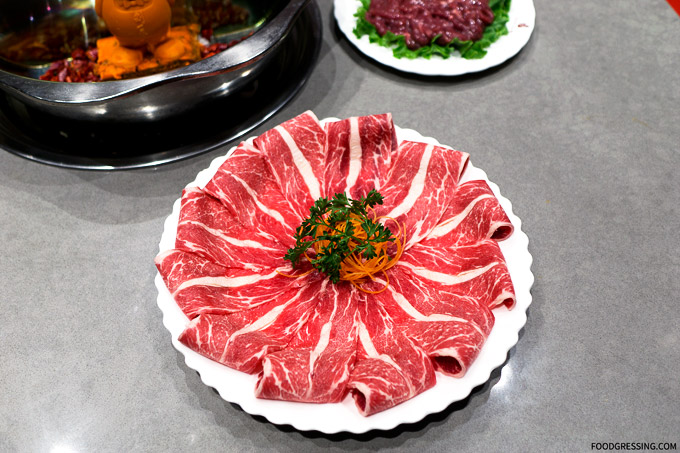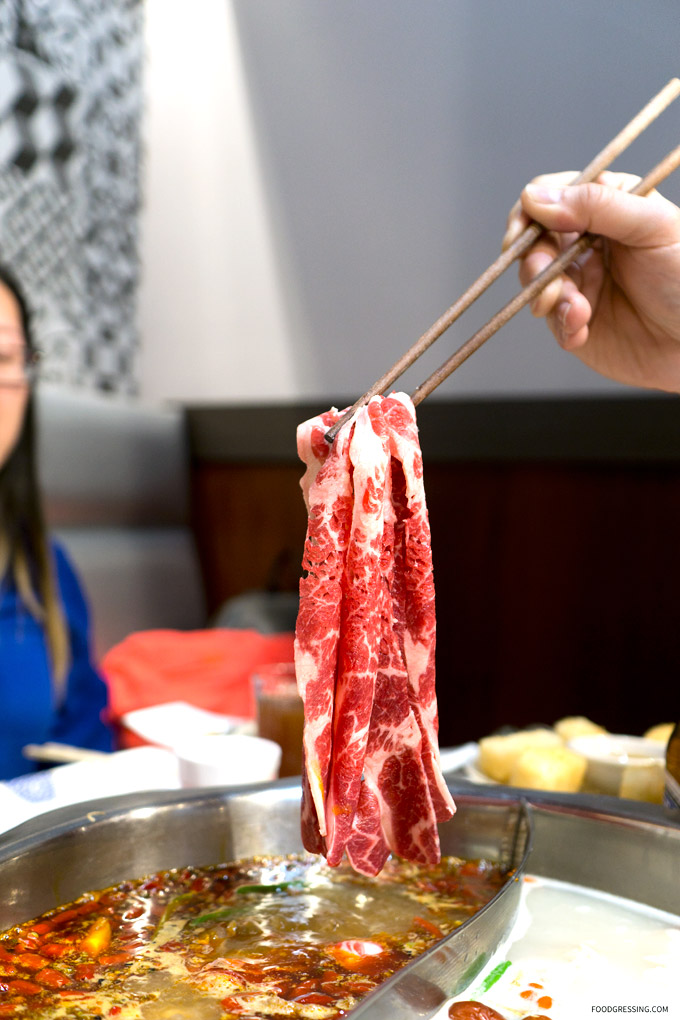 Sliced Tender Beef
The tender beef was oh-so-good because of how wonderfully tender it was. I would love to have this again.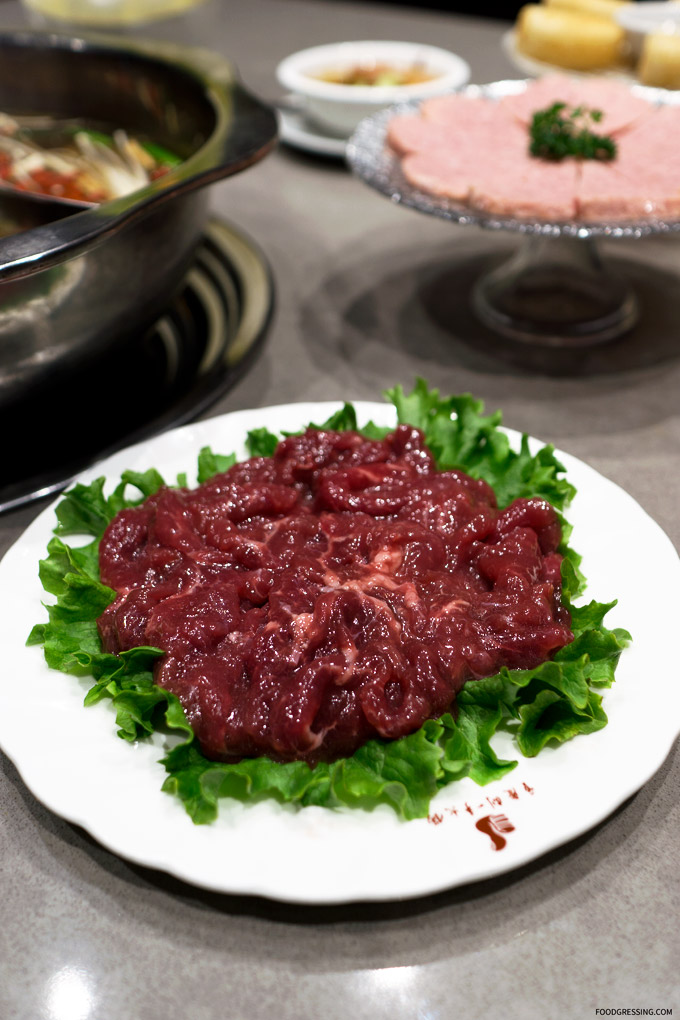 Luncheon Meat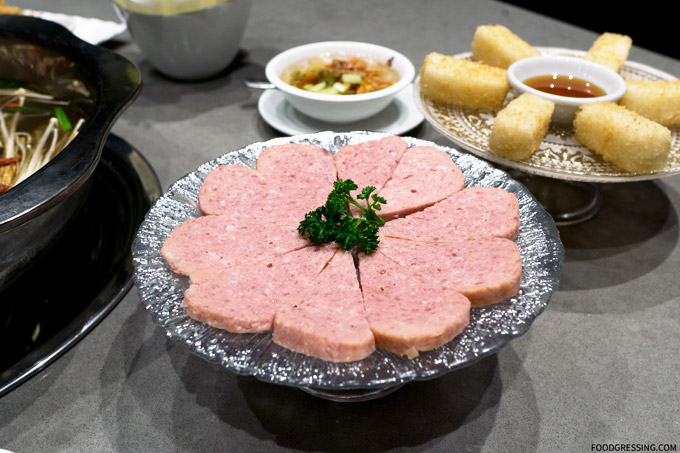 Seafood
We tried some assorted seafood including oysters, mussels, cuttlefish, and sole fillets.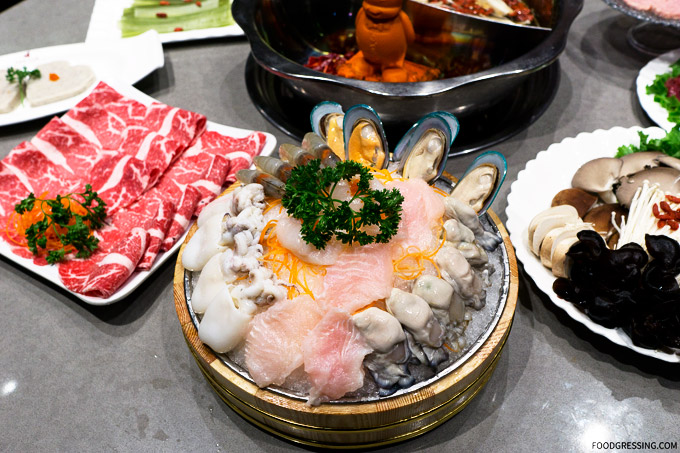 PRO TIP: There is an order to cooking raw food in your pot! The order is meat, seafood, mushroom, vegetables and noodles.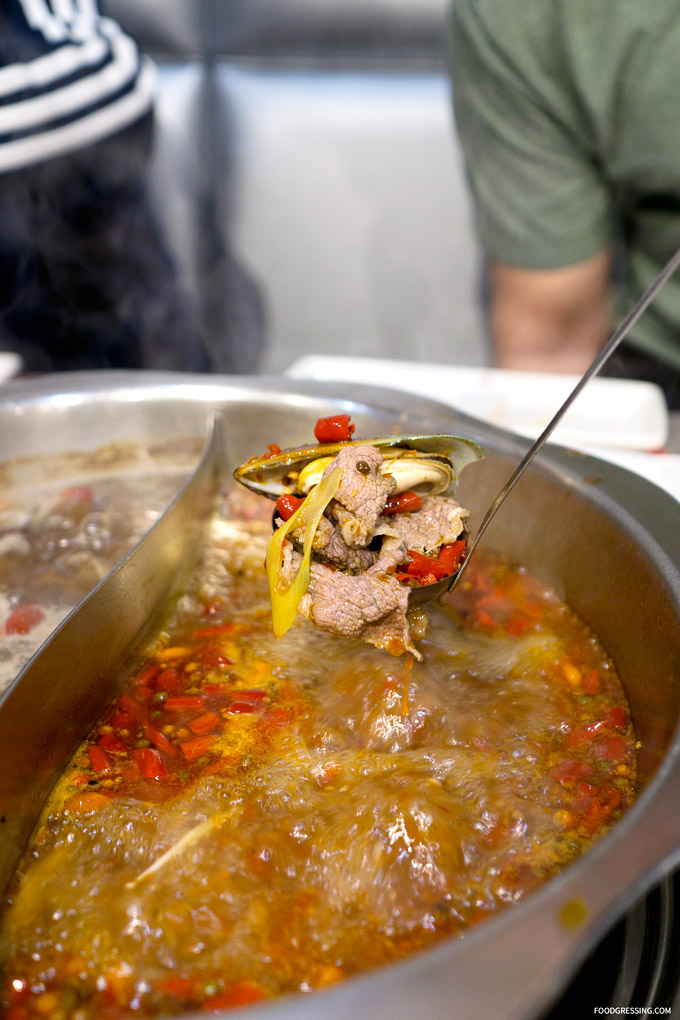 House Special Shrimp Paste
I liked how the attention to detail in forming these heart-shaped shrimp paste topped with masago.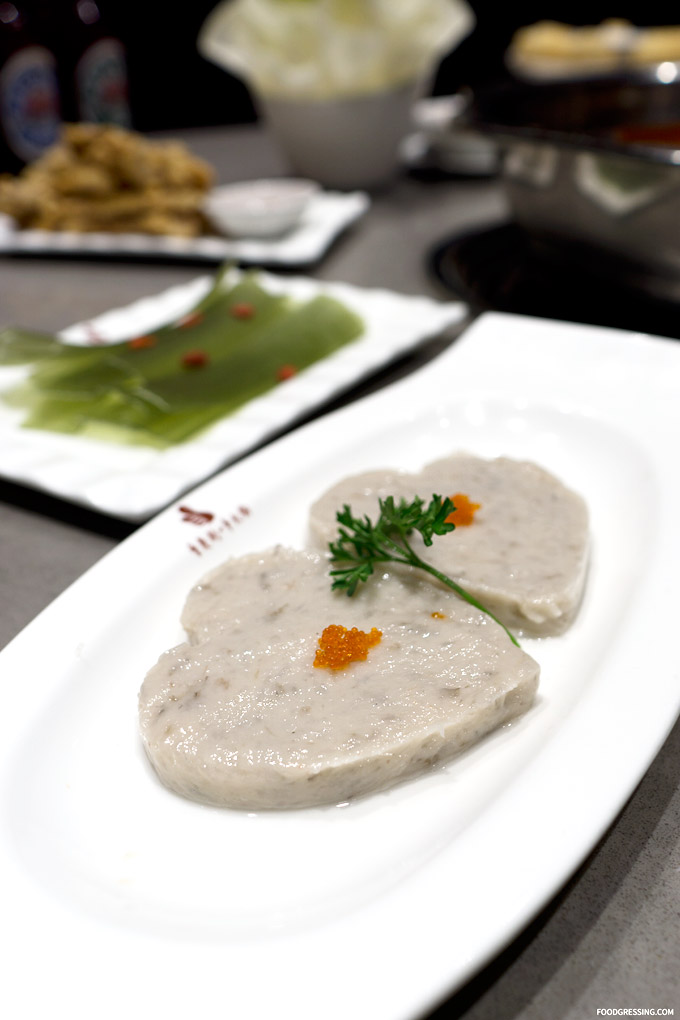 Mixed Mushrooms
Some mushroom options at Liuyishou include enoki, oyster mushrooms, shiitake mushrooms, brown and white mushrooms.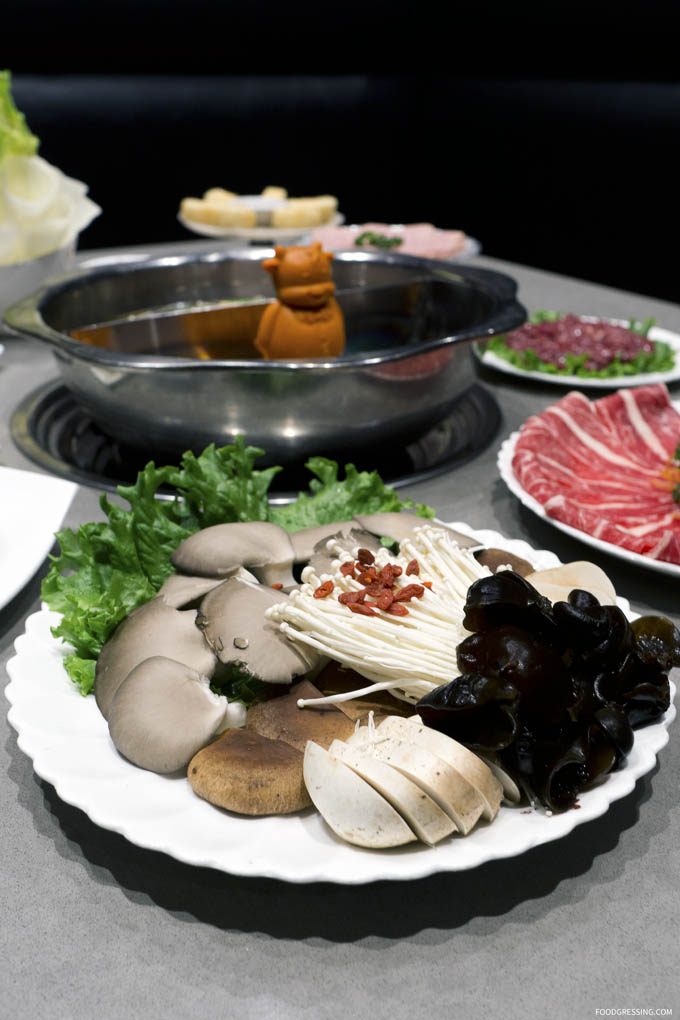 Country Deep Fried Pork
These pork pieces has a nice crisp exterior and moist interior.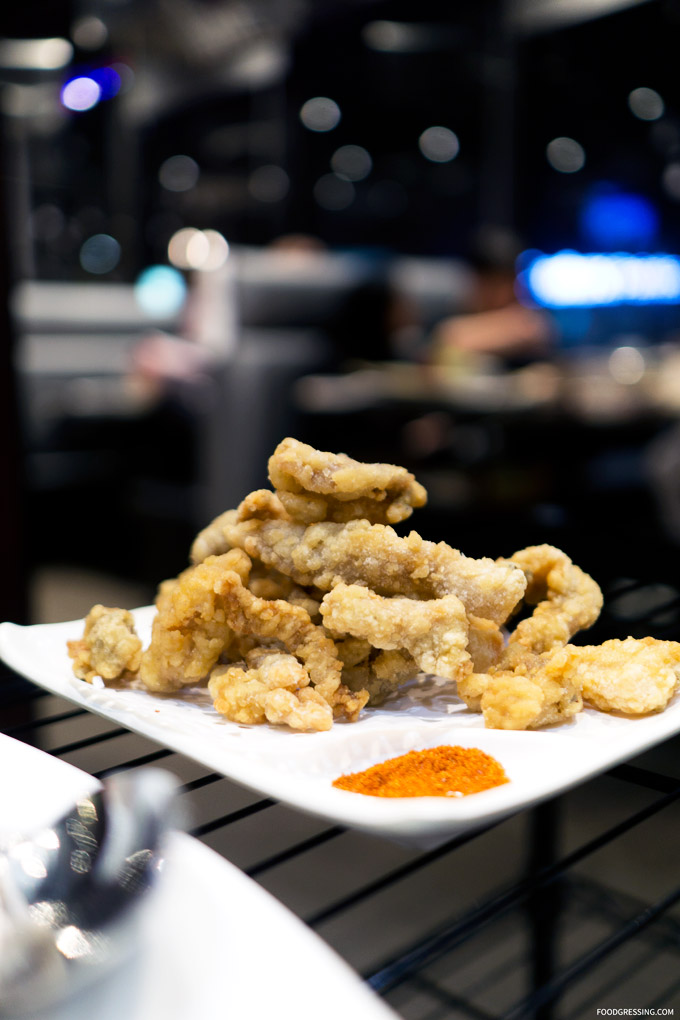 Kung Fu Potato
The thin potato slices absorb the soup base wonderfully. Immerse in the soup base for a bit longer for the flavours to infuse.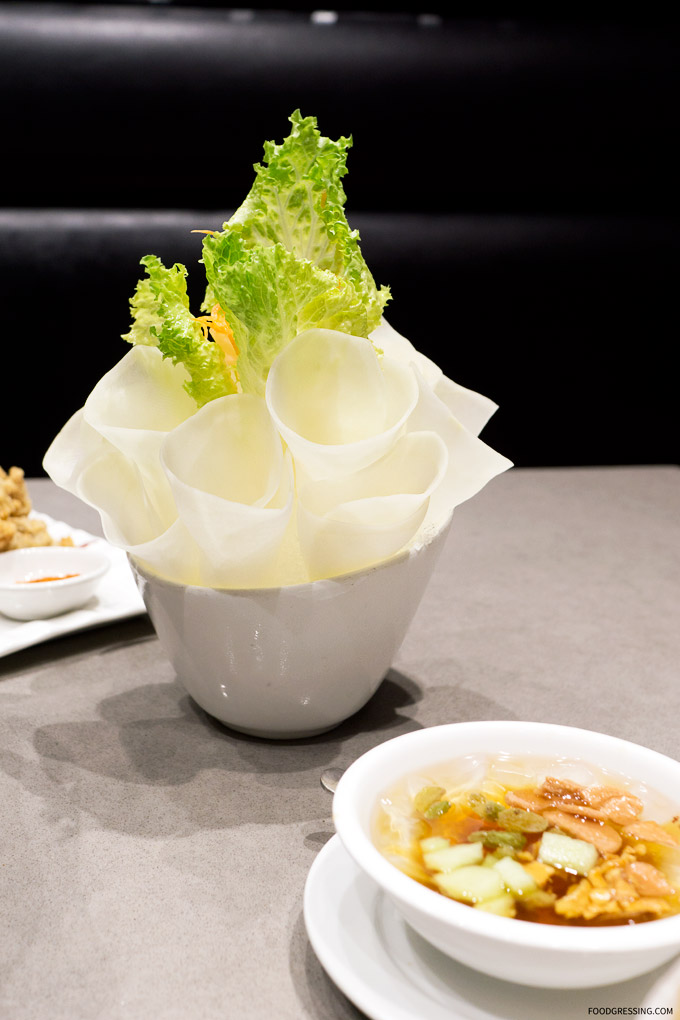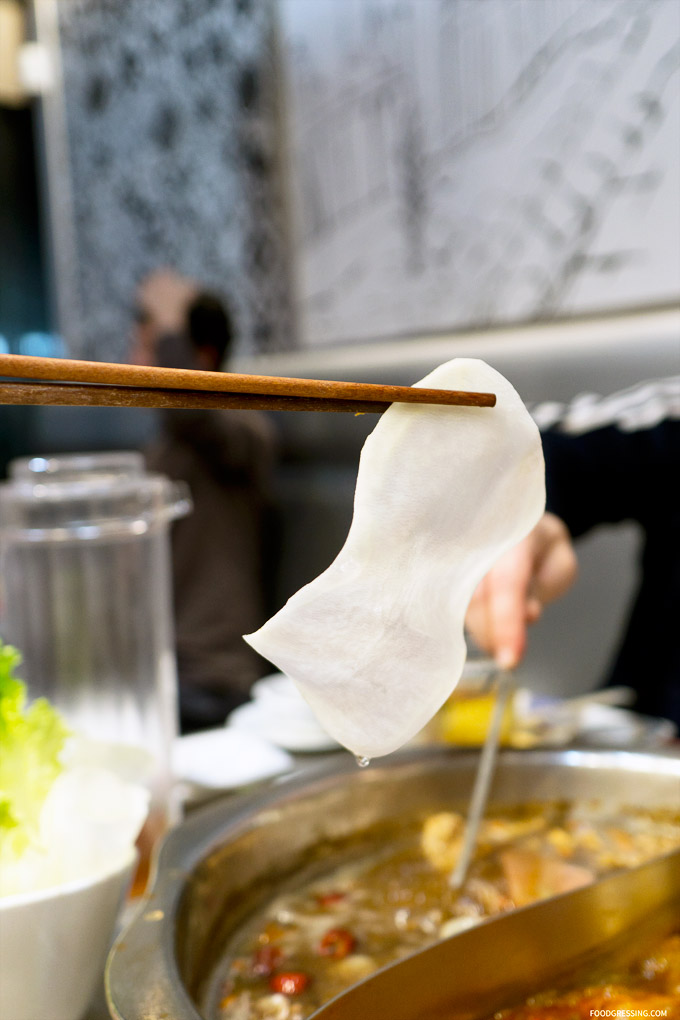 Glutinous Rice Cake
The rice cake pieces had a beautiful crispy exterior and a tender, glutinous interior.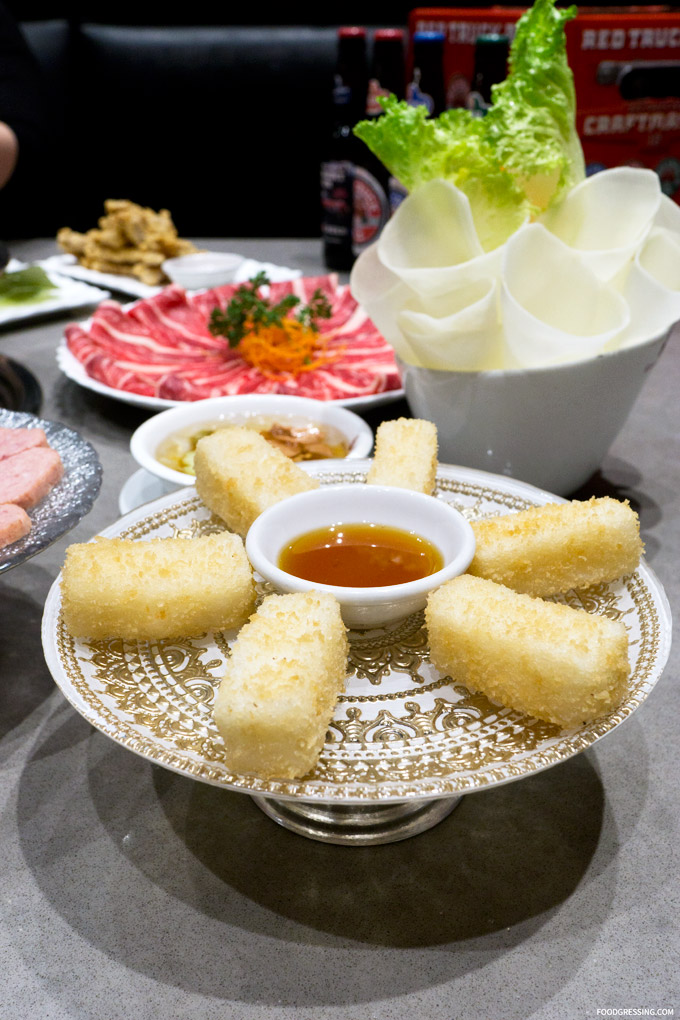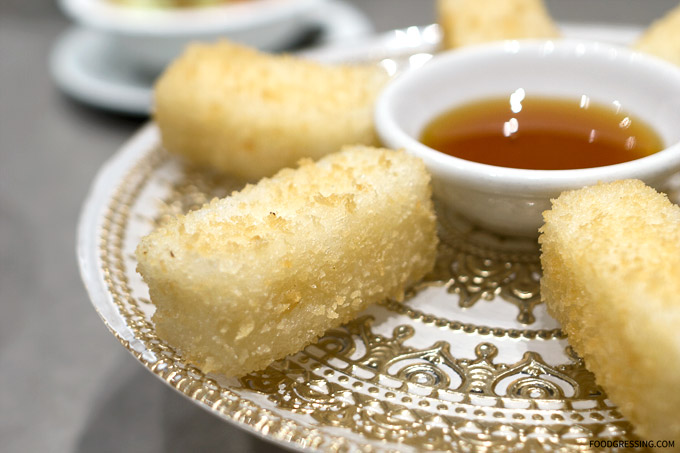 Hand-made Noodles
Noodle lovers can rejoice as Liuyishou offers handmade noodles. These need to be cooked for 5 minutes for a perfect al dente texture.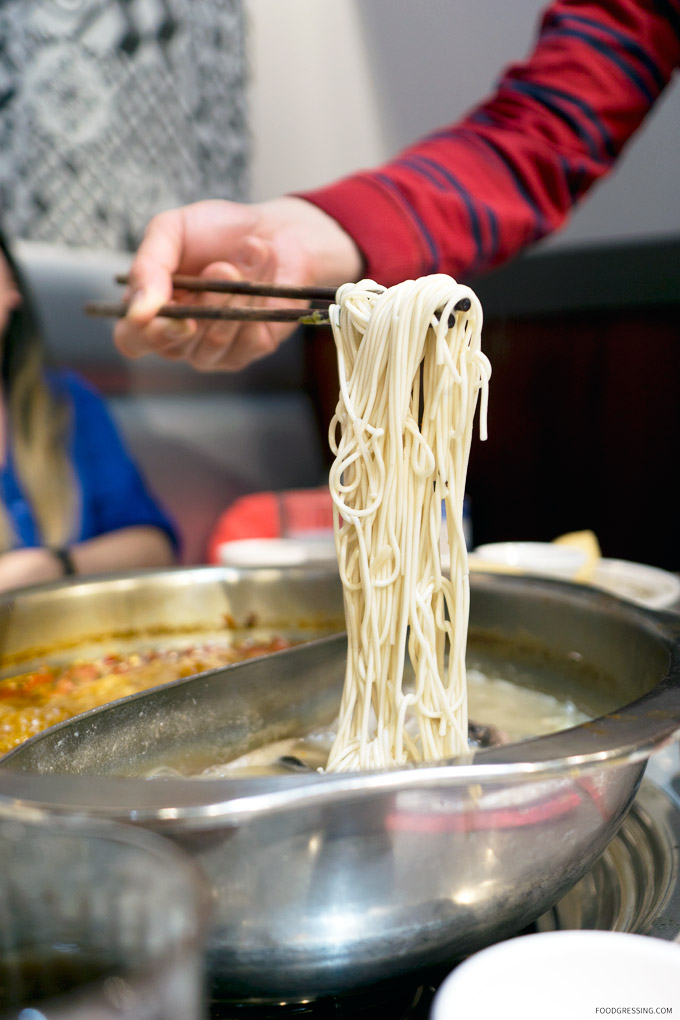 Bing Fen
This special cold dessert jelly was very soothing after a nicely numbing hot pot experience.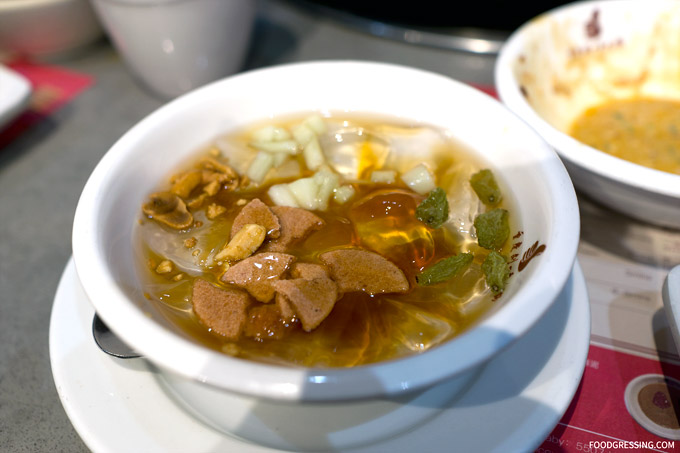 Deep Fried Golden Buns
Everyone loved these deep fried buns which had the perfect golden exterior and light, fluffy texture. Dip them with condensed milk for maximal enjoyment!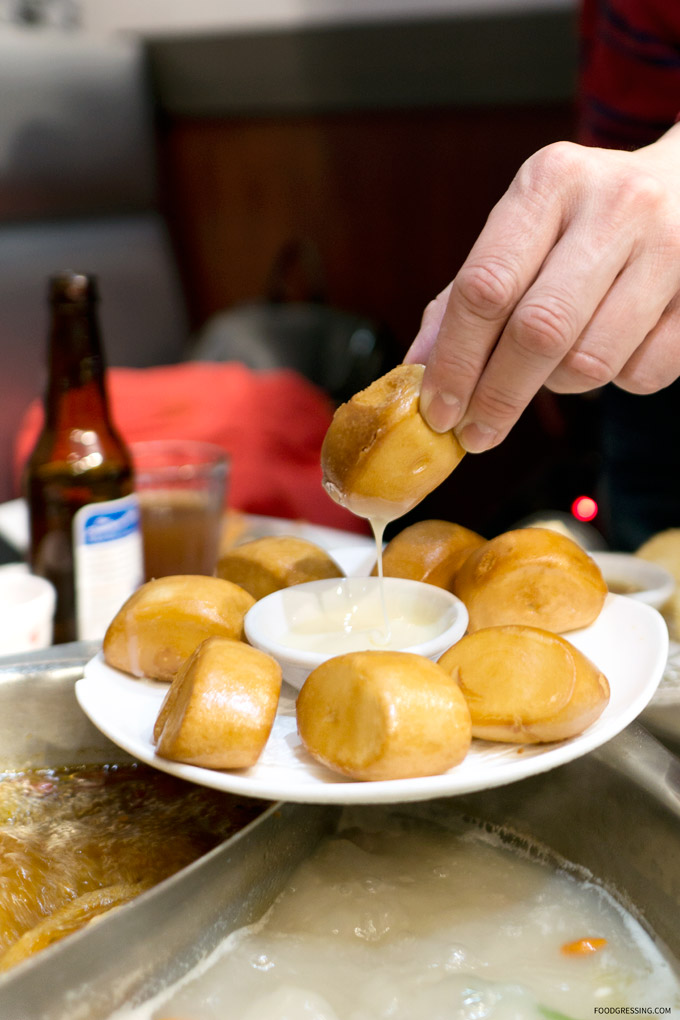 Overall Impression
In general, I quite enjoyed the quality and wide selection of items offered by Liuyishou Hot Pot. My top items to reorder are the Marbled Beef, Tender Beef, Mushroom Platter, Deep Fried Golden Buns and Glutinous Rice Cake. To get tickets for Hot Pot Week 2018, visit www.vangourmettours.com/events/chinese-new-year-events/liuyishou-2018