On last week's Vanfoodster Tasting Plates UBC tour, I had the pleasure of visiting The Boulevard Coffee Roasting Co. – a charming artisan coffee shop and roaster on University Boulevard. Boulevard has strong ties to the UBC community as the founder started the company when he was a PhD student in Experimental Medicine at UBC. All of their coffees are 100% organic certified and grown without synthetic fertilizers or pesticides.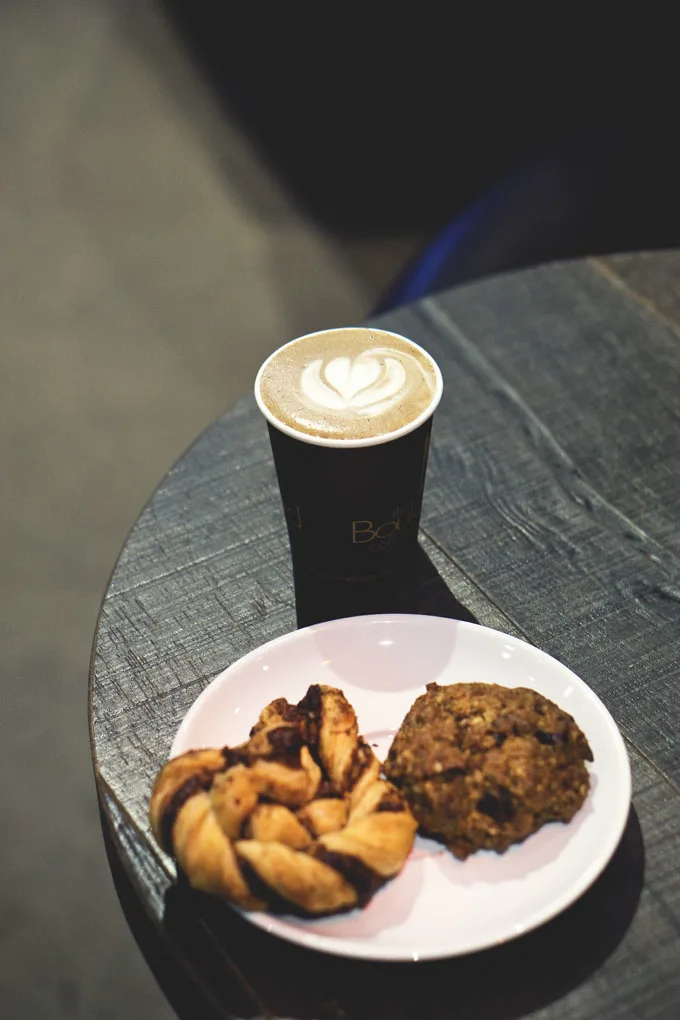 Disclosure: I attended the event as media. All food and drinks in this review was complimentary. Opinions are my own.
The interior of The Boulevard Coffee Roasting Co. seemed rustic inspired, cozy and inviting. The main area features lounge chairs, small dining tables, and seating by the window. More seating is available on their elevated platform which features a communal table and more smaller tables. I would imagine that this is a great place for students and faculty to enjoy a tasty cup of coffee while reading or getting work done on a laptop. And on a sunny day, some might want to take advantage of their patio in front.
On the tasting tour, I sampled three of their items. First was the Mocha, which is made with a Pacific Spirt espresso which is roasted in-house and mixed with signature home-made chocolate sauce. The flavour of the mocha was overall strong though well-balanced between the espresso, milk and chocolate. Very delicious.
The Boulevard Coffee Roasting Co. has a tasty selection of artisan baked goods (like croissants, scones, loaves, sweets and more), as well as savoury lunch items (like sandwiches, baguettes, salad and more). I had a whole sample of their West Coast Trail Cookie ($2.62) featuring baker's chocolate, pumpkin seeds, flax, cranberries, coconut, cinnamon and oats. There was also the Twisted Nutella Danish ($4.29) which was a puff pastry with Nutella and salted macadamia nuts.
The cookie appealed to me greatly being soft overall but still texturally interesting from the nuts, chocolate and fruit ingredients. The danish was just OK compared to the cookie but I appreciated that it wasn't overwhelming in Nutella flavour. I would pay for the cookie over the danish based on the taste along; it is cheaper than the danish anyways.
Overall Impression
The Boulevard Coffee Roasting Co. seems like an ideal place to enjoy some respite from the stresses of academic life. I appreciate their commitment to sustainability and fair trade while offering an appealing artisan coffee and food menu. Rating: 4/5
The Boulevard Coffee Roasting Co.
Address: 5970 University Boulevard, Vancouver, BC
Website: www.theboulevard.ca‎