As a UBC Alumni (BSC '04, MHA '08), I was excited to attend the Vancouver Foodster Tasting Plates last week which was held for the first time at UBC. The food options now are exponentially better than what was offered during my time at the Point Grey campus. Tasting Plates UBC was a great way to get a sense of what restaurants on campus now have to offer. Here's a recap of what I had at each of the five stops.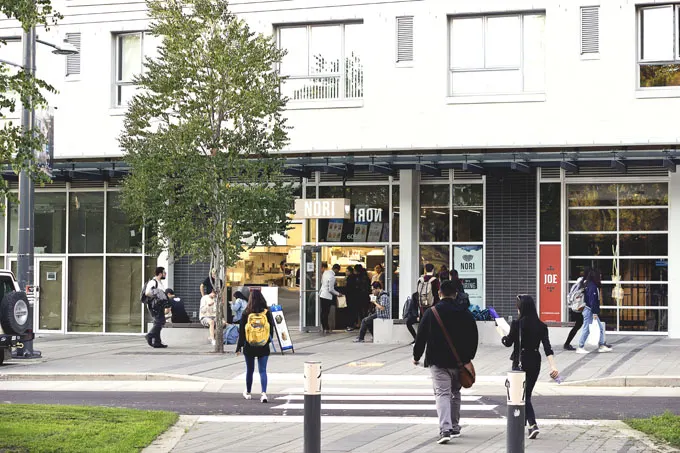 NORI Japanese Restaurant
First up was NORI, a newly opened Japanese restaurant, which specializes in fresh-made from scratch sanuki udon, bento and sushi. They make their noodles fresh in house using Japanese noodle machines, and a 2 day process. All their broths and sauces are made fresh in house in small batches. We tasted a curry beef udon which had fresh made udon noodles with Japanese curry broth, seasoned beef and onsen egg. The udon was amazingly delicious such that I lingered for more. The curry was wonderfully rich and hearty and the noodles were smooth and slightly chewy. I will return to NORI for more.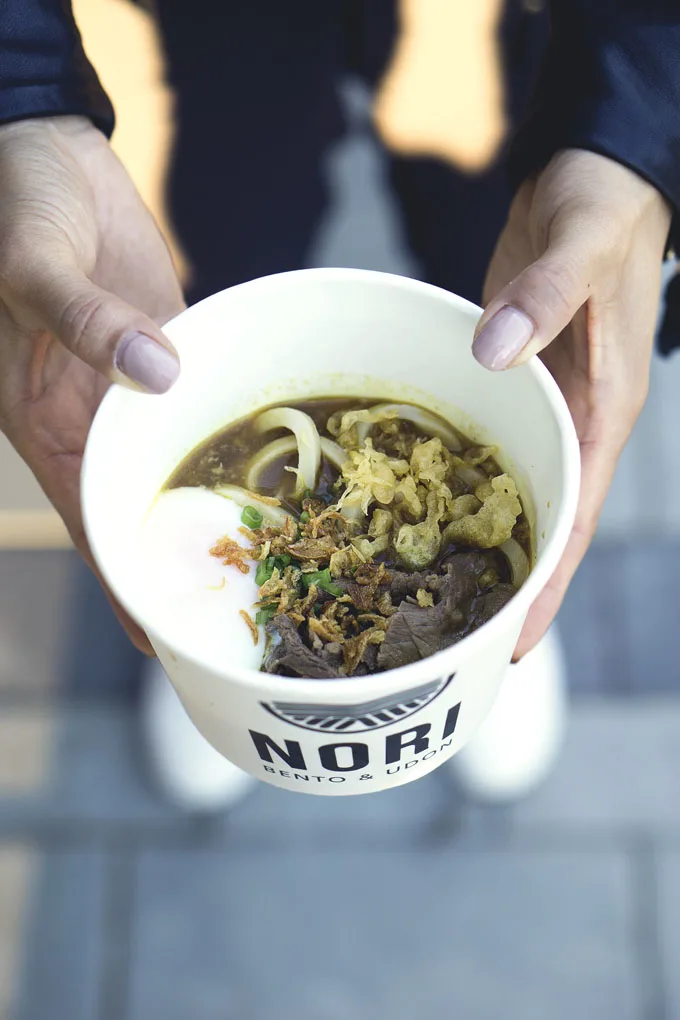 Mahony & Sons
Next up was Mahony & Sons, an Irish pub, known for being true-to-tradition favourites and hearty pub dishes with imported and local brews. Their tasting plate featured three items. There was the Pacific Coast Chowder with fresh mussels, steelhead, cod, bacon, prawns and lemon fennel cream broth. We also had a Fresh Mahi Mahi Taco with crisp slaw, chipotle mayo, guacamole, and Pico de Gallo in a grilled flour tortilla. Last but not least, was the the Mahony & Sons custpom sausages with Garlic Yukon Gold mash and rich Guinness onion gravy. My favourite of the trio was the chowder which had a lot of substance (ie, not watery) and good seafood flavour.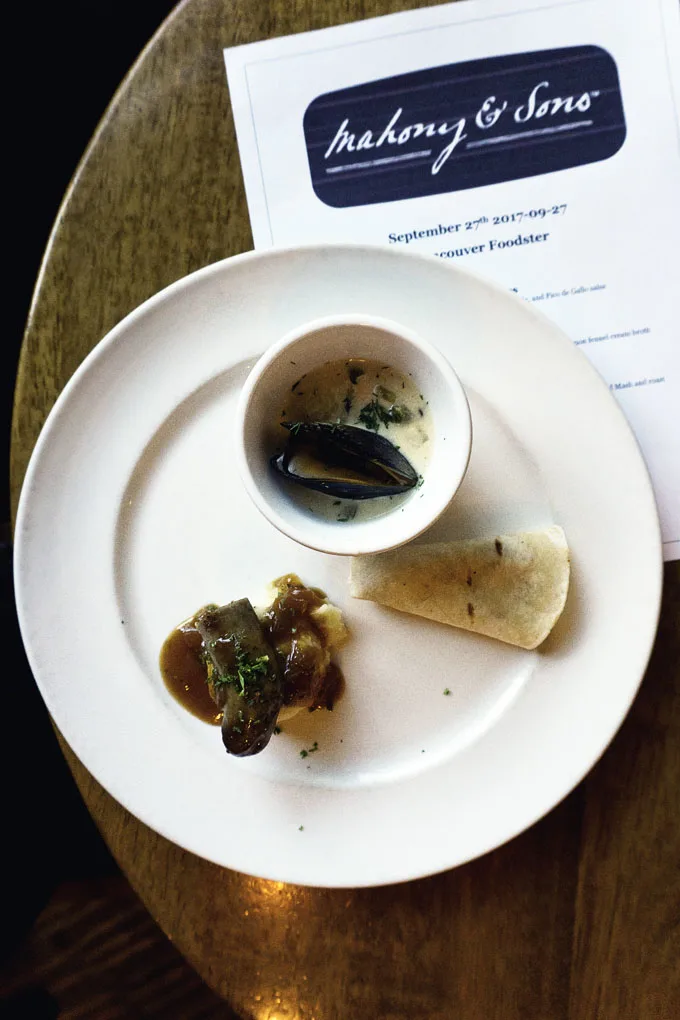 The Delly
The Delly is pretty much an institution at UBC having served campus life since 1976. They sell a very large assortment of fresh sandwiches, wraps, soups, salads and an assortment of pastries. The Delly offered probably the greatest amount of food compared to the stops for the event. For a taste of India, there was choice of Butter Chicken, Shahi Paneer, or Chana Masala. All curries were served on a bed of long grain basmati rice with a square fresh grilled tandoori naan. For sandwiches, we chose from either Chicken Sandwich or Avocado Veggie Sandwich. And for salads, there was choice of Fresh Tossed Kale Quinoa Salad or the South West Bean Salad. To wash it all down, the was Standard Kombucha or Thirsty Buddha Coconut Water. I'm a lover of vegetarian Indian curry and the Shahi Paneer was solid. I would gladly have it again.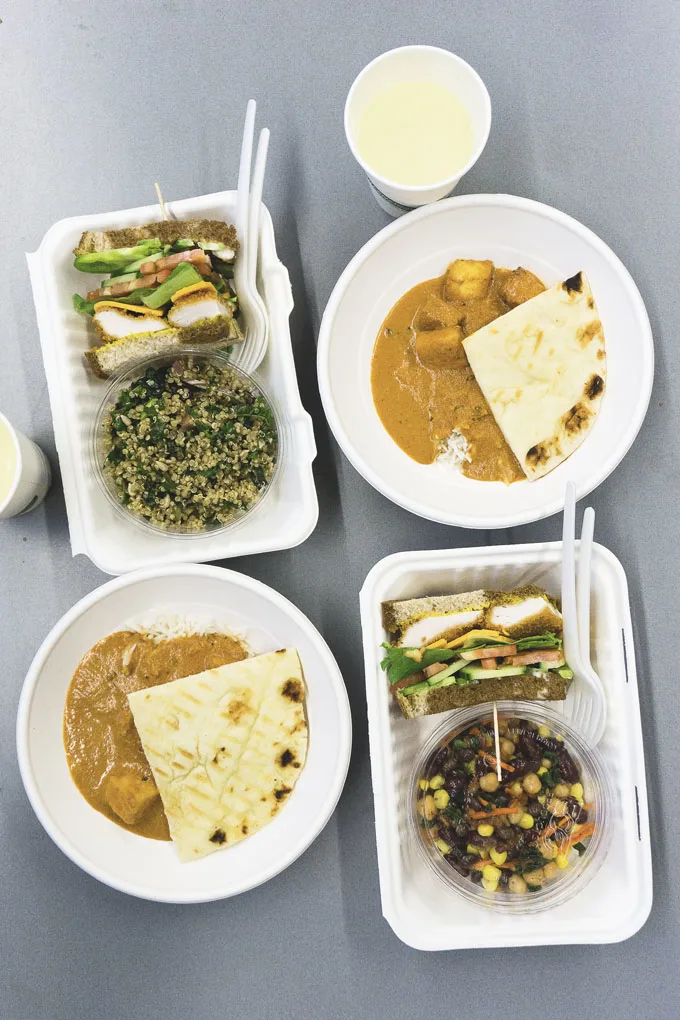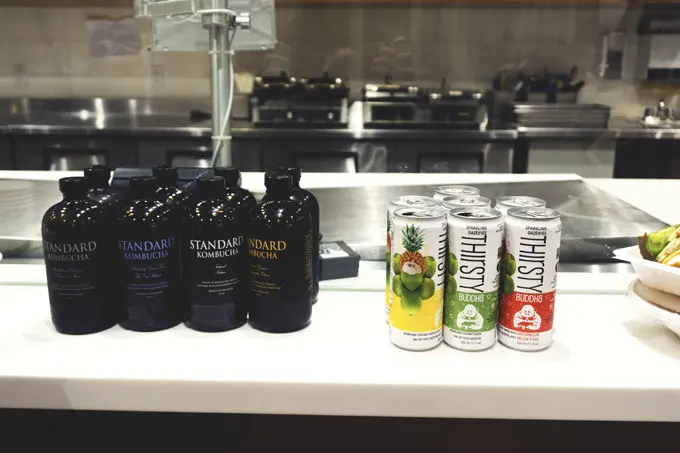 Boulevard Coffee Roasting Co.
The Boulevard Coffee Roasting Co. is a charming artisan coffee shop and roaster on University Boulevard. I sampled three of their items. First was the Mocha, which is made with a Pacific Spirit espresso which is roasted in-house and mixed with signature home-made chocolate sauce. The flavour of the mocha was overall strong though well-balanced between the espresso, milk and chocolate. Very delicious. The Boulevard Coffee Roasting Co. also offers a tasty selection of artisan baked goods (like croissants, scones, loaves, sweets and more), as well as savoury lunch items (like sandwiches, baguettes, salad and more). I had a whole sample of their West Coast Trail Cookie ($2.62) featuring baker's chocolate, pumpkin seeds, flax, cranberries, coconut, cinnamon and oats. There was also the Twisted Nutella Danish ($4.29) which was a puff pastry with Nutella and salted macadamia nuts.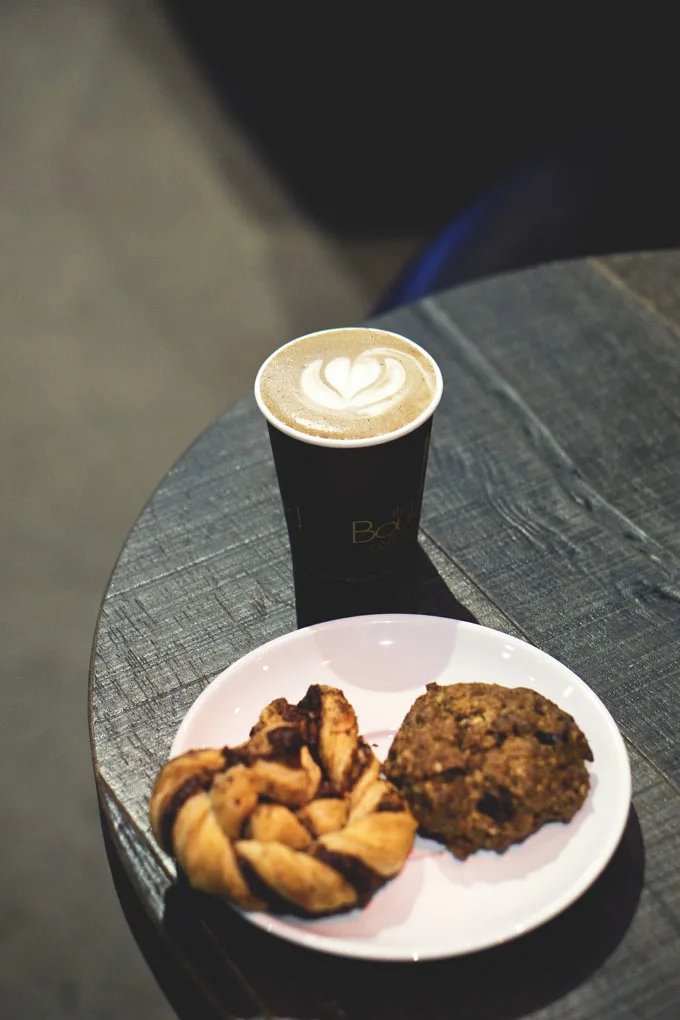 Rain or Shine Ice Cream
As part of Tasting Plates, Rain or Shine offered three flavour options: Chipotle (corn with berry compote and waffle pieces), Apricot Sour Ale with berry compote and waffle pieces, and Hibiscus Sorbet with berry compote (vegan option). The Chipotle was rich and creamy with some subtle sweet corn flavour and a hint of spiciness to it.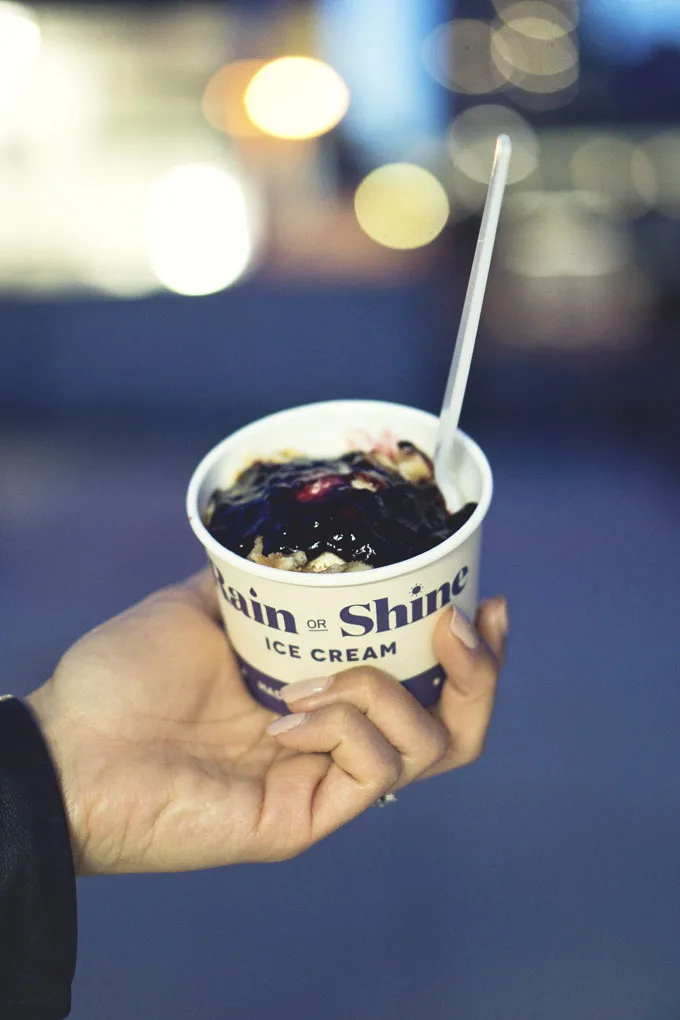 It was a delicious and fun experience overall visiting different UBC restaurants and sampling items that they have to offer. To find out more about the next Tasting Plates event, visit www.tastingplatesyvr.com