Newly open in Gastown (102 West Hastings Street, next to Prado Cafe) is Boba Run, an independent and locally-owned bubble tea shop that aims to offer healthier and fresher tasting drinks.
Fresh and Wholesome Drinks
The drinks at Boba Run are free of powders and artificial flavourings.
Most of their drinks are made with fresh brewed to order loose leaf teas, organic milk (no to powdered creamer) or dairy alternatives that give a fresh and wholesome taste.
The syrups they use are made in-house using organic cane sugar and real fruits with no artificial flavours.
Boba Run Vancouver Menu
Boba Run's menu is divided into Signature, Matcha, Specialty Drinks and Fresh Brewed Tea. Drinks are around $5 – $7. You can customize for sweetness, toppings and alternative milks. You can order online ahead of time.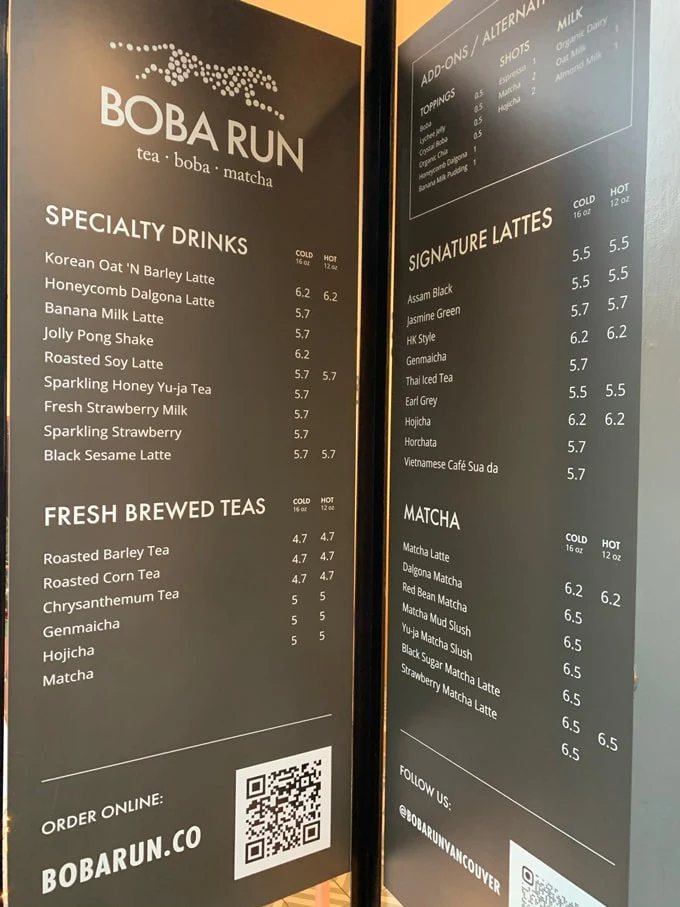 Dairy free options include oat milk or almond milk (+$1). Topping choices include Boba (+$0.50), Lychee Jelly (+$0.50), Crystal Boba (+$0.50), Banana Milk Pudding (+$0.50), Organic Chia (+$0.50) and Honeycomb Toffee (Dalgona drinks only) (+$1.00).
They also serve some drinks with Korean-inspired flavours that bring back childhood memories.
Korean-Inspired Specialty Drinks include:
Korean Oat 'N Barley (Roasted Korean barley tea paired with oat milk)
Jolly Pong Shake (Korea's popular cereal snack in the form of a milkshake)
Honeycomb Dalgona Latte (Korean honeycomb toffee crumbs served over your choice of milk. The toffee melts and oozes into your drink creating a rich "caramelly" flavour.)
Dalgona Matcha (Korean honeycomb toffee crumbs served over our signature organic matcha latte)
Banana Milk Latte (Bingrae's Korean banana milk using fresh bananas and real milk)
Sparkling Honey Yu-ja Tea (a bubbly Korean citron drink)
Yu-ja Matcha Slush (Korean honey citron slush layered over our hand whisked organic matcha)
Signature Drinks include:
Assam Black Tea
HK Style
Thai Iced Tea
Hojicha Latte
Vietnamese Cafe Sua Da
Jasmine Green Tea
Genmaicha Latte
Earl Grey
Horchata
Matcha Series:
Matcha Latte
Red Bean Matcha
Yu-ja Matcha Slush
Strawberry Match Latte
Dalgona Matcha
Matcha Mud Slush
Black Sugar Matcha Latte
Other Speciality Drinks:
Roasted Soy Latte
Fresh Strawberry Milk
Black Sesame Latte
Sparkling Strawberry
Freshly Brewed Tea Series:
Roasted Barley Tea
Chrysanthemum
Matcha
Roasted Corn Tea
Genmaicha
Hojicha
My experience at Boba Run Vancouver
It was super rainy yesterday but I managed to stop by Boba Run as I was in the Gastown area.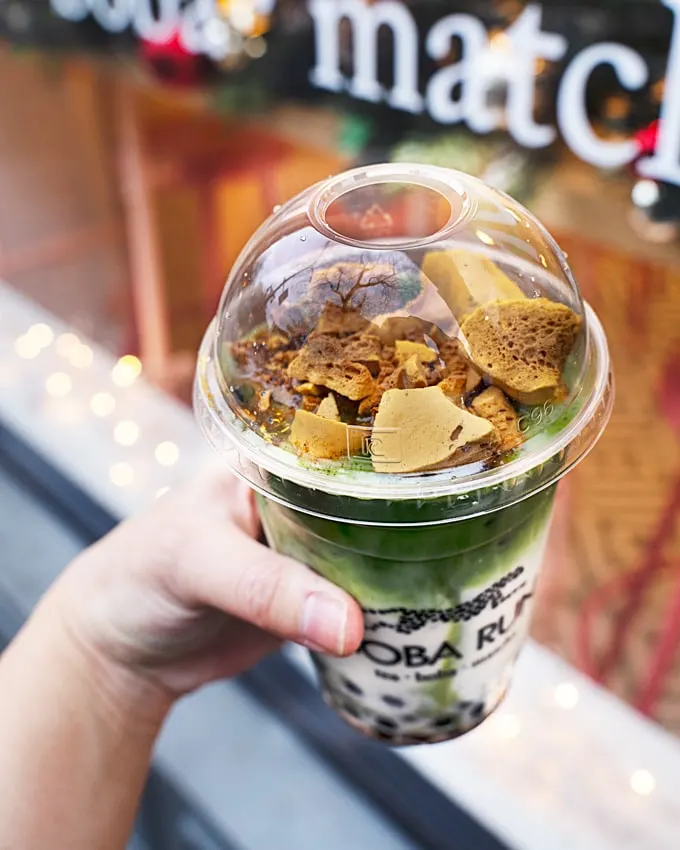 They are taking orders at the shop entrance only so customers are not permitted to enter their shop.
I tried their Dalgona Matcha Oat Milk Latte which features organic matcha by Whisk Matcha and Korean honeycomb crunchy Toffee (but there's no honey it's just the shape like honeycomb).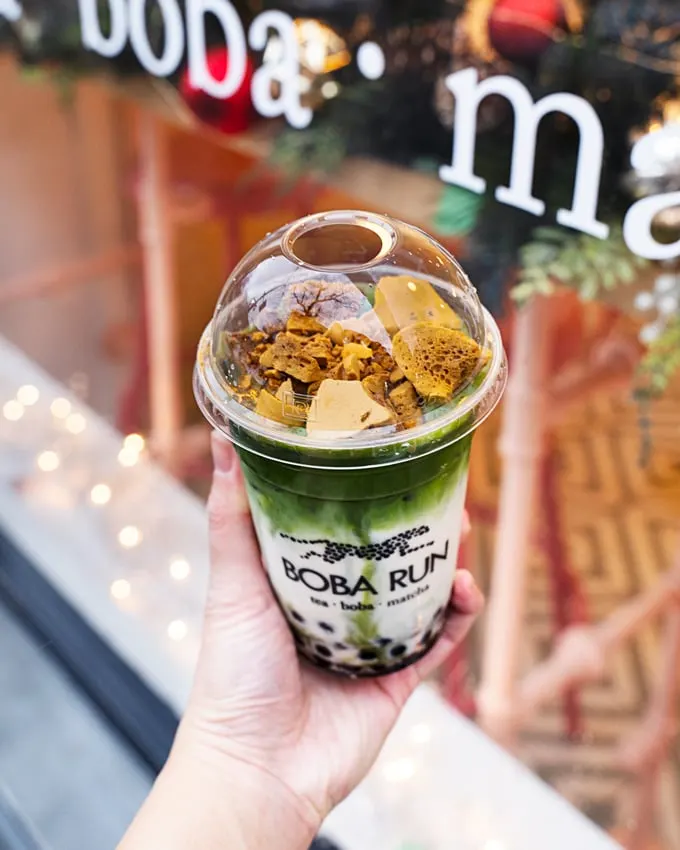 The drink was really refreshing and tasted natural and free of the artificial flavours. I liked how the toffee melted and offered very nice caramelly flavours to the drink.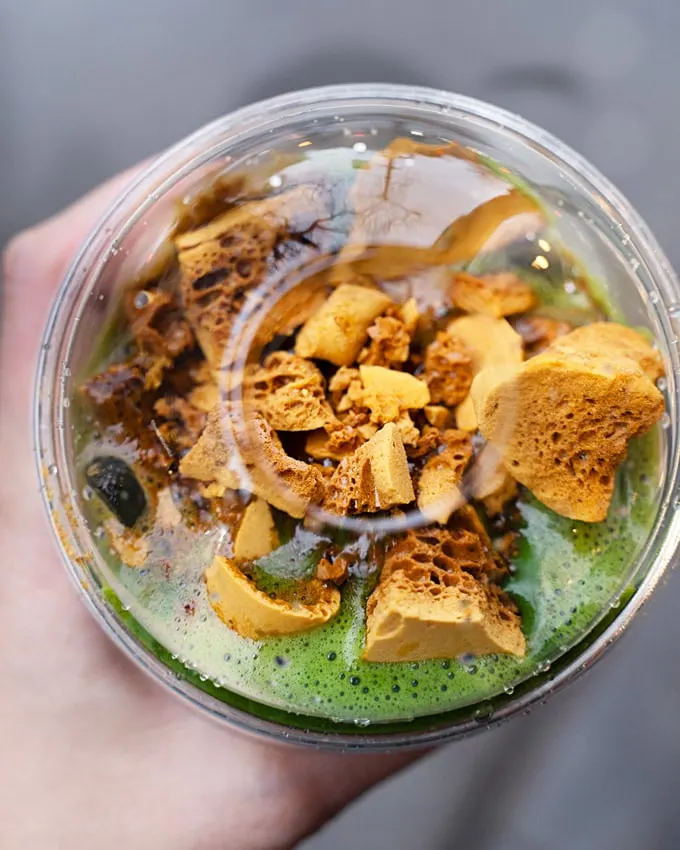 The drink did come out to be close to $8 as it was a specialty drink and I had an oat milk add-on (+$1).
I'd definitely be interested to try more of their drinks and would recommend giving them a try.
Boba Run Vancouver
102 West Hastings Street, Vancouver
Monday 11:00 a.m. – 4:00 p.m.
Tuesday 11:00 a.m. – 4:00 p.m.
Wednesday 11:00 a.m. – 4:00 p.m.
Thursday 11:00 p.m. – 12:00 a.m.
Friday 12:00 a.m. – 4:00 p.m.
Saturday 11:00 a.m. – 4:00 p.m.