While Whistler is known for being a year-round outdoor destination, there are plenty of opportunities to enjoy the culinary offerings the town has to offer. This post covers the best restaurants in Whistler that you need to try on your next trip.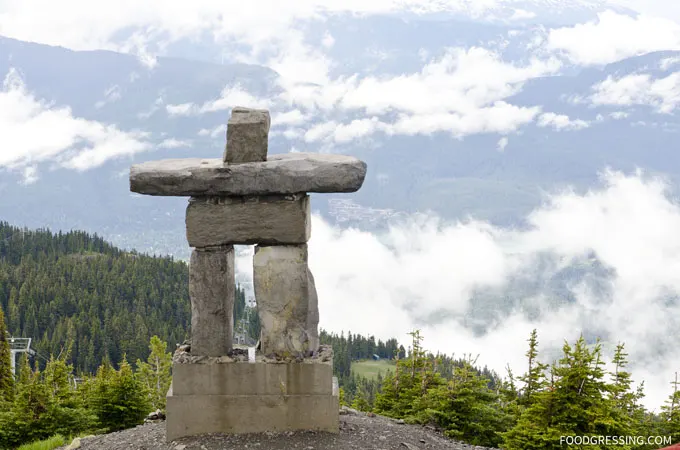 Satisfy your cravings for breakfast, lunch and dinner with options for different palates and price points to suit every budget.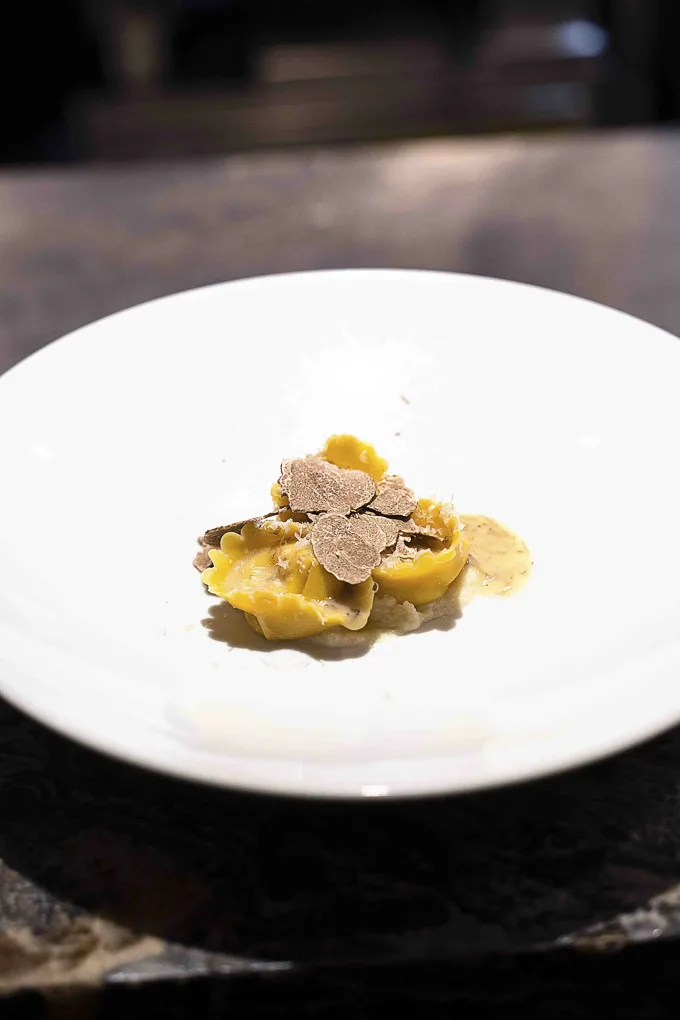 I curated this list based on my own opinion, experiences and knowledge of how well the restaurant is doing in the local scene.
From casual après snacks to fine dining, here's a look at Whistler's diverse dining scene.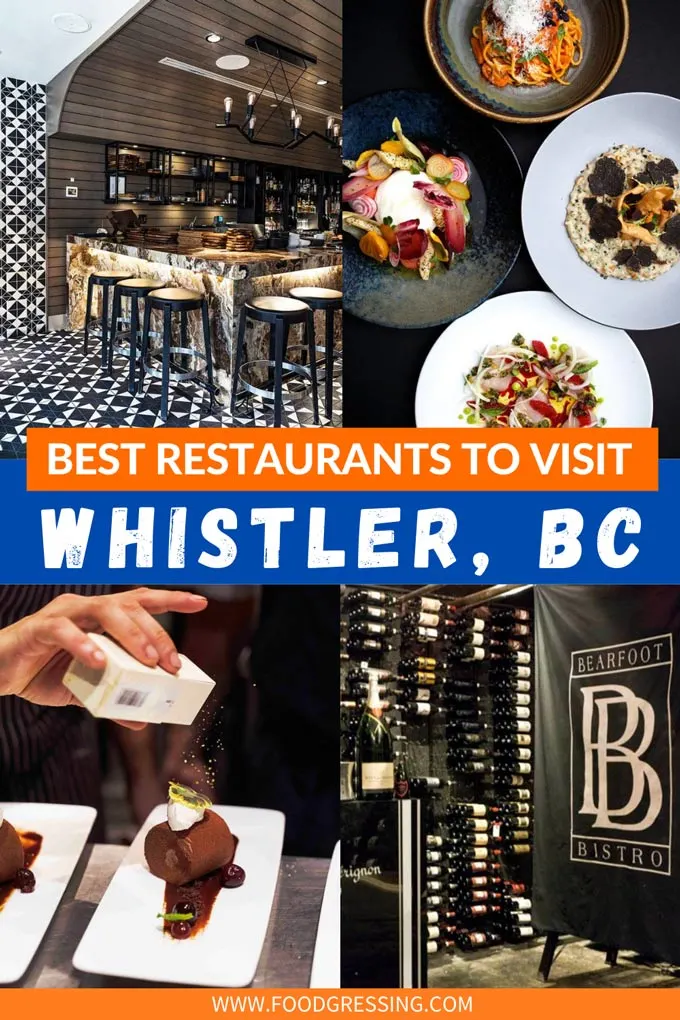 Restaurants are presented in no particular order.
Araxi Restaurant & Oyster Bar
As one of the best restaurants in Whistler for fine dining, Araxi is where you can enjoy locally sourced Pacific Northwest plates, wine and cocktails in an upscale environment.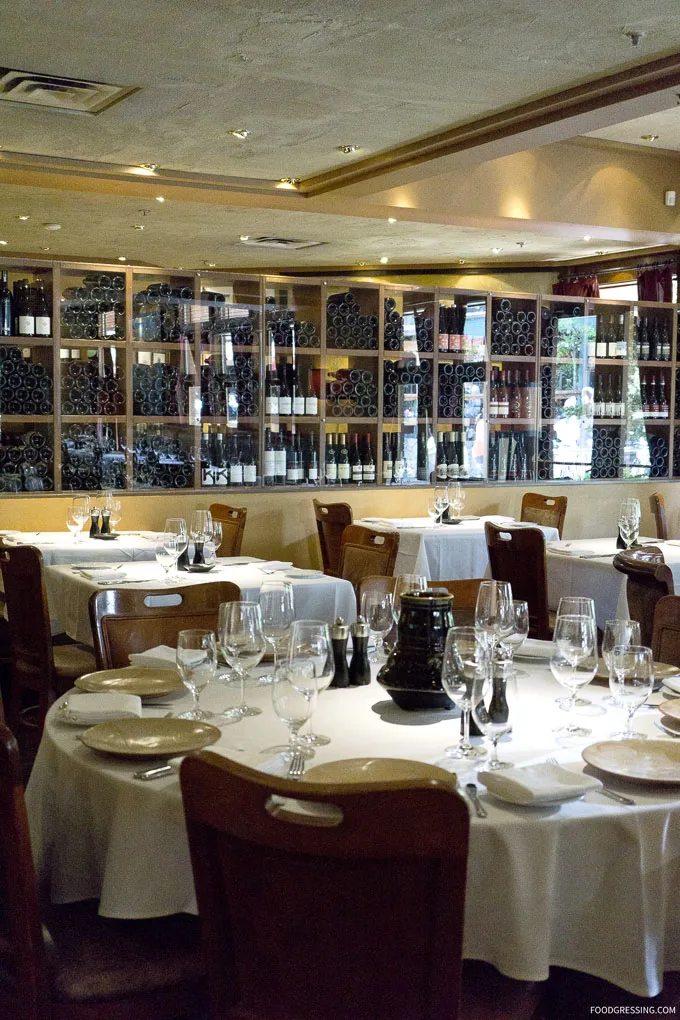 Araxi is committed towards sustainability and uses Ocean Wise approved seafood to help support oceans.
Their oyster bar serves some of the freshest and most delicious BC oysters you could hope to try including Royal Miyagi, Kusshi, Fanny Bay, Paradise and more.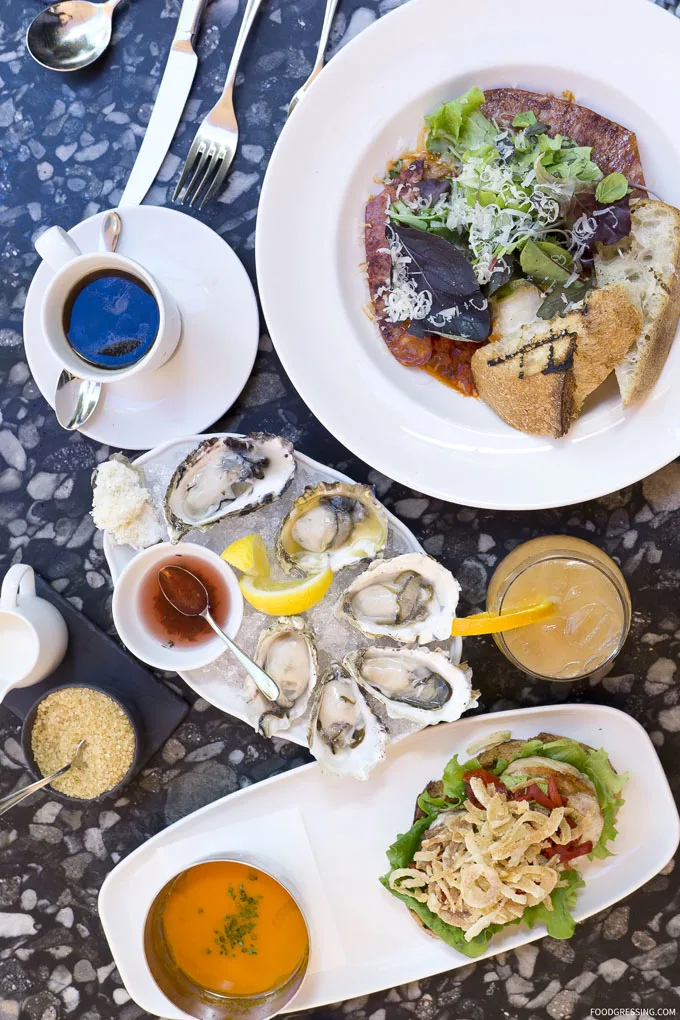 Araxi also has one of the best wine lists in Whistler, with a collection of over 11,000 bottles and 1,000 labels representing varietals both locally and around the world.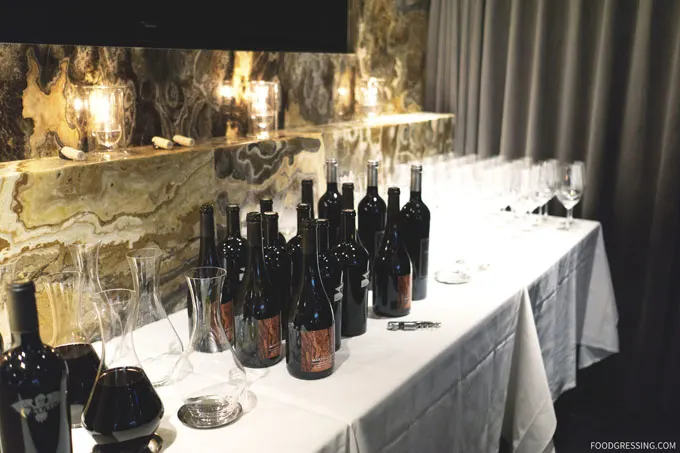 Their Two Tier Seafood Tower is impressive featuring 10 oysters on the half shell, 6 chilled prawns albacore tuna tataki, marinated seaweed and jellyfish salad ceviche, spicy tuna roll, and smoked wild sockeye salmon.
Other highlights of the menu are the BC Mushroom Tart (with butter crust, onion jam, blue cheese foam, thyme gel and fig crema); Marinated Miso BC Sablefish (with shiitake mushrooms, hakurai turnip + warm dashi broth, shaved radishes, sesame and chili gai lan); and House Made Bucatini Pasta "Mentaiko" (with humbolt squid, white wine, lemon cream, spicy cod roe, parsley, garlic chips and seaweed breadcrumb).
4222 Village Square #110, Whistler, BC
Bearfoot Bistro
Bearfoot Bistro is an upscale restaurant at the Listel Hotel Whistler with a bubbly bar, notable wine list and Pacific Northwest dishes.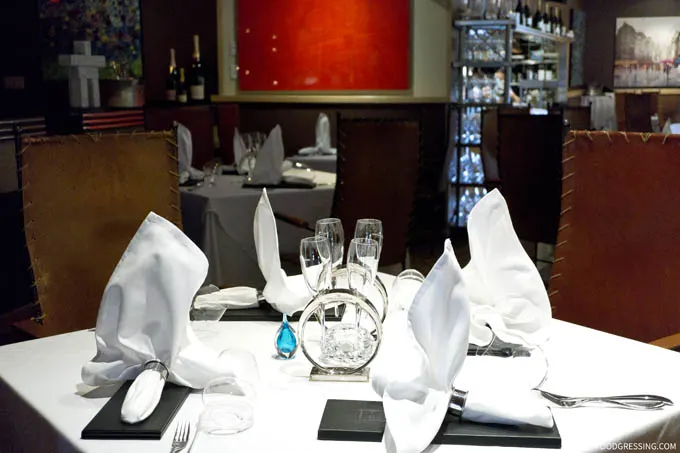 Executive Chef Melissa Craig presents a menu featuring exceptional seafood and wild game found in BC and complements them with the best of the best available from around the globe including Wagyu beef, Perigord truffles, Berkshire pork and more.
Let their wine director pair the perfect wines to complement each dish of your meal, or consult their sommeliers and select your own from their impressive and extensive cellar.
Bearfoot Bistro's wine cellar boasts 10,000-plus bottles and is the largest restaurant wine cellar in British Columbia.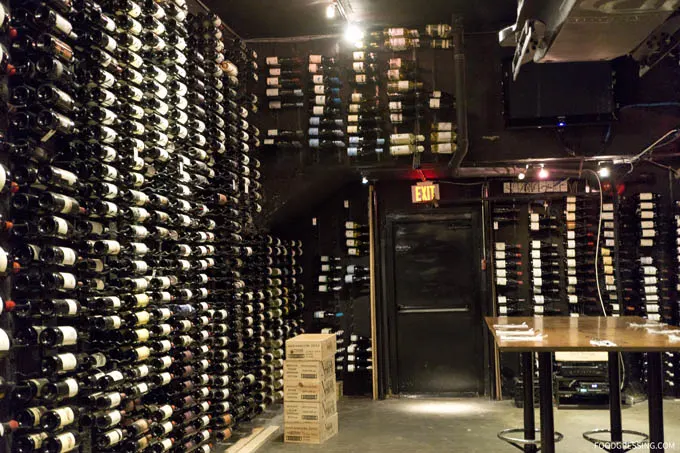 The list boasts over 1500 different labels, a spectacular collection of Champagne, and some of the most impressive verticals in the world.
One unique experience that they offer is champagne sabering. You can visit their underground wine cellar and try your hand at sabering a bottle of Champagne. Check out my Instagram video of this experience here.
Another fun activity that they offer is the vodka tasting at the Ketel One Ice Room. They will give you a park to wear of which then you come into the cold and experience an exhilarating flight of sub-zero vodka.
You get to taste four vodkas of your choice, and discover how the extreme environment enhances the flavour while minimizing the alcohol burn.
Their Happy Hour is quite popular so it is best to book your table in advance. The Happy Hour menu includes oyster specials, a small plates menu, and refreshing libations.
4121 Village Green, Whistler, BC
SIDECUT Steakhouse
SIDECUT Steakhouse is one of the best restaurants for steak in Whistler.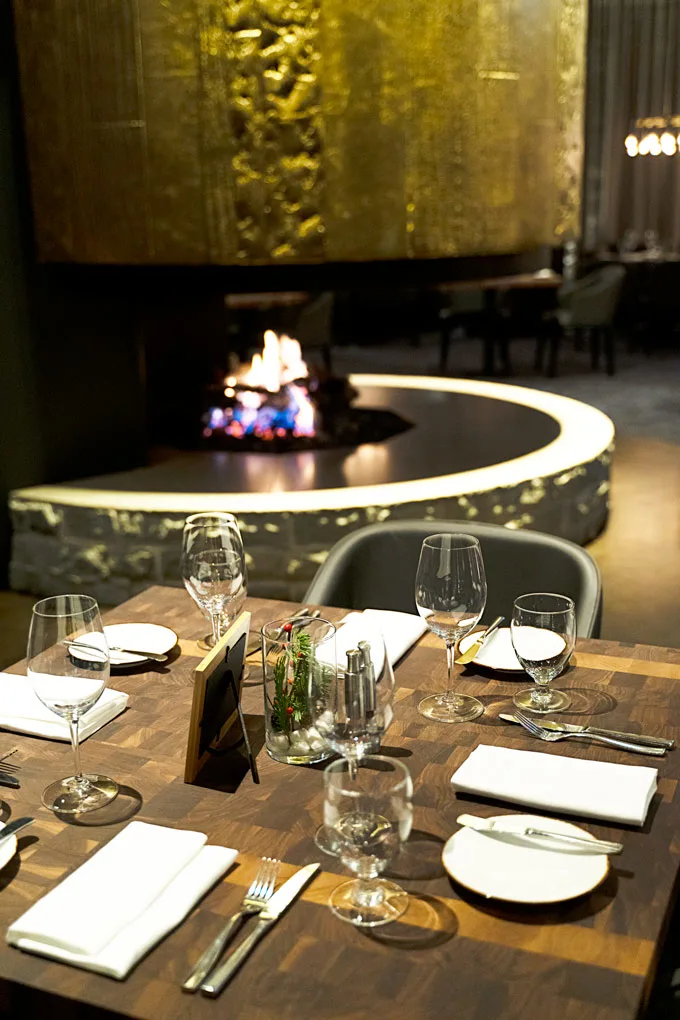 Located inside the Four Seasons Whistler, the restaurant underwent a luxurious and sleek redesign in 2020.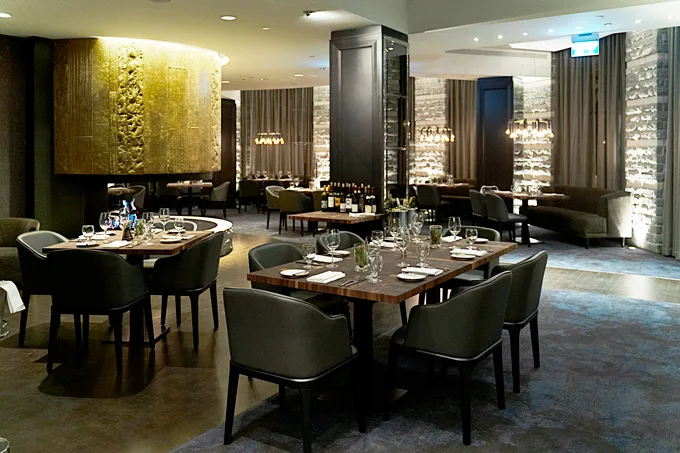 At SIDECUT, you'll find the finest prime, hand-cut steaks seasoned with Chef's Classic Rubs and fresh Ocean Wise seafood from the Pacific, classic sides, as well as impressive debut dishes imagined by Executive Chef Eren Guryel.
Guests will enjoy the fireside lodge dining that is elevated with a contemporary and sophisticated take on the traditional steakhouse.
Mouthwatering steak options include Wagyu Black Label Flat Iron (Snake River Farms, Idaho); Beef Tenderloin (Angus Reserve, Highriver, Alberta); New York Striploin (USDA Prime, Nebraska); Beef Ribeye (Angus Reserve, Highriver, Alberta); Bone-In Striploin (USDA Prime, Nebraska); Japanese A5 Wagyu Sirloin (Kagoshima Prefecture).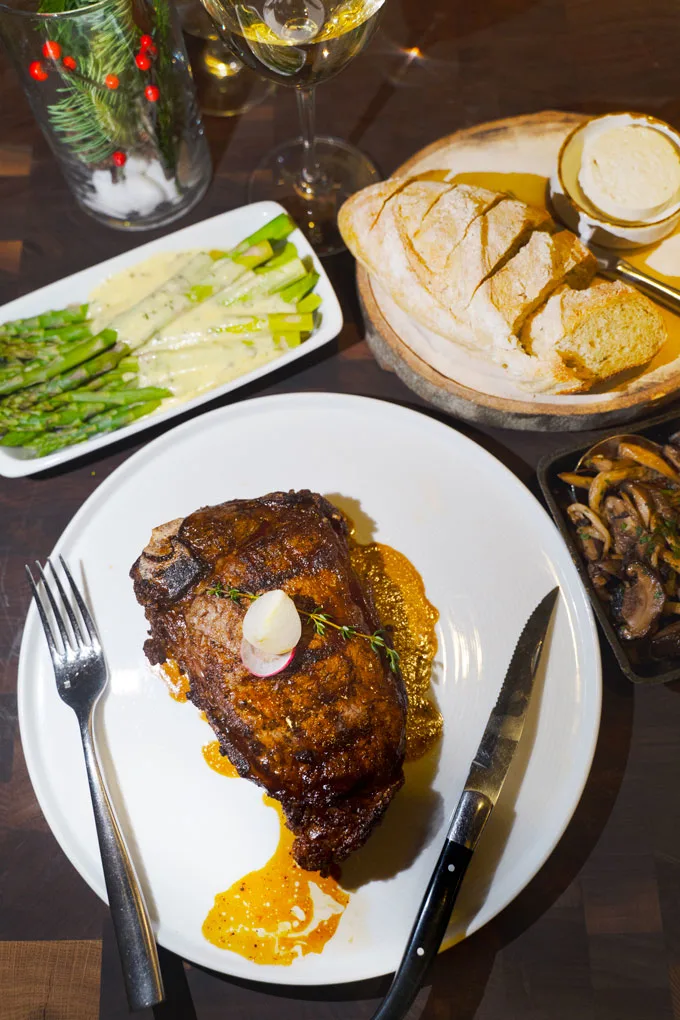 An impressive sharing dish is the Iced & Marinated Ocean Wise seafood platter featuring King crab leg, octopus, scallop ceviche, prawn cocktail, salmon, tuna sashimi and Pacific oysters.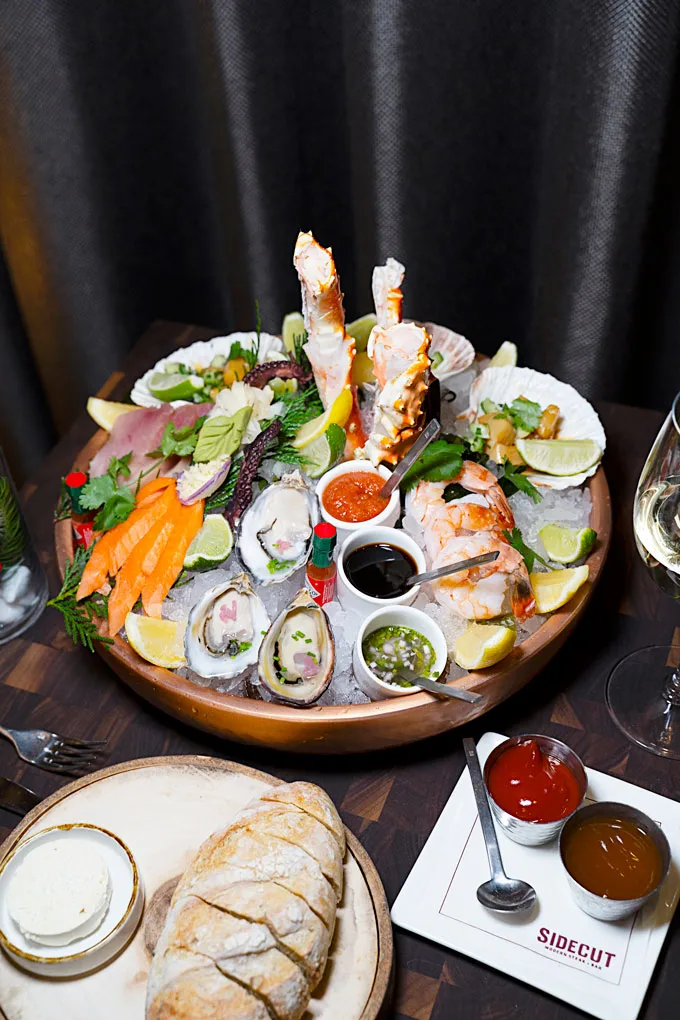 A beautiful finish to the meal would be the Dark Chocolate Souffle with a tableside pouring of a Vanilla crème anglaise.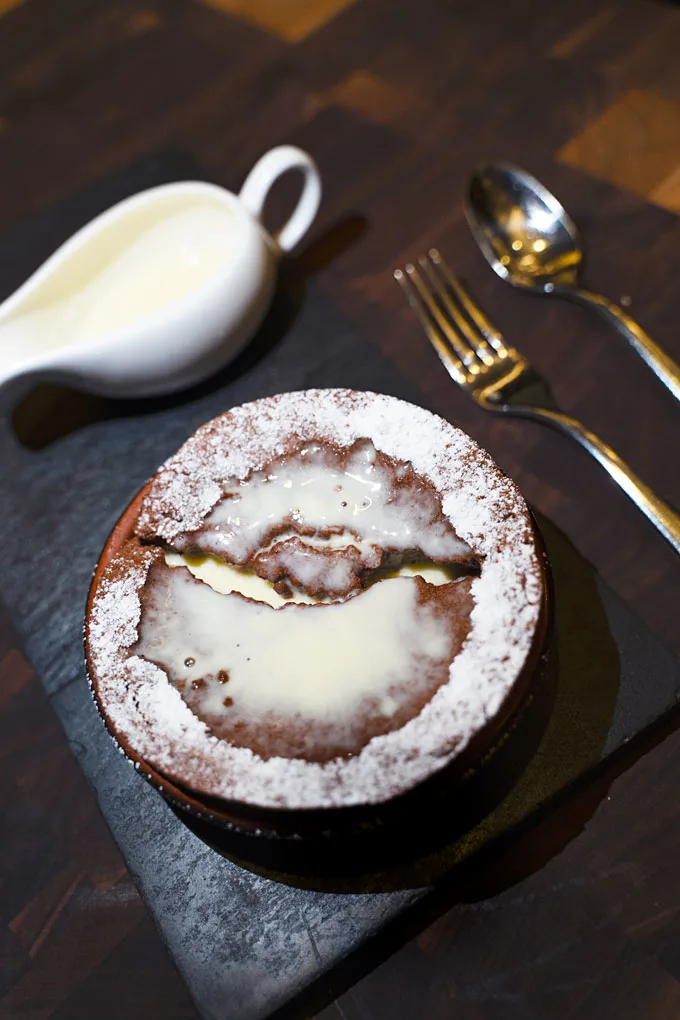 4591 Blackcomb Way, Whistler, BC
Il Caminetto
Il Caminetto blends Italian and local flavors from seasonal ingredients with a creative flair in the heart of Whistler.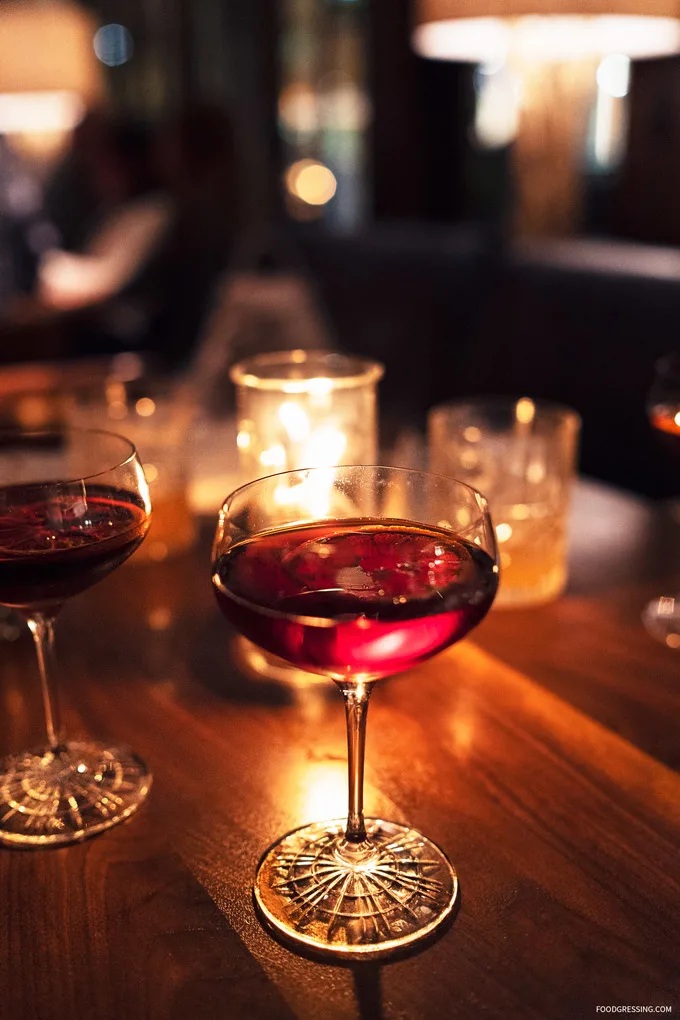 While the food menu changes with each season, pasta is a solid choice at any time of year.
Antipasti choices include 24 month aged Prosciutto Di Parma; Burrata with BC Heirloom Tomato Tart and more.
Primi options include Wild Mushroom Risotto; Lobster + Saffron Linguine; Spaghetti Al Pomodoro and so forth.
Followup with secondi dishes like Farmcrest Chicken Piccata; Grilled Quebec Veal Chop; or 6 oz Beef Tenderloin Steak.
4242 Village Stroll Whistler, BC
Joe Fortes Seafood & Chop House Whistler
A new restaurant in Whistler is Joe Forte Seafood & Chop House second location. They're also one of the best restaurants in Whistler for seafood.
Opened in early September 2021, Joe Fortes Whistler is located in the heart of Whistler Village, with the entrance inside the Mountainside Lodge Hotel.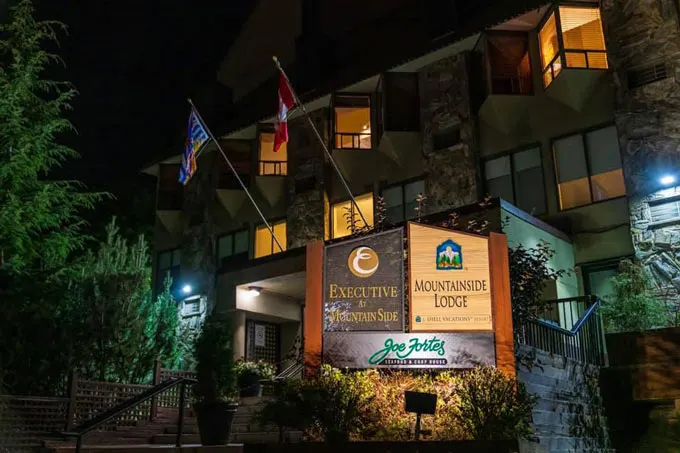 Joe Fortes has been specializing in classic, American cuisine since 1985.
For 35 years, Joe Fortes has consistently earned and maintained its reputation as an award-winning restaurant with their flagship location at the corner of Robson Street and Thurlow in Downtown Vancouver.
Guests from over the world visit Joe Fortes for a dynamic culinary experience featuring San Francisco-styled seafood grill, complemented by an award-winning wine list that boasts over 200 wines, and a uniquely personal level of service and hospitality.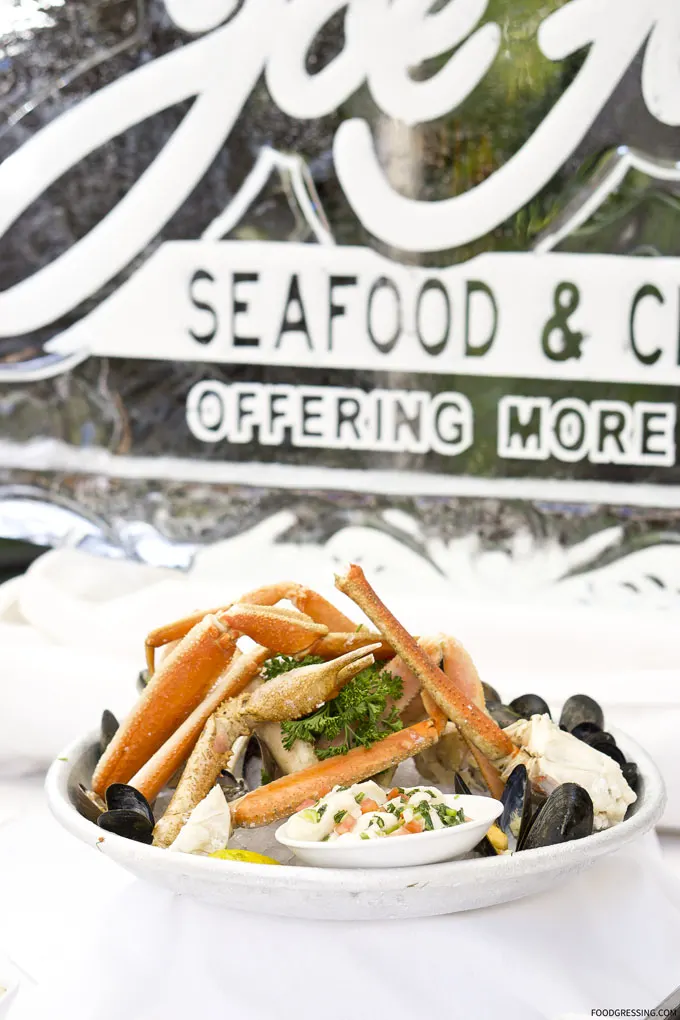 Indulge in classics like Joe's Fresh Seafood Cioppino (with prawns, scallops, clams, mussels, fresh fish); Potato Gnocchi with roasted vegetables; or Stuffed Jumbo Prawns.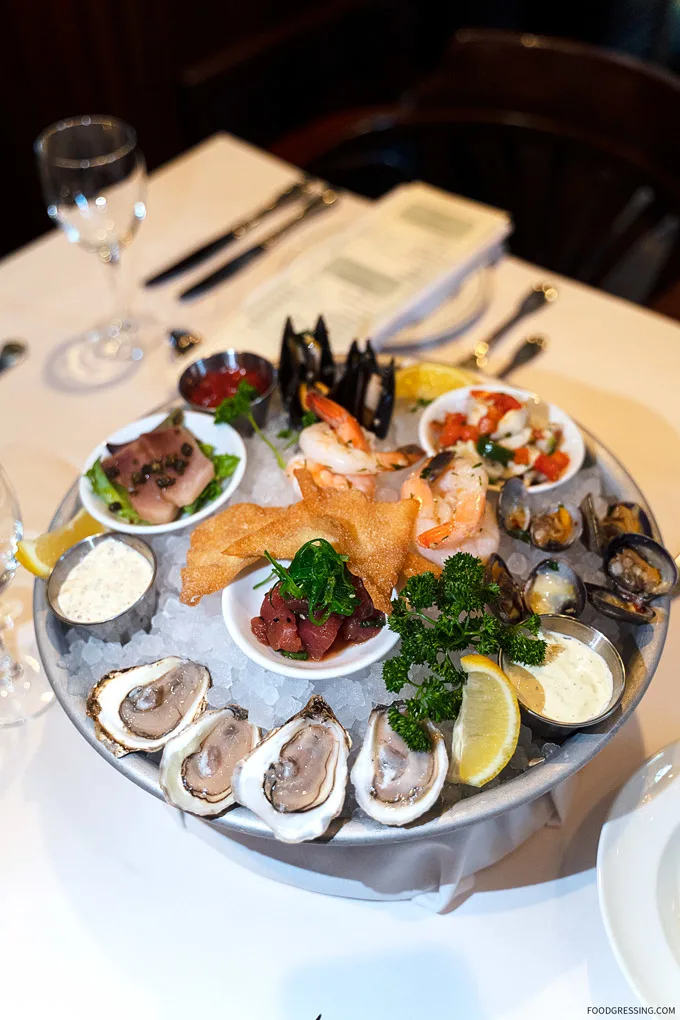 Their apres hour takes place 3 pm – 5 pm where you can enjoy tasty eats like Beef Carpaccio; Steamed Mussels; Oysters Rockefeller; Classic Prawn Cocktail; and their signature Mini Lobster & Shrimp Rolls. Happy Hour wine is $1 per ounce (minimum 3 ounces).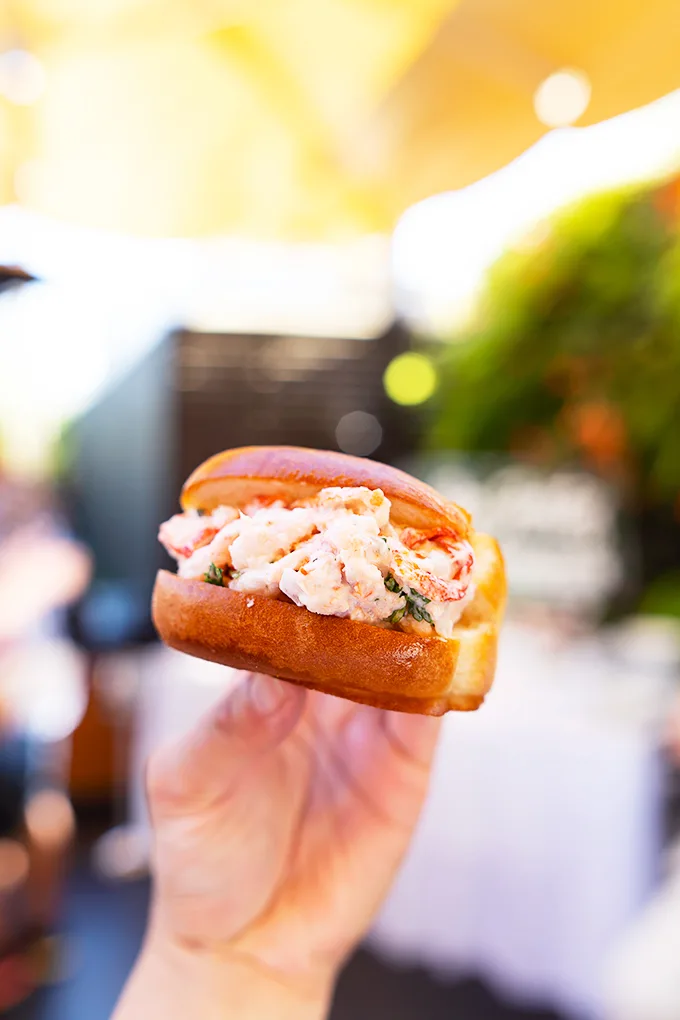 See the full menu on my post on Joe Fortes Whistler.
4417 Sundial Place, Whistler, BC
Bar Oso
Bar Oso is known for their Spanish tapas, house-made charcuterie, handcrafted cocktails, and wines. The restaurant is named "oso" meaning "bear" in Spanish as an homage to Whistler's wildlife.
The kitchen is led by Chef Jorge Munoz Santos, a native of Madrid, who had grown up in his family's restaurant, surrounded by the lively Spanish culture of food and hospitality.
If you sit at the long, convivial bar, you can see the kitchen team in action.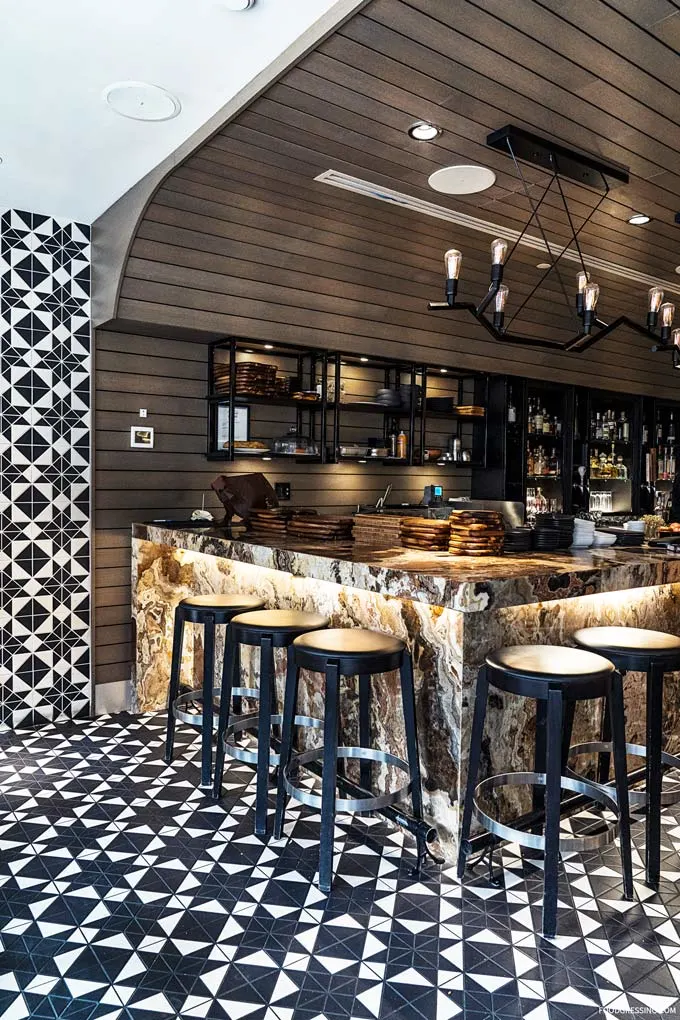 On the menu, you'll find fresh salads, soups, charcuterie, cheese, as well as Spanish-inspired tapas.
I can personally vouch for their Lamb Albondigas which has been on the menu since their early days.
These slow cooked meatballs are melt-in-your-mouth delicious, flavourful and slightly spicy.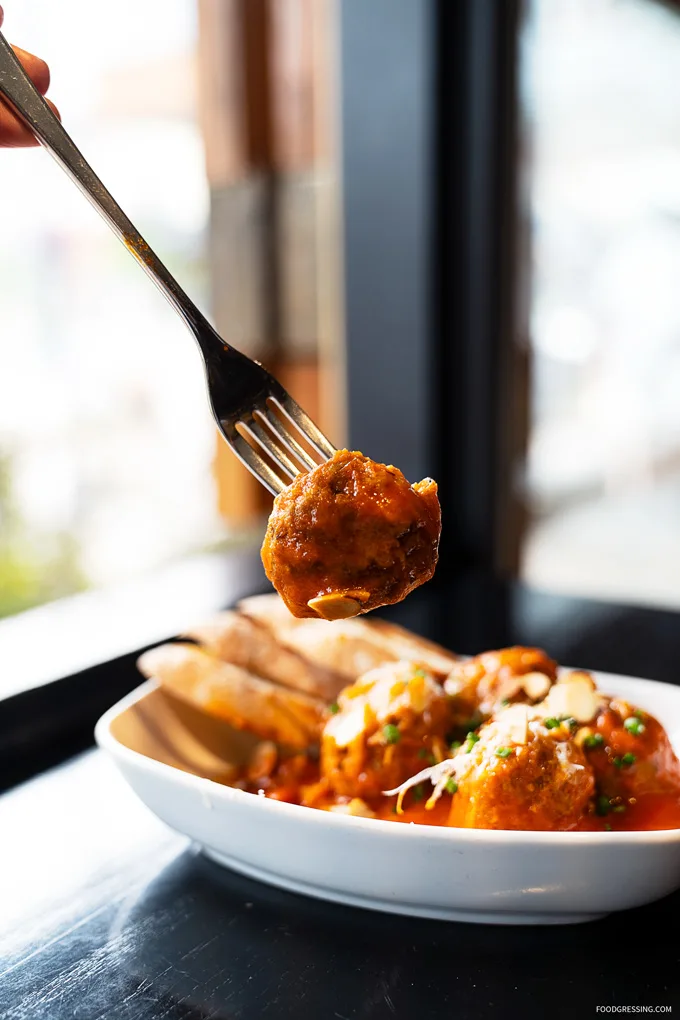 Wash it down with their delicious craft cocktails. The Oso Sour (bacon infused bourbon, maple syrup, lemon, egg white, dash chartreuse, and maple candied bacon) is a popular one.
50-4222 Village Square, Whistler, BC
Alta Bistro
Alta Bistro is one of my personal favourites in Whistler and one of the best restaurants in Whistler for modern and upscale French cuisine.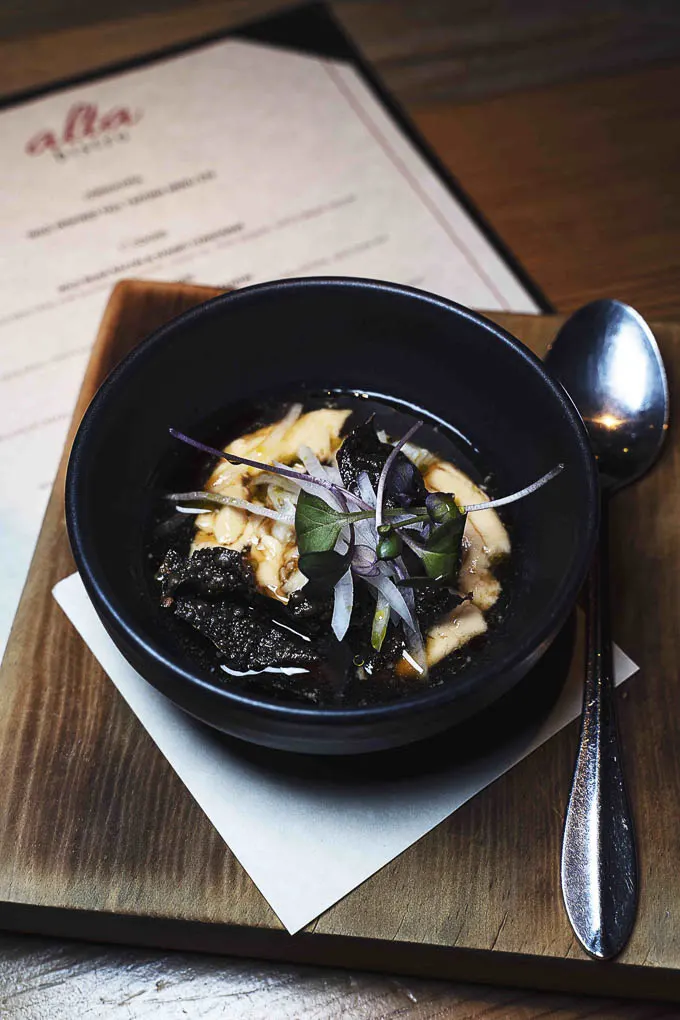 Their menu is seasonal and show cases traditional and modern French cooking with only the best ingredients in season. No two visits to Alta Bistro are the same.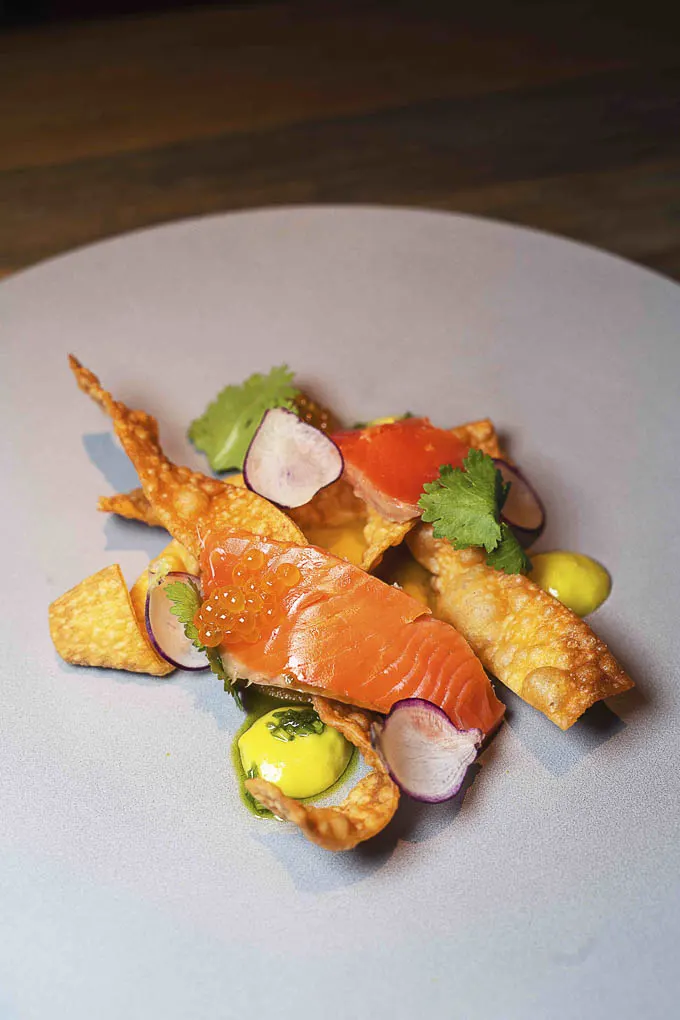 Some of their dishes you would find on their menu are Rangland Elk Tartare; Alta Cheeseburger (with a pork & bison patty); and Tonka Bean & Milk Chocolate Ganache.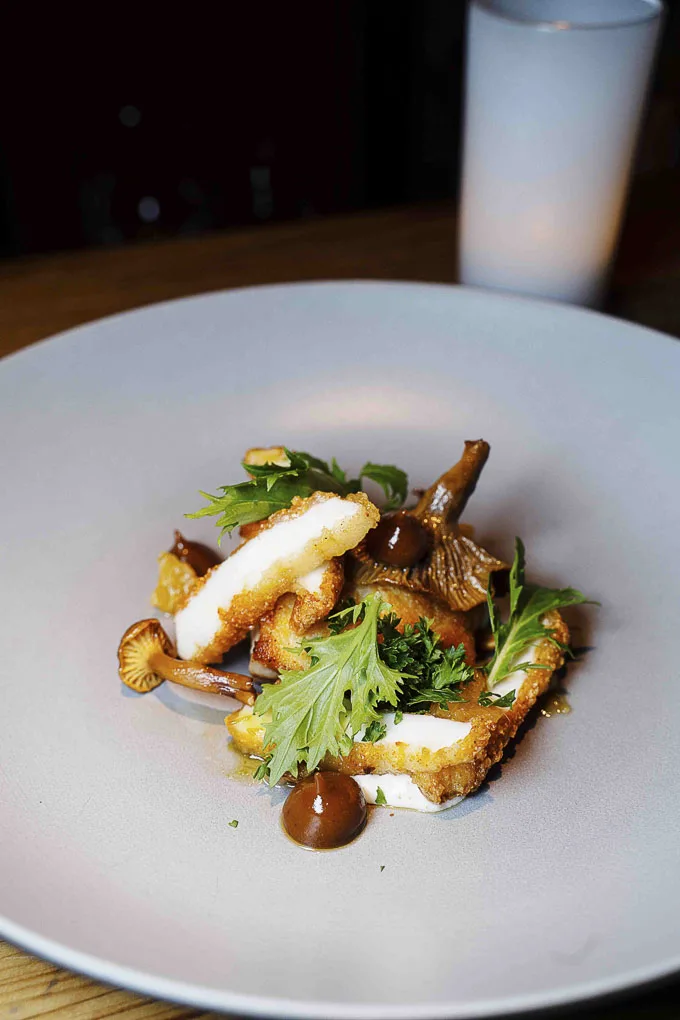 104-4319 Main St, Whistler, BC
RimRock Café
RimRock Café is one of the best restaurants in Whistler that has been around for more than 30 years.
Located in the Creekside, RimRock Café is known for their fresh Pacific Northwest seafood dishes; intimate vibe; and global wine list.
Start off with the Lobster Bisque, then order some of Chef's Daily Oysters. Order the Spring Salmon or get a taste of everything with the Rimrock Mixed Grill featuring Petit Filet Mignon, lamb chop and venison medallion.
2117 Whistler Rd, Whistler, BC
Braidwood Tavern
Located inside Four Seasons Whistler, Braidwood Tavern is mountainside eatery where you can enjoy good food and drinks in a laid-back, cabin vibe.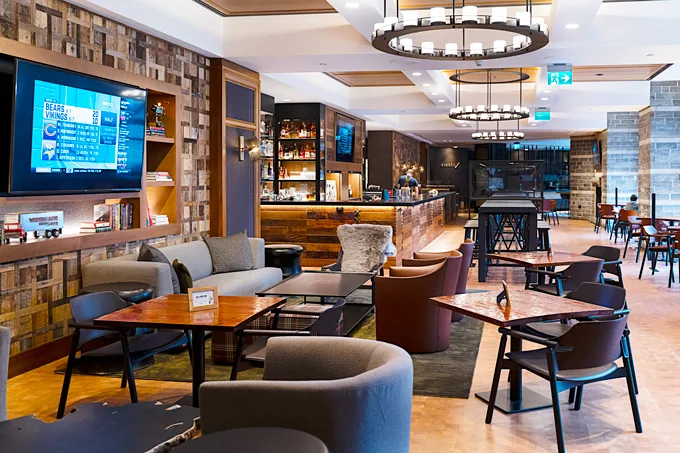 They're one of the best restaurants for après-ski in Whistler where you'll find comfort food featuring best quality and locally sourced ingredients; playful cocktails; and an extensive rotating craft beer menu showcasing hand-selected brews from BC and the Sea to Sky region.
The culinary team includes Executive Chef chefguryel, Executive Sous Chef Sajish Kumar, and Head Bartender Robert Kharazmi.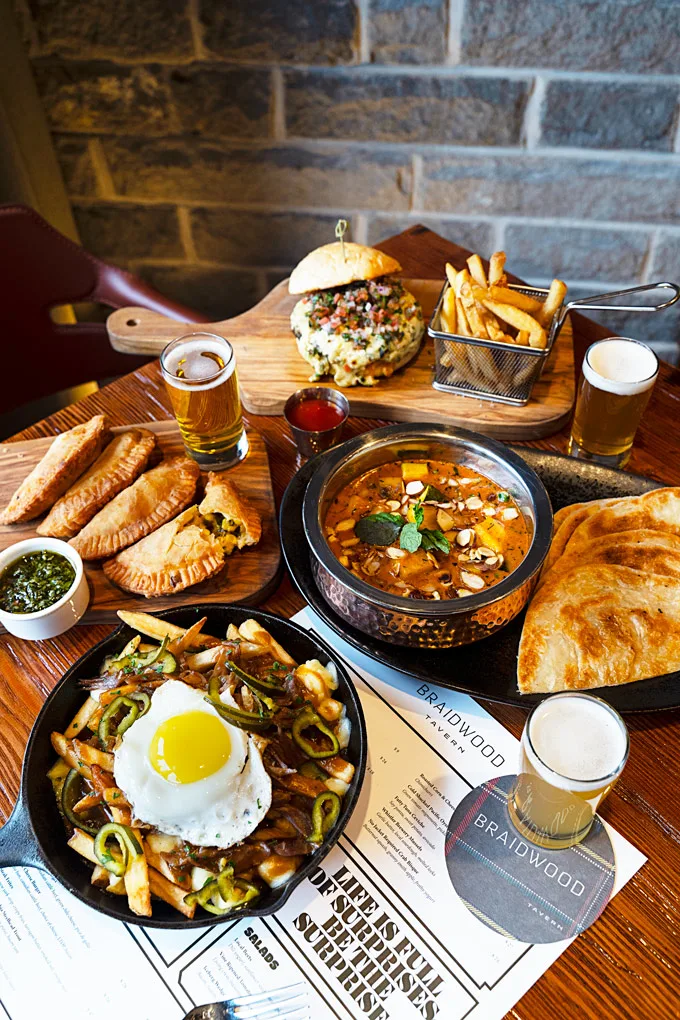 Beer lovers would take to the longest beer flight ever (consisting 14 craft beers (minimum three people to share).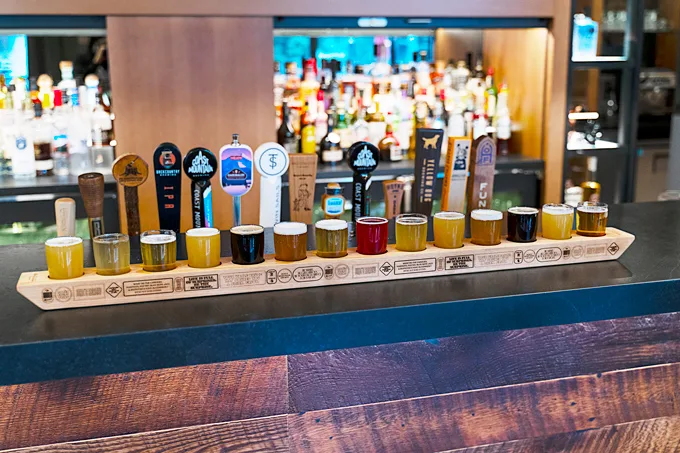 As for food, start off with the What The Duck Poutine (Brohm Lake duck leg with crispy fries, just, fried egg, cheese curd, and pickled poblanos) and the Roasted Corn & Cheese Empanadas with the Chimichurri salsa.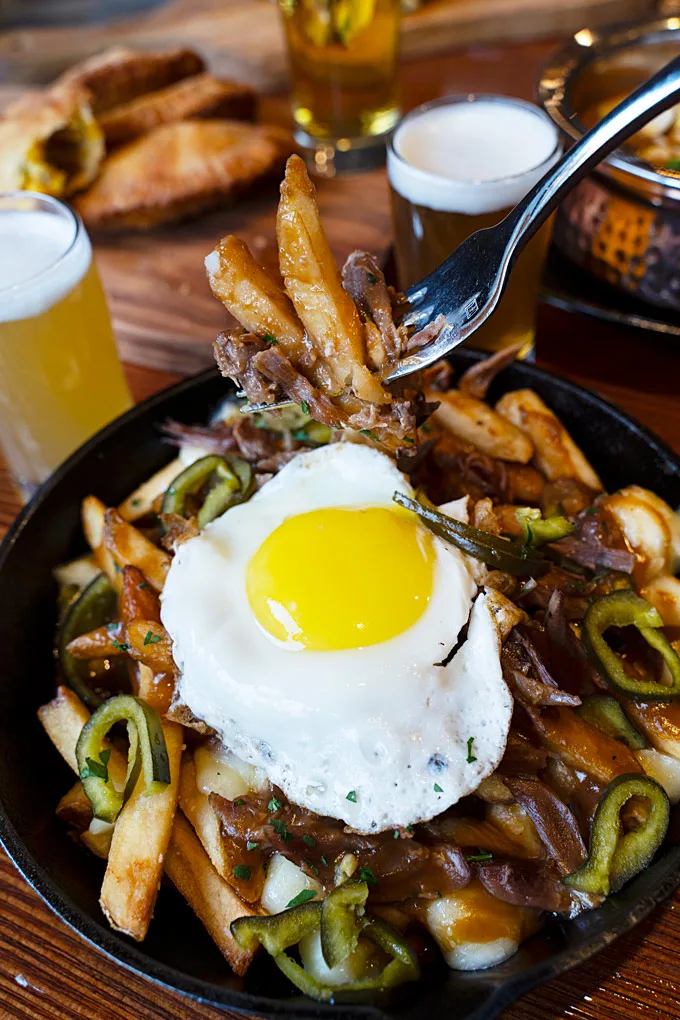 Then, take on the Plaid Lad Chile Burger featuring a Canadian cattle beef patty, green chile cheese, pico de gallo and potato bun.
Also recommended is the Green Pea and Zucchini Curry featuring sweet potato, coconut milk, toasted almonds and paratha bread (so good!).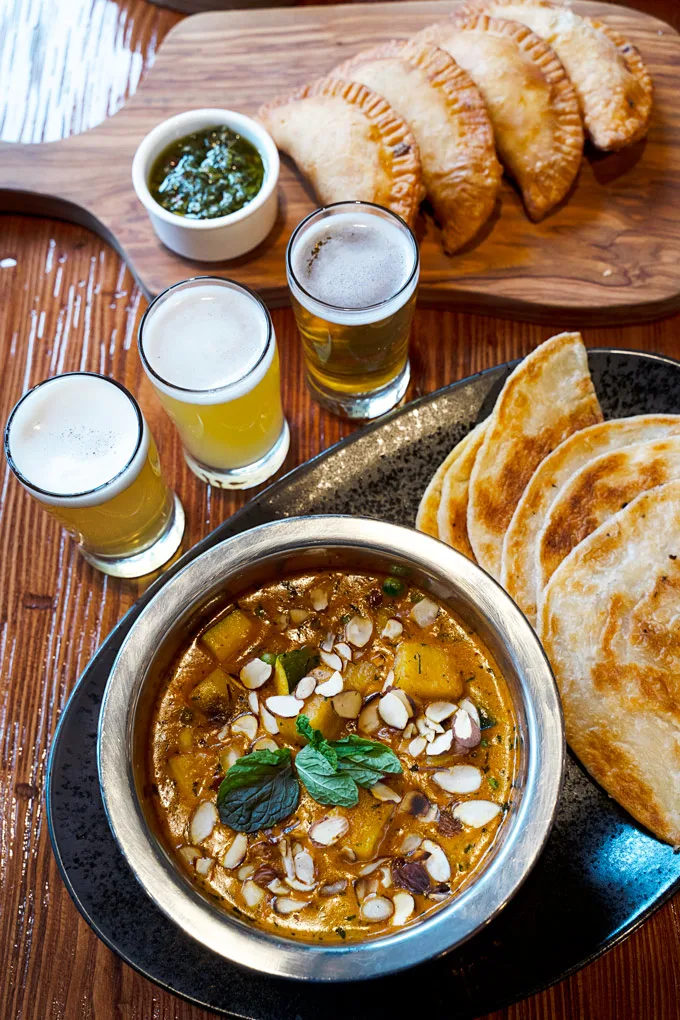 Complimentary 3 h parking included if you dine with them.
They have also have a dedicated vegan menu with Plant Based Burger; Tofu Vegetable Stir-Fry; All Green Pizza and more.
4591 Blackcomb Way, Whistler, BC
Peaked Pies
Peaked Pies is a small shop that is located just on the far side of the Whistler Village and they serve amazing Australian-inspired pies.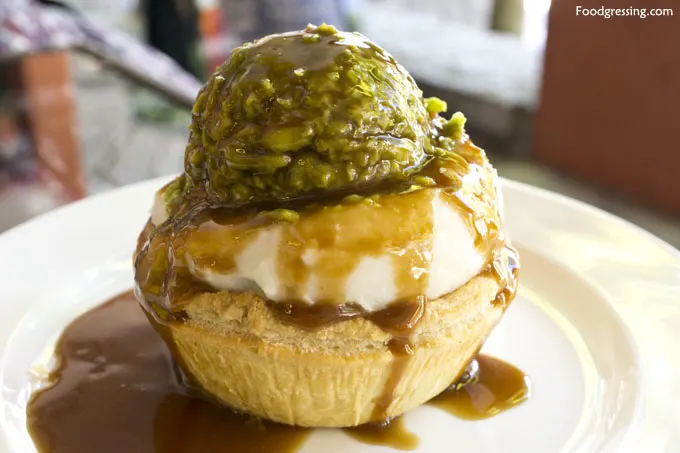 They offer savoury pie options including Traditional Aussie, Chunky Pepper Steak, Butter Chicken and more.
The best part of Peaked Pies is the option to "peak" your pie with a heap of mashed potato, mushy peas and gravy.
You'll also find sweet pies like Mixed Berry and Apple Crumble.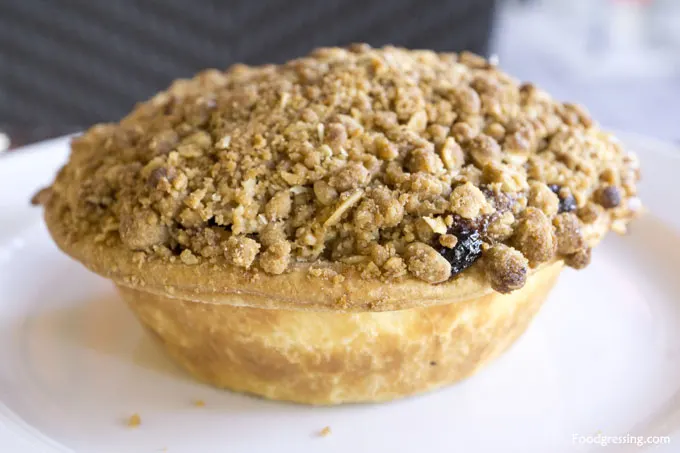 Looking for breakfast in Whistler? Check out their breakfast pies like the Ned Kelley and Rise & Shine which have bacon and eggs.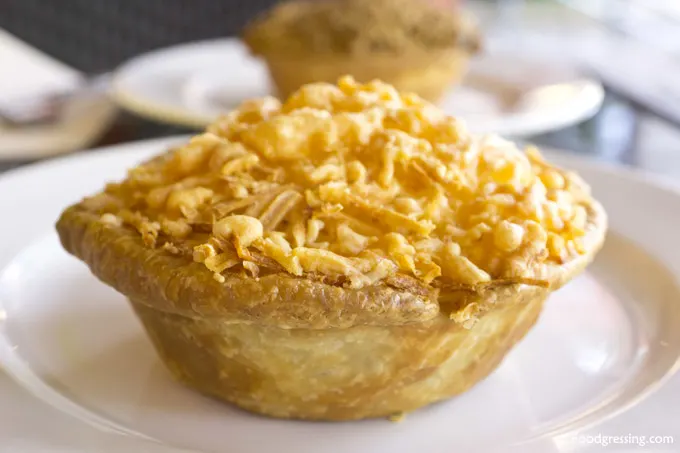 4369 Main St #105, Whistler, BC
Purebread
Pure Bread is a carbivore's heaven and is a go-to spot for breakfast, snacks and coffee in Whistler.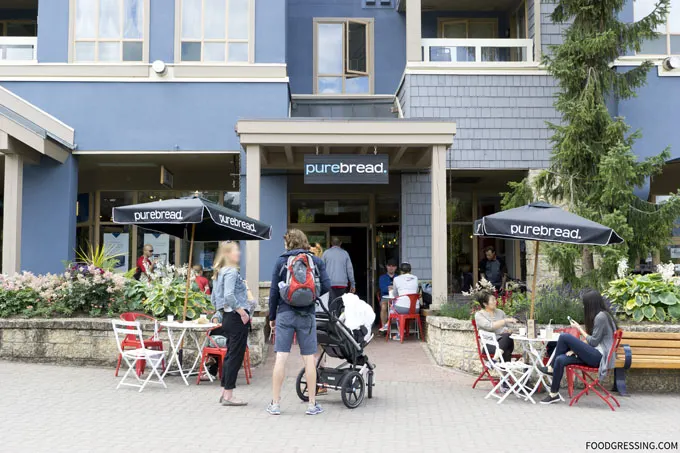 Right after you enter the bakery, you will immediately be put into a trance by the wonderful smell of baked goods.
You'll need to brace yourself because the selection seems also endless. The decision on what to eat is almost too difficult to make because everything looks so good.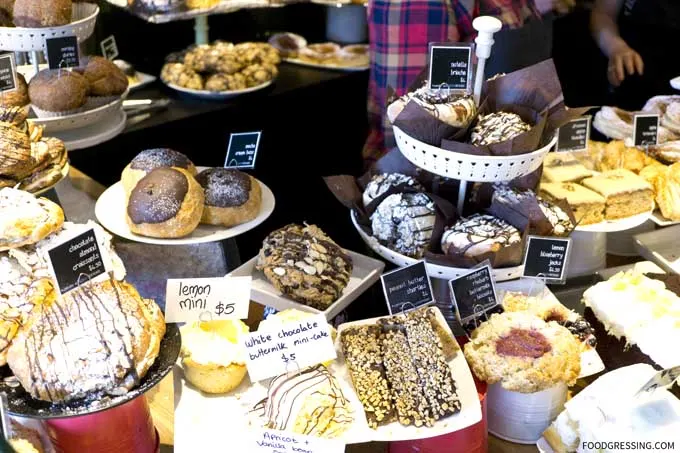 You can find Purebread at their two locations in Whistler: one across the Olympic Plaza in the Whistler Village and the other in south Whistler at Function Junction.
4338 Main St #122, Whistler, BC
1040 Millar Creek Rd, Whistler, BC
Elements Whistler
Elements Whistler is one of the best restaurants in Whistler for breakfast and brunch.
You can a classic breakfast with 2 free run eggs any style, their signature potato tartlet, chive sour cream, artisan breads & your choice of roasted tomatoes, Portobello mushrooms, Canadian Back Bacon, and more.
I personally love their Traditional French Toast which is just perfect.
More ways to discover food and wine in Whistler…
Whistler Cornucopia Annual Food and Wine Festival
Whistler Cornucopia is an annual food and wine festival in Whistler and 2021 marks its 25th year.
Cornucopia was designed to showcase and support local restaurants, restaurateurs and the food and wine industry.
With wide-spread appeal through the immense variety of events available, the festival is truly a food and drink festival with a Whistler attitude.
More information on Whistler Cornucopia 2021 taking place in November can be found here.
Looking for restaurant suggestions in Vancouver? Check out my recommendations here.