The A&W exchangeable cup pilot, known as A&W Cup Crew, has launched in the Greater Vancouver area.
The launch of A&W Cup Crew reflects A&W's' continued strategic commitment to reduce its environmental impact through a conscious use of packaging, energy, waste, and water.
How A&W Cup Crew Works
The A&W Cup Crew allows guests to enjoy their favourite drinks on-the-go and reduce the use of single-use cups.
To join the pilot program, you can simply purchase an A&W Cup Crew exchangeable cup for $3 the next time you order a beverage from the A&W menu at any participating restaurant in the Greater Vancouver Area.
The pilot program is a fully circular model.
You are encouraged to exchange your used exchangeable cup each time you visit an A&W restaurant, eliminating the need for single use paper cups.
Members will receive a $0.20 cent discount each time they return their exchangeable cup and will be served in a new cleaned and sanitized exchangeable cup.
A&W Cup Crew exchangeable cups will be cleaned and sanitized in the same dishwashers used for the variety of reusable dishware that is already part of the unique A&W experience.
The A&W Cup Crew exchangeable cup can be used for both hot and cold drinks and is made from recyclable polypropylene that is BPA free.
Did you know?
Each year, the average Canadian throws away 250 single use paper cups.
A&W Canada is committed to finding a way to limit the number of single use cups used at its restaurants.
Understanding that sustainability requires partnership throughout the supply chain, they are partnering with The Coca-Cola Company to bring this program to life.
A&W has a long history of reducing single-use packaging – guests who dine-in have been served beverages in frosted glass mugs since 1956.
A&W has a long history of taking actions to reduce our environmental impact – from being the first QSR in North America to eliminate plastic straws, to using compostable packaging, real mugs, plates and cutlery.
Through their World Without Waste initiative, A&W is working to reduce packaging waste and promote a circular economy.
More information on the A&W Cup Crew pilot program, and the list of participating restaurants can be found on aw.ca/cupcrew.
Participating Locations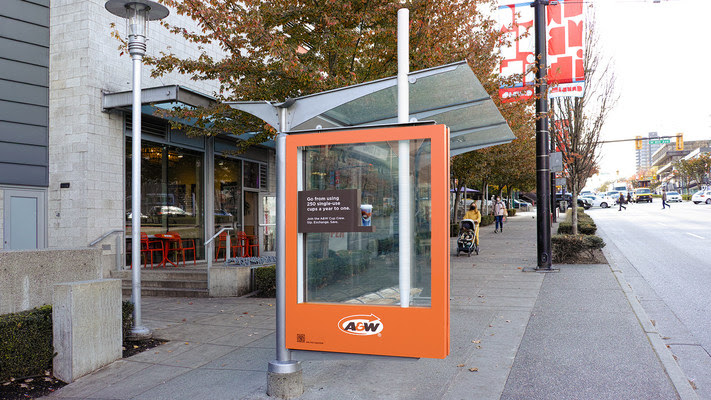 4605 Hastings Street, Burnaby
9055 University High Street, Burnaby
22805 Lougheed Highway, Maple Ridge
20811 Lougheed Highway, Maple Ridge
2150 – 1502 Broadway Street, Port Coquitlam
859 Village Drive, Port Coquitlam
2033 East Hastings St, Vancouver
777 West Broadway, Vancouver
991 Denman Street, Vancouver
200 – 2083 Alma Street, Vancouver
7092 Kerr Street, Vancouver
1715 East Broadway, Vancouver
601 West Cordova Street, Vancouver
450 Robson Street, Vancouver
6491 Oak Street, Vancouver
468 S.W. Marine Drive, Vancouver
5778 University Blvd, Vancouver
1150 Station Street, Vancouver
1028 Granville St, Vancouver
467 West Broadway, Vancouver
550 Bute Street, Vancouver
603 Dunsmuir Street, Vancouver
1158 Alberni Street, Vancouver
For more information, visit web.aw.ca/en/cupcrew.