H Tasting Lounge Dome Dining, known as "Winterlust," returns for the winter season on October 28.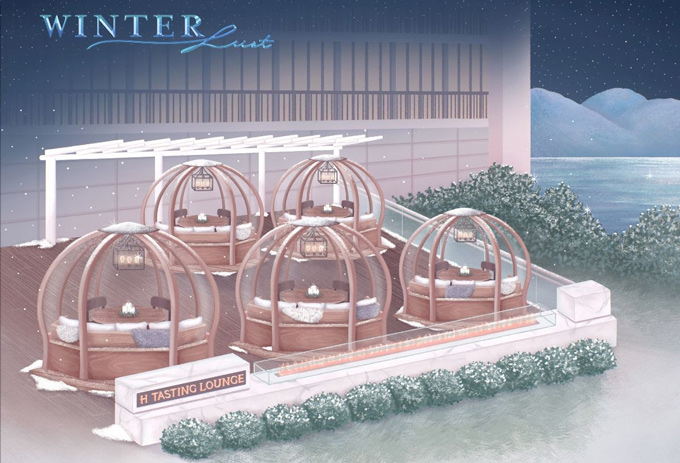 Featuring five brand new heated Alpine-inspired domes to be set aglow on HTL's waterfront patio, Winterlust promises an unrivalled picture of elegance in Coal Harbour.
As the colours of autumn fade, the enhanced domes are poised to deliver a divine private dining space from which to gaze at the stars and take in the snow-capped North Shore Mountains.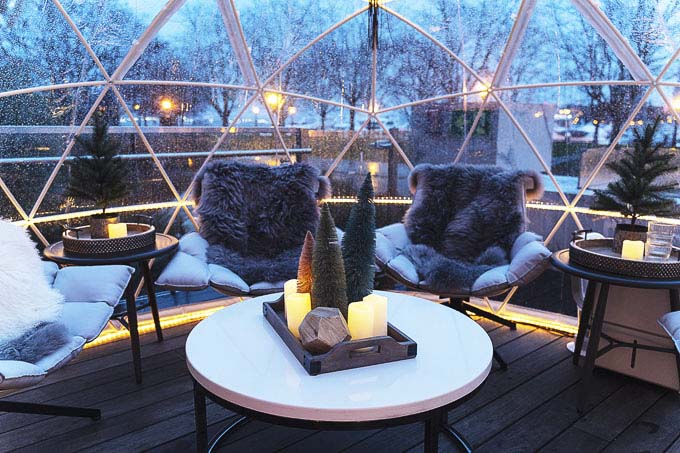 Each spacious 8'-by-8' dome boasts panoramic glass paneling bound by an intricately designed wooden framework. Inside, sheepskin throws, faux fur pillows, and woodland-inspired décor add to the Nordic charm.
These new and improved domes are also well-equipped for long winter nights, with heaters, fresh air circulation and independent sound systems.
Sliding glass doors and a crescent-shaped sitting area ensure a comfortable atmosphere for 6 to 8 guests.

Retreat to Winterlust for an enchanting escape and discover these luxurious new domes, beginning October 28 through Winter 2022.
Reservations launch October 18 at 4pm; set your reminders and bookmark www.exploretock.com/htastinglounge.
Hours of Operation
Monday – Friday: 11:30am – 11:30pm
Saturday & Sunday: 9:30am – 11:30pm
Minimum Spend
Not Including Taxes & Gratuity
Dinner Weeknights: $300
Dinner Friday & Saturday Nights from 6pm: $400
Weekend Breakfast: $150
Lunch: $200
Maximum Capacity: 8
For all Winterlust dining experiences, they require 48-hours' advanced cancellation notice in order to process a full refund. Cancellations that fall within 48-hours of the booked experience will be non-refundable.
Stay tuned to htastinglounge.com/winterlust for more information on H Tasting Lounge Dome Dining Winterlust.