If you have a sweet tooth, you'll be excited to know that a new dessert spot has just opened in Richmond. Taiwanese-based dessert chain, ZenQ, has just expanded to a new fourth location in BC. Located at 3471 No. 3 Road, ZenQ Richmond specializes in Taiwanese desserts ranging from their signature collagen-riched grass jelly series to glutinous rice desserts and shaved ice series. I visited ZenQ ahead of their official Grand Opening tomorrow. Here's a look at what you can expect from this new dessert stop in Richmond.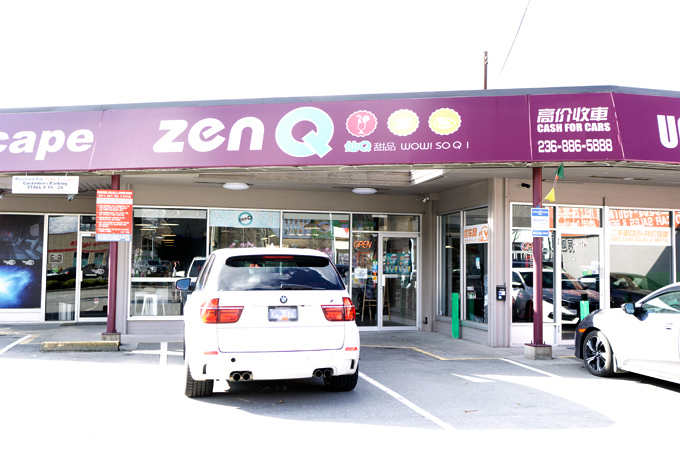 Disclosure: I was invited to a media tasting. All food and drinks were complimentary. Opinions are my own.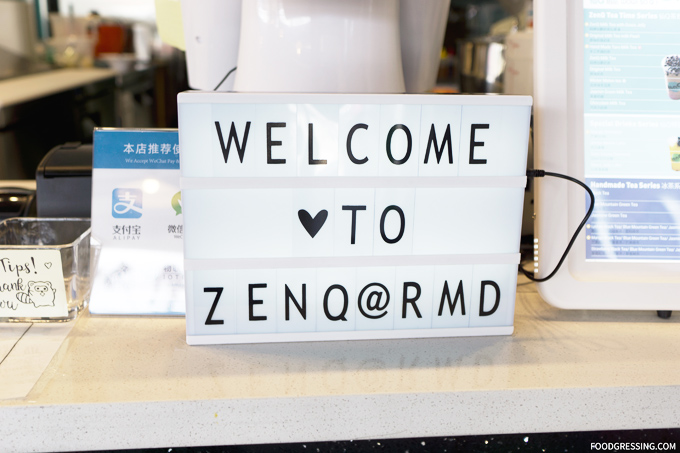 ZENQ RICHMOND MENU
On the menu at ZenQ are a variety of Taiwanese-style drinks and desserts. Drink series include ZenQ Tea Time Collection (like Original Milk Tea and Wintermelon Tea); Handmade Tea (like Jasmine, Black and Blue Mountain Green); and Special Drinks (like Grass Jelly Latte and Mango Refresher).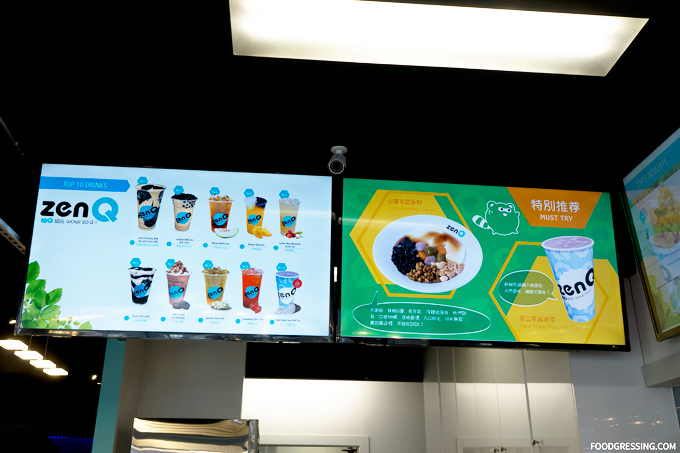 For desserts, there are Tofu Puddings, Grass Jellys, Creamy Frappes, Royal Sweet Soups, Black Glutinous Rice, Hot Grass Jelly, Waffles and Hot Sweet Soups. Additional toppings are available at an extra charge.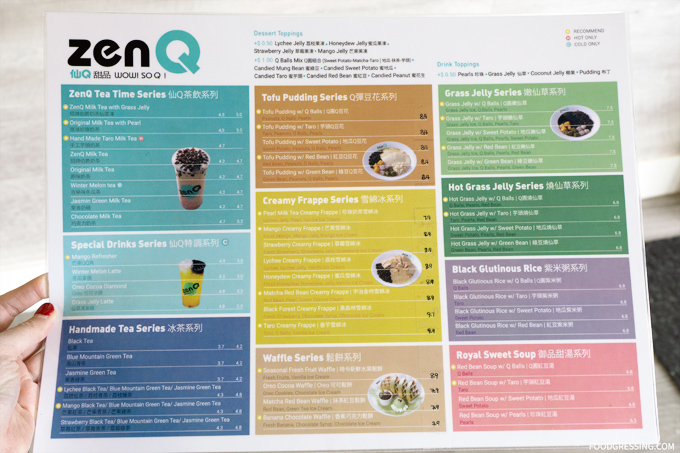 New drink additions to the ZenQ menu include Peach Refresher, Manger Smoothie, Matcha Red Bean Smoothie, Strawberry Slush and more.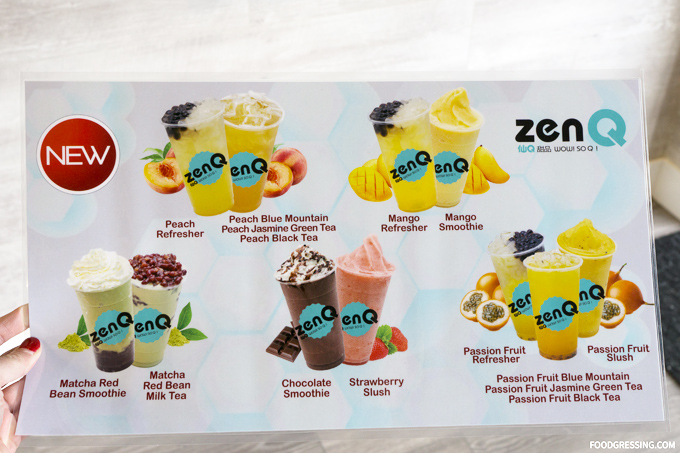 Grand Opening Special
For the Grand Opening weekend on March 3 – 4, you will receive a free drink (Pearl Milk Tea, ZenQ Milk Tea with Grass Jelly, or Mango Refresher) with any drink or dessert purchase.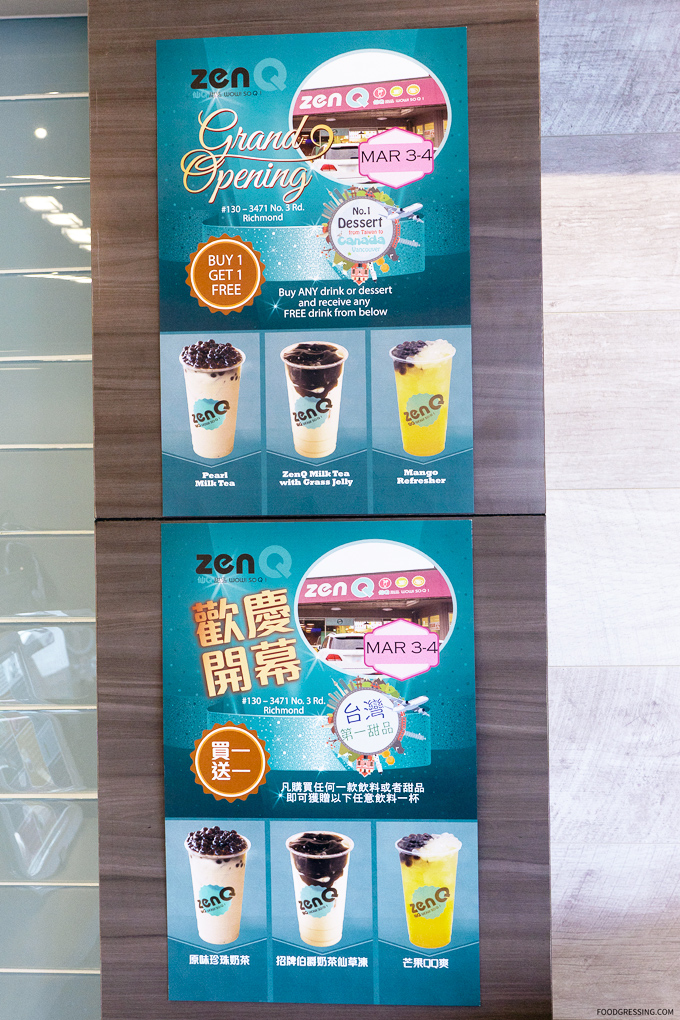 MODERN & SHINY
ZenQ's new Richmond location is more spacious than the Marine Drive one. There is a variety of seating here ranging from lounge seating, dining tables for 2 or 4 as well as a counter along the window.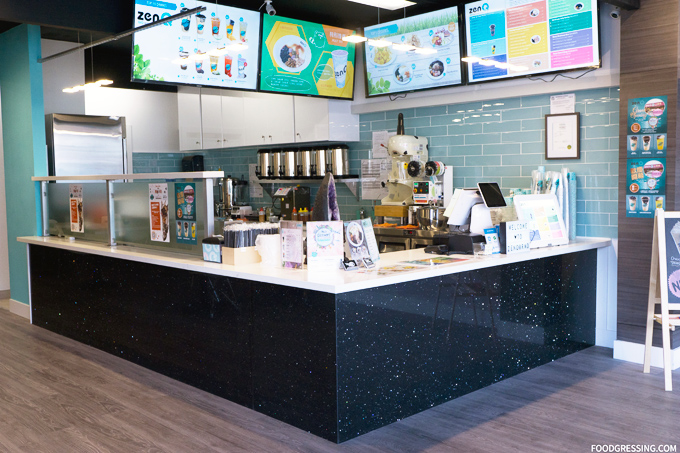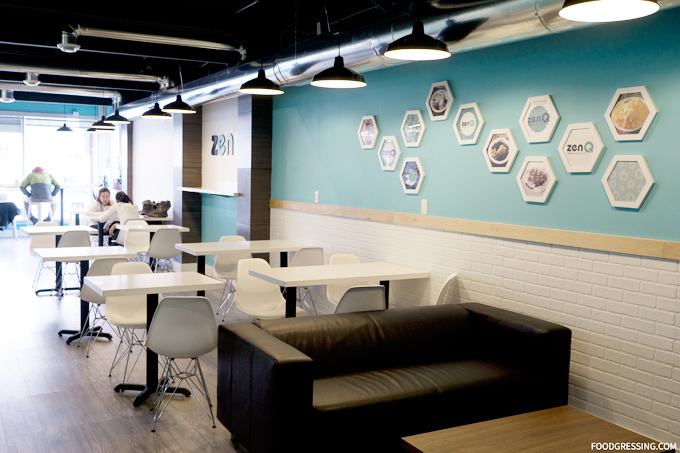 What I Tried
Thanks to Chinesebites.com, I had the opportunity to try three drinks and three desserts.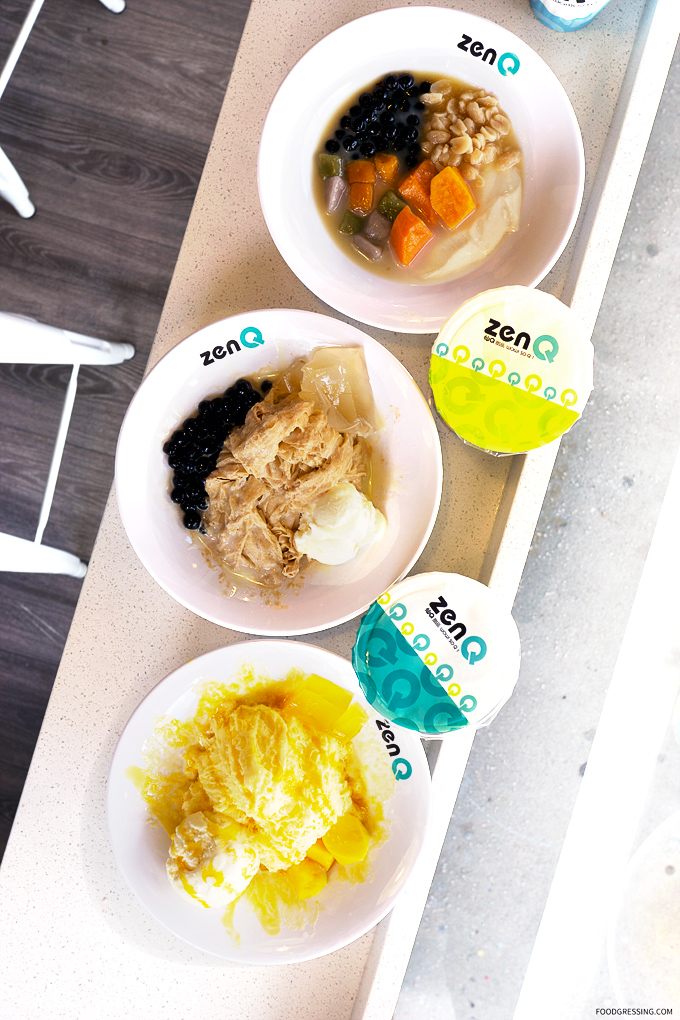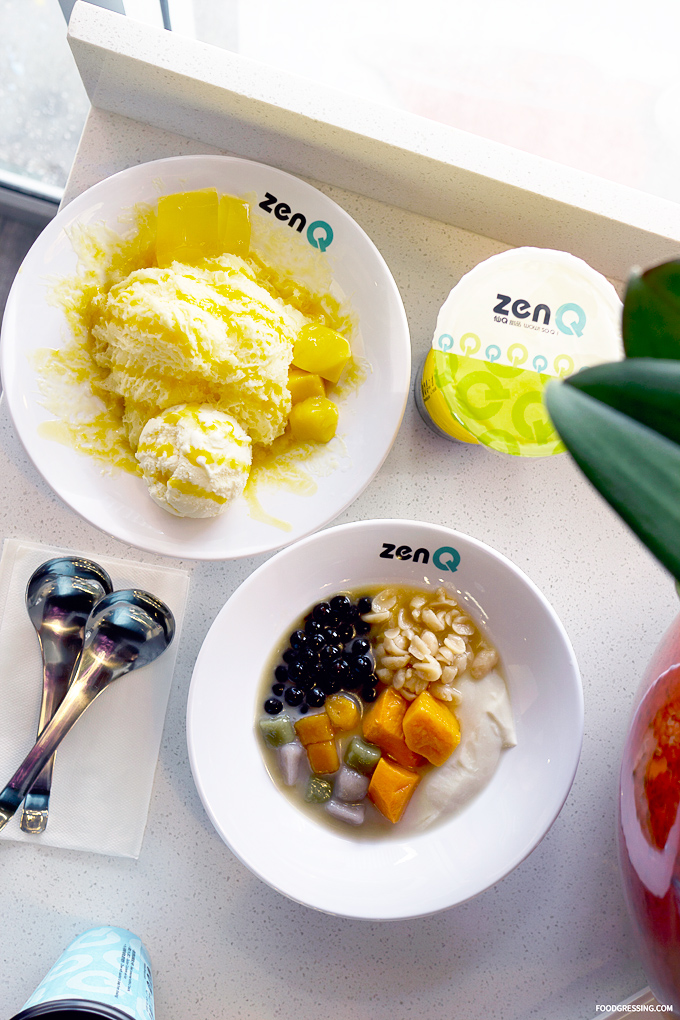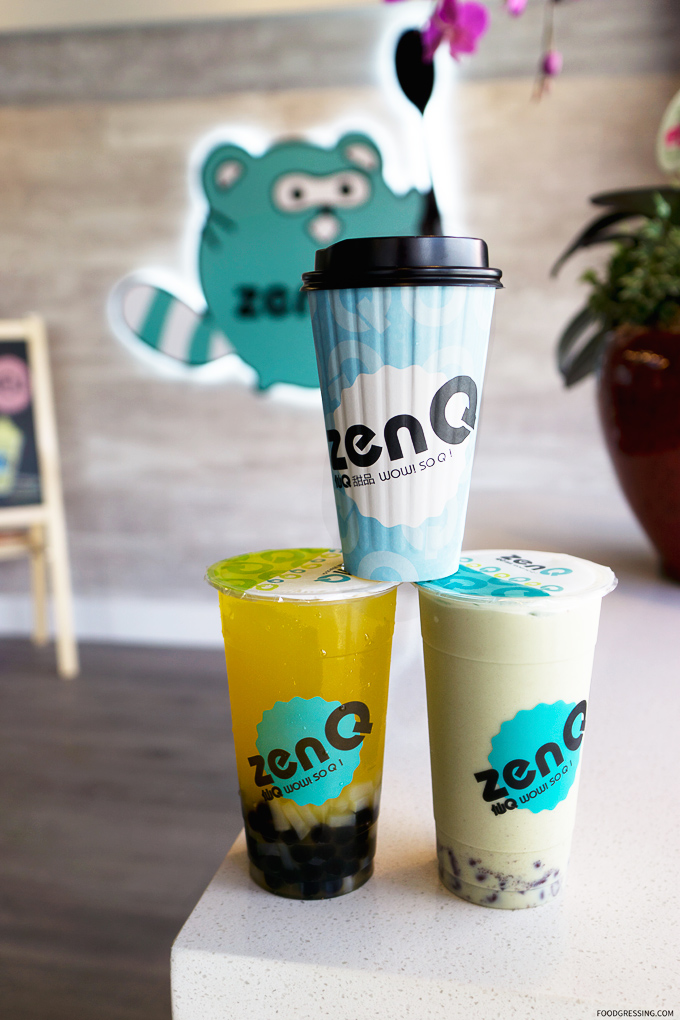 Mango Creamy Frappe ($8.90)
As a lover of mango desserts, I was excited to try the Mango Creamy Frappe featuring fresh mango, mango jelly and ice cream. The mango flavours were more on the subtle side for both the shaved ice and the ice cream but it was overall freshing. My favourite part was actually the mango jelly which had a nice firm yet gelatinous texture.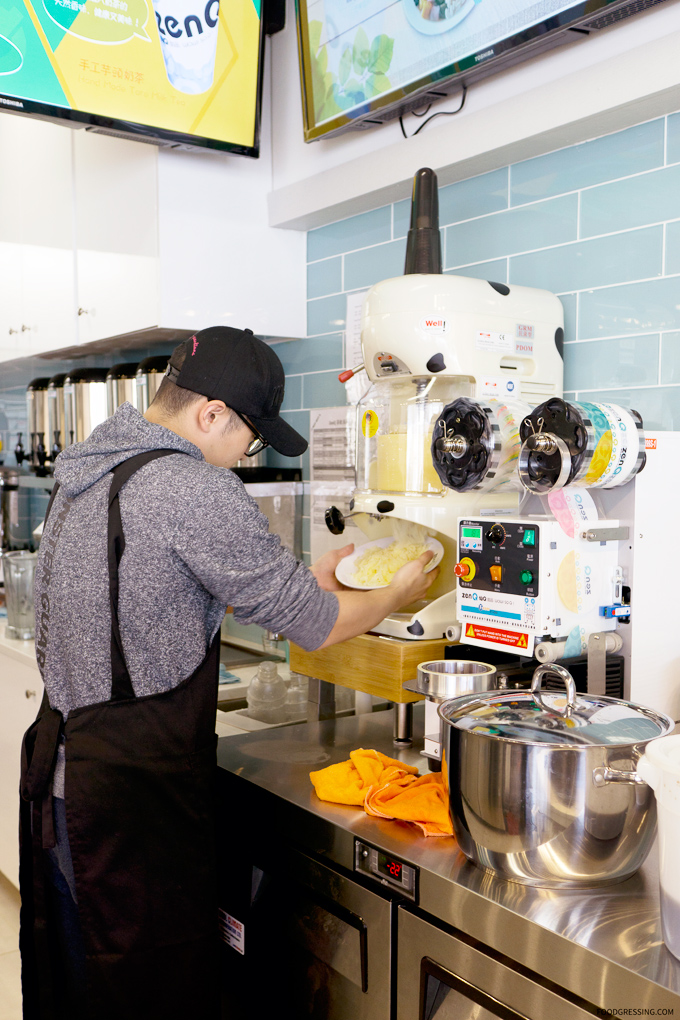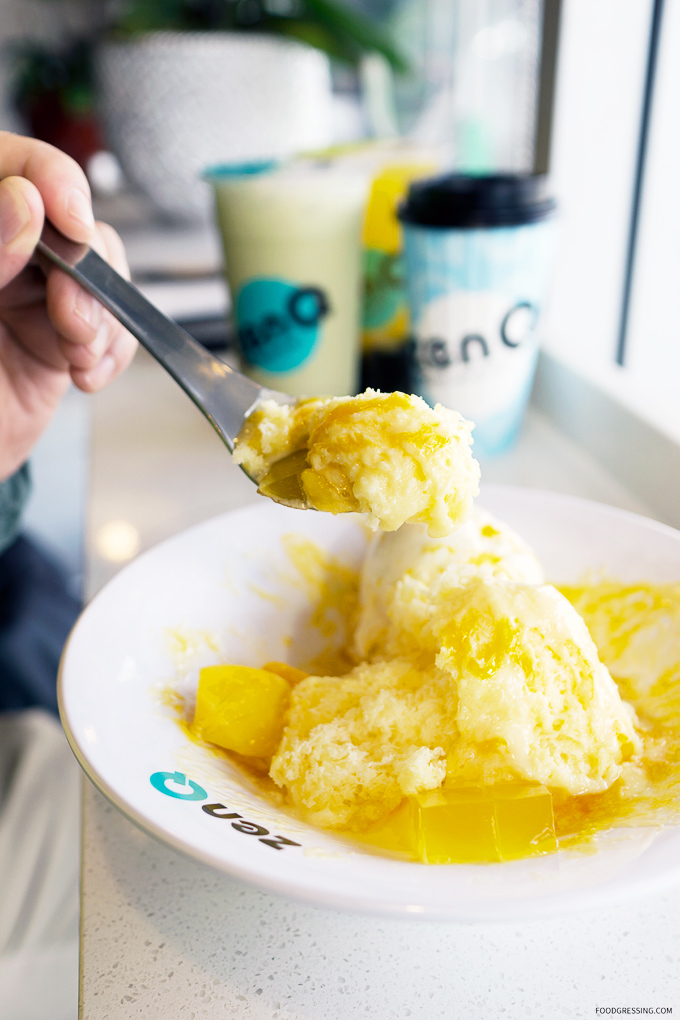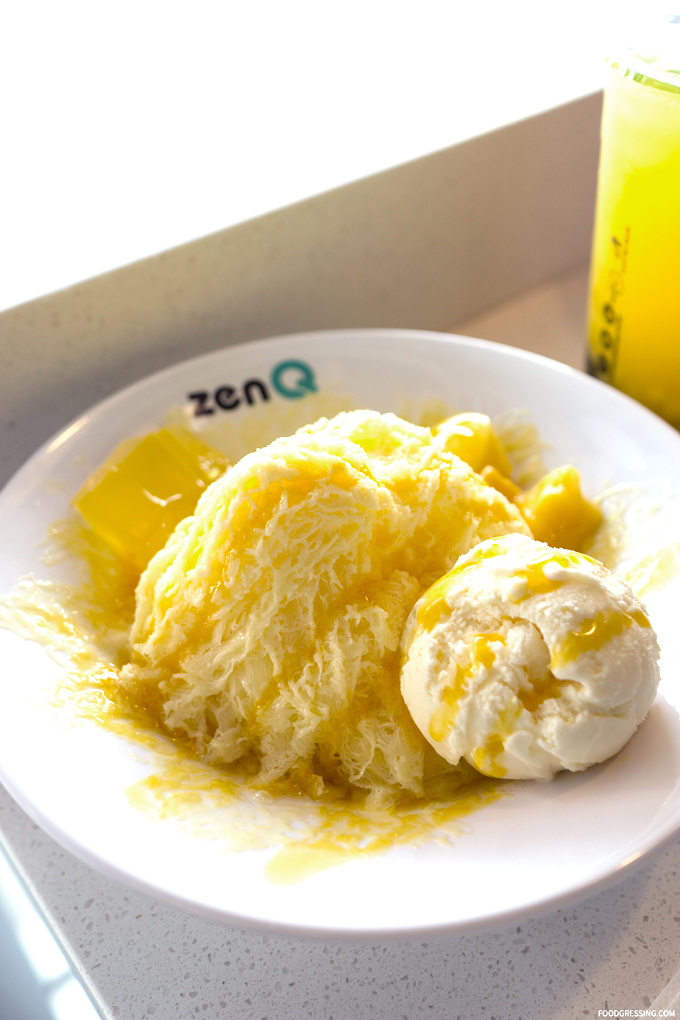 Peal Milk Tea Creamy Frappe ($7.90)
I absolutely loved this dessert which had lychee jelly, pearl and vanilla ice cream. I love a classic pearl milk tea flavour and this frappe version didn't disappoint. The lychee jelly was particularly delicious.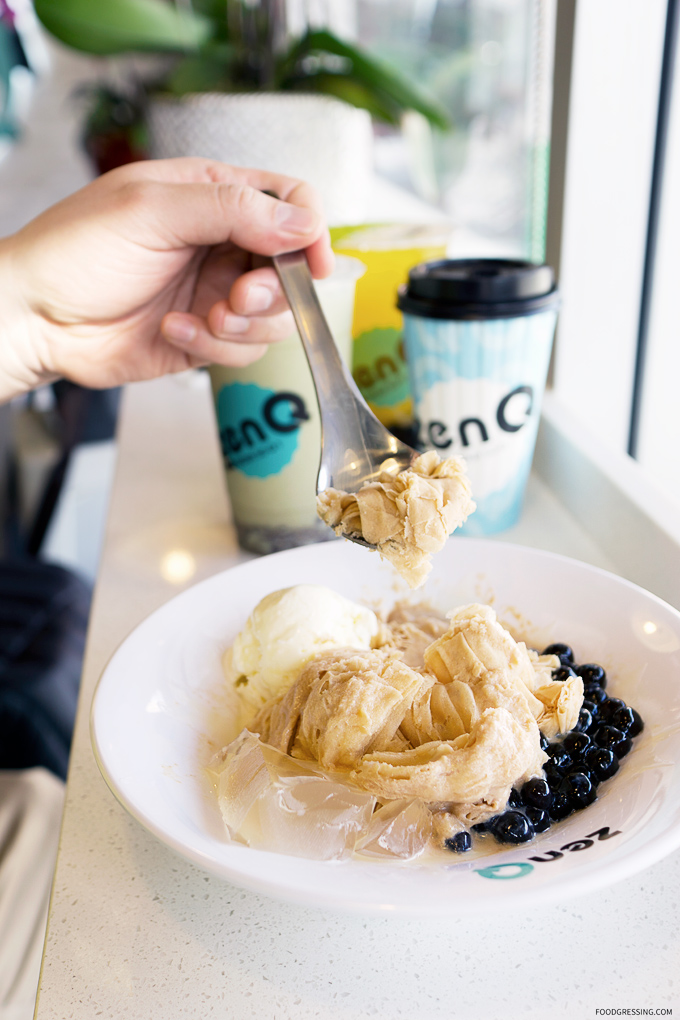 Tofu Pudding with Sweet Potato ($8.40)
A must-try at any ZenQ location is the tofu pudding. This time, I had the Tofu Pudding with Sweet Potato, Peanuts, Q Balls and Pearls. An overall very smooth dessert with the tofu pudding being silky; the peanuts being crunchy; the Q balls and pearls being chewy but soft on the inside; and the sweet potato being soft and sweet.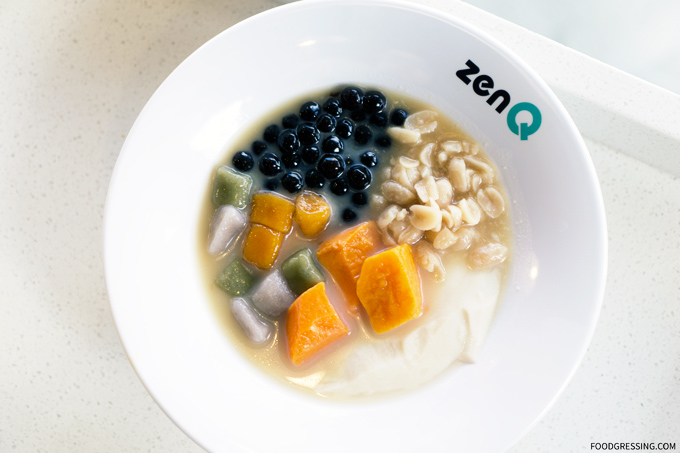 Handmade Taro Milk Tea ($4.70)
If you're a lover a taro, you have definitely got to try ZenQ's handmade taro milk tea. The drink had a lusciously smooth taro flavour and actual taro bits in it. It was also very comforting because the drink was prepared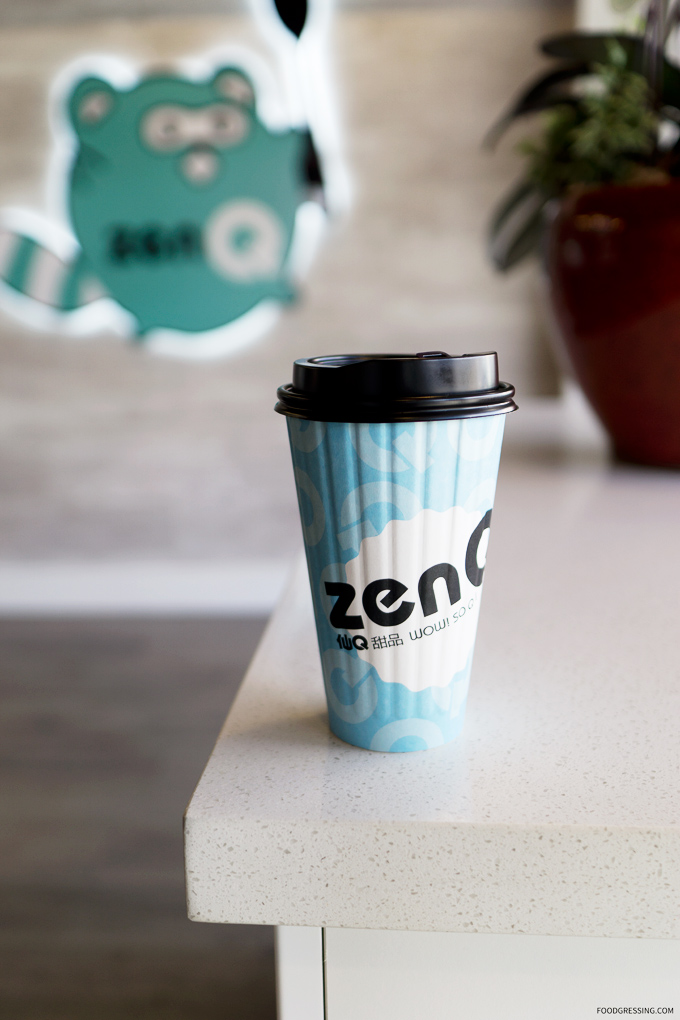 Matcha Red Bean Smoothie
A blend of matcha milk tea, whipped cream with red bean toppings.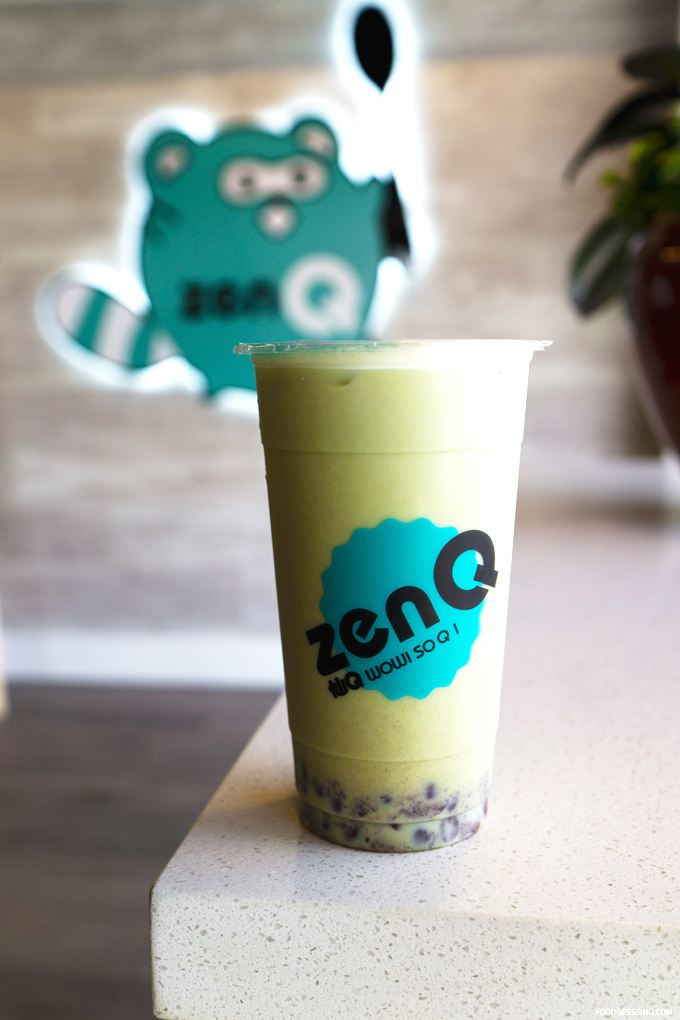 Peach Refresher
A peach-flavour drink that comes with pearls and coconut jelly.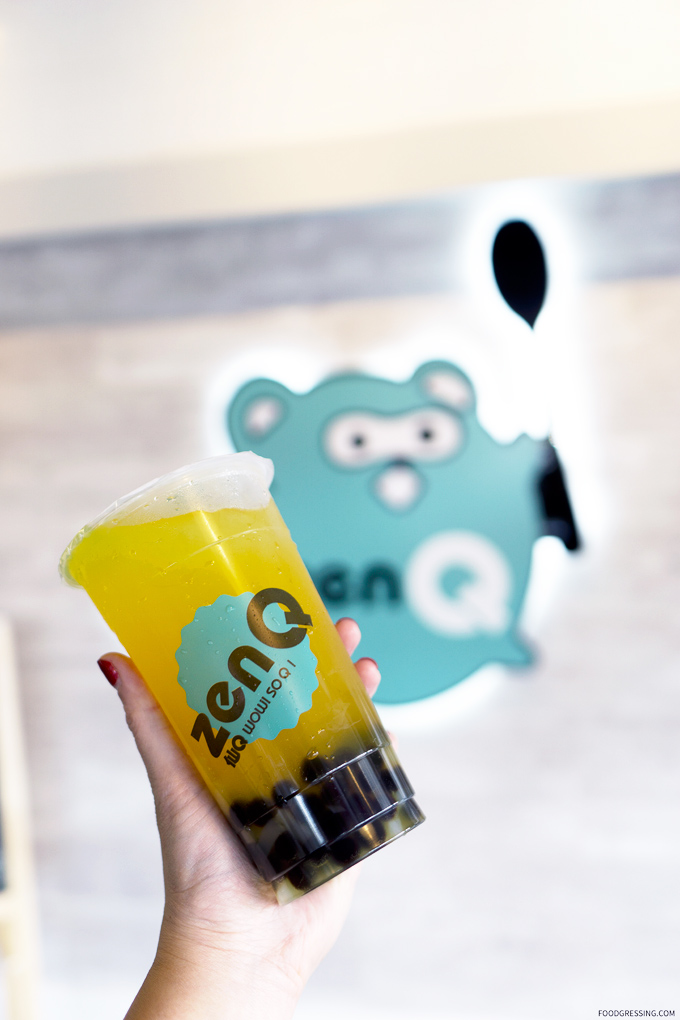 OVERALL IMPRESSION OF ZENQ MARINE DRIVE

In general, I enjoyed the desserts and drinks that I tried at ZenQ Richmond. My favourite dessert was the Pearl Milk Tea Frappe and my favourite drink was the Handmade Taro Milk Tea. For their desserts, I like the fact that they have a nice presentation, made with quality ingredients and are not overly sweet. Rating: 4/5
ZenQ Richmond
Address: #130 – 3471 No. 3 Road
Website: ‎http://zenqbc.com/
Related: New Vancouver Dessert Spot: ZenQ Marine Drive