The Buffet at Wynn in Las Vegas is where you can expect to enjoy a grand feast featuring more than 90 delicious dishes, including a wide range of made-to-order choices and served in a bright and airy environment.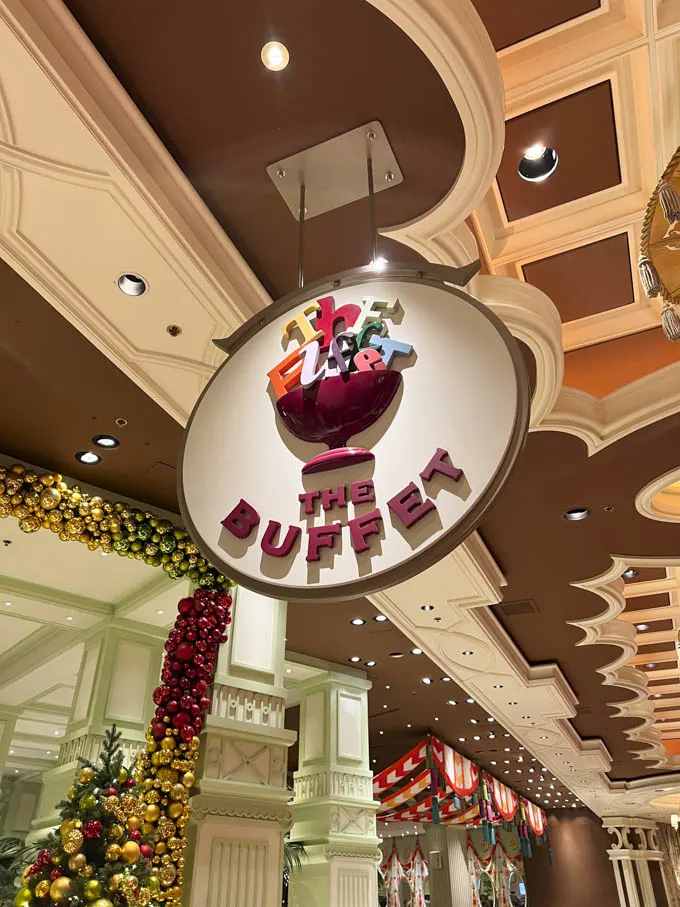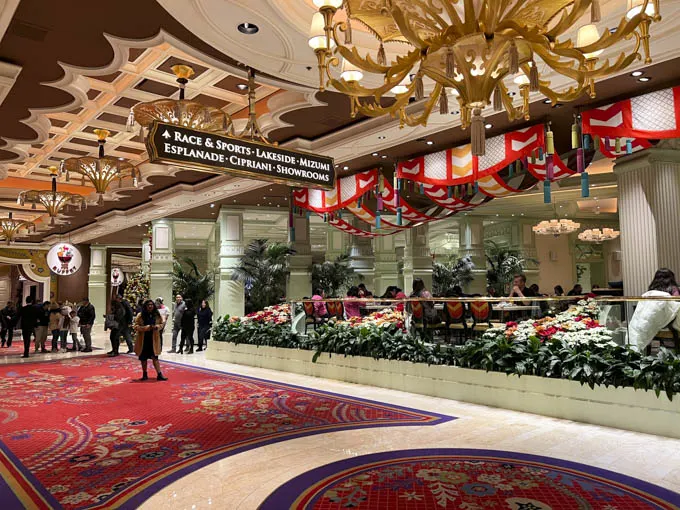 Food is prepared in small-batch quantities and there are sixteen live-action cooking stations. The space features a soaring atrium with the hotel's signature live Royal palms.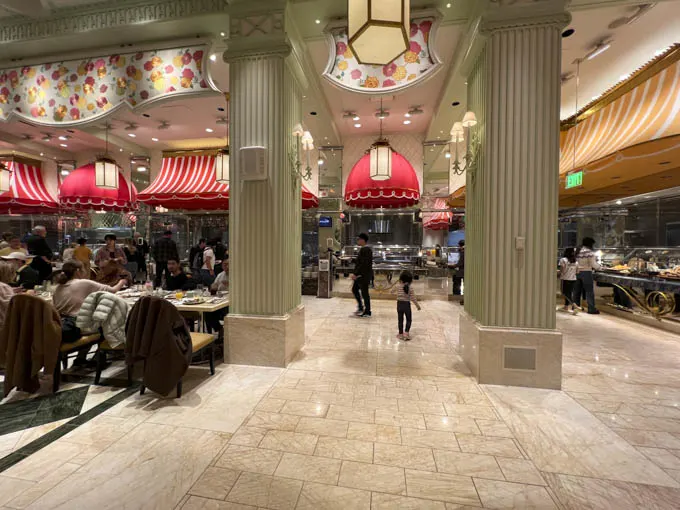 Here is a recap video of my experience at The Buffet at Wynn:
Wynn Buffet Price
Brunch is offered on Monday through Thursday from 8:00 a.m. to 3:00 p.m. and is $46.99 plus tax.
Dinner is served starting from 3:00 p.m. on Monday through Thursday and is priced at $65.99 per person plus tax.
Gourmet Brunch is served on Friday, Saturday and Sunday from 8:00 a.m. to 3:00 p.m. and is $50.99 per person plus tax and on Friday, Saturday and Sunday, Gourmet Dinner is priced at $70.99 per person plus tax.
Prices are subject to change during holidays and holiday weekends. Children are ½ the price and the ages for children are 3yr-9yr old.
Endless pour beverage packages featuring select cocktails, mimosas, wines, and beers are available for $29.99 per person.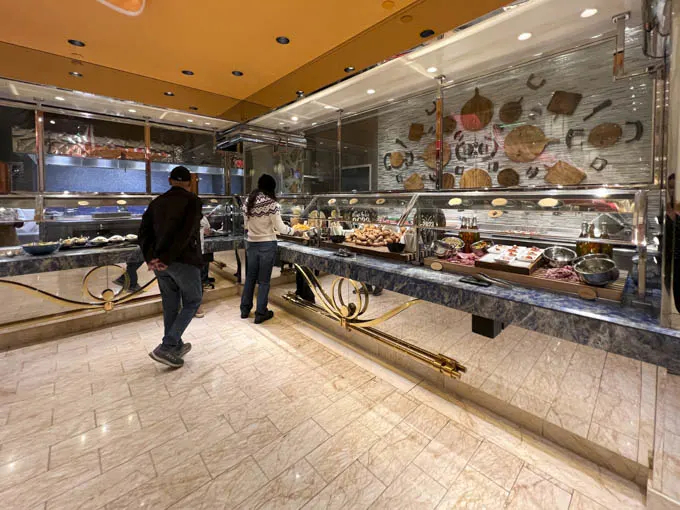 Wynn Buffet Reservations
The Buffet does not take reservations; however, you can secure your spot in line by booking pre-paid priority seating. This priority seating secures you a spot in the priority line. Every effort is made to minimize the wait, and you are typically seated within 30 minutes of your priority seating time.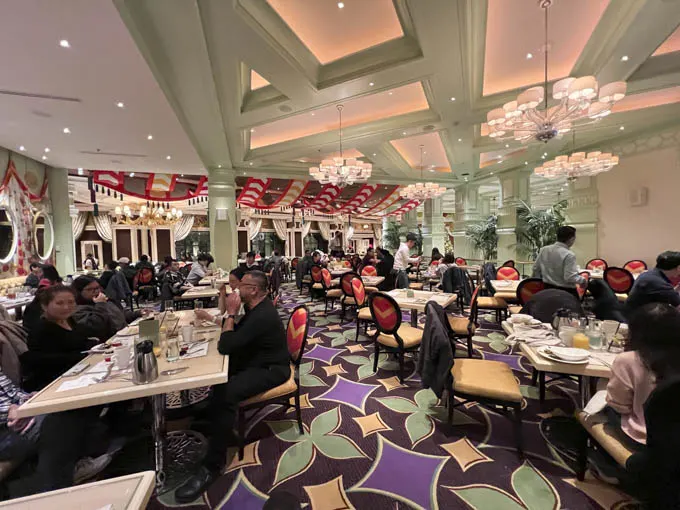 Time Limit
The maximum dining time is 2 hours.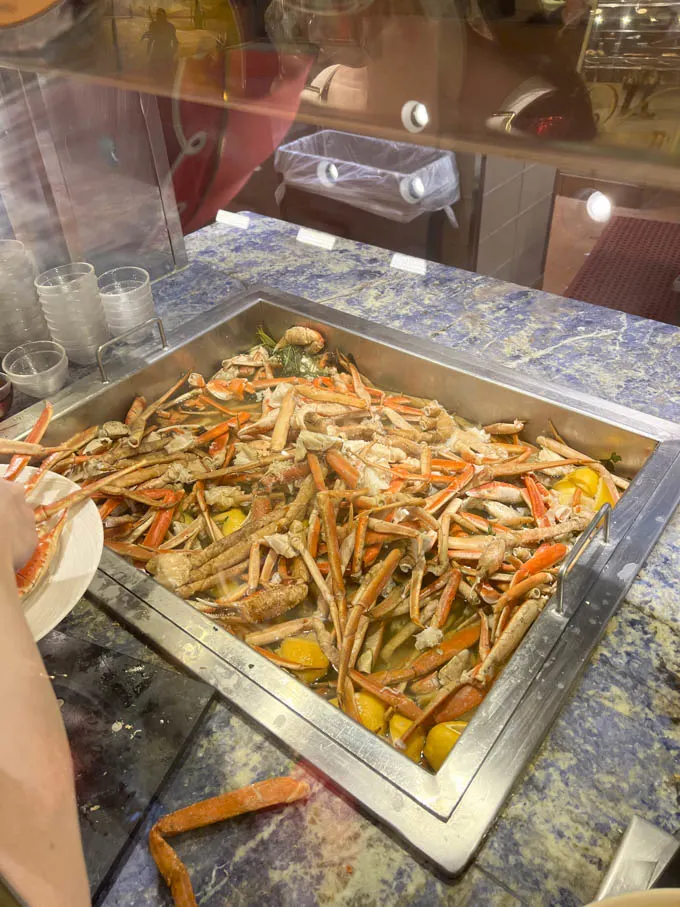 Wynn Buffet Menu
We visited The Buffet at Wynn for a New Year's Eve dinner and there are some of the items that were available:
Caviar Bar
Seafood Pan Roast
Shrimp Cocktail
Crab Legs
Lobster Claws
Split Crab Legs
Scallop Rockefeller
Seafood Pot Pie
Dungeness Crab
Marinated Clams & Mussels
Beef Steamship
Sea Salt Crusted Prime Rib
Grilled Tri Tip
Oven Roasted Vegetables
Sausage
Slow Roasted Kurobuta Loin
Pineapple Glazed Pit Ham
BBQ Beef Brisket
Rotisserie Chicken
Roasted Turkey Breast
Sauce (Cranberry, apple, chimichurri, horseradish, creamy horseradish)
BBQ Pork Ribs
Honey BBQ Grilled Chicken
Thai Spiced Beef and Basil
Peking Fried Rice
Baby Bok Choy and Shiitake Mushrooms
Vegetable Spring Rolls
Shrimp Siu Mai
Vegetable Potstickers
Char Siu Pork Bun
Sweet Spicy Chicken Wings
Chicken Potstickers
Pickled Vegetable Rolls
Unagi Roll
California Roll
Yuzu Salmon Roll
Paradise Roll
Ebi Nigiri
Tuna Poke Bowl
Pickled Ginger and Wasabi
Korean Style Kimchi
Edamame with Sesame Oil and Seeds
Pho
Blueberry Juice
Mango Pineapple Juice
Guava Juice
Queso Birria
Carne Asada
Shrimp
Lamb Stew
Meatballs with Tomato Ragu and Cavatappi
Butternut Squash
Penne Pasta
Lasagna Florentine
Burnt Ends Mac and Cheese
Green Bean Casserole
Truffle Mushroom Prosciutto
Meat Lovers' Pizza
Meat Lovers Stromboli
Cheese Pizza
Cheese Lasagna
Sautéed Green Beans
Pumpkin Gnocchi
Homestyle Chicken Noodle Soup
Organic Lentil Chickpea Stew
Organic Vegetable Soup
Apple Sausage Stuffing
Chicken Cordon Bleu
Grilled Asparagus
Root Vegetable
Buffalo Cauliflower
Smoky Mac and Cheese
Wild Cranberry Rice
Whipped Sweet Potatoes
Honey Glazed Cornbread
Chicken and Biscuits
Boursin Cheese Mashed Potatoes
Classic Caesar Salad
Winterberry
Niçoise Salad
Honey Dew
Waldorf Salad
Quinoa Salad
Egg Salad
Compose Your Own Salad Station
Wakame Salad
Shrimp Papaya Salad
Coppa
Roasted Artichoke Spread
Bruschetta
Sopressata
Artisanal Bread
White Cheddar
Irish Cheddar
Wisconsin Swiss
Ice Cream
Made To Order Crêpes Station
Assorted Donuts
Bundt Cakes
Marble Cake
Cheesecake
Assorted Mousse Cups (Chocolate Vanilla, Vanilla Berries, Mango Vanilla Raspberry, Key Lime, Coffee Hazelnut)
Apple Cranberry Cobbler
Warm Butterscotch Bread Pudding
Double Chocolate Cake
Strawberry Shortcake
Assorted Cake Pops
Sea Salt Caramel Cupcakes
Health Bar Cookies
Sugar Cookies
Chocolate Cookies
Petit Pastries (Tiramisu, Lemon Meringue Tart, Chocolate Dome, Pistachio Cake)
Crème Brûlée
Assorted Vegan Desserts (Exotic Tapioca, Cherry Panna cotta, sea salt chocolate tart)
Lava Cake
Warm Caramel Churros
White Chocolate Hawaiian Cake
Regular Hours
Monday-Thursday
Brunch 8:00 a.m. – 3:00 p.m.
Dinner 3:00 p.m. – 9:00 p.m.
Friday-Sunday
Gourmet Brunch, 8:00 a.m. – 3:00 p.m.
Gourmet Dinner, 3:00 p.m. – 9:00 p.m.
Dress Code
Resort casual attire. Children under five are welcome.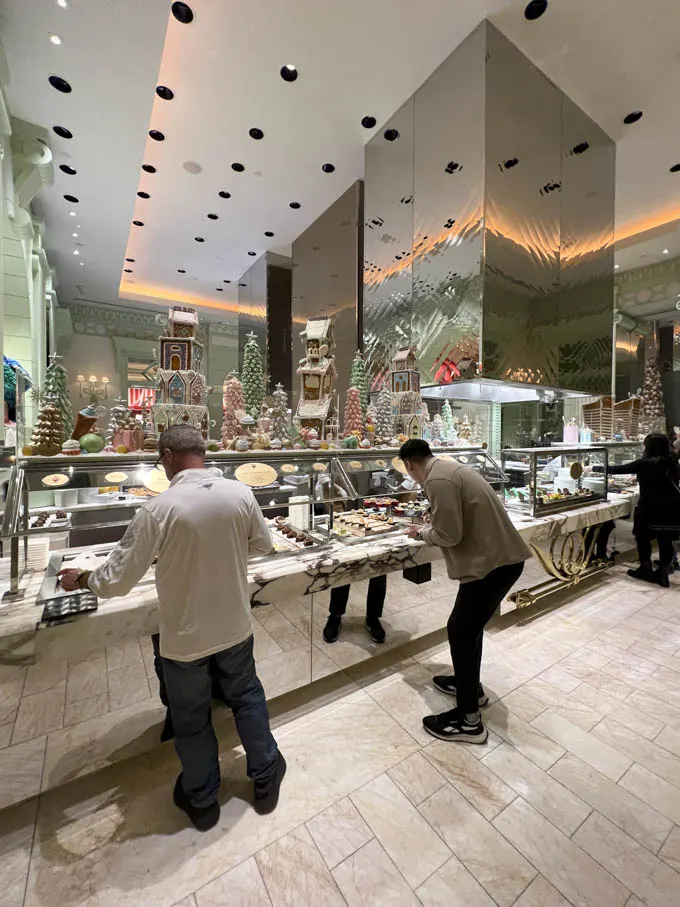 Wynn Buffet in Las Vegas Review
Over the holidays, we enjoyed a New Year's Eve dinner at The Buffet at Wynn. I prebooked and prepaid ahead a few weeks ahead of time. The holiday pricing for New Year's Eve dinner was $79.99 per adult and $39.99 per child. The total for 2 adults and 2 kids was $260 with tax.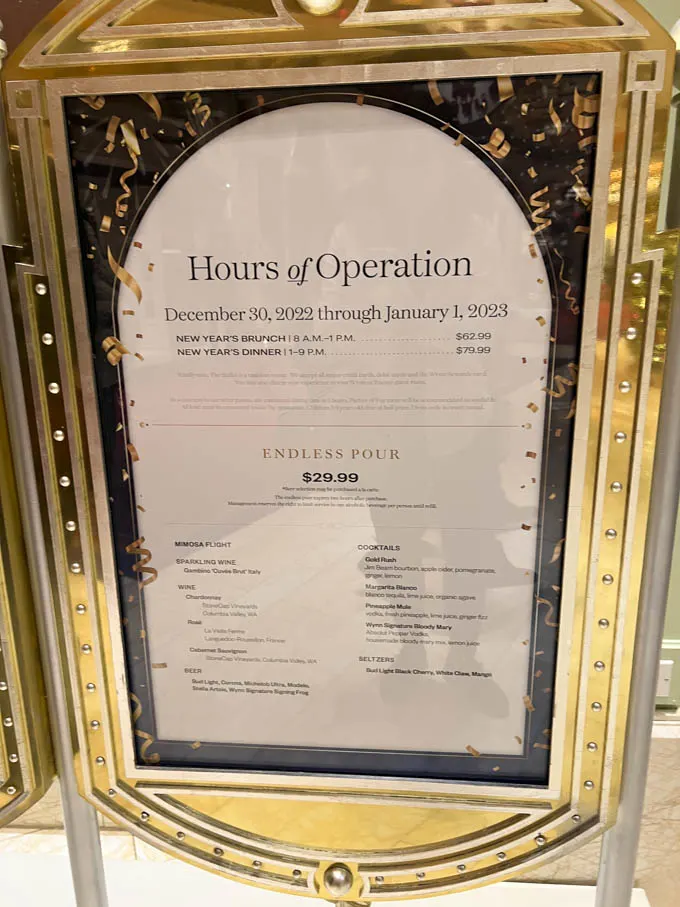 When we got to the buffet, we checked in but they were very strict about the timing. You could only get into the priority line no earlier than 5 minutes than the reservation time.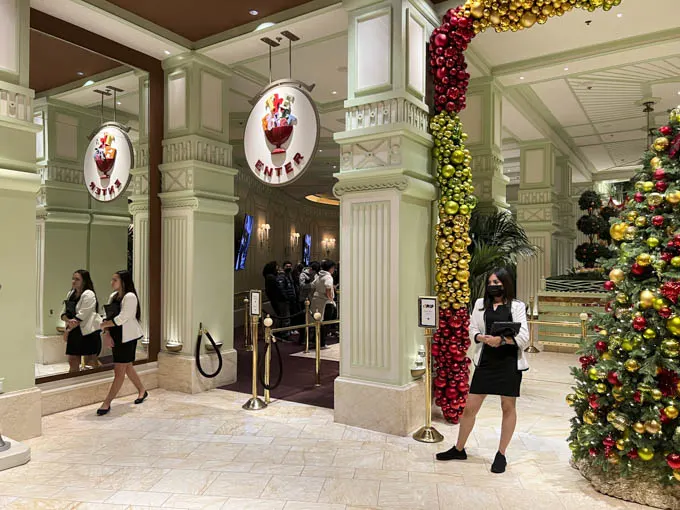 The holiday buffet was fully booked and they had some limited walk-ups available. They had cut-off the number of people they were taking in without a reservation. The walk-ins had a separate line from those who had reservations.
Because of their strict entry timing, the buffet wasn't very crowded which was nice.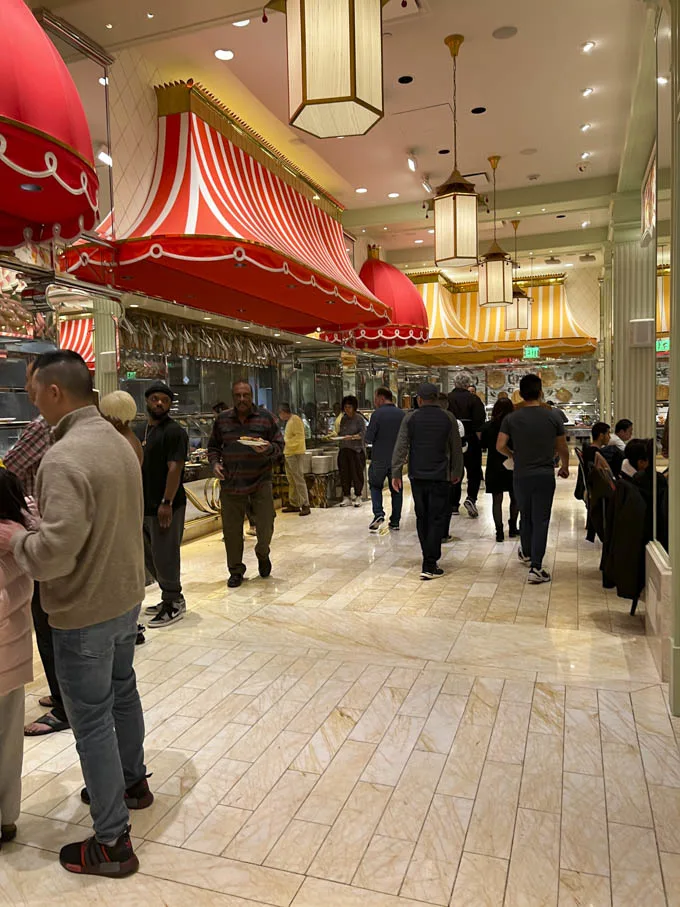 Wynn Buffet vs Bacchanal
In terms of comparing the Bacchanal Buffet at Caesar's Palace with the Wynn Buffet for their holiday buffets, I enjoyed the Bacchanal Buffet more for a few reasons.
First, I can make a free Opentable reservation for the Bacchanal Buffet without any penalty for cancellation. To guarantee my spot at the Wynn buffet, I needed to prepay and prebook.
Next, there are more action stations and more unique options at the Bacchanal Buffet. If you wanna go big, the Bacchanal Buffet is it.
However, the Bacchanal buffet was a bit more expensive being $10 more than the Wynn buffet.
The Wynn buffet was also less crowded because they were strict about the entry times for each party.
And in general, the Wynn buffet was less chaotic to navigate and more relaxed than the Bacchanal Buffet.
Some of the standouts from the Wynn holiday buffet was the Caviar Bar where you were limited to 1 serving per person.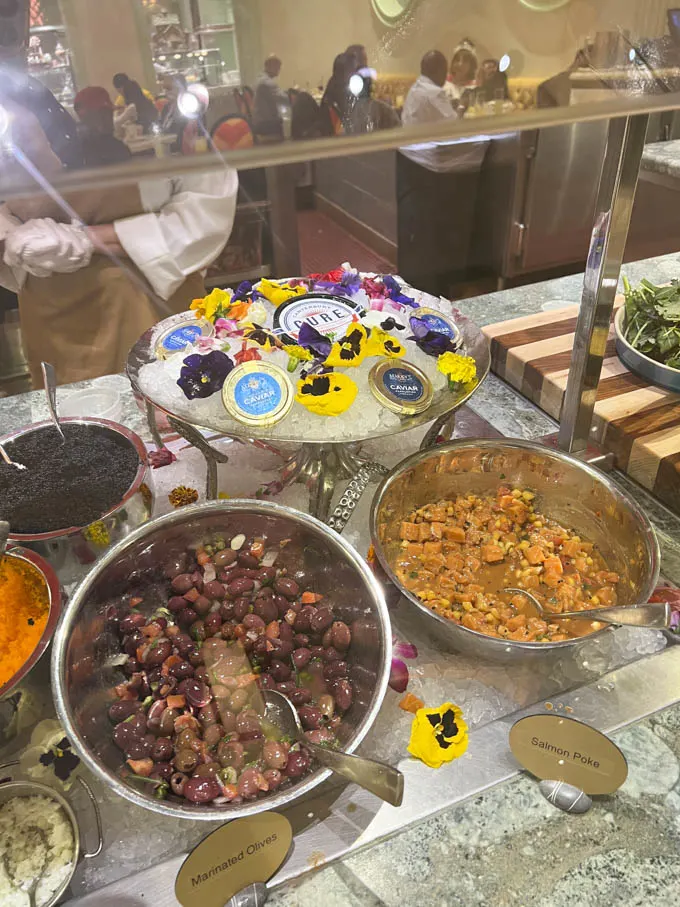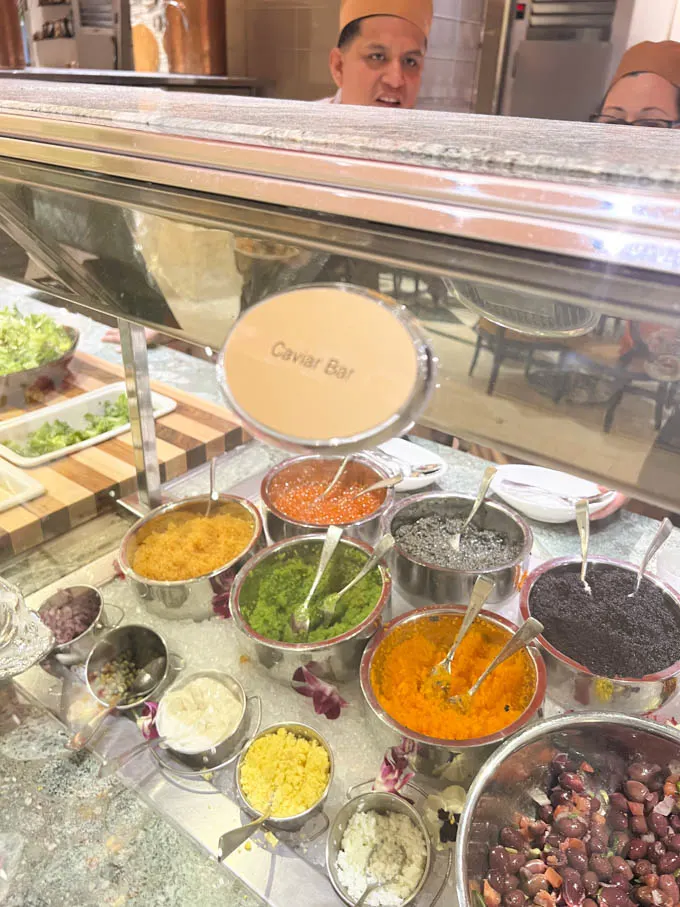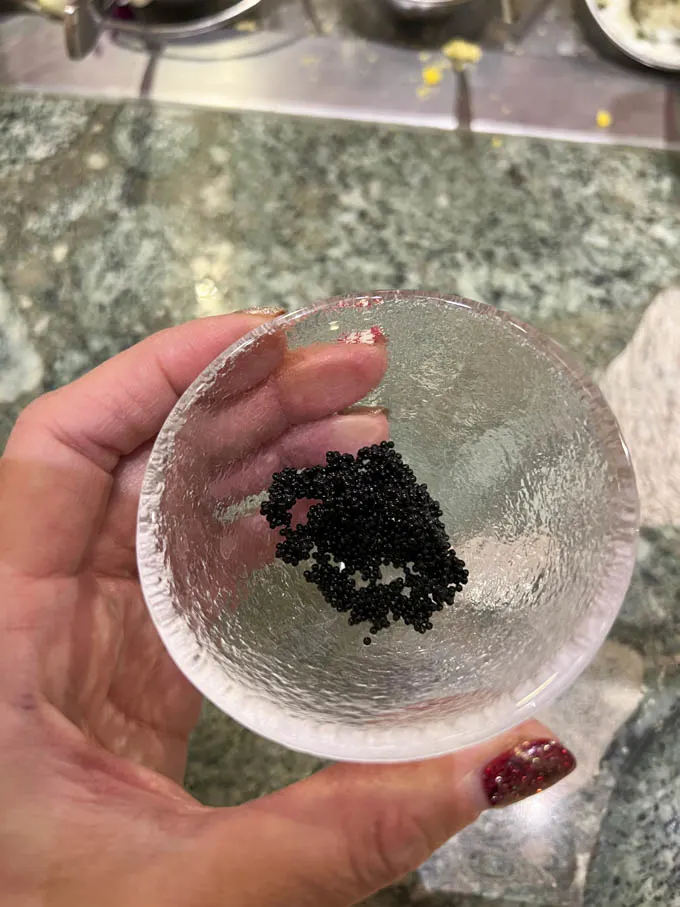 I also enjoyed the Ice Cream Wheel, Made To Order Crêpes Station, and the Wynn branded donuts.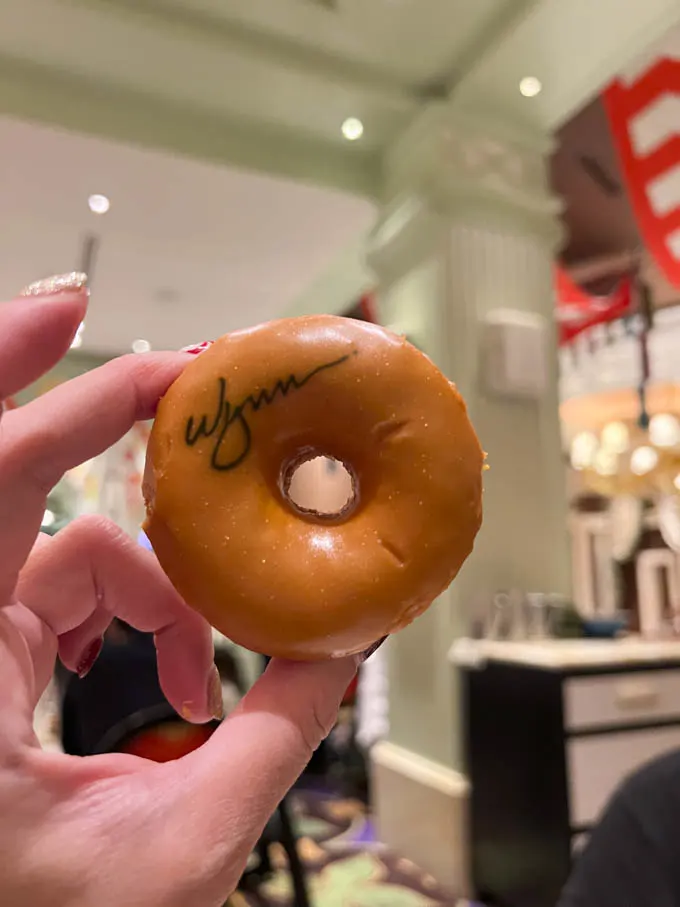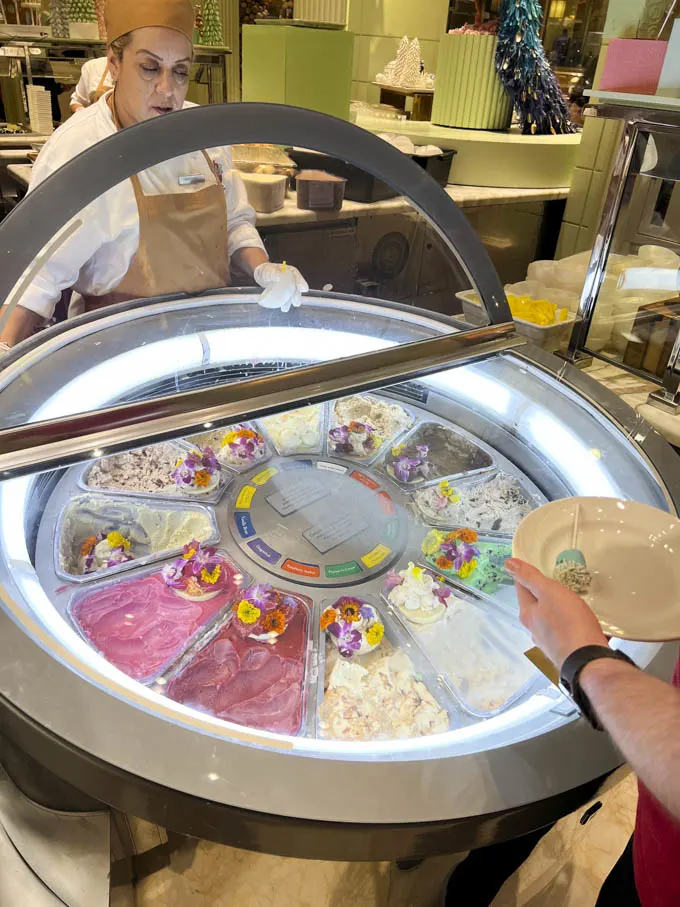 Wynn Buffet in Las Vegas Photos
Here are a few more photos from my visit there: