The Bacchanal Buffet at Caesar's Palace is the largest buffet in Las Vegas and it's so worth trying! The buffet stations plus the dining space covers 25,000 square feet and features 9 kitchens with 15 daily chef specials.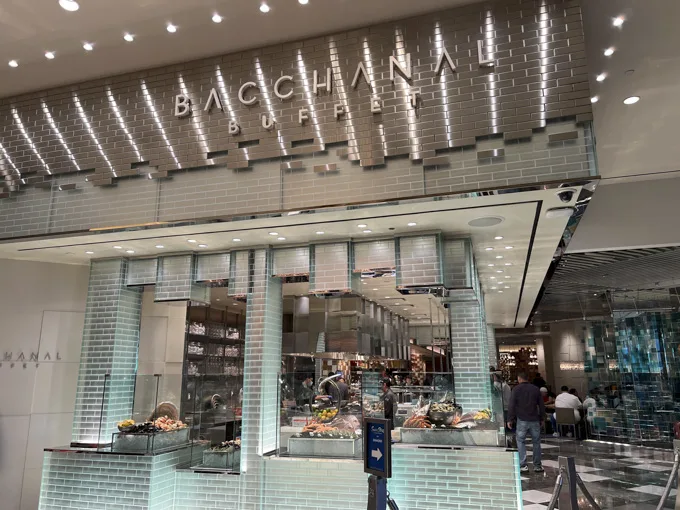 The dining room is designed with natural elements in mind so you will find glass and stone textures woven throughout which are reminiscent of ice caves, mountains and more.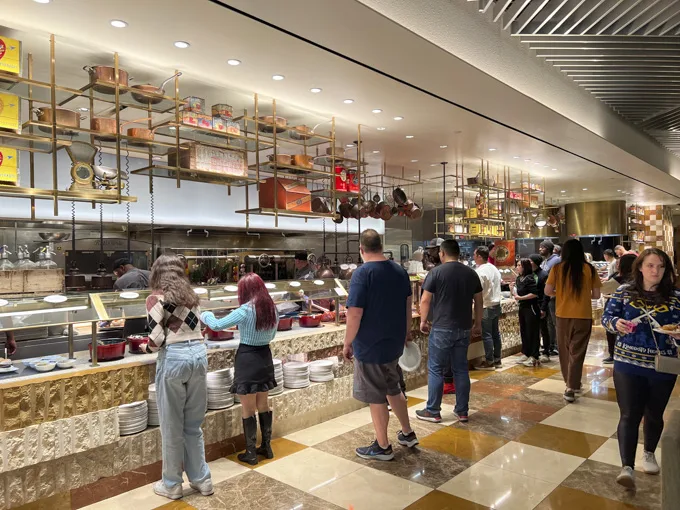 Price for Bacchanal Buffet
Here's a look at the Bacchanal Buffet cost. The Bacchanal Buffet offers specialty menus for certain holidays.
The holiday pricing (specifically Christmas time) at the Bacchanal Buffet was:
Adults – $89.99
Child – $44.99
Children under 4 – Free
Prices as of January 2023
Brunch (Fri – Sun) 9 AM – 1 PM – $64.99
Crab Brunch (Fri – Sun) 1 PM – 3 PM – $79.99
Dinner (Mon – Thurs) 4 PM – 10 PM – $79.99
Dinner (Fri – Sun) 3 PM – 10 PM – $79.99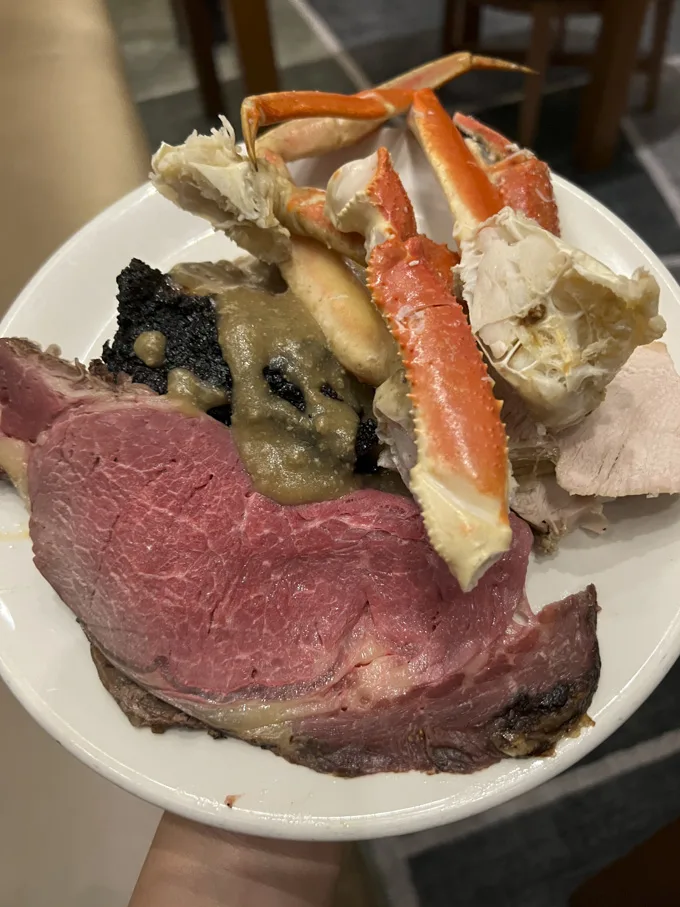 Bacchanal Buffet Reservations
I would strongly recommend that you make reservations ahead of time for the Bacchanal Buffet. They are free to make on Opentable and you do not need to prepay or even pay a deposit. There is no specific cancellation policy where you would be penalized or charged but if you do not show, they will obviously let your table go at some point.
I made a Christmas Day reservation two months ahead and it went smoothly when we got there. Unfortunately, those who did not have a reservation would have a 2-3 hour wait!
When you check-in, there is a dedicated line for Caesar's Rewards VIPs and those who have reservations.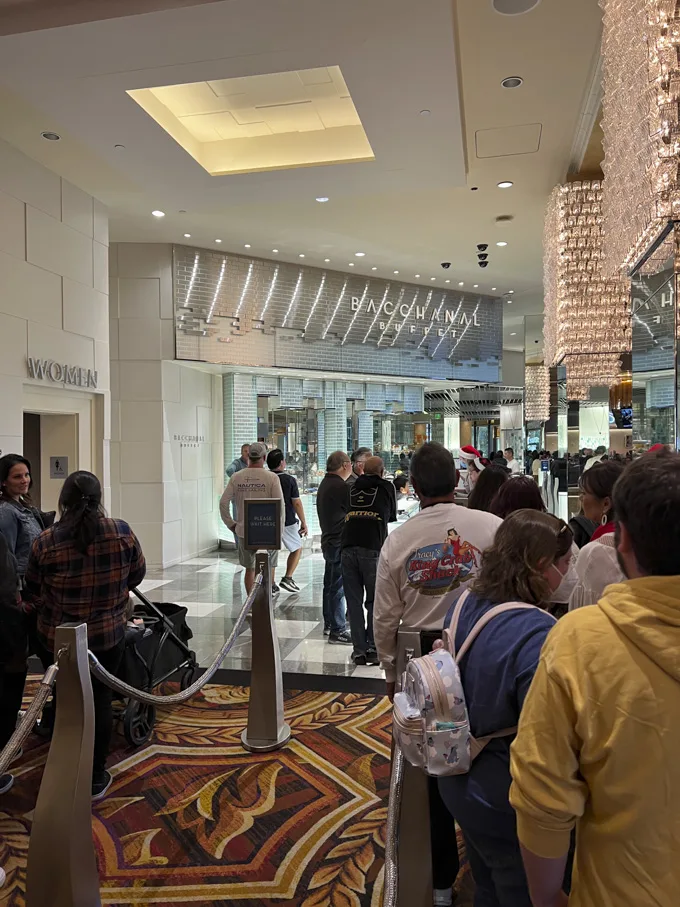 Bacchanal Buffet Menu
Here are the items that were presented at the holiday buffet while I was there. These are what I was able to note down myself. Obviously, I have missed some (since there are so many items) but this gives you a sense of what they have to offer.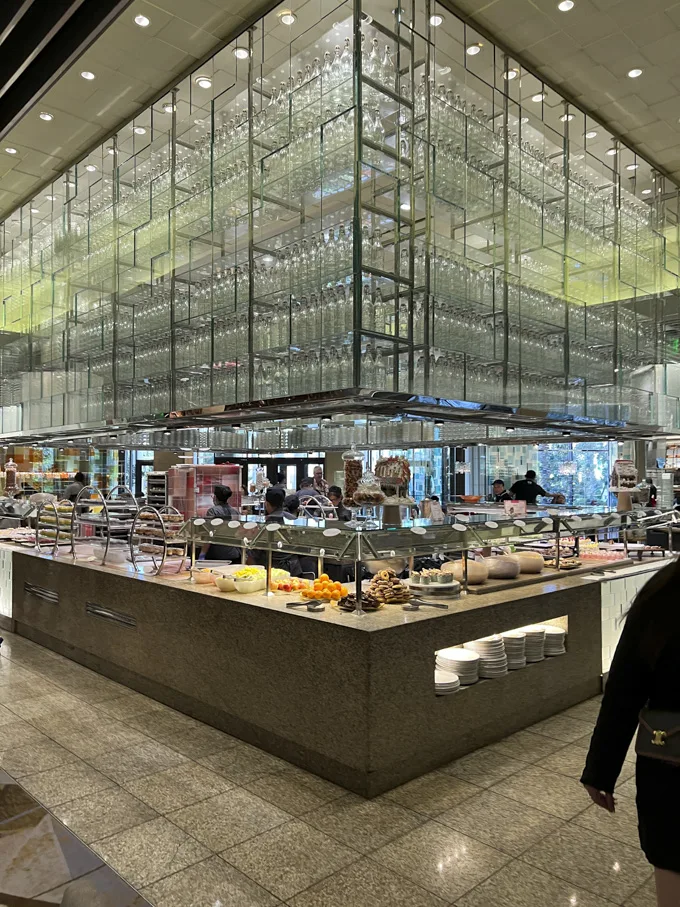 Seafoods
Steamed Crab Legs
Penn Cove Mussels
Jonah Crab Claws
Cortez Clams
Lobster Claws
Shrimp Cocktail
Chilled Crab Legs
Cajun Poached Prawns
Smoked Salmon
Cream Cheese
Smoked Fish and Cornichon
Crab Florentine Benedict
Plant-based breakfast items
Plant Based Breakfast Sausage (located at the seafood station)
Soyrizo Hash (located at the seafood station)
Vegan Tofu Scramble (located at the seafood station)
Asian
Pork Fried Rice
General Tso's Chicken
Thai Beef
Stir Fry Vegetables
Kalbi Short Ribs
Jap Chae
Grilled Pork Skewer
Pork Lumpia
Filipino Sawsawan (sauce)
Chinese Roasted Pork Belly
Ensaladang Kamatis sa Patis
Grilled Shishito Peppers
Chilled Edamame
Spicy Edamame
Kimchi Fried Rice
Korean Fried Chicken
Pork and Shrimp Shu Mai
Shiitake Potstickers
Sesame Rice Balls
Citrus Tako Poke
Ahi Tuna Poke
Lomi Salmon Poke
Forbidden Rice Bowl
Bacchanal Roll
Volcano Roll
Tamago Nigiri
Spam Musubi Box
Vegan California Roll
Carvery
Honey Glazed Ham
Slab Bacon
Pork Ribs
Oven Roasted Turkey
Smoked Brisket
Prime Rib
Grilled Tri Tip
Breakfast Sausage Links
Kielbasa Sausage
Portuguese Sausage
Mediterranean
Antipasto Salad
Breakfast Pizza
Meat Lovers Pizza
Smoked Salmon
Brie and Apple
Margherita Pizza
Grandma's Meatballs
Marinara Sauce
Garlic Bread
Crispy Fried Panisse
Shrimp and Scallop Bake
Italian Wedding Soup
Arancini
Petite Pork Shank
Mexican
Quesabirria Tacos
Chilaquiles
Fried Plantains
Tacos Al Pastor
Chili Toreados
Sonoran Street Dog
Mexican Churros
Huevos Divorciados
Ube Horchata (drink)
Citrus Peach Mango (drink)
Cranberry Orange Mimosa (drink)
Chicharron
Salsa Molcajete
Guacamole
Corn Tortilla Chips
Habanero Salsa
Duros
Ceviche De Pulpo
Peruvian Ceviche
Achiote Roasted Chicken
Frijoles Rancheros
Pork Tamales
American
BBQ "Trainwreck" Fries
Bacchanal Sliders
Baby Loco Moco
California Sunrise
Smoked Corn Beef Benny
Truffled Mashed Potatoes
Corned Beef Hash
Blue Lake Green Beans
Crispy Bacon
Denver Scramble
Grilled Hash Browns
Lobster Mac N Cheese
Steel Cut Oatmeal
Golden Milk Cream of Wheat
Champurrado Grits
Pancake & Waffles Bar
Truffled Mushroom Egg Bites
Loaded Breakfast Tot
Assorted Mini Bagels and Bread
Deli
Bread Sticks
White Chocolate Cranberry Roll
Walnut Raisin Batard
Baby Brioche Rolls
Sourdough Batard
Cheese Board
Charcuterie Board
Condiments Board
Roasted Beef Salad
Ancient Grains Salad
Tri Color Salad
Smoothie & Parfait
Acai Bowl
Raspberry Chia Yogurt Parfait
Blueberry Parfait
Pitaya Smoothie (drink)
All Green Smoothie (drink)
Pineapple and Turmeric (drink)
Dessert
Banana Foster (topping)
Mixed Berry Sauce (topping)
Crêpes
Cantaloupe Melon
Watermelon
Pineapple
Honey Dew
Apple
Orange
Pecan Caramel Tart
Mini Chocolate Donuts
Green Tea Cheesecake
Chocolate Mousse Coupe
Apple Mousse
Gelato/Sorbet (peach, watermelon, wildberry, blood orange, vanilla, strawberry cheesecake, pistachio, cappuccino, crème brûlée, mango)
NSA Black Forest Mousse
Pumpkin Panna Cotta
Gluten Free Brownie Domes
Vegan Strawberry Cake
Vegan Passion Fruit Tapioca
Reindeer Yule Log Cake
Red Velvet Cupcake
Cookies and Cream Santa Cupcake
Blueberry Cheesecake
Exotic Tropical Cremeux
Ube Chiffon Cake
Reece's Pieces Mousse
Lemon Meringue Tart
Berry Shortcake
S'more Bars
Crème Brûlée
Tiramisu
Berry Cheesecake
Pumpkin Muffins
Plain Croissant
Egg Tart
Cinnamon Roll Bread Pudding
Bacchanal Buffet Walkthrough
Check out my Youtube video for a walkthrough of the Bacchanal Buffet.
Bacchanal Buffet Hours
Sunday – 9AM-10PM
Monday – 3:30-10PM
Tuesday – 3:30-10PM
Wednesday – 3:30-10PM
Thursday – 3:30-10PM
Friday – 9AM-10PM
Saturday – 9AM-10PM
Regular Brunch Friday – Sunday | 9 AM – 1 PM
Crab Brunch Friday – Sunday | 1 PM – 3 PM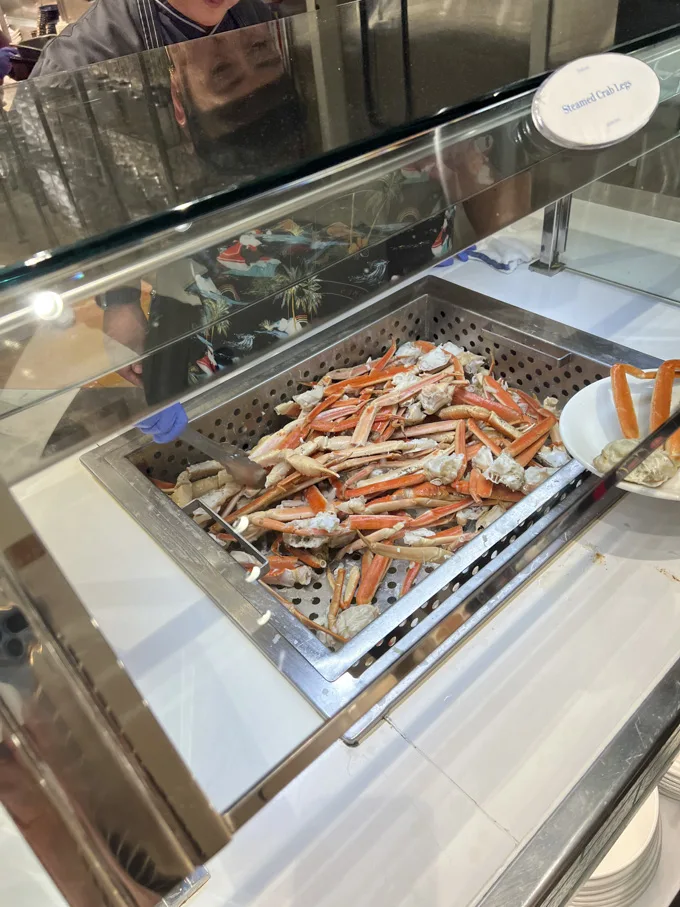 Bacchanal Buffet Dress Code
The dress code is noted to be "resort casual" on their Opentable listing.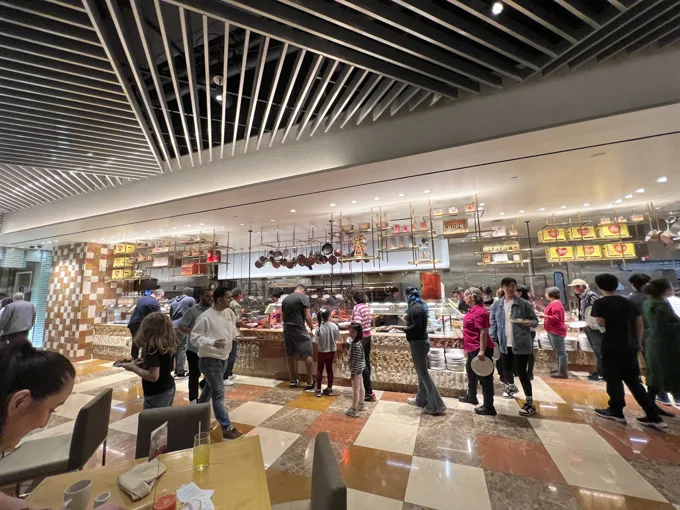 Bacchanal Buffet Time Limit
The time limit is 90 minutes. They do mark down the time that you got seated at your table on the receipt. We stayed there for longer than 90 minutes but no one chased us out.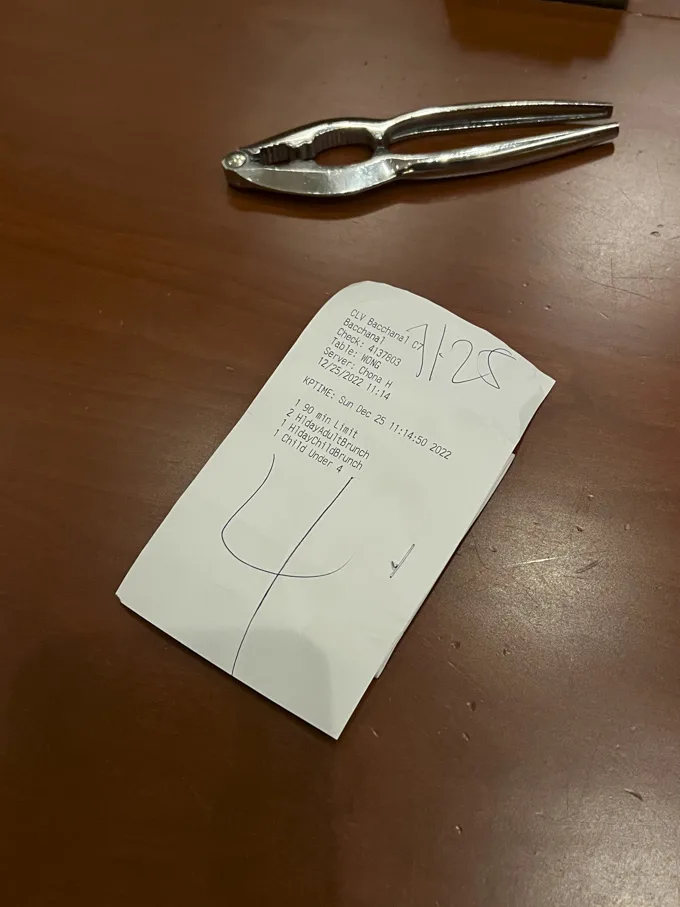 Bacchanal Buffet at Caesar's Palace Unique Items
Some of the more unique items offered in my opinion aside from the typical popular items like crab legs and carving station are:
Plant-based choices like Plant Based Breakfast Sausage; Soyrizo Hash; and Vegan Tofu Scramble
Filipino dishes like Pork Lumpia; Filipino Sawsawan and Ensaladang Kamatis sa Patis
Korean dishes like Kimchi Fried Ric, Jap Chae and Korean Fried Chicken
Quesabirria Tacos prepared in the open kitchen
Drinks like Ube Horchata; Citrus Peach Mango; and Cranberry Orange Mimosa
A Pancake & Waffles Action Station
Healthy parfaits and smoothies like Raspberry Chia Yogurt Parfait and Pineapple and Tumeric Smoothie
Vegan/gluten-free dessert options like Gluten-Free Brownie Donuts and Vegan Passion Fruit Tapioca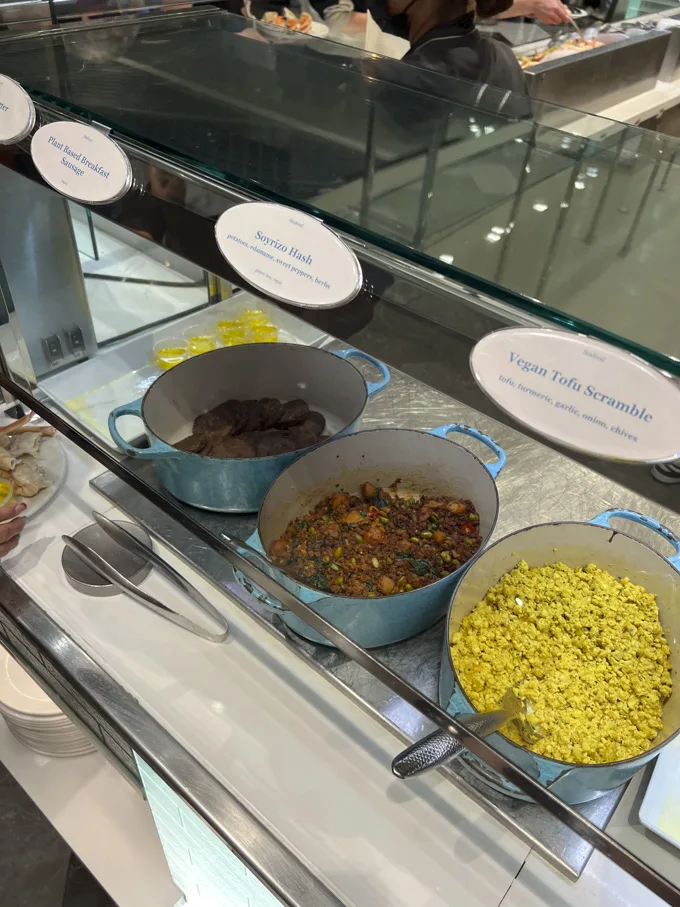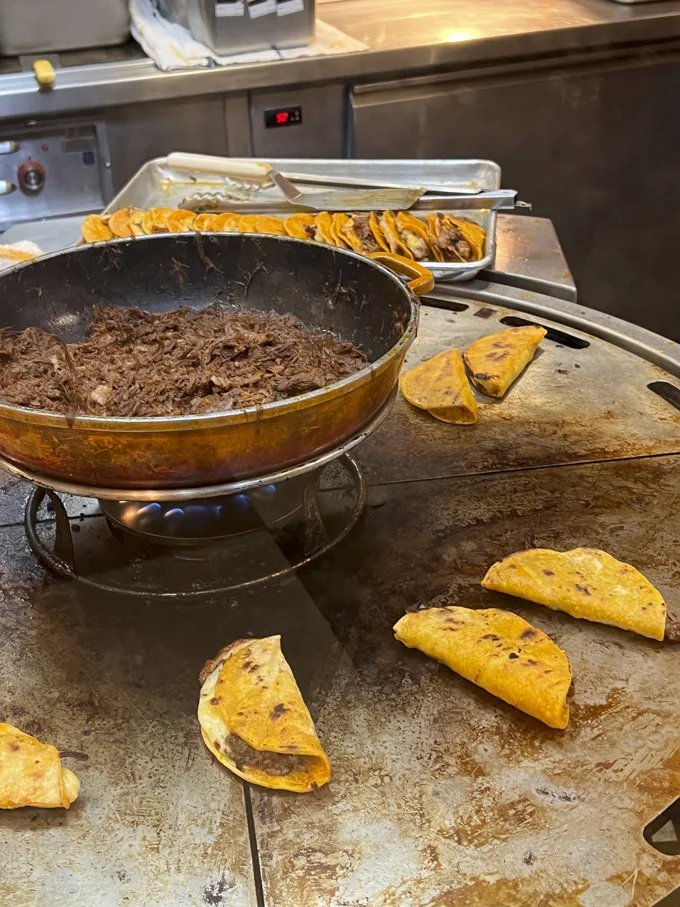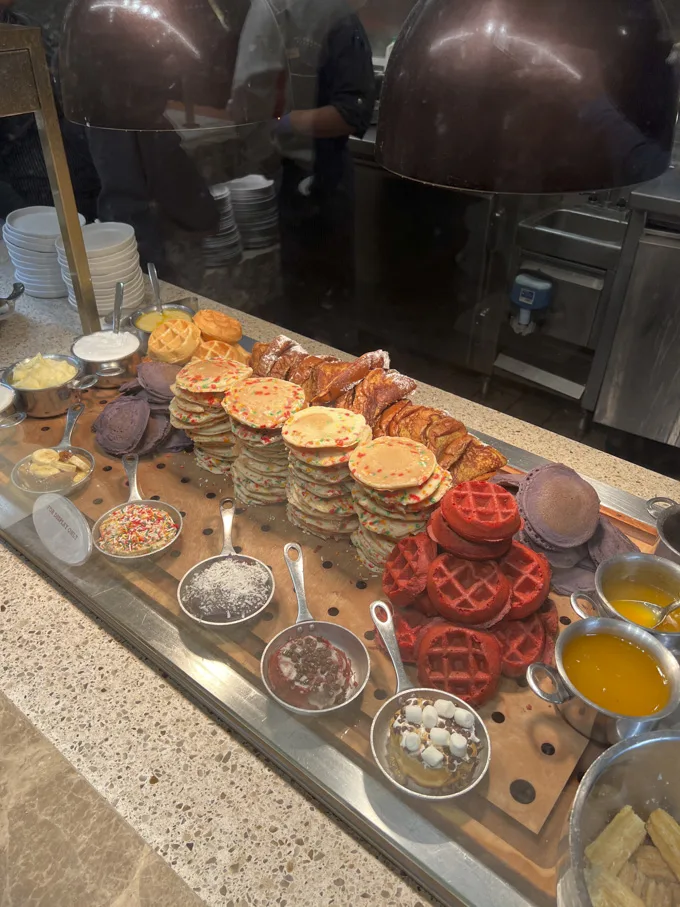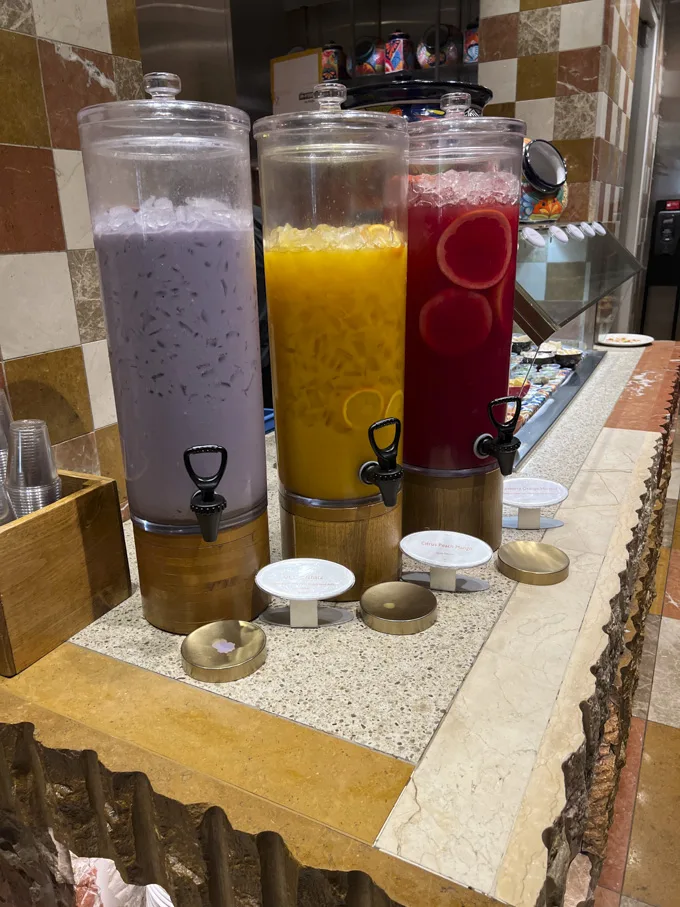 I thought the Bacchanal Buffet was quite up-to-date with more modern options available by offering plant-based, healthy and vegan/gluten-free choices. Their Asian offerings have extended beyond Chinese and Japanese to including Filipino and Korean dishes.
Bacchanal Buffet Review
I would definitely recommend the Bacchanal Buffet at Caesar's Palace if you were to try just one buffet while in Las Vegas. I thought the variety of items offered were plentiful and that the chef-led stations were well-attended to. It's a very busy buffet with lots of people and staff but everything seemed orderly. The buffet is spacious enough to accommodate the number of guests they allow in. The only sections of the buffet which had somewhat of a lineup were for the crab legs and the carving. There are plenty of opportunities for you to get the items you want in the time they allow you.
In terms of the check-in process, there is a dedicated line for Caesar's Rewards VIPs and those who have reservations and a separate line for walk-ins. You pay at check-in before you get seated. Afterwards, one of the staff will take you to a designated table.
I thought the pricing was fair for what you get. I also thought it was really nice of them to not charge for children 4 and under. Some buffets charge children because they take up a seat of which the restaurant could be making money off of.
All of the front of the staff were friendly and professional. Overall, great experience!
Bacchanal Buffet Photos
Here are some Bacchanal Buffet photos that I took from my experience there.