It's WCS season. That's "White Castle Stuffing" season for those not in the know. White Castle, the iconic, family-owned business, reminds people that before the bells start jingling, before the yule tides, and before everyone starts belting what they want for Christmas, Thanksgiving must be celebrated. Of course, that celebration should include a freshly baked legendary White Castle stuffing recipe.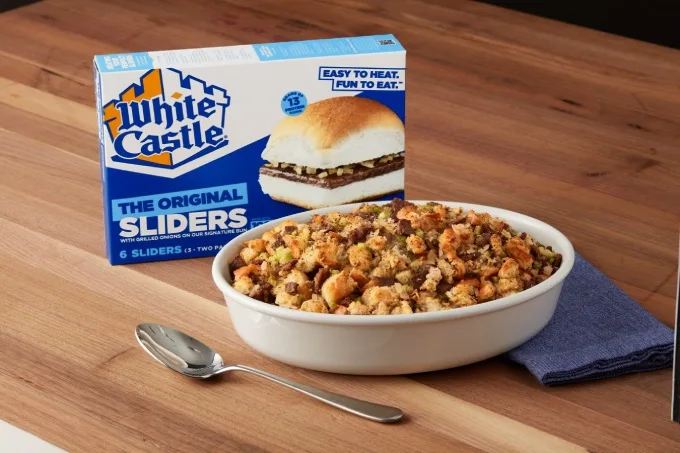 White Castle's Original Slider Stuffing set a new standard on how Thanksgiving Day stuffing should be prepared. The recipe was first introduced in 1991 when a White Castle team member enhanced her grandmother's family stuffing recipe with a sack of Sliders.
The White Castle culinary team produced a new hit in 2022 with the Kickin' Southwest Stuffin Muffins. Featuring corn, green onions, chili powder, a variety of peppers and Jalapeño Cheese Sliders, these muffins are small in stature but big in taste. Other versions of the Slider stuffing include the Impossible Slider Stuffing, which uses the Impossible Slider as the base, the Bacon Jalapeño Cheese Slider Stuffing and the Southwestern Jalapeño Cheese Slider Stuffing.
Remix! Fat Joe style! This year, the Craver Hall of Famer put his personal touch on the dish, calling it Fat Joe's Jalapeño Cheese Slider Stuffing. Fat Joe's version features sauteed celery, jalapeño peppers, cilantro, shredded pepper jack cheese and Jalapeño Cheese Sliders, with a guest appearance from Sazón, a blend of spices that is a staple of many Puerto Rican, Dominican and Mexican cuisines.
All recipes mentioned can be prepared using Sliders purchased fresh from White Castle restaurants or frozen from retail stores across the U.S.
The recipes for White Castle's Original Slider Stuffing and its Kickin' Southwest Stuffin' Muffins are below. For the other stuffing recipes and additional recipe ideas using White Castle menu items, visit www.whitecastle.com/crave-central/recipes.
Prep time: 5 to 10 minutes
Cook time: 35 minutes
Servings: about 9 cups of stuffing (enough for a 10- to 12-pound turkey)
Ingredients:
10 to 12 White Castle Original Sliders, no pickles (from a Castle restaurant or a local retailer)
1½ cups diced celery
1¼ teaspoons ground thyme
1½ teaspoons ground sage
¾ teaspoon coarsely ground black pepper
¼ cup chicken broth (or 1 cup for casserole version)
Instructions:
Tear the Sliders into bite-sized pieces and put into a large mixing bowl.
Add diced celery and seasonings.
Add ¼ cup of chicken broth and toss well.
Put stuffing into cavity of the turkey and cook as you normally would.
If cooking stuffing as a casserole, add an additional ¾ cup of chicken broth and toss well.
Spray or oil a 2-quart casserole dish.
Transfer stuffing to casserole dish and bake at 350 degrees for 35 minutes.
Prep Time: 5 to 10 minutes
Cook time: 25 minutes
Servings: Approx. 18
Ingredients:
10 TBLS Butter
12 Jalapeño Sliders chopped into ½ inch pieces
3 large jalapeño peppers diced (1 cup) – leave the seeds for a spicier muffin
1 poblano pepper diced (1 cup) – leave the seeds for more spice
1 red bell pepper diced (1 cup)
1 cup frozen corn
Green onion sliced (2/3 cup)
2 TBLS chili powder
1 tsp salt
½ tsp pepper
3 eggs
1½ cups chicken broth
½ cup breadcrumbs
Instructions:
Preheat oven to 375 degrees.
Melt butter in a medium skillet over medium heat.
Add diced peppers and sauté until soft.
Add the corn and green onions, turn off heat.
Add chili powder, salt and pepper.
In a large bowl, mix vegetables with sliders and breadcrumbs.
Combine your broth and eggs.
Pour broth & egg mixture over slider mixture and blend well.
Scoop into buttered muffin tin or use cupcake wrappers.