It's that delicious time of year where fall baking is a focus in kitchens everywhere, and apples take center stage as a star ingredient.
To celebrate this sweet season, Cosmic Crisp apples and Bob's Red Mill paired up to host a fall baking giveaway and inspire consumers with recipes featuring both brands.
The "Sweeter Together" promotion collected nearly 432,000 entries and garnered over 1.1 million social media impressions.
Another highlight was hundreds of positive comments expressing enthusiasm for the partnership of the #7th best-selling apple in the United States – and the beloved brand known for its extensive line of baking products.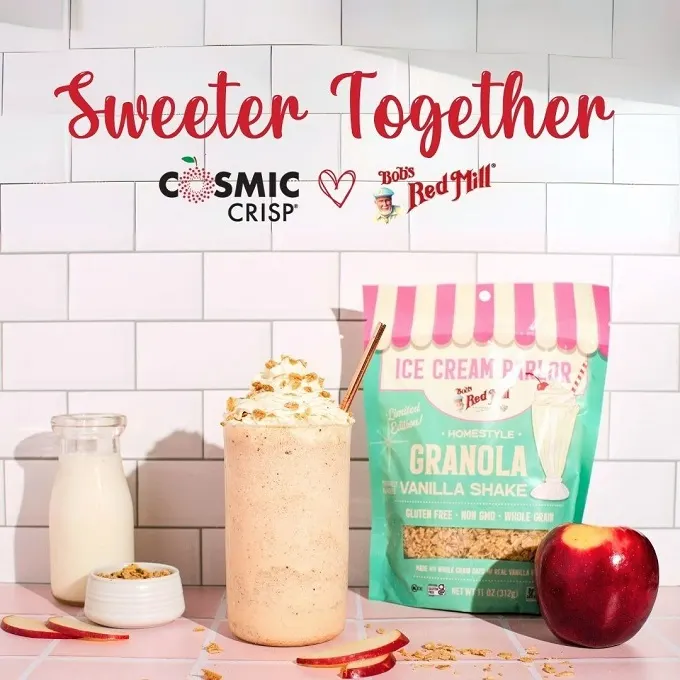 One lucky fan won a grand prize pack including an Ankarsrum original stand mixer, a Cosmic Crisp branded cutting board and apples, plus a selection of Bob's Red Mill products.
Two other fans won a Finex cast iron pan, Cosmic Crisp swag, apples and a variety of Bob's Red Mill products.
The sweet lineup of recipes available on the Cosmic Crisp website include:
Cosmic Crisp Apple Pie Milkshake with Bob's Red Mill Vanilla Shake Granola
Cosmic Crisp Apple Tahini Cookie Skillet with Bob's Red Mill Flour
Gluten-Free Salted Maple and Cosmic Crisp Apple Spice Donuts with Bob's Red Mill Oat Flour
Browned Butter & Cinnamon Oatmeal Cookies with Bob's Red Mill Flour and Cosmic Crisp Apple
Adding more baking inspiration and boosting the visibility of the "Sweeter Together" giveaway was an influencer partnership with Maria Koutsoginannis of Food by Maria.
She shared a Pumpkin Apple Fritter recipe featuring Cosmic Crisp with her 515,000 followers on Instagram and nearly 230,000 on TikTok. The posts earned thousands of engagements and drove hundreds of fans to enter the giveaway.
Cosmic Crisp apples are available in all seasons in grocery stores across the country. To find them in your area, visit the Store Locator on CosmicCrisp.com