Compared to sushi, ramen and ice creams, there aren't many dedicated BBQ eateries in Vancouver.  However, there is a new addition to Vancouver's small BBQ scene which recently found a permanent home at 826 Renfrew Street in East Vancouver.  Whiskey Six BBQ is a restaurant that specializes in West Coast BBQ which brings together traditional barbecue and organic ingredients from local farmers and suppliers.  I recently visited Whiskey Six BBQ and had a chance to interact with owner and operator, Marc Wicks, about the restaurant's concept.
Disclosure:  All food in this review were complimentary.  Opinions are my own.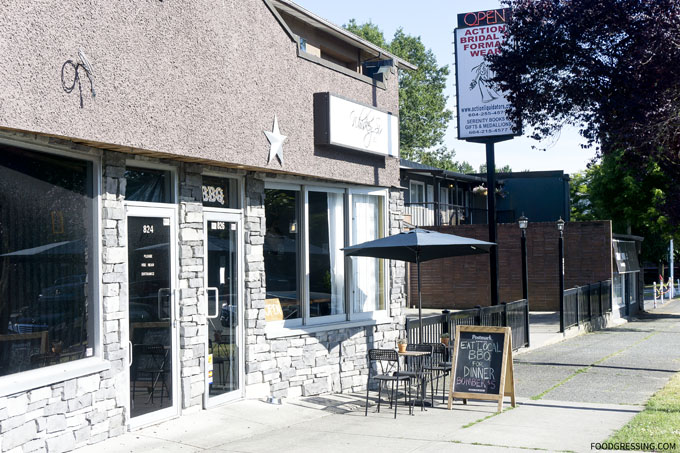 Prohibition-Inspired
Whiskey Six BBQ takes its name from the 1920s McLaughlin H44 Buicks, AKA "The Whiskey Six", that were the rum-running muscle cars during the Prohibition era. The interior which is also Prohibition-inspired features slate blue walls and some taxidermy pieces.  The restaurant space is small, cozy and inviting being just 1,000 square feet and able to seat about 30 customers.  The focal point of the dining room is the bar at the back which features an array of brown liquor from Vancouver's own small batch distilleries and local craft beers, as well as a selection of fine whiskies from around the world.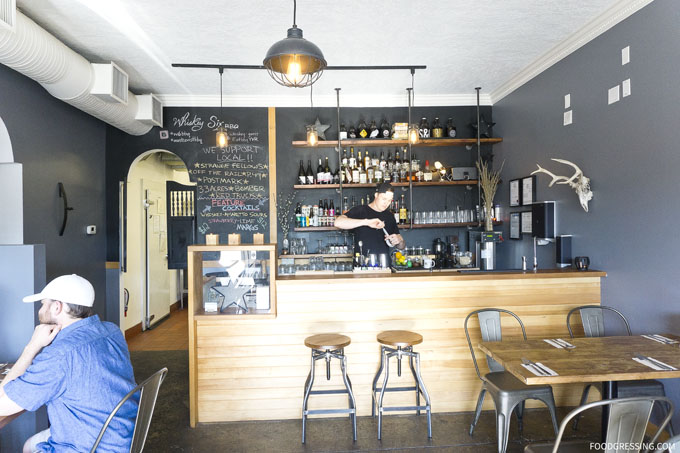 The taxidermy pieces definitely caught my eye.  I can't recall a restaurant that I have been to which features taxidermy so prominently.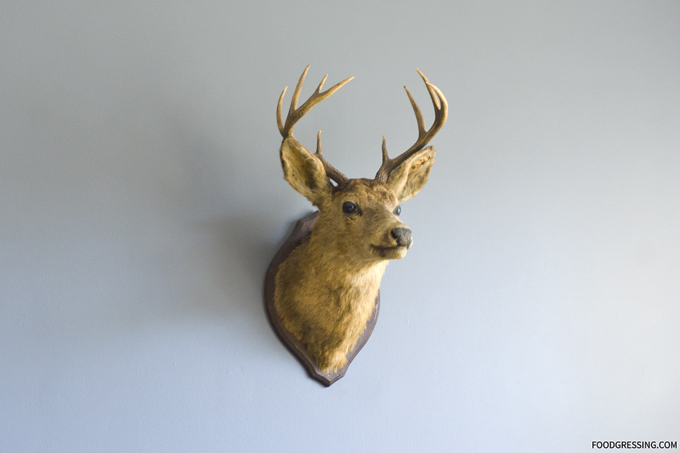 Whiskey Six BBQ Menu
On the menu at Whiskey Six are meat plates and sandwiches including Blue Goose Cattle Co. Organic Beef Brisket, Johnston's Prohibition Pulled Pork, and Free Range Farmcrest Crispy Chicken Sandwich.  Choice of sides include Kennebec fries, smokey beans, wings, chicken gravy and more.  If you have a group of 4 people, you might want to consider the H44 Platter ($90) which features brisket, pulled pork, half rack of ribs, one sausage link and one chicken leg with a choice of four sides, Fife Bakery bread, Whiskey Mustard and Barrelhouse Brine pickles.
What I Tried
I had a sample of the H44 platter which included pulled pork, brisket, a sausage link, and a chicken wing.  For sides, there was the Barrelhouse Brine pickles, Whiskey Mustard, smokey beans, Fife bakery bread, coleslaw, red potato salad and house-made sauces, BBQ and Hot.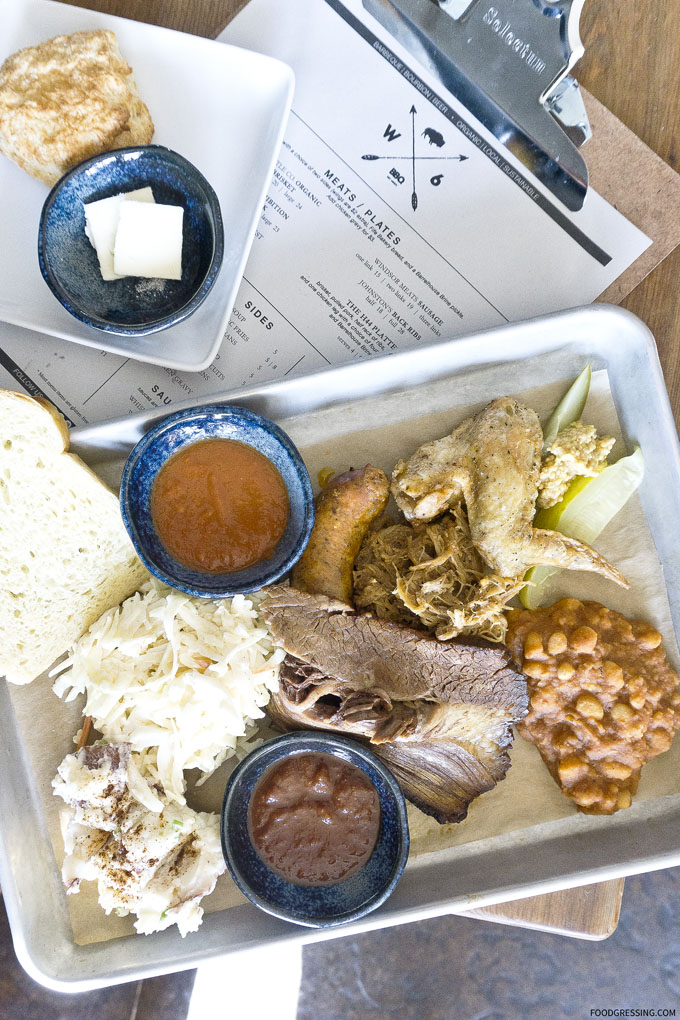 At Whiskey Six, the food is served on trays.  I found the food to not be overly greasy such that it doesn't get all that messy.  In general, I thought the meat on its own was quite light in flavours and it was really their house-made sauces which lent more flavour to the BBQ.  The brisket was wonderfully tender and delicious while I quite appreciated the subtly sweet flavours of the pulled pork.  The chicken was nicely crispy on the outside and tender on the inside. I would say that for the meat, I enjoyed the sausage the least but in general I'm not much of a sausage eater.  However, I did appreciate how smoky it was.
As for the sides, the Fife bread slice was nicely fluffy.  The coleslaw and red potato salads were also very light and had a nice cooling effect.  I liked the tangy and spicy pickles with the grainy mustard.  Also notable was the Southern Biscuit which was nice and flaky.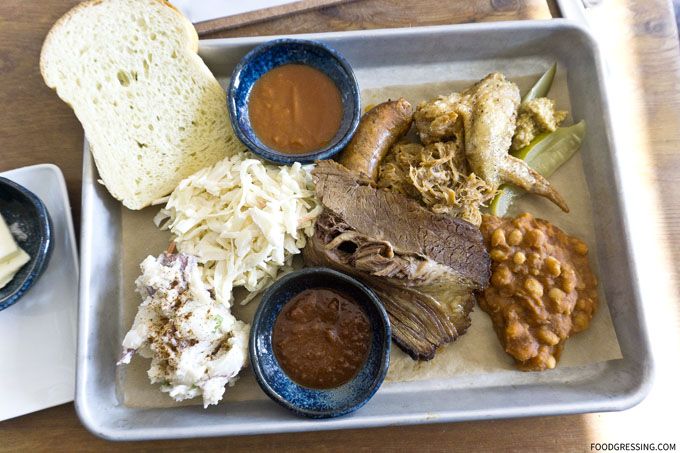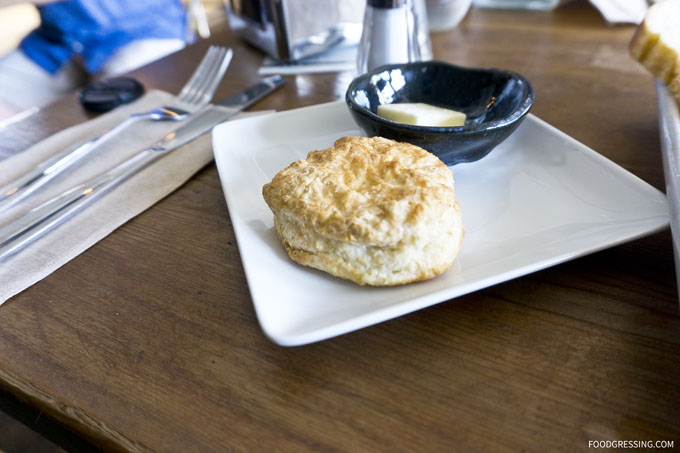 Overall Impression of Whiskey Six BBQ
As a non-frequent BBQ eater, Whiskey Six's West Coast BBQ can easily covert me into a regular.  I appreciate their commitment to organic, local and sustainable ingredients.  For BBQ regulars, I would highlight that the BBQ at Whiskey Six is a lot lighter and less greasy than traditional BBQ styles.  I ate to my maximum capacity at the tasting and enjoyed the fact that I didn't feel gross afterwards thanks to their style of BBQ.  Rating: 4/5
Website: www.whiskeysixbbq.com