In this post on Wendy's Menu Canada Prices 2021, you'll find descriptions of the Wendy's menu item, calories information, ingredients and customization options.
This information is based on the Wendy's Menu at 482 Queen Street West in Toronto. Please check your local Wendy's for most accurate information.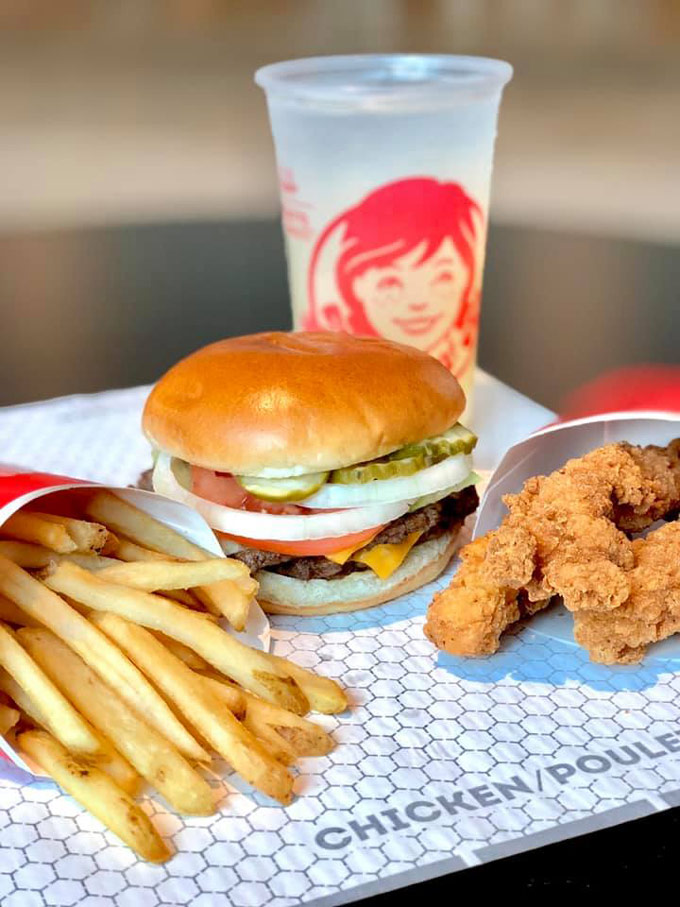 Please note * denotes approximate weight before cooking.
Dave's Single®
A quarter-pound* of hot n' juicy beef, cheese, crisp lettuce, tomato, pickle, ketchup, mayo, and onion on a toasted bun.
Price: $8.99
Calories: 780-1,200 Cals
Size:

Small Combo: Dave's Single Burger®, Small Fries, Drink

Medium Combo (+$0.89): Dave's Single Burger®, Medium Fries, Drink

Large Combo (+$1.29): Dave's Single Burger®, Large Fries, Drink

What's On It:

Premium Bun (Default), Sandwich Bun, Lettuce

Lettuce (None, Lite, Regular – Default, Extra)

Onion (None, Lite, Regular – Default, Extra)

Tomato (None, Lite, Regular – Default, Extra)

Crinkle Cut Pickles, (None, Lite, Regular – Default, Extra)

Mayonnaise (None, Lite, Regular – Default, Extra)

Ketchup (None, Lite, Regular – Default, Extra)
Dave's Double®
A half-pound* of hot n' juicy beef, cheese, crisp lettuce, tomato, pickle, ketchup, mayo, and onion on a toasted bun.
Price: $10.19
Calories: 1,020-1,440 Cals
Size:

Small Combo: Dave's Double Burger®, Small Fries, Drink

Medium Combo (+$0.89): Dave's Double Burger®, Medium Fries, Drink

Large Combo (+$1.29): Dave's Double Burger®, Large Fries, Drink

What's On It:

Premium Bun (Default), Sandwich Bun, Lettuce

Lettuce (None, Lite, Regular – Default, Extra)

Onion (None, Lite, Regular – Default, Extra)

Tomato (None, Lite, Regular – Default, Extra)

Crinkle Cut Pickles, (None, Lite, Regular – Default, Extra)

Mayonnaise (None, Lite, Regular – Default, Extra)

Ketchup (None, Lite, Regular – Default, Extra)
Dave's Triple®
Three-quarters of a pound* of hot n' juicy beef, cheese, crisp lettuce, tomato, pickle, ketchup, mayo, and onion on a toasted bun.
Price: $11.39
Calories: 1,310-1,720 Cals
Size:

Small Combo: Dave's Triple Burger®, Small Fries, Drink

Medium Combo (+$0.89): Dave's Triple Burger®, Medium Fries, Drink

Large Combo (+$1.29): Dave's Triple Burger®, Large Fries, Drink

What's On It:

Premium Bun (Default), Sandwich Bun, Lettuce

Lettuce (None, Lite, Regular – Default, Extra)

Onion (None, Lite, Regular – Default, Extra)

Tomato (None, Lite, Regular – Default, Extra)

Crinkle Cut Pickles (None, Lite, Regular – Default, Extra)

Mayonnaise (None, Lite, Regular – Default, Extra)

Ketchup (None, Lite, Regular – Default, Extra)
Grilled Chicken Sandwich
Herb-marinated grilled chicken breast topped with smoky honey mustard, crisp spring mix, and tomato, served on a warm toasted bun.
Price: $9.79
Calories: 570-990 Cals
Size:

Small Combo: Grilled Chicken Sandwich, Small Fries, Drink

Medium Combo (+$0.89): Grilled Chicken Sandwich, Medium Fries, Drink

Large Combo (+$1.29): Grilled Chicken Sandwich, Large Fries, Drink

What's On It:

Premium Bun (Default), Sandwich Bun, Lettuce

Lettuce (None, Lite, Regular – Default, Extra)

Tomato (None, Lite, Regular – Default, Extra)

Honey Mustard (None, Lite, Regular – Default, Extra)
Spicy Chicken Sandwich
A juicy chicken breast marinated and breaded in Wendy's unique, fiery blend of peppers and spices to deliver more flavor inside and out, cooled down with crisp lettuce, tomato, and mayo.
Price: $9.79
Calories: 650-1,060 Cals
Size:

Small Combo: Spicy Chicken Sandwich, Small Fries, Drink

Medium Combo (+$0.89): Spicy Chicken Sandwich, Medium Fries, Drink

Large Combo (+$1.29): Spicy Chicken Sandwich, Large Fries, Drink

What's On It:

Premium Bun (Default), Sandwich Bun, Lettuce

Lettuce (None, Lite, Regular – Default, Extra)

Tomato (None, Lite, Regular – Default, Extra)

Mayonnaise (None, Lite, Regular – Default, Extra)
Classic Chicken Sandwich
A juicy, lightly breaded crispy chicken breast with crunchy lettuce, tomato, mayo, and the perfect pickles, all on a toasted bun.
Price: $9.79
Calories: 660-1,080 Cals
Size:

Small Combo: Classic Chicken Sandwich, Small Fries, Drink

Medium Combo (+$0.89): Classic Chicken Sandwich, Medium Fries, Drink

Large Combo (+$1.29): Classic Chicken Sandwich, Large Fries, Drink

What's On It:

Premium Bun (Default), Sandwich Bun, Lettuce

Lettuce (None, Lite, Regular – Default, Extra)

Tomato (None, Lite, Regular – Default, Extra)

Crinkle Cut Pickles (None, Lite, Regular – Default, Extra)

Mayonnaise (None, Lite, Regular – Default, Extra)
Chicken Strips
Crispy breading outside, tender 100% Canadian all-white meat inside. They're everything a chicken strip should be except way better. For something even better than better, dip them any one of their five sauces.
Price: $9.39
Calories: 660-1,210 Cals
Size:

Small Combo: Classic Chicken Strips, Small Fries, Drink

Medium Combo (+$0.89): Classic Chicken Strips, Medium Fries, Drink

Large Combo (+$1.29): Classic Chicken Strips, Large Fries, Drink

Sauce:

Barbecue Sauce, Honey Mustard Bistro Sauce, Ranch Sauce, Creamy Sriracha Sauce, Plum Sauce, Ketchup (1 Packet), No Sauce
Asiago Ranch Chicken Club
A juicy, lightly breaded chicken breast taken over the top with thick Applewood smoked bacon, Asiago cheese, creamy ranch sauce, crisp lettuce, and tomato, all on a toasted bun.
Price: $10.39
Calories: 710-1,230 Cals
Size:

Small Combo: Asiago Ranch Chicken Club, Small Fries, Drink

Medium Combo (+$0.89): Asiago Ranch Chicken Club, Medium Fries, Drink

Large Combo (+$1.29): Asiago Ranch Chicken Club, Large Fries, Drink

What's On It:

Classic

Premium Bun (Default), Sandwich Bun, Lettuce

Lettuce (None, Light, Regular – Default, Extra)

Tomato (None, Light, Regular – Default, Extra)

Ranch Sauce (None, Light, Regular – Default, Extra)

Applewood Smoked Bacon (0-5, +$0.90 after 1)

Spicy

Premium Bun (Default), Sandwich Bun, Lettuce

Applewood Smoked Bacon (0-5, +$0.90 after 1)

Lettuce (None, Light, Regular – Default, Extra)

Tomato (None, Light, Regular – Default, Extra)

Ranch Sauce (None, Light, Regular – Default, Extra)

Grilled

Premium Bun (Default), Sandwich Bun, Lettuce

Applewood Smoked Bacon (0-5, +$0.90 after 1)

Lettuce (None, Light, Regular – Default, Extra)

Tomato (None, Light, Regular – Default, Extra)

Ranch Sauce (None, Light, Regular – Default, Extra)
Baconator®
A half-pound* of fresh beef, American cheese, 6 pieces of crispy Applewood smoked bacon, ketchup, and mayo.
Price: $11.19
Calories: 1,160-1,570 Cals
Size:

Small Combo: Baconator®, Small Fries, Drink

Medium Combo (+$0.89): Baconator®, Medium Fries, Drink

Large Combo (+$1.29): Baconator®, Large Fries, Drink

What's On It:

Premium Bun (Default), Sandwich Bun, Lettuce

Mayonnaise (None, Lite, Regular – Default, Extra)

Ketchup (None, Lite, Regular – Default, Extra)
Son Of Baconator®
Hot n' juicy beef, plenty of Applewood smoked bacon, ketchup, and mayo.
Price: $9.59
Calories: 840-1,260 Cals
Size:

Small Combo: Son Of Baconator®, Small Fries, Drink

Medium Combo (+$0.89): Son Of Baconator®, Medium Fries, Drink

Large Combo (+$1.29): Son Of Baconator®, Large Fries, Drink

What's On It:

Premium Bun (Default), Sandwich Bun, Lettuce

Mayonnaise (None, Lite, Regular – Default, Extra)

Ketchup (None, Lite, Regular – Default, Extra)
Sweet Thai Chili Chicken Sandwich Combo
Featuring Wendy's famous spicy chicken, sweet Thai chili sauce, crispy cucumbers, pickles, lettuce, onion and mayo on a toasted bun, the Sweet Thai Chili Chicken Sandwich strikes the deliciously delicate balance of sweet, but spicy.
Price: $10.39
Calories: 680-1,230 Cals
Size:

Small Combo: Sweet Thai Spicy Chicken Sandwich, Small Fries, Drink

Medium Combo (+$0.89): Sweet Thai Spicy Chicken Sandwich, Medium Fries, Drink

Large Combo (+$1.29): Sweet Thai Spicy Chicken Sandwich, Large Fries, Drink

What's On It:

Spicy

Premium Bun (Default), Sandwich Bun, Lettuce

Lettuce (None, Light, Regular – Default, Extra)

Onion (None, Light, Regular – Default, Extra)

Crinkle Cut Pickles (None, Light, Regular- Default, Extra)

Mayonnaise (None, Light, Regular – Default, Extra)

Sweet & Spicy Thai Sauce (None, Light, Regular – Default, Extra)

Classic

Premium Bun (Default), Sandwich Bun, Lettuce

Lettuce (None, Light, Regular – Default, Extra)

Onion (None, Light, Regular – Default, Extra)

Crinkle Cut Pickles (None, Light, Regular – Default, Extra)

Mayonnaise (None, Light, Regular – Default, Extra)

Sweet & Spicy Thai Sauce (None, Light, Regular – Default, Extra)

Grilled

Premium Bun (Default), Sandwich Bun, Lettuce

Lettuce (None, Light, Regular – Default, Extra)

Onion (None, Light, Regular – Default, Extra)

Crinkle Cut Pickles (None, Light, Regular – Default, Extra)

Mayonnaise (None, Light, Regular – Default, Extra)

Sweet & Spicy Thai Sauce (None, Light, Regular – Default, Extra)
Dave's Single® Cheeseburger
A quarter-pound* of hot n' juicy beef, cheese, crisp lettuce, tomato, pickle, ketchup, mayo, and onion on a toasted bun.
Price: $5.59
Calories: 590 Cals
What's On It:

Premium Bun (Default), Sandwich Bun, Lettuce

Lettuce (None, Lite, Regular – Default, Extra)

Onion (None, Lite, Regular – Default, Extra)

Tomato (None, Lite, Regular – Regular, Extra)

Crinkle Cut Pickles, (None, Lite, Regular – Default, Extra)

Mayonnaise (None, Lite, Regular – Default, Extra)

Ketchup (None, Lite, Regular – Default, Extra)
Dave's Double® Cheeseburger
A half-pound* of fresh beef, American cheese, crisp lettuce, tomato, pickle, ketchup, mayo, and onion on a toasted bun.
Price: $6.79
Calories: 860 Cals
What's On It:

Premium Bun (Default), Sandwich Bun, Lettuce

Lettuce (None, Lite, Regular – Default, Extra)

Onion (None, Lite, Regular – Default, Extra)

Tomato (None, Lite, Regular – Regular, Extra)

Crinkle Cut Pickles, (None, Lite, Regular – Default, Extra)

Mayonnaise (None, Lite, Regular – Default, Extra)

Ketchup (None, Lite, Regular – Default, Extra)
Dave's Triple® Cheeseburger
Three quarters of a pound* of fresh, never frozen beef, American cheese, crisp lettuce, tomato, pickle, ketchup, mayo, and onion on a toasted bun.
Price: $7.99
Calories: 1,170 Cals
What's On It:

Premium Bun (Default), Sandwich Bun, Lettuce

Lettuce (None, Lite, Regular – Default, Extra)

Onion (None, Lite, Regular – Default, Extra)

Tomato (None, Lite, Regular – Regular, Extra)

Crinkle Cut Pickles, (None, Lite, Regular – Default, Extra)

Mayonnaise (None, Lite, Regular – Default, Extra)

Ketchup (None, Lite, Regular – Default, Extra)
Baconator®
A half-pound* of fresh beef, American cheese, 6 pieces of crispy Applewood smoked bacon, ketchup, and mayo.
Price: $7.79
Calories: 970 Cals
What's On It:

Premium Bun (Default), Sandwich Bun, Lettuce

Mayonnaise (None, Lite, Regular – Default, Extra)

Ketchup (None, Lite, Regular – Default, Extra)
Son of Baconator®
Hot n' juicy beef, plenty of Applewood smoked bacon, ketchup, and mayo.
Price: $6.19
Calories: 670 Cals
What's On It:

Premium Bun (Default), Sandwich Bun, Lettuce

Mayonnaise (None, Lite, Regular – Default, Extra)

Ketchup (None, Lite, Regular – Default, Extra)
Bacon Deluxe ¼ lb.* Single
A quarter-pound* of fresh beef, Applewood smoked bacon, American cheese, crisp lettuce, tomato, pickle, ketchup, mayo, and onion on a toasted bun.
Price: $4.00
Calories: 650 Cals
What's On It:

Premium Bun (Default), Sandwich Bun, Lettuce

Applewood Smoked Bacon (0-5, +$0.90 after 1)

Lettuce (None, Lite, Regular – Default, Extra)

Onion (None, Lite, Regular – Default, Extra)

Tomato (None, Lite, Regular – Default, Extra)

Crinkle Cut Pickles, (None, Lite, Regular – Default, Extra)

Mayonnaise (None, Lite, Regular – Default, Extra)

Ketchup (None, Lite, Regular – Default, Extra)
Bacon Deluxe ½ lb.* Double
A half-pound* of fresh beef, Applewood smoked bacon, American cheese, crisp lettuce, tomato, pickle, ketchup, mayo, and onion on a toasted bun.
Price: $7.79
Calories: 920 Cals
What's On It:

Premium Bun (Default), Sandwich Bun, Lettuce

Lettuce (None, Lite, Regular – Default, Extra)

Onion (None, Lite, Regular – Default, Extra)

Tomato (None, Lite, Regular – Default, Extra)

Crinkle Cut Pickles, (None, Lite, Regular – Default, Extra)

Mayonnaise (None, Lite, Regular – Default, Extra)

Ketchup (None, Lite, Regular – Default, Extra)

Applewood Smoked Bacon (0-5, +$0.90 after 1)
Bacon Deluxe ¾ lb.* Triple
Three quarters of a pound* of fresh, never-frozen beef, Applewood smoked bacon, American cheese, crisp lettuce, tomato, pickle, ketchup, mayo, and onion on a toasted bun.
Price: $8.99
Calories: 1,220 Cals
What's On It:

Premium Bun (Default), Sandwich Bun, Lettuce

Lettuce (None, Lite, Regular – Default, Extra)

Onion (None, Lite, Regular – Default, Extra)

Tomato (None, Lite, Regular – Default, Extra)

Crinkle Cut Pickles, (None, Lite, Regular – Default, Extra)

Mayonnaise (None, Lite, Regular – Default, Extra)

Ketchup (None, Lite, Regular – Default, Extra)

Applewood Smoked Bacon (0-5, +$0.90 after 1)
Double Stack™
Two patties of fresh, never frozen beef with cheese, ketchup, mustard, pickle, and onion.
Price: $3.29
Calories: 440 Cals
What's On It:

Premium Bun, Sandwich Bun (Default), Tortilla (+$0.60), Lettuce

Ketchup (None, Lite, Regular – Default, Extra)

Crinkle Cut Pickles, (None, Lite, Regular – Default, Extra)

Onion (None, Lite, Regular – Default, Extra)
Double JR. Bacon Cheeseburger
Fresh beef, Applewood smoked bacon, American cheese, crisp lettuce, tomato, and mayo.
Price: $3.29
Calories: 530 Cals
What's On It:

Premium Bun, Sandwich Bun (Default), Tortilla (+$0.60), Lettuce

Mayonnaise (None, Lite, Regular – Default, Extra)

Lettuce (None, Lite, Regular – Default, Extra)

Tomato (None, Lite, Regular – Default, Extra)
Jr. Hamburger Deluxe
Fresh, never frozen beef topped with pickles, onion, ketchup, and mustard on a toasted bun.
Price: $1.89
Calories: 320 Cals
What's On It:

Premium Bun, Sandwich Bun (Default), Tortilla (+$0.60), Lettuce

Ketchup (None, Lite, Regular – Default, Extra)

Mayonnaise (None, Lite, Regular – Default, Extra)

Lettuce (None, Lite, Regular – Default, Extra)

Crinkle Cut Pickles, (None, Lite, Regular – Default, Extra)

Onion (None, Lite, Regular – Default, Extra)

Tomato (None, Lite, Regular – Default, Extra)
Jr. Cheeseburger Deluxe
Fresh beef topped with cheese, pickles, onions, tomatoes, crisp lettuce, ketchup, and mayo.
Price: $1.89
Calories: 360 Cals
What's On It:

Premium Bun, Sandwich Bun (Default), Tortilla (+$0.60), Lettuce

Ketchup (None, Lite, Regular – Default, Extra)

Mayonnaise (None, Lite, Regular – Default, Extra)

Lettuce (None, Lite, Regular – Default, Extra)

Crinkle Cut Pickles, (None, Lite, Regular – Default, Extra)

Onion (None, Lite, Regular – Default, Extra)

Tomato (None, Lite, Regular – Default, Extra)
Jr. Bacon Cheeseburger
Fresh beef, Applewood smoked bacon, American cheese, crisp lettuce, tomato, and mayo.
Price: $2.29
Calories: 390 Cals
What's On It:

Premium Bun, Sandwich Bun (Default), Tortilla (+$0.60), Lettuce

Mayonnaise (None, Lite, Regular – Default, Extra)

Lettuce (None, Lite, Regular – Default, Extra)

Tomato (None, Lite, Regular – Default, Extra)
Cheesy Cheddarburger
A hot n' juicy beef patty topped with melted cheese slice and cheese sauce. Cheesier than a dad joke but way more delicious.
Price: $1.89
Calories: 320 Cals
What's On It:

Premium Bun, Sandwich Bun (Default), Tortilla (+$0.60), Lettuce
Sweet Thai Spicy Chicken Sandwich
Featuring Wendy's famous spicy chicken, sweet Thai chili sauce, crispy cucumbers, pickles, lettuce, onion and mayo on a toasted bun, the Sweet Thai Chili Chicken Sandwich strikes the deliciously delicate balance of sweet, but spicy.
Price: $6.99
Calories: 610 Cals
What's On It:

Premium Bun (Default), Sandwich Bun, Lettuce

Lettuce (None, Light, Regular – Default, Extra)

Onion (None, Light, Regular – Default, Extra)

Crinkle Cut Pickles (None, Light, Regular- Default, Extra)

Mayonnaise (None, Light, Regular – Default, Extra)

Sweet & Spicy Thai Sauce (None, Light, Regular – Default, Extra)
Sweet Thai Classic Chicken Sandwich
A half-pound* of hot n' juicy beef, cheese, crisp lettuce, tomato, pickle, ketchup, mayo, and onion on a toasted bun.
Price: $6.99
Calories: 630 Cals
What's On It:

Premium Bun (Default), Sandwich Bun, Lettuce

Lettuce (None, Light, Regular – Default, Extra)

Onion (None, Light, Regular – Default, Extra)

Crinkle Cut Pickles (None, Light, Regular- Default, Extra)

Mayonnaise (None, Light, Regular – Default, Extra)

Sweet & Spicy Thai Sauce (None, Light, Regular – Default, Extra)
Sweet Thai Grilled Chicken Sandwich
A half-pound* of hot n' juicy beef, cheese, crisp lettuce, tomato, pickle, ketchup, mayo, and onion on a toasted bun.
Price: $6.99
Calories: 500 Cals
What's On It:

Premium Bun (Default), Sandwich Bun, Lettuce

Lettuce (None, Light, Regular – Default, Extra)

Onion (None, Light, Regular – Default, Extra)

Crinkle Cut Pickles (None, Light, Regular- Default, Extra)

Mayonnaise (None, Light, Regular – Default, Extra)

Sweet & Spicy Thai Sauce (None, Light, Regular – Default, Extra)
Spicy Chicken Sandwich
A juicy chicken breast marinated and breaded in Wendy's unique, fiery blend of peppers and spices to deliver more flavor inside and out, cooled down with crisp lettuce, tomato, and mayo.
Price: $6.39
Calories: 450 Cals
What's On It:

Premium Bun (Default), Sandwich Bun, Lettuce

Lettuce (None, Light, Regular – Default, Extra)

Tomato (None, Light, Regular – Default, Extra)

Mayonnaise (None, Light, Regular – Default, Extra)
Classic Chicken Sandwich
A juicy, lightly breaded crispy chicken breast with crunchy lettuce, tomato, mayo, and the perfect pickles, all on a toasted bun.
Price: $6.39
Calories: 480 Cals
What's On It:

Premium Bun (Default), Sandwich Bun, Lettuce

Lettuce (None, Light, Regular – Default, Extra)

Tomato (None, Light, Regular – Default, Extra)

Crinkle Cut Pickles (None, Light, Regular – Default, Extra)

Mayonnaise (None, Light, Regular – Default, Extra)
Grilled Chicken Sandwich
Herb-marinated grilled chicken breast topped with smoky honey mustard, crisp spring mix, and tomato, served on a warm toasted bun.
Price: $6.39
Calories: 340 Cals
What's On It:

Premium Bun (Default), Sandwich Bun, Lettuce

Lettuce (None, Light, Regular – Default, Extra)

Tomato (None, Light, Regular – Default, Extra)

Honey Mustard (None, Light, Regular – Default, Extra)
Classic Asiago Ranch Chicken Club
A juicy, lightly breaded chicken breast taken over the top with thick Applewood smoked bacon, Asiago cheese, creamy ranch sauce, crisp lettuce, and tomato, all on a toasted bun.
Price: $6.99
Calories: 610 Cals
What's On It:

Premium Bun (Default), Sandwich Bun, Lettuce

Lettuce (None, Light, Regular – Default, Extra)

Tomato (None, Light, Regular – Default, Extra)

Ranch Sauce (None, Light, Regular – Default, Extra)

Applewood Smoked Bacon (0-5, +$0.90 after 1)
Spicy Asiago Ranch Chicken Club
A juicy chicken breast marinated and breaded in Wendy's unique, fiery blend of peppers and spices to deliver more flavor inside and out, topped with thick Applewood smoked bacon, Asiago cheese, creamy ranch sauce, crisp lettuce, and tomato, all on a toasted bun.
Price: $6.99
Calories: 590 Cals
What's On It:

Premium Bun (Default), Sandwich Bun, Lettuce

Applewood Smoked Bacon (0-5, +$0.90 after 1)

Lettuce (None, Light, Regular – Default, Extra)

Tomato (None, Light, Regular – Default, Extra)

Ranch Sauce (None, Light, Regular – Default, Extra)
Grilled Asiago Ranch Chicken Club
A sizzling chicken breast grilled to perfection, with thick Applewood smoked bacon, Asiago cheese, creamy ranch sauce, crisp lettuce, and tomato, all on a toasted bun.
Price: $6.99
Calories: 480 Cals
What's On It:

Premium Bun (Default), Sandwich Bun, Lettuce

Applewood Smoked Bacon (0-5, +$0.90 after 1)

Lettuce (None, Light, Regular – Default, Extra)

Tomato (None, Light, Regular – Default, Extra)

Ranch Sauce (None, Light, Regular – Default, Extra)
Classic Chicken Strips
Crispy breading outside, tender 100% Canadian all-white meat inside. They're everything a chicken strip should be except way better. For something even better than better, dip them any one of Wendy's five sauces.
Price: $5.99
Calories: 380 Cals
Sauce: Barbecue Sauce (50 Cals per packet), Honey Mustard Bistro Sauce (110 Cals per packet), Ranch Sauce (130 Cals per packet), Plum Sauce (50 Cals per packet), Creamy Sriracha Sauce (70 Cals per packet), Ketchup (1 Packet, 10 Cals), No Sauce
5-Piece Crispy Chicken Nuggets
100% white-meat chicken breaded to crispy perfection and served with your choice of 6 dipping sauces.
Price: $2.29
Calories: 200 Cals
Sauce: Barbecue Sauce (50 Cals per packet), Honey Mustard Bistro Sauce (110 Cals per packet), Ranch Sauce (130 Cals per packet), Plum Sauce (50 Cals per packet), Creamy Sriracha Sauce (70 Cals per packet), Ketchup (1 Packet, 10 Cals), No Sauce
10-Piece Crispy Chicken Nuggets
100% white-meat chicken breaded to crispy perfection and served with your choice of 6 dipping sauces.
Price: $5.59
Calories: 400 Cals
Sauce: Barbecue Sauce (50 Cals per packet), Honey Mustard Bistro Sauce (110 Cals per packet), Ranch Sauce (130 Cals per packet), Plum Sauce (50 Cals per packet), Creamy Sriracha Sauce (70 Cals per packet), Ketchup (1 Packet, 10 Cals), No Sauce
Grilled Chicken Wrap
Herb-marinated grilled 100% Canadian chicken breast wrapped in a flour tortilla with crisp lettuce, shredded cheese, and honey mustard.
Price: $2.29
Calories: 280 Cals
What's On It:

Lettuce (None, Light, Regular – Default, Extra)

Honey Mustard (None, Light, Regular – Default, Extra)
Spicy Chicken Wrap
Juicy, All White Meat chicken breast marinated and breaded in Wendy's unique, fiery blend of peppers and spices to deliver more flavour inside and out, wrapped in a tortilla with crisp lettuce, shredded cheese, and ranch sauce.
Price: $2.29
Calories: 350 Cals
What's On It:

Lettuce (None, Light, Regular – Default, Extra)

Ranch Sauce (None, Light, Regular – Default, Extra)
Southwest Avocado Chicken Salad
Made fresh daily with Wendy's signature lettuce blend, pepper jack cheese, diced tomatoes, cool, creamy avocado, Applewood smoked bacon, and grilled chicken breast hot off the grill, all topped with Marzetti® Simply Dressed® Southwest Ranch Dressing.
Price: Half ($5.69), Full ($8.99)
Calories (Entree Only): Half (210 Cals), Full (410 Cals)
Dressing:

Southwest Ranch Dressing (Default, 110 Cals per packet)

Caesar Dressing (180 Cals per packet)

Ranch Dressing (70 Cals per packet)

Pomegranate Vinaigrette Dressing (60 Cals per packet)

What's On It:

Applewood Smoked Bacon (0-5, +$0.90 after 1)
Taco Salad
Made fresh daily with Wendy's signature lettuce blend, pepper jack cheese, diced tomatoes, cool, creamy avocado, Applewood smoked bacon, and grilled chicken breast hot off the grill, all topped with Marzetti® Simply Dressed® Southwest Ranch Dressing.
Price: Half ($5.69), Full ($8.99)
Calories (Entree Only): Half (480 Cals), Full (660 Cals)
Dressing:

Caesar Dressing (180 Cals per packet)

Ranch Dressing (70 Cals per packet)

Pomegranate Vinaigrette Dressing (60 Cals per packet)

Southwest Ranch Dressing (110 Cals per packet)

What's On It:

Sour Cream (0-5, +$0.30 after 1)

Salsa (0-5, +$0.40 after 1)

Tortilla Chips (0-5, +$0.60 after 1)
Apple Pecan Chicken Salad
Made fresh daily with Wendy's signature lettuce blend, crisp red and green apples, dried cranberries, roasted pecans, crumbled blue cheese, and grilled chicken breast hot off the grill, all topped with Marzetti® Simply Dressed® Pomegranate Vinaigrette.
Price: Half ($5.69), Full ($8.99)
Calories (Entree Only): Half (340 Cals), Full (440 Cals)
Dressing:

Caesar Dressing (180 Cals per packet)

Ranch Dressing (70 Cals per packet)

Pomegranate Vinaigrette Dressing (Default, 60 Cals per packet)

Southwest Ranch Dressing (110 Cals per packet)

What's On It:

Blue Cheese Crumbles (None, Light, Regular – Default, Extra – +$0.70)
Grilled Caesar Salad
Made fresh daily with Wendy's signature lettuce blend, grilled chicken breast, Italian cheeses, bacon bits, croutons, and Renée's Gourmet® Caesar dressing.
Price: Half ($5.69), Full ($8.99)
Calories (Entree Only): Half (260 Cals), Full (430 Cals)
Dressing:

Caesar Dressing (Default, 180 Cals per packet)

Ranch Dressing (70 Cals per packet)

Pomegranate Vinaigrette Dressing (60 Cals per packet)

Southwest Ranch Dressing (110 Cals per packet)

What's On It:

Applewood Smoked Bacon (0-5, +$0.60 after 1)
Caesar Side Salad
Wendy's signature lettuce blend, a unique combo of three cheeses, and bacon bits, topped with zesty Renée's Gourmet® Caesar Dressing.
Price: $2.19
Calories (Entree Only): 160 Cals
Dressing:

Caesar Dressing (Default, 180 Cals per packet)

Ranch Dressing (70 Cals per packet)

Pomegranate Vinaigrette Dressing (60 Cals per packet)

Southwest Ranch Dressing (110 Cals per packet)

What's On It:

Applewood Smoked Bacon (0-5, +$0.60 after 1)
Garden Side Salad
Crisp lettuce, cheese, tomatoes, and croutons topped with your choice of Renée's Gourmet® Dressing.
Wendy's Menu Canada Price: $2.19
Calories (Entree Only): 130 Cals
Dressing:

Caesar Dressing (180 Cals per packet)

Ranch Dressing (70 Cals per packet)

Pomegranate Vinaigrette Dressing (60 Cals per packet)

Southwest Ranch Dressing (110 Cals per packet)

What's On It:
Pair 2 Southwest Avocado
Made fresh daily with Wendy's signature lettuce blend, pepper jack cheese, diced tomatoes, cool, creamy avocado, Applewood smoked bacon, and grilled chicken breast hot off the grill, all topped with Marzetti® Simply Dressed® Southwest Ranch Dressing.
Price: $6.99
Calories (Entree Only): 130 Cals
Side:

Jr. Cheeseburger Deluxe (370 Cals)

What's On It:

Sandwich Bun (Default), Premium Bun, Tortilla (+$0.60), Lettuce

Ketchup (None, Light, Regular – Default, Extra)

Mayonnaise (None, Light, Regular – Default, Extra)

Lettuce (None, Light, Regular – Default, Extra)

Crinkle Cut Pickles (None, Light, Regular – Default, Extra)

Onion (None, Light, Regular – Default, Extra)

Tomato (None, Light, Regular – Default, Extra)

Plain Baked Potato (270 Cals)

Sour Cream and Chive Baked Potato (340 Cals)

What's On It:

Sour Cream (0-5, +$0.30 after 1)

Bacon Cheddar Cheese Sauce Baked Potato (420 Cals)

What's On It:

Cheddar Cheese Sauce (None, Light, Regular – Default, Extra -+$0.40)

Applewood Smoked Bacon (0-5, +$0.60 after 1)

Small Chocolate Frosty® (340 Cals)

Dressing:

Caesar Dressing (180 Cals per packet)

Ranch Dressing (70 Cals per packet)

Pomegranate Vinaigrette Dressing (60 Cals per packet)

Southwest Ranch Dressing (Default, 110 Cals per packet)

What's On It:

Applewood Smoked Bacon (0-5, +$0.90 after 1)
Pair 2 Taco Salad
Made fresh daily with Wendy's signature lettuce blend, pepper jack cheese, diced tomatoes, cool, creamy avocado, Applewood smoked bacon, and grilled chicken breast hot off the grill, all topped with Marzetti® Simply Dressed® Southwest Ranch Dressing.
Wendy's Menu Canada Price: $6.99
Calories (Entree Only): 250 Cals
Side:

Jr. Cheeseburger Deluxe (370 Cals)

What's On It:

Sandwich Bun (Default), Premium Bun, Tortilla (+$0.60), Lettuce

Ketchup (None, Light, Regular – Default, Extra)

Mayonnaise (None, Light, Regular – Default, Extra)

Lettuce (None, Light, Regular – Default, Extra)

Crinkle Cut Pickles (None, Light, Regular – Default, Extra)

Onion (None, Light, Regular – Default, Extra)

Tomato (None, Light, Regular – Default, Extra)

Plain Baked Potato (270 Cals)

Sour Cream and Chive Baked Potato (340 Cals)

What's On It:

Sour Cream (0-5, +$0.30 after 1)

Bacon Cheddar Cheese Sauce Baked Potato (420 Cals)

What's On It:

Cheddar Cheese Sauce (None, Light, Regular – Default, Extra -+$0.40)

Applewood Smoked Bacon (0-5, +$0.60 after 1)

Small Chocolate Frosty® (340 Cals)

Dressing:

Caesar Dressing (180 Cals per packet)

Ranch Dressing (70 Cals per packet)

Pomegranate Vinaigrette Dressing (60 Cals per packet)

Southwest Ranch Dressing (110 Cals per packet)

What's On It:

Sour Cream (0-5, +$0.30 after 1)
Pair 2 Apple Pecan Chicken Salad
Made fresh daily with Wendy's signature lettuce blend, crisp red and green apples, dried cranberries, roasted pecans, crumbled blue cheese, and grilled chicken breast hot off the grill, all topped with Marzetti® Simply Dressed® Pomegranate Vinaigrette.
Wendy's Menu Canada Price: $6.99
Calories (Entree Only): 740 Cals
Side:

Jr. Cheeseburger Deluxe (370 Cals)

What's On It:

Sandwich Bun (Default), Premium Bun, Tortilla (+$0.60), Lettuce

Ketchup (None, Light, Regular – Default, Extra)

Mayonnaise (None, Light, Regular – Default, Extra)

Lettuce (None, Light, Regular – Default, Extra)

Crinkle Cut Pickles (None, Light, Regular – Default, Extra)

Onion (None, Light, Regular – Default, Extra)

Tomato (None, Light, Regular – Default, Extra)

Plain Baked Potato (270 Cals)

Sour Cream and Chive Baked Potato (340 Cals)

What's On It:

Sour Cream (0-5, +$0.30 after 1)

Bacon Cheddar Cheese Sauce Baked Potato (420 Cals)

What's On It:

Cheddar Cheese Sauce (None, Light, Regular – Default, Extra -+$0.40)

Applewood Smoked Bacon (0-5, +$0.60 after 1)

Small Chocolate Frosty® (340 Cals)

Dressing:

Caesar Dressing (180 Cals per packet)

Ranch Dressing (70 Cals per packet)

Pomegranate Vinaigrette Dressing (Default, 60 Cals per packet)

Southwest Ranch Dressing (110 Cals per packet)

What's On It:

Blue Cheese Crumbles (None, Light Regular – Default, Extra – +$0.70)
Pair 2 Grilled Caesar
A half-size portion of our crunchy, creamy Grilled Caesar Salad.
Price: $6.99
Calories (Entree Only): 740 Cals
Side:

Jr. Cheeseburger Deluxe (370 Cals)

What's On It:

Sandwich Bun (Default), Premium Bun, Tortilla (+$0.60), Lettuce

Ketchup (None, Light, Regular – Default, Extra)

Mayonnaise (None, Light, Regular – Default, Extra)

Lettuce (None, Light, Regular – Default, Extra)

Crinkle Cut Pickles (None, Light, Regular – Default, Extra)

Onion (None, Light, Regular – Default, Extra)

Tomato (None, Light, Regular – Default, Extra)

Plain Baked Potato (270 Cals)

Sour Cream and Chive Baked Potato (340 Cals)

What's On It:

Sour Cream (0-5, +$0.30 after 1)

Bacon Cheddar Cheese Sauce Baked Potato (420 Cals)

What's On It:

Cheddar Cheese Sauce (None, Light, Regular – Default, Extra -+$0.40)

Applewood Smoked Bacon (0-5, +$0.60 after 1)

Small Chocolate Frosty® (340 Cals)

Dressing:

Caesar Dressing (Default, 180 Cals per packet)

Ranch Dressing (70 Cals per packet)

Pomegranate Vinaigrette Dressing (60 Cals per packet)

Southwest Ranch Dressing (110 Cals per packet)

What's On It:
French Fries
Natural-cut, skin-on, sea-salted fries served hot and crispy.
Price: Kids ($1.49), Small ($2.19), Medium ($2.89), Large ($3.19)
Calories: Kids (210 Cals), Medium (260 Cals), Medium (350 Cals), Large (470 Cals)
Poutine
Sea-salt-seasoned, skin-on potatoes, Canadian cheese curds, and a rich poutine sauce.
Price: Large ($4.49), Small ($3.29)
Calories: Large (640 Cals), Small (330 Cals)
What's On It:

Poutine Sauce (None, Light, Regular – Default, Extra – +$0.40)

Cheese Curds (None, Light, Regular – Default, Extra – +$1.50)
Bacon Poutine
Canadian cheese curds, sea-salt-seasoned skin-on potatoes, a rich poutine sauce, and bacon bits.
Price: $4.69
Calories: 700 Cals
What's On It:

Applewood Smoked Bacon (0-5, +$0.90 after 1)

Cheese Curds (None, Light, Regular – Default, Extra – +$1.50)

Poutine Sauce (None, Light, Regular – Default, Extra – +$0.40)
Chili Cheese Fries
Our natural-cut, skin-on, sea-salted fries topped with our hearty chili and rich, creamy cheese sauce.
Wendy's Menu Canada Price: $3.89
Calories: 520 Cals
What's On It:

Cheddar Cheese Sauce (None, Light, Regular – Default, Extra – +$0.40)
Chili Cheese Nachos
Crispy corn tortilla chips covered in rich cheese sauce and our famous meaty chili.
Wendy's Menu Canada Price: $1.99
Calories: 360 Cals
What's On It:

Chili (None, Light, Regular – Default, Extra – +$0.30)

Cheddar Cheese Sauce (None, Light, Regular – Default, Extra – +$0.40)
Chili
Perfectly seasoned and positively irresistible. Red's kind of our thing, you know.
Wendy's Menu Canada Price: Small ($2.39), Large ($3.19)
Calories: Small (290 Cals), Large (380 Cals)
Garden Side Salad
Crisp lettuce, cheese, tomatoes, and croutons topped with your choice of Renée's Gourmet® Dressing.
Wendy's Menu Canada Price: $2.19
Calories (Entree Only): 130 Cals
Dressing:

Caesar Dressing (180 Cals per packet)

Ranch Dressing (70 Cals per packet)

Pomegranate Vinaigrette Dressing (60 Cals per packet)

Southwest Ranch Dressing (110 Cals per packet)

What's On It:
Caesar Side Salad
Wendy's signature lettuce blend, a unique combo of three cheeses, and bacon bits, topped with zesty Renée's Gourmet® Caesar Dressing.
Wendy's Menu Canada Price: $2.19
Calories (Entree Only): 160 Cals
Dressing:

Caesar Dressing (Default, 180 Cals per packet)

Ranch Dressing (70 Cals per packet)

Pomegranate Vinaigrette Dressing (60 Cals per packet)

Southwest Ranch Dressing (110 Cals per packet)

What's On It:

Applewood Smoked Bacon (0-5, +$0.60 after default)
Plain Baked Potato
The satisfying simplicity of good, honest, hot, fluffy baked potato perfection.
Wendy's Menu Canada Price: $2.19
Calories: 270 Cals
Sour Cream and Chive Baked Potato
A hot, fluffy potato topped with the classic combination of chives, and sour cream.
Wendy's Menu Canada Price: $2.19
Calories: 340 Cals
What's On It:

Sour Cream (0-5, +$0.30 after 1)
Bacon Cheese Potato
Hot and fluffy potato topped with creamy cheese sauce, shredded cheese, and Applewood smoked bacon.
Wendy's Menu Canada Price: $3.79
Calories: 420 Cals
What's On It:

Cheddar Cheese Sauce (None, Light, Regular – Default, Extra – +$0.40)

Applewood Smoked Bacon (0-5, +$0.60 after 1)
Jr. Cheeseburger Deluxe
Fresh beef topped with cheese, pickles, onions, tomatoes, crisp lettuce, ketchup, and mayo.
Wendy's Menu Canada Price: $1.89
Calories: 360 Cals
What's On It:

Premium Bun, Sandwich Bun (Default), Tortilla (+$0.60), Lettuce

Ketchup (None, Lite, Regular – Default, Extra)

Mayonnaise (None, Lite, Regular – Default, Extra)

Lettuce (None, Lite, Regular – Default, Extra)

Crinkle Cut Pickles, (None, Lite, Regular – Default, Extra)

Onion (None, Lite, Regular – Default, Extra)

Tomato (None, Lite, Regular – Default, Extra)
Cheesy Cheddarburger
A hot n' juicy beef patty topped with melted cheese slice and cheese sauce.
Wendy's Menu Canada Price: $1.89
Calories: 320 Cals
What's On It:

Premium Bun, Sandwich Bun (Default), Tortilla (+$0.60), Lettuce
Strawberry Lemonade
An all-natural lemonade flavored with real strawberries.
Wendy's Menu Canada Price: Small ($2.99), Medium ($3.29), Large ($3.79)
Calories: Small (230 Cals), Medium (390 Cals), Large (490 Cals)
Original Lemonade
Real lemonade with no artificial ingredients or preservatives.
Wendy's Menu Canada Price: Small ($1.99), Medium ($2.59), Large ($2.99)
Calories: Small (240 Cals), Medium (360 Cals), Large (480 Cals)
Coca-Cola®
The cold, refreshing, sparkling classic that America loves.
Wendy's Menu Canada Price: Small ($2.99), Medium ($3.29), Large ($3.79)
Calories: Small (230 Cals), Medium (390 Cals), Large (490 Cals)
Coke® Zero Sugar
The same great taste as Coke Classic® but with zero calories.
Wendy's Menu Canada Price: Small ($1.99), Medium ($2.59), Large ($2.99)
Calories: Small (2 Cals), Medium (2 Cals), Large (3 Cals)
Diet Coke®
The great taste of Coca-Cola® with zero calories.
Wendy's Menu Canada Price: Small ($1.99), Medium ($2.59), Large ($2.99)
Calories: Small (2 Cals), Medium (3 Cals), Large (4 Cals)
Sprite®
The cold, refreshing flavors of lemon and lime, perfectly blended.
Price: Small ($1.99), Medium ($2.59), Large ($2.99)
Calories: Small (240 Cals), Medium (350 Cals), Large (470 Cals)
Barq's® Root Beer
A sweet, spiced favorite that's stood the test of time.
Price: Small ($1.99), Medium ($2.59), Large ($2.99)
Calories: Small (270 Cals), Medium (400 Cals), Large (530 Cals)
Fanta® Orange
Change up your routine with the bright, bubbly, fruity flavor of Fanta® Orange.
Price: Small ($1.99), Medium ($2.59), Large ($2.99)
Calories: Small (260 Cals), Medium (380 Cals), Large (510 Cals)
Nestea®
A cold, sweet, yummy, refreshing choice that goes with pretty much anything so you can enjoy it any time.
Price: Small ($1.99), Medium ($2.59), Large ($2.99)
Calories: Small (190 Cals), Medium (280 Cals), Large (370 Cals)
Dasani® Bottled Water
Pure Dasani® water served cold and refreshing.
Price: $1.99
Calories: 0 Cals
Coffee
A blend of 100% Arabica beans from central and south America, medium-roasted to bring out all the best flavors.
Price: Regular ($1.49), Large ($1.69)
Calories: Regular (4 Cals), Large (5 Cals)
Decaf Coffee
Brewed to be rich and smooth without the caffeine.
Price: Regular ($1.49), Large ($1.69)
Calories: Regular (0 Cals), Large (0 Cals)
Hot Tea
Hot Orange Pekoe, brewed when you order it, and available however you take it.
Price: $1.39
Calories: 5 Cals
Milk
The cold, creamy, mustache-creating classic.
Price: $1.69
Calories: 130 Cals
Chocolate Milk
Every kid's favorite—every adult-who-was-ever-a-kid's favorite, too.
Price: $1.69
Calories: 150 Cals
Minute Maid® Apple Juice
Perfectly sweet 100% apple juice your kids will love.
Price: $1.69
Calories: 140 Cals
Minute Maid® Orange Juice
Sweet, delicious, pulp-free 100% orange juice.
Price: $1.69
Calories: 140 Cals
Chocolate Frosty®
The Chocolate Frosty® was born out of Dave's desire for a signature dessert to go with his vision of the perfect meal. Thick enough to use a spoon, smooth enough to use a straw, and perfect when enjoyed on the end of a fry.
Price: Junior ($1.19), Small ($1.89), Medium ($2.59), Large ($2.99)
Calories: Junior (200 Cals), Small (340 Cals), Medium (460 Cals), Large (580 Cals)
Caramel Latte Frosty®
Cool, creamy and refreshing, our new dessert brings tasty caramel together with coffee & vanilla.
Wendy's Menu Canada Price: Junior ($1.19), Small ($1.89), Medium ($2.59), Large ($2.99)
Calories: Junior (200 Cals), Small (360 Cals), Medium (480 Cals), Large (590 Cals)
Kid's 4PC Nuggets
Fresh beef, Applewood smoked bacon, American cheese, crisp lettuce, tomato, and mayo.
Wendy's Menu Canada Price: $4.99
Calories: 430-620 Cals
4 PC Nuggets

Sauce: Barbecue Sauce (50 Cals per packet), Honey Mustard Bistro Sauce (110 Cals per packet), Ranch Sauce (130 Cals per packet), Plum Sauce (50 Cals per packet), Creamy Sriracha Sauce (70 Cals per packet), Ketchup (1 Packet, 10 Cals), No Sauce

Kid's French Fries
Drink
Meal Toy
Kid's Cheeseburger
Fresh beef, Applewood smoked bacon, American cheese, crisp lettuce, tomato, and mayo.
Wendy's Menu Canada Price: $4.39
Calories: 510-710 Cals
Cheeseburger

What's On It:

Sandwich Bun (Default), Premium Bun, Tortilla (+$0.60), Lettuce

Ketchup (None, Light, Regular – Default, Extra)

Kid's French Fries
Drink
Meal Toy
Kid's Hamburger
Fresh beef, Applewood smoked bacon, American cheese, crisp lettuce, tomato, and mayo.
Wendy's Menu Canada Price: $4.09
Calories: 470-670 Cals
Hamburger

What's On It:

Sandwich Bun (Default), Premium Bun, Tortilla (+$0.60), Lettuce

Ketchup (None, Light, Regular – Default, Extra)

Kid's French Fries
Drink
Meal Toy