Here's a look Vancouver cherry blossom food and drinks 2021 to celebrate the season.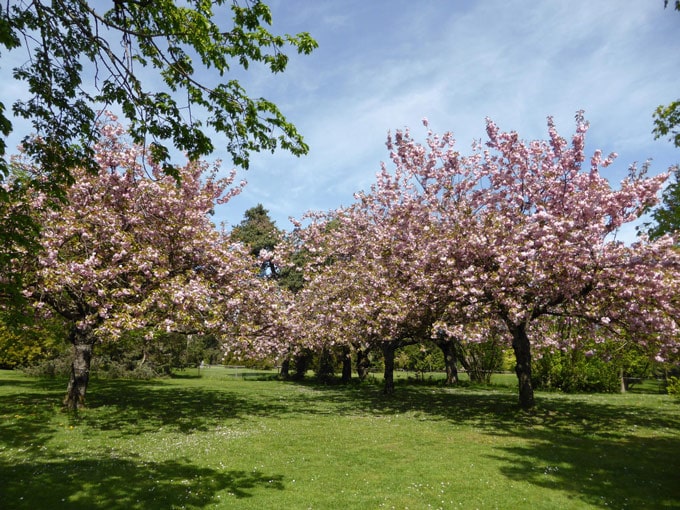 Spring is at our doorstep and it's a beautiful time of the year in the city when cherry blossoms pop up around the city.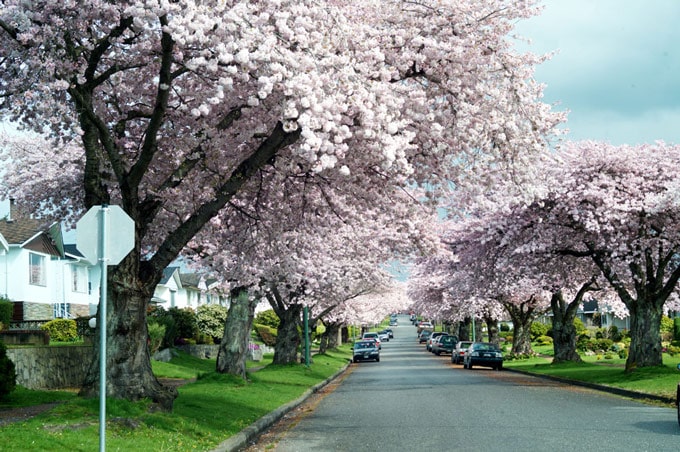 A few restaurants and cafes in Vancouver have also taken inspiration of the beauty of cherry blossoms and created some sakura feature foods and drinks. Find out more in the list below.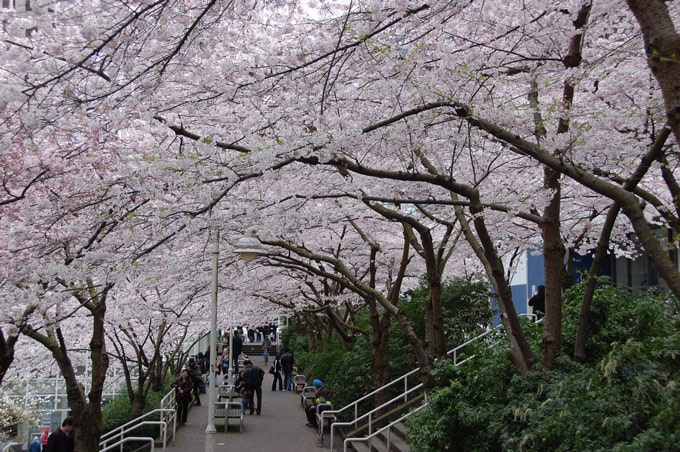 This Vancouver Cherry Blossom Food and Drinks 2021 list is updated as information becomes available.
Please reach out to me [email protected] or @foodgressing on social media (Instagram, Facebook, Twitter, TikTok) for any suggestions.
Tojo's Sakura Hanami Picnic Box
This sakura season, Chef Hidekazu Tojo offers a Sakura Hanami Picnic Box to be enjoyed in the home or amongst the blooming trees of Vancouver.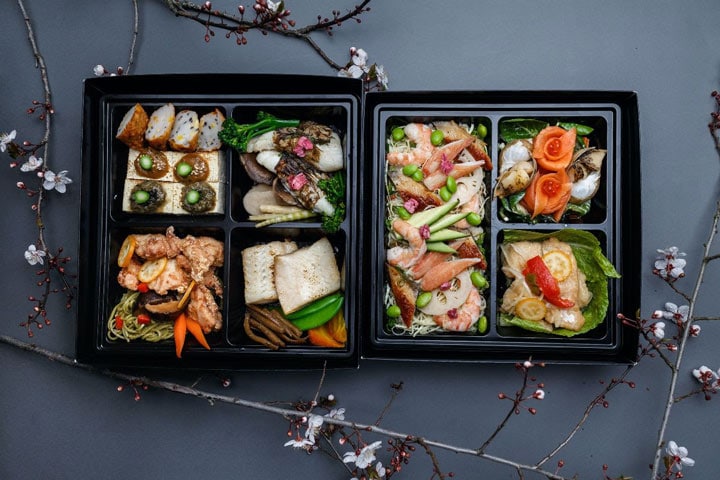 The multi-layer spring set features components prepared in various traditional methods, including marinating sablefish in sake kasu, gently braising root vegetables in homemade dashi sauce, and preparing the fuki (butterbur) miso sauce.
Highlights include a tender Halibut Cheek with shio lemon marinade wrapped in kombu and garnished with pickled sakura and show-stopping Chirashi that artfully presents some of the best seasonal seafood.

Tojo's Sakura Box feeds two, and is available for pickup April 30 – May 2 for $180.00. The Sakura Box can be pre-ordered (up to 1 day ahead), online here.
Honolulu Coffee Vancouver
Honolulu Coffee Vancouver is featuring a special Sakura Latte that tastes as good as it looks and launches at both cafes (Downtown Vancouver, 888 Nelson Street) and Kerrisdale (2098 W. 41st AVe.) on Saturday, April 3.
The Sakura Latte is caffeine-free, dairy-free and kid-friendly! It's a soy milk-based latte, with a hint of hibiscus and rose flower and a beautiful pink hue.
The 8oz hot latte will be available for $4.80, the iced 16oz for $6.20 and the macarons for $2.50 each.
It's available hot or iced and pairs perfectly with the six new flavours of macarons available at the cafes, including matcha, yuzu, rose lychee, guava, chocolate explosion and tiramisu.
Yuwa Japanese Cuisine
Throughout the month of April, enjoy three Sakura-themed menu features at Yuwa Japanese Cuisine for outdoor dining or for takeout, including: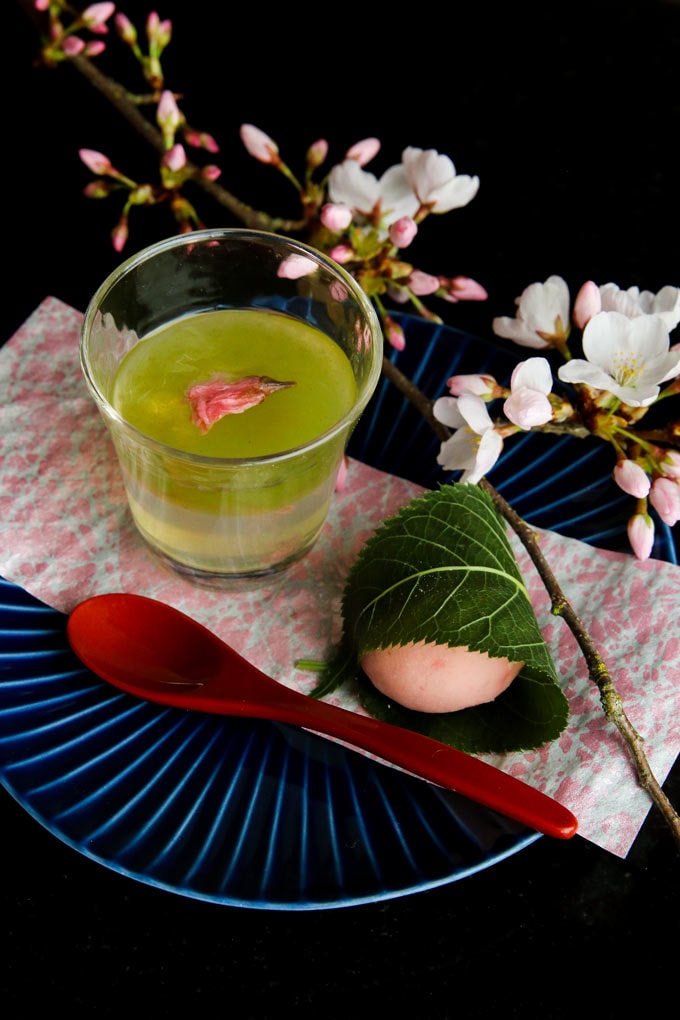 Grilled White Asparagus: French white asparagus grilled with shiso shio-koji miso, topped with micro leaves and cherry blossoms
Sakura Roll Cake: Custard cream, strawberry, pistachio, caramel lace tuiles and mint
Ranman 爛漫 (Cherry Flowers in Full Bloom): Reversed Sakura mochi wrapped with cherry blossom color an (bean paste)
In addition to the cherry blossom menu features, the team has created two other seasonal specials for the month of April:
Kurodai Carpaccio with Ohitashi Spring Vegetable
Thinly sliced black sea bream with ohitashi style canola flower and asparagus with hints of mustard, red cabbage, watercress and karashi dashi jelly
Grilled Sawara Saikyo Yaki
Japanese Spanish mackerel marinated with sweet saikyo miso. This dish is also an excellent source of Vitamin D, perfect for those rainy Vancouver spring days.
Yuwa's intimate heated patio seats a total of 12 socially-distanced guests, overlooking West 16th Avenue and features cushioned chairs, lattice dividers, a large 11-foot umbrella and plenty of greenery. Takeout is available by calling the restaurant.
ANCORA WATERFRONT DINING AND PATIO – FALSE CREEK
A taste of pink is what guests will enjoy on Executive Chef Sebastian Delgado's five-course Sakura Tasting Menu ($59 per person) at Ancora Waterfront.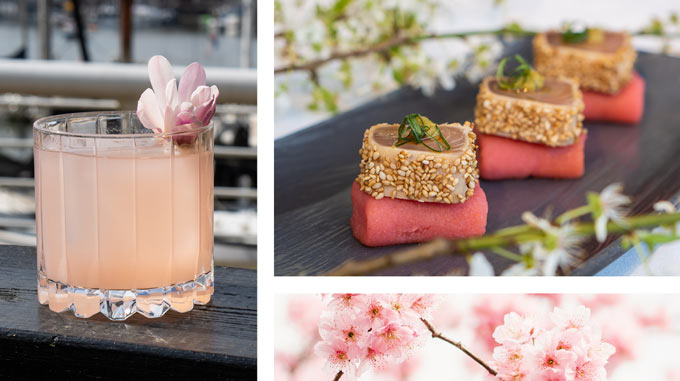 Available from April 11th to 29th Sunday through Thursday, this floral themed meal features a Nigiri Trio with pink-hued sushi rice, Tuna Causa with seared tuna and sakura-infused causa, Grilled Prawns Anticucho with sakura-infused potato purée, along with other gourmet dishes.
Diners can also sip on a refreshing sakura-inspired cocktail crafted by Bar Manager Kam Tabarraee, fittingly named "Tokyo Blossoms": made with Roku gin, Ume Nigori plum wine, yuzu juice, lime/lemon juice, rose and hibiscus syrup, ponzu and rice extract, and floral bitters.
ANCORA WATERFRONT DINING AND PATIO – AMBLESIDE
Executive Chef Jorge Kim's five-course Sakura Tasting Menu ($60 per person) showcase subtle hints of floral notes that pays homage to cherry blossom season. Available from April 11th to 29th Sunday through Thursday at Ancora Ambleside.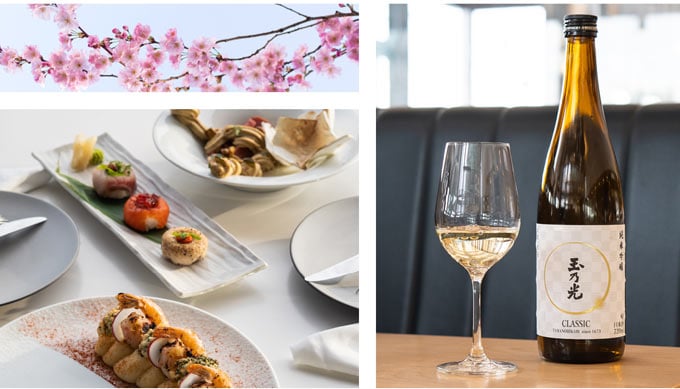 Guests can indulge in a whimsical Nigiri Trio made with sakura flavoured sushi rice, Smoked Sable Croquettes with sakura chalaca, Sakura Infused Grilled Prawn Anticucho with popcorned broccoli, Roasted Rhubarb with pistachio nameraka and rhubarb compote, and more.
A bottle of TamanohikariClassic Yamahai Junmai Ginjo sake ($75 for 720 ml) is the perfect complement for this seasonal dining experience.
Yama Cafe
Yama Cafe, a small family owned and operated Japanese cafe in the East Village, will be offering sakura-themed menu items.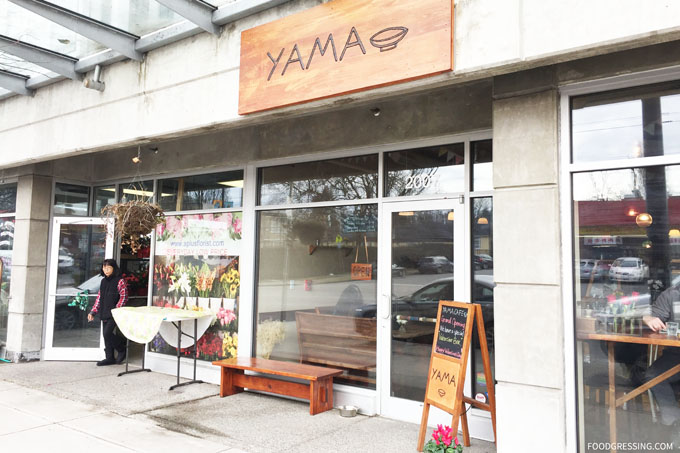 The best way to find out what they offering is to check Yama Cafe on Instagram and particularly their IG stories. They like for customers to pre-order as much as possible.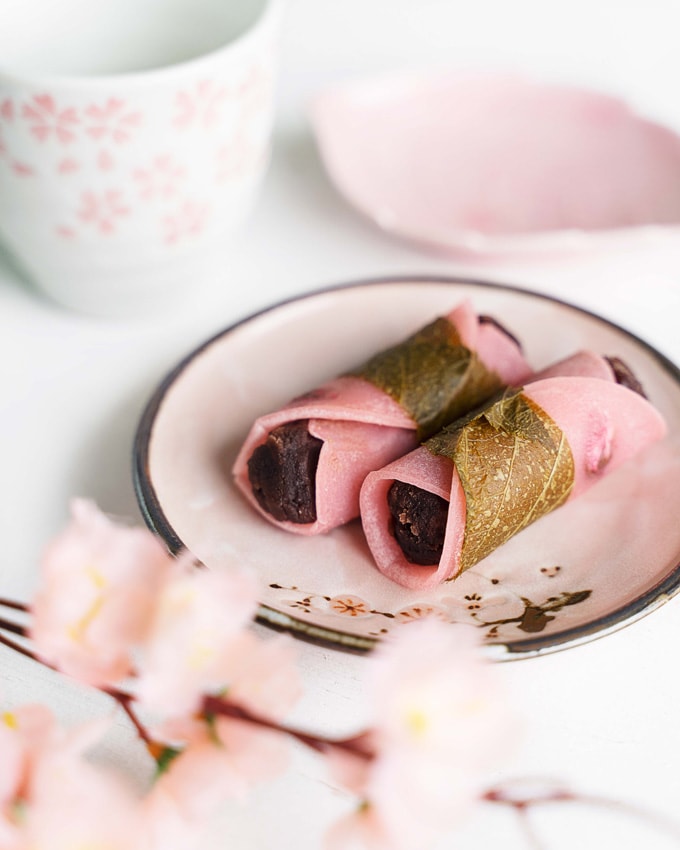 One item that they are bringing back is sakura mochi (which I enjoyed last year).
Address: 2007 E Hastings St, Vancouver, BC
Cake Ya
Cake Ya in Port Moody will be offering sakura mochis.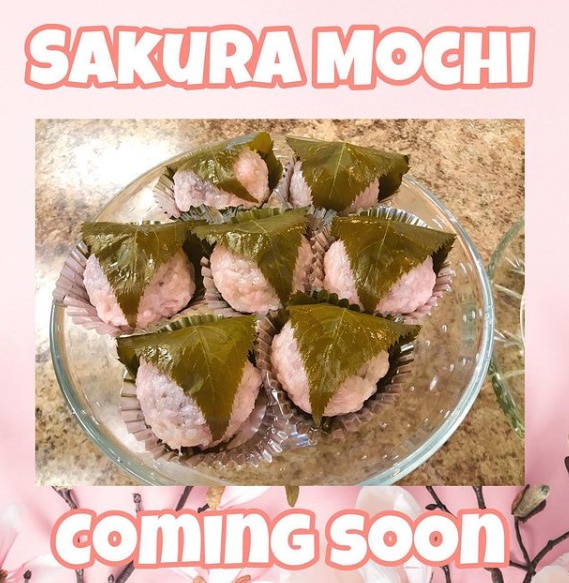 Address: 3256 St Johns St, Port Moody, BC
Soirette
Soirette has a Cherry Blossom Matcha mousse cake consisting of a dark chocolate sponge, organic matcha and white chocolate mousse, cherry blossom mousse and a delicate layer of pickled cherry blossom flower.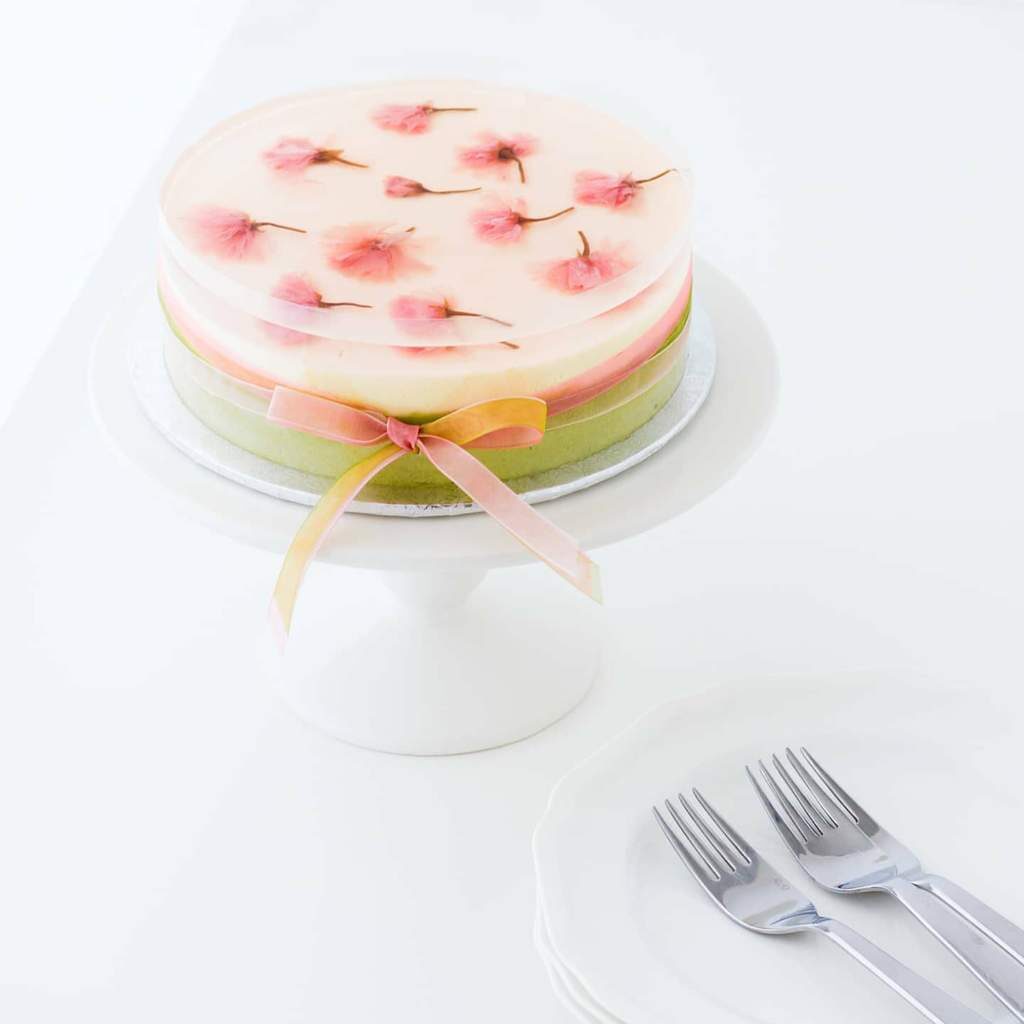 I tried this last year and it was amazing! Highly recommend it.
Address: 1433 W Pender St, Vancouver, BC
Where can I see cherry blossoms in Vancouver?
Check out my Cherry Blossoms Vancouver 2021 guide looking at the dates for cherry blossom season, history of cherry blossoms in Vancouver, number of different cultivars and the best places to see cherry blossoms in Vancouver.