With the excitement and comfort of being able to travel again, more people than ever before are dreaming of visiting stunning and warm travel destinations. There is no better place than the Hawaiian Islands and the opportunity to see all of Hawaii's newest attractions. Take in the state's lively music and cultural festivals, or indulge in the unique and wonderful food scene of the Hawaiian Islands. Here's a look at Top Things to Do Hawaii 2022.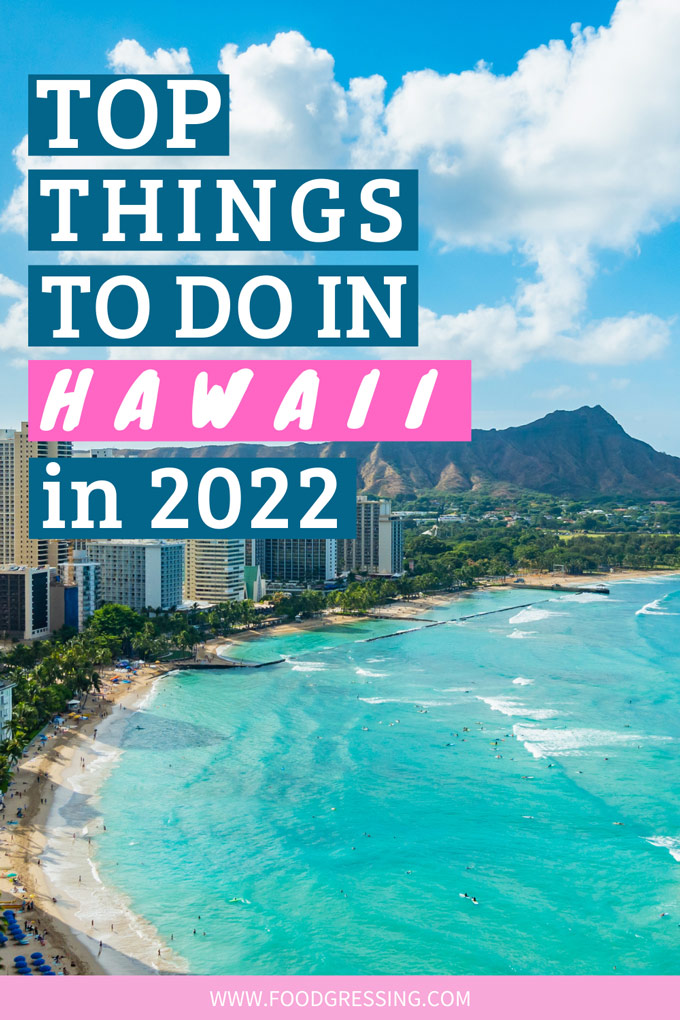 Arts & Culture
Hawaii Triennial 2022
The largest periodic exhibition of contemporary art in Hawai'i will take place from February 18 – May 2022 across seven exhibition spaces on Oahu.
The citywide art exhibition, Hawaii Triennial 2022 (Oahu) (HT22), will be structured around the concept of Pacific Century – E Hoomau no Moananuiakea, which will weave together themes of history, place, social activism, environmental change, and identity in the context of Hawaii's unique location at the confluence of Asia-Pacific and Oceania.
Bishop Museum, Foster Botanical Garden, Hawaii Theatre Center, Hawaii State Art Museum, Iolani Palace, Honolulu Museum of Art, and Royal Hawaiian Center are among the sites for the 11-week show.
Admission to HT22 varies by venue, but you can get unlimited visitation with their All-Access Pass.
Tatau: Marks of Polynesia
Tatau: Marks of Polynesia opened in November at the Bishop Museum on Oahu and will run through July 4, 2022.
The tatau of Samoa is one of the most distinctive tattoo traditions in the world.
The exhibition looks at the beauty of Samoan tattoos and showcases the work of traditional tatau masters as well as contemporary practitioners and artists adapting tatau's themes and techniques for new media and art forms.
Lei Day
Since 1927, lei — and the art of lei making — have been commemorated throughout the Hawaiian Islands on Lei Day, May 1st.
The City and County of Honolulu's annual Lei Day Celebration takes place in Kapiolani Park in Waikiki, and features activities honouring lei and the traditions that surround it, including pageants and contests for lei queen, as well as the creation of vibrant and fragrant flower lei.
The Donkey Mill Art Center
The Donkey Mill Art Center (Island of Hawaii) invites tourists and locals to acquire a new skill and engage with the community via culture and arts workshops and activities.
Sessions for children and adults include kapa making, printing, and pottery workshops at Donkey Mill's facilities in Hlualoa town, as well as local primary schools and other sites on the island of Hawaii's west side.
Festivals & Events
Hawai'i Food and Wine Festival 2022
The Hawai'i Food and Wine Festival is the Pacific's foremost epicurean destination event and makes its return in 2022.
Save the dates for October 21-23 in Kaanapali, Maui; October 28-29 on the Island of Hawaii; and November 3 – 6 on Oahu.
Over 150 globally recognised master chefs, culinary celebrities, sommeliers, mixologists, and wine and spirit makers are scheduled to appear at the Festival.
Co-founded by two James Beard Award-winning chefs from Hawai'i, Roy Yamaguchi and Alan Wong, the Festival features culinary experiences, wine tastings, cultural engagement, and exclusive dining opportunities featuring dishes showcasing the State's bounty of fresh, local produce, seafood, beef, poultry, and spices.
Honolulu Marathon
The Honolulu Marathon is the fourth largest marathon in the US, taking place each December. There is no time limit. Experience the Aloha spirit!
The 2022 Honolulu Marathon takes place December 10 – 11, 2022.
Waikiki SPAM JAM
The Waikiki SPAM JAM® (Oahu) is an annual street celebration that honours Hawaii's SPAM® obsession.
The event, which is suitable for all ages, takes place in the centre of Waikiki and includes local eateries serving inventive SPAM® meals, live entertainment, and Hawaii craftsmen.
This unique event benefits the Hawai'i Foodbank, the state's biggest non-profit organization devoted to feeding the hungry.
The date for this year's event is set on April 23, 2022.
Kauai Steel Guitar Festival
The sixth annual Kauai Steel Guitar Festival will take place March 31–April 2, 2022, at the Sheraton Kauai Coconut Beach Hotel.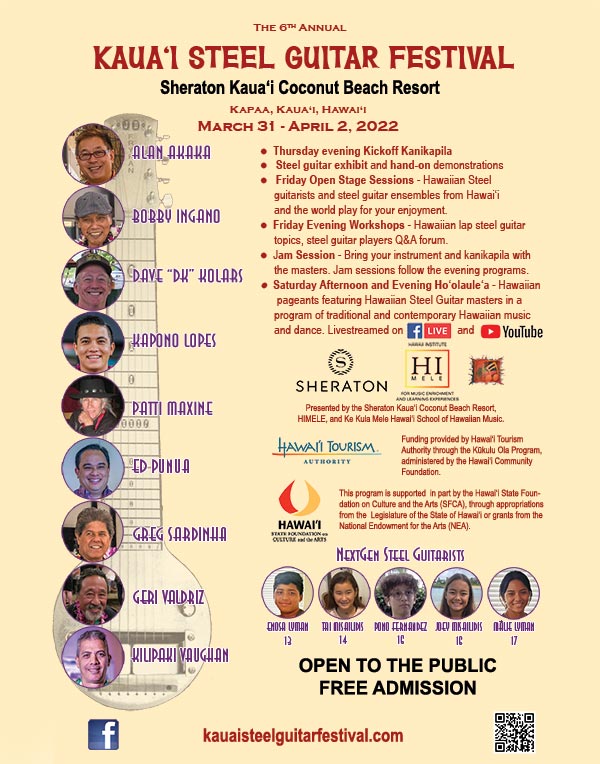 The festival features master and youth steel guitar performers, displays, hands-on experiences for festival attendees, school lectures, seminars, open stage playing sessions, and a public kanikapila (Hawaiian-style jam-session).
The festival allows amateur and professional steel guitarists to play and educate tourists and locals about Hawaiian music and the Hawaiian steel guitar.
Culinary and Restaurants
Feast by Chef John Mastubara
Chef John Mastubara just opened Feast in Oahu's Manoa Valley area, serving a menu of dishes honed over his time working in a variety of famous kitchens.
On the menu are burgers, sammies, salads, lobster rolls, and desserts.
The signature menu item is the Hilo-style Hamburger Steak featuring signature local beef patty, mushroom gravy, keto mac salad and rice.
The Allerton by Fire
Every Tuesday and Thursday, an exclusive, one-of-a-kind dinner tour of the National Tropical Botanical Garden's Allerton Garden (Kauai) is available.
The Allerton by Fire supper is served at the Allerton Estate House and is accompanied by live Hawaiian and Polynesian dance, music, and a fire-knife demonstration.
International Market Place
The legendary Liliha Bakery (Oahu), beloved by islanders and tourists alike, opened its newest shop in November 2021 in the International Market Place's Grand Lanai.
This is the restaurant's fourth site in Honolulu. Liliha Pastry has earned a dedicated following over the course of its 71-year history by delivering delectable local fare and distinctive bakery goods such as coco puffs and poi mochi doughnuts. Daily from 7 a.m. to 10 p.m., Liliha Bakery serves breakfast, lunch, and supper.
In addition, the International Market Place welcomed two locally owned eateries to its open-air, third-level Grand Lanai: Moani Waikiki and Skybox Taphouse.
Restaurant Recommendations
For some recommendations on where to eat in Hawaii, check out my roundups:
Tasting Kauai Food Tours
Tasting Kauai has launched new food tours to showcase locally owned restaurants and connect tour attendees with chefs and owners.
The Saturday Downtown Lihue tour is centered around the farm-to-table scene of Kaua'i and getting behind the scenes in Lihu'e. The tour features local tastings from local restaurants who source their produce and meats from Kaua'i.
The Sunday Hanalei Town Walking Food Tour highlights the history of the town, the culture of Kauai, and the modern cuisines that are continuing to shape the people and the place today.
New Hotel Developments
Aqua-Aston Hotels
Aqua-Aston Hospitality has added a new reef-safe sunscreen amenity to its Hawaii hotels as a result of a collaboration with local mom-owned buisiness Little Hands Hawaii.
Guests staying at Aston Poipu Kai and Aston Islander on the Beach will receive Little Hands Hawaii's delicately coconut-scented, reef-safe sunscreen, which is provided at both hotels' front desks.
Along with promoting Hawaii's small businesses, Aqua-Aston is an advocate for Hawaii's waters and marine life via its #ForOurReef campaign, which educates visitors and the general public on the effects of coral bleaching.
Four Seasons Resort Lanai
The Four Seasons Resort Lanai has welcomed a new observatory in collaboration with the Imiloa Astronomy Center of Hawaii.
The observatory programme will highlight the history of Pacific voyaging, native Hawaiian traditions, traditional wayfinding methodology, and an overview of astronomy in relation to Hawaii and parallels with Hawaiian culture.
Guests may join the weekly small-group programme, which makes use of a state-of-the-art, fully automated single-meter class telescope observatory equipment.
Kauai Shores Hotel
The Kauai Shores Hotel invites guests to begin their days with yoga, unwind at one of the property's two pools, or explore neighbouring Kapaa town on one of the property's complimentary beach bikes.
Hotel guests may enjoy casual eating and live entertainment at the hotel's on-site Lava Beach Club, which the company promotes as a "authentic toes-in-the-sand gourmet experience."
For a limited time, guests may receive a complimentary fifth night to extend their stay at Kauai Shores Hotel.
Koloa Landing Resort
Koloa Landing Resort in Poipu (Kauai) provides free cultural and educational events — such as ukulele lessons, lei-making workshops, and hula lessons — as well as fun and fitness-oriented activities, such as morning yoga, HIIT sessions, and s'mores on the grass.
Sheraton Kauai Coconut Beach Resort
The Sheraton Kauai Coconut Beach Resort debuted the resort's Picnic Series featuring picnic packages designed to provide guests with individualized experiences.
The resort's Experience Kauai Bicycle Package offers energetic tourists to soak in the island's stunning sights while riding along the island's new 8-mile beachside bike route that connects to Kapaa town.
The Romance in Kauai Picnic Package is designed for couples interested in experiencing the romantic charm that Hawaii has to offer.
Another excellent resort choice is the Coconut Beach "Meat" in Paradise Picnic, which serves gourmet cheeses and charcuterie options.
Sensei Lanai, A Four Seasons Resort
Sensei Lanai, A Four Seasons Resort, added two new sports performance packages for golf and tennis aficionados seeking to enhance their game and overall well-being.
The customized activities are not standard tennis or golf clinics, but rather extensions of the resort's Optimal Wellbeing Program, which tracks and analyses each guest's unique health data through WHOOP personal digital fitness and health coach bands.
Additionally, the programme incorporates consultations with fitness physiologists, nutritionists, mindfulness trainers, and other practitioners, as well as the inclusion of new golf and tennis performance measurements through extensive video analysis and training.
A multidisciplinary team of Sensei guides and golf and tennis teachers work to build a customized programme that includes private assessments and lessons, concentrated one-on-one sessions, spa treatments, and well-being seminars.
Waikiki Beach Marriott Resort and Spa
The Waikiki Beach Marriott Resort and Spa (Oahu) reopened in August 2021 after a multimillion-dollar renovation that included a new single-acre pool and amenities deck with two pools and a new open-air restaurant overlooking the Pacific Ocean.
Additionally, the beachside resort has newly renovated bedrooms and suites with private balconies, a renovated open-air lobby, the Royal Kaila Spa, and culturally themed guest activities.
The Surfjack Hotel and Swim Club
The Surfjack Hotel and Swim Club (Oahu) has debuted a new penthouse suite in conjunction with online marketplace Society6 that offers visitors a "shoppable experience."
The hotel's Society6 Suite is brimming with local art that guests may buy directly from The Surfjack Collection.
The room, like the hotel as a whole, is pet-friendly, enabling guests to vacation with their four-legged companions. The Society 6 Suite is now accepting bookings at a rate of $400 per night.
Adventure & Thrilling Experiences
Paradise Helicopters
One of the most stunning ways to see the latest lava activity at Hawaii's Kilauea volcano is by air.
Paradise Helicopters, one of the biggest locally owned and operated air tour companies in Hawaii, provides flights to the volcano from Hilo and Kona.
Numerous door-off and door-on trips, as well as private charter experiences, are available.
From Hilo, you can board the Lava and Rainforests Adventure, flying over lush east-side forests and waterfalls.
Taking off from Kona, the Volcano Kohala Landing includes a flight over Hawaii Volcanoes National Park and a ground tour of the island of Hawaii's historic Kohala region.
Chambers Virtual Reality Escape Room
The new Chambers Virtual Reality Escape Room from Hawaii CinemAttractions (Oahu) enables guests to connect to alternate worlds, plunge to the depths of the ocean, or float in weightlessness in space.
Its premium, full-length virtual reality (VR) escape rooms are equipped with cutting-edge VR technology and equipment intended to offer realistic and engaging experiences.
Hawaii CinemAttractions, located in the Hilton Hawaiian Village, also has a vintage arcade area and a motion and sensory effects theatre showcasing a variety of exclusive films.
Malama Hawaii: Voluntourism
For tourists interested in volunteering during their trip, Hawaii welcomes them to malama (care for, maintain, and defend) the islands by participating in a range of engaging and meaningful activities.
Many organizations on Hawaii Island invite visitors to pay it forward with native plant conservation, beach cleanups and reforestation initiatives.
Alaska Airlines
Alaska Airlines is connecting visitors who want to engage in meaningful educational and cultural voluntourism activities with a local Hawaii non-profit travel2change.
The simplified booking procedure allows passengers to choose from a range of Malama Hawaii partners.
Support Forest Restoration
The Fairmont Orchid resort (island of Hawaii) is encouraging groups to interact and experience Hawaii Island more deeply via a number of voluntourism experiences, including a day spent with the organization Waikoloa Dry Forest Initiative.
The nonprofit protests a west-side forest that is an inspirational site where old wiliwili trees live in some of Hawaii's most rugged terrain.
Your team may sponsor and plant a grove of native trees inside the forest to help ensure the area's long-term viability.
You'll wander among the wiliwili, view unique plant species, and learn about the forest's culture and environment while assisting in its restoration.
Support an Animal Sanctuary
Leilani Farm Sanctuary (Maui), a haven for rescued animals, is a new charity partner.
This non-profit sanctuary is set on eight beautiful acres and is home to cows, donkey, goats, bunnies, pigs, chickens, turkey, and cats, among other animals.
Visitors are invited to explore the farm and offer a hand, meet the animal ambassadors at Leilani Farm Sanctuary, and consider sponsoring one of the animals.
Helping on the farm benefits both the orphaned animals and the youth programme at Leilani Farm Sanctuary.
Support Ocean Conservation
On Oahu, you can participate in a beach cleaning with Sustainable Coastlines Hawaii. Register online for small group cleanups or borrow DIY beach cleaning supplies to organize your own.
Surfrider Foundation's Kauai Chapter offers an Ocean-Friendly Tourists Program to educate visitors on the need of protecting coastal flora and wildlife, as well as marine life.
Self-directed beach clean-ups, the use of reef-safe sunscreen, and eating at ocean-friendly restaurants are all suggested.
These initiatives contribute significantly to not just maintaining the island's beaches and water, but also to protecting marine species such as the critically endangered Hawaiian monk seal, green sea turtle, and coral.