There's a new lunch and dinner option on the Tim Hortons menu just in time for the arrival of fall: the hearty and comforting Tim Hortons Loaded Chili.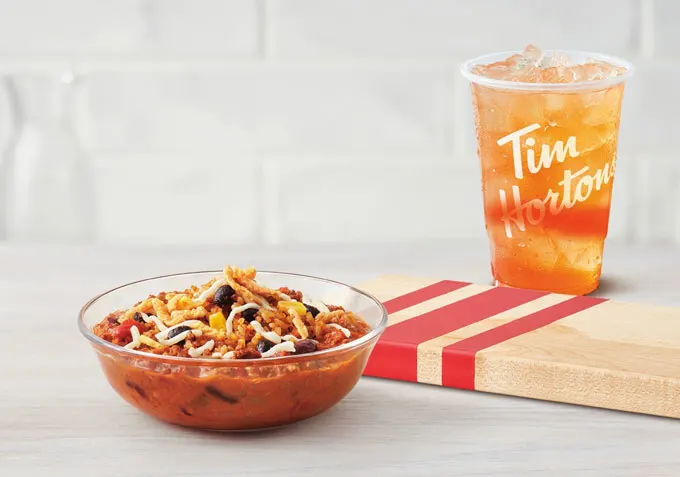 It's the classic Tim Hortons chili that guests have always loved, elevated with the new addition of tasty grains, shredded cheese and crispy onions.
"Tim Hortons chili is a classic go-to order for so many guests and I was excited to work on making it even more delicious, filling and satisfying to order for lunch or dinner," says Chef Tallis Voakes, Director of Culinary Innovation for Tim Hortons.
What's in the Tim Hortons Loaded Chili?
The rich, flavourful Tim Hortons chili recipe blends a variety of ingredients including ground beef, kidney beans, tomatoes, mushroom, green peppers, onion and celery.
Tasty grains, shredded cheese and crispy onions give the Loaded Chili some extra texture, crunch and gooeyness that guests are going to love.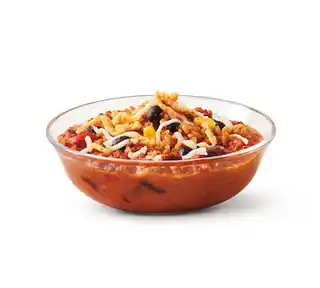 What meat is in Tim Hortons Chili? Ground beef.
Tim Hortons Loaded Chili Nutritional Info
The Tim Hortons Loaded Chili has 560 calories, 29 g of fat, 44 g of carbohydrates and 29 g of protein.
Calories 560 kcal
Fat 29 g
Saturated Fat 10 g
Trans Fat 1 g
Cholesterol 75 mg
Sodium 1,440 mg
Carbohydrates 44 g
Fiber 4 g
Sugar 10 g
Proteins 29 g
Price
How much does the loaded chili cost at Tim Hortons?
The Tim Hortons Loaded Chili is priced at $7.99. Based on a sample pricing at 65 Queen Street West, Toronto ON. Please check your local restaurant for accurate pricing.
What else is new at your local Tims?
Fall beverages and baked goods have also arrived, including our seasonal Tim Hortons Pumpkin Spice menu items. Try our Pumpkin Spice Dream Donut, Pumpkin Spice Muffin, Pumpkin Spice Latte, Pumpkin Spice Iced Capp or our Creamy Maple Pecan Dream Donut for a limited time!

The limited-edition Tim Hortons Maple Collection features three delicious and giftable confectionery items made with 100 per cent Canadian maple syrup in partnership with Quebec maple syrup producer Brien Maple Sweets Inc. Try the Tim Hortons Maple Syrup, Maple Butter and Soft Maple Candies.

The latest addition to our breakfast menu is our lineup of Tim Hortons Maple Bacon Breakfast Sandwiches, featuring their crispy and naturally smoked bacon topped with a sweet and savoury glaze.