In celebration of National Pasta Month, Carmine's Italian Restaurant will be offering a first-time ever six-pound pasta special every Sunday throughout the month of October and on Monday, October 17th for National Pasta Day!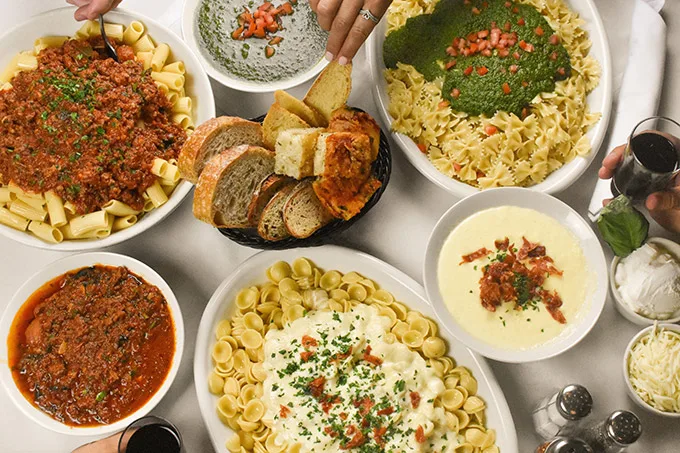 And on National Pasta Day guests can receive a free glass of prosecco by showing a social media post on their feed to promote the pasta event!
The pastabilities are endless with a choice of up to three different kinds of pastas and three different sauce selections – served with sides of Romano, ricotta, and shredded mozzarella cheeses and Carmine's signature bread basket.
Pasta options include Orecchiette, Rigatoni, and Farfalle; and choice of sauce includes Carbonara, Bolognese, and Pesto.
Perfect for six to eight hungry people, the $119 six-pound pasta special is available for dine-in and to-go orders at all Carmine's locations.
Reservations and to-go orders can be placed online at carminesnyc.com; details for all locations can be found below.
Carmine's Locations:
Carmine's Times Square: 200 West 44th Street, New York, NY 10036 – (212)-221-3800
Carmine's Upper West Side: 2450 Broadway, New York, NY 10024 – (212)-362-2200
Carmine's Atlantic City: 2801 Pacific Avenue, Atlantic City, NJ 08401 – (609)-572-9300
Carmine's Washington D.C.: 425 7th Street NW, Washington D.C. 20004 – (202)-737-7770
Carmine's Las Vegas: 3500 South Las Vegas Blvd, Las Vegas, NV 89109 – (702)-473-9700